Content marketing is an approach that businesses often use to promote their products and services, and the B2B industry is no exception. From blogs to eBooks to videos, there are several formats B2B companies can use to engage and convert website visitors.
However, not all of them are made equal, and not every marketing channel will benefit your B2B. By creating a content marketing strategy, you can find a solution that works for you.
But all brands need to have a sense of who they are before they can communicate their value to their customers. When a brand is authentic and aligns its authenticity with its content marketing strategy, it can help its company achieve its long-term goals: consistent growth.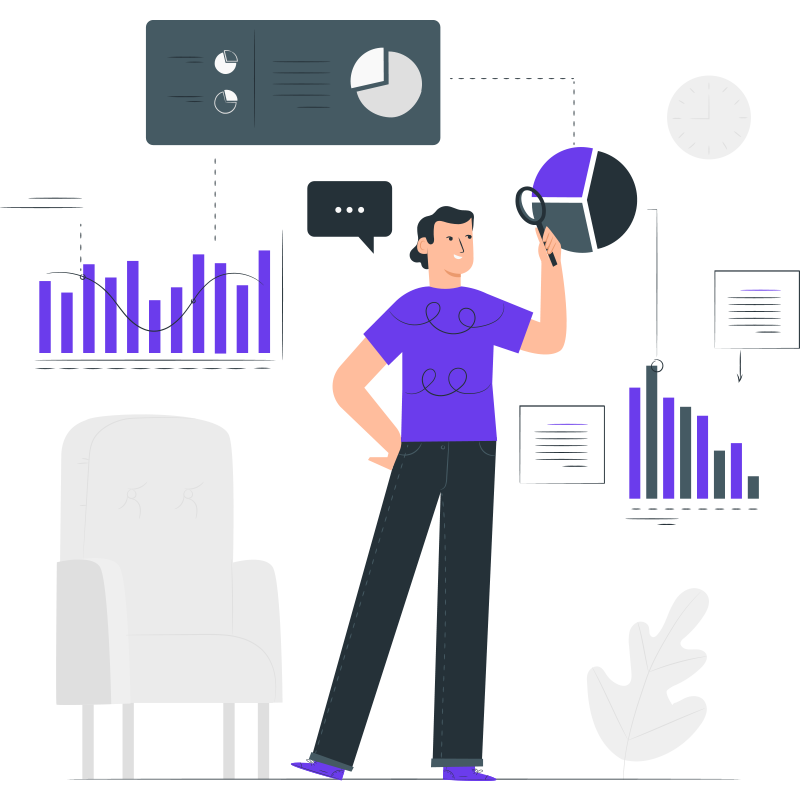 Get long-term ROI.
We help you grow through expertise, strategy, and the best content on the web.
Why do B2B Companies Need a Content Marketing Strategy?
The purpose of a marketing strategy is to get your project from point A to point B successfully. If you implement any project without a roadmap, you'll have a hard time reaching the finish line. There's also a higher chance you'll lose sight of your business goals in the long term.
With the right marketing strategy, you can create content that targets your audience every single time. However, there are some unique challenges surrounding B2B marketing because you're targeting other businesses, not consumers, which are more familiar with traditional tactics.
Product launch campaigns and influencer marketing isn't likely to sway business owners. They prefer actionable information and assurance that your product will solve their problems.
Not only that, but they expect you to be in places they prefer to hang out. While any business can market on any social media platform, LinkedIn is the best platform to sell to B2B prospects.
Why Should All B2B Businesses Promote on LinkedIn?
94% of B2B marketers use LinkedIn, 80% of B2B leads come directly from the platform, and a whopping 97% of B2B marketers use Linkedin specifically for content marketing. Business executives rate LinkedIn as the number one choice for professionally relevant content.
Based on these stats, LinkedIn checks all the boxes: targeted, relevant, and professional. If you add LinkedIn automation in the mix, you'll have no problem turning leads into paying customers.
Why do B2B marketers think LinkedIn is the best platform? Here's why:
B2B businesses can create awareness and improve their reputation. Businesses have the opportunity to increase their network and fill it with warm leads. By using personal and group features, companies can increase their visibility and brand.
B2B businesses can use other thought leaders to promote their products. Although regular influence marketing doesn't work on companies, thought leadership does. If you gain more influence in your sphere, you can sell more products to other businesses.
B2B businesses can generate leads. LinkedIn is designed to connect businesses to customers through its multiple networking features. Customers are more likely to post questions on LinkedIn, which helps you target more leads when you answer them.
B2B businesses can sync their CRM tools seamlessly with LinkedIn. Customer relationship management software lets you see what your contacts are doing in real-time, offering valuable information about their preferences and behaviors.
B2B businesses can generate traffic. LinkedIn can do wonders for link building and bringing in organic traffic. LinkedIn has a social sharing button that allows you to share content in your status updates, and shares are pretty common on the platform.
B2B businesses can gain insight. Since LinkedIn encourages social listening, it's the perfect place to gain insight into your customers and their buying habits. LinkedIn's built-in analytic software can help you adjust your campaigns and sell to the right people.
While LinkedIn can make B2B marketing easier, there's no guarantee your strategy will work. There's a lot of content out there, so your prospects often pick posts that answer their persistent questions. It's unlikely that your customers will read or care about everything you create. With that said, content creators can get the most out of their leads by utilizing multiple B2B lead generation tactics. If you have the cash flow or enough employees to capitalize on every lead source, such as email marketing and organic search traffic (with SEO), you could hit the majority of your target audience.
How can B2B Marketers Appeal to Their Audience?
A content strategy can fail if you don't have a buyer persona, a goal in mind, something that separates you from your competition, and promotional activity. In today's world, your prospects want you to answer their questions, provide a solution, and back up your claims with reviews.
What's more, your prospects want to make an informed decision. If you keep pricing documents readily available, your customers can see where their money is going. Product comparison articles that are well researched and don't appear overly biased are also helpful.
A good way to appeal to your customer base is by writing for your customer, not yourself. In the following sections, we'll help you develop a B2B content marketing strategy that works.
How to Start Thinking About Your B2B Content Strategy
In the marketing landscape, content is King. In fact, content marketing gets three times more leads than search advertising. But only 39% of marketers have a documented content strategy. You can start creating your content strategy by asking yourself the following questions:
Who are you creating content for?: Research your customer base and identify challenges they have. The best way to start is by researching your competitors' customers to see what their preferences are and what they prefer to interact with.
What problem are you solving?: All B2B marketing should focus on how your business and its products can help solve your customer's problems. By demonstrating that you understand what they're going through, you can quickly build trust.
What makes your content special?: You're going to write content that's similar to your competitors, but if you don't add to it, you won't provide any value for your customers. Strive to produce unique, informative content that's better than your competitors.
What keywords will customers use to find you?: "Keywords" are words or phrases people type into search engines to find businesses, products, and information. Start researching keywords by considering what your customers would use to look you up.
Do you need and/or use a CMS to publish content?: Automation makes lead generation easier, and a content management system (CMS) can help automate the content creation process. Find a CMS that can publish content across multiple channels.
What content types will you create?: Most B2B businesses need a blog that's updated 3-5 times a week. Blogging is great for SEO because it helps with things that are vital in Google's ranking factor. eBooks, videos, and infographics are other good choices.
What channels will I use?: We hope you'll use LinkedIn, but Twitter and Facebook are other platforms that offer a lot of selling opportunities to B2B companies. All social media platforms fulfill a specific role. You shouldn't use all channels just to increase your reach.
What are your KPIs?: Key performance indicators, or KPIs, can help you see if your content marketing strategy is working. You need to have a clear idea of what "success" looks like in your company, and you can do this by tracking your analytic data.
By looking at the list of questions, it isn't hard to see why some B2B companies become frustrated with content marketing. However, if you're able to provide specific answers, you'll be able to develop a strategy that's actionable, targeted, and relevant to your audience.
15 Key Components of a B2B Content Strategy
When creating your B2B content strategy, always keep your customer in mind. The only way you can make targeted, relevant content is by putting your preferences second.
1. Goal Setting
By goal setting, you can determine what you want to achieve by creating content. Do you want to generate more revenue, increase website visits, or attract more warm leads? Either way, your goals will define your B2B marketing strategy, including what you create and how it's promoted.
2. Buyers Persona
A buyers' persona is a representation of an ideal customer. You can create your buyers' persona by leveraging market research and combining it with existing data on your current customer base. Focus on buyer behavior, not stereotypes, to come up with an accurate persona.
3. Content Audit
A content audit catalogs and analyses the content you have (or don't have) across your website. If you're missing an essential piece of content, you'll be able to pinpoint where you can fill in the gaps. Content audits are helpful for long-standing enterprises who want to optimize content.
4. Brainstorming
A creative brainstorming session should be at the heart of your content marketing strategy. Sit down with your marketing and sales teams to come up with ideas related to your customer's pain points. Come up with unique angles that you can take with content that's already out there.
5. Keywords
Your customers will ask search engines questions about their problem, but sometimes your prospects can't find keywords that reflect that issue. To ensure these customers find you, use closely related industry terms, low competition terms, misspellings, and purchase terms (buy).
6. Topic Clusters
Topic clusters are "pillar" pages that group similar topics together that are related to the main topic. Pillar pages give an overview of the topic, while "child" pages go more in-depth. Pillar pages are great for SEO because they link several other blog posts and keywords together.
7. Content Types
There are loads of different content types, and we already established that blogging is a necessity, but what else should you focus on? Video. 9/10 US internet users watch videos on their phones almost daily, and you're leaving money on the table if you neglect this market.
8. Market Research
A professional market research report can help you understand the needs of your audience. To conduct one, ask questions in relation to your topic. For example, "are businesses struggling with growth?" Ask sub-questions, like "what tools are you using?" for more accurate reports.
9. Content Management
The content management system (CMS) is a huge part of content marketing. A CMS helps you create a content schedule and gives you the option to automate your upload schedule. A headless CMS gives you the flexibility to choose when and how often your content is published. You can set your content to be published automatically at certain intervals, or you can manually publish it when you're ready. Embracing the benefits of a headless CMS in automating this process can give you more time to spend on actually creating content. A CMS can also be integrated into a community management software (like Impexium) if the brand runs a community.
10. Employee Marketing
Your employees can act as spokespeople for your content by sharing what they write/create on social media. Keep in mind that not everyone is a great content creator, so give them the freedom to choose what they want to create. Recognize their efforts through feedback.
11. Content Promotion
Your content can't promote itself. Although all social media networks have their own rules, targeted advertising tends to work on all platforms. Pay-Per-Click (PPC) advertising, sponsored content, guest posts, and retargeting ads are pretty effective on websites and social media.
12. Email Marketing
Email marketing is still one of the most effective marketing channels around. 79% of B2B businesses say it's a very important and inexpensive way to promote their products. 93% of B2B marketers use email to distribute content and send product information to their customers.
13. Product Updates
While it's true that most B2B companies can get a lot of mileage out of one product, they have to continuously update their product, or their current customers will lose interest. Make a "new feature" segment a part of your content creation schedule to keep your customers in the know and use mockup designs to show how the product will look once it's launched.
14. Analytics
Your business needs an analytics platform for effective website visitor tracking, capturing website activity and attributing value to actions your visitors take. Attribution reporting can come in handy here because it lets you tie activities back to a specific user's actions across multiple channels, products, and content.
15. Updating Content
Updating your content is just as important as making it in the first place. Google prefers current blog posts, so if you have content that hasn't been updated in over a year, most search engines will consider them "dead." Make sure all your content is up to date to increase traffic.
Conclusion
It's no secret that a lot of work goes into creating, scheduling, uploading, and updating your content, but the rewards are worth the trouble.
With a rock-solid content marketing strategy, your website and social media profiles will rank better on search engines, leading to more growth and sales.