Producing high-quality content consistently is a cornerstone of online marketing, but it can also be incredibly frustrating and time-consuming. Writer, an AI writing tool, leverages the power of machine learning to help brands create on-brand content every time.
There are, however, a ton of content tools on the market. What exactly is Writer, and is it worth the cost for your brand?
Watch this video to see our final verdict on Writer and to see the app hands-on:
Our Verdict
If you are looking for a content tool to help develop content that is consistently on-brand and streamline the publishing process, Writer might be just the software tool you've been looking for.
Grammarly
Best All-Around
$11.66
/mo – before discount
PROS
86% out of 86% accuracy
16+ billion database
150k+ word limit
5 devlice limit
Includes plagiarism
1-hour response
CONS
Only supports English
Expensive without our link
Writer
Best for Collaboration
PROS
Designed for content teams
Inclusive language options
Memorizes Style Guides
CONS
Poor Plagiarism Function
Inconsistent Spell Checker
No writing goal setting
TABLE OF CONTENTS
What is Writer?
Writer is an AI writing assistant designed to help teams create clear, impactful content by correcting grammar mistakes allowing users to customize suggestions. The San Francisco-based company was founded as Qordoba in 2015 by May Habib and Waseem AL Sheikh and was named to the Forbes Cloud100 list for rising stars in 2018. In August 2020, Qordoba officially changed its name to Writer.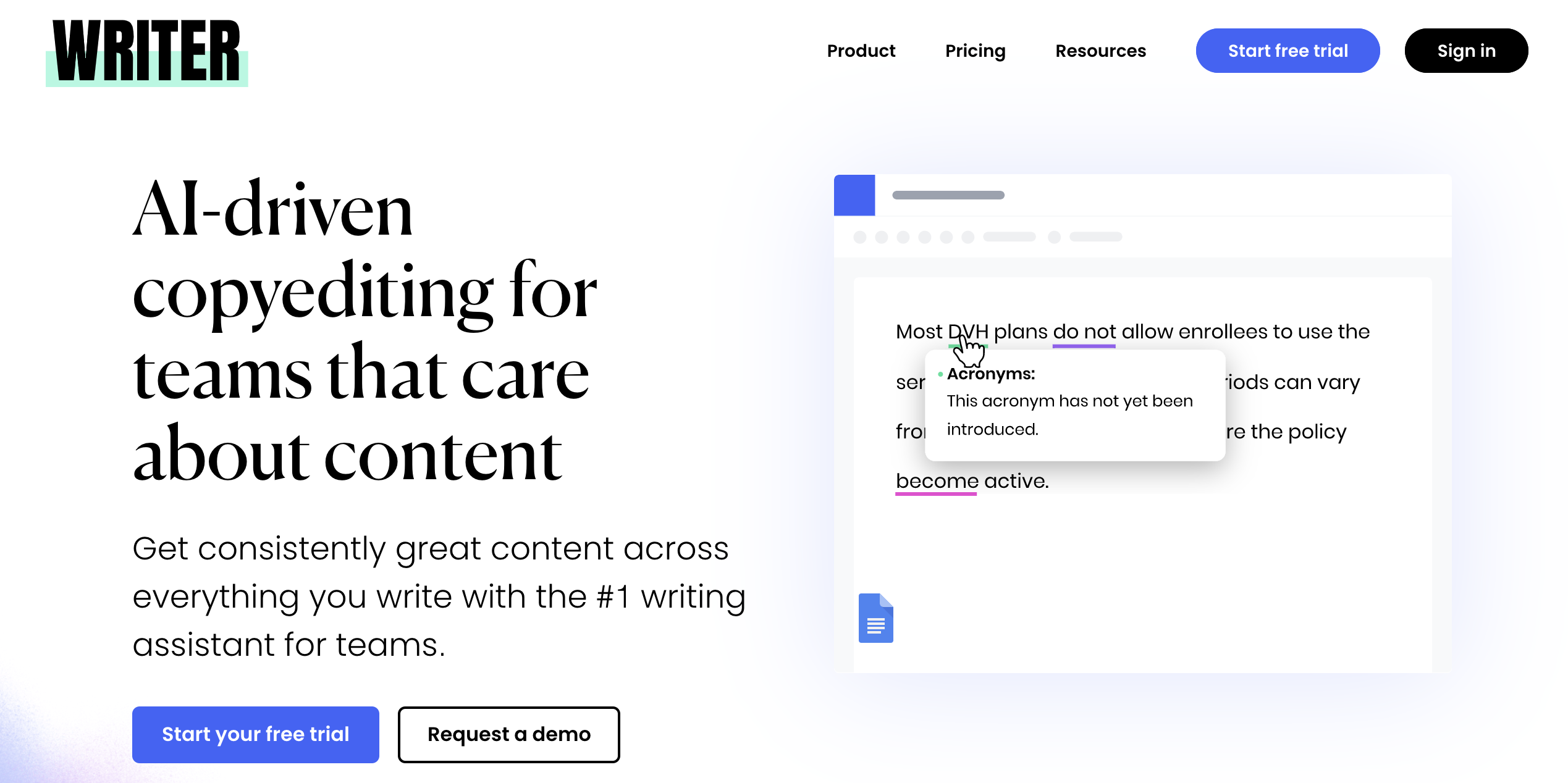 Though the tool's primary goal is to help teams create and manage copy across multiple apps and products, it also offers features like plagiarism checking, integrations, and access to an API.
But is it the right tool for your company?
That is what we are here to find out! In the following Writer review, we'll review the AI writing tool's main features, cover a list of pros and cons, and explain the different pricing plans.
Writer's Main Features
At its core, Writer is a writing and grammar tool. It doesn't have flashy optimization features, and it won't tell you where to insert internal links. What it will do is help brands with multiple writers create content that remains true to the brand's voice — even if you are juggling multiple brand voices.

During the setup of your account, Writer will prompt you with several options of what you need from the tool.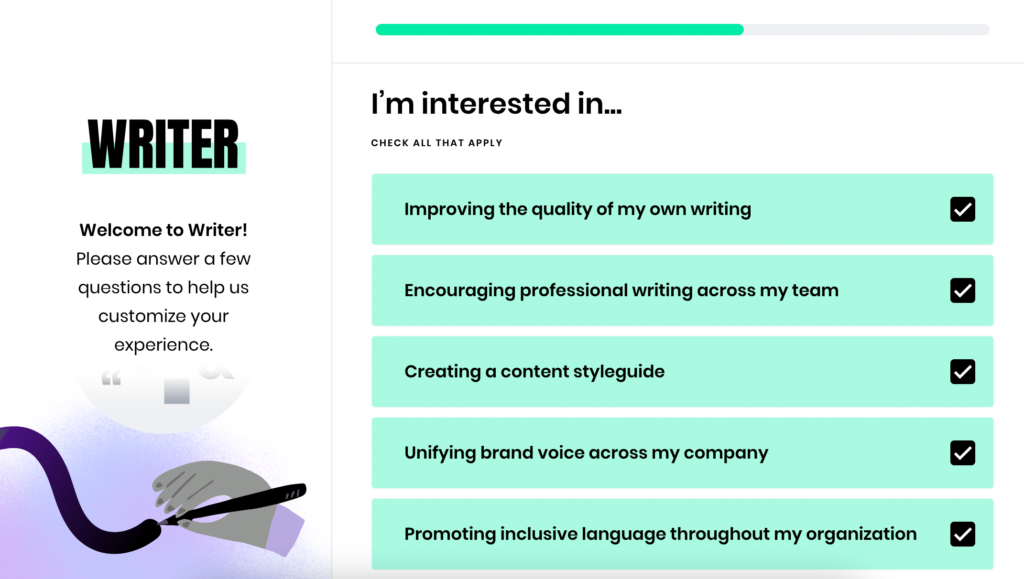 The main dashboard on Writer looks very similar to other writing tools you might have used, including Grammarly and Frase. Writers copy and paste their content, or write directly in the tool, and Writer offers suggestions for improving grammar, spelling, tone, flow, and wordiness.
The dashboard is pretty user friendly, with a left sidebar providing access to the tool's main features. In the document tab, the right sidebar suggests improvements, as well as an overall score for your content.
For example, the tool suggests swapping "in order to" for "to" to help make the content easier to read.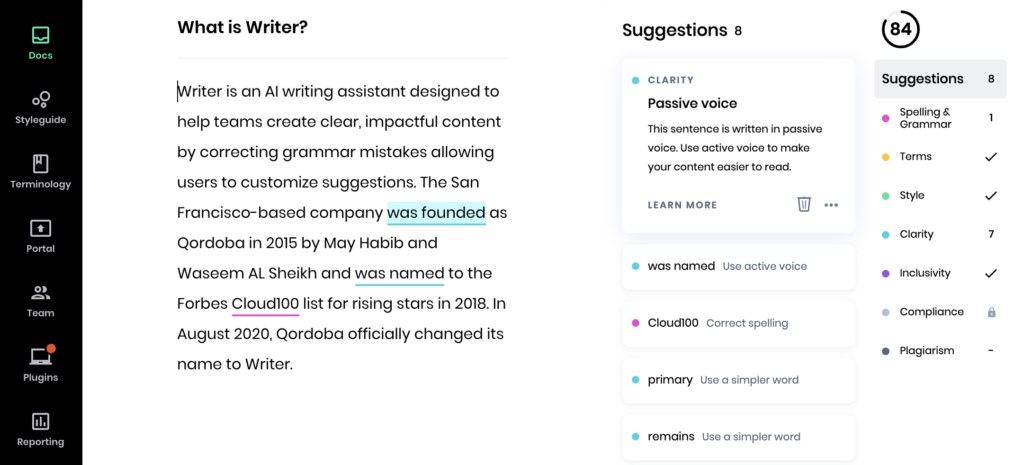 But, Writer is much more than just a fancy grammar checker. Let's look at a few other features from this AI-powered platform.
Customizable Style Guide
This is the most unique feature Writer has to offer — and it really stands out from other content tools you've used.
The style guide feature lets brands to develop a customized style guide for each product, client, or team. Users can select the brand voice, formality, writing style (AP vs. Chicago, for example), customize grammar rules, and even customized spelling.
For example, a brand that prefers to use e-commerce versus ecommerce could set a style rule to correct the word to their preferred usage.
Unlike Grammarly, Writer stores these style guides. This means you can choose one style guide to give you suggestions when writing the copy for your homepage and another to monitor your tone on the blog, which might be more informal.
Or, you could create separate style guides while working on a content localization project and ensure copy for the UK follows their language rules.

The ability to develop multiple style guides at the enterprise level can also be incredibly useful for agencies that work with multiple clients.
A marketing agency could develop a style guide with a formal tone for an enterprise software vendor and a livelier tone for an automation tool designed for tech users. This flexibility could drastically reduce editing times and ensure consistent brand voice across multiple clients or product lines.
The style guide feature includes a "custom page" feature, where you can upload more specific information, such as image resolution requirements or specific brand attributes you want writers to keep in mind.
Reporting Tools
Writer's reporting tool provides writers and teams with feedback about recurring issues so they can be addressed. As a writer, I find this quite useful for tracking the errors I make repeatedly so I can adjust my writing.
Reports track a variety of errors and corrections, including:
Spelling
Compliance
Plain language
Grammar
Writing style
Brand voice
Plagiarism
Here's a peek at my report after playing around with the tool: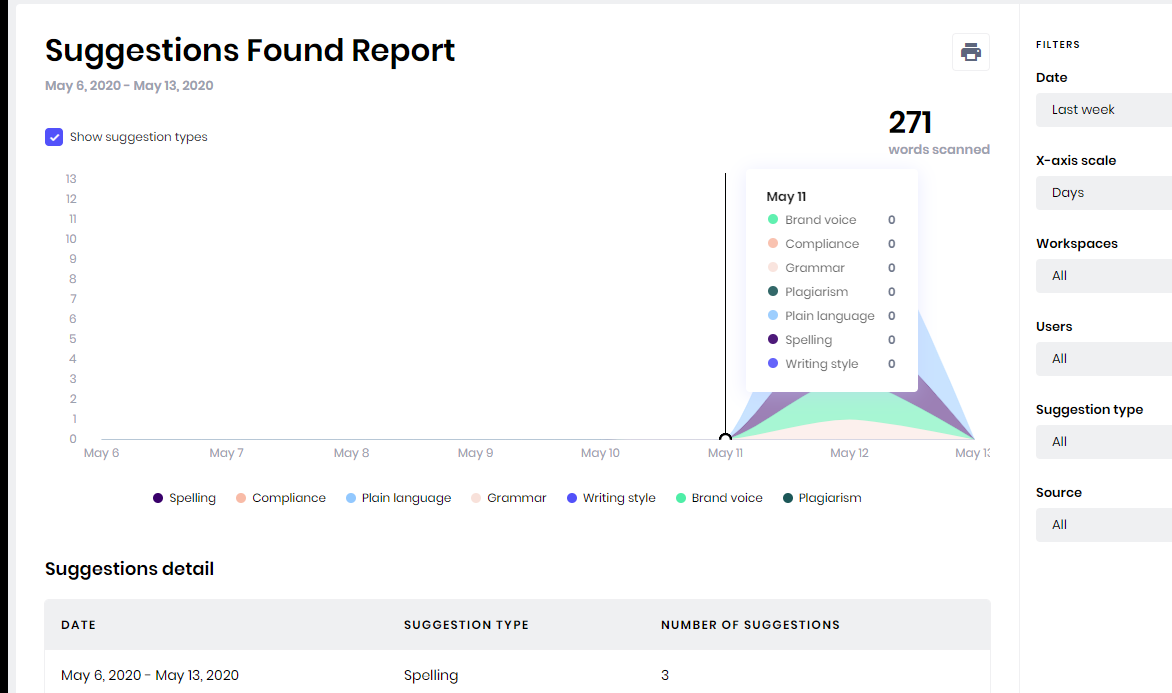 Screenshot taken by the writer
As you can see, reports can be broken down based on user, workspace, and time period, which gives managers insight into challenges specific writers or teams may be having.
Plugins
Writer offers plugins for Google Chrome, Google Docs, and Microsoft 365. This allows users to get style guide suggestions across multiple platforms and means users won't have to copy and paste the content into Writer to use its features.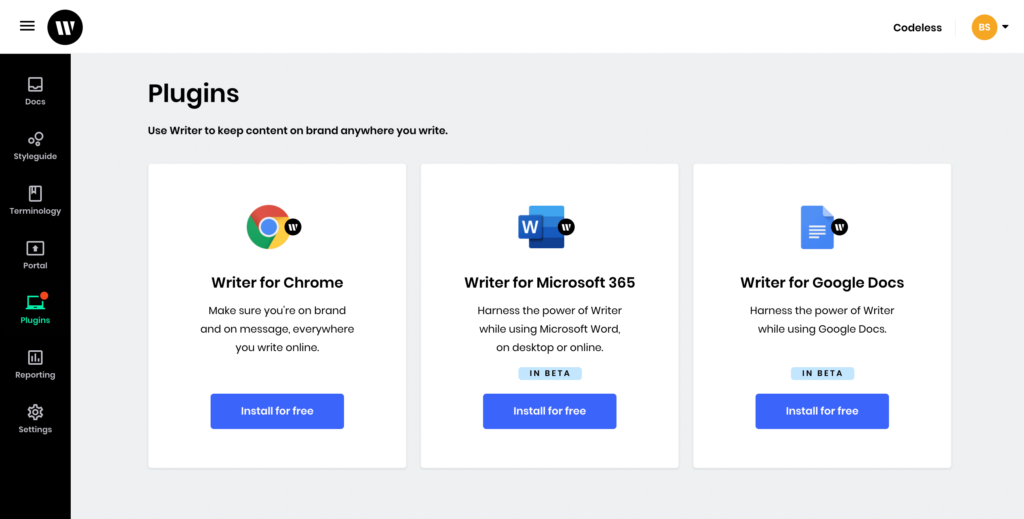 While copy and pasting is a pretty simple step, the ability to get suggestions in the tools writers use every day helps improve content consistency.
Writer API
Looking for ways to use Writer's functionality across other applications or better customize the platform to your needs? Their API feature gives developers the flexibility to make the most out of Writer's features.
Their API reference page offers a wealth of knowledge, including access to additional documentation and a developer community, though there are currently no questions in the community.
And it's pretty powerful. Twitter uses Aordoba API to integrate with its proprietary strings management platform, which allows its content strategists to write, edit, and even request feedback in their platform, saving their engineers tons of time on updating and editing code.
Pros of Writer
When it comes to creating content with a consistent brand voice, Writer has a lot to offer. Now that we've taken a look at the main features this artificial-intelligence writing tool has to offer, let's take a more in-depth look at a few elements that really stand out.

Reasonably Priced for Individual Users
Pricing for Writer starts at $11 a month, or $99 a year (if you pay anually) making it reasonable for freelance writers or small companies. For bigger organizations that might benefit the most from multiple style guides these features only come at the enterprise level.
However, if you are looking at Writer as a Grammarly alternative, the price is very affordable and comparable.
Ease of Use
Writer is incredibly easy to use. The dashboard is clearly labeled, and writing suggestions are easy to access in the right sidebar. You don't need to be tech-savvy or spend hours reading how-to guides to get started.
Just open the tool, choose "Docs" in the sidebar, select "New Doc" and paste your content. Writer gets to work, underlining errors, and making suggestions to improve your writing. The suggestions load fast, so you'll only have to wait a few seconds.
The most complex task is setting up the customized style guide (or guides), but Writer carefully explains each feature and walks you through creating your guide.
Remember, you only have to do this once for each guide — Writer will save the style guides, and they can be used by any team member.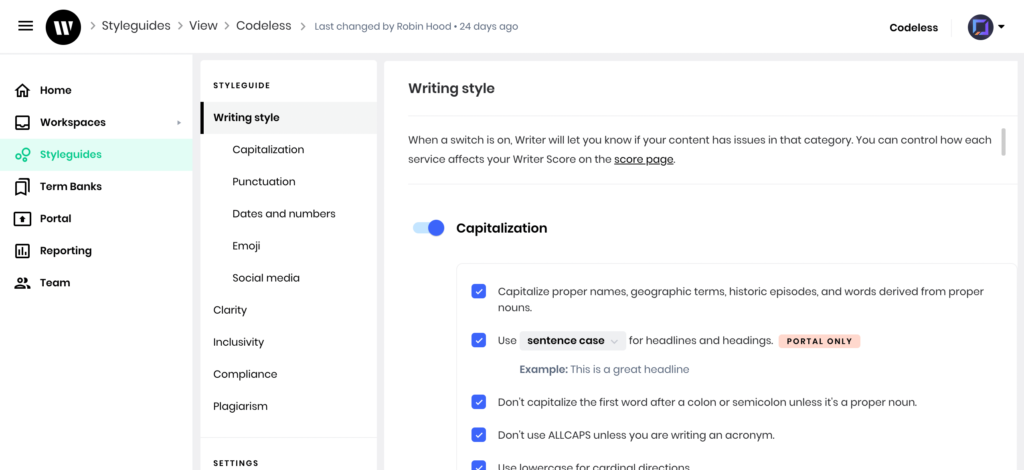 Screenshot taken by the writer.
Customer Service & Support
Writer provides customer support 24/7 by phone and by email. Training is available in person, online, or through their documentation library. User reviews on GiveApp rank Writer four out of five stars, and I was unable to find anyone complaining about poor service, which bodes well for users.
Their website also provides a blog with a variety of writing tips and information about content strategy, which is useful for content strategists and internal teams.
White Label Your Style Guide
Want to make Writer's style guide your own? Writer offers white label service at the enterprise level, which means you can put your own branding on your style guide and use it across platforms.
Security Features Look Solid
Writer is serious about the security of your content and data. They don't use tracking pixels or beacons to track your behavior or use your content for their own services. They are HIPAA and SOC2 compliant, which is crucial for companies that may be dealing with more sensitive data.
And, they haven't had any security breaches, which bodes well for security as a whole.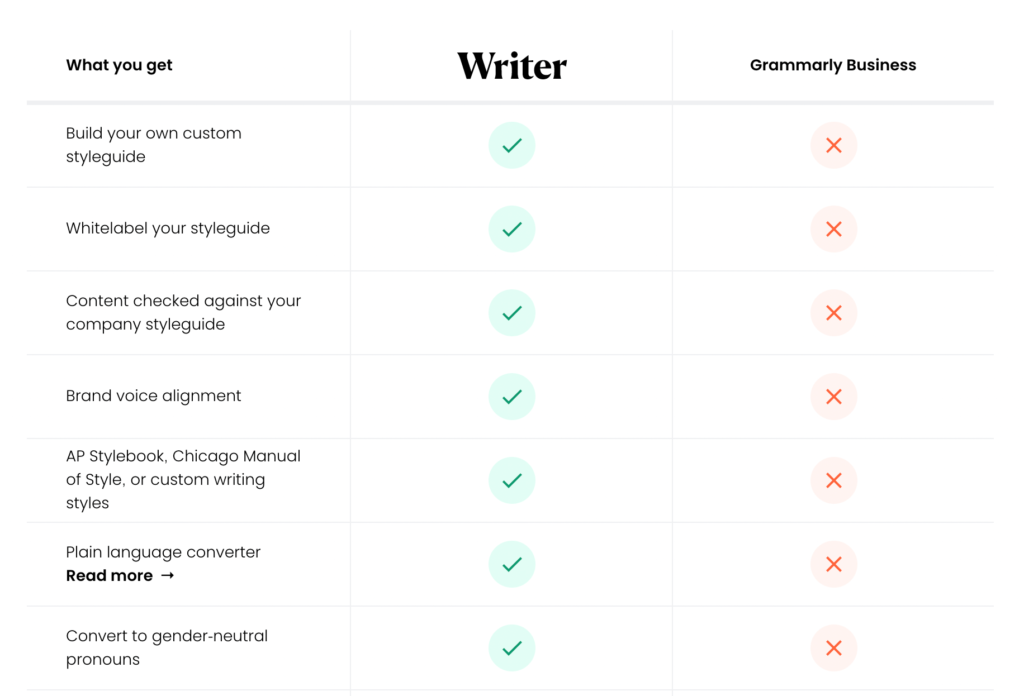 Workflow Features Make Content Production Easier
Writer's workflow feature (available to enterprise-level customers) allows team leaders to assign tasks, set deadlines, assign team members to a specific item, and create a workflow process.
For example, you can create a task and assign it to the writer, then an editor, then to a client for review, all in Writer. And, this is all automated.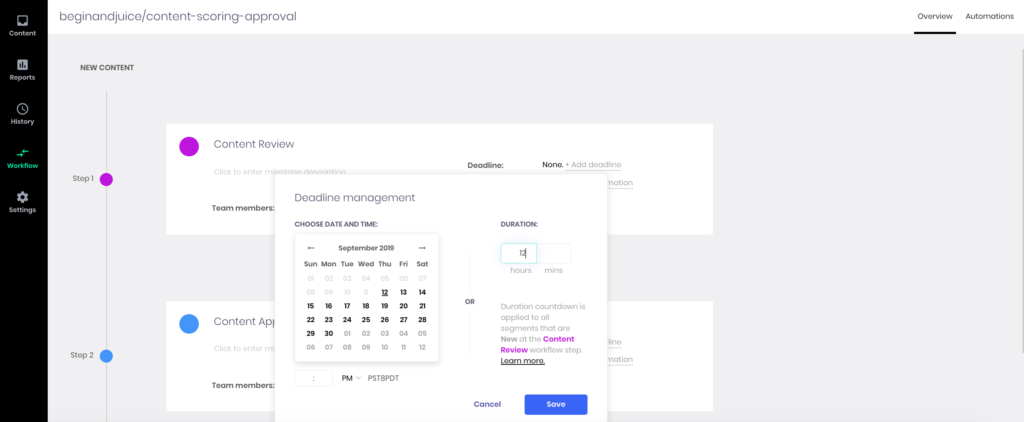 Overall, the workflow process is pretty simple, but it does make for easier collaboration within teams. However, to take care of the design side, you'll need to use an outside tool such as a Figma plugin, Canva, or Adobe's Illustrator.
Writer's editing platform does not currently integrate with any design or project management tools, though these features may be on the Writer roadmap for future updates.
Cons of Writer
We've covered all the awesome features Writer has to offer, but there are a few areas where it comes up short. Here are a few features Writer lacks that might make you think twice before diving in.
No Content Optimization Features
Writer does not offer any content optimization features, such as keyword suggestions, topic ideas, or comparing your content to competitors. If you are looking for a tool to develop content that ranks well in the search engines, you should look to tools like Frase that focus specifically on content optimization.
While this app won't allow you to export to WordPress in 1-click, Wordable will allow you to export from Google Docs to WordPress seamlessly. It will not only clean and properly format your HTML, but also compress images, open links in a new tab, automatically set featured images, or create a table of contents, and lots more.
No Content Briefs
Another area where this software falls short is in content briefs. If you are looking for an app that creates SEO-powered content briefs for writers, this is not the tool for you. There are no content briefs — you'll need a tool like Frase for that feature.
No Document Translation Features
Writer ranks high for content translation; however, this tool does not offer content translation. Despite the unique name, there is a similarly-named company Writer Translation that offers translation services in Arabic countries.
While this Writer could help streamline the content translation process, it won't actually do the content translations for you.
Writer Plans & Pricing
Pricing for Writer starts at $11 a month for individual users or $499 annually for their lower-tiered service, which includes up to 5 users, one style guide, up to 200 custom terms, and the Chrome extension. This service is ideal for teams creating content for just one company.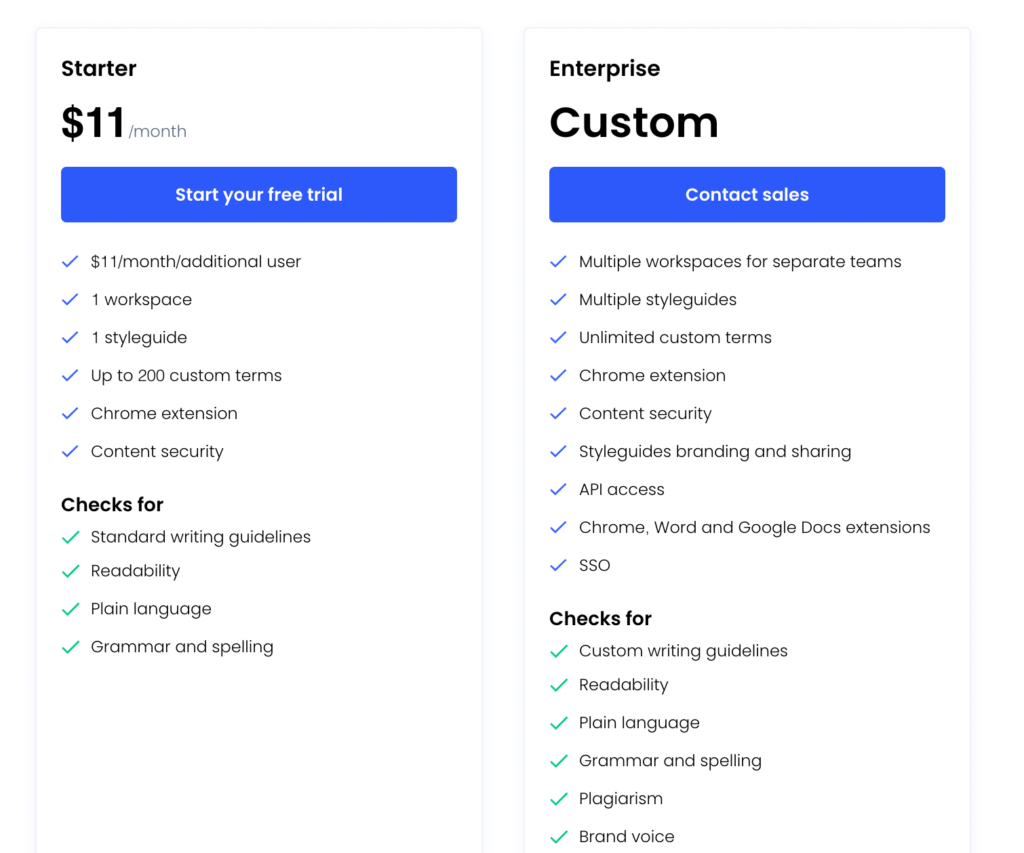 One of the most significant drawbacks of the lower-tier plan is it does not include plagiarism checks, which means you'd need to pay for an additional service to check for duplicate content.
Most writers won't plagiarize, but it can happen unintentionally — even to the best writers — when writing about the same topic over and over again.
To gain access to the plagiarism checker, you would need to upgrade to the enterprise plan. Writer's enterprise plan has custom pricing, so you will need to reach out to the company to find out how much you can expect to pay.
The enterprise plan offers:
Access to multiple style guides
Multiple workspaces for different teams
Unlimited custom terms
Access to the Writer API
It is ideal for agencies that develop content for several clients or brands with multiple target audiences. For example, a SaaS company could use one style guide for its enterprise clients and another, more casual, style guide for individual users.
Writer Review Breakdown: Should You Choose The Platform?
If you're seeking an alternative to Grammarly that has a similar set of tools and pricing, then Writer is also a great option. Writer is an excellent content tool to help develop organizational content that is consistently on-brand and streamlines the publishing process. For those who work as. part of a larger content writing team, Writer might be just the software tool you've been looking for.
On the content strategist side, Writer's AI falls short. There are no content optimization tools — instead, Writer uses machine learning to make it easier for teams to create and publish content that is on-brand every time.
Large brands, or companies that work with multiple clients, are likely to find Writer saves them a significant amount of time by ensuring a consistent brand voice — even across multiple clients or product lines.