Staying in touch with your friends, family, and coworkers is one of the biggest advantages of modern technology. So much so that some instant messengers are among the most downloaded apps in the world.
In 2020, staying in touch is especially important. Not only has the quarantine highlighted the need for virtual contact with our closest ones, but many teams have started working remotely and are looking for easy and secure ways to communicate. It seems like we're introduced with a new team chat app almost every year – each of them offering new features, more options for team collaboration, and more data safety.
So, how do you navigate the busy instant messenger market? How do you make sure your team has the best, safest app to handle all communication?
In this article, we'll rank our top instant messengers on the market and dig deeper into their signature features and possible weak points.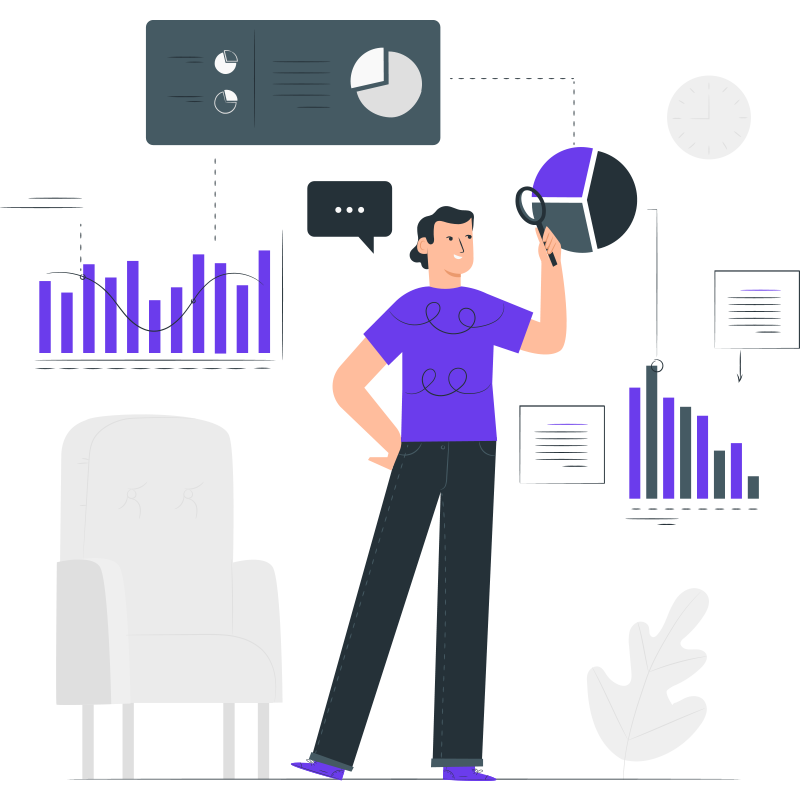 Get long-term ROI.
We help you grow through expertise, strategy, and the best content on the web.
What are the best instant messaging apps?
App

Video calls

Message history limit

File storage limit

End-to-end encryption

Price

Brosix

Up to 4 people

Unlimited

Unlimited

Yes

$0 – $6.00 user/month

Discord

Up to 25 people

Unlimited

8 – 50 MB

No

$0 – $9.99

user/month

Mattermost

Not available

Unlimited

50 MB

No

$2.25 – $10.00

user/month

Microsoft Teams

Up to 250 people

Unlimited

Up to 1TB per organization

No

$5 – $20.00

user/month

Fleep

Up to 4 people

Unlimited

Up to 100 GB

Yes

$0 – $5.00

user/month

Chanty

Two people

Unlimited

10GB per team

Yes

$0 – $3.00

user/month

Troop Messenger

Up to 6 people

Unlimited

Up to 1 TB per organization

Yes

$2.5 – $5+

user/month

Ryver

Up to 50 people

Unlimited

Unlimited

Yes

$49 – $149

Per month

Slack

Up to 15 people

10k messages

5 – 20 GB

No

$0 – $12.50+

user/month
What should you look for in instant messaging apps?
Instant messaging apps might differ in features, pricing plans, and other factors but there are some things you should consider a must-have. Here are some of those things.
Ease of use: good instant messengers are usually intuitive and well-designed. Setting up the app, adding people, sending messages – all of those actions should feel natural and effortless. Some of the apps we covered in this article follow this logic and feature a simple messenger design we're all used to. Others tried too hard and ended up with a confusing solution.
Safety: you can never be safe when it comes to your online conversations. Especially ever since the Cambridge Analytica scandal with Facebook, people are increasingly concerned with their messenger's data privacy policies. Data security is achieved through different protocols, with end-to-end encryption being the first step that many messengers take.
Team collaboration features: if you're using an instant messenger to collaborate with colleagues, you might be interested in some team collaboration tools. This may include a level of admin control, different channels for different teams, etc.
File sharing options: not all messengers handle file sharing with the same efficiency. Some put very limiting restrictions on your file upload size, others have different standards for different types of files. Most messengers will support basic files like images up to 5 MB but it will be a tricky ride if you need a messenger that can send larger files.
Video/voice calls: if this year has taught us anything, it's that chat on its own isn't an efficient way to communicate. To truly connect with someone, you need voice and video calls. This is especially the case for business conversations and conference calls. Some messengers are better than others in delivering quality calls, and some of them even offer additional features in this area.
Taking all these factors into account, along with some other important ones like price, user reviews, and messaging apps for PC, we created our list of the best instant messaging apps.
So, let's get into the list and find out which messenger is the best!
1. Brosix
At Brosix, we prioritized two things when creating our messenger app: safety through admin control and messaging experience. As a result, we've delivered an instant messenger that gives you complete control while making your chat experience simple, intuitive, and distraction-free.
What does all of this mean?
Key features
Brosix is all about control – as the admin, you get the final word when it comes to who can enter which chat and who has access to which features. With an elaborate Web Control Panel, you can create your perfect communication environment and modify it to suit the needs of your team. It's designed to work for different IT setups, so you can install it easily and start chatting.
The messaging experience on desktop is about as familiar as it gets: you have the standard chat window that takes up most of the screen, and your channels on the left. The mobile app has the same intuitive design that you get with most messengers. This design has been here for years and most users will find it natural.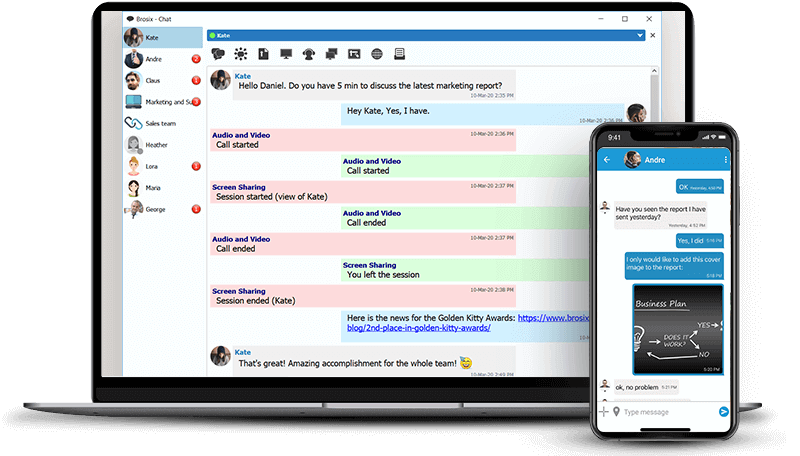 But the cool thing about Brosix is the attention to detail. For example, while other messengers place a limit on your file upload size (we'll cover that throughout this article), Brosix has no such limit. You can share your largest PowerPoint presentations and hi-res videos easily. You also have an unlimited chat history that allows you to search not only by keyword but by date as well. This can be useful if you can remember when your conversation took place but you can't remember the exact words.
Brosix also offers a handful of advanced features like screen sharing with desktop control and the whiteboard on video calls.
Brosix pricing
For small teams that are just getting started, Brosix is free. You have two other plans to choose from: Business ($4 per user per month) and Premium ($6 per user per month). These two plans enable you to have unlimited users, so they're perfect for larger teams. However, even the free plan gives you full control over all user accounts.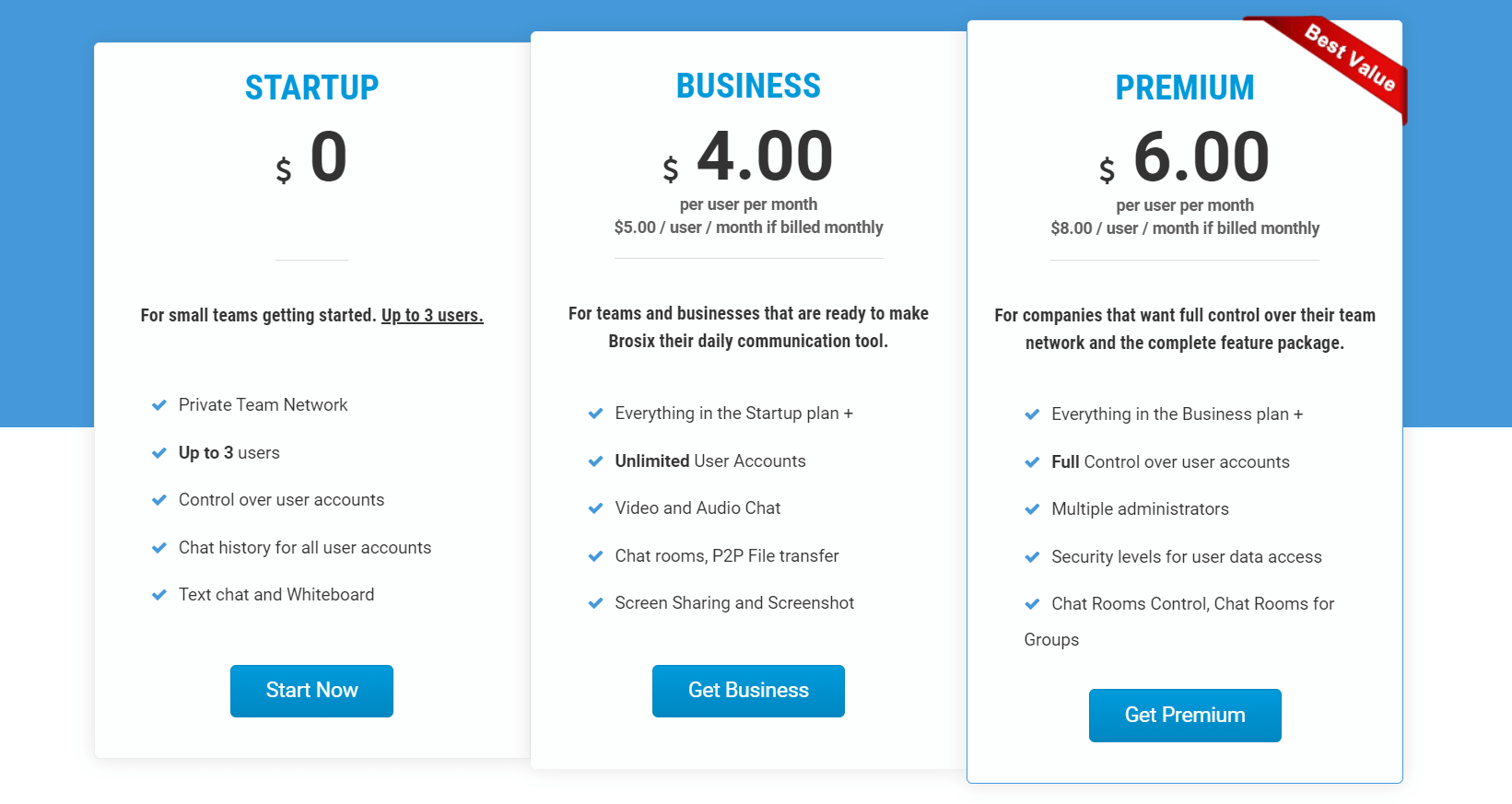 Keep in mind that you get better prices if you choose to be billed monthly. It isn't a huge difference but it can stack up as you keep using the app!
If you like these advanced security and chat features, feel free to request a demo and learn more about Brosix on your own.
2. Discord
Discord started as a chat for gamers that enabled streamers to communicate with their fans while playing the game. Is very community-driven – it has servers (which are large communities similar to group chats) about almost anything from pop music to politics.
Because of its real-time nature and ease of use, Discord is often implemented as an enterprise solution that allows teams to have audio and video calls, as well as presentations.
Key features
Discord can easily run alongside any other process on your PC, not only video games. That makes it perfect for screen sharing and other video and audio communication. You can join any public server (no more than 100 different ones) and join in the conversation. You can also set up your private server for your friends or colleagues and require a password from anyone who needs to join. This might seem like a great security feature but we'll get to Discord's safety issues in a moment.
Discord features a fun, gamer-friendly design with a dark grey background and small white letters that feel almost like you're coding. The app separates text and voice chat, so you can choose between these two ways of communication easily. In the voice channel, you can set your microphone to "always-on" and share your screen. This is something that many streamers do but it's clear how it can be useful in a business setting as well – training, presentations, tutorials, etc.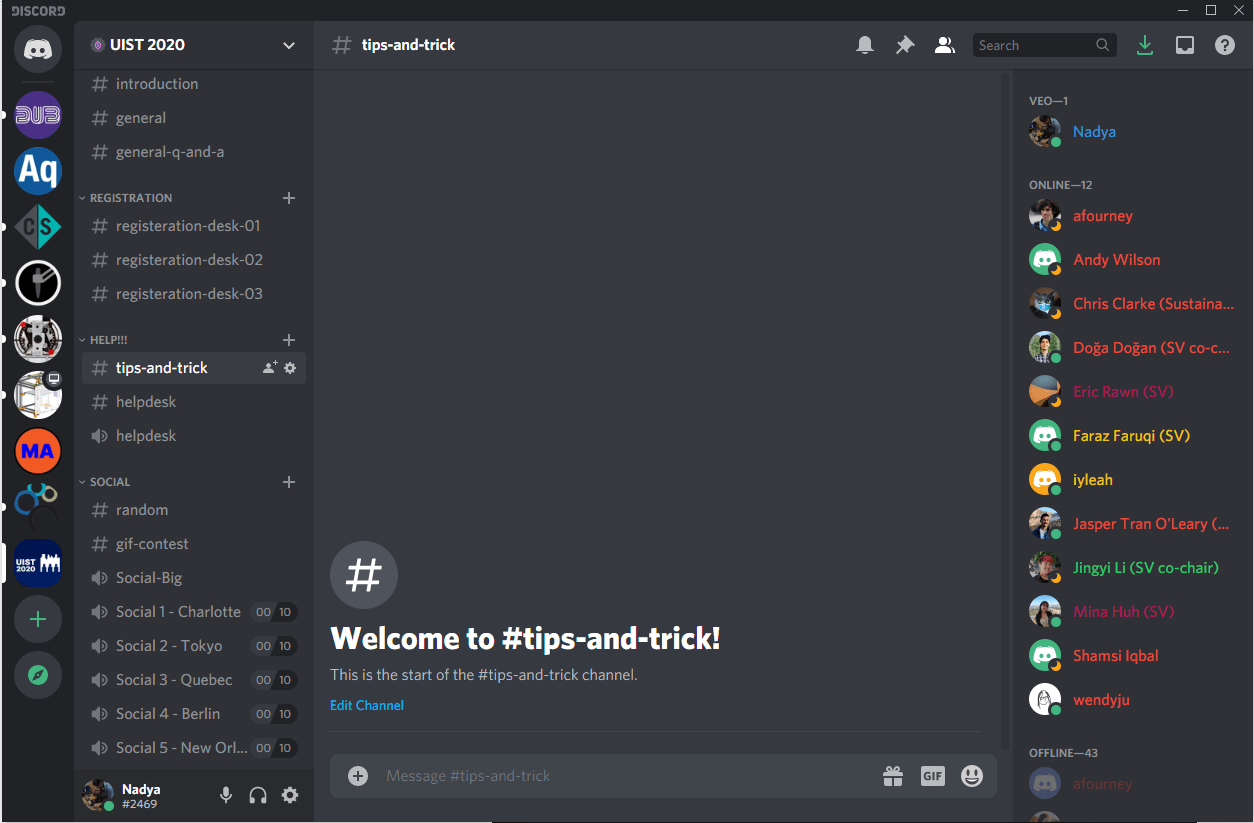 Unfortunately, Discord offers few advanced features for teams. For example, only eight people can join a video call at the same time in the free plan. Security could also be a concern, as the app doesn't use end-to-end encryption and all information is stored on their servers.
Discord pricing
Discord is typically used as a free app that includes most features you'll need for basic team communication.
If you want more advanced features, you can opt-in for Discord Nitro or Nitro Classic that come at $9.99 per user per month and $4.99 per user per month, respectively. These plans give you increased file upload sizes, higher quality videos, and certain customization features.
3. Mattermost
Mattermost is a team chat app founded in 2015. It markets itself as an open-source Slack alternative and it features many of the same options, including a similar look and feel. However, unlike Slack, Mattermost puts a strong emphasis on security, which is reflected in the way the app is installed and used.
Key features
When you take a look at its user interface, you can't help but think of Slack. You can change the color of the sidebar to purple and see just how similar the two apps are. You navigate the channels the same way you do on Slack and sending messages as well as inserting emojis is quite similar as well.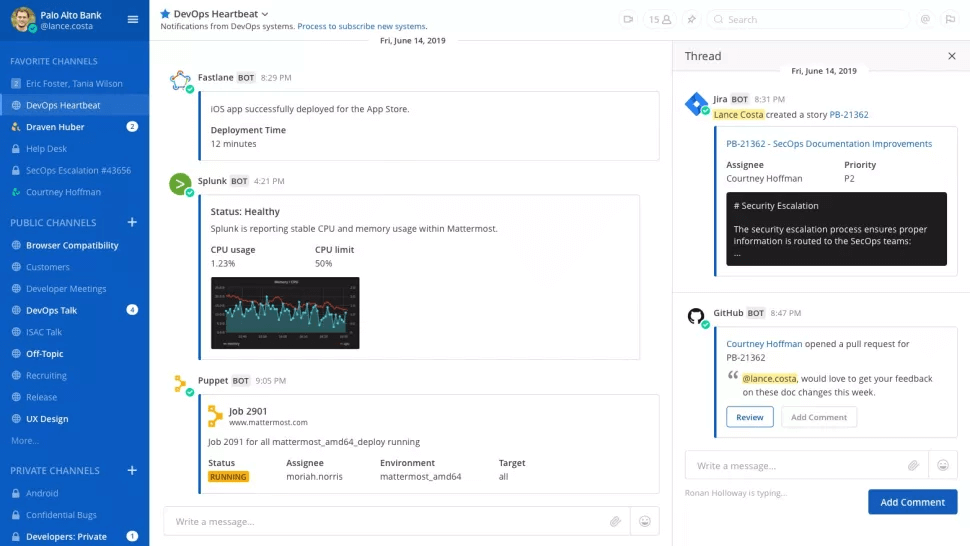 However, that's where their similarities end. Mattermost runs internally, which means it's set up in your own data center. You have full ownership of your company IP and all customer data. It's clear how this can be appealing to many companies, especially large enterprises like hospitals, government agencies, law firms, etc.
Mattermost doesn't offer too many advanced features – it doesn't even have built-in video call capabilities but requires you to use a Zoom integration. It's a simple solution that focuses on security more than anything else.
Mattermost pricing
Mattermost gives you two options: a Cloud-based service or a self-managed one. You have three plans for each option.
Cloud-based: Free, Cloud Professional ($10/user/month), and Cloud Enterprise (get a quote upon request)
Self-managed: Free, Enterprise E10 ($3.25/user/month), and Enterprise E20 ($8.50/user/month)
4. Microsoft Teams
Owned by one of the most famous tech companies, Microsoft Teams is a team chat app with enterprise-level features. It enables you to chat, collaborate on files, hold video calls, and organize your team in other ways.
Key features
One of the main reasons why you might opt-in for Microsoft Teams is the fact that, when combined with the rest of the Office 365 Business Suite, Microsoft Teams make a perfect enterprise environment for communication. The platform easily integrates with other Microsoft apps like Calendar and SharePoint, so you can schedule meetings, create content on Office Online, etc.
When it comes to the interface, we found that Teams are a bit too strict and formal. They might be a better fit for a big enterprise, rather than a young startup team. Its intuitive user interface makes it one of the best instant messaging apps for PC but the mobile app doesn't feel as natural.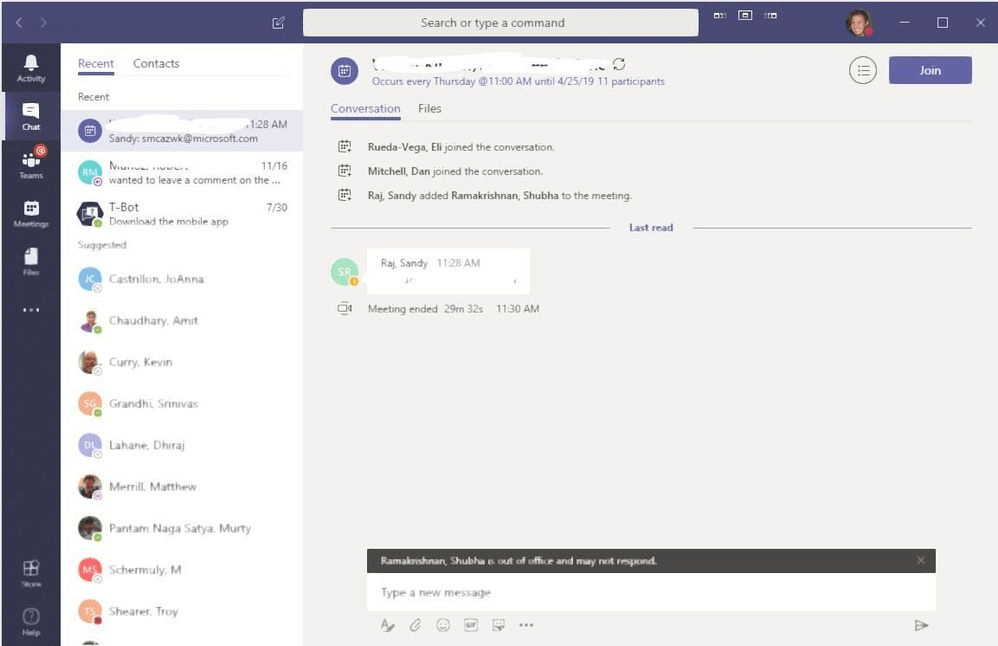 It is, however, great for file sharing, as you have a whole section called Files where your team can upload files and easily make changes.
Microsoft Teams pricing
You can get Microsoft Teams in two ways – free with a Microsoft account or through an Office 365 Business account. If you go for the latter, there are three plans: Business Essentials ($5/user/month), Business Premium ($12.50/user/month), and E3 ($20/user/month).
5. Fleep
Another team chat app that markets itself as one of the best Slack alternatives, Fleep is a work instant messenger that focuses on delivering the most basic features a team might need for efficient communication.
Key features
Like Mattermost, Fleep doesn't try to break any ground with a radical design change. On the left, you have channels (named "conversations" in Fleep), and once you click on one of them, the chat window takes up most of the screen.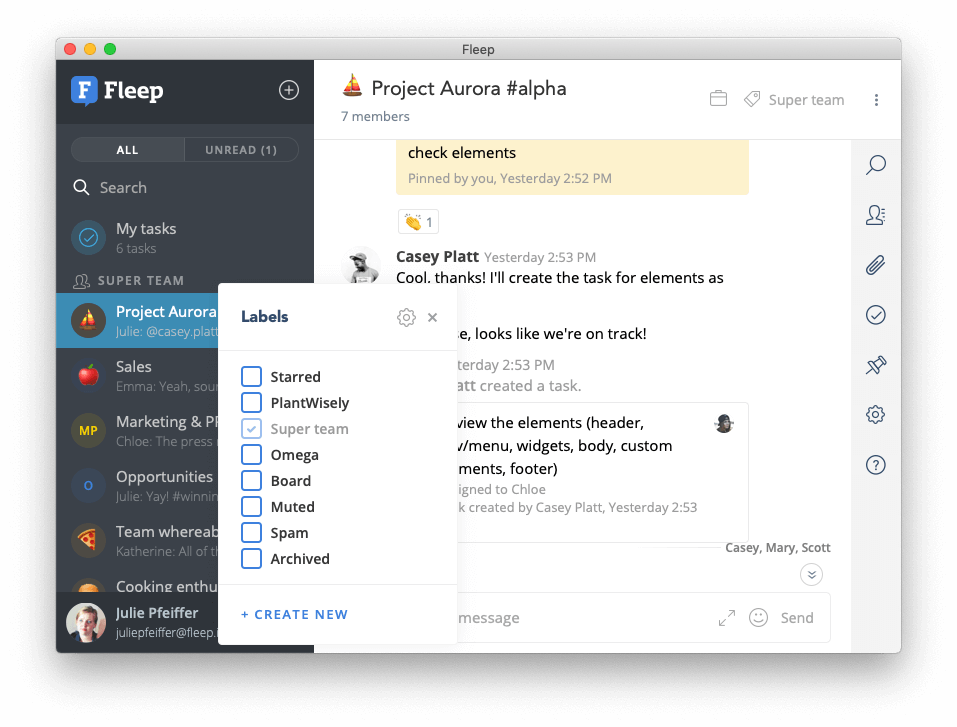 You can also pin specific messages in a conversation, although this process might be easier than in Slack. There is a clickable icon on the right side of the conversation. Clicking that icon shows you all pinned messages.
Unfortunately, Fleep also doesn't have built-in video calls. Instead, they redirect you to Whereby.com. There, you can't even make a video call – you have to create an account first. So, this whole process is a little inconvenient and dragged out.
Fleep pricing
Fleep offers three plans: Free, Business (€5/user/month), and Enterprise, which has a custom price that you need to enquire about.
Keep in mind that the Free plan doesn't have account management options, so if you want to add and remove users, assign privileges, and reset passwords, you need to invest in at least the Business plan.
6. Chanty
Unlike many on this list, Chanty is a messenger that focuses on tasks, in addition to chat options. So, it allows you to pin messages and mention team members, but also create and assign tasks.
Key features
How does this work?
Instead of simply having conversations, Chanty implores you to create tasks and then communicate about those projects. You can set deadlines, assign responsibilities, and start task discussions with one click.
The app might look (and sound) a little quirky, but it's quite advanced in the way it manages tasks compared to other chat tools that offer this functionality. At any time, you can switch to the Kanban board view that you can find in project management apps like Trello. Here, you can execute scrum methodology, control priorities, and truly optimize your workflow.
Chanty also offers some useful integrations that can help you go beyond communication and task management: you can integrate with MailChimp, OneDrive, Dropbox, and others.
Chanty pricing
Chanty has only two pricing plans: Free and Business. The Free plan allows you to have only 10 members, while the Business plan charges $3 per month per user. However, the free plan lacks some important features like video calling and group audio calls, and you're limited to only 10 integrations.
7. Troop Messenger
A relatively new team communication tool, Troop Messenger was started in 2017 by a company called Tvisha Systems, as an internal communications tool. Since then, it has become increasingly popular, primarily because of its safety protocols.
Key features
The first thing you'll notice with Troop Messenger is its slightly old-school design. It looks a lot like other team chats but the hard edge and simple colors force you to focus on the chat and ignore everything else.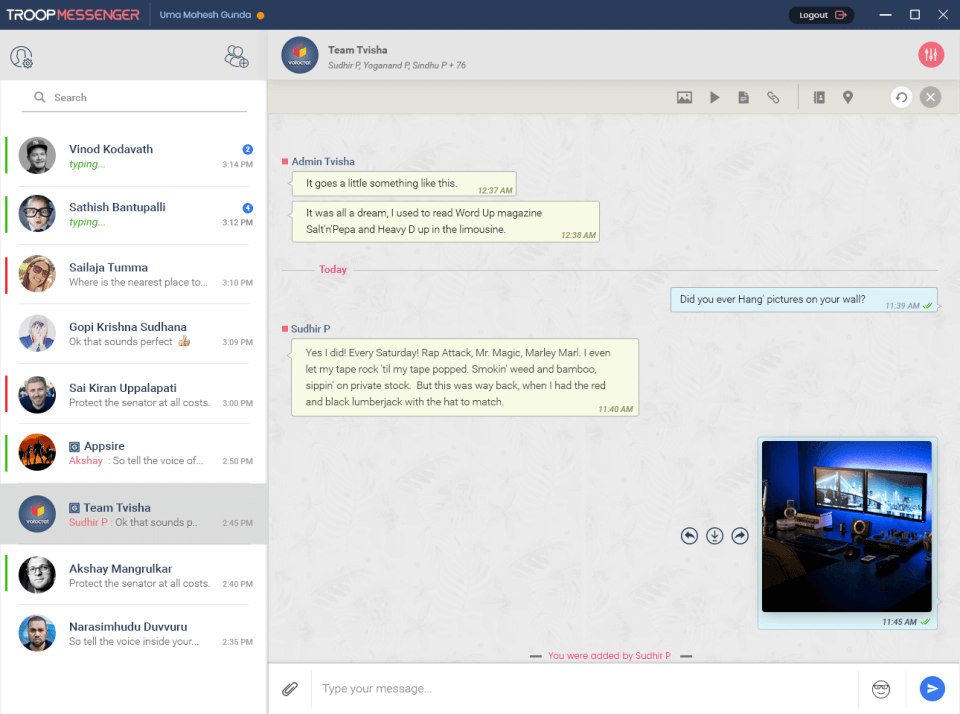 Sending messages, making calls, and storing files is made easy and intuitive. Depending on the plan you choose, you can have up to 1 TB of storage space for files. You can also preview many image and video formats.
Troop Messenger allows you to add "Orange members" – people from outside of your company that you can add to the platform and assign them reduced permissions. One other feature we found particularly interesting was the "Burnout". With it, you can set a timer and have a one-on-one conversation until the time runs out. This can be great for brainstorming sessions when you need to be creative in a hurry.
Troop Messenger pricing
Troop Messenger offers three plans: Premium ($2.5/user/month), Enterprise ($5/user/month), and Self Hosting (upwards of $5/user/month, depending on your company). The last model is suitable for companies with more than 500 employees, as stated on their website.
8. Flock
Founded in 2014, Flock is another messenger that works as a freemium model with plans for upgrading. Sometimes referred to as a mix between Microsoft Teams and Slack, the app focuses on team communication but provides small organizational tools as well.
Key features
It's clear why Flock is compared to teams and Slack – its design features something from both these apps. The chat is structured like in Slack: the channels are left, the chat window is in the middle, and on the right, you have additional options. The additional sidebar on the far left and overall design both remind me of Teams.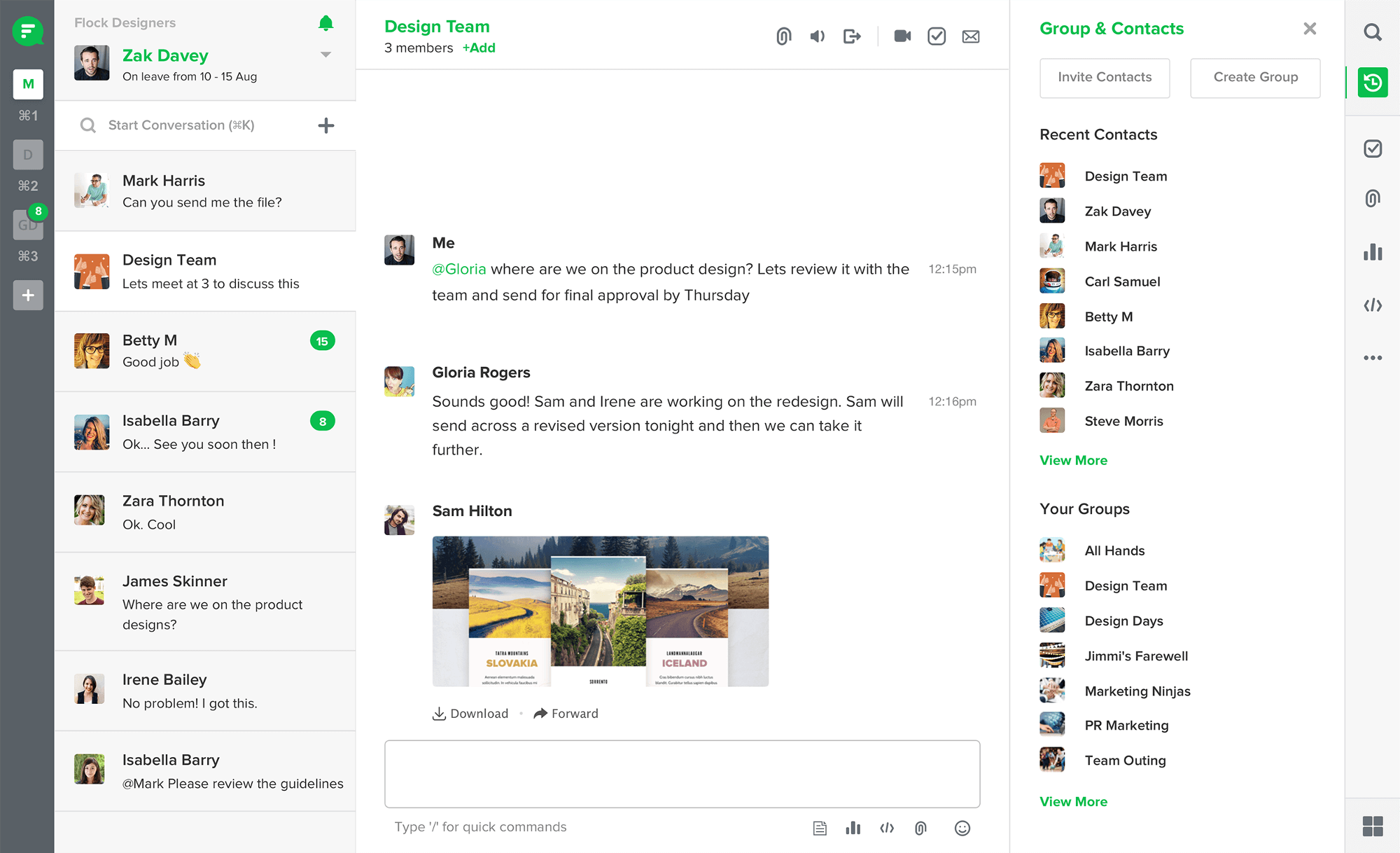 So many buttons and sidebars are a bit confusing, so Flock gets a knock in the design department.
What do you get with all these buttons and widgets? In addition to standard chat options like mentioning people, selecting channels, and creating groups, you get an interesting set of added features. Buttons on the far-right include things like To-do, Notes, Reminders, and Files, all of which can be useful for collaboration and task management.
Pricing
As we mentioned, Flock implements a freemium model, meaning you get all the basic features for free. The other two plans are Pro ($4.50/user/month) and Enterprise ($8/user/month). The free version has unlimited conversations but limits file storing to 5 GB for the whole team and have no group video call options.
9. Ryver
Like Chanty, Ryver also combines team chats with task management features. For some time after it was founded, Ryver was completely free – it was one of its key selling points. Today, however, the app has no free plans.
Key features
Ryver's dashboard has three important tabs: Chats, Topics, and Tasks.
Chats are the standard field for real-time conversations with coworkers. That's the default tab and it looks pretty much like you'd expect a team chat to look. Topics look a little differently – they open in the panel to the right, so they don't get mixed with the general chat. Think of them as Threads in Slack, a follow-up conversation that's self-contained and separate from other conversations.
In the Tasks section, you can collaborate with your colleagues on to-do lists. Ryver's task management features are only good for writing down a couple of to-do's and can't be compared to more complex project management tools.
Ryver pricing
When it comes to pricing, Ryver offers three plans: Starter ($49/month), Unlimited ($79/month), and Enterprise ($149/month). You'll notice that these prices don't depend on the number of users you have – you pay a fixed price and you have unlimited users in the Unlimited and Enterprise plans. The Starter plan is limited to 12 users.
10. Slack
After all this talk about Slack alternatives, we've finally arrived at Slack – one of the most popular team chats in the last decade. Like Troop Messenger, Slack also started as an app for internal communication before going public and growing its audience.
Key features
Slack pioneered the traditional look that most instant messaging apps for Windows and Mac platforms use. You can easily navigate through channels, slack poll, mention team members, pin messages, etc.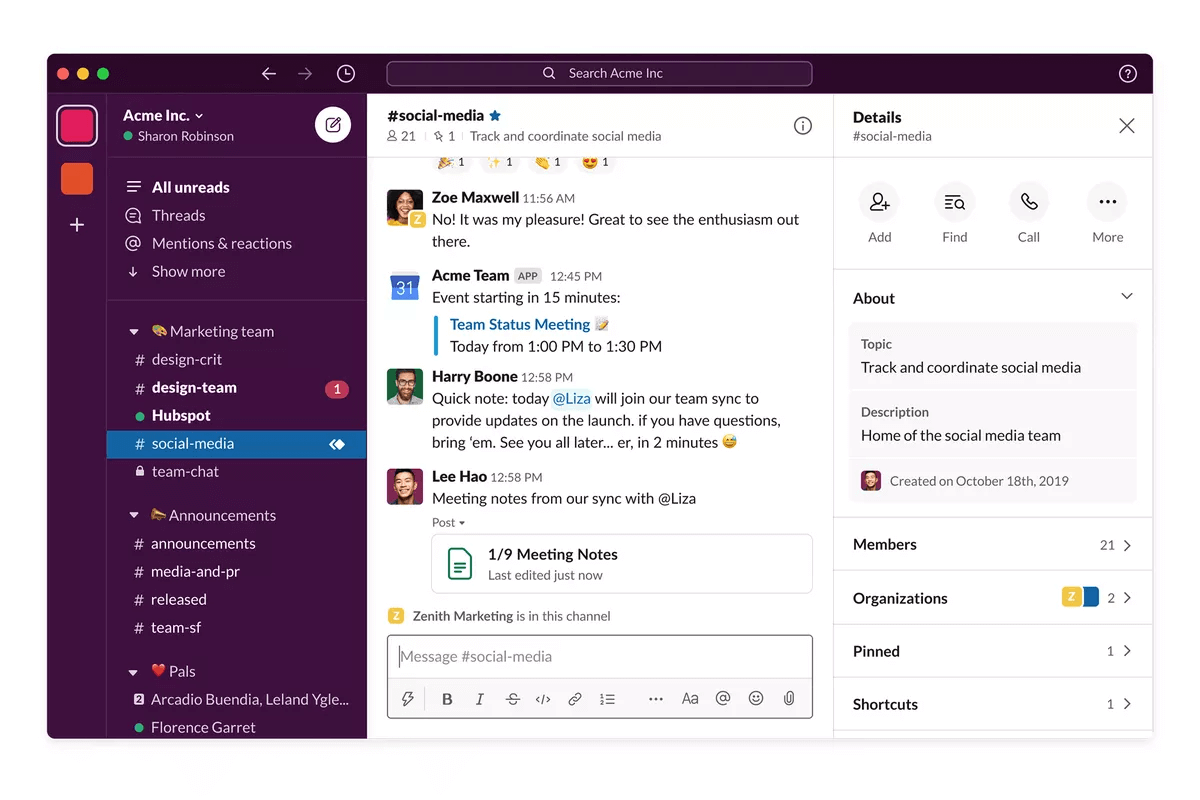 Slack is known for being customizable: you can change everything from its color to notification sounds. You can even customize the sidebar on the left to show different things like saved items, file browsers, and apps you're currently using as part of Slack's integrations.
Those integrations are another of Slack's strong suite. The app offers many useful integrations that help you do your work without leaving the app. For example, you can upload files from Google Drive and set editing permissions, respond to invites and check your calendar with Google Calendar, and take action on support tickets with Zendesk.
Slack pricing
Slack might be one of the most popular team messengers but it's also one of the priciest. If we ignore the free version with very limited chat history and no group video calls, we're left with three plans: Standard ($6.67/user/month), Plus ($12.50/user/month), and Enterprise (priced upon request).
11. NuovoTeam PTT
NuovoTeam PTT started off as a team communication platform which has now evolved into a push-to-talk app or as some may say a walkie-talkie app to help field and frontline workers with speedy and reliable communication. Unlike traditional walkie-talkie radios, this app can be easily integrated into Android and iOS smartphones and offers extensive communication features including instant messaging, calling and much more.
Key Features
If your business has a field workforce and relies on walkie-talkie radios which are gradually turning outdated, then NuovoTeam is THE tool for you. It helps you to turn your smartphone into a walkie-talkie without getting into the hassles of purchasing expensive radio devices and licenses. NuovoTeam is a powerful platform through which you can keep your field employees connected to their crew members, managers, and other distantly located teams with just the push of a button. No lengthy dialing and typing protocols, simply push the button and talk. Isn't this much safer for employees who work in harsh outdoor conditions? We think so.
NuovoTeam also offers Desktop PTT, a feature with which the office staff can make direct PTT calls to their field employees from their desktops. No switching between smartphones and PCs every time to make a PTT call.
What's more? NuovoTeam offers an extensive range of instant communication features. You can send messages, images, videos, documents, and locations to anyone, anywhere. Field employees can remotely clock in and clock out using the NuovoTeam app. Supervisors can keep a tab on their field employees with the help of a comprehensive summary of their employees' working hours, attendance, locations, and much more. You can communicate 1-1 or in groups or share live message broadcasts. So many capabilities with an easy-to-use interface are something you must definitely not miss out on.
When it comes to broadcasting messages, it is received on the user's end as and when the message is sent. With this employees can hear the incoming updates in a hands-free manner. The live broadcast is loud and doesn't stop which may be disliked by some users, especially if the message doesn't concern them.
NuovoTeam Pricing
NuovoTeam offers a 14-day free trial during which you can try out all the features hands-on on unlimited devices. The Business Plan is priced at $5/user/month. No set-up charges, complimentary product demos, and free live chat support are available.
The best instant messaging apps: conclusion
Taking everything into consideration, the race comes down to Brosix and Slack.
Slack is the most widely used team chat for a good reason – it's highly intuitive and it has so many integrations that you don't need that many features. Need to take notes? Integrate with Evernote. Need to have a video call? Integrate with Loom.
Brosix is a strong competitor because it offers many of these options without the need to use multiple apps. It also outperforms Slack in one important area – safety. With Brosix, you get complete control over your communication process which, along with end-to-end encryption, guarantees data security.
If you want to try an app with enterprise-level features created to suit teams of all sizes, request a free demo for Brosix and find out if it's for you!