Before we delve into lead generation, let's do a quick discussion on what a "lead" is. A lead is any person who shows interest in your company's product or service by submitting their information when interacting with your company's content. Not all leads are generated the same way, and there are different types of leads like Marketing Qualified Leads (MQLs), Sales Qualified Leads (SQLs), Product Qualified Leads (PQLs), and Service Qualified Leads.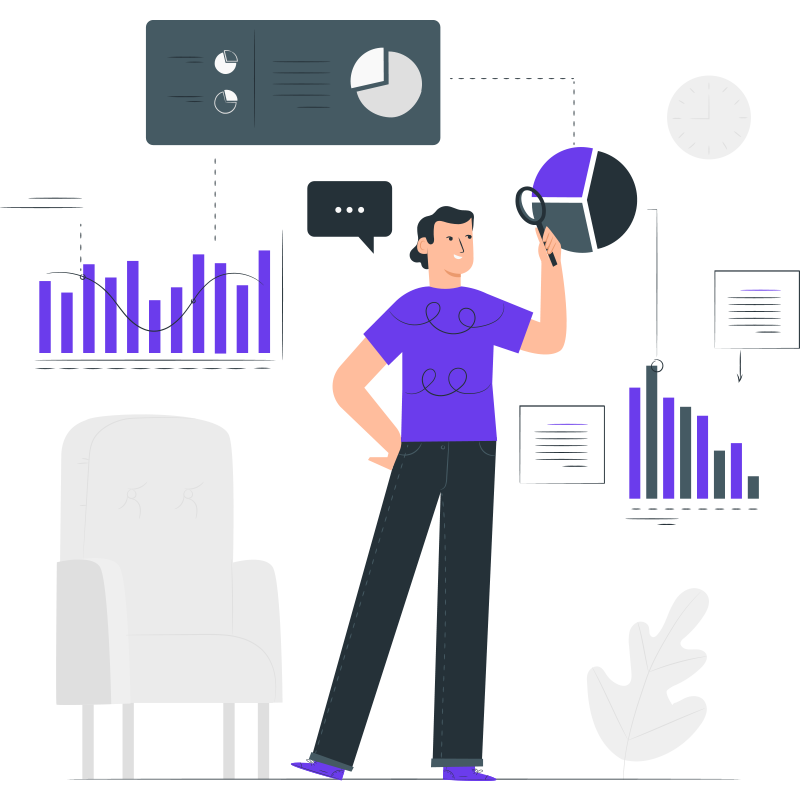 Get long-term ROI.
We help you grow through expertise, strategy, and the best content on the web.
What is lead generation?
Now that we have discussed the term "lead," let's see what lead generation is. Lead generation involves the process of attracting and converting strangers and prospects into potential customers. Lead generation can include job applications, live events, webinars, landing pages, coupons, opt-in forms, intake forms, blog posts, eBooks, and other online content.
How does lead generation work?
The process starts when a visitor discovers your business through your content like website, blog, or social media posts. That visitor engages with your business through a Call-to-Action (CTA) button that takes them to the landing page or allows them to directly sign up through a form. The landing page allows them an offer like a free eBook, a course, or some discount in exchange for lead information like email address and contact information. And this is how you get a new lead.
What makes a good lead generation software
Before listing some of the best lead generation software, let's delve into what makes a software good for lead generation.
A great lead generation tool should allow you to capture qualified leads without asking you to do much. Ease-of-use is one of the most important aspects of good lead generation software—another factor to look for the integrations available to you.
Make sure that the tool you are going with is cost-effective and gives you the features you need at minimal investment. A lot of software providers often limit usage at different price points. If not decided carefully, it can cost a lot more to use a tool for 100,000 leads than for 10,000 and so on!
Top 12 lead generation tools
Now that we have discovered lead generation, its process, and what makes a good lead generation software, let's talk about some of the best lead generation software in the market.
1. Unbounce
Probably the first name to pop up in mind when talking about landing pages, Unbounce features one of the best drag and drop builders in the market. You also get A/B testing, AdWords integration, and visitor stats making Unbounce the best all-around builder. Starting as a landing page builder, Unbounce has now included floating bars and popups, but they have limited options compared to some other software in the market.
If you are a beginner or have minimal experience making landing pages, you might find Unbounce a little advanced and complicated. Unbounce allows you a 30-day free trial, and pricing starts at $99/month.
2. Woorise
Woorise is an all-in-one lead generation platform that allows you to create a wide range of interactive campaigns such as viral giveaways & contests, landing pages, forms, NPS surveys, quizzes, accept payments and more to collect leads and engage your audience.
Features include a modern landing page and form builder, 40+ fields and thousands of social actions, 100+ interactive templates, conditional logic, real-time email notifications, multi-language support and embedded analytics.
Woorise also integrates with popular marketing platforms such as Mailchimp, Hubspot, ActiveCampaign, Aweber, Google Analytics, Bitly, Zapier, PayPal, Stripe and many more.
Woorise offers a free forever plan but you can also enable a free trial of any plan. Premium plans starting at $29.month.
3. Mailmunch
Mailmunch is one of the simplest and easy-to-use email list building tools, focusing on popups, opt-in forms, and landing pages. With thousands of customizable templates available, Mailmunch allows you to build attractive landing pages and popups in a few minutes.
Providing a number of features like floating bars, exit intent pop-ups, slide-ins, lightbox popups, landing page builders, and more, Mailmunch is a go-to tool for small businesses. Through their email marketing solution, you can create marketing campaigns, schedule autoresponders, and drip sequences, and lower your cart abandonment rates with engaging emails.
Mailmunch also has A/B testing and provides users with useful analytics. Their lead capture tool makes it extremely easy for businesses to engage with their website visitors and turn them into leads. With multiple integrations, Mailmunch ensures your marketing process runs smoothly and seamlessly. Mailmunch offers a free plan with limited functionalities, and prices start from $12 per month.
4. Sumo
Sumo is a very popular tool for building your email lists and capturing emails on your website. Sumo stands out in the lead capture market with a variety of features, including popups, slide-in popups, and welcome mats. Sumo also allows you to have a floating social share bar and heat maps to determine where visitors are clicking on your site the most.
Although Sumo has limited functionalities, it is a great lead capture tool with limited options for autoresponders, browser push notifications, and discount codes. They also offer reporting and analytics to determine who sees your forms, how your forms are doing, and compare data.
Sumo operates on a freemium model, and their paid plans start from $29 per month.
5. HubSpot
HubSpot is one of the most extensive all-in-one marketing and CRM software available on the market. With features like managing contacts, posting on your blog, creating landing pages, finding new leads, and more. HubSpot has three platforms – HubSpot CRM, HubSpot Sales, and HubSpot Marketing.
With HubSpot CRM, you can track and nurture leads automatically and ensures you keep on top of all your potential customers. One of their best features include the ability to track email opens. This allows you to directly follow up with a subscriber when they open your email. You can also add them to a segmented email campaign.
HubSpot offers free CRM along with other valuable tools. They have paid plans for their marketing, sales, and CRM services according to your needs.
6. Picreel
Picreel is a popular exit-intent popup tool known for lead generation. With the help of AI-powered delightful popups, Picreel helps you to boost conversions, leads, and sales. You can efficiently reduce cart abandonment, guide website visitors to relevant pages/products, promote giveaways, cross-sell/up-sell, and do a lot more with engaging popups to turn visitors into leads and customers.
There are over 100+ customizable popup templates available to get you started in minutes. The popup editor allows you to design slide-ins, nanobars, and forms to run different types of popup campaigns on your website pages. With features like A/B testing, popup personalization, detailed analytics in real-time, and seamless integration with 700+ sales/marketing tools, Picreel proves to be the perfect solution for online businesses.
Picreel offers a 30-day free trial and has 5 pricing plans, ranging from $14 to $299 per month with a guarantee of higher sales and conversion rates.
7. MobileMonkey
MobileMonkey is a live chat software allowing you to interact with your prospects proactively. The platform enables you to generate leads, grow revenue, and offer real-time support across multiple platforms.
MobileMonkey allows you to talk with prospects and customers on your website, SMS text messages, or messaging apps they already use. Some of the features include proactive live chat, Facebook autoresponders, chatbot drip marketing campaigns, boost your social media posts, and click-to-Messenger advertising on Facebook.
MobileMonkey offers a free option with limited features, and pricing ranges from $15 to $200 per month.
8. Leadformly
Leadformly allows you to build high-converting lead generation forms. Features include optimal progress bar indicators, conditional logic for lead segmentation, built-in analytics, and audience insights.
Leadformly also allows you to customize the look and feel of your forms to match your business branding. With multi-step forms, leadformly stands out in the market as an interactive and engaging form builder. Forms can be added to your website and linked to your CRM. With A/B testing tools, you can increase your conversion rates. But it doesn't provide a lot of features that other lead generation software provide.
They offer a free trial, and pricing depends on the number of leads per month.
9. OptinMonster
OptinMonster allows businesses to track, share and manage their leads by integrating your CRM and email marketing tools. OptinMonster provides high-converting mobile-friendly forms, integrates with major email marketing solutions and CRM platforms, and sets advanced targeting for marketing campaigns. OptinMonster also includes behavior detection analyses to find success.
If you want popups on your website, Optin Monster is the tool to use. With A/B testing, it allows you to improve your performance. One drawback is that OptinMonster only allows you to pay annually.
Pricing ranges from $9 to $49 per month.
10. Sendinblue
Sendinblue is a comprehensive marketing automation solution allowing you to send both emails as well as SMS messages. They offer a drag and drop builder to create emails, build automated workflows, and segment users.
Sendinblue also offers white-labels and customized URLs to match your domain, add your logo to the interface and create custom reports for different clients.
One of the drawbacks of using Sendinblue is that it lacks a little on the integration side and doesn't have a whole lot of automation features.
SendinBlue price ranges from $27 to $71 per month.
11. Prospect.io
Prospect.io is a sales automation platform that integrates with some of the best B2B lead generation and CRM tools on the market. Their Chrome extension helps you generate new leads and launch cold email campaigns in a matter of minutes, straight from your browser.
Prospect.io helps you build high-quality email lists and also allows you to combine personal emails, follow-up calls, social touches, and tasks into a multi-channel sales campaign to reach your leads wherever they are.
With analytics and productivity tools, Prospect.io generates a list of tasks for every team member within campaigns. This allows you to track your team's performance and get the most out of your sales effort. They have two pricing models, ranging from $90 to $150 per month.
12. Pardot
Pardot is a B2B lead generation tool by Salesforce. Features like A/B testing, landing page builder, integration with Google Ads, and email campaign automation make it a great lead generation tool for businesses. It also provides users lead segmentation for better communication with your prospective customers.
Their pricing ranges from $1250 to $4000 per month. There is no free trial available, but you can view a demo by filling out a lead form on their website.
At the end of the day, you need a lead generation tool that fits your unique business needs, provides a comprehensive solution to your lead generation requirements and grows your business revenue. With this list of some of the best lead generation software in 2021, you will be able to narrow down your options and choose the one that will be most valuable to your business.
Before you go, remember to utilize the free plans for the tools you choose, get on demo calls and make the best possible choice for your business needs.
13. ProProfs Quiz Maker
ProProfs Quiz Maker is a popular quiz maker that offers excellent lead generation functionalities and features. Powered by 100+ quiz configurations and a library of 1 million+ questions, it lets you easily create highly visual and shareworthy lead quizzes that you can post on your website and social media or share via email & links to generate qualified leads.
You can add a customizable lead form either at the start of your quiz or at the end. You can enable or disable basic fields, such as name, email address, ID, etc., and also add lead form questions of your own in various formats, such as multiple-choice, checkbox, drop-down list, etc. You can also add media, links, and custom social share buttons to the results to boost shareability.
ProProfs supports integrations with all the top marketing tools, such as Mailchimp, Salesforce, Hubspot, Constant Contact, etc., enabling you to quickly grow your mailing lists and automate lead nurturing and segmentation.
14. Quiz Maker
The WordPress Quiz plugin with more than 20.000 active installations is one of the most trusted Quiz plugins among WordPress users. No matter if you're a teacher, business owner, or blogger, the plugin's multiple question types and features make it simple for everyone to construct a quiz for diverse situations.
One of the biggest advantages of the plugin can be the WooCommerce Integration, using which you will be able to create product recommendation Quizzes and provide your website visitors with the best-personalized shopper digital experience.
The plugin can be used to create both easy and complex quizzes. Your quizzes can be improved with features like giving Certificates to users, delivering results according to their responses, copy protection, and extremely well-designed assessment systems.
Key Features
Quiz Live Preview
30+ Quiz Style options
Randomize Questions
Fields For User Data Collection
Scored Quiz (weights/points)
Different Results Based on Score
Password Protected Quiz
Quiz with Leaderboard
Send Automatic Email To Admin / User
Intervals
and Many More