Do you find it hard to keep track of the latest marketing news and trends?
You're not alone.
Life can be chaotic, time is scarce, and there are millions of resources available online.
A podcast is an effective tool that can help you learn on the go, on your own time, and at your own convenience.
As many as 9 out of 10 people listen to podcasts at home while multitasking.
Marketing podcasts usually cover a range of tips, tactics, and strategies that can enhance your marketing campaign.
In this article, we present 12 amazing podcasts, including our favorite episode (or two) to get you started. These podcasts are for those who are interested in both traditional and modern marketing techniques, including digital marketing and social media.
But first, what is a podcast and why is it relevant today?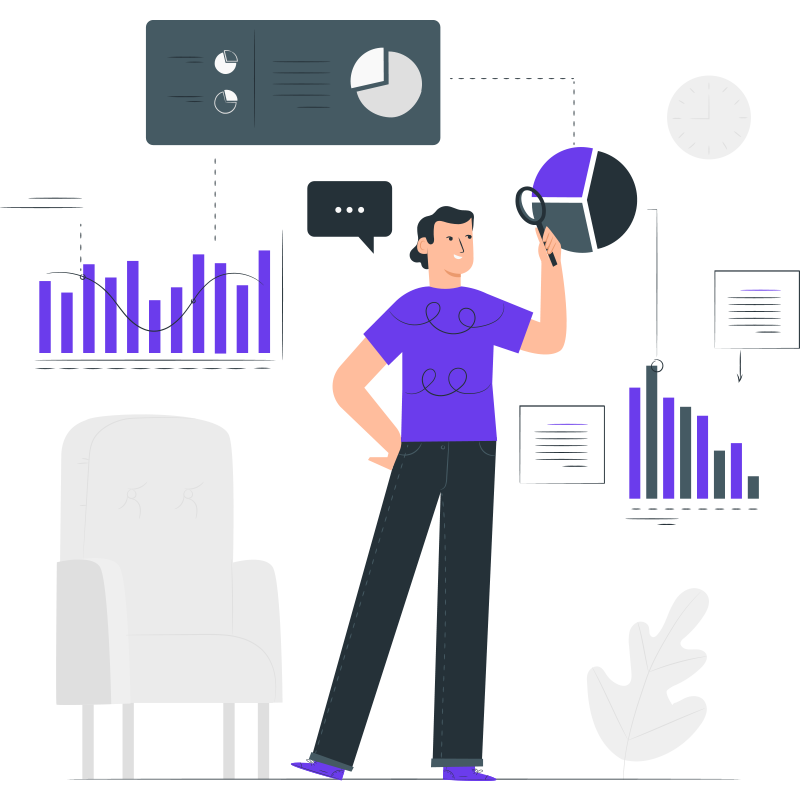 Get long-term ROI.
We help you grow through expertise, strategy, and the best content on the web.
What is Podcasting in Digital Marketing?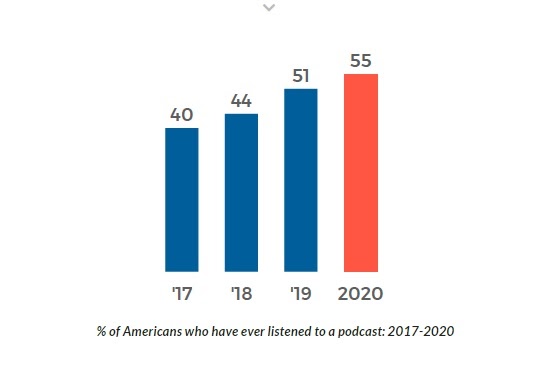 Podcasting is a way to broadcast audio or video content to inform and entertain viewers.
Did you know that over 100 million people are listening to podcasts each week?
While interest in radio listening is declining, the podcast has managed to attract new listeners year after year.
Additionally, 93% of those who start a podcast episode complete most of it.
It is highly engaging and can be downloaded and listened to on any smart device, just about anywhere.
For this reason, podcasting is an increasingly popular digital content format in the hands of content marketers who can use it to connect with their target audience.
Are podcasts good for marketing?
Industry leaders host marketing podcasts to share digital marketing strategies that can help listeners gain vital insights into marketing.
Here's how podcasting can help with your marketing efforts. It can improve knowledge by
Covering trends and news in the marketing industry to keep you updated
Discussing real-world examples and case studies to enhance your understanding
Featuring interviews and discussions with an industry expert to deepen insights
Providing actionable tips and strategies to take your marketing campaign to the next level.
Best General Marketing Podcasts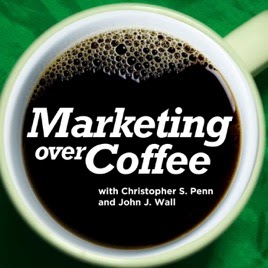 Hosted by John J. Wall and Christopher S. Penn, Marketing Over Coffee includes commentary and tactics on how to nail both your online and offline marketing efforts.
These informal sessions are recorded in coffee shops each week, and each episode is about 20 minutes.
What's covered?
Tips and tricks to boost your offline marketing campaigns
The latest in SEO and search marketing
Copywriting, email marketing, and multivariate testing
Social media news and updates
What stands out?
There are two content types – a topic of the week, and interviews with entrepreneurs and experts in the field. Some well-known interviewees include marketing mavens such as Seth Godin, Simon Sinek, and Mike Volpe.
We like these episodes:
Listen on: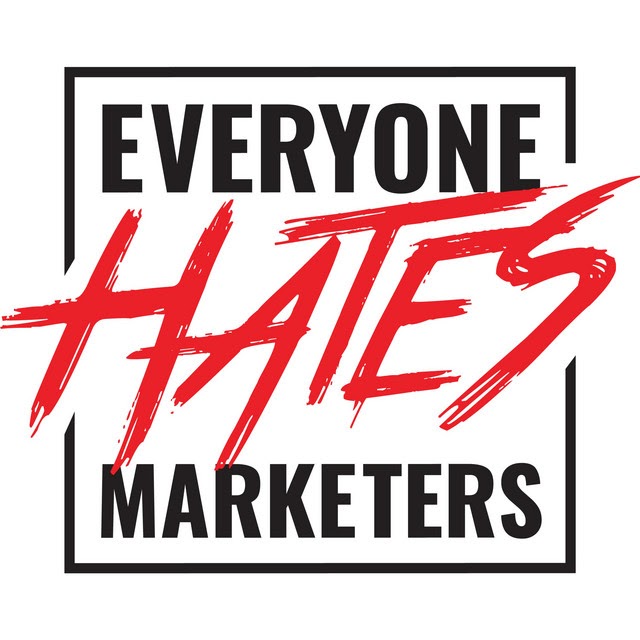 Louis Grenier, host and founder of EHM says that he was inspired to start this weekly podcast series because he was sick of seeing marketers resort to aggressive tactics to get leads.
What's covered?
Ways to grow your business and get long-term profits using customer research, branding, and product marketing.
Marketing techniques including inbound, referrals, and SEO to get more leads and customers.
How to become an effective content marketer across blogs, emails, and social media.
What stands out?
His website features an amazing tool that allows you to search across a range of over 500 marketing resources mentioned in his podcast – books, tools, courses, events, and blogs.
We like these episodes:
Listen on: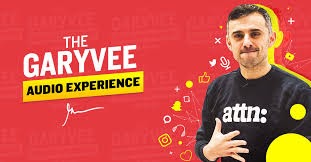 CEO and Vlogger Gary Vaynerchuk is the host of this lively show featuring keynote speakers who talk about entrepreneurship and discuss digital talking points.
What's covered?
He covers a broad range of marketing and growth topics including:
Insights and ideas covering social media, video and online marketing.
Advice and wisdom from thought leaders on entrepreneurship and marketing.
What stands out?
Check out the #AskGaryVee show on YouTube, where he responds to people on Twitter and Instagram. Topics covered are wide ranging, from challenges faced while scaling a business to parenting in the social media age.
We like these episodes:
Listen on:
Kerry O'Shea Gorgone, Enterprise Trainer at MarketingProfs hosts this weekly podcast covering a range of tactics. It features everything from branding and customer relations to internet marketing and strategy.
What's covered?
Weekly interviews with thought leaders from different industries sharing real-world examples of successful marketing practices. Popular topics?
B2B and B2C Marketing
Ecommerce
Customer Behavior
Lead Generation
Online Marketing and Measurement
What stands out?
Find over 4000 extensive resources that address the whole gamut of marketing. Simply run a search to look for a podcast based on topic, duration (10 minutes to 4 hours) or subject matter expert.
We like these episodes:
Listen on:
Best Digital Marketing Podcasts

No list about the best marketing podcasts would be complete without this one from the dynamic duo.
Neil Patel and Eric Sui are well-established marketers who have hosted thousands of podcasts offering just 5 minutes of daily actionable tips and advice.
What's covered?
General online marketing tips to grow your business
Insightful SEO case studies and analysis
CRO and how to improve your ROI via digital advertising
Email marketing, how to build email lists and grow leads
Content marketing tactics – from keyword research to how to write a winning blog post.
Social marketing – tactics for content and paid social ads
What stands out?
Offers clear bite-sized chunks of information on a specific topic. It's usually a real-world example or an actionable tip that busy marketers can apply in their roles.
We like these episodes:
Listen on:
Digital Marketer hosts two weekly podcast series – The Digital Marketer and Perpetual Traffic. Both aim at helping people grow to become a "full-stack" marketer.
What's covered?
Offers a deep dive into topics covering every stage of the funnel – acquisition, optimization and customer retention.
Weekly interviews with CEOs and entrepreneurs on helpful strategies to grow a company.
Perpetual Traffic focuses on how companies can acquire leads and boost sales via paid traffic and organic traffic.
What stands out?
Harnesses the knowledge of the best names in the field to share insights on what works and what doesn't. Guests include Daymond John, Dennis Yu, Billy Gene, Ezra Firestone, and Laura Roeder.
We like these episodes:
Listen on:

This popular show has been on for 8 years running with listeners spread over 190 countries. Hosted by Daniel Rowles, CEO of Target Internet, each episode is packed with tips, tools, and resources to add to your skillset.
What's covered?
There are interviews with thought leaders and global professionals, as well as news, ideas, and techniques to give every B2B marketer an edge. Some common topics include:
Growth marketing tips and strategies
Ecommerce and digital advertising trends
SEO techniques and social media trends.
What stands out?
Each informative episode focuses on current topics in the digital world from marketing skills gap in 2020 to real estate chatbots and AI to QR Code marketing.
We like these episodes:
Listen on:
Online Marketing Specialist Rick Mulready, the host of this podcast, has a wealth of insights and strategies designed to help marketers grow their online business.

What's covered?
He presents effective strategies and shortcuts for increasing leads and sales by bringing in experts specializing in the following areas
Google AdWords
Native advertising
Sales funnels
Analytics
Affiliate marketing
Ad networks
Social media ads – Facebook, YouTube, Twitter, LinkedIn and Instagram
What stands out?
Rick Mulready is often called the 'Ironman of Facebook Ads'. His podcasts feature handy advice and suggestions for online marketers or ad managers who are looking to execute a Facebook ads strategy to grow their business.
We like these episodes:
Listen on: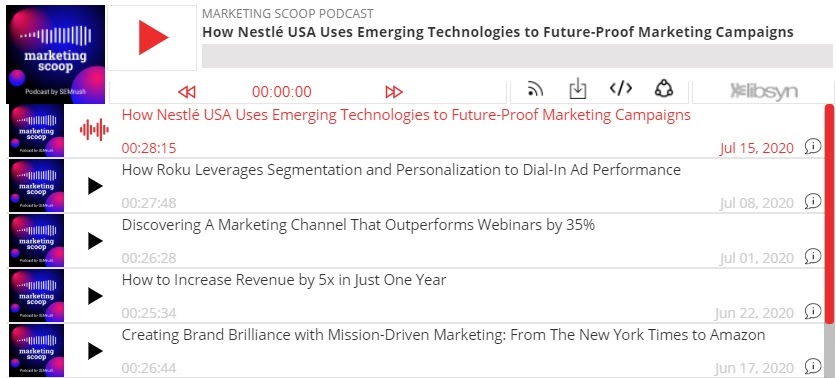 Host Laura Morelli of SEMrush interviews the pros behind successful marketing campaigns and presents tried and tested techniques that have helped small business owners grow. She also shares the latest news, tips and tools to take your digital marketing to the next level.
What's covered?
SEO tools and content marketing
Chatbots, AI and conversational marketing
Online advertising and digital ads
What stands out?
There are useful case studies from local businesses which analyze real-world marketing challenges. She also takes a look into the integrated marketing campaigns that are behind the success of big brands such as Google, Ikea, Uber and Vodafone.
We like these episodes:
Listen on:
Best Social Media Marketing Podcasts
A social media marketing podcast is an excellent way to catch up on the latest news stories and rolling changes in the world of social media.
Here are the best shows we've found that can expand your knowledge.
Social Media Examiner's Podcast has been a top 10 podcast for many years running. The host, Michael Stelzner, keeps users updated on the hottest trends in the social media industry.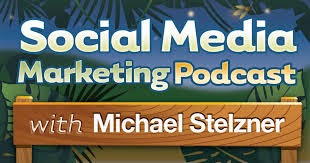 What's covered?
A mix of success stories and interviews with professionals in the social space, covering topics such as
Social marketing trends and talking points
Social advertising — how to create and execute an ad strategy for social channels.
Social media content tactics
Content creation for social media
What stands out?
Social Media Examiner also hosts Social Media Marketing talk show, a live show that presents breaking news, expert commentary and updates from various social platforms.
We like these episodes:
Listen on: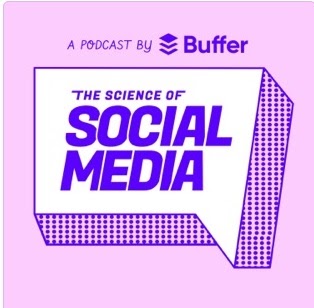 This dynamic collection of podcasts hosted by Brian Peters of Buffer offers an in-depth look into how you can boost engagement on your social channels.
What's covered?
There are inspirational examples and stories from top brands and influencers covering topics like:
Social media advertising — Pinterest, LinkedIn, Instagram
Social media branding secrets
Social experimentation case studies
Influencer marketing
What stands out?
Every week the team answers a question from their listeners and offers actionable advice to takeaway.
We like these episodes:
Listen on: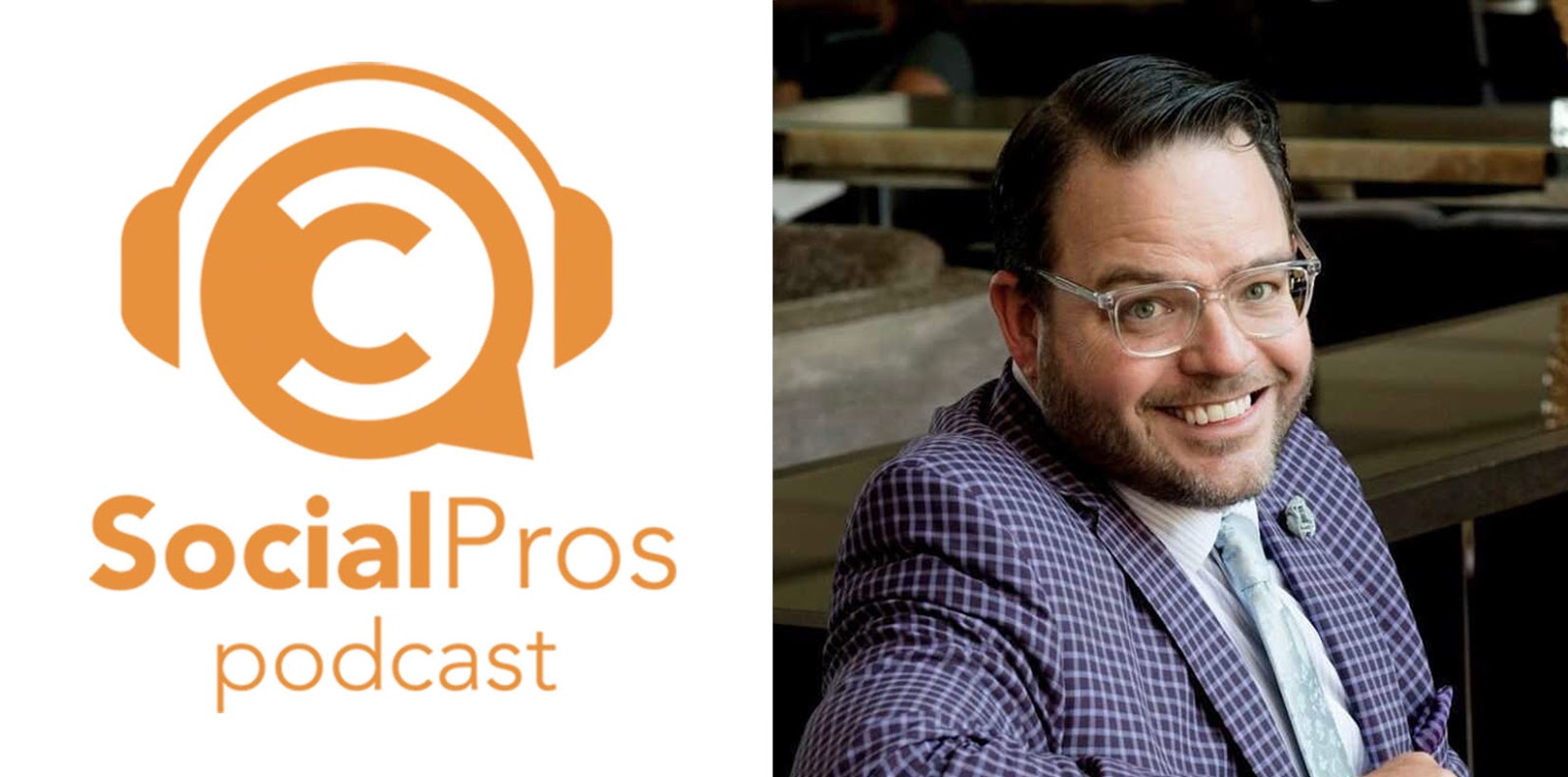 This award-winning podcast by Convince and Convert is hosted by growth expert and company President, Jay Baer and Adam Brown, the Executive Strategist at Salesforce. The duo take an in-depth look into social media content and marketing from big brands.
What's covered?
Jay Baer uses his experience to address current challenges in the field of social media. Each episode ends with a rapid fire session where the guest answers a couple of questions:
1. A tip to become a social pro and
2. If you could have a Skype call with someone who would it be?
Some common topics covered include
How Company Z achieved social media success
Social media dos and don'ts
How to address social media challenges
How to approach and execute your social media marketing plan
What stands out?
His podcast regularly talks about takeaways from successful social campaigns of well-known companies including Dell, IBM, FedEx, Pfizer, and ESPN.
We like these episodes:
Listen on:
Conclusion
Listening to podcasts is a powerful and effective way to learn even as you multitask.
No matter your knowledge level — whether you're just starting out as a new content marketer or you are a seasoned pro looking to gain deeper insights — podcasting can educate you and enhance your skills.
Use podcasting as a content tool to expand your digital expertise, increase SEO know-how or to master social engagement techniques.
 For daily reflections on all things marketing, subscribe to the Codeless Marketing Podcast.
Or gain new insights from our content experts via our content podcast Copy Weekly.