There's an old saying that, "you get what you pay for."
What that's really saying is that expensive premium services are often more efficient than something you get for free.
When you're dealing with something like a cell phone game, you can suck it up and handle the ads or the slow load times that often accompany a free service. But with something as important as a plagiarism checker, which could spell the difference between life and death for your business, it is always in your best interest to approach free services with a hefty grain of salt.
But what if some of the best free plagiarism checkers out there which can be beneficial to the four main demographics that need such a service?
They are:
Educators on the high school and university levels
Students on the high school and university levels
Writers and copy editors
Businesses producing blog articles and website content
We've pulled five different detection programs and tested them all with the same piece of plagiarism-ridden copy. We will compare these results against Grammarly, our number one rated paid plagiarism checker. After that, we will take a look at all four demos to see which, if any, would benefit from the free services.
Before we get into it though, let's talk about why plagiarism is so harmful.
Is Plagiarism Such a Big Deal?
Plagiarism is a plague. (Plaguerism? Could that be a thing? I'll come back to it another time!)
It sweeps through the writing world, casting doubt and shame upon content that ranges from a high school freshman's paper on "Romeo and Juliet" to a major corporation's SEO optimized web copy.
The fact of the matter is, plagiarism can have far-reaching ramifications if left unchecked. Students have failed entire courses or, in some instances, been expelled from an educational program for acts of plagiarism. Companies have had their reputations tarnished by copied content, and suffered major financial losses from hefty lawsuits.
But is it such a common occurrence?
Absolutely.
The following data was reported by plagiarism.org, highlighting the major issues that surround the education sector.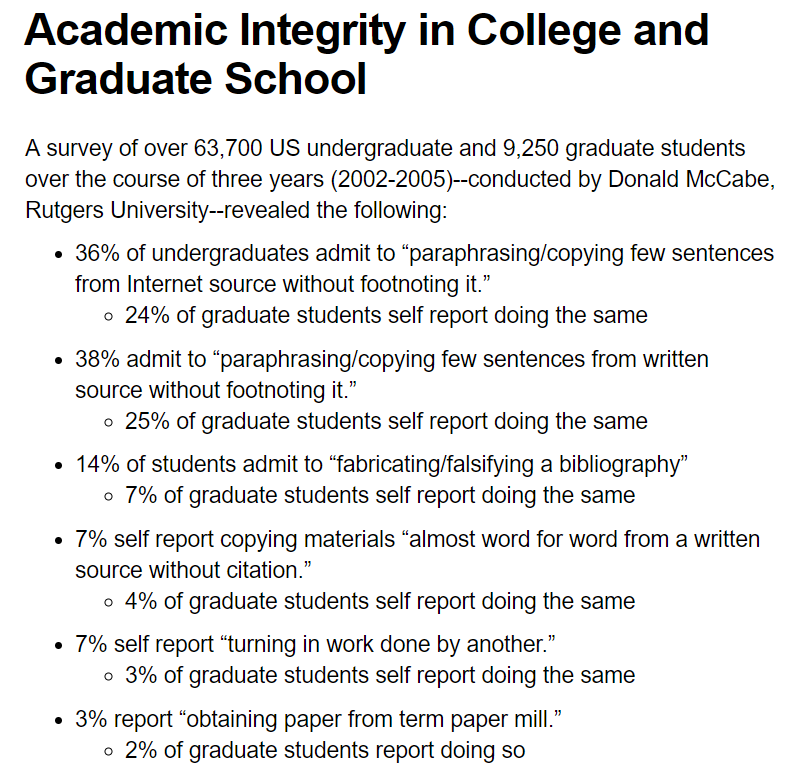 That's an absurd amount of plagiarised content crossing the desks of educators on a yearly basis. And make no mistake about it, plagiarism is a form of cheating. That's why it's so important to root out this problem and ensure that students and professionals alike are keeping their content creation on the up-and-up.
If some free plagiarism checkers are effective, they would be a powerful weapon in the battle against dishonest content. But let's take a look at our paid control comparison first.
Grammarly
Just to clarify one more time, Grammarly is NOT a free plagiarism checker. While there is a free grammar, spelling, and punctuation checking feature, the plagiarism detection software comes as a part of their paid premium service.
Since we will be comparing all of our free checkers to Grammarly, I thought it would be a good idea to highlight some key facts about it.
For starters, there are a number of limitations imposed upon their users. You'll see as we work through our list that this is not uncommon. But paid systems generally have far more lenient restrictions than their free counterparts.
You can only connect five devices per premium account
Users are limited to 300 reviewed documents (or 150,000 words) per 30 days
There is a limit of 100 documents (or 50,000 words) per 24 hour period
Documents cannot be larger than 4MB
MS Word docs, OpenOffice, .txt, and .rtf files are accepted
The truly important information that we have to go over is the performance of Grammarly's plagiarism checker.
When you use Grammarly, the grammar, spelling, punctuation, and plagiarism detection systems all work simultaneously. You either upload your complete file or copy and paste the content into Grammarly's dashboard.
Once the system spits your content back out, there will be a number of options to choose from on the right-hand side. Choose the tab at the bottom marked plagiarism to see your results.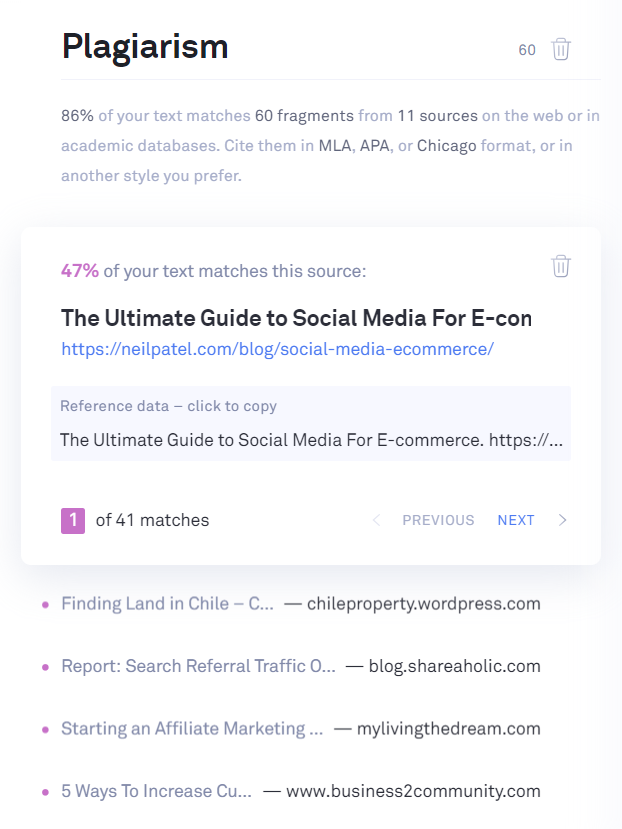 As you can see, Grammarly tore this content to shreds. A massive 86% of the copy in this article was found to be plagiarised. Grammarly lets us know that the plagiarism occurs in 60 fragments from 11 different sources. It then goes on to list each source, giving the writer a chance to properly cite their information.
All in all, this is a fantastic plagiarism checker that we highly recommend. It does not come cheap, however.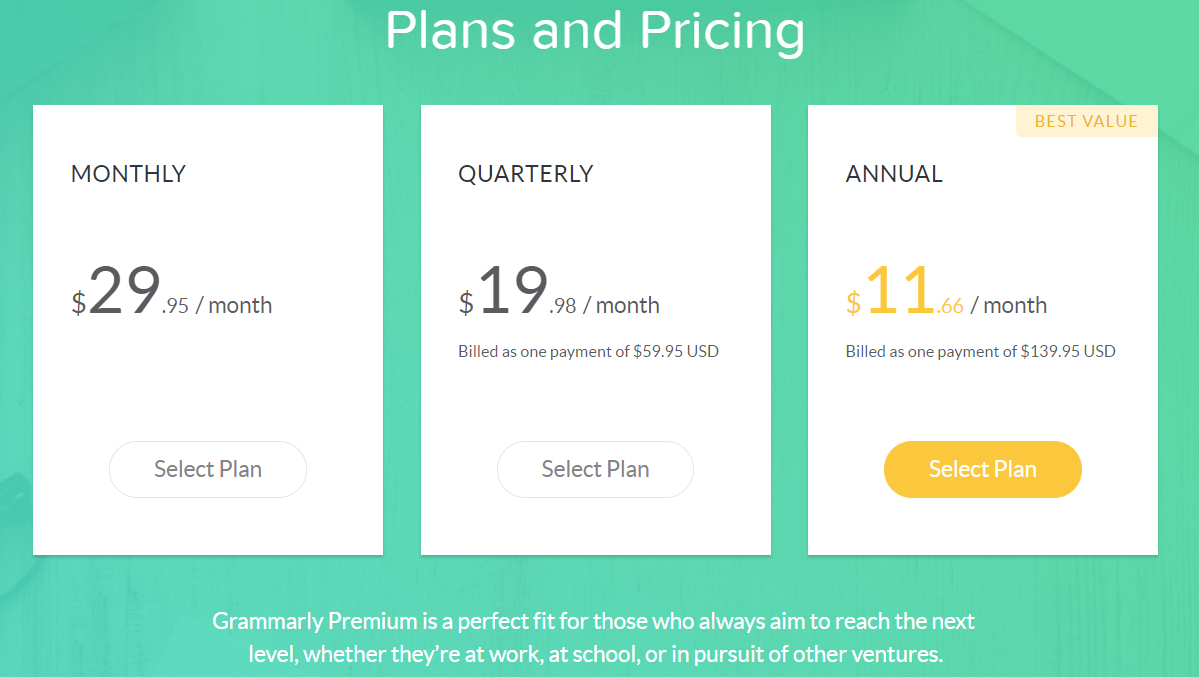 Plans start as low as $11.66 per month with a one year plan. It drops to $19.98 when you commit for four months. If you only take it on a month by month basis, it comes in at $29.95 per month.
While that is a great price for most businesses and educational institutions, it's not super cost effective for a struggling student.
So now that you've seen our point of comparison, let's jump right into some of the best free plagiarism checkers that we've found.
1. Plagly
Plagly likes to say that it's a 100% free service. That's true to an extent, but if you want anything of substance, you're going to end up paying for it.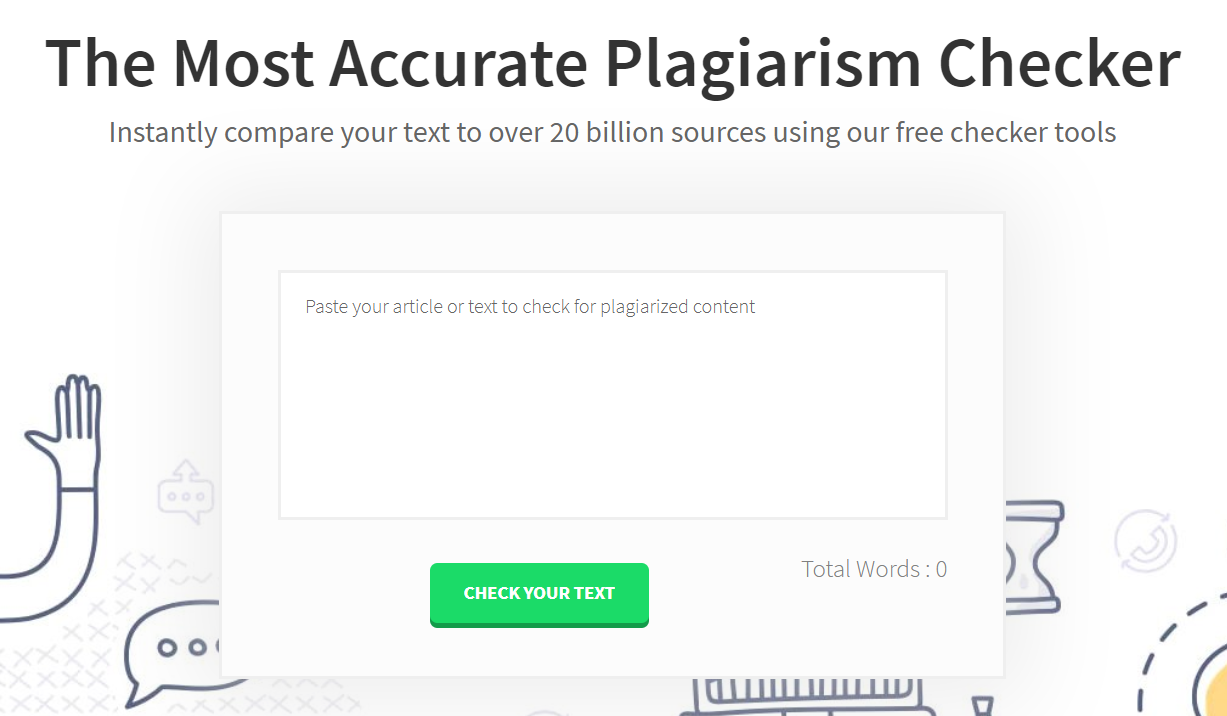 I'll start off with some of the great points about this product.
It supports more than 20 languages and checks for plagiarism against a database of over 20 billion different websites. Comparatively speaking, that's 4 billion more than Grammarly's database of 16 billion.
I pasted our plagiarism sample article into their website and I was dismayed at the results for a great many reasons.
This is what I was given.
It's saying that the content is only 39% unique. That means the plagiarism score is 61%. Right off the bat, you can tell something is up, because Grammarly dinged it at 86%.
Plagly missed out on 25% of the plagiarized content in this article. You'd think with 4 billion more sites to pull from that this would be infinitely more accurate. But nope.
What's more, the examples they're giving me in this image are not pulled from the article. They're just sample results, showing you what you could see with their full reporting capabilities. But if you want that, you're going to have to pay for it.
Plagly only tells you if plagiarism is detected, and how much of it there is using the free service. Call me crazy (don't actually, I'm very sensitive) but that doesn't sound helpful in any way.
"Yeah, there's a problem. Lots of them actually. I am Plagly and I have done my job! Oh…you want to know what the problem is? Sorry, no."
That's essentially what this site is saying to me when it spits back a number and some sample results that are not relevant in any way.
I would have no issue with this if they weren't marketing themselves as a free service. If you're a free plagiarism checker, then you should offer something for free.
This feels like one of those personality assessments that are "free" but then they tell you that there's something wrong with you and you need to pay for them to adjust your life.
I wasn't buying it at the county fair, and I'm not buying it from you, Plagly.
2. QueText
I really liked QueText when I tried out their premium service.

Their DeepSearch database was fantastic, pulling from 35 billion websites, 20 million books, and 1 million journals. But that was their paid plan, and we're talking about freebies.
Right away you're severely limited by the free plan. For starters, you can only check 500 words at a time. Free users are also limited to three reports per month.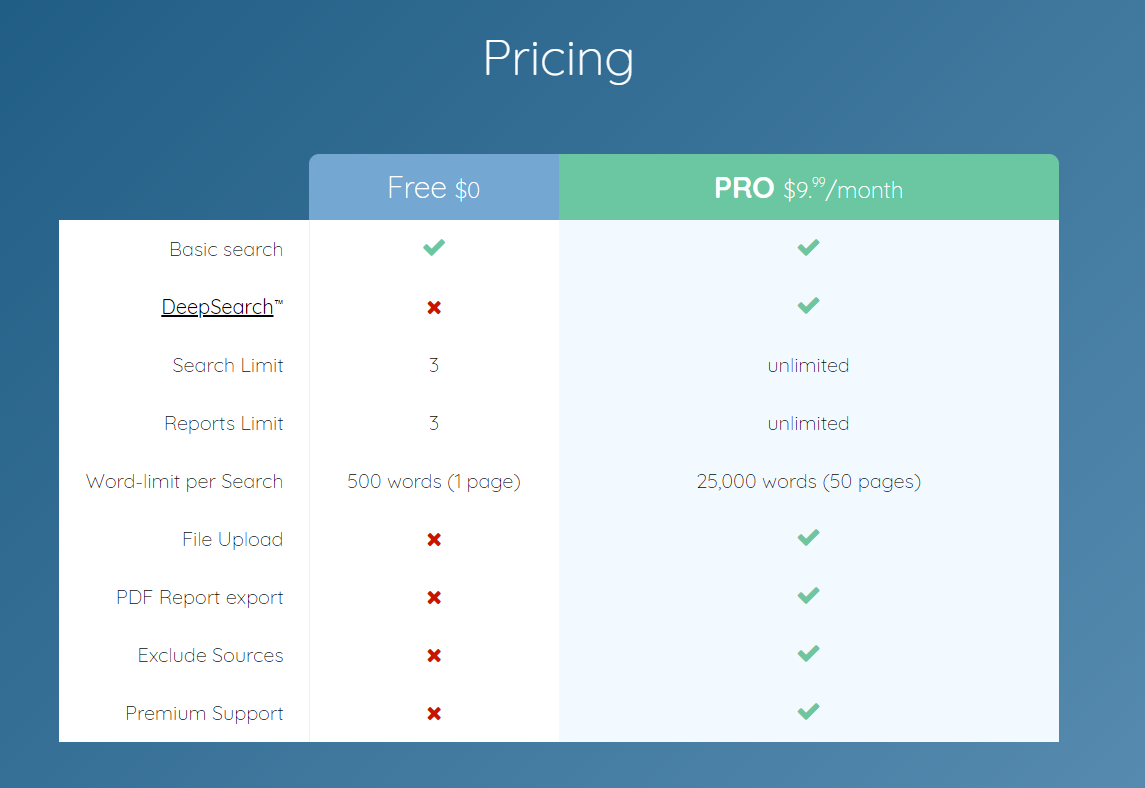 As you can see in the above image, DeepSearch is not available with their free plan. Users can't export PDF reports, upload files, or exclude sources. Their premium support system (which I loved) is also not extended to free members.
So, let's try it out.

As we noted above, there is a 500-word limit, so this check only looked at the first 500 words of the article. It found that 59% of that content was plagiarized.
Logic would say that if I just paste my content in 500 words at a time, I could have a complete report. But remember, you can only run three reports in a month, and this is a 4,000-word article. That means it would take three months to check it for plagiarism.
While I think their reporting system is great, I can't recommend this free service over something like Grammarly due to its severe limitations.
I could see this working out for a high school student, as they typically write shorter essays. But for anyone else, it's a hard pass.
3. CopyScape
CopyScape makes it onto this list, but just barely.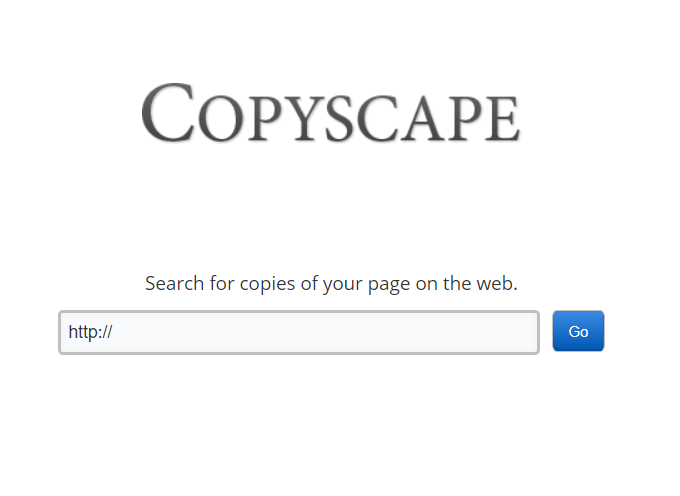 CopyScape is more than capable of running the same kinds of reports as the other checkers on this list, but they don't do it for free.
Their free service is wrapped up in website checking. You copy and paste a URL into their homepage and CopyScape scans the web for duplicate pages. This is great for businesses looking to protect their web content, but it has no free application for students, educators, and freelance writers.
Part of the appeal of a plagiarism checker is to check out your content before it has been posted to avoid any kind of legal issue. This free service only lets you check content that is already online. So, in that respect, it's less about checking your own work for plagiarism, and more about ensuring that your competitors aren't ripping you off.
This can be useful for businesses that have already checked their content elsewhere and are trying to make sure that their published work is safe from plagiarism. It has no practical use for writers, editors, educators, or students on any level.
4. PaperRater
At first glance, PaperRater is one of the better free applications that I've encountered. That changed once I try to use it.

It has both a premium plan and a free service, with better limitations for free users.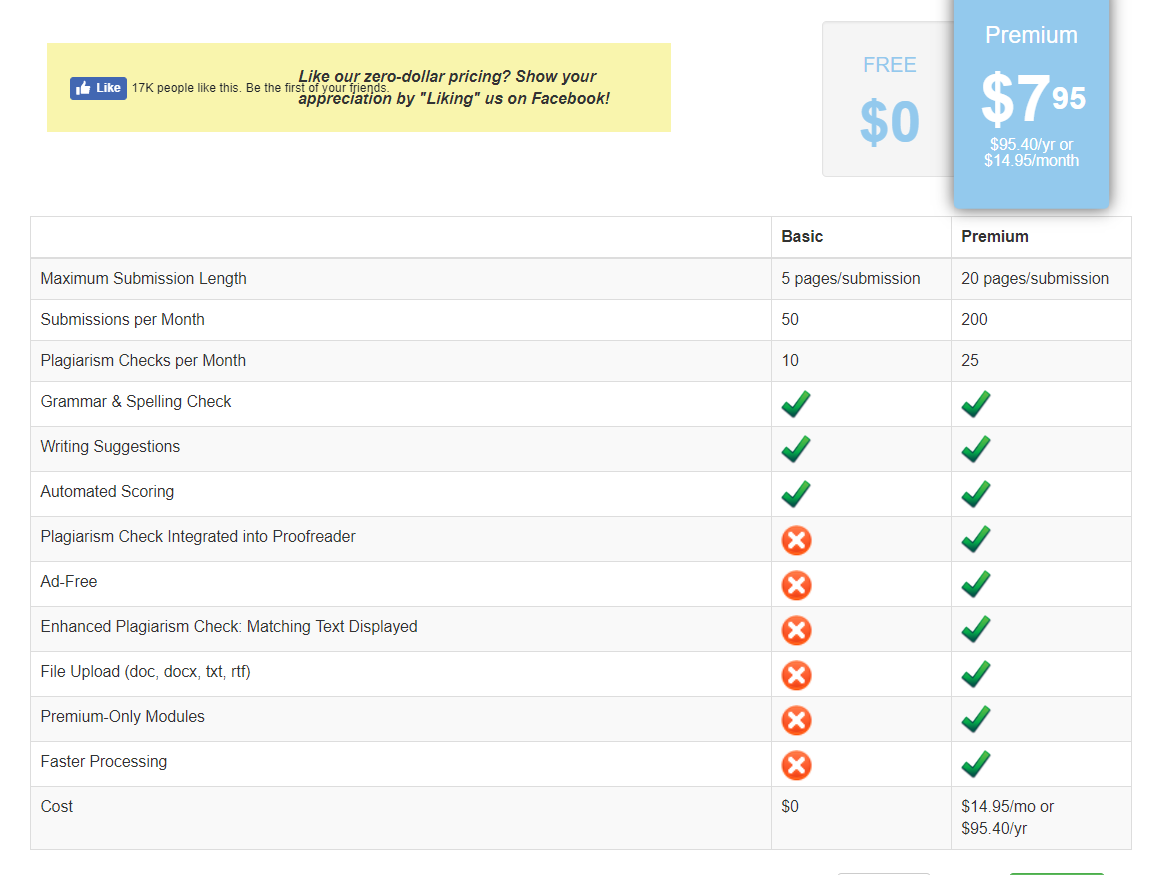 Those using the free plan can check up to five pages of 300 words at a time. That's a total of 1,500 words at once. While not a huge chunk of content, users are allowed 10 plagiarism checks per month, bringing the monthly word limitation up to 15,000.
I entered the first 1,500 words of our plagiarism copy into the checker and it got to work. After about a minute, I got my results.
Brace yourselves.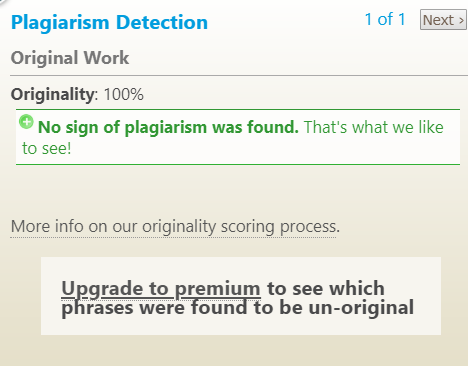 …What?
Did this system even try to detect anything? QueText found 9% plagiarism in the first 500 words. PaperRater saw three times that amount and came up with a big steaming goose egg.
That's entirely unacceptable.
This sample article was chosen because it is FILLED with plagiarised content. To find absolutely nothing within that first chunk shows that PaperRater's free checker is vastly inferior, not only to a premium service like Grammarly, but to all of the other free checkers on this list.
Even Plagly found something. Granted, they wouldn't tell us what they found but they at least alerted us to the existence of a problem.
I will say that I've also tested PaperRater's premium service. It looked over the whole article and graded it at 67% plagiarised content. That's a lot better, but it's also not nearly as accurate as Grammarly.
This one fails all across the board. I recommend it to no one.
5. Writer
You can say Writer is an excellent writing app with lots of useful features. But it doesn't quite live up to its hype when it comes to plagiarism detection.
We'd always choose it to improve our writing, check our style or make sure our text is aligned with our brand's voice, but we're not sure if it's such great plagiarism checker software.
It can recognize copied content from some well-ranked websites, but its search engine doesn't seem to identify all that it should. The good thing is that you have a two-week free trial that allows you to check out the tool before you decide to pay for it.
The rest of its features make up for what it lacks in finding duplicate content on the web. It's still a great grammar checker.
Writer uses artificial intelligence techniques to give suggestions to help you produce concise writing that communicates your message clearly and efficiently. You can always combine Writer with Grammarly's plagiarism checker, which is still the best one available on the market.
Grammarly Reigns Supreme
As predicted at the beginning of this article, you do in fact get what you pay for. While many of the services we've reviewed here work well in terms of checking shorter papers for light plagiarism, they lack the freedom and the accuracy of a service like Grammarly.
When looking at a free plagiarism checker, you can't beat the price. And many of these could come in handy for students, but I would not recommend a single one to any working professional, whether they be an educator, a business, or a writer/editor.