In 2019 it has become commonplace to talk to apps like Alexa, Google Home, Bixby, and Siri. Technology has advanced in such a way that these applications are able to discern the meaning of casual human speech and process those verbal commands to perform a function.
Now, technology has started to talk back. Text-to-speech apps allow users to review documents, emails, presentations, and more by just sitting back and listening. While at one point such programs spoke in the stereotypical monotone robot voice, technological advancements have allowed these apps to speak with emotion, inflection, and different voice options that give the human user a better sense of how their content sounds.
Often, something that we think is wonderful in our heads can be downright nonsensical when spoken aloud. That's where these ten text-to-speech applications come in handy.
Our Verdict
The apps on this list will serve your text to speech needs well, and most of them are either completely free or have a free option. Review these ten apps and compare them to your specific text to speech needs. Because most of them are free, there's also the option of trying out several of them until you find the one that fits your requirements.
Table of Contents
1. Google Text-to-Speech
Google Text-to-Speech is a free mobile app that we've found to be the best at integrating with Google's wealth of applications and programs. Its seamless integration with other Google apps comes as no surprise since the same company created these apps.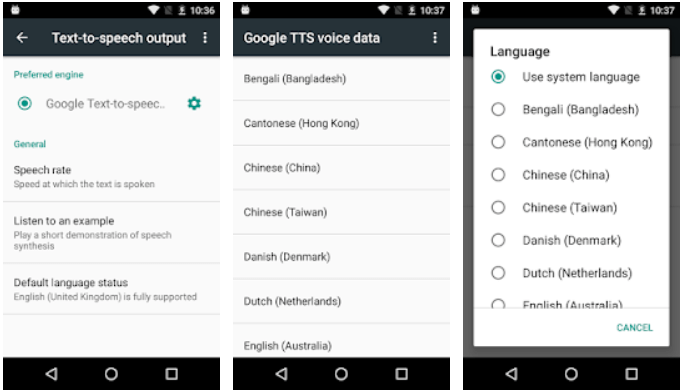 One of Text-to-Speech's more popular functions is its integration with the Google Play Books app, allowing the service to "read" books aloud to the user. This essentially turns any book into an audiobook, and many users love the convenience. Using this free application, they no longer have to pay for a monthly subscription to Amazon's Audible or some other audiobook service.
Text-to-Speech allows for TalkBack, giving spoken feedback to the user. It also offers speech-to-text for hands-free texting and "typing."
In keeping with its ability to work alongside other popular Google apps, Text-to-Speech integrates with Google Translate, allowing you to translate your content into a wealth of other languages and hear it spoken back to you with proper pronunciation.
And speaking of pronunciation, Speech-to-Text is excellent for users who are attempting to learn a second language, as it offers official assistance with the pronunciation of words. This is perfect for someone learning Spanish who is anxious about mispronouncing words in front of native speakers.
2. Narrator's Voice
Narrator's Voice is the best app for those looking to make use of outputs beyond standard audio. After converting your text to speech, users can apply "effects" like echo, reverb, gargle, chorus, and more to manipulate the output. Most of these effects are usable offline as well, so it's a great app to play around with when you find yourself in an area with no cell service.
The app comes with several built-in "basic" voices to choose from before adding effects. Users can create video files and output them for sharing on social platforms like YouTube, Instagram, Facebook, Twitter, Snapchat, and more.
The app also allows for spoken input, so you can record yourself and add effects to your voice. There are also editing tools for speed, pitch, volume, and more so there's quite a lot to play around with.
Narrator's Voice is a free app, but there is a premium version with no ads for $15.
3. Voice Reading
Voice Reading is another free mobile app. We found it to be the best at switching between files. This app can be used to automatically read new text messages, which makes it a great service for people that have a visual impairment.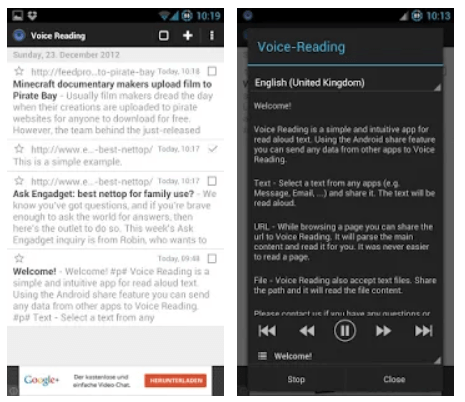 The app can manually type text, upload text files, or pull copy directly from a website URL to be read aloud. It saves text files and their audio version offline for future access, making it easy to recover your progress. Voice reading can also add text files to your home screen, then toggle between them to listen to each file and switch seamlessly.
One of the app's most impressive features is its ability to convert text from an image into audio speech. This is a level of intuition not often seen in a free mobile application.
The system's output settings can also be adjusted for speed, allowing the user to speed up or slow down the audio.
While the app is free, a pro version is also available without advertisements for only $2, making it one of the most affordable paid tiers on this list.
4. Pocket
If you're looking for an app that is incredibly effective at pulling content from all of your devices, look no further than Pocket.

One of the best features of this app is its bookmarking tool. This allows the user to save the articles and pages read out loud to them, storing that content from anywhere for later access.
Pocket can be accessed on multiple devices, making it one of the more versatile entries on this list. It is available on mobile for both iOS and Android devices, but it also includes a web application that will work on your desktop computer.
When users import content, Pocket automatically removes advertisements, meaning that when it reads a website for you, it won't be stopping in the middle to scream "BUY NOW."
One stellar social feature of this app is its ability to share content with other users. If you and a friend both have Pocket, you will be able to send one another all of your favorite recordings.
While normally a free app, Pocket Premium costs $4.99 per month and allows users to store web content offline so that it is accessible, even if the online version changes.
5. @Voice Aloud Reader
@Voice Aloud Reader is great at removing unnecessary content like ads and navigation from the talkback experience.
This app supports TXT, PDF, DOC, DOCX, RTF, OpenOffice documents, EPUB, MOBI, PRC, AZW, and FB2 ebooks, so there's a lot to choose from.
By clicking and holding words or phrase, users can view dictionaries, translations, and Wikipedia entries, or conduct web searches.
Users can easily control the speech generator's volume, pitch, and rate of speech, making it a very customizable service.
When importing online content, all ads, navigation elements, and any other unnecessary content are automatically removed, helping the entire process become more seamless.
There is also an option to have the app automatically read text aloud as it is copied to the clipboard. It also comes with a night mode and sleep timer included, so users can listen to content while they turn in for the night.
6. ClaroPDF
Sometimes, users want to multitask while listening to audio content. That's where ClaroPDF comes into play.
This app converts PDFs into audiobooks, which is perfect for college students looking to study while on the move.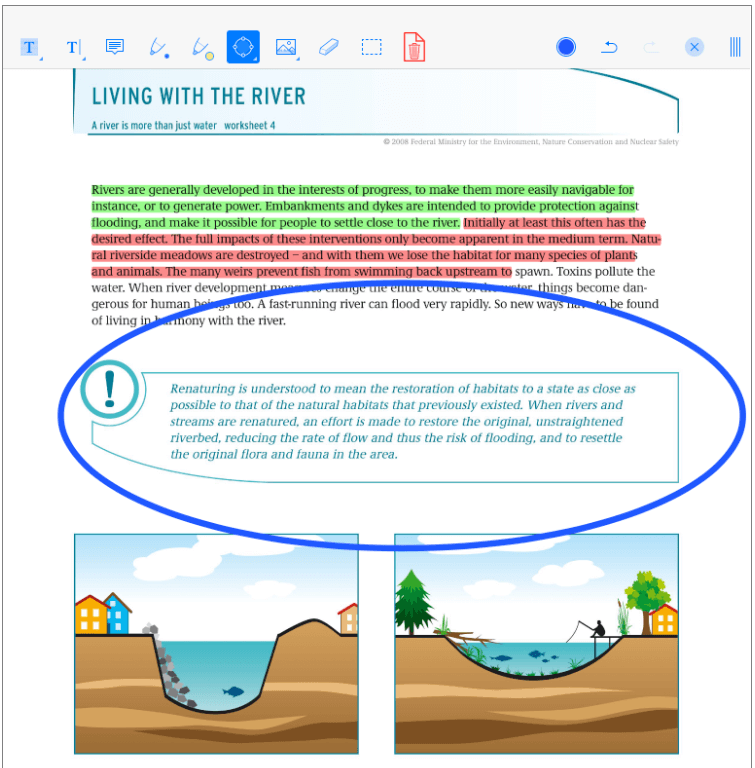 It also allows for annotation, highlighting, and other markups of content that is to be included or excluded from the audio recordings.
The app has a "Speak in Background" option, which lets you listen to a PDF while viewing another app. So, if you want to casually listen to your notes from a class while scrolling through Facebook, ClaroPDF gives you the opportunity.
The "Speak on tap" and "Stop on tap" options make speech easy to control with just the tap of a finger. Users can also convert photos and other images into fully accessible text PDF files that can be spoken, searched, copied, and highlighted.
There is also an option called "Save as PDF," which lets you convert text and images to PDF files from Safari, Notes, Photos, and other apps.
This service is available on both Android and iOS mobile platforms and costs $9.99.
7. Speech Central
Speech Central is an iOS text to speech app which we found to be the very best at supporting content from multiple sources.
You can connect Speech Central with websites and RSS feeds, and then choose which articles you want to import. This app can also be integrated with Bookshare, an accessible online library which gives you access to a plethora of content.
Speech Central supports text files in the form of PDF, Microsoft Word (.docx), Microsoft PowerPoint (.pptx), OpenOffice/LibreOffice (.odt, .odp), .html, .txt, .rtf, along with eBooks as .epub, DAISY and .fb2, plus emails in .eml.
You'll never have to worry about losing content because each text read is automatically saved and moved to the Old Articles section of the app. All imported content is saved as well, and can be filtered and searched for later access.
This app also comes with annotation tools for marking texts as favorites, bookmarking sentences and paragraphs, and adding comments.
8. Voice Dream Reader
Voice Dream Reader is a mobile app featured on both Android and iOS. It has proven to be the very best at supporting multiple languages, though it comes at a higher price than most other options on this list at $14.99.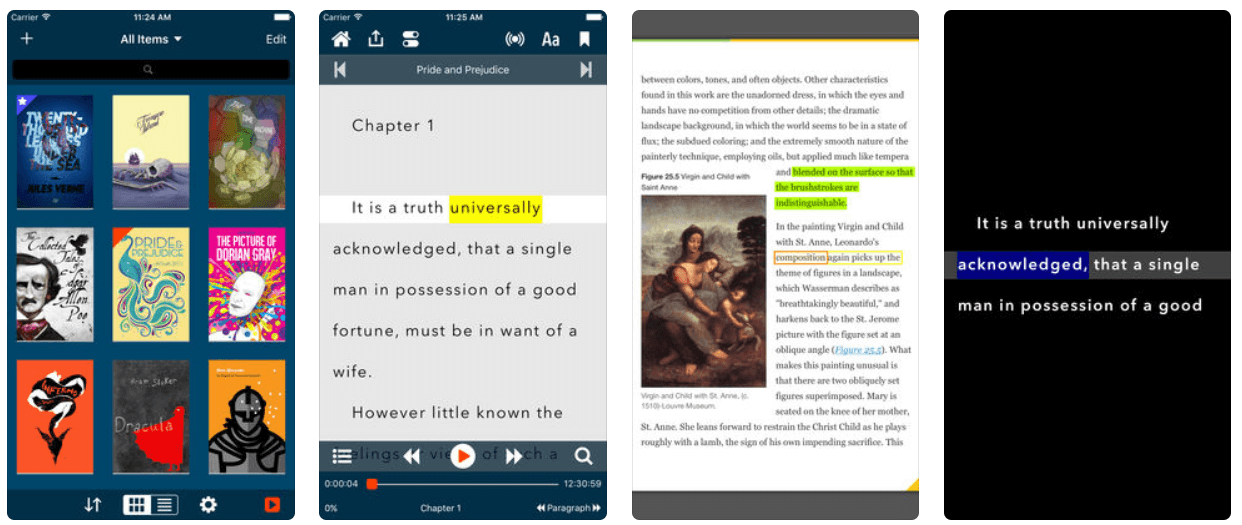 This app supports standard PDF files, as well as EPUB and eBooks with 36 built-in iOS voices in 27 languages. Users can upgrade the app to access more than 200 additional languages.
Voice Dream Reader offers correct pronunciation with a personalized pronunciation dictionary. This is another service that is highly recommended for anyone looking to learn and perfect a second language.
All of the included voices can also work offline, so the service can be accessed from anywhere once it has been downloaded. Users can also add lists of articles to a queue and listen to them in sequence. Furthermore, it is possible to bookmark content, while also highlighting specific text sections, and annotating at will.
9. Text to Speech (TTS)
TTS is another free app for Android devices. It is especially effective at tailoring speech with accents.
The beauty of this app lies in its simplicity. The interface is very straightforward and should be accommodating to users of all ages and skill levels.
What's remarkable about this app is how realistic the text to speech voices are. They sound very human. This is another app that works well offline and is available in many different languages.
One of the most popular aspects of this service is the ability to add accents to certain languages, making it a more authentic experience. This can be useful for actors who are looking to perfect a number of accents for upcoming performances.
10. Talk Free
Talk Free is the best app we've found at exporting audio. As the name implies, it is a free app available in the Google Play store for Android Devices. However, there is an optional $2 pro version that removes ads from the experience.
Talk Free allows users to save audio files for offline use and read online content directly from the app. Audio files can be exported as WAV files, and you can even import text from other apps.
Another huge feather in the cap of Talk Free is that it offers a Google Chrome browser extension that automatically reads highlighted text aloud for you.
In Conclusion
Text-to-speech applications have uses that extend beyond the business sector. Students can use them as a means of studying without straining their eyes. Blind people can use them to easily browse the internet. Performers can dive deep into upcoming roles by listening to various accents. People who are studying foreign languages can easily translate text and learn proper pronunciation.
Text-to-speech apps are allowing us to bring a form of convenience to the world of internet browsing and document review. As these applications advance over the years, they will become more commonplace and lifelike until it might be difficult to discern between a human voice and an artificial narration.
The apps on this list will serve your text to speech needs well, and most of them are either completely free or have a free option. Review these ten apps and compare them to your specific text to speech needs. Because most of them are free, there's also the option of trying out several of them until you find the one that fits your requirements.
Some of these apps may work when you translate your entire site to serve visitors from various geographies.