Writers, I'm sure you'll agree with me when I say:
MS Word is not for us, period. Maybe it's good for a high-school project, but for writing a novel?
Hell no.
So what else are we left with? Google Doc?
Yeah, that's good, but barring a few features like auto save, it's roughly the same.
So, is there anything that is made specifically for us?
Yes, there is and it's called a 'writing software'.
A writing software is something that makes the whole writing process easier, provides you interruption-free environment, and even takes you back to the sections that you have already deleted.
A writing software is made explicitly to fulfill the needs of writers, but keep in mind, it helps only with the 'process of writing', not with the craft itself. It's all up to you to improve your skills.
Now, there are dozens of tools out there that claims to be the best in the business.
But I decided to do a reality-check, and actually went ahead to test the five most sought-after writing apps on the internet.
Next, I filtered out the pros and cons of each tool and ranked them best to worst according to my findings.
So by the time you will finish reading this post, you'll have a clear mindset regarding which tool is worth your money and time and which isn't.
Ready??
Let's get started.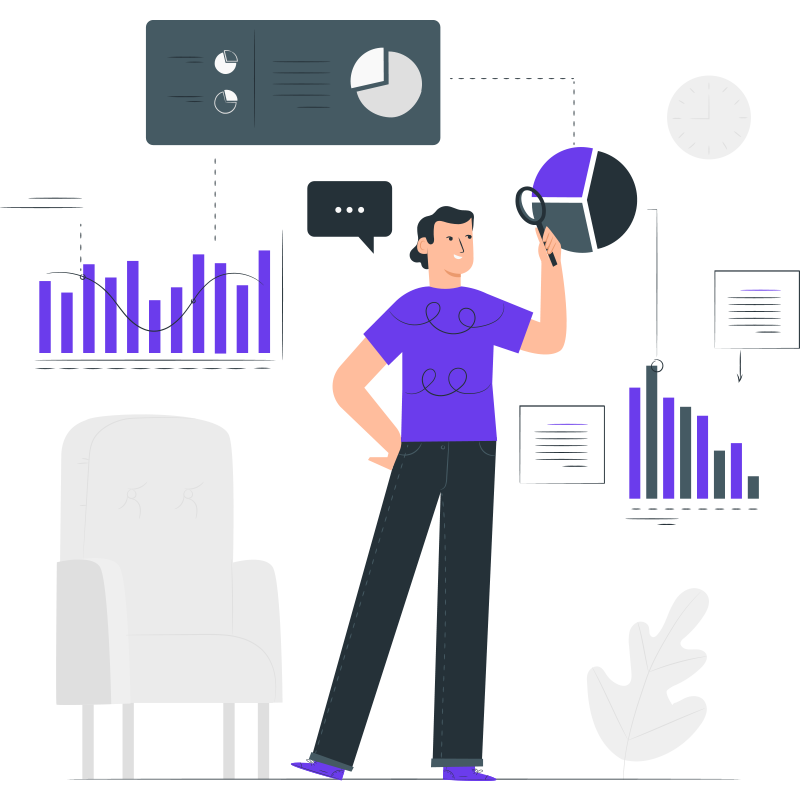 Get long-term ROI.
We help you grow through expertise, strategy, and the best content on the web.
Best Writing Software Review
When I was reviewing the writing software, my primary focus was ease of use and how good each tool organizes content. After that, I wanted to see if these softwares allow me to see the changes from revision and save the older copies of my content.
The other parameters were the ability to provide a distraction-free environment, collaborating with others, and the option to export files in popular formats.
Now let's see, how each tool performed in this test.
Scrivener
Scrivener is hands down the most versatile and efficient writing app out there that everyone, from a hobbyist blogger to professional screenplay writer, can use.
When you first land on the Scrivener website, you come across some ravishing reviews from New York Times bestselling authors to prominent writer/producer like Michael Sussman (accompanied by the several logos of all the awards they've received).
And after using this software extensively on my computer, I can say, it justifies all the testimonials and awards it got. It's sleek, very easy to use, and loaded with essential features.
The only thing I found missing is the ability to share documents with peers. Otherwise, it's a fully dedicated software for writers.
Let's take a deep dive and go through its advantages and drawbacks.
Scrivener Pros
#1 There are many times when we have to alter different sections of our content to make it more effective. And it's dead-simple to do it on Scrivener.
Just select, drag and drop. That's it.
This makes Scrivener an excellent choice for working on large projects like novels and books that requires you to write several chapters or sections.
#2 Scrivener comes with more than a dozen templates for different types of writing – be it blog posts, novels, short stories or poetry, it's all there.
#3 It's quite normal to get distracted while working on an urgent project (or even if it's not urgent), but Scrivener got you covered.
It has a "full screen" mode that captures your whole screen and blocks everything else. So it's just you and your writing.
#4 Using the "SnapShot" feature, you can save previous versions of your content so you can go back and forth to make necessary changes.
#5 Scrivener lets you export your files in a variety of formats like Word, PDF, txt, RTF, OpenOffice documents, or Final Draft.
You can also export your document as an EPub file and use it on e-readers like Kindle.
#6 Scrivener is available for download on Mac, Windows, and iOS devices. And the best part is, there's no limit on the number of devices you can run this software on.
However, the only disappointment is it doesn't work on Android phones.
#7 Scapple is a sister product of Scrivener that allows you to quickly jot down your rough ideas and thoughts and connect them with each other.
It's the most potent brainstorming tool among all five writing software. It works as a brain mapping tool that makes ideation more impactful.
But the only catch is, it comes as a separate product, and you'll have to pay for it.
Scrivener Cons
#1 Getting feedback is an essential part of the whole writing process, but Scrivener leaves you helpless in this section. You can't share your document, neither you can collaborate with your peers.
#2 Although the service is excellent, Literature and Latte (the parent company of Scrivener) is a bit sloppy in customer service.
When I sent a support ticket to collect some info about Scrivener, it took them more than 24 hours to answer my queries.
Scrivener Pricing Plans
Scrivener is one of the cheapest and most value-for-money product compared to other applications in my test.
It comes with a one-off price tag that reads $45 for Mac and Windows license each, $19.99 for iOS, and $75 for the bundle pack (Mac and Windows license).
You also get 30-day free trial (only for Mac and Windows) to test the product before buying.
However, you can avail some discount by playing the student/teacher card and get the app on $38.25. But there's no discount on the iOS and Bundle pack.
Do I recommend Scrivener?
Absolutely!
Scrivener came out to be the best writing app in my test. Thanks to its low prices, plain interface, and a boatload of features, it becomes an apt option for every writer regardless of their profession or field of expertise.
Though the disability to collaborate with others is the only area where you will have to make some compromise (along with the absence of an Android app).
Otherwise, you can go for it without thinking twice.
Ulysses App
Ulysses calls itself the "ultimate writing app for Mac, iPad, and iPhone" and Apple products are the only ones it is compatible with.
What makes this service unique is the ability to sync your files automatically in iCloud. That means, you can access your content anywhere, anytime, and you never lose your files even if the original version is destroyed.
Take a look at the pros and cons of this service to decide if it's the perfect fit for you.
Ulysses App Pros
#1 Ulysses stores all your writing in one place called 'Library' eliminating rigorous back and forth between files and saves precious time for you.
IMAGE
#2 It lets you keep the older versions of your files so that you can go back to the old copy if you don't like the current work.
The only flaw is, it's available only for the Mac version.
#3 Ulysses has a distraction-free interface that keeps you focused while working and make you more productive in writing.
Also, you can set up the app in a way that allows you to display only the sheet you are working on, no other buttons.
#4 There's an array of exporting options available with Ulysses. You can export your files as Plain Text, Rich Text, Markdown, Textbundle, DOCX, PDF, HTML, and ePub.
Besides this, you can also directly publish your post on WordPress and Medium. How cool is that, ha?
#5 At present, there's no scope of sharing your documents directly from the app, but Ulysses allows you to add third-party apps such as Dropbox to share and collaborate with your colleagues.
However, keep in mind, it also comes with some limitations, like Markdown XL is not available in this section.
#6 I was blown with the customer service of Ulysses to such an extent that I could rank it the best in this section.
Though the first reply took a little less than 24 hours (after FocusWriter's response), but after that, it took them minutes to get back to my further queries.
Also, the support agent was very helpful and gave detailed answers to all my questions. Amazing experience!
Ulysses App Cons
#1 There's no pre-designed template as we saw in Scrivener. However, to save time, you can design your own templates and add them to your favorites.
For that right-click on a sheet and select "add to favorites" from the options and you're done. In future, when you're writing a similar content, just pull it out from the favorites.
#2 It was a big blow for me to know that Ulysses App is not available for any platform other than MacOS and iOS, making it useless for Windows and Android users.
And according to its customer support, they don't have any plans to bring a Windows version soon.
#3 Ulysses work only with sheets so I couldn't find any special arrangements or features for taking notes or quickly jotting down unbaked ideas for future reference.
Ulysses App Pricing Plans
Ulysses App is the only application in this test that offers a subscription model to the users.
It gives 14 days to try the service for free, and after that, the monthly plan costs $4.99/month, and if you want to pay for the whole year at once, then it's $39.99.
Students and teachers get significant discount in the 6-month plans.
Do I recommend Ulysses App?
To be honest, I found this app to be ideal only for Apple users and that too, especially for bloggers. It's quite intuitive, automatically backs your files on iCloud, and also easy to share directly on WordPress or Medium.
That's why I'd recommend this service to bloggers. Other users can skip it and go for a cheaper (considering lifetime cost) alternative like Scrivener.
Final Draft
Final Draft presents itself as a screenwriting software and aimed more towards the television and film industry professionals. That's why it's one of the most expensive writing software out there.
But does it justify its high price and cater to the needs of other writers? Let's find out.
Final Draft Pros
#1 With a total of more than 300 templates ranging from screenplay, storytelling, to graphic novel and more, Final Draft offers the broadest range of templates.
#2 It offers a feature called "Beat Board" that works as a virtual corkboard where you can dump your ideas or research materials.
#3 Final Draft enables the users to collaborate with their writing partners in real-time no matter where they are located.
Both, you and your friend can work on the same project simultaneously and share ideas in real-time.
#4 It has a revision mode that allows you to lock the older versions sheets and use it whenever you want.
#5 You can export your scripts as .fdx, RTF, PDF, HTML, and .sex files. But there's no docx and epub export available which according to me is a major minus point.
#6 Except Android, there's no device limitation with Final Draft. You can use it on Mac, Windows, as well as on the iOS platform.
However, you are bind to install it only on two machines at a time with a single user license. If you want to run the software on more devices, then make sure you've uninstalled it from current devices.
#7 Final Draft provides you the option to backup your work in a safer place without making any effort manually. It does all the backing automatically.
Final Draft Cons
#1 Unlike Scrivener, I couldn't find a way to clog up online interruptions. On its website, it says the "Night Mode" helps you eliminate distraction, but when I cross-checked with the support team, they denied any such claims.
#2 Final Draft needs to work on the tempo of their email support. It claims to reply within two business days, but it's been more than 48 hours, and I'm yet to receive any response.
However, their online chat support is right up to the mark. And I would suggest using that instead of using the typical email form for any query.
Final Draft Pricing Plans
Final Draft is the most expensive product in this test and considering their target audience (professional and budding screenplay writers), it's no surprise.
The Mac and Windows version is priced at $299, whereas the iOS app costs $9.99.
But there's an extra benefit with Mac and Windows version as they come with 30-day "no strings attached" trial period.
(Price of Windows and Mac version)
Whereas I can't say the same for its iOS version.
(Price of iOS version)
Do I recommend Final Draft?
Yes and no.
If you're aiming to make it big in Hollywood (as a screenwriter), then you can't get anything better than this. Of course, it won't help in your craft (that's all up to you), but it does ease the process of writing, sharing with others, getting feedback, etc.
I will definitely advise investing in the Mac or Windows version. And trust me, you won't be disappointed.
Having said that, if your main purpose is just writing content like blog posts, short stories, poems, or novels, then you can choose the other options over Final Draft.
iA Writer
First of all, don't get confused by the name; it's not an AI-based app. iA writer is a simple writing app with the sole purpose of providing a distraction-free environment so you can focus only on your words.
It's the easiest app I tested; but is it at par with the big names like Scrivener or Final Draft? Let's find out.
iA Writer Pros
#1 The biggest strength of iA Writer is its clean interface. There is no complexity, no fancy features. Just a plain sheet where you can carve your thoughts. It really helps you keep focused while working on a project.
#2 It's the only software in my test which is compatible with all the different operating platforms. You can use it on Windows, Mac, Android, and even on your iPhone or iPad.
#3 "Focus Mode" is an interesting feature that, when turned on, focuses only on the current sentence or paragraph and greys out everything else you have written on the document.
It's convenient in keeping your mind on the spot.
#4 iA Writer comes with a bunch of pre-designed templates for your disposal that you can use by going to "File". Or you can also create your own templates.
#5 You can integrate iA Writer with iCloud and Dropbox, and that enables you to backup all your content in the cloud.
And since, you can add Dropbox; it also opens the door for you to share your writing with your friends and collaborate with them on your projects.
#6 iA Writer enables you to publish your draft directly to WordPress and Medium. And it also includes the feature to preview your content as HTML page.
iA Writer Cons
#1 While all the other software provides at least 3-4 different file formats to export your content, iA Writer fails drastically in this section. There are only two exporting options – PDF and Docx.
#2 I also couldn't find a way to quickly write rough ideas on iA Writer. You have to go through the same process as you would do to write a general script.
#3 Customer service is another major concern for iA Writer. Firstly, there's no online chat support; the only way to submit your request is via email. And when you do that, it takes days to resolve your issues.
iA Writer Pricing Plans
iA Writer offers three different plans for its customers. The Android version is free forever. It is the only tool that has separate pricing for its Mac and Windows version.
While the Mac license is for $28.99, Windows license is a little cheaper at $19.99, and both of the versions are paired up with a 30-day free trial.
Unfortunately, there is no such provision for the iOS platform because of Apple's policies. You have to buy it for $8.99.
Do I recommend iA Writer?
Yes, I would recommend iA Writer if you like a minimal feature, easy to use writing app that is also free (at least for Android).
The Focus Mode, Dropbox, and iCloud integration, and the ability to export directly to WordPress and Medium makes it a worthwhile choice for bloggers, short story writers, and other writers who indulge in general writing stuff.
However, this app is certainly not made to serve professional screenplay or novel writers or any other heavyweight project that consist of several sections or chapters, bibliography, etc.
FocusWriter
FocusWriter was the weakest writing app I tested. It's nothing else, but just an alternative to Microsoft Word. That's it.
There isn't anything special that I could mention other than the fact that it's the only writing software (in this test) which is absolutely free.
However, you pay the price by not having all the essential features you saw in the above applications like versioning, storyboard, writing templates, etc.
So, does it has anything good that could make it worth at least for a trial? Well, there are some plus points.
But giving it a try? I leave it on you.
FocusWriter Pros
#1 FocusWriter has a very straightforward, distraction-free interface where all you see is a blank white paper. There's no tabs, navigation buttons; you can't even see your computer's clock.
So, it does an excellent job of keeping the writer immersed in writing.
#2 The next benefit of using FocusWriter is it doesn't cost anything. It's yours forever for free.
#3 FocusWriter performed much better in customer service than most of the prominent app included in this test.
The maker of this app, Graeme Gott himself deals with the users' grievances, and this dude is fast in his email game.
I sent him an email to ask a few questions about FocusWriter, and he got back to me within 24 hours.
#4 You can run FocusWriter on Mac, Windows, as well as Linux computers.
Now, I know it's not something significant considering it still doesn't offer anything for the Android and iOS platform, but I didn't know whether to add it to the pros or cons section.
That's why you can count it as a sympathy point before you start going through the long list of cons.
FocusWriter Cons
#1 Though there are some writing themes available in the app, you won't see any writing template. Neither it has any facility to create one on your own.
#2 There's no way you can save the previous versions of your current copy. Once you've made any changes, the older copy is gone forever.
#3 You can't share your content and collaborate with others.
#4 Interchanging different sections in the same document is also a pain. Unlike Scrivener, where all you need to do is drag and drop; you have to follow the traditional 'Cut and Paste' method on FocusWriter.
That becomes tiring when you need to work on full-fledged books or novels.
#5 FocusWriter provides a limited number of export formats. It only supports plain text, and a small subset of ODT, RTF, and Docx file.
#6 It also doesn't provide any specific solution to note down rough ideas or random thoughts quickly.
FocusWriter Pricing Plan
As mentioned earlier, FocusWriter is a free of cost software. However, there's an option to donate some amount to the maker of this app that ranges from $5 to $100.
But it's optional, and you can set the donation amount as $0.00 if you want.
Do I recommend FocusWriter?
In one word, no.
It's just a simple word processor, not a modern writing app. And if writing is the only thing it does, then MS Word or Google Doc is also not bad, right?
There's no reason I would recommend you to try FocusWriter unless you want to experiment yourself.
Conclusion
Writing is one of those activities an average adult do every day.
Whether it's writing stories, blog posts, letters, social media posts or as simple as writing an email to your boss.
And a writing software makes this whole process of jotting down words easier and brings more fun.
After analyzing all the five apps, I found Scrivener to be the overall champ. It's an all-around app any type of writer can use. On top of that, its price is also well under budget.
Final Draft would be an excellent pick for professional screenwriters and novelists. Though it's a bit pricey compared to the other tools, the features cover the cost.
If you own Apple products and looking for an app that grants you cloud storage as well as allows you to access your files in all your Apple devices, then Ulysses is made for you.
iA Writer is a perfect fit for those who like simple, user-friendly software that could be run on any device regardless of its operating system.
And finally, Focus Writers is for those who are looking for a free alternative. But I won't recommend you to go for it.
Now, I would like to turn it over to you:
What kind of writer are you? Do you write novels, screenplays, blog posts or just a hobby writer? And which software you want to try first?
Let me know by leaving a comment below.