As a content marketer creating content is at the top of your list. You're churning out blog posts, white papers, case studies, long-form articles, and more content to get your audience to notice and engage with your brand.
But does it give you the ROI? And are you able to justify the expense? Considering there is no shortage of content online, standing out is an added pressure. However, what if you could get the larger picture of how your content can strategically grow your bottom line without continually running on the content treadmill instead of constantly churning out content?
Content minimalism is one way to look at it. It is about creating an excellent user experience where your users value your words, solutions, and their time. And it also makes it easy for you to track minimal KPIs, rework customer feedback quickly and iterate to reduce Customer Acquisition Cost (CAC), helping you make intelligent content marketing decisions.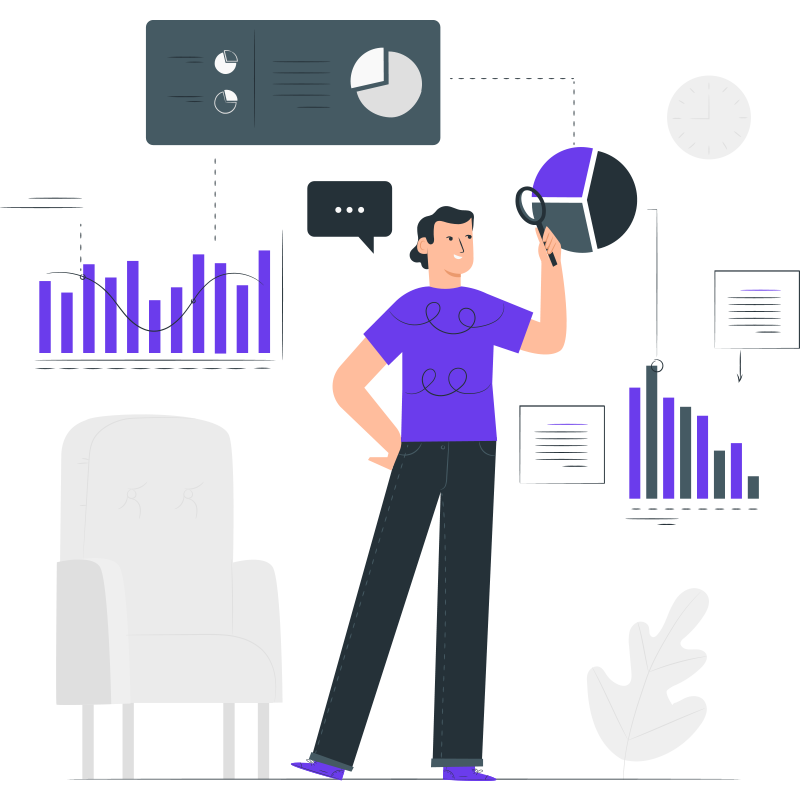 Get long-term ROI.
We help you grow through expertise, strategy, and the best content on the web.
Why Marketers Make Poor Decisions
When you create an extraordinary customer journey, it's all about getting maximum coverage. So you're aiming to use every ounce of real estate to achieve that.
However, the illusion of "free real estate" – longer blog posts that favor search rankings (SEO) and user intent isn't a great choice, especially when more words don't equate to more cost.
Again when you consider attracting your audience to your website, having an additional social media button or email sign-up doesn't take a lot of effort. So, the free real estate available virtually means marketers do not think twice before slapping an additional CTA or a popup.
The problem with this thought process is that while the virtual estate is indeed "free," it is harder to remove elements from a page than to add them. Because if there's something that isn't really "critical" or a "problem, " it goes into the 'for later' or often 'why fix it what ain't broke' category. Usually, this thought process leads to more unnecessary elements or additional costs of resources that weren't needed at all.
The Power of Minimalism
Minimalism, at its best, is using a few words, elements, and design to make your point. You could say less and yet make an impact without compromising on the quality. Consider a few ways to do this:
Highlight the keywords. If you have scannable content like this one, it makes it easy to grasp the core intent of your message with highlighted keywords. When your users are busy scrolling past countless content pieces online, highlighting your main points make the article stand out.
The reader may read through entirely and keep them on the site for a long time, likely leading them to other related content pieces on your site.
White Space: White space makes it easy to skim through the content giving it a professional look, easy on the eyes, and better control for the user. It makes the user want to stop and pick up a few valuable points leading to better engagement and conversions. It also removes distractions, especially if the other design or content elements are loud or necessary, considering the design or the industry your brand fits in.
Shorter Emails: Brevity makes the reader appreciate specific content that is effective and gets to the point quickly. If your campaign involves email marketing, that is another reason to design shorter emails since they get a better engagement rate than longer ones.
While longer emails might be suitable for specific campaigns, short emails often work when limited elements are vying for the user's attention. Also, keep your links to the minimum to avoid clutter. Keep the reader interested with relevant and interesting subject lines. Make sure to test the optimal length for better open rates and CTR.
Call-to-Action: CTAs make the user take action. But if you have multiple CTAs at many places, it causes clutter and confusion for the user to take action. It'll likely lead to no action by the user or, worse, a high bounce rate.
Too long CTAs make the user take action or skip it entirely because of its length. To make users take the said action, keep CTAs short and minimal so you can highlight them for better conversions.
How to Make the Right Decisions
Every campaign has its own KPIs and goals. However, a few basic steps can put you in the right mindset at the start of each project. When you follow a minimalist approach, you focus on the MVP approach making it simple and easy to close the loop. Follow all these, or pick a few that resonate with you and get started.
Process and analyze data: Important decisions must be based on facts and numbers, not hunches or guesses. For this, you need data.
Companies today have more data to handle than ever. They have bounce rates, conversion rates, page views, click-through rates, etc. On top of this, they need to go through pages of content to learn what's new on the market, emails to go through, forums to check to learn more about customers, etc.
This means that the pile you'll have to analyze is bigger than you could ever go through. You can't possibly spend months analyzing data to make every marketing decision, especially not since it changes all the time.
There's a simple solution to this – smart text classification. Levity, a no-code workflow automation program can connect all your workflows and use NPL and ML to perform intelligent categorization of your data.
Text classification is now the most valuable NLP task that will solve various business challenges for your brand, including emails, support requests, messages, and other concerns related to data management.
In other words, you can automate text processing, saving a lot of time and getting highly valuable results in the process. Based on this, you can make decisions to improve your marketing strategy.
Ask the right questions: One way to get your ideas into action for a fruitful outcome is to sharpen your intuition. Understand the rationale behind each decision by asking the right questions.
For customer experience, ask yourself why your customers prefer a particular channel to reach out to you. How you can relate to your customer empathetically? As a customer, what is something you'd like to see your product doing?
And if you're tracking content performance, ask yourself if the copy, design, or CTAs are causing the conversions.
Stick to deadlines: Ensure timeliness in your communication. Keep your teammates in the loop on workflows. Keep buffer time to factor in delays. Dedicate some time in the day or week to reflect on missed deadlines so you avoid the same mistakes for future projects.
Have a Proper Content Calendar in Place: A content calendar is one way to keep track of your content pieces. A content calendar keeps you organized and allows team allocation and follow-up. It's one reason your team can be consistent with your schedule and content goals.
Voice of Customer – Work backward and understand the outcome you'd expect from your content piece. Research the VoC (Voice of Customer) and know who you are talking to before putting pen to paper. Pick out pain points that your customers often talk about, and how your content can speak about these along with solutions.
Bias for evergreen – Pick evergreen content with higher ROI than time-bound content. So go for 'how-to-guides,' 'best practice,' and 'beginner guides' unless it is for specific calendar events like Black Friday that have typically higher ROI.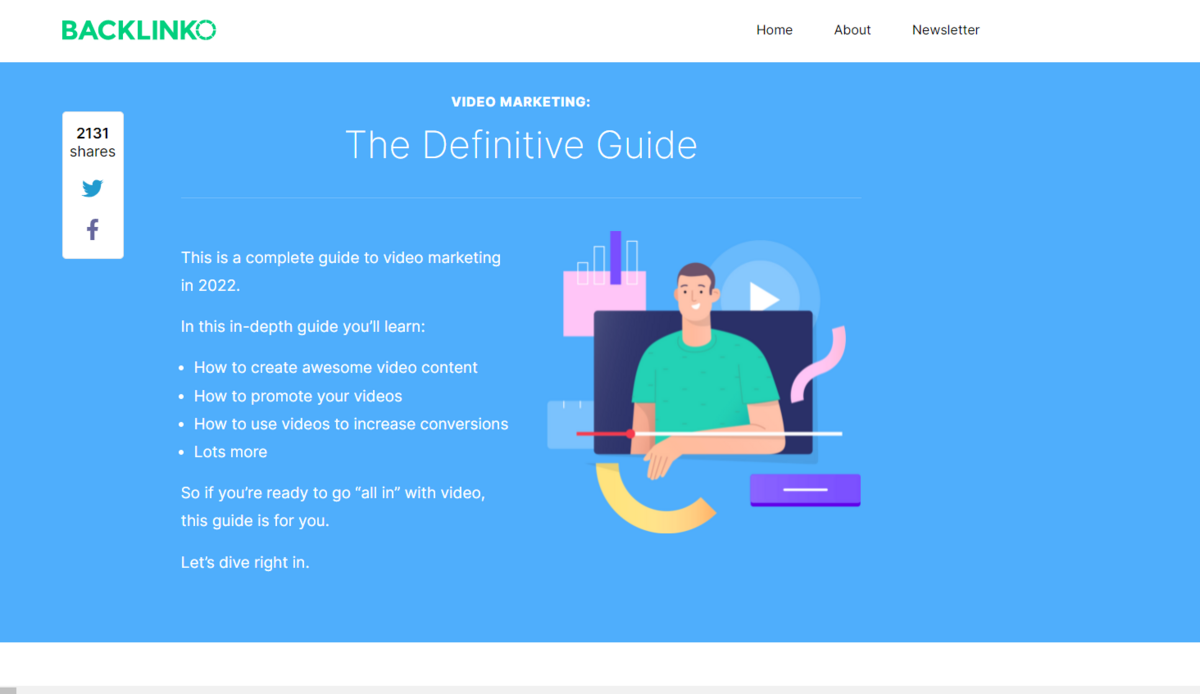 Image Source: Backlinko
Backlinko uses evergreen content to get traffic and users at all funnel stages. Their minimalist approach, with a blend of simple design, white space, and appropriate hooks across their content, makes for an exciting read.
Because evergreen content helps you talk to customers at any stage of the customer journey, it's an excellent way to capitalize on search intent and continually keep it fresh with updated content.
Tips to Improve Content Marketing Decisions
Approach content marketing with a minimalist approach. This way, you can focus on what's essential and only prioritize to include it.
Start with a clean slate: Templates are an excellent place to start. However, working with templates does not give you the flexibility to start fresh. It limits your capability to deliver content that can be better than the existing ones.
Also, don't take existing content and rework it. Start with a clean slate so you're open to the possibilities of new angles and opportunities that you may otherwise miss. You can identify elements crucial to success and include them only when doing this.
Pick an objective: Pick a purpose before you start – is it higher email subscriptions or click-through to an LP or money through ads? And then work backward to know how to break down these into smaller tasks to achieve them.
Finding your objective for each page is crucial. Because then you can maximize exposure for this objective and ensure that the content drives people through the proper funnel. Once you pick the objective, quantify it with metrics to meet it. Consider whether it is attainable and if there are any potential bottlenecks to achieving it. And once you are clear on the objective, set processes in place.
Process in Place: Have a process in place for each campaign. Prepare a step-by-step approach to executing campaigns. This way, it is easy for your team to track the movement at each step. And make sure you follow performance at each stage.
For example, you can create separate templates for content marketing pieces to generate leads or click on a landing page. And for each of these templates, have a specific layout and format to adhere to. When you follow this, it is easy to track deviations or if there's any problem at any stage and track the person to correct it.
This way, you standardize what goes into these content pieces and do not add unnecessary fluff.
Remove non-value-adding elements: Try to reduce the number of clickable and interactable elements. If a top menu bar is there only for navigation, maybe push it behind a Hamburger button. This way, you save valuable real estate by giving it a clean look and making it easy for the user to navigate swiftly, leading to a good user experience.
Similarly, if you are linking within an article only for SEO purposes and do not want people to click through, then edit the CSS styling, so they are not too prominent.
Trim your content: Once you remove the non-essential elements, keep trimming your content by measuring the most important KPIs (conversion rate, sign-ups, CTR, and so on). Keep cutting things down – words, popups forms, CTAs to measure these KPIs. You also do not want hi-res images unless they form a key part of your content. Compress images so they load quickly. Continue the process as long as you can bring down elements while ensuring similar KPI metrics.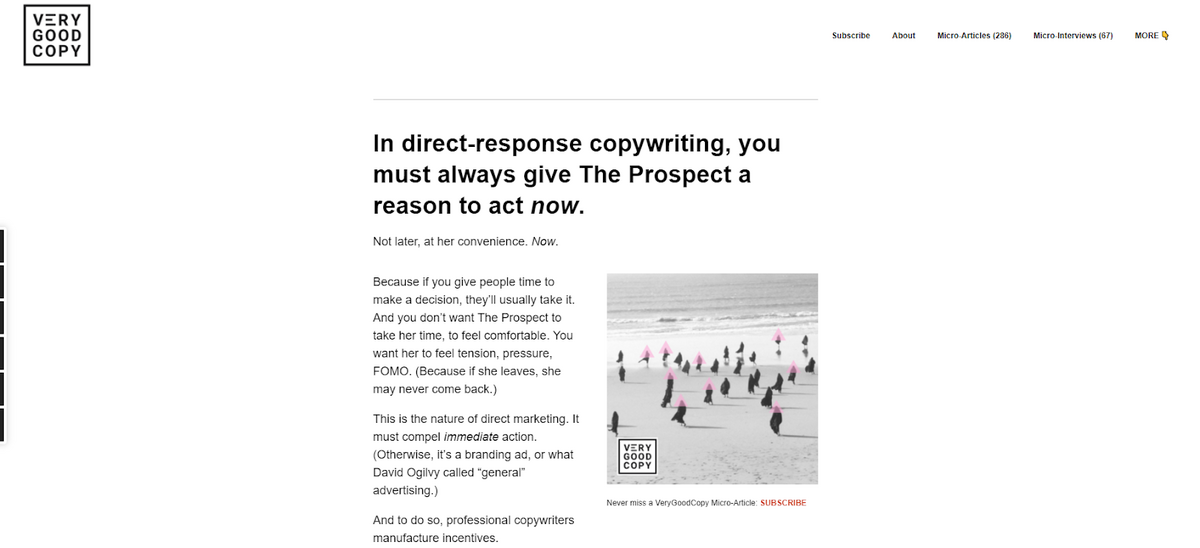 Image Source: VeryGoodCopy
VeryGoodCopy sticks to the concepts of compelling content in a few words. Each post covers one theme, beautifully written with a context, story, or as bullets making it easy to take along what the writer wants to convey long after leaving the website.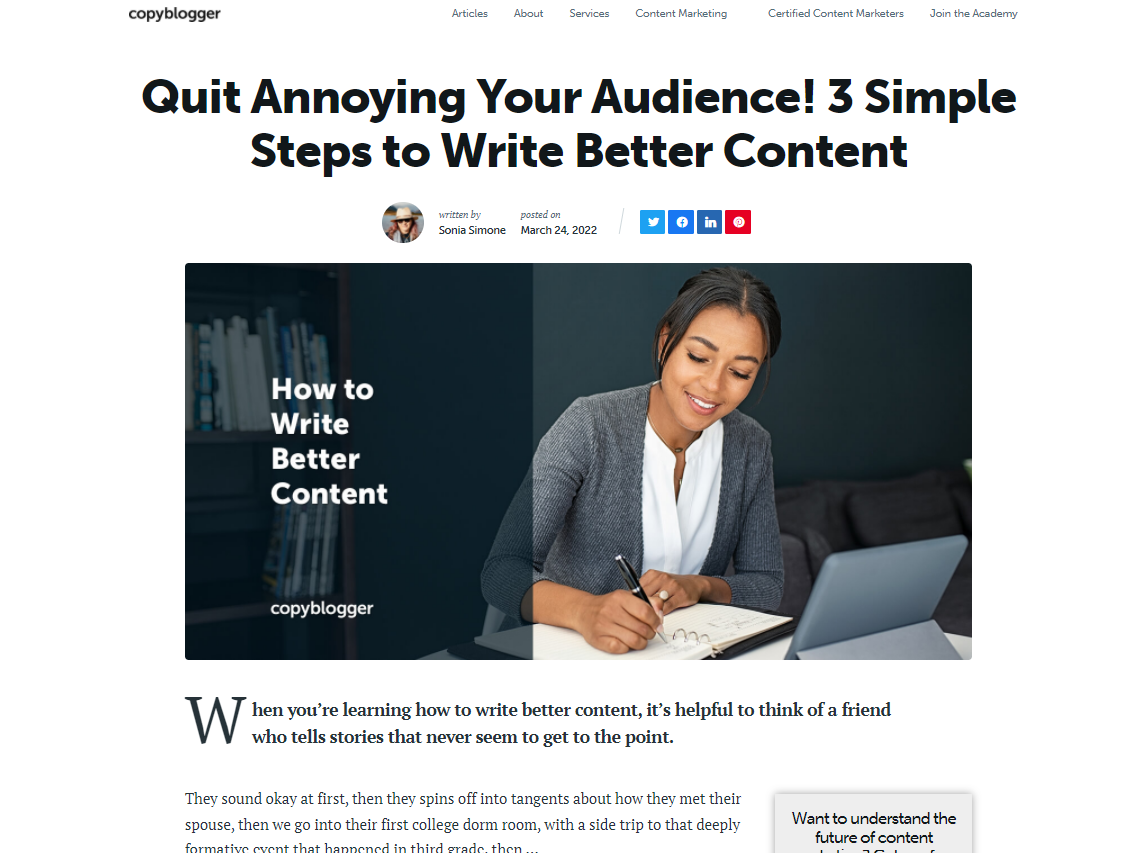 Image Source: Copyblogger
Copyblogger caters to business owners and writers often following content minimalism to get their point across. It is a classic example of reaching out to a varied audience that is interested in online writing without adding a lot of content that's repetitive or does not add value.
80/20 Principle: Following the 80/20 rule, identify the top 20% elements that contribute to 80% of engagement and results. Likewise, let 80% reflect educational and inspirational content and 20% product promotion for social media.
You could also use the same rule when using social media. If you have to decide between Facebook, Instagram, or LinkedIn, pick one or two that resonate with your audience and restrict your attention to regularly posting and interacting on it for engagement and conversions.
If 20% of your customers bring in 80% of your business, it's also about identifying 20% of your sales force that can pull in 80% of the sales.
Accordingly, when you shift your focus to your website, replace all forms of customer communication with one live chat if that is what is used by most of your presales visitors.
Final Thoughts
Content marketing decisions can have a lasting impact on the ROI if done well. For this, first, do away with the thought of using every possible solution at your disposal. Ignore the often used idea of using maximum "free virtual real estate" and instead focus on delivering value to your user.
It could be using white space, minimal words, or highlights to make your points. Brevity helps in getting your user's attention and also delivering quality work. To make the right decisions, polish your intuition to get behind the rationale of all decisions.
Ask the right questions based on the outcome, stick to timelines and align your message to your VoC. Pick evergreen content to get the best results, and then begin your content game with a clean slate. Pick an objective and set processes in place to achieve it. Don't shy away from trimming elements that don't align with your objectives, even if it means doing away with what you had for ages. And stick to the 80/20 rule to get the best results even as you streamline your content for better impact, leaner processes, and optimal conversions.