Successful content marketing is hard work. After all, it takes time (and money) to create valuable content that your audience actually wants to read or watch.
It's no wonder that you spend so much effort encouraging customers to see, read, and interact with your blog posts, articles, white papers, and videos. Sometimes, it can feel like it takes too much effort.
Enter SMS. That's right: good old texting, the tool you use more or less every day to chat with your friends and family.
SMS makes it easy to get your content in front of leads and customers—and even get them to interact with it.
In this post, we'll explore 10 ways to bolster your content marketing strategy with SMS.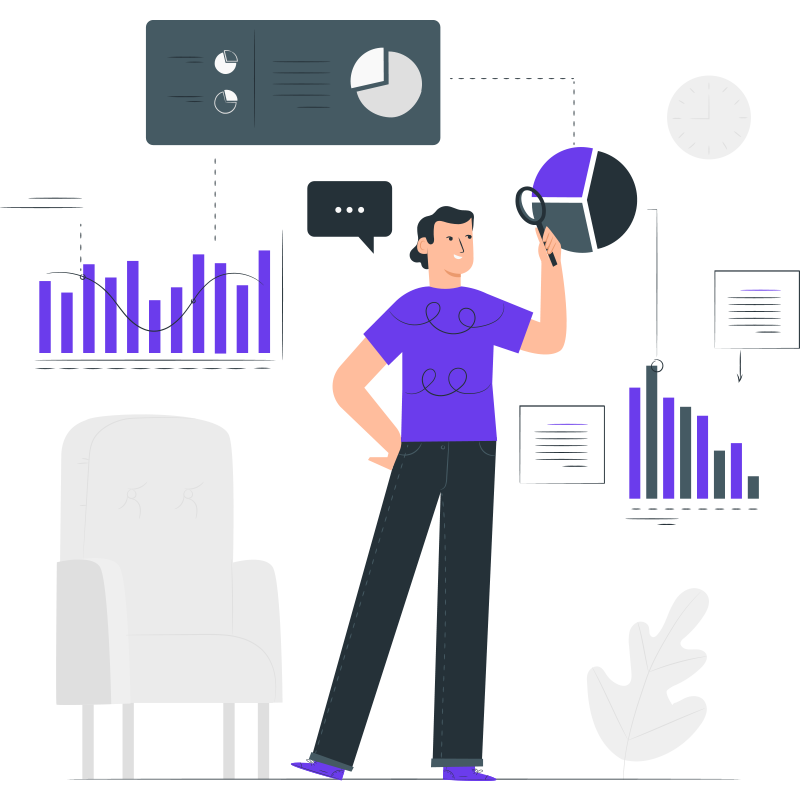 Get long-term ROI.
We help you grow through expertise, strategy, and the best content on the web.
But first, let's talk tools
You may be imagining pulling out your personal phone to text leads and customers. But that's not the kind of SMS we're talking about. In most cases, you should be using business SMS in the digital workplace.
Business SMS is texting for professionals. You'll need a dedicated business phone or a business text messaging platform to help you receive, send, and organize texts.
Business texting platforms come with useful efficiency tools to help you manage a lot of messages at once. They let you accept messages from both native SMS apps and popular messaging services like Facebook Messenger and Google Business Messages. They also help prevent you from sending your customers personal messages by accident and ensure compliance with TCPA regulations. (We've all done it, and it's not pretty!)
So how can you use business SMS to support your content marketing strategy? Let's dive in.
1. Encourage your audience to text in with questions
Leads and customers who have encountered your content may have questions about it. It's unlikely that they're going to take the time to ask through an email—but they're craving the chance to message you. In fact, 89% of consumers want to use messaging to connect with brands.
Publish messaging entry points on your blog and content pages to boost customer engagement. Be sure to:
Let customers know that they can chat directly with content creators or industry experts
Make customers feel comfortable by providing a few sample questions (if applicable)
Provide plenty of messaging channel options so customers are likely to find one they prefer
Customers are more likely to engage with your content if they can reach out through a convenient messaging channel that they actually like.
2. Publicize content via SMS
After you've created great content, whether it's a video or blog post, you want to show it to the world. There are a few great ways to get the word out. You can post about it on social media, like LinkedIn or Facebook. You can send it or link to it via an email newsletter. You can also publicize it via SMS marketing.
Your audience is a lot more likely to pay attention to texts than other channels. SMS has a pretty shocking open rate of 98%. That makes it more likely that customers will read your text, then head to your content hub or click a link to get there. Your customers are more likely to engage with your content sent via SMS, too. After all, SMS marketing has 8x the response rate of emails.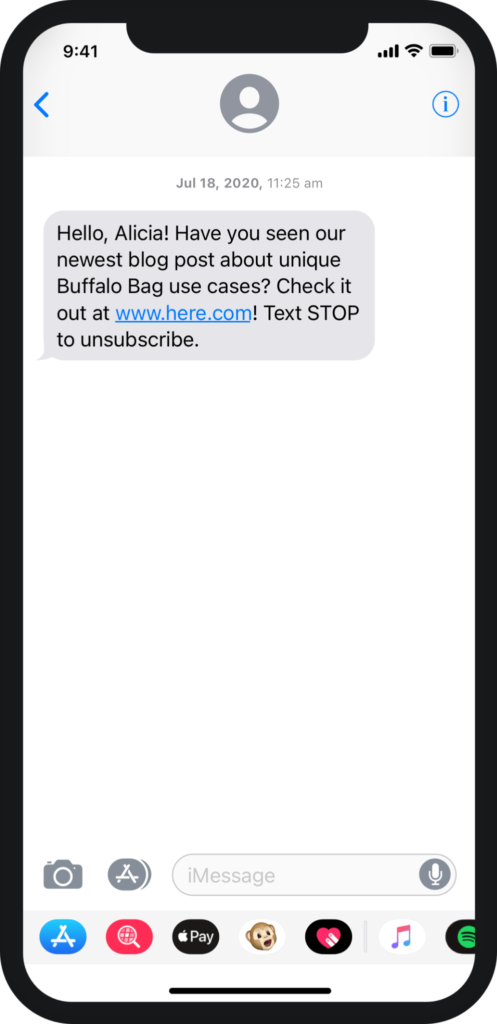 After you've spent time creating great content, sending it via SMS is your best shot of getting it in front of your audience. Later, if you'd like to make the process more creative, compare SMS vs MMS and add multimedia, if needed.
3. Use supporting content in SMS customer service chats
You've probably written some great how-to or use case content. Your customer service team is probably using it in their chats with leads and customers. (And hopefully, you're helping them use your marketing content!) Ensure customer service teams are using supporting content in their SMS support chats, too.
Customers like reading content on their phones. In the first quarter of 2021, mobile devices (excluding tablets) generated 54.8% of global website traffic. Customers will be happy to head to your suggested content hub website or click a link in your text for a relevant helpful article they can read on the fly.
Encouraging your team to use your content to boost customer service in SMS chats has two key benefits. First, customers will be able to understand concepts faster. In addition, your well-written content will get more traction, so it can fulfill its ultimate purpose: helping customers get the most out of your products or services.
4. Include relevant links in SMS follow-ups
Follow-ups are a great opportunity to ask whether customers need additional help with their orders, deliveries, or tickets. Your customer service and sales teams should be including relevant content in SMS follow-ups (along with follow-ups for any other channels). It's a great way to help leads and customers get any further education they might need.
Customers are more likely to open the links you send via SMS as opposed to most other channels. In fact, 19% of people will click a link in an SMS messaging campaign, compared to just 4.2% in emails.
Sending relevant content in SMS follow-ups boosts their value in customers' eyes. Even if customers don't have follow-up questions to reply with, they may take a look at your content and learn more ways to get the most out of their purchases.
5. Promote your long-term content series via SMS
There's a good chance your content marketing strategy features a long-term series of some sort. Whether it's an email newsletter or educational video sequence, you've got to get the word out somehow.
Invite your SMS subscribers to sign up for your content series. Send these invitations infrequently, and only to leads and customers who have expressed interest in your content before. Otherwise, they may perceive your invitation as spam, and not valuable SMS content. Your customers are wary of spam; Americans receive on average 14.7 phone text messages per month in 2020.
Sending a content series sign-up request via SMS can boost awareness and make it more likely that they'll sign up.
6. Send repurposed content to your SMS subscriber list
If you've already got great content, why not get the most out of it before writing new content? Repurposing content for different channels is a great way to get that extra mile out of foundational white papers, articles, or videos. (In fact 29% of leading marketers systematically repurpose content already!)
You can easily text your SMS subscribers with a short list of key takeaways from a recent article or a clip from a video. As long as you keep your repurposed content short and sweet, it'll fit the SMS format well. You can also let customers know that they can find more details on your blog or content site.
Sending short content via SMS helps you get more out of your content. It's a great way to encourage customers to engage with your brand, too. Don't forget to let them know that they can reply with questions or comments!
7. Create an original SMS content series
There's always room for more content. Consider creating brand-new SMS content instead of only repurposing older content. A series of short SMS content might be helpful for busy leads and customers.
This tactic worked wonders for brand Spartan Water Removal. Their marketing specialist used weekly SMS games to gain 3 additional clients each month. If games aren't your brand's thing, you can send customers:
Product tips
Creative use cases
Opinion polls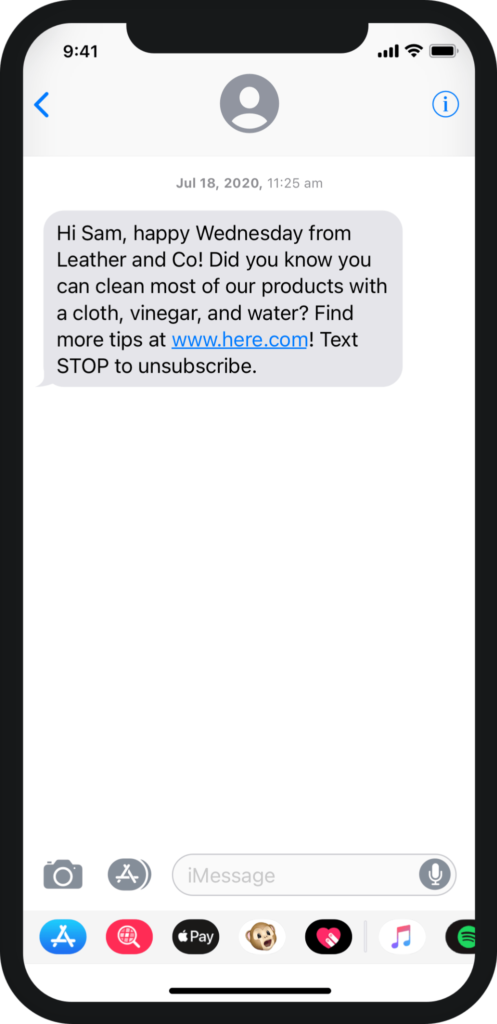 This interactive kind of content is key to a conversational marketing strategy, a new tactic that can work hand in hand with your content marketing strategy. Ultimately, it's a good way to both share valuable content and encourage customers to respond to it through a convenient channel.
8. Use SMS for online event management
It can be hard to get customers to take time out of their busy schedules to attend webinars and online presentations. When they see the subject line "webinar" on their emails, they might automatically assume they can't attend. Use SMS to ensure they see your full invitation—and ensure they don't forget to come if they accept.
With that 98% open rate we've already chatted about, customers are sure to see your invitation. After reviewing your to-the-point details, they can quickly text back if they want to attend. For those who choose to sign up via SMS, it's easy to automate event reminders with your business SMS platform. Overall SMS can go handy with en effective event management. Seventy-five percent of U.S. consumers find it helpful to receive texts for appointment reminders, and event reminders are in the same wheelhouse.
SMS is a powerful all-in-one tool for event management. Use it to boost your event sign-ups, maintain attendance levels, and make sure customers get the important content they need to succeed.
9. Ask for content marketing feedback
Your content marketing is already great—but it can always get better. Reviewing customer feedback is one of the best ways to pinpoint ways to better create content that serves their needs. (You aren't a mind reader, after all!) SMS is a seamless channel for feedback requests.
For example, your business SMS platform should offer chat-based SMS surveys. You can send these automated SMS surveys right through a current customer chat. Customers are more likely to complete the survey right then and there, since they don't have to navigate to another channel to respond.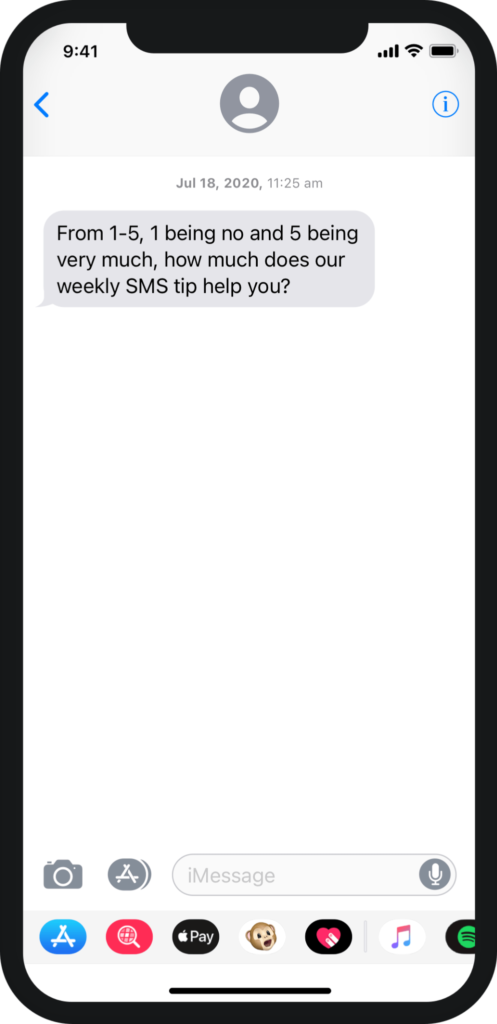 Plus, SMS has up to a 45% response rate, and the average response time for a text is 90 seconds. What does that add up to? There's a good chance you'll get feedback about your content—and fast.
10. Get a better picture of content consumption trends
It's a well-known fact that tracking and measuring your content performance is the best way to improve it. Tracking your SMS activities gives you another opportunity to see how customers are interacting with your content, and specifically how they interact with it via SMS.
Your business SMS platform should come with extensive reporting capabilities. It should track plenty of metrics and allow you to filter between campaigns and messaging services. For example, you should be able to compare read and response rates for an original SMS content campaign sent via native SMS and a repurposed SMS content campaign sent via Facebook Messenger.
Tracking another data point empowers you to understand what kind of content your audience likes in general, and specifically what they like to read through SMS. It's a great way to hone your content marketing strategy and make important decisions, like whether you want to focus more of your content marketing efforts on SMS or another messaging channel.
The bottom line
You put a lot of time and effort into your content marketing strategy. Get the most out of it with help from SMS.
SMS helps you promote your current content, share original content, and engage with leads and customers about it all. Plus, business SMS platforms help you accomplish all that without placing extra strain on you or your team.
Simply put, SMS is the popular, convenient, and easy-to-use channel you need to support and boost your content marketing strategy.