It's usually the marketing team that's responsible for content creation. Yet, it's sales reps who communicate with the prospects directly and thus can convey the required info in a more effective and timely manner.
And while most of them acknowledge the importance of the content (and use on average 6.7 pieces of collateral per sales cycle), there's still a notable gap between the two departments.
In this article, we will talk about the role of content in the sales process, explore the common challenges that teams face with it, and give actionable recommendations on how to align your sales and marketing teams for effective content creation.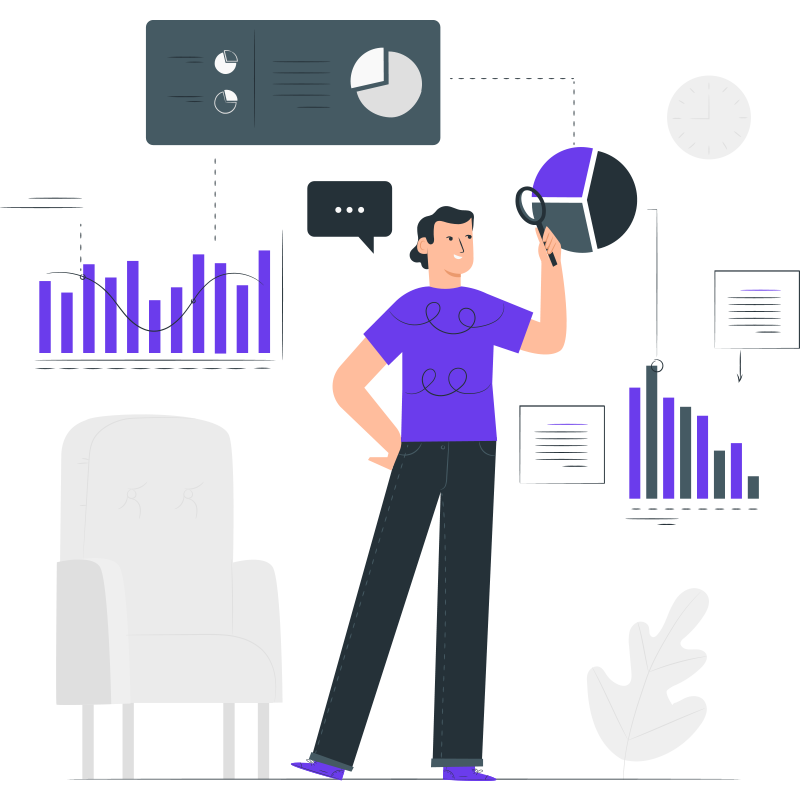 Get long-term ROI.
We help you grow through expertise, strategy, and the best content on the web.
The Role Of Content In Sales Enablement
Gone are the days when you could expect to make a sale simply by calling a prospect or knocking on their door and offering it straight up.
As sales processes become more complex, it takes multiple touchpoints across different channels, e.g. social media, email campaigns, in-person demos, and combined efforts of several departments to generate, nurture, and convert a prospect. It also requires monitoring sales metrics to measure performance over time.
No wonder that the buyers list relevant information as one of the most important elements of a positive sales experience.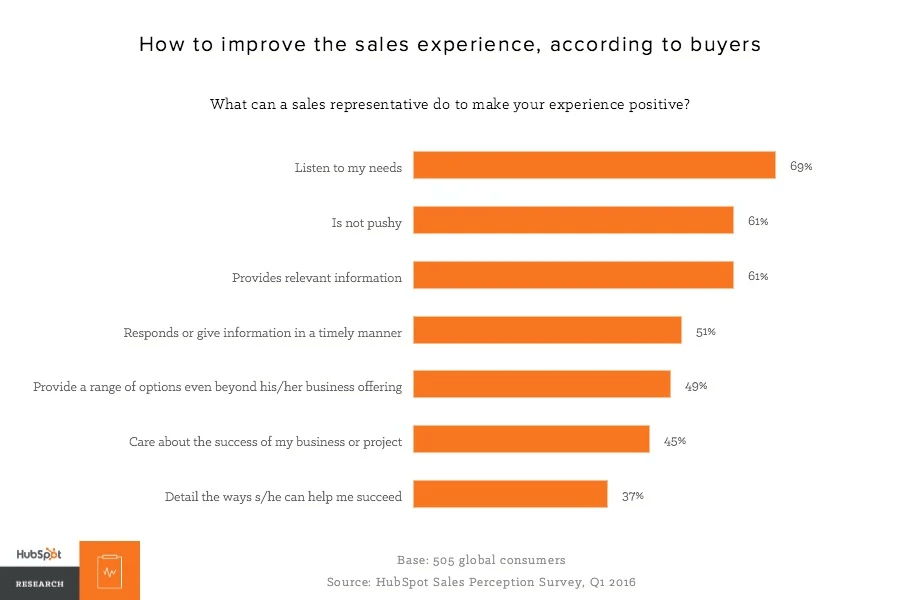 This is especially true for B2B and service industries that typically rely on a consultative selling approach and have lengthy sales cycles with multiple decision-makers. In this case, creating awareness and rapport should be your first priority. And offering helpful, relevant content at each stage of the buying process is one of the best ways to do so.
Other than building awareness, effective sales enablement content can offer a number of additional benefits:
Making the sales team's job easier by educating the prospects, anticipating objections, and answering their questions early on.
Creating seamless buyer experience from the first contact to the close with consistent and clear messaging.
Increasing prospect engagement through added value and personalization (e.g. based on the prospect's intent and previous activity, specific use case, personal info etc.)
As a result, the right content offered to the prospects at the right time can help you speed up the sales cycle and increase your revenue.
Why Your Sales Content Is Going To Waste
Despite its multiple benefits and vast sales enablement potential, up to 70% of B2B marketing content remains unused. This means all the time and effort invested in its creation goes to waste.
There are several reasons why sales fail to put marketing content to good use, i.e.:
They are unaware of its existence
They don't know how or when to use it
They choose to ignore it overwhelmed by its amount
They struggle to find and access it
On the other hand, without the insider view on the prospect's needs and challenges that only the sales team can have, marketers often tend to get out of touch with the audience. The content they produce in this case might turn out to be completely irrelevant to the prospects. So, no matter how hard sales teams try, it won't elicit the desired response from the audience.
And it's not just the audience interests that might get overlooked by the marketing. Some marketing teams lack an understanding of the basic sales processes and can't meet their immediate needs. As a result, sales reps are forced to create the required collateral on their own (wasting around 30 hours of their time per month).
This is why it's so important that sales and marketing teams work together to craft content that is equally useful to and usable by all involved parties.
How To Bridge The Gap Between Sales And Marketing With Content
Sales and marketing alignment remains the first priority for many businesses. Not only can it help you increase the overall business productivity, but also offers some tangible benefits, including 38% higher sales win rates and 36% better customer retention.
The importance of alignment seems even more important when it comes to content development and distribution.
Combine the first-hand knowledge of the target audience and their buyer journey with the ability to effectively convey the right information in a way that is engaging and easy to digest and you'll get the recipe for creating effective sales content.
At the same time, the process itself offers a great opportunity to sync both departments and help them align their efforts.
Here are some of the ways content can bridge the gap between sales and marketing:
1. Establish unified audience knowledge
Sales know first-hand who they sell to and what their prospects really need. This makes them an invaluable resource of insights into the audience preferences that marketing can use to better tailor their content to the needs of the audience.
To make sure you're on the same page when it comes to targeting, sales and marketing departments should review their ICPs (or create new ones) based on their common knowledge as well as insights specific to each role.
2. Create transparency throughout the sales cycle
Oftentimes marketing team, especially content writers, have a pretty vague understanding of the buyer's journey outside of the marketing funnel. Knowing the whole process inside and out can help them come up with more content to support the sales efforts at each stage.
The sales team in its turn should be constantly sharing feedback on how each piece of content performs. This can help you make sure the marketing department knows exactly what works and what doesn't and can tailor their content strategy accordingly.
3. Increase engagement across the board
Another way to align your efforts with content creation is to have your sales reps participate in the process (or actively contribute to it).
From sourcing content ideas to giving your sales team members a platform to actually share some of their expertise with the audience, this can help you make sure your content is valuable and spot on.
Also, powerful personal brands your sales team can establish through their expert content can drive massive engagement and reinforce your business image in general.
The Process For Creating Effective Sales Content
As mentioned above, effective sales content should be relevant to the specific audience interests, appropriate for a certain stage of the sales cycle, and easy to access/use for any involved party.
While this might sound easy, content production is a complex and lengthy process. So, having a solid process in place – the one that would involve joint efforts of both departments – is a must.
Namely, here are some of the best practices that might help along the way:
Create a formal process for receiving and evaluating content suggestions, e.g. using a shared spreadsheet, dedicated Slack channel, a contribution form, or regular brainstorm sessions. This will help marketers understand the current needs of the sales team and deliver exactly what they ask for. At the same time, being able to contribute their ideas can help your sales team feel more involved in the process.
Decide on the appropriate content types for each stage of the funnel. These might include:

Internal content for sales teams – scripts, templates, battle cards
Case studies that illustrate the practical application of the product
Informative articles and tutorials that help prospects find answers to their questions
Content tools that have practical value, e.g. checklists, calculators, catalogs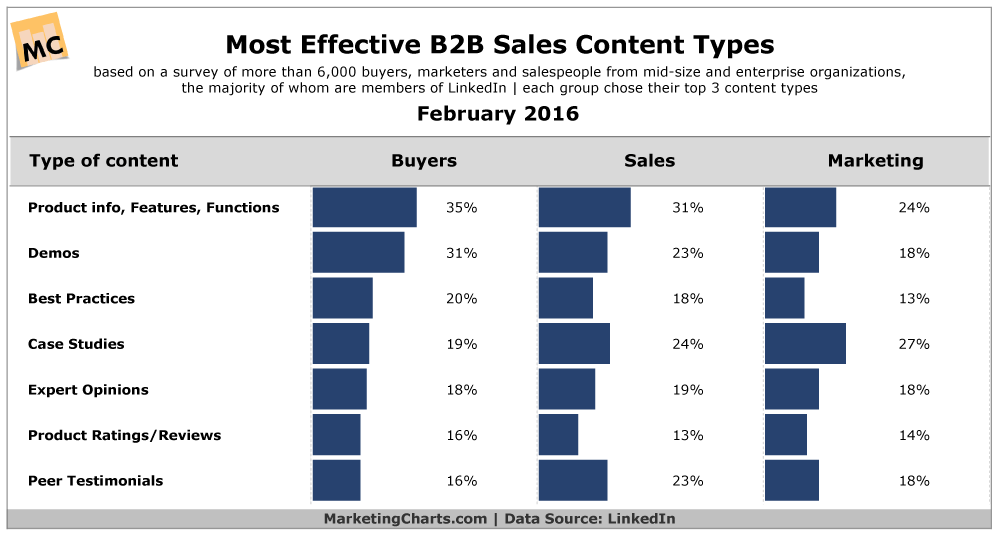 Pick the proper channels to distribute each of the said content types. Depending on the current stage of the sales cycle and the purpose of your content, you can communicate it via email or in-app messages, share it on social media, or present it in-person during the demos.
Assign metrics, e.g. interactions (views, clicks, downloads) and conversion/influence rates, to measure how each piece of your content performs. Build a constant feedback loop between your sales reps and marketing so you can tweak and tailor your content for better outcomes.
Make your content easily accessible to all involved parties. Using knowledge sharing tools like Slite might help. You can also use shared file storage like Dropbox or Google Drive, just make sure it's easy to navigate and accessible to all.
Conduct proper training among sales reps to make sure they know when and how to use your content. It's also important to provide clear guidance on how to tailor customizable content for each specific use case.
Streamline the process to make it transparent, repeatable, and clear for all parties. For example, you can schedule regular content reviews to update/repurpose your collateral.
The Final Word
Content can be a powerful tool for generating business revenue. Yet, there are many challenges to effective content creation and its efficient use.
To make sure your efforts don't go to waste, sales and marketing teams should collaborate closely in a number of ways – from developing a shared vision of their buyer personas to having sales reps contribute ideas or even take part in the content creation process.
With the listed best practices and tactics, we hope you will be able to align your sales and marketing departments for effective content creation and distribution.