It's getting harder and harder to grow your business online.
Your competitors are getting savvier, and mega-corporations dominate entire industries.
Strategies that used to work can now be a waste of your business' budget.
Luckily, content marketing can still drive your business' growth…
But it can't be done casually.
Only the best content gets seen, ranked, and clicked on.
The Codeless Content Grading system
At Codeless, we produce only the best content — content which is optimized for search, readability, and is designed to drive your business' bottom-line growth.
To accomplish that, we use a 13-point grading system to measure the quality of the content we produce.
Our system covers everything from word count to readability, and gives us a clear understanding of an article's quality and how it's going to do once it's published.
Before we publish a piece of content, or deliver it to a client, we want to be confident that we know how it's going to rank and whether readers are likely to engage with it.
For the first time, we're going to share our process with you. In these videos, we'll give you a background into each of our 13 variables. We'll talk about exactly what they are, why they're important, and how you can grade your own content to increase your rank on Google, engage with your readers, and effectively turn them into customers.
Let's get into it.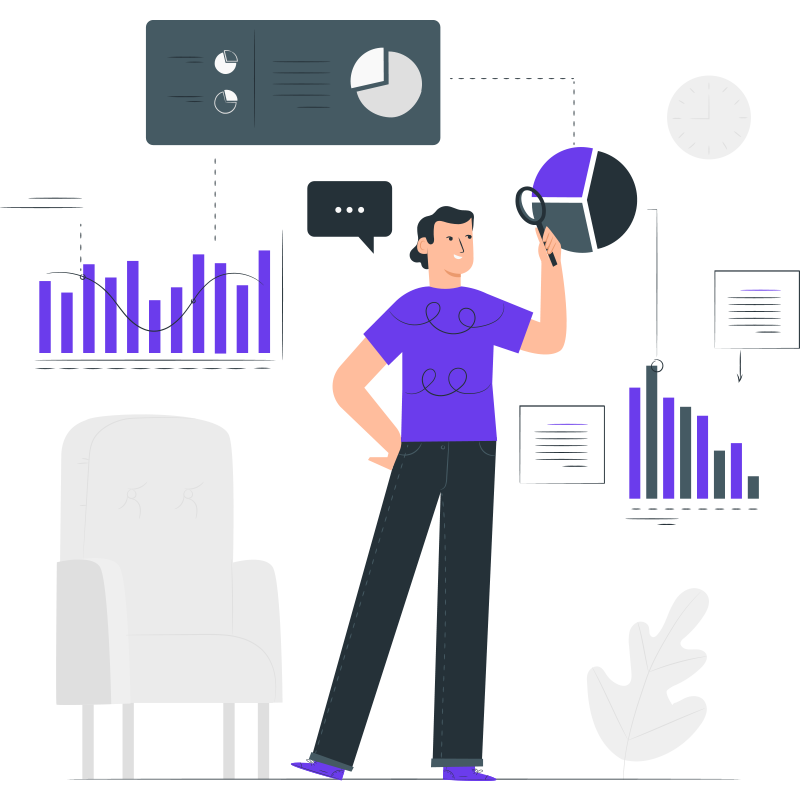 Get long-term ROI.
We help you grow through expertise, strategy, and the best content on the web.
#1: Length
Let's talk about word count.
This is a controversial topic, because a lot of experts out there will say that it's the quality of your content that matters, not the quantity. And they're right… to a point.
Because here's the thing: Google is trying really hard to identify quality content.
They're measuring reader engagement rate, time on page, social shares and a bunch of other factors to determine if your content is high quality.
And they're getting really good at it.
But they can't help but notice that long-form content tends to get shared more, has lower bounce rates, and (more than anything else) tends to be linked to more by other websites.
Long form content provides readers and searchers with a complete look at a subject. It gives them everything they need to know in a single place. As a result, people tend to stay on the page and, when they've finished reading, share it with their networks.
That's why creating comprehensive content — long-form, 2000-word pieces — is the most reliable way to push your business up the search results page.
#2. Search Intent
You want your blog content to focus on what a searcher is looking for. You want to answer their questions and give them all the information they need.
It's only by matching their search intent can you become a trusted source of information they return to time and again.
So how do you make sure you're doing that? How can you ensure you're writing content which answers all the questions your readers are asking?
Well, the best way is to take a look at what's already ranking on Google.
If we trust Google to know what they're doing, then we can trust that the content on the first page is already answering the searcher's question as well as content can.
So what you need to do is review those ranking articles and create content which touches on the subjects they touch on, and then takes it to another level.
Create content which answers all of the reader's questions but is actually more complete and more actionable than anything else out there.
#3: Semantic keywords
Google needs to know what your content is about if you want it to get to the first page of the search results.
And the best way to do that is to tell them, straight away.
Include your content's target keywords right in your title as well as your headers and within the content itself.
To find these target keywords, you can leverage a keyword research tool. Using these tools, all you have to do is insert a primary search term and the tool will provide a list of relevant keywords for you.
But in 2020, semantic keyword optimization is about more than just throwing your keyword in wherever you can. It's about including an optimal number of multiple key words and phrases throughout your content.
You want to make sure you're including concepts and ideas that tell Google that your article isn't about just one thing but about the topic.
For instance, let's say you're writing about blogging. Sure, you want to include the keyword "blogging," but also "content," "Wordpress," "blog post," and dozens more.
This shows Google that your article is comprehensive and gives readers everything they need to know in one place.
#4. Internal and External Links
Internal links, that is, links between your content as well as between your website and your blog, help your content to rank.
Internal links help Google determine the importance of a page with regard to the other pages on your website.
We recommend you include at least five internal links on every piece of content you publish.
External linking on the other hand, means your content is backed up by other thought leaders. If you're just recommending strategies without backing it up, how can a reader trust that you know what you're talking about?
We recommend you include an external link, or citation, every time you quote someone or back up a recommended strategy with a statistic which proves its effectiveness.
#5. Show or Tell?
The highest-quality content helps readers understand a concept or best practice by showing it in action.
High quality content also ensures the reader believes what the writer is saying because they've proven it with cited sources or examples.
For instance, let's say we were recommending that our readers invest in creating long form content,
rather than just telling readers it was a best practice, we'd share success stories from businesses who did it.
We'd include images of Google Analytics traffic increases and take screenshots of social media share toolbars which show the reader that what we've recommended is true.
Most people learn better from visuals. Words on a page are all well and good, but to truly connect with your readers and become a thought-leader in your industry, you need to back yourself up with images, examples, and media which shows them you know what you're talking about.
#6. Grammar
Standing out from your competitors with content requires excellent writing.
You're writing to impress people — to increase trust and show your readers how professional your brand is.
And nothing says unprofessional more than grammatical or typographical errors. Nothing says "we didn't care enough about this to check our work" more than the lack of a period or a sentence which makes no sense.
This is especially true if you're writing in the SaaS or B2B space. Your readers are professionals looking for information which will help them address their business' pain point.
Including grammatical and typographical errors in your content is like showing up to a business meeting in a Hawaiian shirt and flip flops. Not a good impression.
Now, even the best writers make errors. We're all human.
That's why, at Codeless, we use multiple editorial tools as well as a professional team of editors to ensure our content is always error free. And you should too.
#7. Plagiarism
Unintentional plagiarism is an easier mistake to make than you might think, but it's also the biggest SEO error there is.
You can use other people's content as inspiration, and we've already talked about ensuring that your content hits on the topics covered by your competitor's content, but that doesn't mean that your articles can be anything other than completely unique.
Plagiarism, whether intended or not, can result in Google blacklisting your website, and that's something you really don't want.
So, how do you avoid it?
Well, firstly, don't copy anything from any other publications. Seems pretty simple, doesn't it?
Secondly, run your content through a plagiarism checking tool to determine if you've accidentally plagiarized existing content. And then, only then, hit publish on your article.
At Codeless, we run all of our content through multiple plagiarism tools to ensure that the pieces we deliver are 100% unique.
#8. Written for the Web
To keep readers on the page, your content needs to be short, punchy, and encourage people to scroll.
The best content is skimmable. It's written for readers on their phones and on their commutes. It delivers exactly what the reader is looking for in a clear format and with engaging language.
That's why you should be writing blog articles with actionable takeaways. You should be bolding your most important text to make it stand out. You should include multiple headers that provide context for your words, and you should add bullet-pointed lists of best practices.
The best content is also written to pull the reader down the page. That means short paragraphs, ellipses, questions, and images that draw the eye.
All of this stuff means your content will stand out from your competitor's. If they're writing long paragraphs, then they're overwhelming readers, and those readers will inevitably bounce from their website. But when they arrive on your blog they'll get exactly what they're looking for, communicated clearly and concisely.
At Codeless, we put our staff writers through extensive training to ensure they deliver skimmable, entertaining, and engaging web content every time.
#9. Readability
Your readers want to be able to absorb high-quality, entertaining and educational content easily.
And the best content is written, ultimately, for the reader.
That means your content needs to avoid overwhelming that reeder with jargon.
But it also means you don't want to be dumbing the subject down to the point of nonsense.
It's a fine line to walk, and can be a tough variable to identify as a writer or editor.
So how do you write with readability in mind?
Firstly, it's about experience. As a writer, you need to know your topic inside and out. And you need to know the right words to use in the right place at the right time. You need to use analogies that explain a complex topic, or include examples of what you're talking about.
Secondly, it's about software. There are a number of great, automated tools which can review your content and spit out its readability score.
At Codeless, we rely on the New Dale Chall scoring system to ensure our content is written for our client's target reader. This means our content isn't dumbed down or overly complicated, but just right.
#10. Images
Images don't just help your content to rank on Google, they're also a fantastic way to engage your reader and keep them on your website.
Images grab the eye and pull it down the page. They reduce your bounce rates and are an incredibly effective way to increase the value of your content.
But they can also be a detriment. Nothing says amateur more than low-quality, low-res images or stock photos.
That's why it's so important that you not only include images in your content but ensure that those images are SEO-optimized, upscaled (using Upscale API), high quality, and relate directly to your article's subject. And don't be afraid of adding random trends or images like black Friday memes, they can be an opportunity to get new visitors to your website.
We recommend our writers include a relevant, in-context image every 250 words.
#11. Video
In order for your content to stand out from the crowd in 2020, you need to be going above and beyond by featuring video within your articles.
Video is the next step for the inbound marketing world — and you need to start investing before your competitors do.
The challenge, of course, is that poor quality video shows. Failing to get your sound quality, lighting, or even the right background can all work against you. Bad video makes you look more amateurish than no video at all.
That's why at Codeless we invest in a professional video production team. We work with clients to create video introductions for their articles as well as content breakdowns — all designed to help them engage with readers, rank effectively and stand out from their competitors.
#12. Call-to-Actions
No matter your content objective, whether brand awareness, thought leadership or conversion, you should guide your reader to a next step with in-line calls to action.
Content marketing is still marketing, and there's no point in investing in writing a blog article or filming a video unless you include a prompt for the reader to act on.
We recommend to our clients that they have a middle-of-funnel conversion goal for their content — something like an ebook, quiz, or blog subscription. You want to get their contact information to drive them back to your site in the future.
The majority of readers aren't going to buy immediately, and definitely not from a blog article. They're looking for education — the answer to a pain point.
But that doesn't mean you can't prompt them towards conversion.
At Codeless, we recommend at least three in-line CTAs in every 2000 word blog article: one beneath the introduction, one in the first third, and one at the bottom in your conclusion.
Three CTAs enable you to feel confident your readers know what you want them to do once they've gotten the value from your content.
#13. Brand Mentions
Even though the primary focus of content marketing is to educate and entertain your prospective customers, you don't want them leaving without knowing whose content they were reading.
Now, it doesn't have to be aggressive or salesy. Don't throw a massive logo or orange button in the middle of an article, but do tell your reader when your software, service, or product can help your reader achieve success more efficiently or affordably.
If you're recommending a specific strategy which can be done using your software, include screenshots from your dashboard. If you're giving actionable takeaways for email marketing, don't hesitate to mention that your tool makes it easier.
There's no real ideal number of brand mentions in any given article. It will depend on what the article is about and what your software is.
That said, at Codeless we make sure that each and every one of our articles includes some mention of the client's service, software, or product.
Final Thoughts
Why do we do all this?
What's the point of putting our content through a 13-variable grading system?
The fact is this: Most written content (the mass majority, in fact) will have no discernible effect on a business' bottom line.
Unless that content is excellent.
Unless it's optimized for search and readership and your brand's business objectives. Only then will you see the results you're looking for from content marketing.
If you need a hand with that, we can help.
We've been creating high-quality, high-conversion, high-ranking content for brands like yours for years, and we know what works.
Get a free quote of our content writing services.