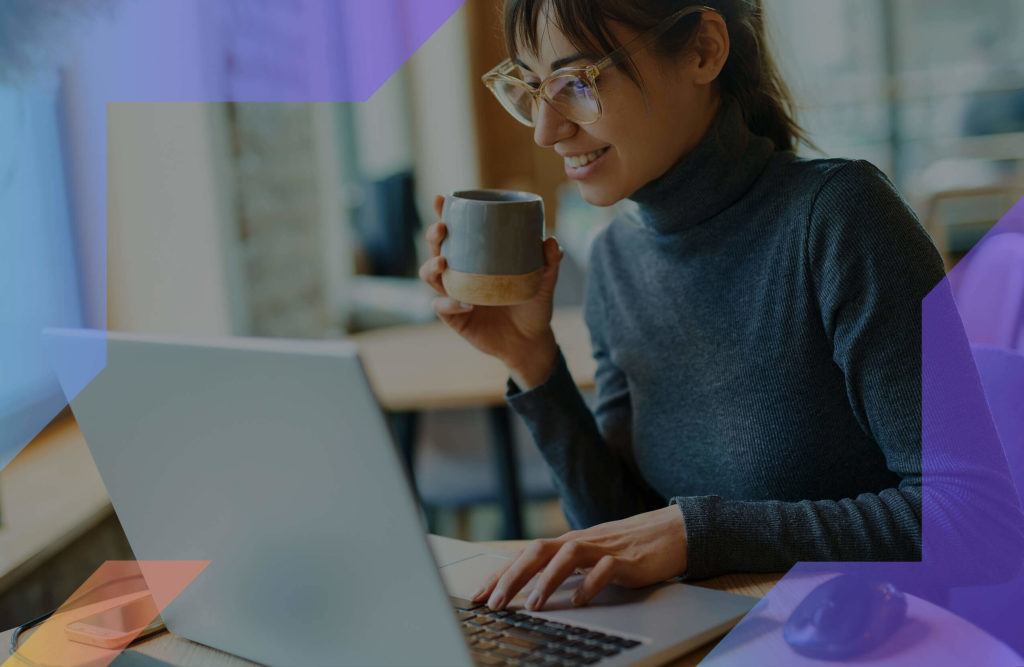 How to Find the Right B2B Content Marketing Agency for Your Business
In 2020, more than 81% of top-performing B2B marketers singled out content marketing as a core strategy.
And with good reason. The buying cycle for B2B products is much longer. An average B2B buyer uses 118 digital touchpoints before deciding on a product or service.
You need to build a relationship and trust over time to earn a sale. To do that, you need a high volume of quality content in different formats like long-form blog posts, white papers, case studies, and even video.
But starting from scratch, creating a strategy, and pumping out content isn't easy. That's why most B2B companies partner with an agency.
Codeless isn't just another content marketing agency. We help you build the right strategy from the ground up, built on thorough keyword research.
We select writers with domain expertise to help you create attention-worthy content that will earn you backlinks, thought leadership, organic traffic, and sales.
Content that actually performs.
Get transparent, BS-free pricing in under one minute.
Why Content Marketing Is Crucial for B2B Companies
In 2020, 87% of B2B content marketers reported successfully creating brand awareness, 81% built credibility, and 75% generated leads.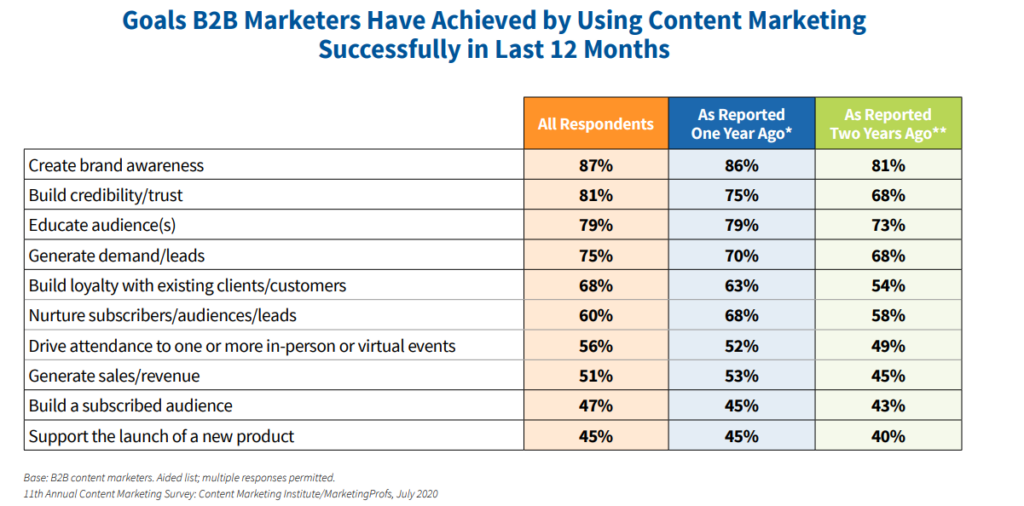 The majority also reported generating sales and successfully building loyalty with their existing customers.
It's an invaluable marketing channel that every B2B marketer needs in their toolbox.
But it's not enough to create a company blog and pump out short blog posts. B2B buyers have different content preferences compared to regular consumers.
B2B Buyers Interact With Content Differently
An executive at a company who's comparing services is fundamentally different from a regular consumer.
They don't go straight from Googling "best X products" to "x product reviews" to making a purchase.
As we mentioned in the introduction, it takes over 100 touchpoints to convert the average B2B prospect.
A 2020 report on B2B content consumption showed that ebooks generated the most views, followed by videos, white papers, and finally, blog posts.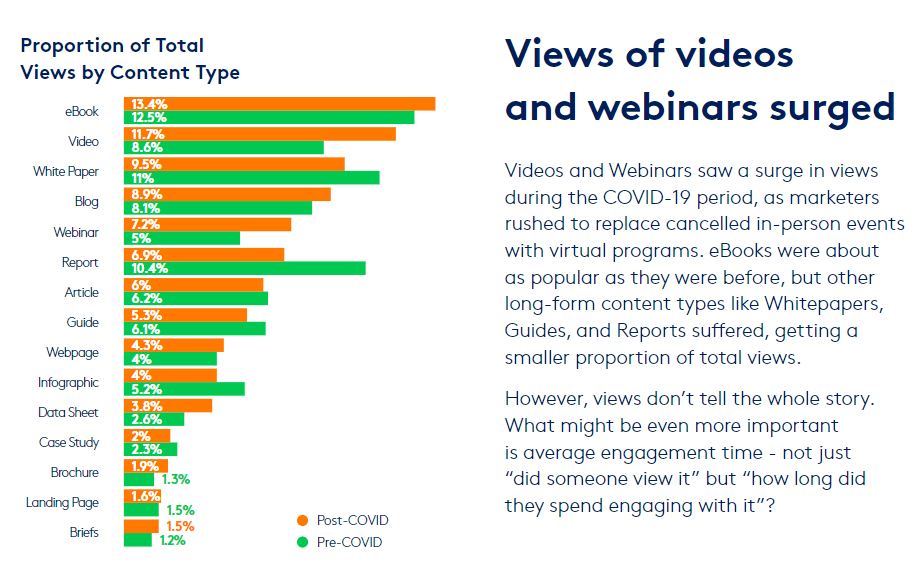 In another study, B2B content marketers highlighted delivering value as their number one reason for success in 2020.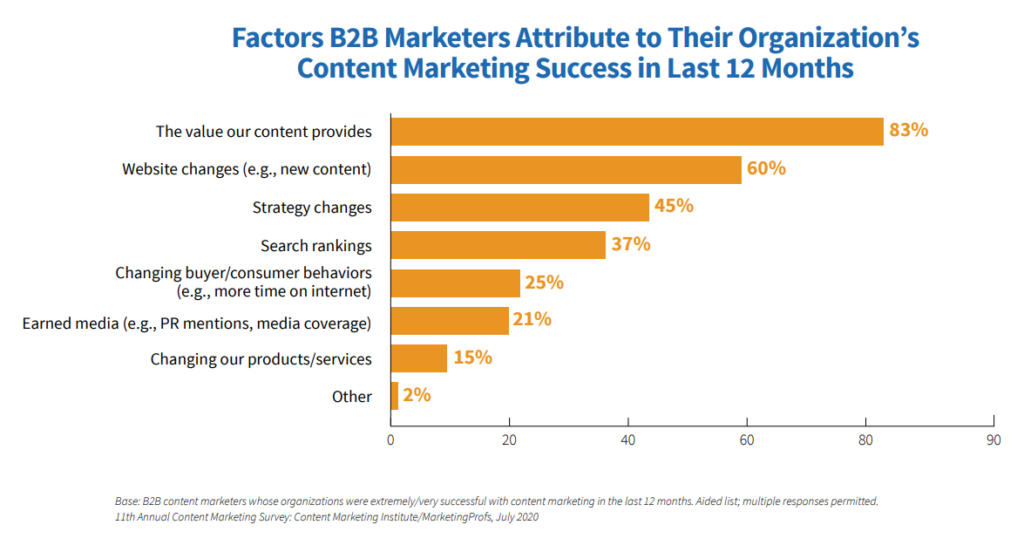 More in-depth formats like ebooks, white papers, and video guides by default offer more value than a blog post.
But it's not enough to go long. Focus on actually delivering value. Unique takes, personal lessons, original research, there are many ways to do it.
And they pay off. In 2020, blogs with original research were 32% more likely to be successful than the average blog.
Going the extra mile is worth it.
Is Third-Party or In-House Content Marketing Best for B2B?
To attract and nurture a B2B audience, you need to invest in a different level of content. Can your in-house marketing team handle it?
Or should you recruit help?
Because of the required volume and quality of content, many companies outsource at least some of their content creation.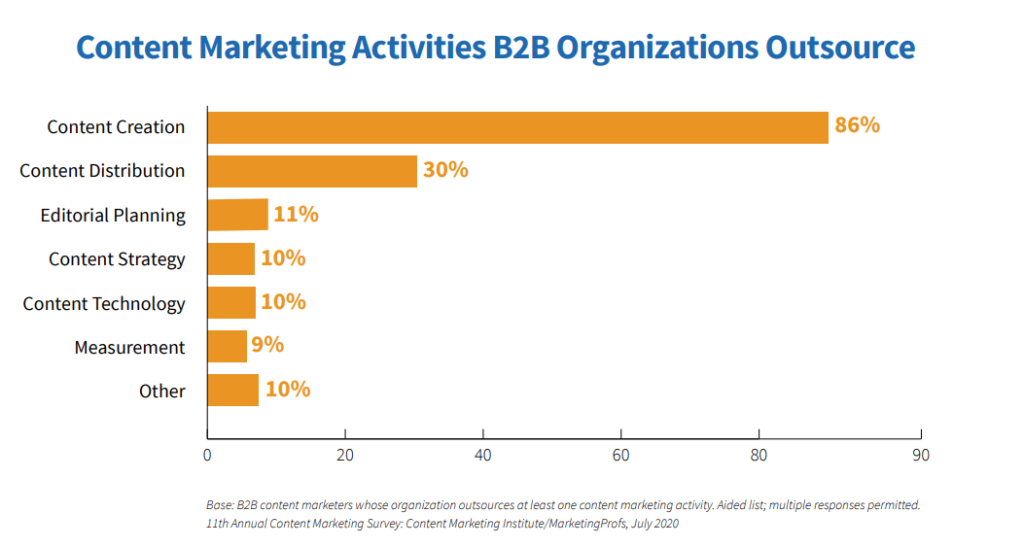 Pros and cons of in-house content marketing in B2B
A single content marketing specialist will set you back $66,266 per year, on average, in salary alone.
Plus, if you don't have in-house writers, editors, SEOs, and designers, you need to fill those positions too.
And it's not just the money. Top-notch talent with industry-specific experience can take months, if not years, to find.
Of course, it's not all negative. In-house teams make it easier to collaborate and often know your target audience and product better.
| | |
| --- | --- |
| In-House Team Pros | In-House Team Cons |
| Writers can use hands-on experience with product or industry to deliver value. | Hiring and training talent takes time. It took us years to develop our stable of expert writers. |
| Your whole team will have a stronger connection to your customers and audience. | It can be costly and ineffective for smaller companies to try to do everything in-house. |
| Internal collaboration is a lot easier on projects. | It's hard to output more than a few articles a week in the long term. |
Pros and cons of third-party content marketing in B2B
If you choose the right agency, you can have the first game-changing piece of content up on your blog within a few days.
But it's not all sunshine and roses.
| | |
| --- | --- |
| Agency Pros | Agency Cons |
| Publish your first content in days, not weeks or months. | Limited understanding of your customers or target audience. |
| Get access to a wide range of expertise, from SEO to design and distribution. | They have less hands-on experience with your product or services. |
| No need to repurpose your other marketing staff. | Writers can lack domain expertise. |
Unfortunately, not all partners are created equal. Many companies struggle to find agencies with relevant topic experience or who understand their audience.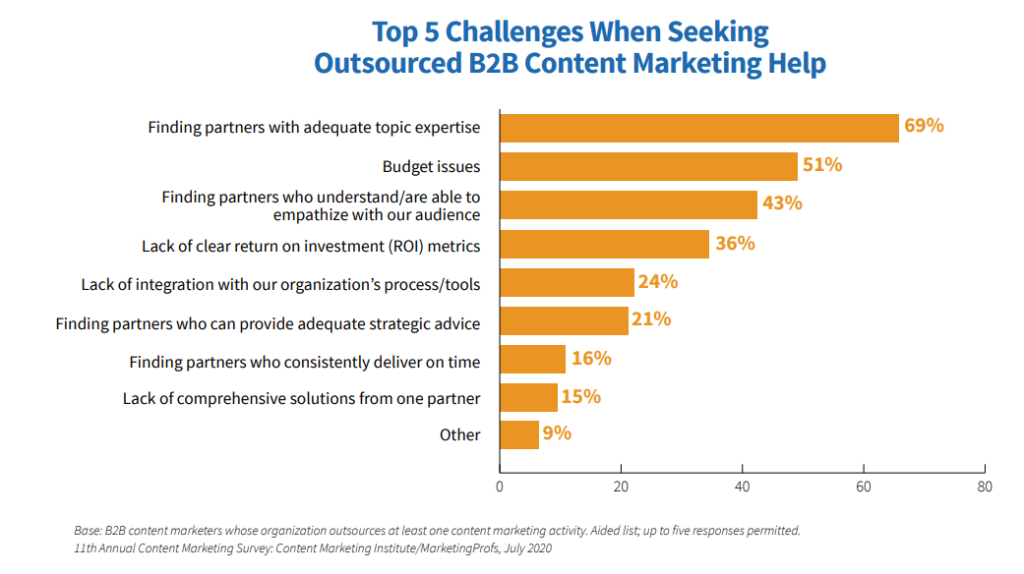 That's where Codeless stands out.
What's Different About Codeless?
Handpicked writers with domain expertise help you overcome the main issue with outsourcing — content relevance and quality. They'll understand your customer's pain points and why and how your product helps them.
We've also developed a unique, collaborative process with multiple internal and external reviews, where we ensure that all content stays relevant and on-brand.
Here are just a few things that make Codeless different:
We'll collaborate with your B2B marketing and sales teams to create the ideal content marketing strategy.
The writers aren't "just" writers. Their relevant experience makes it easy to create value for your customers.
We use buyer personas, style guides, and a customized workflow to ensure all content pieces are on-brand, relevant, and useful.
We're committed to the long term. Over time, the dedicated team will develop a unique voice and deeper understanding of your customers, products, and industry.
Finding the Right B2B Agency for Your Company
Once you decide to go third-party, you need to do your research before making your final decision. Think of it as making a new hire.
It's a big decision with long-term repercussions, so do your homework. The first thing you need to consider is if they can create high-value content for your company, specifically.
Can they handle B2B content (in your niche)?
At Codeless, we don't only do blog posts. We can also deliver any of the most popular B2B content types, including white papers, ebooks, infographics, and videos.
But we also deliver results with blog posts and articles. We know that the best-performing posts include images, statistics, contributor quotes, or video.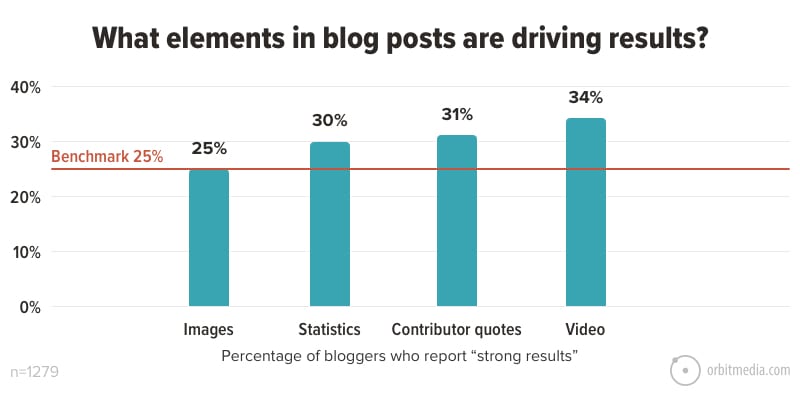 Notice how we've got plenty of statistics, graphs, and other visuals in this post? We always prioritize showing over telling.
Our diverse team of industry experts also means we can craft valuable content, even in obscure niches.
"Our niche is very specific and previous outside content writers wrote superfluous content that missed the mark. Codeless' work has been fantastic — I have a website I love, marketing landing pages & emails that are clear. The nagging anxiety that my website stinks has left."

Scott Desgrosseilliers, CEO, Wicked Reports
Do they have a track record of delivering results for B2B companies?
In 2020, 75% of all content marketers highlight SEO as the most crucial content marketing tactic.
For B2B companies, it's undoubtedly the best way to attract targeted traffic to your site. Organic traffic is also the easiest way to quantify content marketing success.
Can the agency prove they've delivered results for B2B companies in the past?
At Codeless, we've got multiple case studies backing up our claims. For example, we helped B2B SaaS OptimoRoute win the #1 spot and snippet for their main keyword.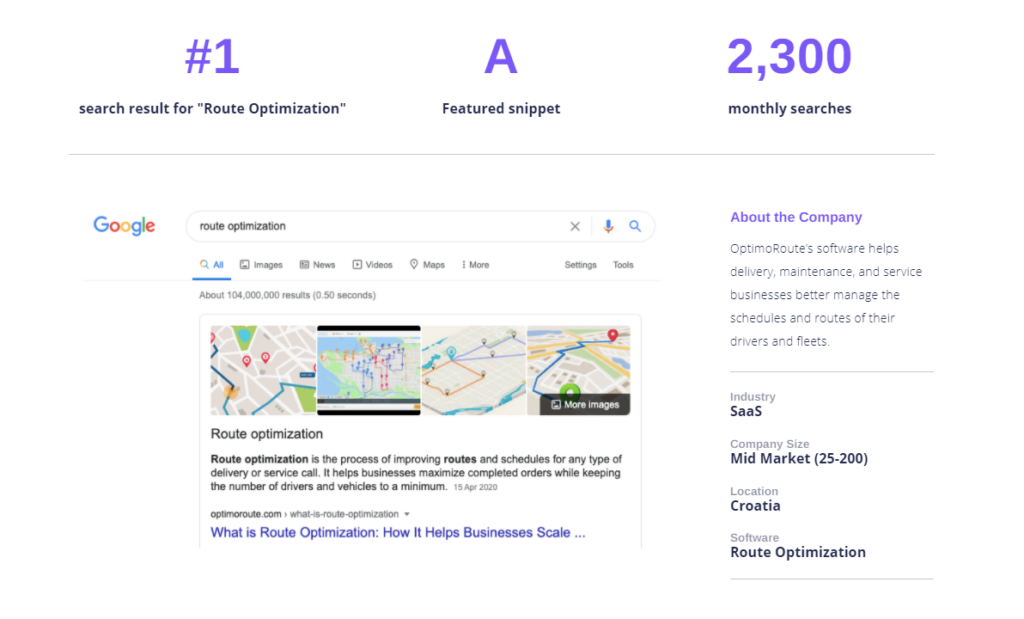 Don't forget strategy
A thorough, documented strategy is one of the main differentiators between companies who succeed and fail at content marketing.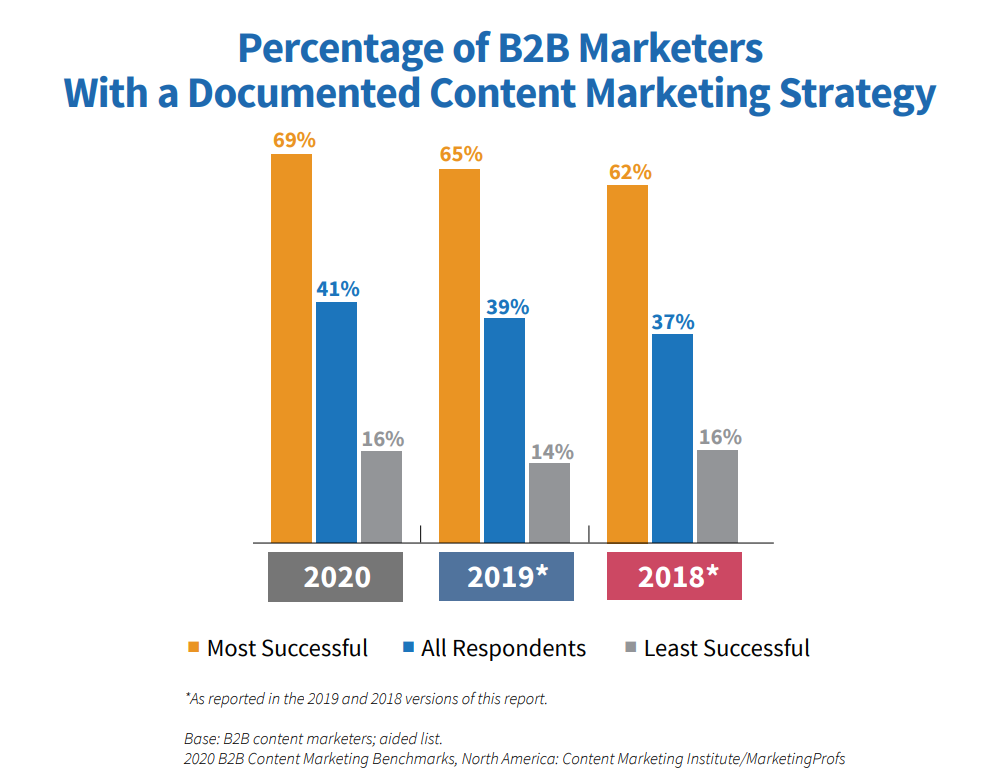 Don't work with a company if they can't help you create or improve your existing strategy.
At Codeless, research and strategy is the foundation of everything we do. We help all new clients optimize or create a new strategy from the ground up.
B2B Content Marketing Agency FAQs
How do you create a B2B content marketing strategy?
To create a B2B content marketing strategy, you need to research and understand your target audience, competitors, and industry at large.
Create a customer persona, figure out how to distribute your content, and which channels to use to nurture your audience.
Why is content marketing important for B2B businesses?
Content marketing is essential for B2B companies because the purchasing journey is different. An ad-driven digital marketing campaign still needs a wide variety of quality content, like white papers, reports, and case studies, to convince B2B buyers you're the right choice.
What's different about B2B content?
B2B content tends to be longer, more in-depth, and more narrowly focused than B2C content. It shouldn't be dry and stuffed with jargon, although that's often a symptom of poor B2B content marketing.
How to measure B2B content marketing ROI?
In the short term, you can measure increases in SERP rankings and organic traffic, but you should also track sales and revenue generated. With conversion goals in Google Analytics, you can easily see if your organic campaigns are pulling their weight.