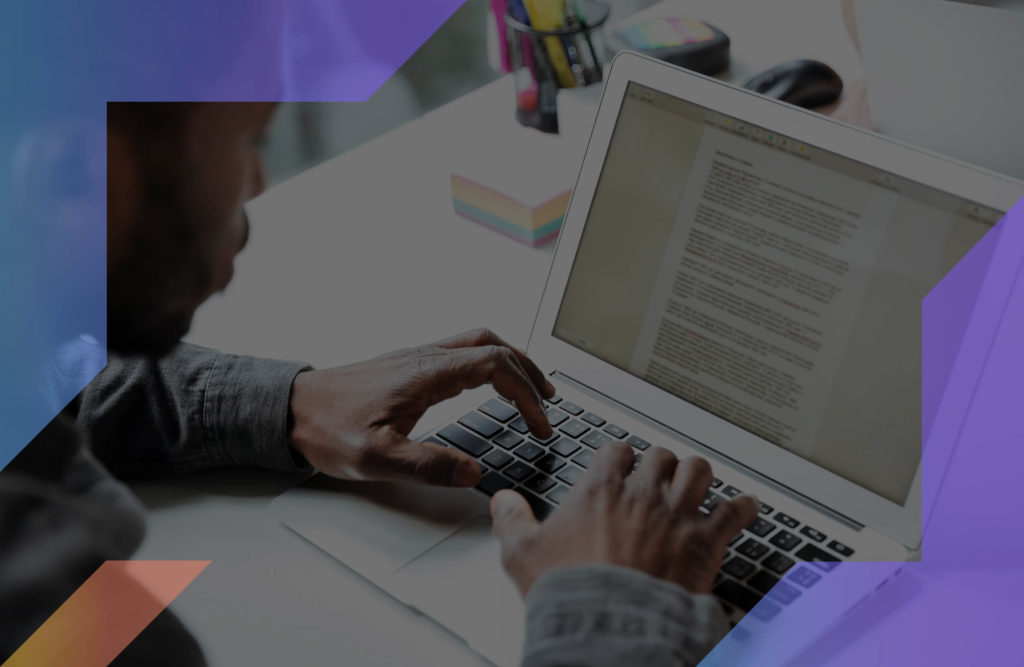 End-to-end content marketing services: More than just blogging
Many business owners think content marketing is as simple as starting a blog and creating accounts on social media.
That's why we, to this day, see companies that simply announce new inventory, holiday sales, or post behind the scenes news.
Newsflash: that's not going to help you. 90.63% of content gets no traffic from Google, and organic social media can have a negative ROI of down to -90%.
Blogging or getting on social media alone isn't enough. You need to know what you're doing to earn a positive ROI.
But establishing a content marketing team from scratch can set you back hundreds of thousands in annual salaries alone.
That's why most savvy companies turn to content marketing services from established agencies.
Codeless is a content marketing agency that doesn't settle for mediocre content.
We help you create attention-worthy content, earn more backlinks, rankings, and organic traffic, and sell more products..
Through our interactive process, our content marketers become an extension of your in-house team and ensure all content is on-brand and accurate.
Why can't my in-house marketing team handle content marketing?
Content marketing isn't just some obscure element of digital marketing that B2B marketers leverage for brand awareness.
It delivers results through every step of the marketing funnel for B2B and B2C companies alike.
So what's wrong with just handling it in-house with your existing team? You already have people that handle digital marketing.
Couldn't a PPC ad copywriter also write copy for the web? Or a digital marketing manager?
The answer is, probably not well.
A foundational knowledge of on-page SEO is a key component of SEO content writing. The ebb and flow of good educational web content is also very different from a sales page.
Plus, how high-quality can the articles be when added on top of their existing workload?
In the early days of Google, you could have gotten away with just having one "internet savvy" marketer on your team to handle your website.
But times have changed. Over 10 million articles and blog posts are published on the internet (in English alone) every single day.
And it's not just the volume of content, your competition has also upped the stakes in other ways. The quality and variety of content have also gone through the roof.
If you want to stand out, you either need a dedicated in-house content marketing team, or third-party content marketing services.
In-house vs. third-party content marketing services
The obvious argument against hiring an in-house team is the startup and ongoing costs. A single content marketer will set you back $66,801 per year, on average. Now add in designers, writers, SEOs, and more, and you get closer to the real number.
Finally, factor in recruitment fees and the working hours required to find and sift through potential talent. It's not cheap, and it can take months just to get all the hires done.
A content marketing agency helps you keep startup costs low and get started much faster.
Let's explore the pros and cons in more detail.
Advantages of working with an agency
Start improving your organic search presence ASAP.
Start publishing a high volume of high-quality content within a much shorter timeframe.
Get access to content strategists, SEOs, writers, editors, designers, and more, for a reasonable monthly retainer.
Don't waste other marketing resources on producing low-quality, aimless content.
An experienced agency knows how to write for both robots and humans, optimizing for both SEO and social media.
Disadvantages of working with an agency
The content agency may have a limited understanding of your products and targeted audience.
The variety of designers and writers can sometimes lead to an inconsistent voice on your company blog.
In some cases, writers can lack industry-specific experience, leading to shallow content.
Advantages of an in-house team
In-house writers have a clear understanding of your potential customer and how your product solves their problems.
Ideally, in-house writers have industry experience and can bring a unique perspective to their content.
It's easier to collaborate with other departments and share data/goals when working in the same company or even office.
Disadvantages of an in-house team
It takes a long time to hire and establish an effective content marketing team. (Trust us, it took us years.)
A limited team with just a handful of members will cost your company hundreds of thousands of dollars in payroll alone.
Codeless offers a new and better agency experience
Our team has decades of combined experience working for both in-house teams and agencies. It has given us a unique appreciation for the pros and cons of both models.
That's why we've created a unique, collaborative process that merges the best of both worlds, delivering higher-quality content, and speeding up the process.
Here's makes us different:
We collaborate closely with your in-house marketing team to plan a high-impact content strategy focused starting with low hanging fruit.
Our drafting process includes ongoing collaboration. Assigned writers will ask for input when needed, and gradually develop an intimate knowledge of your products and customers.
Instead of generic content or copywriters, we find writers with experience from your industry or related fields. They can create useful content supported by the latest research and data, and often supply a unique angle or anecdote to make it more engaging.
We develop a unique style and writing guide for each client to make sure the voice stays consistent through all written and visual content.
What sets leading content marketing service providers apart
Don't let a sales rep pressure you into choosing an agency without doing your homework.
Treat this process as you would making a new hire, and get to know each option closer.
Pay attention to the following areas to make sure they can deliver the results you're after.
Case studies and concrete proof backing up their SEO skills
67% of content marketers single out SEO as the most effective content marketing tactic. A content marketing campaign won't work without it.
A lot of agencies promise you "SEO content" but don't showcase results.
Look for agencies that consistently earn top Google rankings for their clients.
At Codeless, we have many real, up-to-date case studies that show the results from our services.
For example, we helped one of our clients capture the #1 spot for the competitive term "how much is my website worth" with an article that earned 260+ backlinks from 78 domains.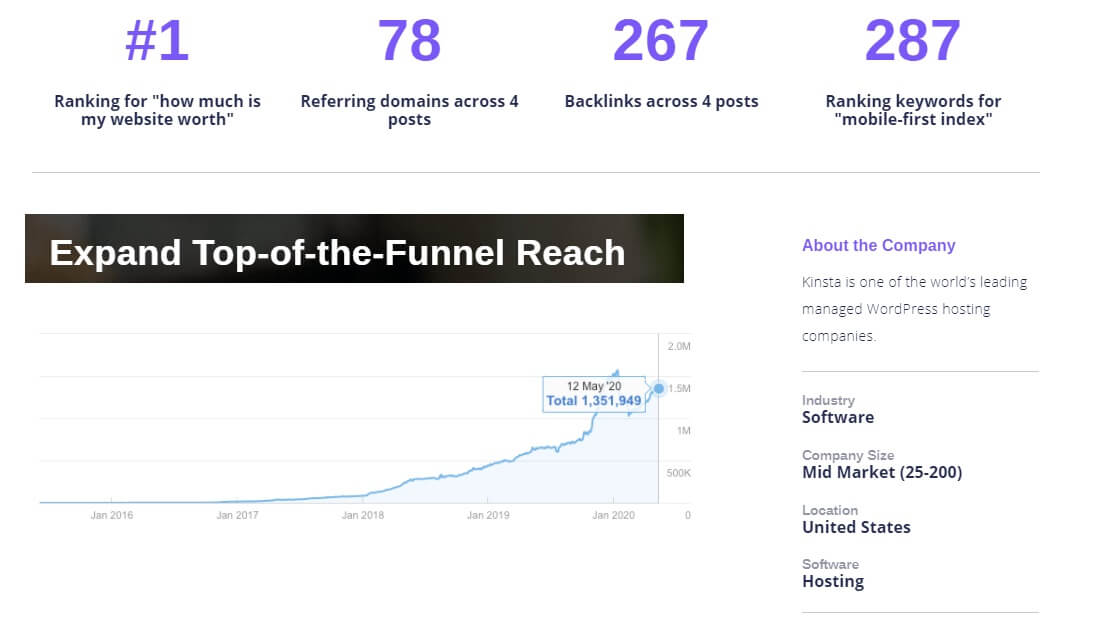 Don't work with an agency that won't back up their claims with proof.
Content marketing strategy and planning
The last thing you want is an agency that only creates articles based on your ideas.
One of the most important things in content marketing is having an overarching content marketing strategy and sticking to it.
Unfortunately, most companies don't even have a content strategy.
So, choose agencies with the capacity to do SEO and market research and develop a logical strategy from scratch.
At Codeless, every project starts with developing an overarching strategy, then identifying high-value keywords and other low-hanging fruit.
We even help you develop and follow a logical editorial calendar for publishing content.
Ability to handle video, infographics, and other formats beyond a blog post
In 2023, you can't grow and nurture an audience with text-based content alone.
Video is the best format for nurturing and turning leads into sales.
Codeless offers professional video production and narration for articles and other content.
We can also make your text-based content more engaging with original branded graphics, or full-blown infographics.
Take your content marketing campaign to the next level with a variety of content types.
FAQs
What are content marketing services?
Content marketing agencies offer services that cover every step from planning to content creation and distribution. For example, it could be creating a content strategy, or delivering finished, SEO-optimized articles for publication.
What does content marketing include?
Content marketing includes all aspects of organic digital marketing, where you attract the audience with valuable content. It includes everything from keyword research and SEO to copywriting, content distribution, audience building, analytics, organic social media, video production, conversion rate optimization, and more.
Why partner with a content marketing agency?
Instead of spending tens of thousands of dollars and months to establish a new team from scratch, you can get access to decades of combined expertise and start working on a content strategy ASAP.
What types of businesses can content marketing help?
Content marketing can help any company, B2B or B2C, regardless of target audience. It helps you attract potential customers naturally, rather than stealing their attention with ads.
How does content marketing help businesses?
Content marketing helps businesses generate more targeted traffic, nurture visitors into leads, and finally, attract more customers. It transforms every stage of the purchasing journey.