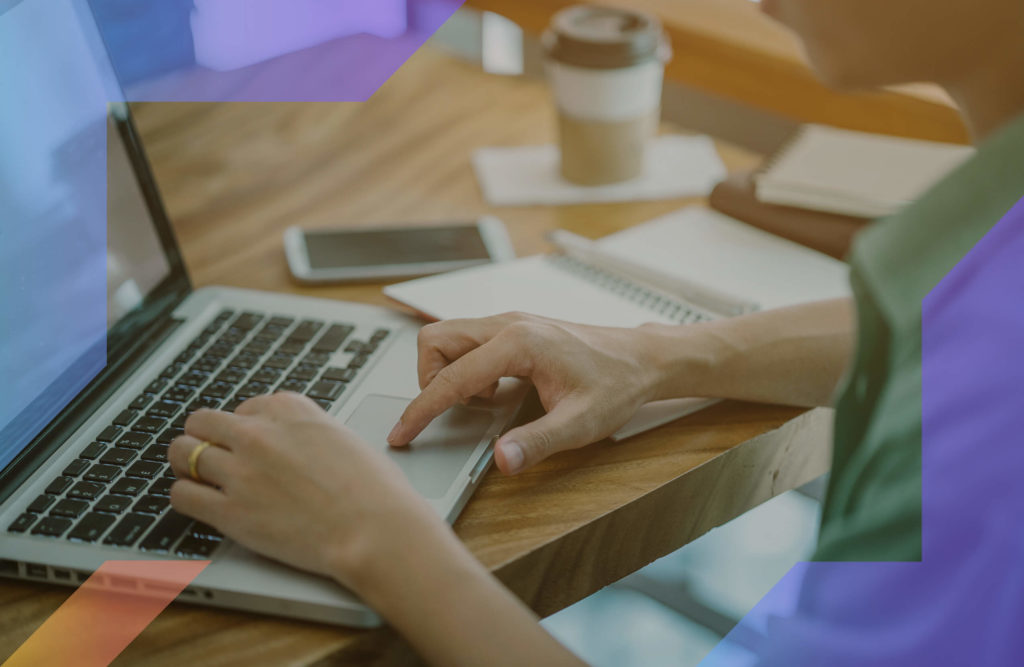 Why You Need a Content Production Agency, and How to Find One That Can Help
In 2023, more people are doing business and getting their purchasing decisions influenced online than ever before.
Over 3.81 billion consumers have made at least one purchase (or actively engaged with a brand) online.
But the internet is no longer a "blue ocean" where you can just set up a corporate site and expect visitors to come.
The war for attention is more challenging than ever before. In January 2023, there were over 60 billion individual web pages indexed on Google.
Even if you're just competing in your local area, the competition is getting bigger and harder to beat every year.
To stand out, you need the right strategy, voice, and a quality of content that sets you apart from the competition.
That's where we come in.
Codeless is a content production agency dedicated to crafting next-level content from scratch.
We help you strategize, create attention-worthy content, win important keywords, get more organic traffic, and ultimately, sell more products.
With our interactive process, our content marketers feel like an extension of your in-house team and help you drive the results you want from digital.
Content that actually performs.
Get transparent, BS-free pricing in under one minute.
Why Cookie-Cutter Content Mills and "Cheap Content" Won't Help You in 2023
It's not enough that there are billions of web pages. As the web matures, the quality of the content has also increased.
So not only are there likely dozens of web pages targeting every keyword that might help your business, they're getting longer and harder to outdo.
And that means a post thrown together in a few hours isn't likely to deliver positive results anymore.
6+ hours is the norm for successful bloggers and marketers.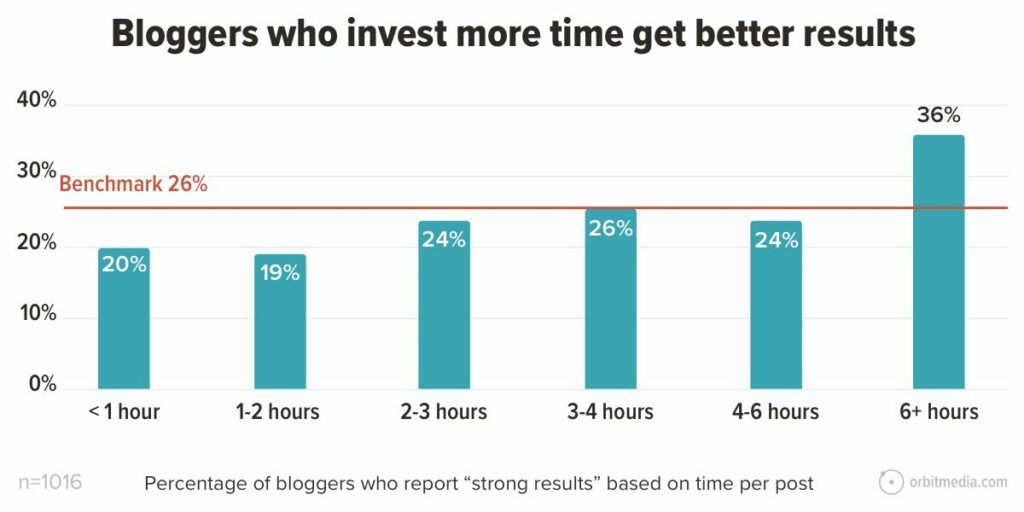 Longer blog posts are also getting better results, with the majority who take the time to write 3,000+ words reporting positive results.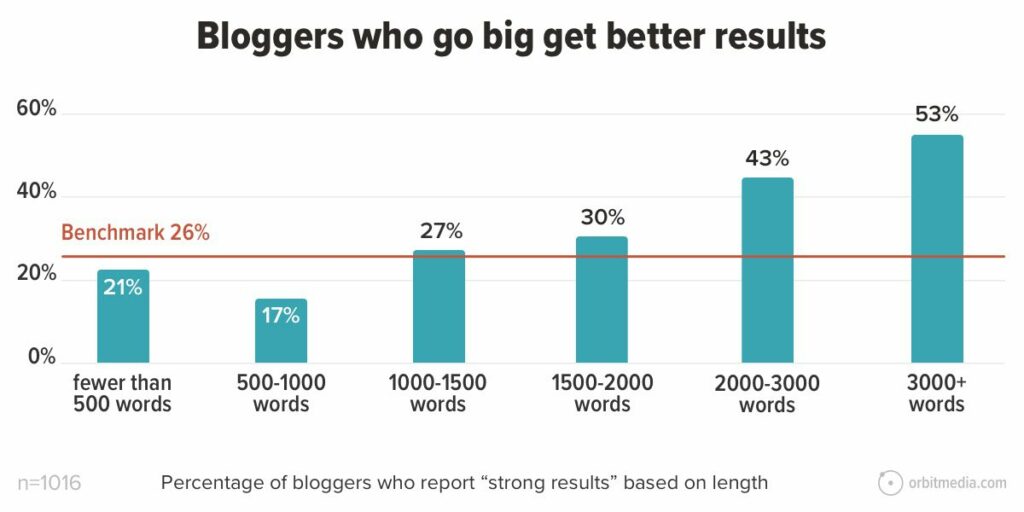 For $5-20 dollars an article, you're getting the lowest common denominator of content, often point-by-point rewrites of existing content (if not outright plagiarized) with no unique insights.
And that's just not going to cut it anymore.
The main differentiating factor successful for B2B content marketers saw in 2020 was content that delivered value.
For any chance at driving brand awareness or sales, you need to invest in high-quality content creation.
You can either build a dedicated in-house team from scratch or use third-party content marketing services.
In-House vs. Third-Party Content Creation
So why not just hire your own in-house team? It probably seems like the obvious choice to many business owners.
But not so fast. The up-front costs are exceedingly high (recruiting fees, salaries), and it can take months.
And once you're live, a single content marketer will set you back $66,266 per year, on average. And don't forget the writers, editors, designers, SEOs, and other staff you need to pay.
Plus, if you want to hold out for high-level talent with industry experience, assembling your team will take months (if not years).
A content marketing agency helps you hit the ground running and keeps your startup and running costs down.
But of course, it's not as black and white as that. Let's explore the pros and cons of each option in more detail.
Pros and cons of doing content creation in-house
| | |
| --- | --- |
| In-House Team Pros | In-House Team Cons |
| In-house writers can use their hands-on experience to offer a unique perspective. | It takes a long time to find and hire quality talent. (Building our current stable of quality writers has taken us years.) |
| Your team should have a clear understanding of your target audience and how your product or service solves their problems. | Even a limited team without in-house designers or videographers can set you back hundreds of thousands per year. |
| Working in the same office makes it easier to collaborate in real time and get feedback from other departments. | Consistently maintaining a high output of content is a challenge. |
Pros and cons of working with a third-party agency
| | |
| --- | --- |
| Agency Pros | Agency Cons |
| Easily produce a high volume of high-quality content. | Not as connected to your customers and target audience. |
| No need to redirect other marketing staff to tackle an unfamiliar area. | Limited understanding of your products and services. |
| Get access to a variety of experts, from SEOs to writers, editors, and content marketers. | In some cases, writers lack area or industry-specific expertise. |
| An experienced agency can write for both crawling bots and humans, driving results for both SEO and social media. | Their writers and designers also work for other clients which can impact the voice or timeline of projects. |
Codeless Offers the Best of Both Worlds
With decades of combined experience from both sides of the aisle, our team wanted to find a better way for content agencies to work with their clients.
So we created a unique, collaborative process from scratch. It merges the best of both worlds, delivers more relevant, higher-quality content, and speeds up the process.
Here's what makes us different:
From day one, we collaborate with your in-house team to plan the perfect content strategy focused on low-hanging fruit keywords.
We don't hire generic content or copywriters. We handpick writers with relevant expertise in your industry or related fields. That means they can offer unique angles, personal anecdotes, and are always up to date on the latest research and trends.
With a style and writing guide for each client, we make sure the voice stays consistent for all written and visual content. You can also request specific demographics for video content.
Our handpicked writers ask for feedback and gradually develop an intimate familiarity with your products, voice, and customers.
How to Find a Content Production Agency That Can Deliver Results
Don't let your ambition or any sales rep rush you into a decision. Choose your agency carefully, as if you were hiring someone.
Consider the following areas to make sure they can deliver the results you want.
Do they back up what they preach?
For example, every content marketing agency purports to be SEO experts.
Which makes sense, as 67% of content marketers highlight SEO as the most effective tactic within content marketing. Your campaigns won't work without a solid foundation of SEO.
But many content marketing companies rely on search ads or direct outreach to market their services and attract customers.
They'll promise you "SEO content" but don't have any results to back up their words.
Look for agencies that consistently back up what they preach with their website and for their clients.
We're serious about SEO and have earned (from zero) over 51,900 backlinks from over 2,320 domains.
And, of course, we don't just drive results for ourselves. We've got real, up-to-date case studies that show how we're helping our clients.
For example, with our help, a client conquered the #1 spot for the competitive term "how much is my website worth" and earned 260+ backlinks from 78 domains with a single article (that we brainstormed and created).
Don't work with an agency that has no proof to back up its claims.
Can it handle your required volume?
63% of content marketers struggled to create enough content in 2020. Don't let yourself be one of them
In this industry, there are a lot of smaller crews of freelancers. Very few agencies can handle a high volume of content.
At Codeless, we're not afraid of working with companies who have an ambitious content marketing strategy.
For large clients, we develop a specific workflow and team. We can handle 100+ long-form articles every month.
Do they go beyond basic text content?
It probably won't surprise you to hear this, but wall-of-text content won't help you grow your business in 2023 and beyond.
Statistics, quotes from experts, and videos perform better, and are all elements that our writers use to spice up text-based content.
Also, images surpass the benchmark once you actually use enough to space out an article.
Notice how many visuals we used on this landing page? For us, that's the norm, not the exception.
Start a next-level content marketing campaign with Codeless's varied content arsenal.
Content Production Agency FAQs
Why invest in content production?
To stand out from the noise on the internet, it's becoming increasingly important to invest in quality content for your company blog.
What is a content production company?
A content production company is an agency that produces a variety of content for the web, including articles, guides, white papers, infographics, videos, and more.
What types of content do you produce?
At Codeless, we produce high-quality long-form content (filled with statistics & images), white papers, ebooks, videos, scripts, podcasts, and more.
How can a content production agency help your business?
High-quality content is the foundation of inbound marketing. It can help you build more awareness, attract visitors, and ultimately make more sales.