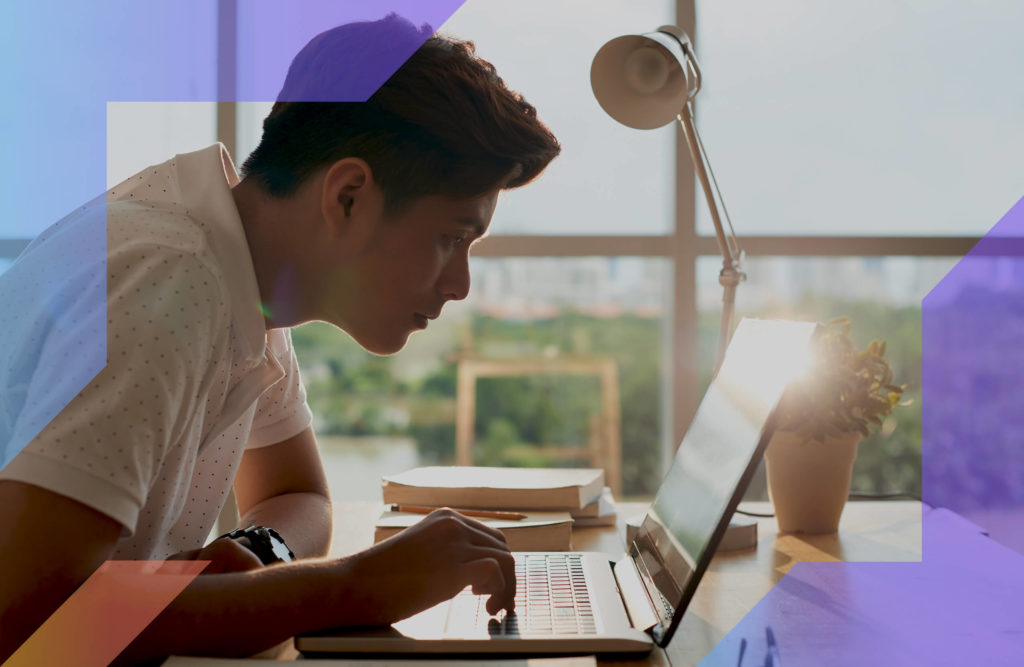 Content in 2023: Standing out is more difficult than ever before
The internet is crowded.
WordPress-powered sites and blogs alone publish up to 77 million blog posts and articles every single month.
And it's not just the volume that's increased, either.
As the average internet user gets savvier and competition increases, the quality of blog posts and articles have gone way up as well.
You can no longer conquer SERPs or attract the attention of consumers with a 500-word, keyword-stuffed blog post.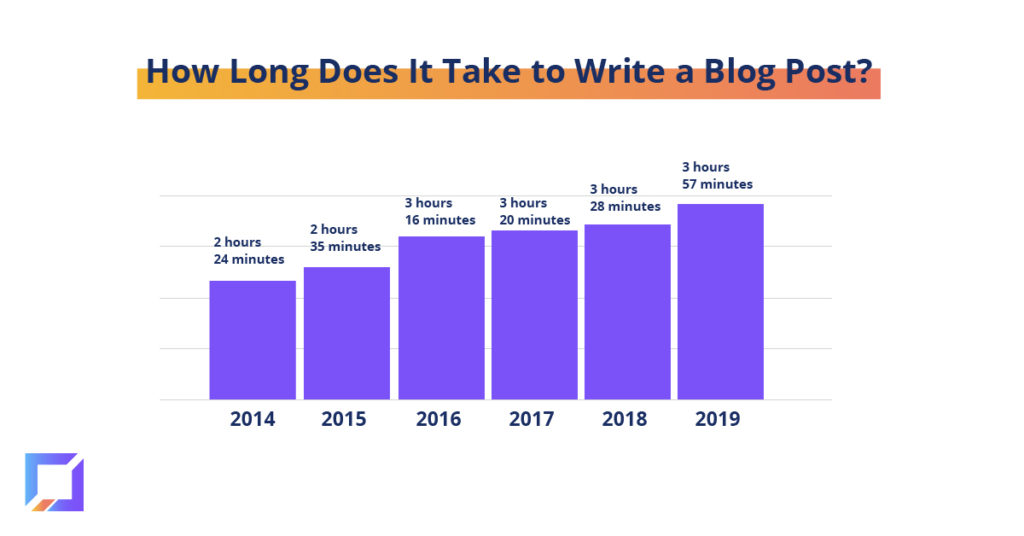 Of course, it's not enough to just spend a lot of hours on writing a long, low-quality article.
To truly be authoritative and stand out from the crowd, you need to use quotes from established industry experts, relevant, fresh statistics and case studies to back up your points, and branded graphics to help illustrate important concepts.
That's a lot to handle for inexperienced in-house teams.
Pros and cons of agency vs. in-house content writing and marketing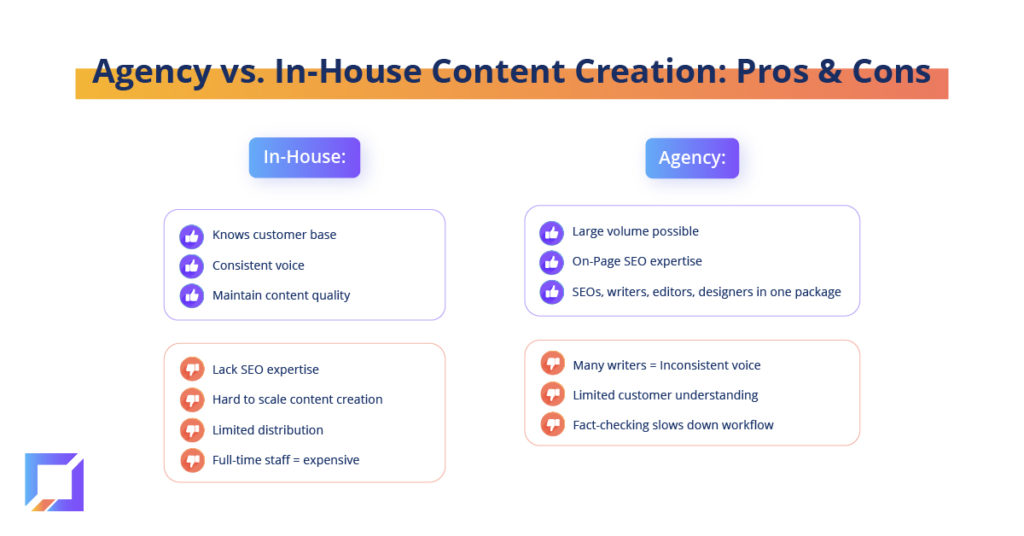 When first tackling content marketing and production, it might be tempting to try to utilize existing marketing staff.
But a good paid media marketer is rarely the best content writer, and vice versa.
It's kind of like hiring a soccer player to join the offensive lineup of your football team. The sports sound similar enough, but below the surface they are so different that any player exchange will end in disaster.
And when a single content marketer's average salary is $64,090, hiring your own in-house team of experts is off-the-table for most companies.
Instead, you can rent third-party expertise by working with a content writing agency (like Codeless).
With designers, SEOs, content writers, and editors all in one place, a good content agency pumps out articles and blog posts like a well-oiled machine.
| | |
| --- | --- |
| Content Agency Pros | Content Agency Cons |
| Experienced SEOs, writers, editors, designers, in one place | Distanced from the product and final customer |
| SEO and content distribution expertise | Fact-checking can slow down content production process |
| Capacity to produce high volume of content | More than one writer/designer can often mean inconsistent voices and visuals |
If you do decide to make a go of handling it all in-house, that approach has very clear pros and cons as well.
In-house staff will be more familiar with your product and customer, but without dedicated full-time writers, it can be a challenge to produce the necessary volume of content.
| | |
| --- | --- |
| In-House Pros | In-House Cons |
| In-house writers are familiar with all aspects of the product, no need to fact check | Hard to produce high volume of content with other responsibilities |
| Close to the customer: clear understanding of customer pain points, product benefits, and sales angles | Difficult to implement a consistent content and SEO strategy over time |
| Easier to communicate and expedite projects when working in the same office | Often have to outsource key elements like design, copy editing, or SEO to unreliable contractors |
Codeless – An agency extension of your in-house marketing team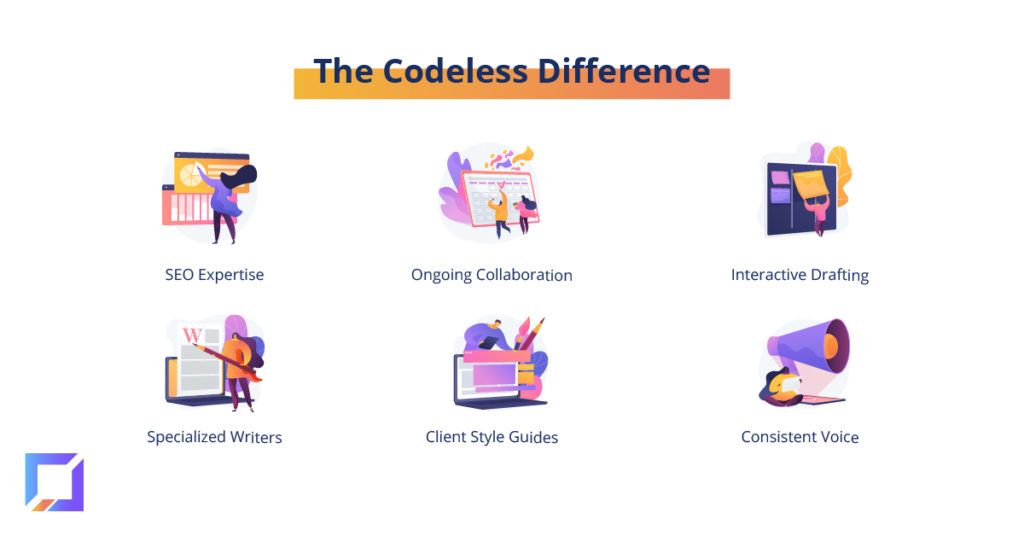 With decades of combined experience in the content creation industry, we understand the pros and cons of both internal and external SEO content writing.
That's why we've painstakingly designed a unique workflow that eliminates the pains of working with a third-party content writing service:
Senior SEOs collaborate with your team to plan and develop a high-impact content strategy and plan SEO content each month.
Our drafting process is interactive, giving your sales or marketing staff space to offer unique, valuable input and case studies.
Writers with industry experience offer their own unique takes and produce high-quality content with the latest research and data.
Codeless develops unique client style guides to ensure a consistent voice, and keep all content on-brand.
Real-time collaboration and communication through your preferred channels like Slack, Skype, or email with a dedicated account manager.
Our workflow results in high-quality, relevant content that appeals to the picky consumers of the digital age.

What to look for when hiring a content writing agency
When you're looking to hire a content writing agency, there are multiple factors that you must consider to find the best match for your company.
You should treat finding the right agency just like hiring a new employee; exploring their history, comparing alternatives against each other, and even interviewing each option to get a feel for their expertise.
Quality control, plagiarism, and previous results
Unfortunately, most content writing services and agencies have limited or even zero quality control.
When we analyzed at some of the leading content writing sites, we found that plagiarism and low-quality content was a pervasive problem.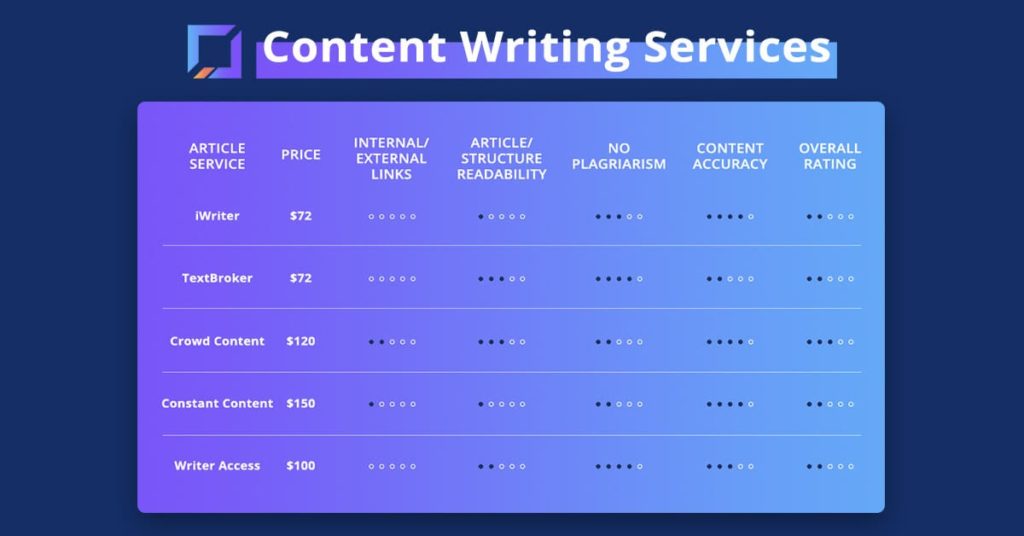 Three of the content writing agencies even went as far as copying article structure, or entire sections, from leading SERPs for the provided keyword.
Not to mention, most of the writers also failed to include relevant internal and external links for SEO purposes.
This is also a pervasive issue when hiring independent freelance writers.
That's why it's important to choose agencies with an openly available portfolio of content, where you can confirm the quality and originality of each article.
In our case studies, we not only share articles for you to read, but important metrics like backlinks, ranking keywords, and more.
As data-driven marketers, we believe that the data speaks louder than words, and the numbers speak for themselves.
Capacity to produce video and other essential content formats
In 2023, text-based articles are no longer enough to build a relationship with your customers.
Video is the most important format to build trust, generate leads, and consistently drive sales.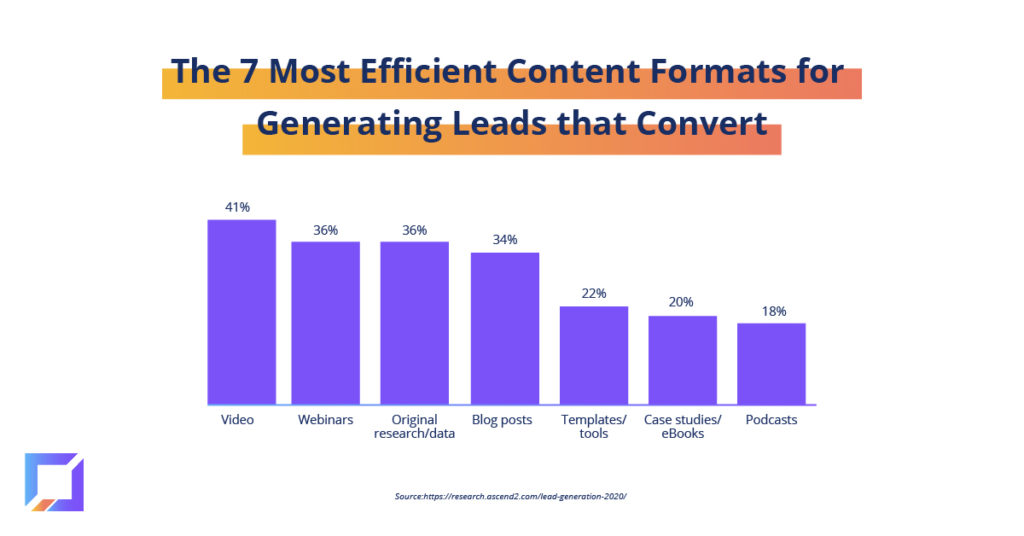 It's also the perfect format for building a social media presence.
Codeless offers professional-grade video production and audio narration as an upgrade for all articles and content.
If you don't have in-house designers, Codeless can also spice up your written content with branded graphics and full-blown infographics.
Search engine optimization (SEO)
67% of marketers single SEO out as the most important tactic for content marketing.
Since most customer journeys start with or include search, SEO is the foundation of an effective content marketing strategy.
At Codeless, not only are experienced SEOs an integral part of our agency, every SEO content writer works with AI-powered tools to optimize their content.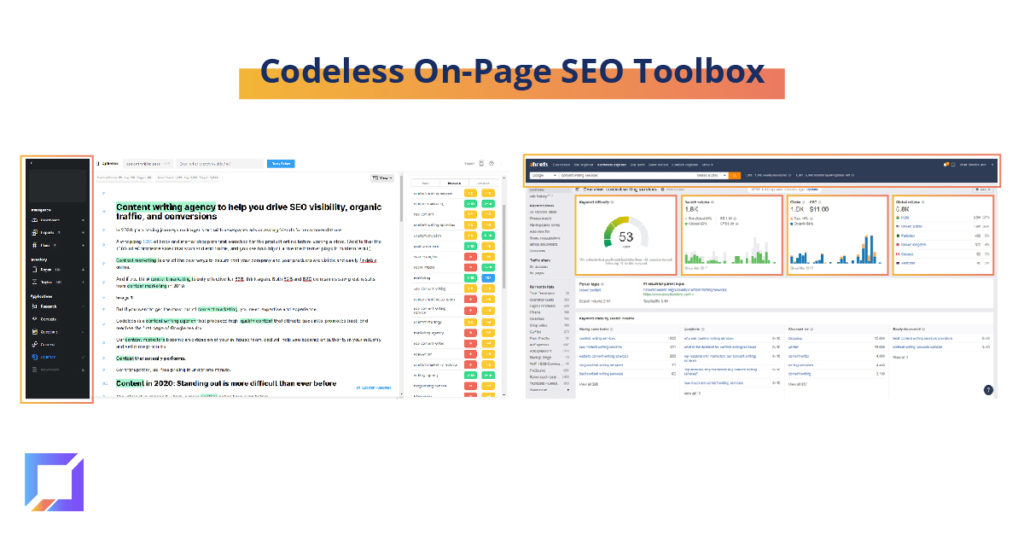 This process has helped us capture first-page Google results for important keywords for many of our previous clients (see case studies).
In 2023, "good content" isn't enough. 
Codeless produces high-quality, long-form, on-page SEO optimized custom content targeting specific keywords, to help you conquer the SERPs and drive more organic traffic.
Content Writing Agency FAQs
What makes a content writing agency different?
A content writing agency produces web content with a foundation of SEO and digital marketing expertise.
Rather than just meeting the word count, like many writing services, Codeless starts with keyword research and produces high-quality long-form articles.
Who works at a content writing agency?
Beyond the standard writers and editors, the Codeless team also includes SEO experts, content marketers, account managers to facilitate collaboration, and operations managers to oversee the process.
What does content marketing mean?
Content marketing is a marketing discipline where you plan, create, and distribute original content to attract attention from your target market, establish expertise, and build customer relationships.
What is the difference between a copywriter and a content writer?
A copywriter writes with the target customer in mind, crafting each word to move them towards a sale, while a web content writer also considers search engine optimization, web-friendly formatting, and more.
What skills do you need to be a content writer?
To be a great content writer, you need industry-specific expertise, copywriting skills, and a foundational understanding of on-page SEO.
This will help you create engaging content with fresh takes, personal anecdotes, and lesser known case studies and research, that's also search engine friendly.