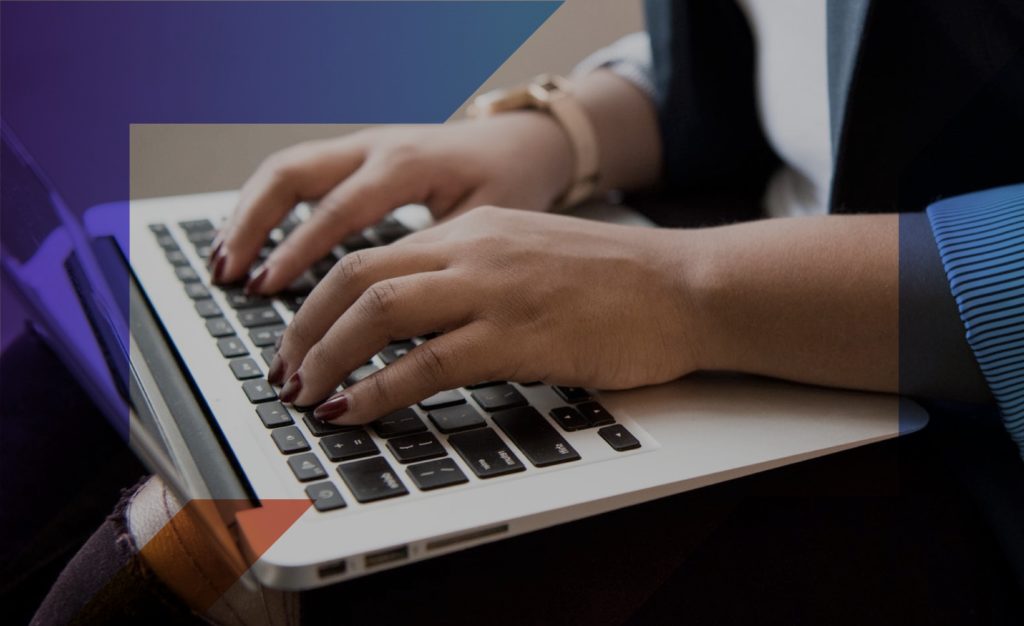 Performance-driven content writing services that elevate your SEO, authority, and brand
In a world where 87% of consumers start their purchasing journey online, a lackluster online presence can cost you dearly.
If you're not easy to find online, that means you could be losing out on almost nine out every ten potential customers.
That should be all the motivation you need to take content marketing seriously.
And getting your intern to write a few haphazard articles on a company blog isn't going to get you anywhere. The vast majority of all pages, (more than 90%), never see a single organic visit from Google.
Crafting website content that appeals to both search engines and people requires an experienced team of SEOs, marketers, writers, editors, and designers.

With Codeless, you get access to our team of experts, and we become an extension of your in-house marketing team.

Our content writing services produce high-quality content that attracts backlinks, reaches the first page of Google results, and helps our clients become an authority in their industry.
In this guide, we'll help you determine whether a content writing service is right for you: what they offer, the pros and cons, what to look for, and more.
Let's get started.
Pros and cons of in-house vs. third-party content production
In-house marketing teams often fail to prioritize web content writing, focusing on "sexier" channels like social media instead.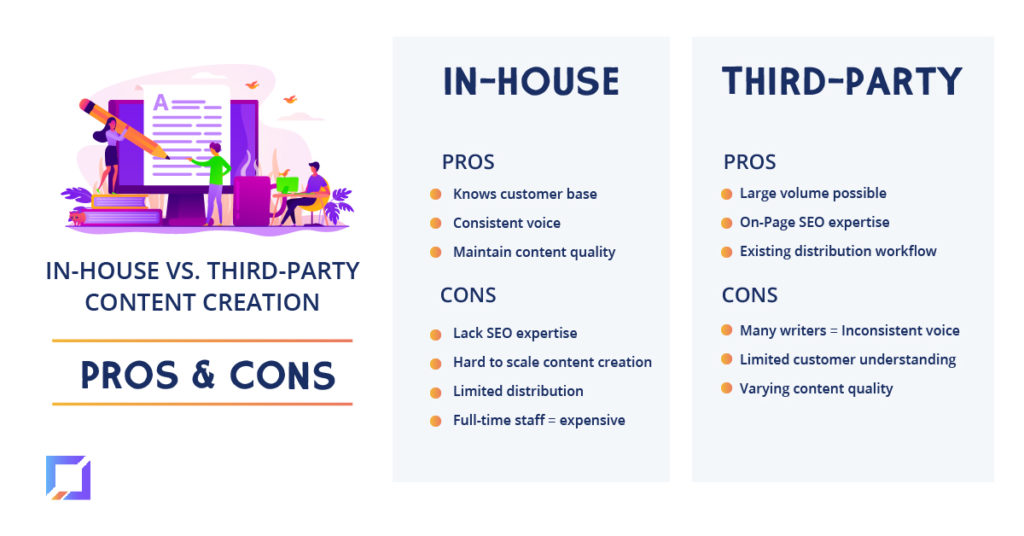 Because of this lack of focus, there's usually a lack of both expertise and writing capacity for in-house teams.
| | |
| --- | --- |
| In-House Pros | In-House Cons |
| Easy to ensure that all content is on-brand and meets all standards. | Difficult to produce high-quality content at scale. (Writers often have other marketing roles beyond content production.) |
| Close to the customer: clear understanding of customer pain points, product benefits, and sales angles. | Lack of on-page SEO and content distribution expertise. |
On the other hand, third-party services have the expertise and capacity but don't have the same understanding of the target market.
Voice can also vary from one content writer to another, leading to a disjointed reader experience.
| | |
| --- | --- |
| Third-Party Pros | Third-Party Cons |
| Capacity to produce high-volume of content. | No connection and limited understanding of the final customer. |
| SEO and content distribution expertise. | A variety of writers can often mean sporadic quality and inconsistent voices. |
When we consider the pros and cons, it becomes clear that the best solution for most companies would be a combination of both.
And that's exactly what Codeless brings to the table.
The Codeless difference – third-party that feels like in-house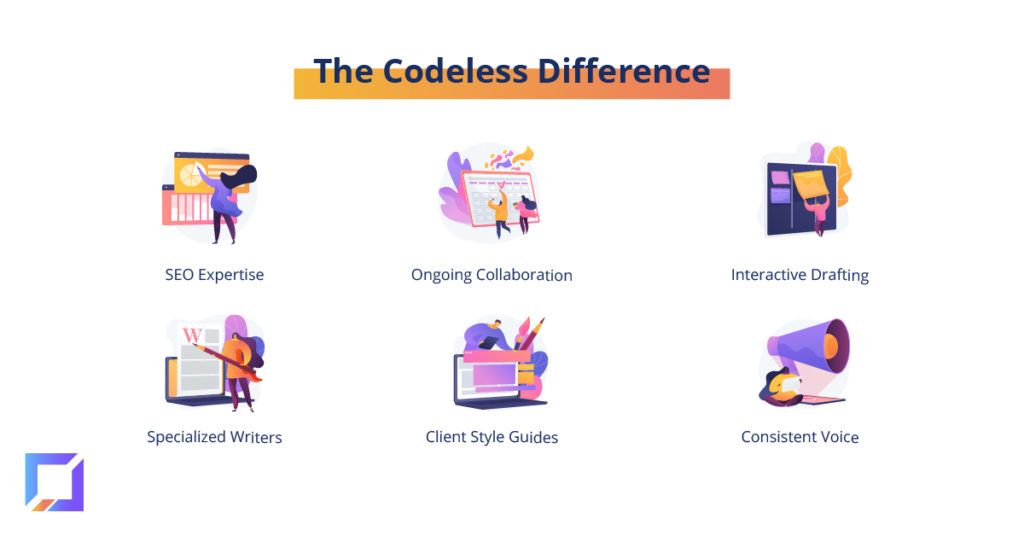 At Codeless, we understand that working with a third party content writing service has its issues.
That's why we've developed a unique workflow that helps bring the best of both worlds together.
Senior content marketers work closely with your team to develop a suitable strategy and plan SEO content each month.
An interactive drafting process where the writer can borrow insights from in-house marketing or sales staff.
Where possible, we assign writers with existing industry experience that can use their own unique insights to create engaging content.
Extensive client style guides ensure all content sticks to the same voice and is on-brand.
Dedicated account managers ensure close collaboration and clear communication through Slack, Skype, email, or your preferred channels.
Your assigned writers, editors, and content marketers feel like an extension of your team, and the content quality reflects that.
What to look for in a content writing service
SEO content writing is no longer the keyword-stuffing discipline it used to be in the early days of Google.
You need high-quality, in-depth content to generate backlinks and rank. This has made content writing a lot more time-consuming — in 2019, the average blog post took almost four hours to write. That's a drastic increase from just two hours and 23 minutes in 2014.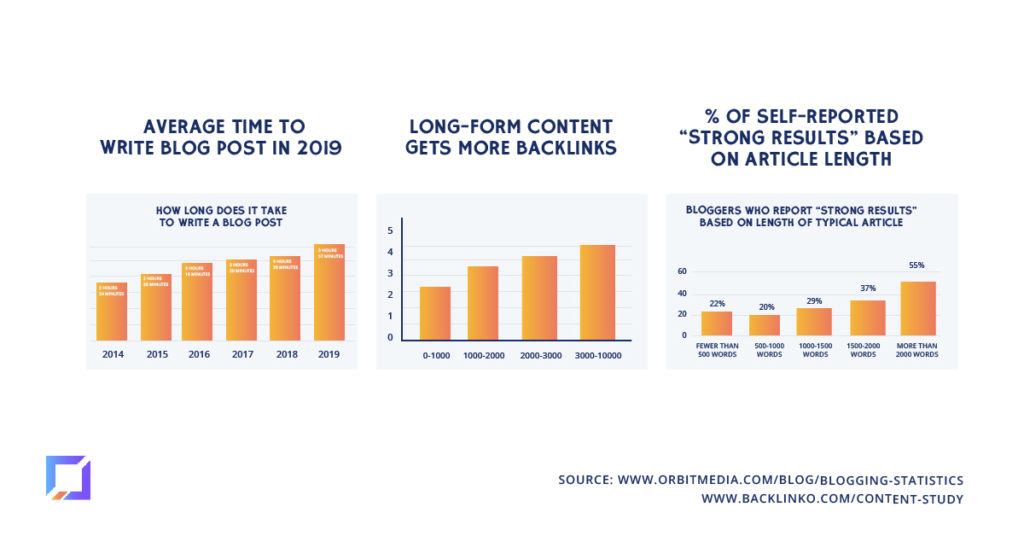 Since content creation is more time-consuming and challenging than ever, a whopping 84% of companies choose to outsource it.
But randomly choosing a content mill or writer is a horrible idea — unless you want to spend hours editing and cleaning up low-quality content.
There are a number of factors you should consider before you decide to hire a company for SEO content services.
Let's take a closer look.
Portfolio: Have they helped companies like yours achieve results before?
Before you hire a writer, consultant, or agency, you'll obviously need to see a portfolio of previous work.
But just looking at the grammar of the landing page copy or blog content isn't enough.
There's a much more important question you need to ask yourself:
Have they helped similar companies achieve your desired results (increased SEO visibility, organic traffic, authority) before?
Normally this would mean cross-referencing the article list with an SEO tool — a tedious process.
But our case studies show vital data points that highlight the actual results of using our services:
For example, we helped Robinhood, one of the fastest-growing fintech companies in the world, rank over 82,600 keywords and gain multiple #1 positions in under a year:
Search engine optimization (SEO)
In 2019, the majority of content marketers singled out search engine optimization (SEO) as the most effective marketing tactic: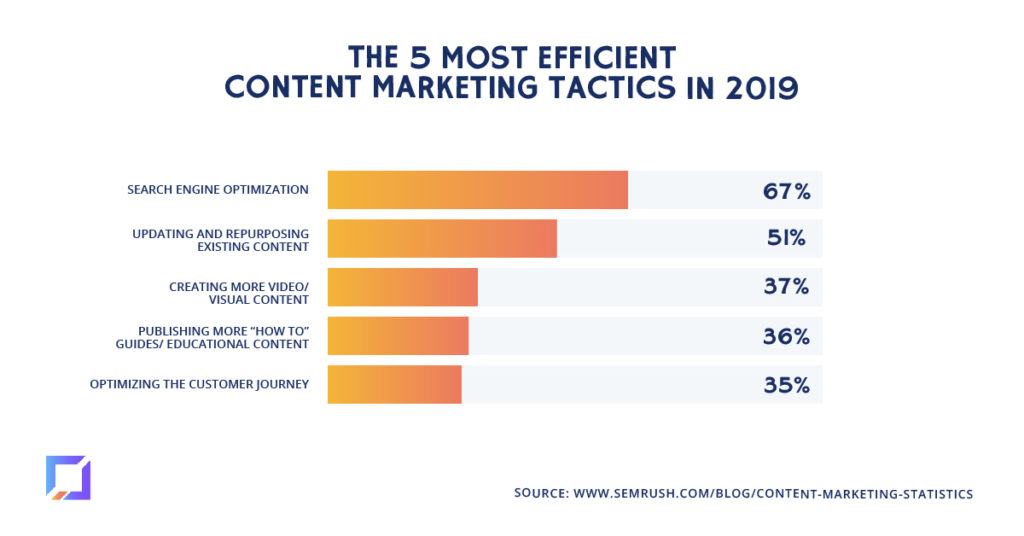 This makes perfect sense.
After all, if you mess up the SEO, your website won't get any organic traffic from Google.
At Codeless, SEO is the foundation of our content creation process.
Our experts don't just help you with content strategy, but with all aspects of on-page SEO from start to finish:
Senior SEOs and content marketers use professional SEO tools to do keyword research and ideate topics.
An experienced SEO content writer produces the outline and draft based on the target keywords.
All content is checked and optimized with SEO optimization software like Frase
We upload the finished article or blog post to your website (CMS) and optimize the on-page SEO.
If you're tired of worrying about SEO, we're here to help.
Writer expertise
If the writer doesn't have any experience in the field they write about, they will only be able to parrot existing content.
This is one of the main issues with outsourcing.
Many companies receive uninspiring, largely unoriginal content when hiring an SEO content writing service:
Gaetano DiNardi, head of demand generation at Nextiva says it best:
"Content writing services are mostly garbage quality from my experience – largely because the writing does not come from a truly credible person with hands-on expertise in a given field. Most content shops hire a bunch of outsourced researchers that are stringing together a collection of regurgitated ideas from other existing sites, so nothing is uniquely valuable. I call it, content marketing recycling. "
Even a great copywriter will struggle to engage readers if they don't know what they're writing about.
That's why we're focused on hiring writers with relevant education, work experience, or years of industry-specific writing experience.
As a result, Codeless writers are able to offer unique insights, utilize lesser-known case studies and research, and deliver real value with every article.
Content repurposing infrastructure
In 2019, 51% of marketers considered content repurposing one of the most effective content marketing strategies — second only to SEO.
Turning successful blog posts into infographics or instructional videos can be a great way to improve your reach on social channels.
Especially when video has become consumers' preferred format for learning more about products or services.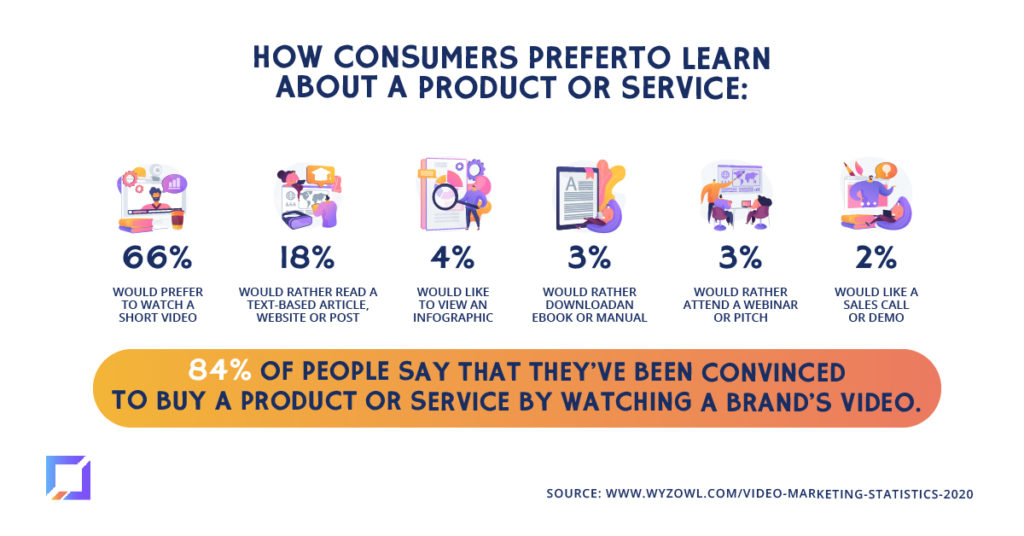 Codeless offers both video production, audio narration, branded graphics, infographics, and other content upgrade and repurposing services.
We can also use existing blog posts and case studies to create in-depth ebooks or white papers for lead generation.
Content Writing Services FAQ
What are content writing services?
Content writing services are typically services related to content creation for the web, including article and blog post writing, copywriting for landing pages, and more.
Many businesses rely on third-party services, like Codeless, to create web content because it's challenging to produce a high volume of quality content with internal resources.
What is SEO content writing?
SEO content writing is writing for the web with a focus on search engine optimization (SEO).
The goal is to get pages ranked in Google search results and attract large amounts of organic traffic to a blog or website.
What are the types of content writing?
With a focus on web content, there are five main categories of content writing:
SEO writing
Blogging and web content writing
Sales and landing page copywriting
Social media posts
White papers and ebooks
How do I find a writer?
There are many ways to find a writer for your business. You can, for example, post a job ad on a writer job board like ProBlogger or scour LinkedIn profiles for relevant experience (like your competitor's sites).
However, if you want to skip a time-consuming hiring process, and receive fully copy-edited, SEO-optimized articles every time, working with a content agency like Codeless might be a better choice.
How do you write a web content article?
When writing articles for the web, you need an idea that people search for (like a commonly Googled question), to have a chance at getting organic traffic.
The Codeless team goes beyond the basics. Senior content marketers and SEOs start with keyword research, and collaborate with your in-house team to find valuable topics.
Our writers then analyze the existing SERPs, and look for what's missing in the top results. They could lack a real case study and data, or a visual how-to break-down.
The idea is perfected through a multi-step outline and draft review process, and finally copyedited and optimized for on-page SEO.