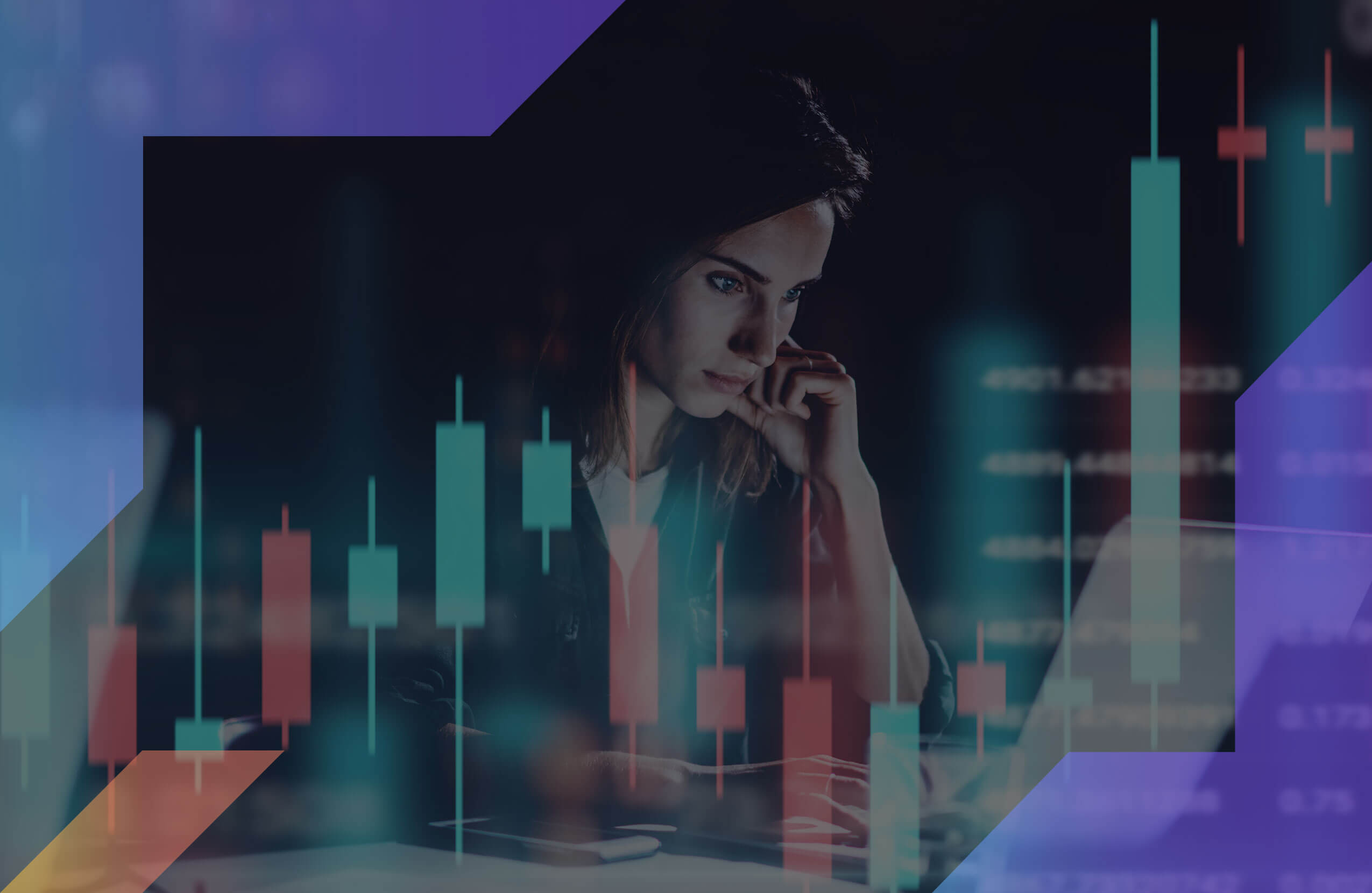 The results are in. Businesses need help with their content strategy because what they're producing just isn't cutting it. That's why 90% of all web pages get no traffic whatsoever.
While three-quarters of business marketers claim they know what their digital strategy needs, more than half of them say their marketing efforts aren't effective at reaching their content goals.
It's clear that in-depth, varied, SEO-driven digital content works best. The problem is that marketers are struggling to keep on top of all the tasks needed to produce a high-caliber content marketing campaign.
In this article, you'll learn why you should be outsourcing digital content and how to choose the best digital agency to deliver the results you need for your business to thrive in a changing world.
Here's Why You Need a Digital Content Agency
Here are some of the major issues for companies experiencing mediocre content performance:
50% lack a content marketing strategy
49% have no standardized style
59% don't have a brand story
52% aren't optimizing for SEO
80% aren't testing headlines
So let's compare these suboptimal performers to the companies whose content is excelling. What's the major difference?
A huge chunk of them outsource digital content creation.
Why? Because a first-class digital marketing service, like Codeless, is chock-full of highly-experienced content creators and editors who are specialists at creating killer content that drives visibility and increases conversions.
Remember though, not all content agencies are created equal. Read on to find out if content outsourcing is for you and how to choose the right agency (hint, it's Codeless).
Pros and Cons of a Digital Content Agency
Is a digital content agency right for your content marketing campaign? Here's the advantages and disadvantages of outsourcing your digital content marketing efforts.
Pros of a digital content agency
Choosing a top-grade content marketing agency, like Codeless, will:
Provide tried-and-tested solutions
Experienced digital content agencies, like Codeless, don't need to spend hours spitballing and experimenting — we know what works.
Having worked with myriad top-shelf clients, you'll find that a premium content agency has a proven results-driven process that's easily tailored to reach your marketing goals.
Cut back on content costs
While it might seem backward, you'll actually save money using a creative agency like Codeless. Our track record shows the kind of ROI you can expect — it's high due to experience and expertise.
When you hire your own in-house team, you may end up spending thousands while your new team tries to get comfortable collaborating and finding the solutions that work with their skills.
Slash content production time
High-end digital content agencies, like Codeless, already know the tools and tactics required to get results fast — there's no need for trial and error.
Not only will you find that a digital content agency can produce content faster, it's easier to scale your marketing campaign within the same timeframe using the agency's already-established team.
Cons of a digital content agency
Outsourcing to a digital agency does come with a few pitfalls:
You're not alone
Digital marketing agencies deal with a lot of customers at once. This means you'll only have your allotted time to speak with your account manager or content writer as they'll be busy with other clients outside these hours.
You'll need to front the costs
It's common practice to pay for your content writing service before the content has had time to produce results. Be shrewd when picking an agency — look for an experienced team with a portfolio of happy clients under its belt.
What to Look for in a Digital Content Agency
When you're looking for a digital content agency that's going to deliver, it comes down to far more than price. Here are some key factors to consider before outsourcing your content.
Portfolio of successes
The first thing to look for when hiring a content marketing agency is their success rate. Happy customers, glowing testimonials, and diverse real-world case studies are clear indicators that the marketing agency delivers results.
Just take a look at Codeless' client base as you'll see what satisfied customers look like.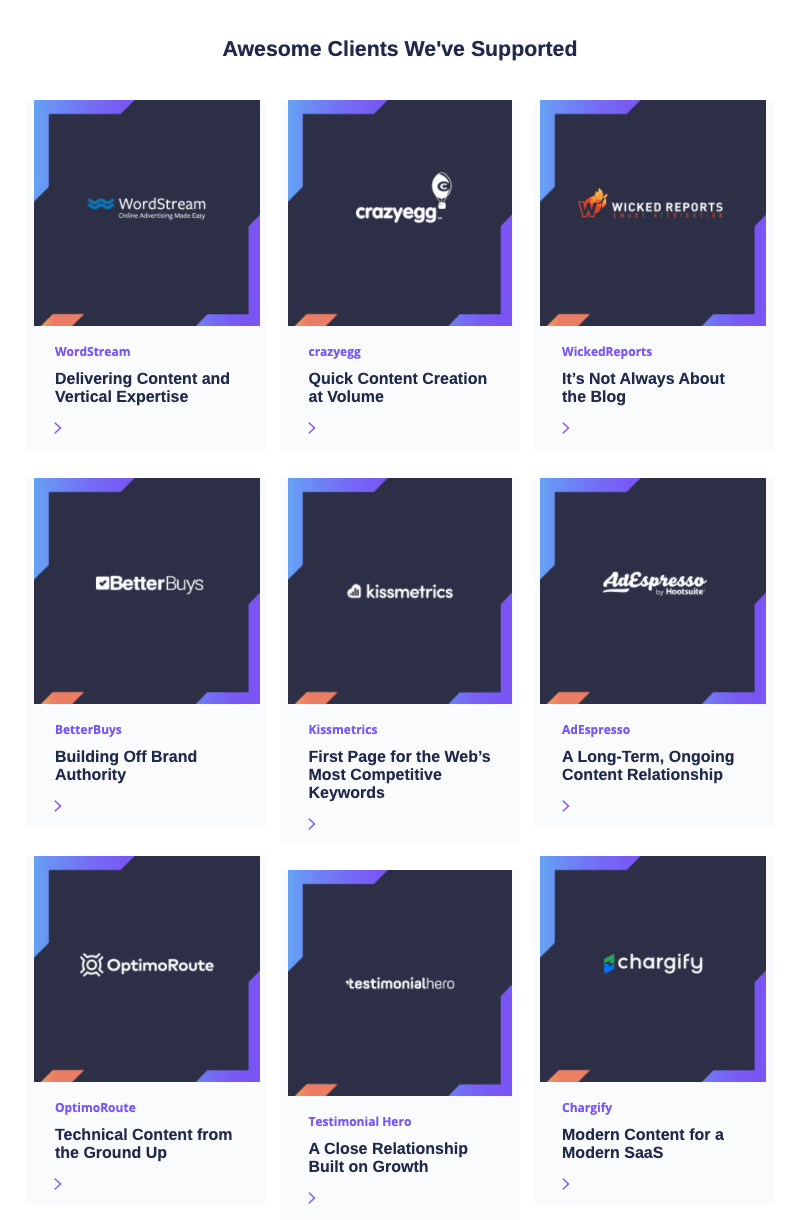 Now let's take OptimoRoute as an example.
Using a highly-technical digital marketing strategy, Codeless pushed the software firm to the #1 spot for its top focus keyword, where it's become Google's featured snippet. OptimoRoute now also ranks first place for 13 other important keywords.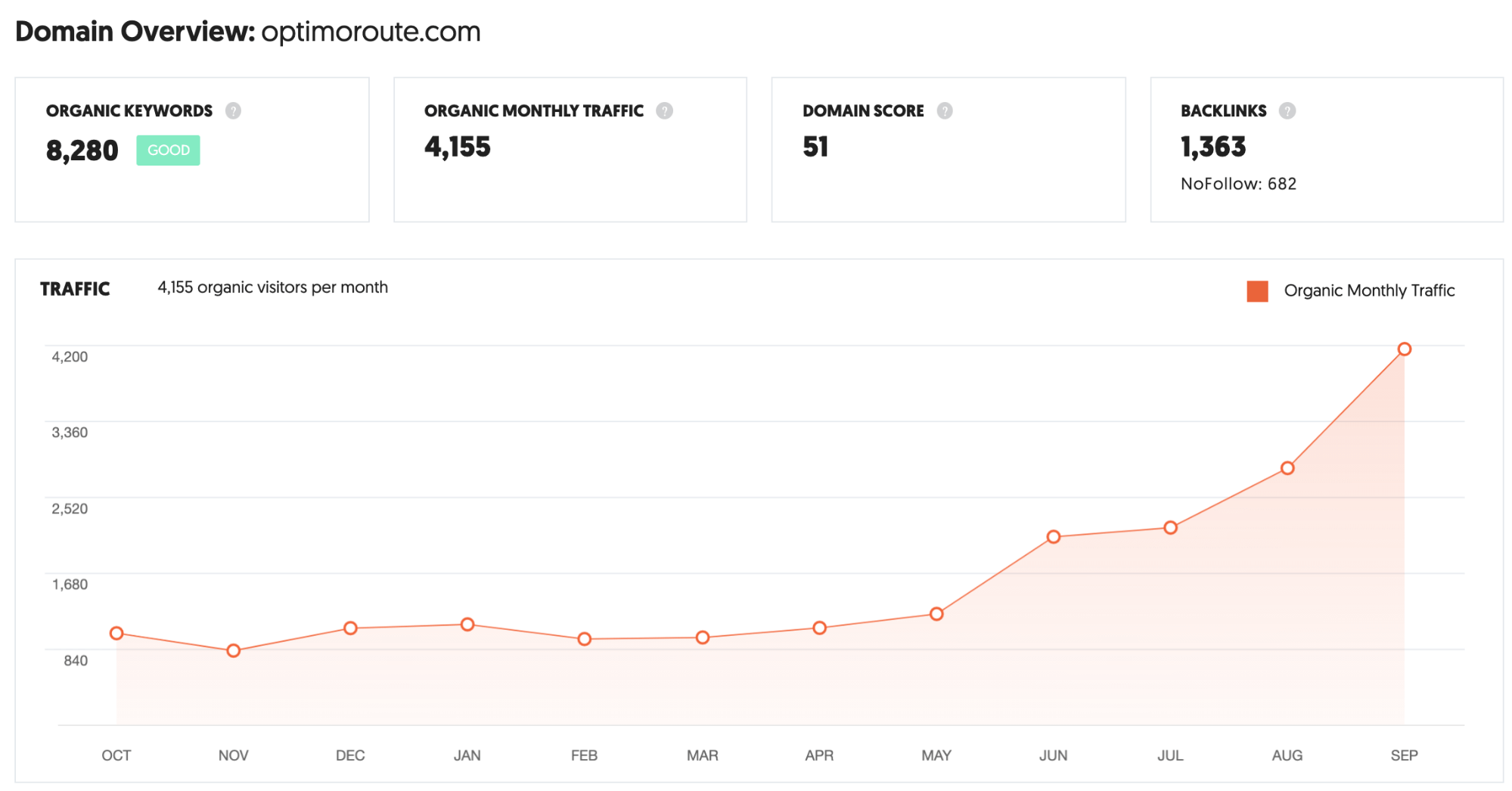 In terms of tangible results, OptimoRoute's monthly traffic quadrupled in four months — all thanks to Codeless.
If you're looking to hire a content writer to bolster your business and drive conversions, look for a quality content firm with demonstrable results across a range of high-profile satisfied customers.
Experts at search engine optimization
High quality articles don't just appeal to the human reader.
Yes, articles should provide informative, engaging content for your target audience first. However, this content also needs to be thoroughly optimized for search engines — otherwise your target audience will never see your content.
Top-notch digital content agencies like Codeless, understand that pushing your articles up from the tenth spot on Google to the number #1 spot on Google triples click-through rates. That's why we make sure all your custom content educates and engages your reader and appeals to Google's search ranking criteria.
This is how Codeless has helped advertising software Wordstream reach over 1.5 million ranking keywords.
Wordstream now ranks #1 for highly competitive keywords such as 'video editing', 'social media for marketers', 'working remote' and 'how to get more followers on Instagram'.

Thanks to Codeless, Wordstream sees over 3 million organic visitors each month.
Diverse writer expertise
No matter your industry sector, your marketing strategy will cover diverse specialisms.
Consider Codeless' customer, Freshworks. A leading support software, Freshworks' digital strategy covers everything from SaaS to customer service to marketing automation.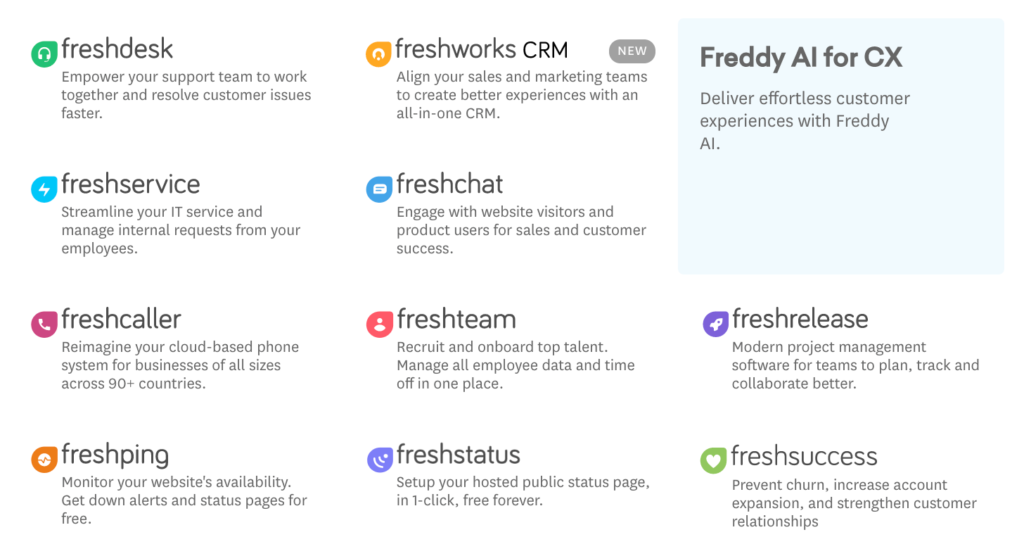 Freshworks thought about creating its own in-house content team. You know why they didn't?
Because if you're creating an in-house team, you're stuck with two lousy choices.
You either hire a whole bunch of specialist writers, which is expensive — or you hire a jack-of-all-trades, who isn't a specialist in anything at all.
Instead, Freshworks chose to hire Codeless because our team comprises SaaS specialists, technical writers, marketing experts, user-experience buffs, and more. That's before you even factor in our strategists, graphic design experts, video creators, specialist editors, experienced account managers, etc.
Now, Freshworks can easily scale quality content to 25+ pieces a month, covering all angles — without shelling out stacks of time and money to build and train their own team.
Full stack of content production software
AI-driven content tools are an industry gamechanger. Without them, content creators are flying blind.
Leading content agencies, like Codeless, use state-of-the-art enterprise-grade content softwares at every stage of the content process.
If you delve into our workflow, you'll notice that our content strategists deploy rigorous research softwares at the start of the process to identify the leverage points that will have the most impactful results quickly.
Our content creation team uses a whole range of softwares to guide the substance of your content — from the ideas discussed to the wording used. Using cutting-edge SEO softwares, we ensure all content is primed to push search engine rankings without compromising its flow.
Our editing and finalization teams use a host of technologies to check for errors, enhance readability, and upload all content directly to your CMS.
With these fastidious tech-driven processes in place, your content is always error-free and ready on time, every time.
The whole nine yards
Don't settle for less than all of it.
Many sub-par content agencies will only offer a few of these benefits. They might use a couple of free softwares and a handful of SEO tactics but frankly, this isn't enough.
When you enter discussions with your potential content marketing agency, you want to be 100% sure that they have a qualified team of experienced experts who deploy next-generation technologies to meet the SEO requirements needed for modern-day content success.
Remember, if they can't show you demonstrable results, they can't guarantee success.
Luckily, we can. If you want to see more Codeless success stories, check out our happy clients.
Top 5 Digital Content Agency FAQs
Got questions about hiring a marketing agency? Here are the answers.
\r\n\r\nOn top of this, the content lacks the high quality of human produced articles, namely due to a lack of credible resources and poorly thought-out content.\r\n\r\n\r\n\r\n
\r\n\r\nYou'll also find that most of the content within these articles is a patchwork quilt of phrases from other articles online — so it's basically all plagiarized.\r\n\r\n", "_faq_4_description": "field_5f3a55dd72089", "faq": 5, "_faq": "field_5f3a55d372087", "head_code": "", "_head_code": "field_5f4d890d62386" }, "align": "", "mode": "edit" } /–>
\r\n\r\nTechnology is certainly advancing and while content writing bots are far better than they used to be, the articles they produce still need a great deal of editing.\r\n\r\n\r\n\r\n
\r\n\r\nOn top of this, the content lacks the high quality of human produced articles, namely due to a lack of credible resources and poorly thought-out content.\r\n\r\n\r\n\r\n
\r\n\r\nObviously privacy is a big concern, but be suspicious of agencies without a single testimonial, case study, or review to their name. These agencies simply can't prove the quality of their content marketing services.\r\n\r\n",
"_faq_2_description": "field_5f3a55dd72089",
"faq_3_title": "Do I get exclusive rights to the digital content that agencies write for me?",
"_faq_3_title": "field_5f3a55d972088",
"faq_3_description": "Simply put, yes. Once the content is published on your website, your company retains all rights. This means you can post it wherever you like at no extra cost.",
"_faq_3_description": "field_5f3a55dd72089",
"faq_4_title": "Why not just hire a content writing bot?",
"_faq_4_title": "field_5f3a55d972088",
"faq_4_description": "
\r\n\r\nTechnology is certainly advancing and while content writing bots are far better than they used to be, the articles they produce still need a great deal of editing.\r\n\r\n\r\n\r\n
\r\n\r\nTechnology is certainly advancing and while content writing bots are far better than they used to be, the articles they produce still need a great deal of editing.\r\n\r\n\r\n\r\n
\r\n\r\n(Image Source<\/a>)\r\n\r\n\r\n\r\n
\r\n\r\nObviously privacy is a big concern, but be suspicious of agencies without a single testimonial, case study, or review to their name. These agencies simply can't prove the quality of their content marketing services.\r\n\r\n", "_faq_2_description": "field_5f3a55dd72089", "faq_3_title": "Do I get exclusive rights to the digital content that agencies write for me?", "_faq_3_title": "field_5f3a55d972088", "faq_3_description": "Simply put, yes. Once the content is published on your website, your company retains all rights. This means you can post it wherever you like at no extra cost.", "_faq_3_description": "field_5f3a55dd72089", "faq_4_title": "Why not just hire a content writing bot?", "_faq_4_title": "field_5f3a55d972088", "faq_4_description": "\r\n\r\nTechnology is certainly advancing and while content writing bots are far better than they used to be, the articles they produce still need a great deal of editing.\r\n\r\n\r\n\r\n\r\n\r\nOn top of this, the content lacks the high quality of human produced articles, namely due to a lack of credible resources and poorly thought-out content.\r\n\r\n\r\n\r\n\r\n\r\nYou'll also find that most of the content within these articles is a patchwork quilt of phrases from other articles online — so it's basically all plagiarized.\r\n\r\n", "_faq_4_description": "field_5f3a55dd72089", "faq": 5, "_faq": "field_5f3a55d372087", "head_code": "", "_head_code": "field_5f4d890d62386" }, "align": "", "mode": "edit" } /–>
\r\n
\r\n\r\nTechnology is certainly advancing and while content writing bots are far better than they used to be, the articles they produce still need a great deal of editing.\r\n\r\n\r\n\r\n
\r\n\r\nOn top of this, the content lacks the high quality of human produced articles, namely due to a lack of credible resources and poorly thought-out content.\r\n\r\n\r\n\r\n
\r\n\r\nObviously privacy is a big concern, but be suspicious of agencies without a single testimonial, case study, or review to their name. These agencies simply can't prove the quality of their content marketing services.\r\n\r\n",
"_faq_2_description": "field_5f3a55dd72089",
"faq_3_title": "Do I get exclusive rights to the digital content that agencies write for me?",
"_faq_3_title": "field_5f3a55d972088",
"faq_3_description": "Simply put, yes. Once the content is published on your website, your company retains all rights. This means you can post it wherever you like at no extra cost.",
"_faq_3_description": "field_5f3a55dd72089",
"faq_4_title": "Why not just hire a content writing bot?",
"_faq_4_title": "field_5f3a55d972088",
"faq_4_description": "
\r\n\r\n(Image Source<\/a>)\r\n\r\n\r\n\r\n
\r\n\r\nTechnology is certainly advancing and while content writing bots are far better than they used to be, the articles they produce still need a great deal of editing.\r\n\r\n\r\n\r\n\r\n\r\nOn top of this, the content lacks the high quality of human produced articles, namely due to a lack of credible resources and poorly thought-out content.\r\n\r\n\r\n\r\n\r\n\r\nYou'll also find that most of the content within these articles is a patchwork quilt of phrases from other articles online — so it's basically all plagiarized.\r\n\r\n", "_faq_4_description": "field_5f3a55dd72089", "faq": 5, "_faq": "field_5f3a55d372087", "head_code": "", "_head_code": "field_5f4d890d62386" }, "align": "", "mode": "edit" } /–>
\r\n\r\n(Image Source<\/a>)\r\n\r\n\r\n\r\n
\r\n\r\nObviously privacy is a big concern, but be suspicious of agencies without a single testimonial, case study, or review to their name. These agencies simply can't prove the quality of their content marketing services.\r\n\r\n", "_faq_2_description": "field_5f3a55dd72089", "faq_3_title": "Do I get exclusive rights to the digital content that agencies write for me?", "_faq_3_title": "field_5f3a55d972088", "faq_3_description": "Simply put, yes. Once the content is published on your website, your company retains all rights. This means you can post it wherever you like at no extra cost.", "_faq_3_description": "field_5f3a55dd72089", "faq_4_title": "Why not just hire a content writing bot?", "_faq_4_title": "field_5f3a55d972088", "faq_4_description": "\r\n\r\nTechnology is certainly advancing and while content writing bots are far better than they used to be, the articles they produce still need a great deal of editing.\r\n\r\n\r\n\r\n\r\n\r\nOn top of this, the content lacks the high quality of human produced articles, namely due to a lack of credible resources and poorly thought-out content.\r\n\r\n\r\n\r\n\r\n\r\nYou'll also find that most of the content within these articles is a patchwork quilt of phrases from other articles online — so it's basically all plagiarized.\r\n\r\n", "_faq_4_description": "field_5f3a55dd72089", "faq": 5, "_faq": "field_5f3a55d372087", "head_code": "", "_head_code": "field_5f4d890d62386" }, "align": "", "mode": "edit" } /–>
\r\n
\r\n\r\nTechnology is certainly advancing and while content writing bots are far better than they used to be, the articles they produce still need a great deal of editing.\r\n\r\n\r\n\r\n
\r\n\r\nOn top of this, the content lacks the high quality of human produced articles, namely due to a lack of credible resources and poorly thought-out content.\r\n\r\n\r\n\r\n
\r\n\r\nObviously privacy is a big concern, but be suspicious of agencies without a single testimonial, case study, or review to their name. These agencies simply can't prove the quality of their content marketing services.\r\n\r\n",
"_faq_2_description": "field_5f3a55dd72089",
"faq_3_title": "Do I get exclusive rights to the digital content that agencies write for me?",
"_faq_3_title": "field_5f3a55d972088",
"faq_3_description": "Simply put, yes. Once the content is published on your website, your company retains all rights. This means you can post it wherever you like at no extra cost.",
"_faq_3_description": "field_5f3a55dd72089",
"faq_4_title": "Why not just hire a content writing bot?",
"_faq_4_title": "field_5f3a55d972088",
"faq_4_description": "
\r\n\r\n(Image Source<\/a>)\r\n\r\n\r\n\r\n
\r\n\r\nObviously privacy is a big concern, but be suspicious of agencies without a single testimonial, case study, or review to their name. These agencies simply can't prove the quality of their content marketing services.\r\n\r\n",
"_faq_2_description": "field_5f3a55dd72089",
"faq_3_title": "Do I get exclusive rights to the digital content that agencies write for me?",
"_faq_3_title": "field_5f3a55d972088",
"faq_3_description": "Simply put, yes. Once the content is published on your website, your company retains all rights. This means you can post it wherever you like at no extra cost.",
"_faq_3_description": "field_5f3a55dd72089",
"faq_4_title": "Why not just hire a content writing bot?",
"_faq_4_title": "field_5f3a55d972088",
"faq_4_description": "
\r\n\r\nTechnology is certainly advancing and while content writing bots are far better than they used to be, the articles they produce still need a great deal of editing.\r\n\r\n\r\n\r\n\r\n\r\nOn top of this, the content lacks the high quality of human produced articles, namely due to a lack of credible resources and poorly thought-out content.\r\n\r\n\r\n\r\n\r\n\r\nYou'll also find that most of the content within these articles is a patchwork quilt of phrases from other articles online — so it's basically all plagiarized.\r\n\r\n", "_faq_4_description": "field_5f3a55dd72089", "faq": 5, "_faq": "field_5f3a55d372087", "head_code": "", "_head_code": "field_5f4d890d62386" }, "align": "", "mode": "edit" } /–>
\r\n\r\n(Image Source<\/a>)\r\n\r\n\r\n\r\n
\r\n\r\nObviously privacy is a big concern, but be suspicious of agencies without a single testimonial, case study, or review to their name. These agencies simply can't prove the quality of their content marketing services.\r\n\r\n", "_faq_2_description": "field_5f3a55dd72089", "faq_3_title": "Do I get exclusive rights to the digital content that agencies write for me?", "_faq_3_title": "field_5f3a55d972088", "faq_3_description": "Simply put, yes. Once the content is published on your website, your company retains all rights. This means you can post it wherever you like at no extra cost.", "_faq_3_description": "field_5f3a55dd72089", "faq_4_title": "Why not just hire a content writing bot?", "_faq_4_title": "field_5f3a55d972088", "faq_4_description": "\r\n\r\nTechnology is certainly advancing and while content writing bots are far better than they used to be, the articles they produce still need a great deal of editing.\r\n\r\n\r\n\r\n\r\n\r\nOn top of this, the content lacks the high quality of human produced articles, namely due to a lack of credible resources and poorly thought-out content.\r\n\r\n\r\n\r\n\r\n\r\nYou'll also find that most of the content within these articles is a patchwork quilt of phrases from other articles online — so it's basically all plagiarized.\r\n\r\n", "_faq_4_description": "field_5f3a55dd72089", "faq": 5, "_faq": "field_5f3a55d372087", "head_code": "", "_head_code": "field_5f4d890d62386" }, "align": "", "mode": "edit" } /–>
\r\n
\r\n\r\nTechnology is certainly advancing and while content writing bots are far better than they used to be, the articles they produce still need a great deal of editing.\r\n\r\n\r\n\r\n
\r\n\r\nOn top of this, the content lacks the high quality of human produced articles, namely due to a lack of credible resources and poorly thought-out content.\r\n\r\n\r\n\r\n
\r\n\r\nObviously privacy is a big concern, but be suspicious of agencies without a single testimonial, case study, or review to their name. These agencies simply can't prove the quality of their content marketing services.\r\n\r\n",
"_faq_2_description": "field_5f3a55dd72089",
"faq_3_title": "Do I get exclusive rights to the digital content that agencies write for me?",
"_faq_3_title": "field_5f3a55d972088",
"faq_3_description": "Simply put, yes. Once the content is published on your website, your company retains all rights. This means you can post it wherever you like at no extra cost.",
"_faq_3_description": "field_5f3a55dd72089",
"faq_4_title": "Why not just hire a content writing bot?",
"_faq_4_title": "field_5f3a55d972088",
"faq_4_description": "
\r\n\r\n(Image Source<\/a>)\r\n\r\n\r\n\r\n
\r\n\r\nObviously privacy is a big concern, but be suspicious of agencies without a single testimonial, case study, or review to their name. These agencies simply can't prove the quality of their content marketing services.\r\n\r\n", "_faq_2_description": "field_5f3a55dd72089", "faq_3_title": "Do I get exclusive rights to the digital content that agencies write for me?", "_faq_3_title": "field_5f3a55d972088", "faq_3_description": "Simply put, yes. Once the content is published on your website, your company retains all rights. This means you can post it wherever you like at no extra cost.", "_faq_3_description": "field_5f3a55dd72089", "faq_4_title": "Why not just hire a content writing bot?", "_faq_4_title": "field_5f3a55d972088", "faq_4_description": "\r\n\r\nTechnology is certainly advancing and while content writing bots are far better than they used to be, the articles they produce still need a great deal of editing.\r\n\r\n\r\n\r\n\r\n\r\nOn top of this, the content lacks the high quality of human produced articles, namely due to a lack of credible resources and poorly thought-out content.\r\n\r\n\r\n\r\n\r\n\r\nYou'll also find that most of the content within these articles is a patchwork quilt of phrases from other articles online — so it's basically all plagiarized.\r\n\r\n", "_faq_4_description": "field_5f3a55dd72089", "faq": 5, "_faq": "field_5f3a55d372087", "head_code": "", "_head_code": "field_5f4d890d62386" }, "align": "", "mode": "edit" } /–>
\r\n
\r\n\r\nTechnology is certainly advancing and while content writing bots are far better than they used to be, the articles they produce still need a great deal of editing.\r\n\r\n\r\n\r\n
\r\n\r\n(Image Source<\/a>)\r\n\r\n\r\n\r\n
\r\n\r\nObviously privacy is a big concern, but be suspicious of agencies without a single testimonial, case study, or review to their name. These agencies simply can't prove the quality of their content marketing services.\r\n\r\n",
"_faq_2_description": "field_5f3a55dd72089",
"faq_3_title": "Do I get exclusive rights to the digital content that agencies write for me?",
"_faq_3_title": "field_5f3a55d972088",
"faq_3_description": "Simply put, yes. Once the content is published on your website, your company retains all rights. This means you can post it wherever you like at no extra cost.",
"_faq_3_description": "field_5f3a55dd72089",
"faq_4_title": "Why not just hire a content writing bot?",
"_faq_4_title": "field_5f3a55d972088",
"faq_4_description": "
\r\n\r\nTechnology is certainly advancing and while content writing bots are far better than they used to be, the articles they produce still need a great deal of editing.\r\n\r\n\r\n\r\n\r\n\r\nOn top of this, the content lacks the high quality of human produced articles, namely due to a lack of credible resources and poorly thought-out content.\r\n\r\n\r\n\r\n\r\n\r\nYou'll also find that most of the content within these articles is a patchwork quilt of phrases from other articles online — so it's basically all plagiarized.\r\n\r\n", "_faq_4_description": "field_5f3a55dd72089", "faq": 5, "_faq": "field_5f3a55d372087", "head_code": "", "_head_code": "field_5f4d890d62386" }, "align": "", "mode": "edit" } /–>
\r\n\r\n(Image Source<\/a>)\r\n\r\n\r\n\r\n
\r\n\r\nObviously privacy is a big concern, but be suspicious of agencies without a single testimonial, case study, or review to their name. These agencies simply can't prove the quality of their content marketing services.\r\n\r\n", "_faq_2_description": "field_5f3a55dd72089", "faq_3_title": "Do I get exclusive rights to the digital content that agencies write for me?", "_faq_3_title": "field_5f3a55d972088", "faq_3_description": "Simply put, yes. Once the content is published on your website, your company retains all rights. This means you can post it wherever you like at no extra cost.", "_faq_3_description": "field_5f3a55dd72089", "faq_4_title": "Why not just hire a content writing bot?", "_faq_4_title": "field_5f3a55d972088", "faq_4_description": "\r\n\r\nTechnology is certainly advancing and while content writing bots are far better than they used to be, the articles they produce still need a great deal of editing.\r\n\r\n\r\n\r\n\r\n\r\nOn top of this, the content lacks the high quality of human produced articles, namely due to a lack of credible resources and poorly thought-out content.\r\n\r\n\r\n\r\n\r\n\r\nYou'll also find that most of the content within these articles is a patchwork quilt of phrases from other articles online — so it's basically all plagiarized.\r\n\r\n", "_faq_4_description": "field_5f3a55dd72089", "faq": 5, "_faq": "field_5f3a55d372087", "head_code": "", "_head_code": "field_5f4d890d62386" }, "align": "", "mode": "edit" } /–>
\r\n
\r\n\r\nTechnology is certainly advancing and while content writing bots are far better than they used to be, the articles they produce still need a great deal of editing.\r\n\r\n\r\n\r\n
\r\n\r\nOn top of this, the content lacks the high quality of human produced articles, namely due to a lack of credible resources and poorly thought-out content.\r\n\r\n\r\n\r\n
\r\n\r\nObviously privacy is a big concern, but be suspicious of agencies without a single testimonial, case study, or review to their name. These agencies simply can't prove the quality of their content marketing services.\r\n\r\n",
"_faq_2_description": "field_5f3a55dd72089",
"faq_3_title": "Do I get exclusive rights to the digital content that agencies write for me?",
"_faq_3_title": "field_5f3a55d972088",
"faq_3_description": "Simply put, yes. Once the content is published on your website, your company retains all rights. This means you can post it wherever you like at no extra cost.",
"_faq_3_description": "field_5f3a55dd72089",
"faq_4_title": "Why not just hire a content writing bot?",
"_faq_4_title": "field_5f3a55d972088",
"faq_4_description": "
\r\n\r\n(Image Source<\/a>)\r\n\r\n\r\n\r\n
\r\n\r\n(Image Source<\/a>)\r\n\r\n\r\n\r\n
\r\n\r\nObviously privacy is a big concern, but be suspicious of agencies without a single testimonial, case study, or review to their name. These agencies simply can't prove the quality of their content marketing services.\r\n\r\n", "_faq_2_description": "field_5f3a55dd72089", "faq_3_title": "Do I get exclusive rights to the digital content that agencies write for me?", "_faq_3_title": "field_5f3a55d972088", "faq_3_description": "Simply put, yes. Once the content is published on your website, your company retains all rights. This means you can post it wherever you like at no extra cost.", "_faq_3_description": "field_5f3a55dd72089", "faq_4_title": "Why not just hire a content writing bot?", "_faq_4_title": "field_5f3a55d972088", "faq_4_description": "\r\n\r\nTechnology is certainly advancing and while content writing bots are far better than they used to be, the articles they produce still need a great deal of editing.\r\n\r\n\r\n\r\n\r\n\r\nOn top of this, the content lacks the high quality of human produced articles, namely due to a lack of credible resources and poorly thought-out content.\r\n\r\n\r\n\r\n\r\n\r\nYou'll also find that most of the content within these articles is a patchwork quilt of phrases from other articles online — so it's basically all plagiarized.\r\n\r\n", "_faq_4_description": "field_5f3a55dd72089", "faq": 5, "_faq": "field_5f3a55d372087", "head_code": "", "_head_code": "field_5f4d890d62386" }, "align": "", "mode": "edit" } /–>
\r\n
\r\n\r\nTechnology is certainly advancing and while content writing bots are far better than they used to be, the articles they produce still need a great deal of editing.\r\n\r\n\r\n\r\n
\r\n\r\n(Image Source<\/a>)\r\n\r\n\r\n\r\n
\r\n\r\nObviously privacy is a big concern, but be suspicious of agencies without a single testimonial, case study, or review to their name. These agencies simply can't prove the quality of their content marketing services.\r\n\r\n",
"_faq_2_description": "field_5f3a55dd72089",
"faq_3_title": "Do I get exclusive rights to the digital content that agencies write for me?",
"_faq_3_title": "field_5f3a55d972088",
"faq_3_description": "Simply put, yes. Once the content is published on your website, your company retains all rights. This means you can post it wherever you like at no extra cost.",
"_faq_3_description": "field_5f3a55dd72089",
"faq_4_title": "Why not just hire a content writing bot?",
"_faq_4_title": "field_5f3a55d972088",
"faq_4_description": "
\r\n\r\nTechnology is certainly advancing and while content writing bots are far better than they used to be, the articles they produce still need a great deal of editing.\r\n\r\n\r\n\r\n\r\n\r\nOn top of this, the content lacks the high quality of human produced articles, namely due to a lack of credible resources and poorly thought-out content.\r\n\r\n\r\n\r\n\r\n\r\nYou'll also find that most of the content within these articles is a patchwork quilt of phrases from other articles online — so it's basically all plagiarized.\r\n\r\n", "_faq_4_description": "field_5f3a55dd72089", "faq": 5, "_faq": "field_5f3a55d372087", "head_code": "", "_head_code": "field_5f4d890d62386" }, "align": "", "mode": "edit" } /–>
\r\n\r\n(Image Source<\/a>)\r\n\r\n\r\n\r\n
\r\n\r\nObviously privacy is a big concern, but be suspicious of agencies without a single testimonial, case study, or review to their name. These agencies simply can't prove the quality of their content marketing services.\r\n\r\n", "_faq_2_description": "field_5f3a55dd72089", "faq_3_title": "Do I get exclusive rights to the digital content that agencies write for me?", "_faq_3_title": "field_5f3a55d972088", "faq_3_description": "Simply put, yes. Once the content is published on your website, your company retains all rights. This means you can post it wherever you like at no extra cost.", "_faq_3_description": "field_5f3a55dd72089", "faq_4_title": "Why not just hire a content writing bot?", "_faq_4_title": "field_5f3a55d972088", "faq_4_description": "\r\n\r\nTechnology is certainly advancing and while content writing bots are far better than they used to be, the articles they produce still need a great deal of editing.\r\n\r\n\r\n\r\n\r\n\r\nOn top of this, the content lacks the high quality of human produced articles, namely due to a lack of credible resources and poorly thought-out content.\r\n\r\n\r\n\r\n\r\n\r\nYou'll also find that most of the content within these articles is a patchwork quilt of phrases from other articles online — so it's basically all plagiarized.\r\n\r\n", "_faq_4_description": "field_5f3a55dd72089", "faq": 5, "_faq": "field_5f3a55d372087", "head_code": "", "_head_code": "field_5f4d890d62386" }, "align": "", "mode": "edit" } /–>
\r\n
\r\n\r\nTechnology is certainly advancing and while content writing bots are far better than they used to be, the articles they produce still need a great deal of editing.\r\n\r\n\r\n\r\n
\r\n\r\nOn top of this, the content lacks the high quality of human produced articles, namely due to a lack of credible resources and poorly thought-out content.\r\n\r\n\r\n\r\n
\r\n\r\nObviously privacy is a big concern, but be suspicious of agencies without a single testimonial, case study, or review to their name. These agencies simply can't prove the quality of their content marketing services.\r\n\r\n",
"_faq_2_description": "field_5f3a55dd72089",
"faq_3_title": "Do I get exclusive rights to the digital content that agencies write for me?",
"_faq_3_title": "field_5f3a55d972088",
"faq_3_description": "Simply put, yes. Once the content is published on your website, your company retains all rights. This means you can post it wherever you like at no extra cost.",
"_faq_3_description": "field_5f3a55dd72089",
"faq_4_title": "Why not just hire a content writing bot?",
"_faq_4_title": "field_5f3a55d972088",
"faq_4_description": "
\r\n\r\n(Image Source<\/a>)\r\n\r\n\r\n\r\n
\r\n\r\n(Image Source<\/a>)\r\n\r\n\r\n\r\n
\r\n\r\nObviously privacy is a big concern, but be suspicious of agencies without a single testimonial, case study, or review to their name. These agencies simply can't prove the quality of their content marketing services.\r\n\r\n", "_faq_2_description": "field_5f3a55dd72089", "faq_3_title": "Do I get exclusive rights to the digital content that agencies write for me?", "_faq_3_title": "field_5f3a55d972088", "faq_3_description": "Simply put, yes. Once the content is published on your website, your company retains all rights. This means you can post it wherever you like at no extra cost.", "_faq_3_description": "field_5f3a55dd72089", "faq_4_title": "Why not just hire a content writing bot?", "_faq_4_title": "field_5f3a55d972088", "faq_4_description": "\r\n\r\nTechnology is certainly advancing and while content writing bots are far better than they used to be, the articles they produce still need a great deal of editing.\r\n\r\n\r\n\r\n\r\n\r\nOn top of this, the content lacks the high quality of human produced articles, namely due to a lack of credible resources and poorly thought-out content.\r\n\r\n\r\n\r\n\r\n\r\nYou'll also find that most of the content within these articles is a patchwork quilt of phrases from other articles online — so it's basically all plagiarized.\r\n\r\n", "_faq_4_description": "field_5f3a55dd72089", "faq": 5, "_faq": "field_5f3a55d372087", "head_code": "", "_head_code": "field_5f4d890d62386" }, "align": "", "mode": "edit" } /–>
\r\n
\r\n\r\nTechnology is certainly advancing and while content writing bots are far better than they used to be, the articles they produce still need a great deal of editing.\r\n\r\n\r\n\r\n
\r\n\r\nOn top of this, the content lacks the high quality of human produced articles, namely due to a lack of credible resources and poorly thought-out content.\r\n\r\n\r\n\r\n
\r\n\r\nObviously privacy is a big concern, but be suspicious of agencies without a single testimonial, case study, or review to their name. These agencies simply can't prove the quality of their content marketing services.\r\n\r\n",
"_faq_2_description": "field_5f3a55dd72089",
"faq_3_title": "Do I get exclusive rights to the digital content that agencies write for me?",
"_faq_3_title": "field_5f3a55d972088",
"faq_3_description": "Simply put, yes. Once the content is published on your website, your company retains all rights. This means you can post it wherever you like at no extra cost.",
"_faq_3_description": "field_5f3a55dd72089",
"faq_4_title": "Why not just hire a content writing bot?",
"_faq_4_title": "field_5f3a55d972088",
"faq_4_description": "
\r\n\r\nTechnology is certainly advancing and while content writing bots are far better than they used to be, the articles they produce still need a great deal of editing.\r\n\r\n\r\n\r\n
\r\n\r\n(Image Source<\/a>)\r\n\r\n\r\n\r\n
\r\n\r\nObviously privacy is a big concern, but be suspicious of agencies without a single testimonial, case study, or review to their name. These agencies simply can't prove the quality of their content marketing services.\r\n\r\n", "_faq_2_description": "field_5f3a55dd72089", "faq_3_title": "Do I get exclusive rights to the digital content that agencies write for me?", "_faq_3_title": "field_5f3a55d972088", "faq_3_description": "Simply put, yes. Once the content is published on your website, your company retains all rights. This means you can post it wherever you like at no extra cost.", "_faq_3_description": "field_5f3a55dd72089", "faq_4_title": "Why not just hire a content writing bot?", "_faq_4_title": "field_5f3a55d972088", "faq_4_description": "\r\n\r\nTechnology is certainly advancing and while content writing bots are far better than they used to be, the articles they produce still need a great deal of editing.\r\n\r\n\r\n\r\n\r\n\r\nOn top of this, the content lacks the high quality of human produced articles, namely due to a lack of credible resources and poorly thought-out content.\r\n\r\n\r\n\r\n\r\n\r\nYou'll also find that most of the content within these articles is a patchwork quilt of phrases from other articles online — so it's basically all plagiarized.\r\n\r\n", "_faq_4_description": "field_5f3a55dd72089", "faq": 5, "_faq": "field_5f3a55d372087", "head_code": "", "_head_code": "field_5f4d890d62386" }, "align": "", "mode": "edit" } /–>
\r\n
\r\n\r\nTechnology is certainly advancing and while content writing bots are far better than they used to be, the articles they produce still need a great deal of editing.\r\n\r\n\r\n\r\n
\r\n\r\n(Image Source<\/a>)\r\n\r\n\r\n\r\n
\r\n\r\nObviously privacy is a big concern, but be suspicious of agencies without a single testimonial, case study, or review to their name. These agencies simply can't prove the quality of their content marketing services.\r\n\r\n",
"_faq_2_description": "field_5f3a55dd72089",
"faq_3_title": "Do I get exclusive rights to the digital content that agencies write for me?",
"_faq_3_title": "field_5f3a55d972088",
"faq_3_description": "Simply put, yes. Once the content is published on your website, your company retains all rights. This means you can post it wherever you like at no extra cost.",
"_faq_3_description": "field_5f3a55dd72089",
"faq_4_title": "Why not just hire a content writing bot?",
"_faq_4_title": "field_5f3a55d972088",
"faq_4_description": "
\r\n\r\nTechnology is certainly advancing and while content writing bots are far better than they used to be, the articles they produce still need a great deal of editing.\r\n\r\n\r\n\r\n\r\n\r\nOn top of this, the content lacks the high quality of human produced articles, namely due to a lack of credible resources and poorly thought-out content.\r\n\r\n\r\n\r\n\r\n\r\nYou'll also find that most of the content within these articles is a patchwork quilt of phrases from other articles online — so it's basically all plagiarized.\r\n\r\n", "_faq_4_description": "field_5f3a55dd72089", "faq": 5, "_faq": "field_5f3a55d372087", "head_code": "", "_head_code": "field_5f4d890d62386" }, "align": "", "mode": "edit" } /–>
\r\n\r\n(Image Source<\/a>)\r\n\r\n\r\n\r\n
\r\n\r\nObviously privacy is a big concern, but be suspicious of agencies without a single testimonial, case study, or review to their name. These agencies simply can't prove the quality of their content marketing services.\r\n\r\n", "_faq_2_description": "field_5f3a55dd72089", "faq_3_title": "Do I get exclusive rights to the digital content that agencies write for me?", "_faq_3_title": "field_5f3a55d972088", "faq_3_description": "Simply put, yes. Once the content is published on your website, your company retains all rights. This means you can post it wherever you like at no extra cost.", "_faq_3_description": "field_5f3a55dd72089", "faq_4_title": "Why not just hire a content writing bot?", "_faq_4_title": "field_5f3a55d972088", "faq_4_description": "\r\n\r\nTechnology is certainly advancing and while content writing bots are far better than they used to be, the articles they produce still need a great deal of editing.\r\n\r\n\r\n\r\n\r\n\r\nOn top of this, the content lacks the high quality of human produced articles, namely due to a lack of credible resources and poorly thought-out content.\r\n\r\n\r\n\r\n\r\n\r\nYou'll also find that most of the content within these articles is a patchwork quilt of phrases from other articles online — so it's basically all plagiarized.\r\n\r\n", "_faq_4_description": "field_5f3a55dd72089", "faq": 5, "_faq": "field_5f3a55d372087", "head_code": "", "_head_code": "field_5f4d890d62386" }, "align": "", "mode": "edit" } /–>
\r\n
\r\n\r\nTechnology is certainly advancing and while content writing bots are far better than they used to be, the articles they produce still need a great deal of editing.\r\n\r\n\r\n\r\n
\r\n\r\nOn top of this, the content lacks the high quality of human produced articles, namely due to a lack of credible resources and poorly thought-out content.\r\n\r\n\r\n\r\n
\r\n\r\nObviously privacy is a big concern, but be suspicious of agencies without a single testimonial, case study, or review to their name. These agencies simply can't prove the quality of their content marketing services.\r\n\r\n",
"_faq_2_description": "field_5f3a55dd72089",
"faq_3_title": "Do I get exclusive rights to the digital content that agencies write for me?",
"_faq_3_title": "field_5f3a55d972088",
"faq_3_description": "Simply put, yes. Once the content is published on your website, your company retains all rights. This means you can post it wherever you like at no extra cost.",
"_faq_3_description": "field_5f3a55dd72089",
"faq_4_title": "Why not just hire a content writing bot?",
"_faq_4_title": "field_5f3a55d972088",
"faq_4_description": "
\r\n\r\n(Image Source<\/a>)\r\n\r\n\r\n\r\n
\r\n\r\nTechnology is certainly advancing and while content writing bots are far better than they used to be, the articles they produce still need a great deal of editing.\r\n\r\n\r\n\r\n\r\n\r\nOn top of this, the content lacks the high quality of human produced articles, namely due to a lack of credible resources and poorly thought-out content.\r\n\r\n\r\n\r\n\r\n\r\nYou'll also find that most of the content within these articles is a patchwork quilt of phrases from other articles online — so it's basically all plagiarized.\r\n\r\n", "_faq_4_description": "field_5f3a55dd72089", "faq": 5, "_faq": "field_5f3a55d372087", "head_code": "", "_head_code": "field_5f4d890d62386" }, "align": "", "mode": "edit" } /–>
\r\n\r\n(Image Source<\/a>)\r\n\r\n\r\n\r\n
\r\n\r\nObviously privacy is a big concern, but be suspicious of agencies without a single testimonial, case study, or review to their name. These agencies simply can't prove the quality of their content marketing services.\r\n\r\n", "_faq_2_description": "field_5f3a55dd72089", "faq_3_title": "Do I get exclusive rights to the digital content that agencies write for me?", "_faq_3_title": "field_5f3a55d972088", "faq_3_description": "Simply put, yes. Once the content is published on your website, your company retains all rights. This means you can post it wherever you like at no extra cost.", "_faq_3_description": "field_5f3a55dd72089", "faq_4_title": "Why not just hire a content writing bot?", "_faq_4_title": "field_5f3a55d972088", "faq_4_description": "\r\n\r\nTechnology is certainly advancing and while content writing bots are far better than they used to be, the articles they produce still need a great deal of editing.\r\n\r\n\r\n\r\n\r\n\r\nOn top of this, the content lacks the high quality of human produced articles, namely due to a lack of credible resources and poorly thought-out content.\r\n\r\n\r\n\r\n\r\n\r\nYou'll also find that most of the content within these articles is a patchwork quilt of phrases from other articles online — so it's basically all plagiarized.\r\n\r\n", "_faq_4_description": "field_5f3a55dd72089", "faq": 5, "_faq": "field_5f3a55d372087", "head_code": "", "_head_code": "field_5f4d890d62386" }, "align": "", "mode": "edit" } /–>
\r\n
\r\n\r\nTechnology is certainly advancing and while content writing bots are far better than they used to be, the articles they produce still need a great deal of editing.\r\n\r\n\r\n\r\n
\r\n\r\nOn top of this, the content lacks the high quality of human produced articles, namely due to a lack of credible resources and poorly thought-out content.\r\n\r\n\r\n\r\n
\r\n\r\nObviously privacy is a big concern, but be suspicious of agencies without a single testimonial, case study, or review to their name. These agencies simply can't prove the quality of their content marketing services.\r\n\r\n",
"_faq_2_description": "field_5f3a55dd72089",
"faq_3_title": "Do I get exclusive rights to the digital content that agencies write for me?",
"_faq_3_title": "field_5f3a55d972088",
"faq_3_description": "Simply put, yes. Once the content is published on your website, your company retains all rights. This means you can post it wherever you like at no extra cost.",
"_faq_3_description": "field_5f3a55dd72089",
"faq_4_title": "Why not just hire a content writing bot?",
"_faq_4_title": "field_5f3a55d972088",
"faq_4_description": "
\r\n\r\nTechnology is certainly advancing and while content writing bots are far better than they used to be, the articles they produce still need a great deal of editing.\r\n\r\n\r\n\r\n
\r\n\r\n(Image Source<\/a>)\r\n\r\n\r\n\r\n
\r\n\r\nObviously privacy is a big concern, but be suspicious of agencies without a single testimonial, case study, or review to their name. These agencies simply can't prove the quality of their content marketing services.\r\n\r\n", "_faq_2_description": "field_5f3a55dd72089", "faq_3_title": "Do I get exclusive rights to the digital content that agencies write for me?", "_faq_3_title": "field_5f3a55d972088", "faq_3_description": "Simply put, yes. Once the content is published on your website, your company retains all rights. This means you can post it wherever you like at no extra cost.", "_faq_3_description": "field_5f3a55dd72089", "faq_4_title": "Why not just hire a content writing bot?", "_faq_4_title": "field_5f3a55d972088", "faq_4_description": "\r\n\r\nTechnology is certainly advancing and while content writing bots are far better than they used to be, the articles they produce still need a great deal of editing.\r\n\r\n\r\n\r\n\r\n\r\nOn top of this, the content lacks the high quality of human produced articles, namely due to a lack of credible resources and poorly thought-out content.\r\n\r\n\r\n\r\n\r\n\r\nYou'll also find that most of the content within these articles is a patchwork quilt of phrases from other articles online — so it's basically all plagiarized.\r\n\r\n", "_faq_4_description": "field_5f3a55dd72089", "faq": 5, "_faq": "field_5f3a55d372087", "head_code": "", "_head_code": "field_5f4d890d62386" }, "align": "", "mode": "edit" } /–>
\r\n
\r\n\r\nTechnology is certainly advancing and while content writing bots are far better than they used to be, the articles they produce still need a great deal of editing.\r\n\r\n\r\n\r\n
\r\n\r\n(Image Source<\/a>)\r\n\r\n\r\n\r\n
\r\n\r\nObviously privacy is a big concern, but be suspicious of agencies without a single testimonial, case study, or review to their name. These agencies simply can't prove the quality of their content marketing services.\r\n\r\n",
"_faq_2_description": "field_5f3a55dd72089",
"faq_3_title": "Do I get exclusive rights to the digital content that agencies write for me?",
"_faq_3_title": "field_5f3a55d972088",
"faq_3_description": "Simply put, yes. Once the content is published on your website, your company retains all rights. This means you can post it wherever you like at no extra cost.",
"_faq_3_description": "field_5f3a55dd72089",
"faq_4_title": "Why not just hire a content writing bot?",
"_faq_4_title": "field_5f3a55d972088",
"faq_4_description": "
\r\n\r\nTechnology is certainly advancing and while content writing bots are far better than they used to be, the articles they produce still need a great deal of editing.\r\n\r\n\r\n\r\n\r\n\r\nOn top of this, the content lacks the high quality of human produced articles, namely due to a lack of credible resources and poorly thought-out content.\r\n\r\n\r\n\r\n\r\n\r\nYou'll also find that most of the content within these articles is a patchwork quilt of phrases from other articles online — so it's basically all plagiarized.\r\n\r\n", "_faq_4_description": "field_5f3a55dd72089", "faq": 5, "_faq": "field_5f3a55d372087", "head_code": "", "_head_code": "field_5f4d890d62386" }, "align": "", "mode": "edit" } /–>
\r\n\r\n(Image Source<\/a>)\r\n\r\n\r\n\r\n
\r\n\r\nObviously privacy is a big concern, but be suspicious of agencies without a single testimonial, case study, or review to their name. These agencies simply can't prove the quality of their content marketing services.\r\n\r\n", "_faq_2_description": "field_5f3a55dd72089", "faq_3_title": "Do I get exclusive rights to the digital content that agencies write for me?", "_faq_3_title": "field_5f3a55d972088", "faq_3_description": "Simply put, yes. Once the content is published on your website, your company retains all rights. This means you can post it wherever you like at no extra cost.", "_faq_3_description": "field_5f3a55dd72089", "faq_4_title": "Why not just hire a content writing bot?", "_faq_4_title": "field_5f3a55d972088", "faq_4_description": "\r\n\r\nTechnology is certainly advancing and while content writing bots are far better than they used to be, the articles they produce still need a great deal of editing.\r\n\r\n\r\n\r\n\r\n\r\nOn top of this, the content lacks the high quality of human produced articles, namely due to a lack of credible resources and poorly thought-out content.\r\n\r\n\r\n\r\n\r\n\r\nYou'll also find that most of the content within these articles is a patchwork quilt of phrases from other articles online — so it's basically all plagiarized.\r\n\r\n", "_faq_4_description": "field_5f3a55dd72089", "faq": 5, "_faq": "field_5f3a55d372087", "head_code": "", "_head_code": "field_5f4d890d62386" }, "align": "", "mode": "edit" } /–>
\r\n
\r\n\r\nTechnology is certainly advancing and while content writing bots are far better than they used to be, the articles they produce still need a great deal of editing.\r\n\r\n\r\n\r\n
\r\n\r\nOn top of this, the content lacks the high quality of human produced articles, namely due to a lack of credible resources and poorly thought-out content.\r\n\r\n\r\n\r\n
\r\n\r\nObviously privacy is a big concern, but be suspicious of agencies without a single testimonial, case study, or review to their name. These agencies simply can't prove the quality of their content marketing services.\r\n\r\n",
"_faq_2_description": "field_5f3a55dd72089",
"faq_3_title": "Do I get exclusive rights to the digital content that agencies write for me?",
"_faq_3_title": "field_5f3a55d972088",
"faq_3_description": "Simply put, yes. Once the content is published on your website, your company retains all rights. This means you can post it wherever you like at no extra cost.",
"_faq_3_description": "field_5f3a55dd72089",
"faq_4_title": "Why not just hire a content writing bot?",
"_faq_4_title": "field_5f3a55d972088",
"faq_4_description": "
\r\n\r\n(Image Source<\/a>)\r\n\r\n\r\n\r\n
\r\n\r\nObviously privacy is a big concern, but be suspicious of agencies without a single testimonial, case study, or review to their name. These agencies simply can't prove the quality of their content marketing services.\r\n\r\n",
"_faq_2_description": "field_5f3a55dd72089",
"faq_3_title": "Do I get exclusive rights to the digital content that agencies write for me?",
"_faq_3_title": "field_5f3a55d972088",
"faq_3_description": "Simply put, yes. Once the content is published on your website, your company retains all rights. This means you can post it wherever you like at no extra cost.",
"_faq_3_description": "field_5f3a55dd72089",
"faq_4_title": "Why not just hire a content writing bot?",
"_faq_4_title": "field_5f3a55d972088",
"faq_4_description": "
\r\n\r\nTechnology is certainly advancing and while content writing bots are far better than they used to be, the articles they produce still need a great deal of editing.\r\n\r\n\r\n\r\n\r\n\r\nOn top of this, the content lacks the high quality of human produced articles, namely due to a lack of credible resources and poorly thought-out content.\r\n\r\n\r\n\r\n\r\n\r\nYou'll also find that most of the content within these articles is a patchwork quilt of phrases from other articles online — so it's basically all plagiarized.\r\n\r\n", "_faq_4_description": "field_5f3a55dd72089", "faq": 5, "_faq": "field_5f3a55d372087", "head_code": "", "_head_code": "field_5f4d890d62386" }, "align": "", "mode": "edit" } /–>
\r\n\r\n(Image Source<\/a>)\r\n\r\n\r\n\r\n
\r\n\r\nObviously privacy is a big concern, but be suspicious of agencies without a single testimonial, case study, or review to their name. These agencies simply can't prove the quality of their content marketing services.\r\n\r\n", "_faq_2_description": "field_5f3a55dd72089", "faq_3_title": "Do I get exclusive rights to the digital content that agencies write for me?", "_faq_3_title": "field_5f3a55d972088", "faq_3_description": "Simply put, yes. Once the content is published on your website, your company retains all rights. This means you can post it wherever you like at no extra cost.", "_faq_3_description": "field_5f3a55dd72089", "faq_4_title": "Why not just hire a content writing bot?", "_faq_4_title": "field_5f3a55d972088", "faq_4_description": "\r\n\r\nTechnology is certainly advancing and while content writing bots are far better than they used to be, the articles they produce still need a great deal of editing.\r\n\r\n\r\n\r\n\r\n\r\nOn top of this, the content lacks the high quality of human produced articles, namely due to a lack of credible resources and poorly thought-out content.\r\n\r\n\r\n\r\n\r\n\r\nYou'll also find that most of the content within these articles is a patchwork quilt of phrases from other articles online — so it's basically all plagiarized.\r\n\r\n", "_faq_4_description": "field_5f3a55dd72089", "faq": 5, "_faq": "field_5f3a55d372087", "head_code": "", "_head_code": "field_5f4d890d62386" }, "align": "", "mode": "edit" } /–>
\r\n
\r\n\r\nTechnology is certainly advancing and while content writing bots are far better than they used to be, the articles they produce still need a great deal of editing.\r\n\r\n\r\n\r\n
\r\n\r\nOn top of this, the content lacks the high quality of human produced articles, namely due to a lack of credible resources and poorly thought-out content.\r\n\r\n\r\n\r\n
\r\n\r\nObviously privacy is a big concern, but be suspicious of agencies without a single testimonial, case study, or review to their name. These agencies simply can't prove the quality of their content marketing services.\r\n\r\n",
"_faq_2_description": "field_5f3a55dd72089",
"faq_3_title": "Do I get exclusive rights to the digital content that agencies write for me?",
"_faq_3_title": "field_5f3a55d972088",
"faq_3_description": "Simply put, yes. Once the content is published on your website, your company retains all rights. This means you can post it wherever you like at no extra cost.",
"_faq_3_description": "field_5f3a55dd72089",
"faq_4_title": "Why not just hire a content writing bot?",
"_faq_4_title": "field_5f3a55d972088",
"faq_4_description": "
\r\n\r\nTechnology is certainly advancing and while content writing bots are far better than they used to be, the articles they produce still need a great deal of editing.\r\n\r\n\r\n\r\n
\r\n\r\n(Image Source<\/a>)\r\n\r\n\r\n\r\n
\r\n\r\nObviously privacy is a big concern, but be suspicious of agencies without a single testimonial, case study, or review to their name. These agencies simply can't prove the quality of their content marketing services.\r\n\r\n", "_faq_2_description": "field_5f3a55dd72089", "faq_3_title": "Do I get exclusive rights to the digital content that agencies write for me?", "_faq_3_title": "field_5f3a55d972088", "faq_3_description": "Simply put, yes. Once the content is published on your website, your company retains all rights. This means you can post it wherever you like at no extra cost.", "_faq_3_description": "field_5f3a55dd72089", "faq_4_title": "Why not just hire a content writing bot?", "_faq_4_title": "field_5f3a55d972088", "faq_4_description": "\r\n\r\nTechnology is certainly advancing and while content writing bots are far better than they used to be, the articles they produce still need a great deal of editing.\r\n\r\n\r\n\r\n\r\n\r\nOn top of this, the content lacks the high quality of human produced articles, namely due to a lack of credible resources and poorly thought-out content.\r\n\r\n\r\n\r\n\r\n\r\nYou'll also find that most of the content within these articles is a patchwork quilt of phrases from other articles online — so it's basically all plagiarized.\r\n\r\n", "_faq_4_description": "field_5f3a55dd72089", "faq": 5, "_faq": "field_5f3a55d372087", "head_code": "", "_head_code": "field_5f4d890d62386" }, "align": "", "mode": "edit" } /–>
\r\n
\r\n\r\nTechnology is certainly advancing and while content writing bots are far better than they used to be, the articles they produce still need a great deal of editing.\r\n\r\n\r\n\r\n
\r\n\r\n(Image Source<\/a>)\r\n\r\n\r\n\r\n
\r\n\r\nObviously privacy is a big concern, but be suspicious of agencies without a single testimonial, case study, or review to their name. These agencies simply can't prove the quality of their content marketing services.\r\n\r\n",
"_faq_2_description": "field_5f3a55dd72089",
"faq_3_title": "Do I get exclusive rights to the digital content that agencies write for me?",
"_faq_3_title": "field_5f3a55d972088",
"faq_3_description": "Simply put, yes. Once the content is published on your website, your company retains all rights. This means you can post it wherever you like at no extra cost.",
"_faq_3_description": "field_5f3a55dd72089",
"faq_4_title": "Why not just hire a content writing bot?",
"_faq_4_title": "field_5f3a55d972088",
"faq_4_description": "
\r\n\r\nTechnology is certainly advancing and while content writing bots are far better than they used to be, the articles they produce still need a great deal of editing.\r\n\r\n\r\n\r\n\r\n\r\nOn top of this, the content lacks the high quality of human produced articles, namely due to a lack of credible resources and poorly thought-out content.\r\n\r\n\r\n\r\n\r\n\r\nYou'll also find that most of the content within these articles is a patchwork quilt of phrases from other articles online — so it's basically all plagiarized.\r\n\r\n", "_faq_4_description": "field_5f3a55dd72089", "faq": 5, "_faq": "field_5f3a55d372087", "head_code": "", "_head_code": "field_5f4d890d62386" }, "align": "", "mode": "edit" } /–>
\r\n\r\n(Image Source<\/a>)\r\n\r\n\r\n\r\n
\r\n\r\nObviously privacy is a big concern, but be suspicious of agencies without a single testimonial, case study, or review to their name. These agencies simply can't prove the quality of their content marketing services.\r\n\r\n", "_faq_2_description": "field_5f3a55dd72089", "faq_3_title": "Do I get exclusive rights to the digital content that agencies write for me?", "_faq_3_title": "field_5f3a55d972088", "faq_3_description": "Simply put, yes. Once the content is published on your website, your company retains all rights. This means you can post it wherever you like at no extra cost.", "_faq_3_description": "field_5f3a55dd72089", "faq_4_title": "Why not just hire a content writing bot?", "_faq_4_title": "field_5f3a55d972088", "faq_4_description": "\r\n\r\nTechnology is certainly advancing and while content writing bots are far better than they used to be, the articles they produce still need a great deal of editing.\r\n\r\n\r\n\r\n\r\n\r\nOn top of this, the content lacks the high quality of human produced articles, namely due to a lack of credible resources and poorly thought-out content.\r\n\r\n\r\n\r\n\r\n\r\nYou'll also find that most of the content within these articles is a patchwork quilt of phrases from other articles online — so it's basically all plagiarized.\r\n\r\n", "_faq_4_description": "field_5f3a55dd72089", "faq": 5, "_faq": "field_5f3a55d372087", "head_code": "", "_head_code": "field_5f4d890d62386" }, "align": "", "mode": "edit" } /–>
\r\n
\r\n\r\nTechnology is certainly advancing and while content writing bots are far better than they used to be, the articles they produce still need a great deal of editing.\r\n\r\n\r\n\r\n
\r\n\r\nOn top of this, the content lacks the high quality of human produced articles, namely due to a lack of credible resources and poorly thought-out content.\r\n\r\n\r\n\r\n
\r\n\r\nObviously privacy is a big concern, but be suspicious of agencies without a single testimonial, case study, or review to their name. These agencies simply can't prove the quality of their content marketing services.\r\n\r\n",
"_faq_2_description": "field_5f3a55dd72089",
"faq_3_title": "Do I get exclusive rights to the digital content that agencies write for me?",
"_faq_3_title": "field_5f3a55d972088",
"faq_3_description": "Simply put, yes. Once the content is published on your website, your company retains all rights. This means you can post it wherever you like at no extra cost.",
"_faq_3_description": "field_5f3a55dd72089",
"faq_4_title": "Why not just hire a content writing bot?",
"_faq_4_title": "field_5f3a55d972088",
"faq_4_description": "
\r\n\r\n(Image Source<\/a>)\r\n\r\n\r\n\r\n
\r\n\r\nOn top of this, the content lacks the high quality of human produced articles, namely due to a lack of credible resources and poorly thought-out content.\r\n\r\n\r\n\r\n\r\n\r\nYou'll also find that most of the content within these articles is a patchwork quilt of phrases from other articles online — so it's basically all plagiarized.\r\n\r\n", "_faq_4_description": "field_5f3a55dd72089", "faq": 5, "_faq": "field_5f3a55d372087", "head_code": "", "_head_code": "field_5f4d890d62386" }, "align": "", "mode": "edit" } /–>
\r\n\r\nTechnology is certainly advancing and while content writing bots are far better than they used to be, the articles they produce still need a great deal of editing.\r\n\r\n\r\n\r\n
\r\n\r\n(Image Source<\/a>)\r\n\r\n\r\n\r\n
\r\n\r\nObviously privacy is a big concern, but be suspicious of agencies without a single testimonial, case study, or review to their name. These agencies simply can't prove the quality of their content marketing services.\r\n\r\n",
"_faq_2_description": "field_5f3a55dd72089",
"faq_3_title": "Do I get exclusive rights to the digital content that agencies write for me?",
"_faq_3_title": "field_5f3a55d972088",
"faq_3_description": "Simply put, yes. Once the content is published on your website, your company retains all rights. This means you can post it wherever you like at no extra cost.",
"_faq_3_description": "field_5f3a55dd72089",
"faq_4_title": "Why not just hire a content writing bot?",
"_faq_4_title": "field_5f3a55d972088",
"faq_4_description": "
\r\n\r\nTechnology is certainly advancing and while content writing bots are far better than they used to be, the articles they produce still need a great deal of editing.\r\n\r\n\r\n\r\n\r\n\r\nOn top of this, the content lacks the high quality of human produced articles, namely due to a lack of credible resources and poorly thought-out content.\r\n\r\n\r\n\r\n\r\n\r\nYou'll also find that most of the content within these articles is a patchwork quilt of phrases from other articles online — so it's basically all plagiarized.\r\n\r\n", "_faq_4_description": "field_5f3a55dd72089", "faq": 5, "_faq": "field_5f3a55d372087", "head_code": "", "_head_code": "field_5f4d890d62386" }, "align": "", "mode": "edit" } /–>
\r\n\r\n(Image Source<\/a>)\r\n\r\n\r\n\r\n
\r\n\r\nObviously privacy is a big concern, but be suspicious of agencies without a single testimonial, case study, or review to their name. These agencies simply can't prove the quality of their content marketing services.\r\n\r\n", "_faq_2_description": "field_5f3a55dd72089", "faq_3_title": "Do I get exclusive rights to the digital content that agencies write for me?", "_faq_3_title": "field_5f3a55d972088", "faq_3_description": "Simply put, yes. Once the content is published on your website, your company retains all rights. This means you can post it wherever you like at no extra cost.", "_faq_3_description": "field_5f3a55dd72089", "faq_4_title": "Why not just hire a content writing bot?", "_faq_4_title": "field_5f3a55d972088", "faq_4_description": "\r\n\r\nTechnology is certainly advancing and while content writing bots are far better than they used to be, the articles they produce still need a great deal of editing.\r\n\r\n\r\n\r\n\r\n\r\nOn top of this, the content lacks the high quality of human produced articles, namely due to a lack of credible resources and poorly thought-out content.\r\n\r\n\r\n\r\n\r\n\r\nYou'll also find that most of the content within these articles is a patchwork quilt of phrases from other articles online — so it's basically all plagiarized.\r\n\r\n", "_faq_4_description": "field_5f3a55dd72089", "faq": 5, "_faq": "field_5f3a55d372087", "head_code": "", "_head_code": "field_5f4d890d62386" }, "align": "", "mode": "edit" } /–>
\r\n
\r\n\r\nTechnology is certainly advancing and while content writing bots are far better than they used to be, the articles they produce still need a great deal of editing.\r\n\r\n\r\n\r\n
\r\n\r\nOn top of this, the content lacks the high quality of human produced articles, namely due to a lack of credible resources and poorly thought-out content.\r\n\r\n\r\n\r\n
\r\n\r\nObviously privacy is a big concern, but be suspicious of agencies without a single testimonial, case study, or review to their name. These agencies simply can't prove the quality of their content marketing services.\r\n\r\n",
"_faq_2_description": "field_5f3a55dd72089",
"faq_3_title": "Do I get exclusive rights to the digital content that agencies write for me?",
"_faq_3_title": "field_5f3a55d972088",
"faq_3_description": "Simply put, yes. Once the content is published on your website, your company retains all rights. This means you can post it wherever you like at no extra cost.",
"_faq_3_description": "field_5f3a55dd72089",
"faq_4_title": "Why not just hire a content writing bot?",
"_faq_4_title": "field_5f3a55d972088",
"faq_4_description": "
\r\n\r\nTechnology is certainly advancing and while content writing bots are far better than they used to be, the articles they produce still need a great deal of editing.\r\n\r\n\r\n\r\n
\r\n\r\n(Image Source<\/a>)\r\n\r\n\r\n\r\n
\r\n\r\nObviously privacy is a big concern, but be suspicious of agencies without a single testimonial, case study, or review to their name. These agencies simply can't prove the quality of their content marketing services.\r\n\r\n", "_faq_2_description": "field_5f3a55dd72089", "faq_3_title": "Do I get exclusive rights to the digital content that agencies write for me?", "_faq_3_title": "field_5f3a55d972088", "faq_3_description": "Simply put, yes. Once the content is published on your website, your company retains all rights. This means you can post it wherever you like at no extra cost.", "_faq_3_description": "field_5f3a55dd72089", "faq_4_title": "Why not just hire a content writing bot?", "_faq_4_title": "field_5f3a55d972088", "faq_4_description": "\r\n\r\nTechnology is certainly advancing and while content writing bots are far better than they used to be, the articles they produce still need a great deal of editing.\r\n\r\n\r\n\r\n\r\n\r\nOn top of this, the content lacks the high quality of human produced articles, namely due to a lack of credible resources and poorly thought-out content.\r\n\r\n\r\n\r\n\r\n\r\nYou'll also find that most of the content within these articles is a patchwork quilt of phrases from other articles online — so it's basically all plagiarized.\r\n\r\n", "_faq_4_description": "field_5f3a55dd72089", "faq": 5, "_faq": "field_5f3a55d372087", "head_code": "", "_head_code": "field_5f4d890d62386" }, "align": "", "mode": "edit" } /–>
\r\n
\r\n\r\nTechnology is certainly advancing and while content writing bots are far better than they used to be, the articles they produce still need a great deal of editing.\r\n\r\n\r\n\r\n
\r\n\r\n(Image Source<\/a>)\r\n\r\n\r\n\r\n
\r\n\r\nObviously privacy is a big concern, but be suspicious of agencies without a single testimonial, case study, or review to their name. These agencies simply can't prove the quality of their content marketing services.\r\n\r\n",
"_faq_2_description": "field_5f3a55dd72089",
"faq_3_title": "Do I get exclusive rights to the digital content that agencies write for me?",
"_faq_3_title": "field_5f3a55d972088",
"faq_3_description": "Simply put, yes. Once the content is published on your website, your company retains all rights. This means you can post it wherever you like at no extra cost.",
"_faq_3_description": "field_5f3a55dd72089",
"faq_4_title": "Why not just hire a content writing bot?",
"_faq_4_title": "field_5f3a55d972088",
"faq_4_description": "
\r\n\r\nTechnology is certainly advancing and while content writing bots are far better than they used to be, the articles they produce still need a great deal of editing.\r\n\r\n\r\n\r\n\r\n\r\nOn top of this, the content lacks the high quality of human produced articles, namely due to a lack of credible resources and poorly thought-out content.\r\n\r\n\r\n\r\n\r\n\r\nYou'll also find that most of the content within these articles is a patchwork quilt of phrases from other articles online — so it's basically all plagiarized.\r\n\r\n", "_faq_4_description": "field_5f3a55dd72089", "faq": 5, "_faq": "field_5f3a55d372087", "head_code": "", "_head_code": "field_5f4d890d62386" }, "align": "", "mode": "edit" } /–>
\r\n\r\n(Image Source<\/a>)\r\n\r\n\r\n\r\n
\r\n\r\nObviously privacy is a big concern, but be suspicious of agencies without a single testimonial, case study, or review to their name. These agencies simply can't prove the quality of their content marketing services.\r\n\r\n", "_faq_2_description": "field_5f3a55dd72089", "faq_3_title": "Do I get exclusive rights to the digital content that agencies write for me?", "_faq_3_title": "field_5f3a55d972088", "faq_3_description": "Simply put, yes. Once the content is published on your website, your company retains all rights. This means you can post it wherever you like at no extra cost.", "_faq_3_description": "field_5f3a55dd72089", "faq_4_title": "Why not just hire a content writing bot?", "_faq_4_title": "field_5f3a55d972088", "faq_4_description": "\r\n\r\nTechnology is certainly advancing and while content writing bots are far better than they used to be, the articles they produce still need a great deal of editing.\r\n\r\n\r\n\r\n\r\n\r\nOn top of this, the content lacks the high quality of human produced articles, namely due to a lack of credible resources and poorly thought-out content.\r\n\r\n\r\n\r\n\r\n\r\nYou'll also find that most of the content within these articles is a patchwork quilt of phrases from other articles online — so it's basically all plagiarized.\r\n\r\n", "_faq_4_description": "field_5f3a55dd72089", "faq": 5, "_faq": "field_5f3a55d372087", "head_code": "", "_head_code": "field_5f4d890d62386" }, "align": "", "mode": "edit" } /–>
\r\n
\r\n\r\nTechnology is certainly advancing and while content writing bots are far better than they used to be, the articles they produce still need a great deal of editing.\r\n\r\n\r\n\r\n
\r\n\r\nOn top of this, the content lacks the high quality of human produced articles, namely due to a lack of credible resources and poorly thought-out content.\r\n\r\n\r\n\r\n
\r\n\r\nObviously privacy is a big concern, but be suspicious of agencies without a single testimonial, case study, or review to their name. These agencies simply can't prove the quality of their content marketing services.\r\n\r\n",
"_faq_2_description": "field_5f3a55dd72089",
"faq_3_title": "Do I get exclusive rights to the digital content that agencies write for me?",
"_faq_3_title": "field_5f3a55d972088",
"faq_3_description": "Simply put, yes. Once the content is published on your website, your company retains all rights. This means you can post it wherever you like at no extra cost.",
"_faq_3_description": "field_5f3a55dd72089",
"faq_4_title": "Why not just hire a content writing bot?",
"_faq_4_title": "field_5f3a55d972088",
"faq_4_description": "
\r\n\r\n(Image Source<\/a>)\r\n\r\n\r\n\r\n
\r\n\r\nTechnology is certainly advancing and while content writing bots are far better than they used to be, the articles they produce still need a great deal of editing.\r\n\r\n\r\n\r\n\r\n\r\nOn top of this, the content lacks the high quality of human produced articles, namely due to a lack of credible resources and poorly thought-out content.\r\n\r\n\r\n\r\n\r\n\r\nYou'll also find that most of the content within these articles is a patchwork quilt of phrases from other articles online — so it's basically all plagiarized.\r\n\r\n", "_faq_4_description": "field_5f3a55dd72089", "faq": 5, "_faq": "field_5f3a55d372087", "head_code": "", "_head_code": "field_5f4d890d62386" }, "align": "", "mode": "edit" } /–>
\r\n\r\nTechnology is certainly advancing and while content writing bots are far better than they used to be, the articles they produce still need a great deal of editing.\r\n\r\n\r\n\r\n
\r\n\r\n(Image Source<\/a>)\r\n\r\n\r\n\r\n
\r\n\r\nObviously privacy is a big concern, but be suspicious of agencies without a single testimonial, case study, or review to their name. These agencies simply can't prove the quality of their content marketing services.\r\n\r\n",
"_faq_2_description": "field_5f3a55dd72089",
"faq_3_title": "Do I get exclusive rights to the digital content that agencies write for me?",
"_faq_3_title": "field_5f3a55d972088",
"faq_3_description": "Simply put, yes. Once the content is published on your website, your company retains all rights. This means you can post it wherever you like at no extra cost.",
"_faq_3_description": "field_5f3a55dd72089",
"faq_4_title": "Why not just hire a content writing bot?",
"_faq_4_title": "field_5f3a55d972088",
"faq_4_description": "
\r\n\r\nTechnology is certainly advancing and while content writing bots are far better than they used to be, the articles they produce still need a great deal of editing.\r\n\r\n\r\n\r\n\r\n\r\nOn top of this, the content lacks the high quality of human produced articles, namely due to a lack of credible resources and poorly thought-out content.\r\n\r\n\r\n\r\n\r\n\r\nYou'll also find that most of the content within these articles is a patchwork quilt of phrases from other articles online — so it's basically all plagiarized.\r\n\r\n", "_faq_4_description": "field_5f3a55dd72089", "faq": 5, "_faq": "field_5f3a55d372087", "head_code": "", "_head_code": "field_5f4d890d62386" }, "align": "", "mode": "edit" } /–>
\r\n\r\n(Image Source<\/a>)\r\n\r\n\r\n\r\n
\r\n\r\nObviously privacy is a big concern, but be suspicious of agencies without a single testimonial, case study, or review to their name. These agencies simply can't prove the quality of their content marketing services.\r\n\r\n", "_faq_2_description": "field_5f3a55dd72089", "faq_3_title": "Do I get exclusive rights to the digital content that agencies write for me?", "_faq_3_title": "field_5f3a55d972088", "faq_3_description": "Simply put, yes. Once the content is published on your website, your company retains all rights. This means you can post it wherever you like at no extra cost.", "_faq_3_description": "field_5f3a55dd72089", "faq_4_title": "Why not just hire a content writing bot?", "_faq_4_title": "field_5f3a55d972088", "faq_4_description": "\r\n\r\nTechnology is certainly advancing and while content writing bots are far better than they used to be, the articles they produce still need a great deal of editing.\r\n\r\n\r\n\r\n\r\n\r\nOn top of this, the content lacks the high quality of human produced articles, namely due to a lack of credible resources and poorly thought-out content.\r\n\r\n\r\n\r\n\r\n\r\nYou'll also find that most of the content within these articles is a patchwork quilt of phrases from other articles online — so it's basically all plagiarized.\r\n\r\n", "_faq_4_description": "field_5f3a55dd72089", "faq": 5, "_faq": "field_5f3a55d372087", "head_code": "", "_head_code": "field_5f4d890d62386" }, "align": "", "mode": "edit" } /–>
\r\n
\r\n\r\nTechnology is certainly advancing and while content writing bots are far better than they used to be, the articles they produce still need a great deal of editing.\r\n\r\n\r\n\r\n
\r\n\r\nOn top of this, the content lacks the high quality of human produced articles, namely due to a lack of credible resources and poorly thought-out content.\r\n\r\n\r\n\r\n
\r\n\r\nObviously privacy is a big concern, but be suspicious of agencies without a single testimonial, case study, or review to their name. These agencies simply can't prove the quality of their content marketing services.\r\n\r\n",
"_faq_2_description": "field_5f3a55dd72089",
"faq_3_title": "Do I get exclusive rights to the digital content that agencies write for me?",
"_faq_3_title": "field_5f3a55d972088",
"faq_3_description": "Simply put, yes. Once the content is published on your website, your company retains all rights. This means you can post it wherever you like at no extra cost.",
"_faq_3_description": "field_5f3a55dd72089",
"faq_4_title": "Why not just hire a content writing bot?",
"_faq_4_title": "field_5f3a55d972088",
"faq_4_description": "
\r\n\r\nTechnology is certainly advancing and while content writing bots are far better than they used to be, the articles they produce still need a great deal of editing.\r\n\r\n\r\n\r\n
\r\n\r\n(Image Source<\/a>)\r\n\r\n\r\n\r\n
\r\n\r\nObviously privacy is a big concern, but be suspicious of agencies without a single testimonial, case study, or review to their name. These agencies simply can't prove the quality of their content marketing services.\r\n\r\n", "_faq_2_description": "field_5f3a55dd72089", "faq_3_title": "Do I get exclusive rights to the digital content that agencies write for me?", "_faq_3_title": "field_5f3a55d972088", "faq_3_description": "Simply put, yes. Once the content is published on your website, your company retains all rights. This means you can post it wherever you like at no extra cost.", "_faq_3_description": "field_5f3a55dd72089", "faq_4_title": "Why not just hire a content writing bot?", "_faq_4_title": "field_5f3a55d972088", "faq_4_description": "\r\n\r\nTechnology is certainly advancing and while content writing bots are far better than they used to be, the articles they produce still need a great deal of editing.\r\n\r\n\r\n\r\n\r\n\r\nOn top of this, the content lacks the high quality of human produced articles, namely due to a lack of credible resources and poorly thought-out content.\r\n\r\n\r\n\r\n\r\n\r\nYou'll also find that most of the content within these articles is a patchwork quilt of phrases from other articles online — so it's basically all plagiarized.\r\n\r\n", "_faq_4_description": "field_5f3a55dd72089", "faq": 5, "_faq": "field_5f3a55d372087", "head_code": "", "_head_code": "field_5f4d890d62386" }, "align": "", "mode": "edit" } /–>
\r\n
\r\n\r\nTechnology is certainly advancing and while content writing bots are far better than they used to be, the articles they produce still need a great deal of editing.\r\n\r\n\r\n\r\n
\r\n\r\n(Image Source<\/a>)\r\n\r\n\r\n\r\n
\r\n\r\nObviously privacy is a big concern, but be suspicious of agencies without a single testimonial, case study, or review to their name. These agencies simply can't prove the quality of their content marketing services.\r\n\r\n",
"_faq_2_description": "field_5f3a55dd72089",
"faq_3_title": "Do I get exclusive rights to the digital content that agencies write for me?",
"_faq_3_title": "field_5f3a55d972088",
"faq_3_description": "Simply put, yes. Once the content is published on your website, your company retains all rights. This means you can post it wherever you like at no extra cost.",
"_faq_3_description": "field_5f3a55dd72089",
"faq_4_title": "Why not just hire a content writing bot?",
"_faq_4_title": "field_5f3a55d972088",
"faq_4_description": "
\r\n\r\nTechnology is certainly advancing and while content writing bots are far better than they used to be, the articles they produce still need a great deal of editing.\r\n\r\n\r\n\r\n\r\n\r\nOn top of this, the content lacks the high quality of human produced articles, namely due to a lack of credible resources and poorly thought-out content.\r\n\r\n\r\n\r\n\r\n\r\nYou'll also find that most of the content within these articles is a patchwork quilt of phrases from other articles online — so it's basically all plagiarized.\r\n\r\n", "_faq_4_description": "field_5f3a55dd72089", "faq": 5, "_faq": "field_5f3a55d372087", "head_code": "", "_head_code": "field_5f4d890d62386" }, "align": "", "mode": "edit" } /–>
\r\n\r\n(Image Source<\/a>)\r\n\r\n\r\n\r\n
\r\n\r\nObviously privacy is a big concern, but be suspicious of agencies without a single testimonial, case study, or review to their name. These agencies simply can't prove the quality of their content marketing services.\r\n\r\n", "_faq_2_description": "field_5f3a55dd72089", "faq_3_title": "Do I get exclusive rights to the digital content that agencies write for me?", "_faq_3_title": "field_5f3a55d972088", "faq_3_description": "Simply put, yes. Once the content is published on your website, your company retains all rights. This means you can post it wherever you like at no extra cost.", "_faq_3_description": "field_5f3a55dd72089", "faq_4_title": "Why not just hire a content writing bot?", "_faq_4_title": "field_5f3a55d972088", "faq_4_description": "\r\n\r\nTechnology is certainly advancing and while content writing bots are far better than they used to be, the articles they produce still need a great deal of editing.\r\n\r\n\r\n\r\n\r\n\r\nOn top of this, the content lacks the high quality of human produced articles, namely due to a lack of credible resources and poorly thought-out content.\r\n\r\n\r\n\r\n\r\n\r\nYou'll also find that most of the content within these articles is a patchwork quilt of phrases from other articles online — so it's basically all plagiarized.\r\n\r\n", "_faq_4_description": "field_5f3a55dd72089", "faq": 5, "_faq": "field_5f3a55d372087", "head_code": "", "_head_code": "field_5f4d890d62386" }, "align": "", "mode": "edit" } /–>
\r\n
\r\n\r\nTechnology is certainly advancing and while content writing bots are far better than they used to be, the articles they produce still need a great deal of editing.\r\n\r\n\r\n\r\n
\r\n\r\nOn top of this, the content lacks the high quality of human produced articles, namely due to a lack of credible resources and poorly thought-out content.\r\n\r\n\r\n\r\n
\r\n\r\nObviously privacy is a big concern, but be suspicious of agencies without a single testimonial, case study, or review to their name. These agencies simply can't prove the quality of their content marketing services.\r\n\r\n",
"_faq_2_description": "field_5f3a55dd72089",
"faq_3_title": "Do I get exclusive rights to the digital content that agencies write for me?",
"_faq_3_title": "field_5f3a55d972088",
"faq_3_description": "Simply put, yes. Once the content is published on your website, your company retains all rights. This means you can post it wherever you like at no extra cost.",
"_faq_3_description": "field_5f3a55dd72089",
"faq_4_title": "Why not just hire a content writing bot?",
"_faq_4_title": "field_5f3a55d972088",
"faq_4_description": "
\r\n\r\n(Image Source<\/a>)\r\n\r\n\r\n\r\n
\r\n\r\nObviously privacy is a big concern, but be suspicious of agencies without a single testimonial, case study, or review to their name. These agencies simply can't prove the quality of their content marketing services.\r\n\r\n", "_faq_2_description": "field_5f3a55dd72089", "faq_3_title": "Do I get exclusive rights to the digital content that agencies write for me?", "_faq_3_title": "field_5f3a55d972088", "faq_3_description": "Simply put, yes. Once the content is published on your website, your company retains all rights. This means you can post it wherever you like at no extra cost.", "_faq_3_description": "field_5f3a55dd72089", "faq_4_title": "Why not just hire a content writing bot?", "_faq_4_title": "field_5f3a55d972088", "faq_4_description": "\r\n\r\nTechnology is certainly advancing and while content writing bots are far better than they used to be, the articles they produce still need a great deal of editing.\r\n\r\n\r\n\r\n\r\n\r\nOn top of this, the content lacks the high quality of human produced articles, namely due to a lack of credible resources and poorly thought-out content.\r\n\r\n\r\n\r\n\r\n\r\nYou'll also find that most of the content within these articles is a patchwork quilt of phrases from other articles online — so it's basically all plagiarized.\r\n\r\n", "_faq_4_description": "field_5f3a55dd72089", "faq": 5, "_faq": "field_5f3a55d372087", "head_code": "", "_head_code": "field_5f4d890d62386" }, "align": "", "mode": "edit" } /–>
\r\n\r\nTechnology is certainly advancing and while content writing bots are far better than they used to be, the articles they produce still need a great deal of editing.\r\n\r\n\r\n\r\n
\r\n\r\n(Image Source<\/a>)\r\n\r\n\r\n\r\n
\r\n\r\nObviously privacy is a big concern, but be suspicious of agencies without a single testimonial, case study, or review to their name. These agencies simply can't prove the quality of their content marketing services.\r\n\r\n",
"_faq_2_description": "field_5f3a55dd72089",
"faq_3_title": "Do I get exclusive rights to the digital content that agencies write for me?",
"_faq_3_title": "field_5f3a55d972088",
"faq_3_description": "Simply put, yes. Once the content is published on your website, your company retains all rights. This means you can post it wherever you like at no extra cost.",
"_faq_3_description": "field_5f3a55dd72089",
"faq_4_title": "Why not just hire a content writing bot?",
"_faq_4_title": "field_5f3a55d972088",
"faq_4_description": "
\r\n\r\nTechnology is certainly advancing and while content writing bots are far better than they used to be, the articles they produce still need a great deal of editing.\r\n\r\n\r\n\r\n\r\n\r\nOn top of this, the content lacks the high quality of human produced articles, namely due to a lack of credible resources and poorly thought-out content.\r\n\r\n\r\n\r\n\r\n\r\nYou'll also find that most of the content within these articles is a patchwork quilt of phrases from other articles online — so it's basically all plagiarized.\r\n\r\n", "_faq_4_description": "field_5f3a55dd72089", "faq": 5, "_faq": "field_5f3a55d372087", "head_code": "", "_head_code": "field_5f4d890d62386" }, "align": "", "mode": "edit" } /–>
\r\n\r\n(Image Source<\/a>)\r\n\r\n\r\n\r\n
\r\n\r\nObviously privacy is a big concern, but be suspicious of agencies without a single testimonial, case study, or review to their name. These agencies simply can't prove the quality of their content marketing services.\r\n\r\n", "_faq_2_description": "field_5f3a55dd72089", "faq_3_title": "Do I get exclusive rights to the digital content that agencies write for me?", "_faq_3_title": "field_5f3a55d972088", "faq_3_description": "Simply put, yes. Once the content is published on your website, your company retains all rights. This means you can post it wherever you like at no extra cost.", "_faq_3_description": "field_5f3a55dd72089", "faq_4_title": "Why not just hire a content writing bot?", "_faq_4_title": "field_5f3a55d972088", "faq_4_description": "\r\n\r\nTechnology is certainly advancing and while content writing bots are far better than they used to be, the articles they produce still need a great deal of editing.\r\n\r\n\r\n\r\n\r\n\r\nOn top of this, the content lacks the high quality of human produced articles, namely due to a lack of credible resources and poorly thought-out content.\r\n\r\n\r\n\r\n\r\n\r\nYou'll also find that most of the content within these articles is a patchwork quilt of phrases from other articles online — so it's basically all plagiarized.\r\n\r\n", "_faq_4_description": "field_5f3a55dd72089", "faq": 5, "_faq": "field_5f3a55d372087", "head_code": "", "_head_code": "field_5f4d890d62386" }, "align": "", "mode": "edit" } /–>
\r\n
\r\n\r\nTechnology is certainly advancing and while content writing bots are far better than they used to be, the articles they produce still need a great deal of editing.\r\n\r\n\r\n\r\n
\r\n\r\nOn top of this, the content lacks the high quality of human produced articles, namely due to a lack of credible resources and poorly thought-out content.\r\n\r\n\r\n\r\n
\r\n\r\nObviously privacy is a big concern, but be suspicious of agencies without a single testimonial, case study, or review to their name. These agencies simply can't prove the quality of their content marketing services.\r\n\r\n",
"_faq_2_description": "field_5f3a55dd72089",
"faq_3_title": "Do I get exclusive rights to the digital content that agencies write for me?",
"_faq_3_title": "field_5f3a55d972088",
"faq_3_description": "Simply put, yes. Once the content is published on your website, your company retains all rights. This means you can post it wherever you like at no extra cost.",
"_faq_3_description": "field_5f3a55dd72089",
"faq_4_title": "Why not just hire a content writing bot?",
"_faq_4_title": "field_5f3a55d972088",
"faq_4_description": "
\r\n\r\nTechnology is certainly advancing and while content writing bots are far better than they used to be, the articles they produce still need a great deal of editing.\r\n\r\n\r\n\r\n
\r\n\r\n(Image Source<\/a>)\r\n\r\n\r\n\r\n
\r\n\r\nObviously privacy is a big concern, but be suspicious of agencies without a single testimonial, case study, or review to their name. These agencies simply can't prove the quality of their content marketing services.\r\n\r\n", "_faq_2_description": "field_5f3a55dd72089", "faq_3_title": "Do I get exclusive rights to the digital content that agencies write for me?", "_faq_3_title": "field_5f3a55d972088", "faq_3_description": "Simply put, yes. Once the content is published on your website, your company retains all rights. This means you can post it wherever you like at no extra cost.", "_faq_3_description": "field_5f3a55dd72089", "faq_4_title": "Why not just hire a content writing bot?", "_faq_4_title": "field_5f3a55d972088", "faq_4_description": "\r\n\r\nTechnology is certainly advancing and while content writing bots are far better than they used to be, the articles they produce still need a great deal of editing.\r\n\r\n\r\n\r\n\r\n\r\nOn top of this, the content lacks the high quality of human produced articles, namely due to a lack of credible resources and poorly thought-out content.\r\n\r\n\r\n\r\n\r\n\r\nYou'll also find that most of the content within these articles is a patchwork quilt of phrases from other articles online — so it's basically all plagiarized.\r\n\r\n", "_faq_4_description": "field_5f3a55dd72089", "faq": 5, "_faq": "field_5f3a55d372087", "head_code": "", "_head_code": "field_5f4d890d62386" }, "align": "", "mode": "edit" } /–>
\r\n
\r\n\r\nTechnology is certainly advancing and while content writing bots are far better than they used to be, the articles they produce still need a great deal of editing.\r\n\r\n\r\n\r\n
\r\n\r\n(Image Source<\/a>)\r\n\r\n\r\n\r\n
\r\n\r\nObviously privacy is a big concern, but be suspicious of agencies without a single testimonial, case study, or review to their name. These agencies simply can't prove the quality of their content marketing services.\r\n\r\n",
"_faq_2_description": "field_5f3a55dd72089",
"faq_3_title": "Do I get exclusive rights to the digital content that agencies write for me?",
"_faq_3_title": "field_5f3a55d972088",
"faq_3_description": "Simply put, yes. Once the content is published on your website, your company retains all rights. This means you can post it wherever you like at no extra cost.",
"_faq_3_description": "field_5f3a55dd72089",
"faq_4_title": "Why not just hire a content writing bot?",
"_faq_4_title": "field_5f3a55d972088",
"faq_4_description": "
\r\n\r\nTechnology is certainly advancing and while content writing bots are far better than they used to be, the articles they produce still need a great deal of editing.\r\n\r\n\r\n\r\n\r\n\r\nOn top of this, the content lacks the high quality of human produced articles, namely due to a lack of credible resources and poorly thought-out content.\r\n\r\n\r\n\r\n\r\n\r\nYou'll also find that most of the content within these articles is a patchwork quilt of phrases from other articles online — so it's basically all plagiarized.\r\n\r\n", "_faq_4_description": "field_5f3a55dd72089", "faq": 5, "_faq": "field_5f3a55d372087", "head_code": "", "_head_code": "field_5f4d890d62386" }, "align": "", "mode": "edit" } /–>
\r\n\r\n(Image Source<\/a>)\r\n\r\n\r\n\r\n
\r\n\r\nObviously privacy is a big concern, but be suspicious of agencies without a single testimonial, case study, or review to their name. These agencies simply can't prove the quality of their content marketing services.\r\n\r\n", "_faq_2_description": "field_5f3a55dd72089", "faq_3_title": "Do I get exclusive rights to the digital content that agencies write for me?", "_faq_3_title": "field_5f3a55d972088", "faq_3_description": "Simply put, yes. Once the content is published on your website, your company retains all rights. This means you can post it wherever you like at no extra cost.", "_faq_3_description": "field_5f3a55dd72089", "faq_4_title": "Why not just hire a content writing bot?", "_faq_4_title": "field_5f3a55d972088", "faq_4_description": "\r\n\r\nTechnology is certainly advancing and while content writing bots are far better than they used to be, the articles they produce still need a great deal of editing.\r\n\r\n\r\n\r\n\r\n\r\nOn top of this, the content lacks the high quality of human produced articles, namely due to a lack of credible resources and poorly thought-out content.\r\n\r\n\r\n\r\n\r\n\r\nYou'll also find that most of the content within these articles is a patchwork quilt of phrases from other articles online — so it's basically all plagiarized.\r\n\r\n", "_faq_4_description": "field_5f3a55dd72089", "faq": 5, "_faq": "field_5f3a55d372087", "head_code": "", "_head_code": "field_5f4d890d62386" }, "align": "", "mode": "edit" } /–>
\r\n
\r\n\r\nTechnology is certainly advancing and while content writing bots are far better than they used to be, the articles they produce still need a great deal of editing.\r\n\r\n\r\n\r\n
\r\n\r\nOn top of this, the content lacks the high quality of human produced articles, namely due to a lack of credible resources and poorly thought-out content.\r\n\r\n\r\n\r\n
\r\n\r\nObviously privacy is a big concern, but be suspicious of agencies without a single testimonial, case study, or review to their name. These agencies simply can't prove the quality of their content marketing services.\r\n\r\n",
"_faq_2_description": "field_5f3a55dd72089",
"faq_3_title": "Do I get exclusive rights to the digital content that agencies write for me?",
"_faq_3_title": "field_5f3a55d972088",
"faq_3_description": "Simply put, yes. Once the content is published on your website, your company retains all rights. This means you can post it wherever you like at no extra cost.",
"_faq_3_description": "field_5f3a55dd72089",
"faq_4_title": "Why not just hire a content writing bot?",
"_faq_4_title": "field_5f3a55d972088",
"faq_4_description": "
\r\n\r\n(Image Source<\/a>)\r\n\r\n\r\n\r\n
\r\n\r\n(Image Source<\/a>)\r\n\r\n\r\n\r\n
\r\n\r\nObviously privacy is a big concern, but be suspicious of agencies without a single testimonial, case study, or review to their name. These agencies simply can't prove the quality of their content marketing services.\r\n\r\n", "_faq_2_description": "field_5f3a55dd72089", "faq_3_title": "Do I get exclusive rights to the digital content that agencies write for me?", "_faq_3_title": "field_5f3a55d972088", "faq_3_description": "Simply put, yes. Once the content is published on your website, your company retains all rights. This means you can post it wherever you like at no extra cost.", "_faq_3_description": "field_5f3a55dd72089", "faq_4_title": "Why not just hire a content writing bot?", "_faq_4_title": "field_5f3a55d972088", "faq_4_description": "\r\n\r\nTechnology is certainly advancing and while content writing bots are far better than they used to be, the articles they produce still need a great deal of editing.\r\n\r\n\r\n\r\n\r\n\r\nOn top of this, the content lacks the high quality of human produced articles, namely due to a lack of credible resources and poorly thought-out content.\r\n\r\n\r\n\r\n\r\n\r\nYou'll also find that most of the content within these articles is a patchwork quilt of phrases from other articles online — so it's basically all plagiarized.\r\n\r\n", "_faq_4_description": "field_5f3a55dd72089", "faq": 5, "_faq": "field_5f3a55d372087", "head_code": "", "_head_code": "field_5f4d890d62386" }, "align": "", "mode": "edit" } /–>
\r\n\r\nTechnology is certainly advancing and while content writing bots are far better than they used to be, the articles they produce still need a great deal of editing.\r\n\r\n\r\n\r\n
\r\n\r\n(Image Source<\/a>)\r\n\r\n\r\n\r\n
\r\n\r\nObviously privacy is a big concern, but be suspicious of agencies without a single testimonial, case study, or review to their name. These agencies simply can't prove the quality of their content marketing services.\r\n\r\n",
"_faq_2_description": "field_5f3a55dd72089",
"faq_3_title": "Do I get exclusive rights to the digital content that agencies write for me?",
"_faq_3_title": "field_5f3a55d972088",
"faq_3_description": "Simply put, yes. Once the content is published on your website, your company retains all rights. This means you can post it wherever you like at no extra cost.",
"_faq_3_description": "field_5f3a55dd72089",
"faq_4_title": "Why not just hire a content writing bot?",
"_faq_4_title": "field_5f3a55d972088",
"faq_4_description": "
\r\n\r\nTechnology is certainly advancing and while content writing bots are far better than they used to be, the articles they produce still need a great deal of editing.\r\n\r\n\r\n\r\n\r\n\r\nOn top of this, the content lacks the high quality of human produced articles, namely due to a lack of credible resources and poorly thought-out content.\r\n\r\n\r\n\r\n\r\n\r\nYou'll also find that most of the content within these articles is a patchwork quilt of phrases from other articles online — so it's basically all plagiarized.\r\n\r\n", "_faq_4_description": "field_5f3a55dd72089", "faq": 5, "_faq": "field_5f3a55d372087", "head_code": "", "_head_code": "field_5f4d890d62386" }, "align": "", "mode": "edit" } /–>
\r\n\r\n(Image Source<\/a>)\r\n\r\n\r\n\r\n
\r\n\r\nObviously privacy is a big concern, but be suspicious of agencies without a single testimonial, case study, or review to their name. These agencies simply can't prove the quality of their content marketing services.\r\n\r\n", "_faq_2_description": "field_5f3a55dd72089", "faq_3_title": "Do I get exclusive rights to the digital content that agencies write for me?", "_faq_3_title": "field_5f3a55d972088", "faq_3_description": "Simply put, yes. Once the content is published on your website, your company retains all rights. This means you can post it wherever you like at no extra cost.", "_faq_3_description": "field_5f3a55dd72089", "faq_4_title": "Why not just hire a content writing bot?", "_faq_4_title": "field_5f3a55d972088", "faq_4_description": "\r\n\r\nTechnology is certainly advancing and while content writing bots are far better than they used to be, the articles they produce still need a great deal of editing.\r\n\r\n\r\n\r\n\r\n\r\nOn top of this, the content lacks the high quality of human produced articles, namely due to a lack of credible resources and poorly thought-out content.\r\n\r\n\r\n\r\n\r\n\r\nYou'll also find that most of the content within these articles is a patchwork quilt of phrases from other articles online — so it's basically all plagiarized.\r\n\r\n", "_faq_4_description": "field_5f3a55dd72089", "faq": 5, "_faq": "field_5f3a55d372087", "head_code": "", "_head_code": "field_5f4d890d62386" }, "align": "", "mode": "edit" } /–>
\r\n
\r\n\r\nTechnology is certainly advancing and while content writing bots are far better than they used to be, the articles they produce still need a great deal of editing.\r\n\r\n\r\n\r\n
\r\n\r\nOn top of this, the content lacks the high quality of human produced articles, namely due to a lack of credible resources and poorly thought-out content.\r\n\r\n\r\n\r\n
\r\n\r\nObviously privacy is a big concern, but be suspicious of agencies without a single testimonial, case study, or review to their name. These agencies simply can't prove the quality of their content marketing services.\r\n\r\n",
"_faq_2_description": "field_5f3a55dd72089",
"faq_3_title": "Do I get exclusive rights to the digital content that agencies write for me?",
"_faq_3_title": "field_5f3a55d972088",
"faq_3_description": "Simply put, yes. Once the content is published on your website, your company retains all rights. This means you can post it wherever you like at no extra cost.",
"_faq_3_description": "field_5f3a55dd72089",
"faq_4_title": "Why not just hire a content writing bot?",
"_faq_4_title": "field_5f3a55d972088",
"faq_4_description": "
\r\n\r\nTechnology is certainly advancing and while content writing bots are far better than they used to be, the articles they produce still need a great deal of editing.\r\n\r\n\r\n\r\n
\r\n\r\n(Image Source<\/a>)\r\n\r\n\r\n\r\n
\r\n\r\nObviously privacy is a big concern, but be suspicious of agencies without a single testimonial, case study, or review to their name. These agencies simply can't prove the quality of their content marketing services.\r\n\r\n", "_faq_2_description": "field_5f3a55dd72089", "faq_3_title": "Do I get exclusive rights to the digital content that agencies write for me?", "_faq_3_title": "field_5f3a55d972088", "faq_3_description": "Simply put, yes. Once the content is published on your website, your company retains all rights. This means you can post it wherever you like at no extra cost.", "_faq_3_description": "field_5f3a55dd72089", "faq_4_title": "Why not just hire a content writing bot?", "_faq_4_title": "field_5f3a55d972088", "faq_4_description": "\r\n\r\nTechnology is certainly advancing and while content writing bots are far better than they used to be, the articles they produce still need a great deal of editing.\r\n\r\n\r\n\r\n\r\n\r\nOn top of this, the content lacks the high quality of human produced articles, namely due to a lack of credible resources and poorly thought-out content.\r\n\r\n\r\n\r\n\r\n\r\nYou'll also find that most of the content within these articles is a patchwork quilt of phrases from other articles online — so it's basically all plagiarized.\r\n\r\n", "_faq_4_description": "field_5f3a55dd72089", "faq": 5, "_faq": "field_5f3a55d372087", "head_code": "", "_head_code": "field_5f4d890d62386" }, "align": "", "mode": "edit" } /–>
\r\n
\r\n\r\nTechnology is certainly advancing and while content writing bots are far better than they used to be, the articles they produce still need a great deal of editing.\r\n\r\n\r\n\r\n
\r\n\r\n(Image Source<\/a>)\r\n\r\n\r\n\r\n
\r\n\r\nObviously privacy is a big concern, but be suspicious of agencies without a single testimonial, case study, or review to their name. These agencies simply can't prove the quality of their content marketing services.\r\n\r\n",
"_faq_2_description": "field_5f3a55dd72089",
"faq_3_title": "Do I get exclusive rights to the digital content that agencies write for me?",
"_faq_3_title": "field_5f3a55d972088",
"faq_3_description": "Simply put, yes. Once the content is published on your website, your company retains all rights. This means you can post it wherever you like at no extra cost.",
"_faq_3_description": "field_5f3a55dd72089",
"faq_4_title": "Why not just hire a content writing bot?",
"_faq_4_title": "field_5f3a55d972088",
"faq_4_description": "
\r\n\r\nTechnology is certainly advancing and while content writing bots are far better than they used to be, the articles they produce still need a great deal of editing.\r\n\r\n\r\n\r\n\r\n\r\nOn top of this, the content lacks the high quality of human produced articles, namely due to a lack of credible resources and poorly thought-out content.\r\n\r\n\r\n\r\n\r\n\r\nYou'll also find that most of the content within these articles is a patchwork quilt of phrases from other articles online — so it's basically all plagiarized.\r\n\r\n", "_faq_4_description": "field_5f3a55dd72089", "faq": 5, "_faq": "field_5f3a55d372087", "head_code": "", "_head_code": "field_5f4d890d62386" }, "align": "", "mode": "edit" } /–>
\r\n\r\n(Image Source<\/a>)\r\n\r\n\r\n\r\n
\r\n\r\nObviously privacy is a big concern, but be suspicious of agencies without a single testimonial, case study, or review to their name. These agencies simply can't prove the quality of their content marketing services.\r\n\r\n", "_faq_2_description": "field_5f3a55dd72089", "faq_3_title": "Do I get exclusive rights to the digital content that agencies write for me?", "_faq_3_title": "field_5f3a55d972088", "faq_3_description": "Simply put, yes. Once the content is published on your website, your company retains all rights. This means you can post it wherever you like at no extra cost.", "_faq_3_description": "field_5f3a55dd72089", "faq_4_title": "Why not just hire a content writing bot?", "_faq_4_title": "field_5f3a55d972088", "faq_4_description": "\r\n\r\nTechnology is certainly advancing and while content writing bots are far better than they used to be, the articles they produce still need a great deal of editing.\r\n\r\n\r\n\r\n\r\n\r\nOn top of this, the content lacks the high quality of human produced articles, namely due to a lack of credible resources and poorly thought-out content.\r\n\r\n\r\n\r\n\r\n\r\nYou'll also find that most of the content within these articles is a patchwork quilt of phrases from other articles online — so it's basically all plagiarized.\r\n\r\n", "_faq_4_description": "field_5f3a55dd72089", "faq": 5, "_faq": "field_5f3a55d372087", "head_code": "", "_head_code": "field_5f4d890d62386" }, "align": "", "mode": "edit" } /–>
\r\n
\r\n\r\nTechnology is certainly advancing and while content writing bots are far better than they used to be, the articles they produce still need a great deal of editing.\r\n\r\n\r\n\r\n
\r\n\r\nOn top of this, the content lacks the high quality of human produced articles, namely due to a lack of credible resources and poorly thought-out content.\r\n\r\n\r\n\r\n
\r\n\r\nObviously privacy is a big concern, but be suspicious of agencies without a single testimonial, case study, or review to their name. These agencies simply can't prove the quality of their content marketing services.\r\n\r\n",
"_faq_2_description": "field_5f3a55dd72089",
"faq_3_title": "Do I get exclusive rights to the digital content that agencies write for me?",
"_faq_3_title": "field_5f3a55d972088",
"faq_3_description": "Simply put, yes. Once the content is published on your website, your company retains all rights. This means you can post it wherever you like at no extra cost.",
"_faq_3_description": "field_5f3a55dd72089",
"faq_4_title": "Why not just hire a content writing bot?",
"_faq_4_title": "field_5f3a55d972088",
"faq_4_description": "
\r\n\r\n(Image Source<\/a>)\r\n\r\n\r\n\r\n