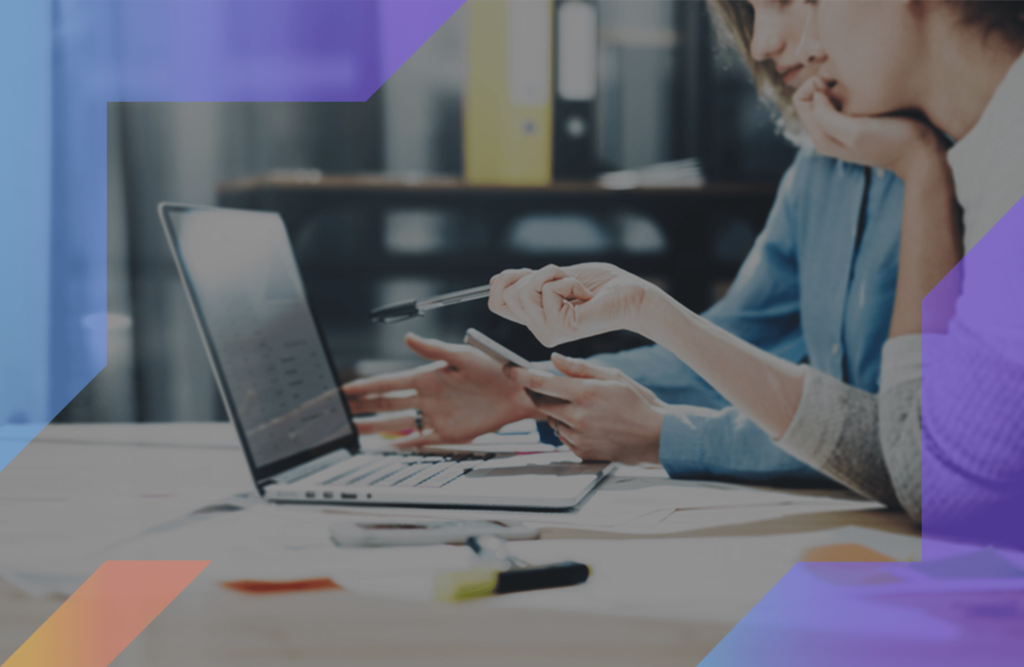 Performance-Driven SEO Content Writing Services That Make a Difference
The internet has changed how consumers do business, and how businesses market their products and services.
You no longer need to convince uninterested prospects with lengthy print advertising campaigns.
Prospective customers go out of their way to search for inspiration and information, with 87% of all customer journeys now starting online.
And what's the best way to reach them? Through Google.
In 2019, 68.7% of all online experiences started with a search engine, and only 15% of those clicks go to ads.
To capitalize on the new economy, you must use SEO to conquer the front page, since the top three organic results get 75.1% of all clicks.
Without in-house expertise, this might seem overwhelming, or even impossible. But you don't have to go it alone.
Why SEO Content is More Important Than Ever
It's not just on social media, the competition for internet users' attention is harder than ever before.
There are over 500 million blogs on the internet, and over 2 million new blog posts every day just from WordPress sites.
And if you Google any remotely commercial keyword, you'll likely find pages upon pages of relevant competing companies.
For example, "San Diego electrician." Even on the 6th page, SMBs are duking it out..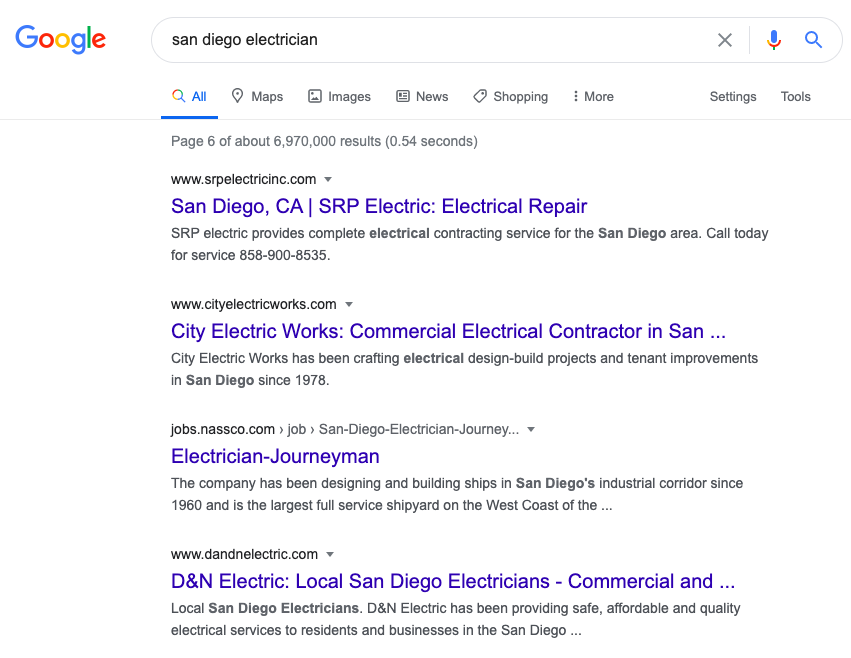 If you're marketing SaaS services, eCommerce products, or anything else to a global market, expect hundreds of pages of competing, relevant results.
And the vast majority of consumers never look past page one, or even the top three results.
As a result, over 90% of websites never see a single click from Google Search.

Companies that neglect SEO are just pumping out blog posts, articles, and other website content into the void, to be seen by no one.
To build a foundation of organic traffic, you need articles crafted by a talented SEO content writer — a specialist.
In-House vs. Third Party SEO Content Production
What's the big deal with SEO content in 2023? Why isn't it a good idea to just let your customer service rep churn some out during downtime?
It's not just that there's more content than ever before. The content at the top, which actually gets organic traffic, is longer and higher quality as well.
So obviously, you need a professional writer to get the job done.
But hiring just one full-time SEO writer or content marketer is expensive, and finding the right talent is a nightmare.
Often, relying on a content writing agency is a better choice.
Pros and Cons of a Third-Party SEO Content Writing Service
Let's examine the pros and cons of working with an agency, instead of trying to handle it all internally.
You get access to a whole team of experts, but can they relate to your customers and create a consistent voice?
| | |
| --- | --- |
| SEO Content Agency Pros | SEO Content Agency Cons |
| Access to SEO experts and experienced writers, editors, designers in one package | Not directly involved with the product or customers |
| Experience with crafting SEO and content strategy to gain long-term results | In-house fact-checking or adjusting voice can slow down the creative process |
| Can consistently produce a high volume of content | Multiple writers and designers can lead to an inconsistent company voice |
If you decide to make a go of handling it all in-house, that approach has very clear benefits, but also a lot of downsides as well.
Pros and Cons of In-House SEO Content Production
An in-house team is much more familiar with the customer and target market, sure.
But hiring full-time writers and designers is a big cost, and trying to outsource and mix and match can lead to underwhelming results.
| | |
| --- | --- |
| In-House Team Pros | In-House Team Cons |
| Easier to write in a consistent voice | Finding and hiring all the right talent is a long, slow, and expensive process |
| Understand customer pain points, desires, and favorite product features | Can't produce a high volume of quality, long-form content |
| Communication and collaboration is easier with everyone in one office | Most teams still have to outsource elements like writing, copy editing, design, or SEO to unreliable contractors |
What Makes Codeless Different?
With decades of combined experience working in agencies and in-house teams, we understand both sides of the fence.
That's why we've created an agency experience where we work as an extension of your in-house team.
With better communication, clear style guides and goals, and dedicated account managers, Codeless helps you create high-quality content at scale — without any of the downsides of a typical third-party service.
What to Look For in SEO Content Writing Services
Wondering how you should evaluate and compare different agencies and writers?
If they don't have the following must-haves, you risk wasting your time and money.
SEO Research, Strategy and Content Planning
If an SEO writer or agency wants you to do all the research, strategizing, and planning, you should keep looking.
A run-of-the-mill article writing service won't help you get the results you're after.
At Codeless, expert SEOs and content marketers collaborate closely to plan a logical content roadmap for your company.
Finding the right topic idea targeting the right keyword is half the battle.
A Track Record of Success (Does Their Content Rank?)
Have they helped companies in similarly competitive niches or industries create top-ranking content in the past?
If they don't openly share case studies, or provide them when asked, hiring them to create SEO content for your company is a gamble.
Codeless has a long track record of success in a variety of industries, from fintech to digital marketing, SaaS, personal finance, and more.
Our website ranks for competitive terms like "SaaS marketing", and we've also helped numerous clients get even better results.
See our case studies for more real examples.
Authoritative Content and Writer Expertise
Sure SEO expertise is important, but alone, it's not enough.
If you hire generic SEO writers, you'll struggle to get any momentum. The reason is simple. To earn backlinks and potential customers' trust, you need to create quality content.
The web content itself must be useful and authoritative, with unique insights only a writer with vertical expertise could provide.
Many agencies and content mills treat their writers as one big pile of talent.
That's not the case at Codeless. We divide and assign writers based on expertise, education, and hands-on work experience.
If we don't have any writers that are a good match, we'll use our extensive network to find and source expert writers quickly. We can even assemble a bespoke team for your company.
This provides the foundation for a successful and sustainable SEO and content marketing campaign.
Scalable, Reliable Workflows
Content marketing is a complicated process where a lot of things can go wrong or slow an article down.
That's why we implement multiple in-house and client reviews throughout the outlining and drafting process.
We've created a reliable, scalable content marketing workflow that goes beyond SEO writing.
It helps us adjust to your needs, whether you need two, five, or even 30 high-quality long-form articles every single month.
SEO Content Writing Services FAQs
What makes SEO writing different?
With SEO writing, you're essentially writing for two audiences, the users who read your content, and the search engine crawlers that will find and index it.
You have to consider both audiences when writing and formatting your post. The website content must be easily readable and useful, and include related semantic keywords in subheadings and text.
What is SEO copywriting technique?
SEO copywriting is essentially copywriting focused on driving organic traffic through ranking with SEO.
For example, writing click-worthy page titles to increase the click-through rate(CTR) in Google results, or crafting interesting openings to grab user attention and extend dwell time.
What software tools does an SEO content writer use?
A professional SEO writer will rely on a number of smart tools to help them consistently produce results.
For example:
General SEO tools like Ahrefs to do keyword research and plan topics.
An AI-based SEO content analyzer like Frase that checks for semantic keyword usage and saturation.
How soon can you expect to see results from SEO content writing?
It typically takes between six to nine months for an optimized article to start ranking on the first page of Google for competitive keywords.
Once your first few articles start ranking, it will be easier to get backlinks, and your domain authority and overall rankings will improve over time.
Is SEO worth it for small businesses?
Paying now for results that show up over half a year later may not sound like a great deal. But  organic traffic is different from paid advertising in a very important way — it compounds.
Every time you add a new, high-quality article, your entire domain increases in authority, and over time you can grow to dominate a market, through SEO alone.
Get Started With an Experienced Content Growth Agency
Codeless's SEO content writing services produce first-rate, SEO-optimized content that attracts backlinks and reaches the first page of Google results.
Our SEO professionals and content writers are an extension of your in-house marketing team and help you get more traffic, become an authority, and sell more products.