Putting out engaging content is a solid way to attract customers.
It's no surprise that 91% of B2B marketers use content marketing to connect with their audience.
But how does content tie in with your digital marketing strategy? Which content platforms do you use? How do you create quality content?
The overwhelming number of resources available online only adds to the confusion.
This is where a content marketing course can help. It can educate you on best practices and tactics to develop a successful content marketing campaign.
Whether you are a digital business owner, social media marketing manager, or content creator, we've curated the best content courses available by price, duration, and course content.
But first, why take an online content marketing course?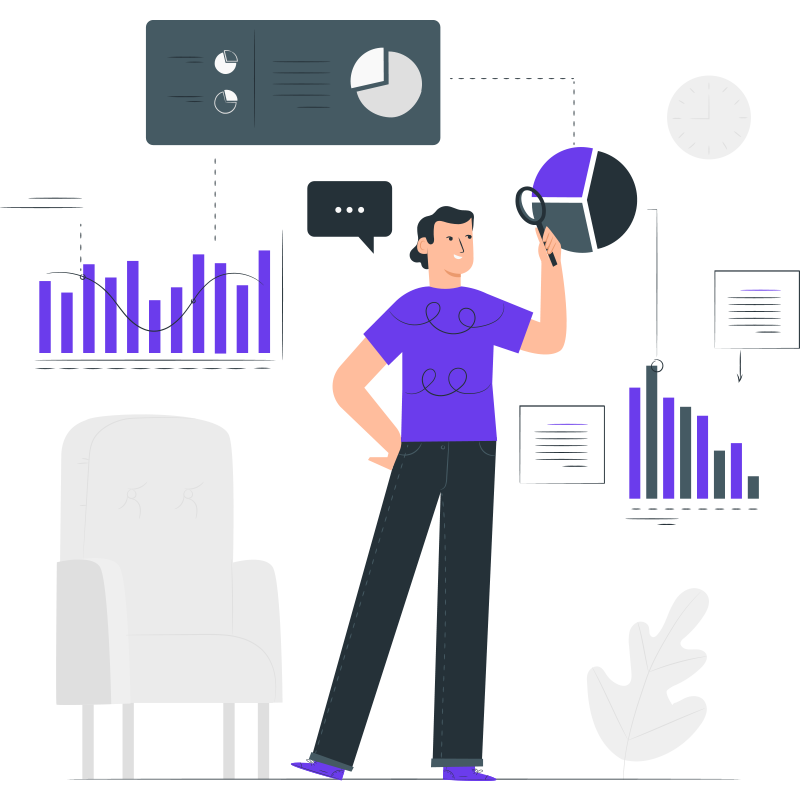 Get long-term ROI.
We help you grow through expertise, strategy, and the best content on the web.
What Skills Can You Get From a Content Marketing Course?
Since good content underpins your digital marketing strategy, knowing how to create, promote, and track the performance of your content is crucial.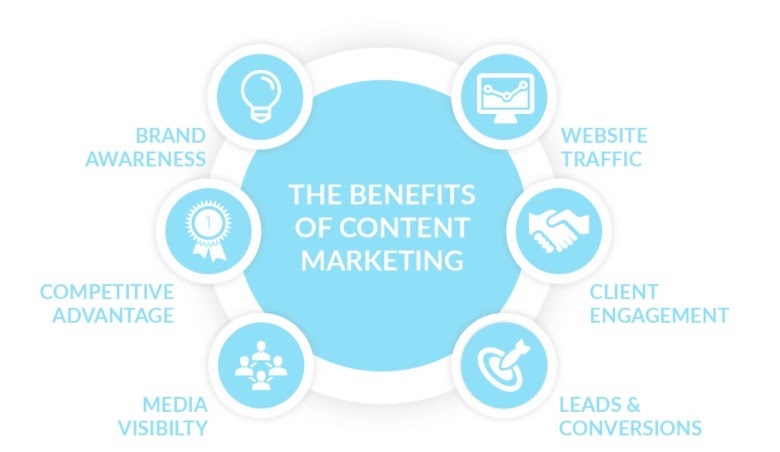 Enrolling in a content marketing course can help you:
Understand your target audience and tailor your message to suit them.
Learn how to create and execute an effective content strategy.
Create or produce high-quality content across blogs, videos or social media.
Track and analyze the performance of your content campaigns via marketing analytics.
Introduce you to new innovations and trends in content marketing that can be used to optimize your content.
Content Marketing Courses for Beginners
From SEO and email marketing, to PPC and social media, these free online courses will enhance your understanding across multiple aspects of content marketing.
You can use many of these tactics and techniques to implement a strategy to grow your brand.
1. Promote a Business with Content by Google
Google's digital experts will take you through the basics of how to promote a business on their SERP — from getting to know your audience to web optimization strategies to improve your performance.
The engaging video tutorial lessons include easy-to-implement tips at the end of each video.
Duration: 3 hours
Price: Free
Course content:
Content marketing — get to know your customer, choose the right format, write for an online audience, and measure success.
Video marketing — create video content, share and promote video, advertise on video sites, and analyze the results.
Social media marketing — how to find the right platform for your business, create content, and measure performance.
2. Content Strategy Course by HubSpot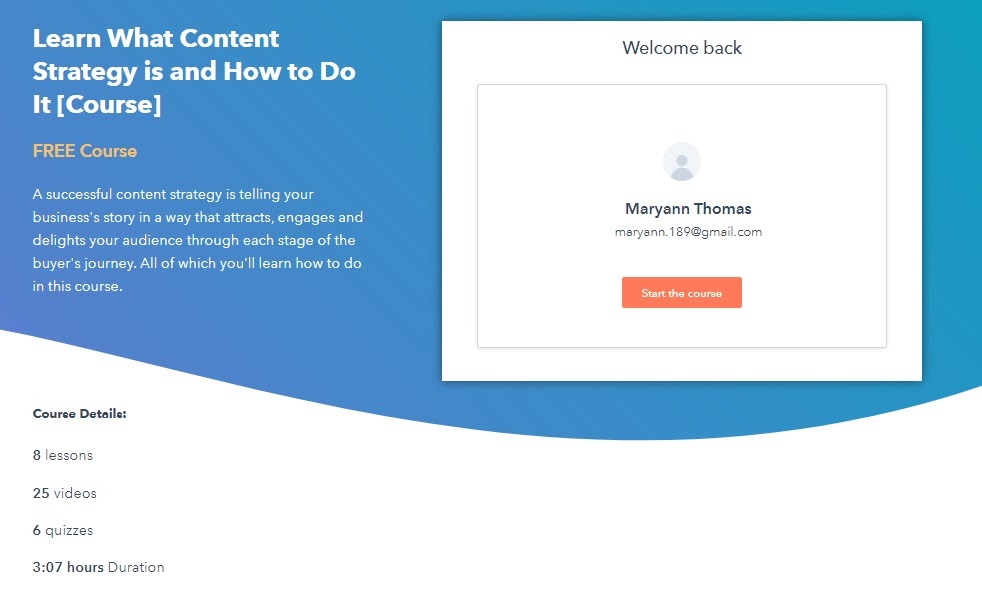 You might find it overwhelming to create a content strategy from scratch.
Luckily, HubSpot's Content Strategy course neatly breaks down everything for those who want to draw up a content strategy for their business.
From the basics of storytelling to how you can create powerful content that shows results — this course is for beginners who want to learn the fundamentals before they get started on a content plan.
Duration: 3 hours
Fee: Free
Course content:
How to plan a long-term content strategy
How to create topic clusters and pillar pages
How to promote content effectively
Measuring and analyzing content performance
Developing a growth marketing mentality
3. Content Marketing Course by Reliablesoft
This course aims at teaching marketers to increase brand awareness, and improve SEO performance and digital engagement via high quality content.
There are also lessons on how to identify your audience, what kind of content to create, and how to measure campaign effectiveness.
The course has seven lessons featuring video tutorials and 130 pages of material with annotated screenshots.
This course comes within the Digital Marketing Course Bundle, which was created by qualified digital experts. Buying it means you gain access to other digital marketing courses including keyword research, email marketing, and a complete SEO course.
Duration: Up to 5 hours
Fee: $39 (value)
Course contents:
What is content marketing?
What is a content marketing strategy
Content and topic ideas
Pillar pages and topic clusters
Content writing and promotion
Content marketing tools
Content marketing checklist
4. Beginners' Guide to Content Marketing by Moz
If you're looking for a reliable guide on all aspects of content marketing, Moz has a handy collection of content that unpacks it all for you.
The holistic guide shines a light on every nook and cranny of content marketing.
There's advice on how to come up with winning content ideas to strategies on how to scale up with your content.
Duration: 2 hours
Fee: Free
Course content:
Is content marketing right for my business?
Content strategy
Content and the marketing funnel
Building a framework and a content team
Content ideation, creation and promotion
Analysis and reporting
Maintenance and growth
Quick Sprout University, founded by the industry leader Neil Patel, is a one-stop knowledge hub for all things related to digital marketing.
The websites feature an extensive library of video resources and in-depth guides.
It takes you through every aspect of content marketing from strategy and creation to analytics and SEO.
Duration: Covers over 10 hours of reading material, guides and articles
Fee: Free
Course content:
Some topics covered include:
Building audience connections via content
A guide to creating appealing visual content
Ways to find powerful content ideas
How to effectively curate content
Content marketing tips and lessons
6. Mastering Your Content Strategy for SEO on Udemy
This course teaches content marketers how they can create a successful inbound marketing strategy that can attract the ideal customer.
There are downloadable templates and real examples of content strategies that can help you use inbound marketing to attract the ideal customer.
It's taught by digital marketing professional Gary Shouldis, who specializes in helping small businesses ramp up their online marketing.
Duration: 6 hours of video lessons
Fee: Free
Course content:
How to develop a high ranking SEO content strategy
How to research keywords and topics
How to optimize text, video and images
How to create a content marketing funnel
How to optimize content for SEO
How to promote content and measure success
7. How to Craft Contagious Content by UPenn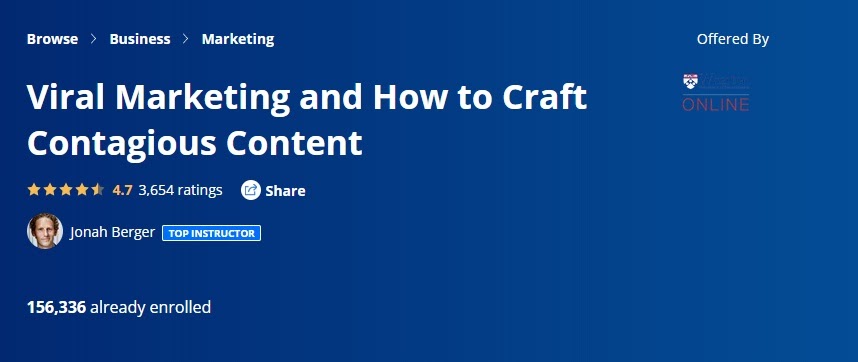 This free online course by the University of Pennsylvania explores key ideas behind viral marketing. Professor and author Jonah Berger shares insights on how to create contagious content and build a successful content campaign.
Duration: 4 weeks
Fee: Free
Course content:
What makes ideas sticky?
How social influence shapes behavior
The power of word of mouth
The power of social networks
This content strategy course for digital marketers teaches learners how they can engage audiences with the right message to enhance their interest.
Marketers will also learn actionable tactics and tips to grow an audience and expand content reach.
At the end of the course, you will understand content management, how to engage audiences through storytelling, and how to maximize content impact.
Duration: 4 months
Fee: Free
Course content:
Engaging audiences
Managing content
Expanding content reach
Ensuring content impact
Content case study guide
9. Introduction to Social Media Strategy Buffer
This short course from Buffer offers an overview of how a content marketer can use social content to connect with their audience, increase web exposure, and build a business.
From finding a voice and choosing the right content platform to paid advertising strategies, this course is packed with tips to help you along your social media marketing journey.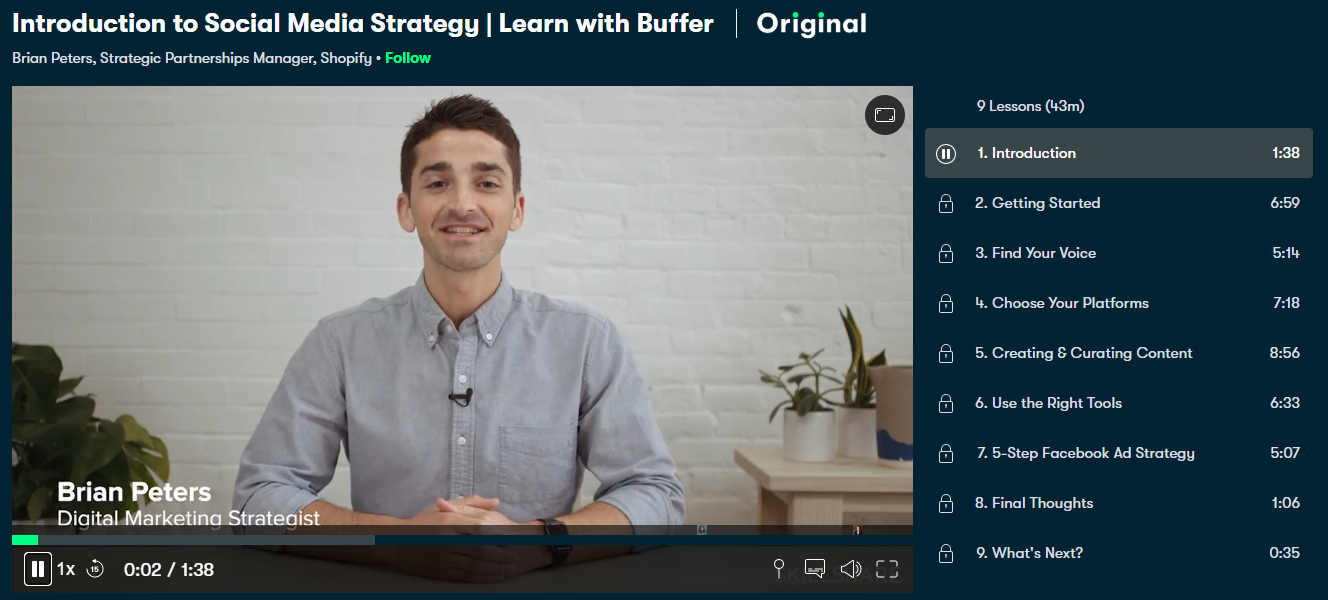 Duration: 45 minutes
Fee: Free
Course content:
Find your voice
Choose the right platform
Create and curate social content
Tools to get you started
How to build a 5-step Facebook ad strategy :14
10. Create a Social Media Marketing Campaign by Leeds University
The course covers the key features of a social marketing campaign, different social media platforms, and how companies use social media to spread their message.
At the end of the course, you will be able to craft a social strategy, create sample content, and evaluate metrics. You'll also be able to identify your target audience and know how to reach them via social platforms.
Duration: 2 weeks
Price: Free
Course Contents:
Components of a social media campaign
Strengths and drawbacks of social media platforms
Create and measure a social campaign
Difference between paid and organic social media marketing
11. Social Media Quickstarter from Constant Contact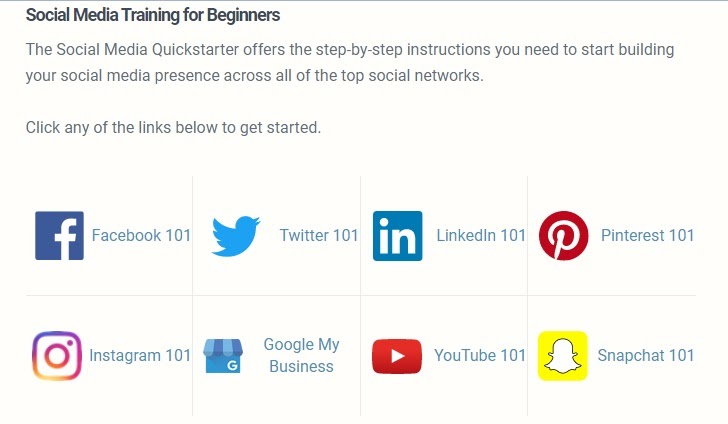 Constant Contact's online content resource offers a deep-dive into top social media channels with step-by-step instructions on how you can use social media to attract new customers.
Every marketing professional will find it useful to visit these pages to learn more about how they can hone their social media marketing skills.
Duration: Up to 6 hours
Price: Free
Course Contents:
Facebook
How to create and promote content
How to use Facebook to grow your email list
Advertising ideas
Twitter
How to effectively use Twitter
Twitter for brand awareness, customer service and sales
How to track progress with Analytics
LinkedIn
How to get started
Building authority on LinkedIn
Common LinkedIn mistakes
YouTube
How to upload and promote video
Common video mistakes
YouTube analytics
This course available on Udemy, covers a wide variety of topics including social media and content marketing planning, how to write and promote a blog post, email marketing, search engine optimization for local businesses and audio and video production.
The detailed tactics and strategies covered will help you deepen your knowledge and help you use social content to increase website traffic and grow the business.
Learners will also get free access to a private Facebook group where they connect with other marketers and get ongoing advice, support and tips.
Duration: 20 hours of video content
Price: $170
Course content:
The following are just some of the topics covered:
Understanding social media marketing
Understanding the buyer journey
Social media marketing and SEO
SEO fundamentals — keyword optimization, backlinks and reviews
Community-based marketing
Building a social media plan
Content writing for blogs
YouTube marketing — introduction to vlogging
Marketing on Quora, Pinterest and Instagram
If you are a content writer who would like to know the secret behind creating top notch marketing copy, then this course is for you.
It gives writers an understanding on how they can write strong copy that communicates the message to their target audience.
The course offers beginners an understanding of the fundamentals of writing for the web and takes them through essential skills including how to write high-converting web copy like headlines, subheads, and CTA buttons .
Duration: 1 hour
Price: Free
Course contents:
What is web copywriting
Content writing vs copywriting
How to understand your audience and speak their language
Tips for writing for the web
How to write headlines and subheads to command attention
How to write a great testimonial

14. Conversion Copywriting 101 by Copyhackers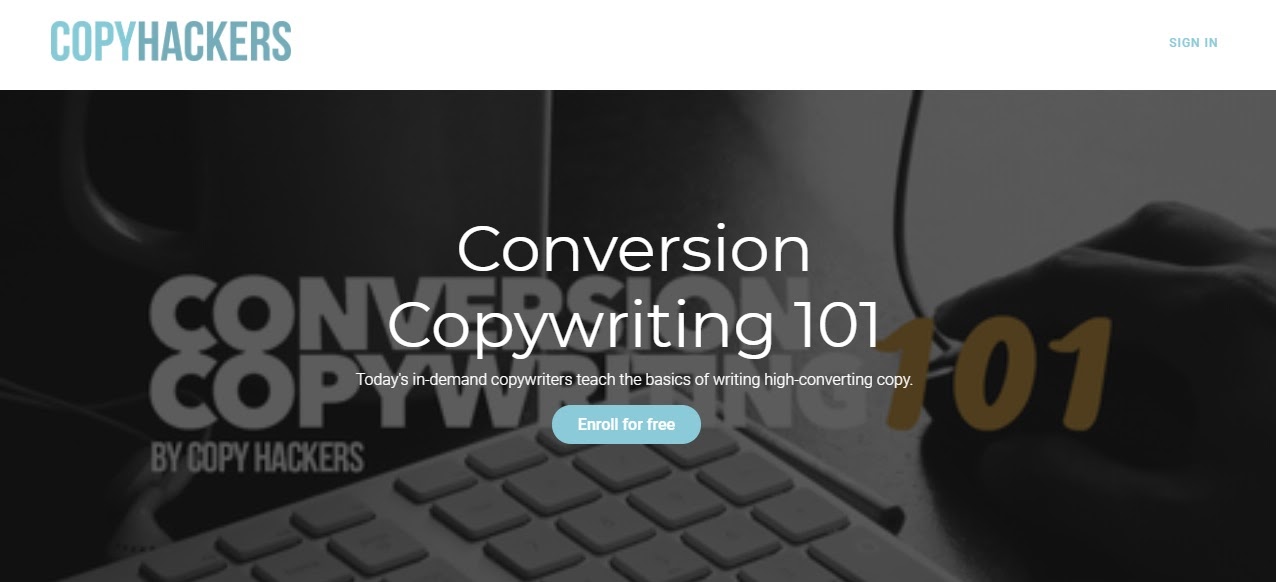 Blogs remain the most common content format embraced by 86% of digital marketers. So it goes without saying that the ability to write valuable content is must-have skill for any marketer.
This course from Copyhackers teaches the basics of writing high-converting copy.
It is for anyone who is looking to make a real impact with their online content creation.
Duration: Up to 10 hours
Price: Enroll for free
Course contents
Conversion copywriting
How to write messages that stick
Copywriting for different stages of awareness
How to format web copy
How to write headlines that get clicks
How to write AdWords ads
15. Online Video Content Strategy by LinkedIn
There's a fair amount of work that goes into planning a successful video content strategy for your business.
This online course, conducted by media strategist Roberto Blake covers the basics: planning, production, delivery and optimization
From identifying your target audience, to best practices for video posts and production, you will understand how you can use the power of the visual medium to increase website traffic and drive sales.
Duration: 2 hours
Price: Free
Course Content:
Understanding online video platforms
Technical best practices
Understanding your audience
The formula for awesome videos
Production and post
Optimization and next steps
16. CopyBlogger's Content Writing Masterclass
This content writing course can help content creators zero in on a strong message for their audience and use the power of language to attract new customers.
The course is taught by Stefanie Flaxman, Chief Editor at Copyblogger, who will offer detailed, actionable techniques that can turn any audience into engaged prospects.
Also included are helpful exercises and worksheets, and a recorded call with Stefanie where she answers audience questions.
Duration: Under 4 hours
Price: $149
Course contents:
The art of drafting content
Better writing… Faster
Edit and proofread like a pro
How to fix dull writing
Ask Stefanie anything
Conclusion
You might be a business owner looking to enhance your conceptual understanding of content marketing.
Or a digital marketer who wants to know how you can specifically use strategic content to increase your brand's reach.
Whatever your goal is, the above courses are an excellent starting point.
We repeat, these courses are the first steps in your journey of being an expert content marketer.
Arm yourself with the best content courses to increase your knowledge, execute a content strategy, and grow your business.
Do you have any more awesome content courses to add? Get in touch and let us know.