Startups agree that their biggest marketing goal for 2020 is acquiring new customers. And 49% of B2B buyers look to content to help them research and make a buying decision. With those facts, it becomes clear that developing a content marketing strategy can greatly help accelerate your startup's growth.
Founders don't usually need convincing that startup content marketing is important, but they do need help improving their current content marketing efforts. 51% of B2B marketers describe their content marketing efforts as unsuccessful.
In our experience, unsuccessful content marketing strategies can be improved by following these three tips.
Match your content to your target audience
Create an SEO-driven content strategy
Be able to articulate what "good content" is within your industry.
In this post, we're going to flesh out those three tips. But first, let's cover the basics to make sure we're on the same page.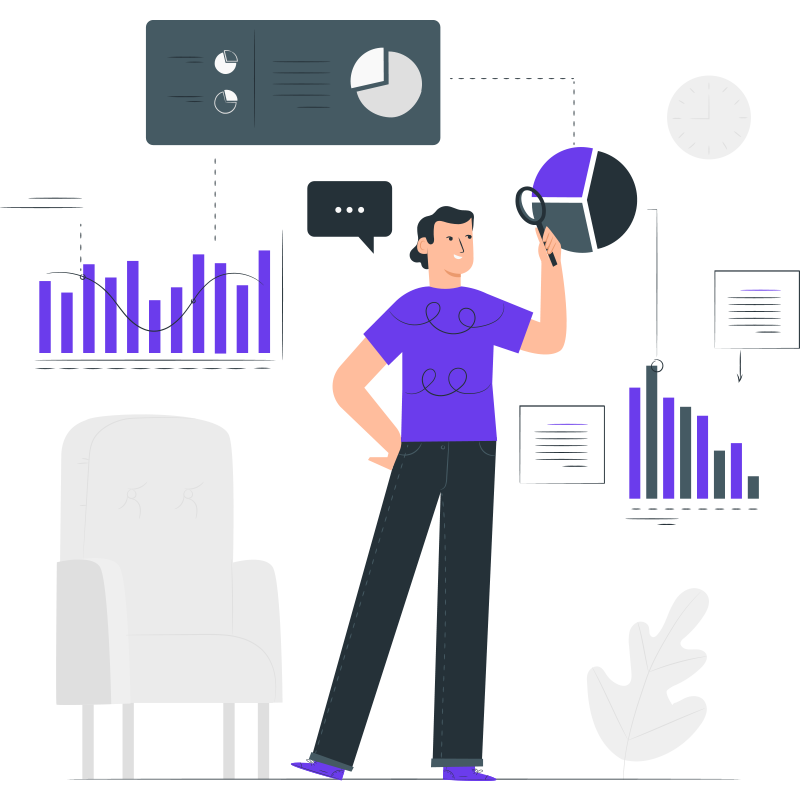 Get long-term ROI.
We help you grow through expertise, strategy, and the best content on the web.
What is Content Marketing?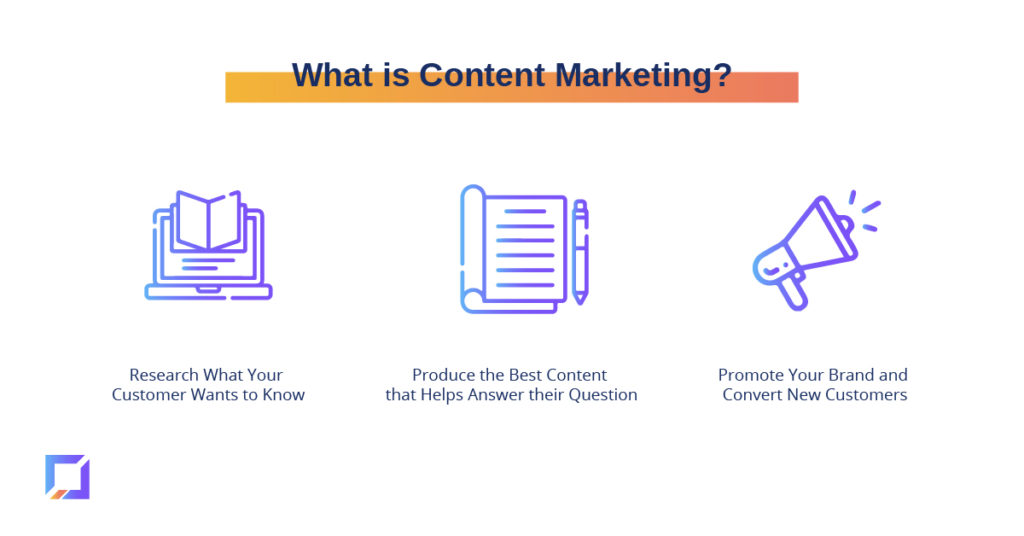 Content marketing is a group of efforts aimed at driving value towards your target audience through blog posts, social media posts, white papers, videos, infographics, and more. The difference between content marketing and traditional marketing is that content marketing isn't blatantly focused on promoting a product or service. QR codes can bridge the gap between traditional and content marketing by seamlessly integrating offline and online experiences. With the help of an online QR code generator, marketers can incorporate QR codes into print materials like brochures, posters, and packaging, allowing consumers to easily access digital content such as videos, interactive websites, or exclusive offers by scanning the code with their smartphones.
If you're a tech startup focused on facilitating participant recruitment for UX researchers, your content marketing strategies might involve blog posts about the best practices for conducting user testing. Notice, the posts aren't "why my startup is the best at user recruitment." Instead, the topics are industry-focused. It's that subtle but significant difference that helps your startup build trust and credibility with your target customers.
The breakdown of marketers who are investing in content marketing in 2020: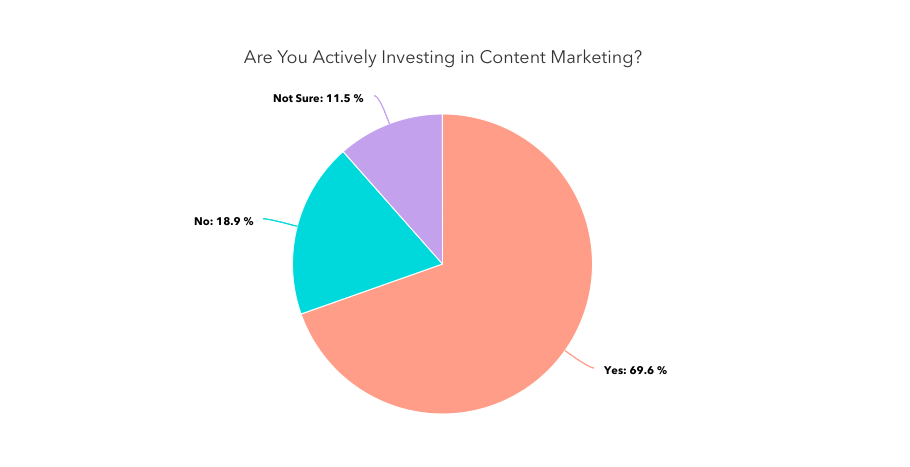 Here's another example.
Let's say you were building a coffee subscription startup. In your content plan (more on that below), you'll have scheduled posts about different types of coffee-related content. You could have a post comparing dark roast beans to light roast, and so on.
Some of the blog posts you'll produce, such as "the best coffee subscription services of 2020" will work to actively convert a potential customer into a paying customer. This is your bottom of the funnel content (BOFU content).
But the majority of the posts will mainly serve as tools by which readers find questions to what they want to know, such as "how is a macchiato different from a latte?" That's your top-of-funnel content pieces (TOFU content).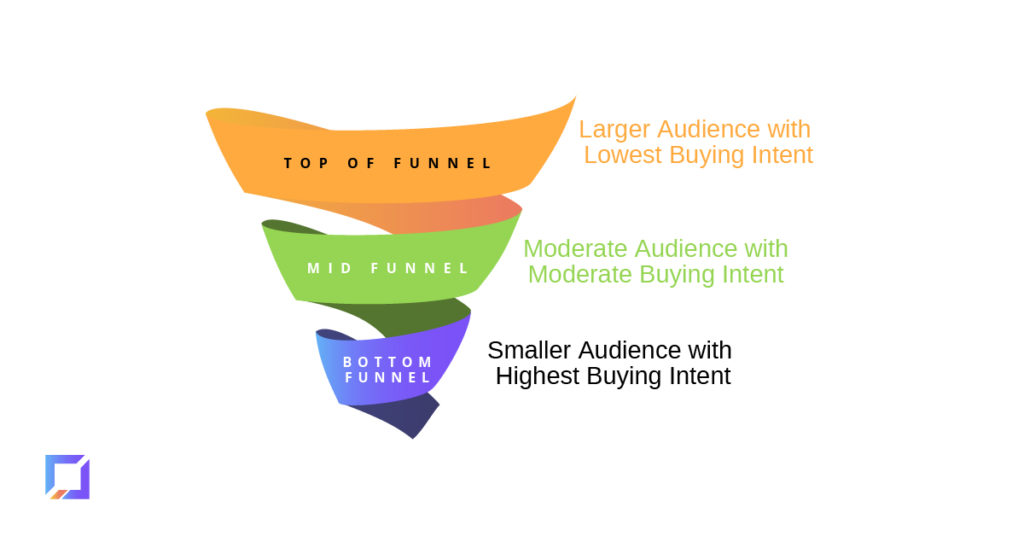 Top-of-the-funnel content and mid-funnel content bring in the biggest audience, while bottom-of-the-funnel content drives revenue.
But that doesn't mean the best content marketing for startups is to write a bunch of bottom-of-the-funnel content pieces.
A good content marketing strategy utilizes both types of content in the right place at the right time.
Pro Tip
Think of how you can provide a downloaded ebook to your customers. Email marketing will play a major role in your digital marketing efforts. Get email addresses from qualified customers by offering them a free ebook.
How Content Marketing Can Benefit Your Startup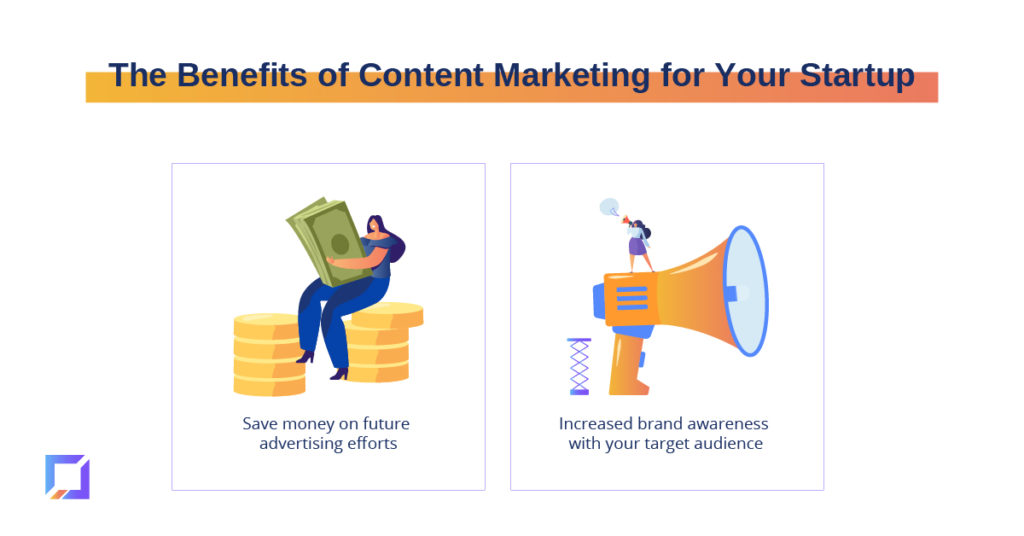 Startups often don't have the means or luxury to invest in digital marketing strategies without some guarantee that they will pay off within the foreseeable future.
Based on what we described above with a mixture of BOFU and TOFU content, startups might be wondering exactly where the monetary benefit comes in.
There are two fantastic avenues of return for startups when it comes to executing a content marketing strategy.
1. It makes future advertising campaigns cheaper.
The cost of acquiring a customer through retargeting ads is ⅓ the cost of acquiring customers through non-retargeting ads. This means even if you're not converting readers into buyers on your blog, you can still convert them later through retargeting efforts at a cheaper acquisition rate.
2. You increase your reach without losing your focus.
With content marketing, you can expand your reach without losing your target audience, and see tangible results that are trackable and scalable as your startup grows. This helps promote brand awareness, and because you're not losing your focus, you won't just see an increase in engagement, but in conversions as well.
Now that we've explored some of the benefits let's talk about some tips to get your company started with content marketing.
3 High-Level Content Marketing Tips for Startups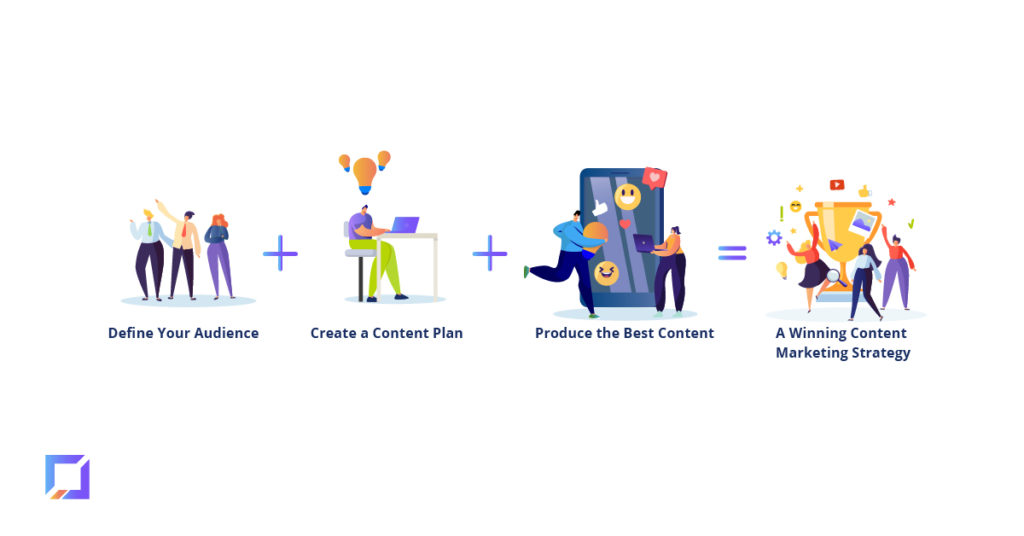 There are so many different avenues of content marketing (from blog posts to social media campaigns to video marketing) that it can be overwhelming at first.
To help, we're going to offer three high-level tips that can be used, no matter what kind of content you're producing, to increase the effectiveness of your content marketing strategy.
#1. Define your audience
We use several metrics to gauge the success of content marketing efforts, but for this post, let's focus on engagement and conversions.
Engagement is how many users have interacted with your content marketing, whereas conversions are how many people were convinced to convert based on your content.
Note: when we say convert, we don't necessarily mean "make a purchase." A "conversion act" can be signing up for a newsletter, scheduling a demo for your service, downloading an eBook from your company's blog, and so on.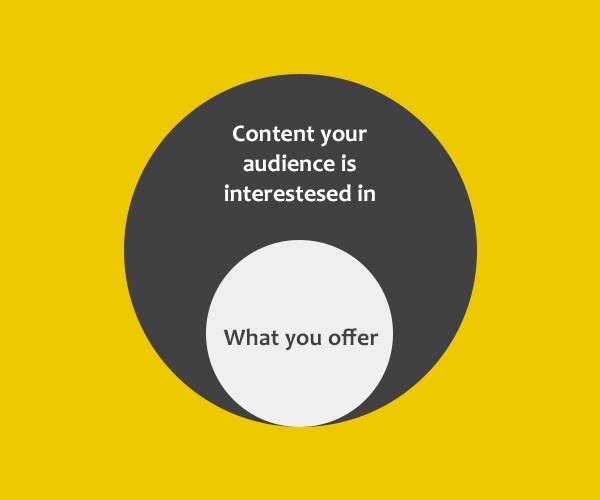 For a startup to define its audience, you're going to want to build buyer personas. A buyer persona is a representation or composite of your ideal customer. There are several ways to build buyer personas.
1. Interview current customers.
Depending on where your startup is, you might be able to interview current customers. This is always the best practice. Current customers are a treasure trove of valuable insight. These are people who like buying from you, and by interviewing them, you can find out why and extrapolate those interests and demographics to build a more defined buyer persona.
2. Utilize Google Analytics.
Like interviewing current customers, utilizing Google Analytics is a clever way to figure out what is already working for you and scale those factors into greater success.
3. You can focus on competitor research.
If you're in the beginning stages of being a startup, you may not have current customers, and Google Analytics may not be ripe with data. If that's the case, focus on competitor research.
When you're planning your content marketing strategy, one of your greatest assets is knowing what your competitor is doing (and, just as important, not doing). If we're talking about blogs, you can do this by leveraging SEM tools (such as Ahrefs or SEMRush) to analyze your competitor's.
Pro Tip
You can also research case studies for your industry. Successful companies love to publish case studies, which serve as a blueprint for how they became so successful. For example, you can read about how a content marketing agency took a blog from zero monthly visitors to 150,000 in just eight months. These kinds of case studies will give you insight and tips on how to go about your own content marketing strategies.
Once you have your audience, you can go to work on creating a content strategy.
#2. Create a content strategy
We had you learn about your audience first because this next step is all about ideating topics that will drive your audience to your blog.
We're talking about more than a content plan. A content plan is simply a list of what topics you plan to cover on your blog. We're talking about a content strategy, where every blog post has its unique purpose.
A good content strategist will be able to explain the purpose of each blog post. Not every blog post is going to convert readers into buyers. Some blog posts will exist to establish expertise or authority. Other blog posts will be used to attract high-quality, relevant backlinks. Some blog posts will do a little bit of everything.
Finally, a good content strategy has its blog posts organized by what will get written and published first. For example, if you're starting your blog from scratch, a strategist might recommend writing content for low-volume, low competition keywords first, and then working your way towards the higher-volume, tougher competition keywords.
What about social media posts?
Social media marketing is a critical part of content marketing. However, for startups, we think investing in blog content first is the more financially responsible move.
Here's why.
1. Blog content takes time to rank in Google search.
You want to produce long-form content, get it live, and let it start ranking. Even the best content takes 2-6 months to show up on the first page of Google.
2. The more content you have on your blog, the more likely you can attract backlinks.
Backlinks are still the number one indicator of ranking within Google. Quality content is the best way to get backlinks. Other sites that are relevant to yours will link to you if you're providing value in your content.
When other sites link to you, it boosts your credibility, which has a positive impact on your SERP visibility.
3. Long-form content can be repurposed into social media posts in the future.
Once you have a good library of well-written, well-designed blog posts, you can take that and repurpose content into engaging social media posts.
This approach works for really any platform from Twitter to LinkedIn to Facebook. Each of those social media sites caters to a different type of customer, so you can strategically repurpose your content and build up an audience.
#3. Produce the best content
Telling a startup to produce the best content can seem like a nebulous and almost unhelpful piece of advice. Who sets out to produce only decent content?
We work with a lot of eCommerce and marketing agencies, and they never come to us and ask us for help with producing "pretty good content" or "C+ content."
In fact, they've often come to us because they've tried to produce the best content and found it difficult.
It's true; content creation is difficult in part because defining content quality is so challenging. Luckily, there are clear and well-defined strategies that help us understand what we're talking about when we're talking about producing great content.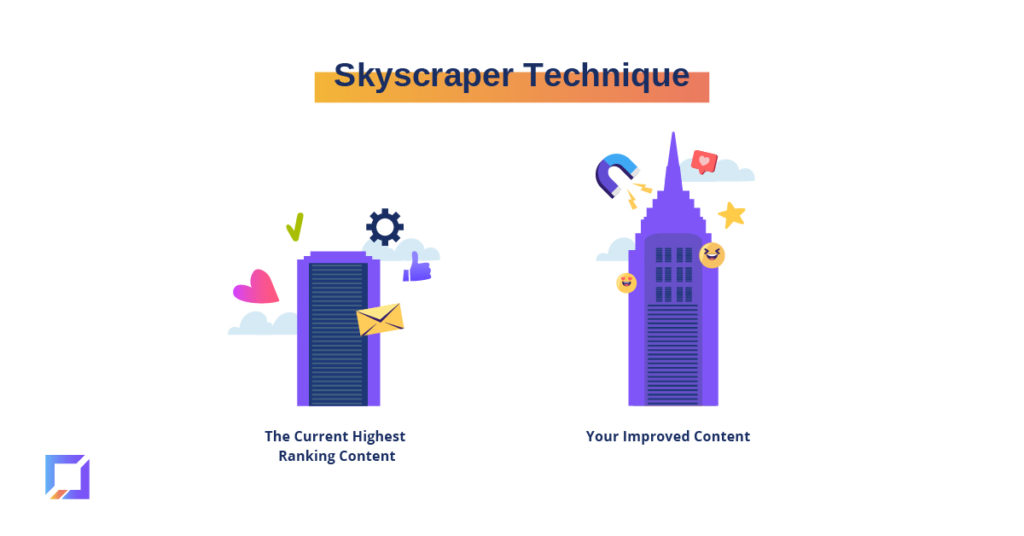 Tips on producing the best content:
Utilize the Skyscraper Method.
The skyscraper method is finding the tallest building in the city and then building your own skyscraper and making it ten stories taller. The idea is you find the content that's currently ranking (focusing on the most comprehensive content), and you take what's working and add your own information to it.
This is a decent – if slightly dated – approach. It's logic is sound, but we've seen companies use this method as a crutch, letting it micromanage their content processes into producing unoriginal and stale content. For example, if the best article for a specific keyword is two thousand words long, adding a thousand words isn't necessarily making it better. In this regard, the skyscraper method can be misleading.
Pro Tip
To make the Skyscraper method work, don't focus just on the word count. You'll also need to focus on the topics covered in the piece. Remember, the search engine is your best friend in understanding what's currently ranking.
Write the content towards the reader's intent.
This perhaps the best approach to writing content and the most difficult to follow. Writers often write what's interesting to them, not what's relevant to the reader.
Plus, if your content writers are not professionals and are trying to write about topics they don't understand, then they're already at a disadvantage. It's likely your blog's readers may be more informed than your writers – never a good combination. This is especially true in content marketing for startups where your content is curated for business professionals and director-level employees.
Solicit guest posts.
Your content team can't be expected to be masters on every topic. A guest post is a great way to get exposure while adding expertise and authority to your content. Another plus of doing this is a guest post usually gets you an easy backlink.
Utilize different languages.
Your content should be optimized for languages that your target market speaks, not just English. Utilize online services like Preply to expand your knowledge into new languages.
Pro Tip
You don't just have to solicit guest posts, you should also offer to do guest blogging for other sites. This helps get your blog more brand awareness. Plus, more high-quality backlinks.
If you're a startup that offers an AI-powered tool that works to replace a CFO in small to midsize businesses, then soliciting guest posts from founders who chose not to have a CFO will add quality content to your blog.
Consider content marketing agencies. A content writing agency isn't always worth the investment. But, if you find a good content marketing agency that aligns talented writers with skilled marketers, you can outsource your content marketing to them. Plus, this lets you focus on other aspects of growing your business.
Conclusion
We hope you enjoyed your SEO crash course in setting up a content marketing strategy for your startup.
Here are the key takeaways to remember:
Match your content to your target audience as best as you can. As your audience grows, your audience may change. Keep focused on your analytics and demographics to adjust your content as needed.
Start with long-form blog content. This content takes the longest to rank, and it can be repurposed into video marketing, social media campaigns, and email blasts. Plus, it can be expanded into full-length podcasts or downloadable eBooks.
Always be defining what "best" means. The best content in May can be obsolete by January.
We've helped countless companies with their content marketing strategies. If you don't know where to start with improving your content marketing, book a call with us today.