It's only natural that recruiters want to attract the best and brightest individuals for their vacant positions. Recruiters want their business to make an excellent first impression from every viewpoint.
What is the key to making this happen?
Content marketing for recruiters is simple.
Content marketing is the most productive way to attract new applicants across multiple web channels.
Over 91% of businesses employ content marketing for lead generation and recruiting. Recruiters attract the ideal people to take their company to the next level by telling a clear, compelling, and consistent story via the content they distribute across many recruiting platforms.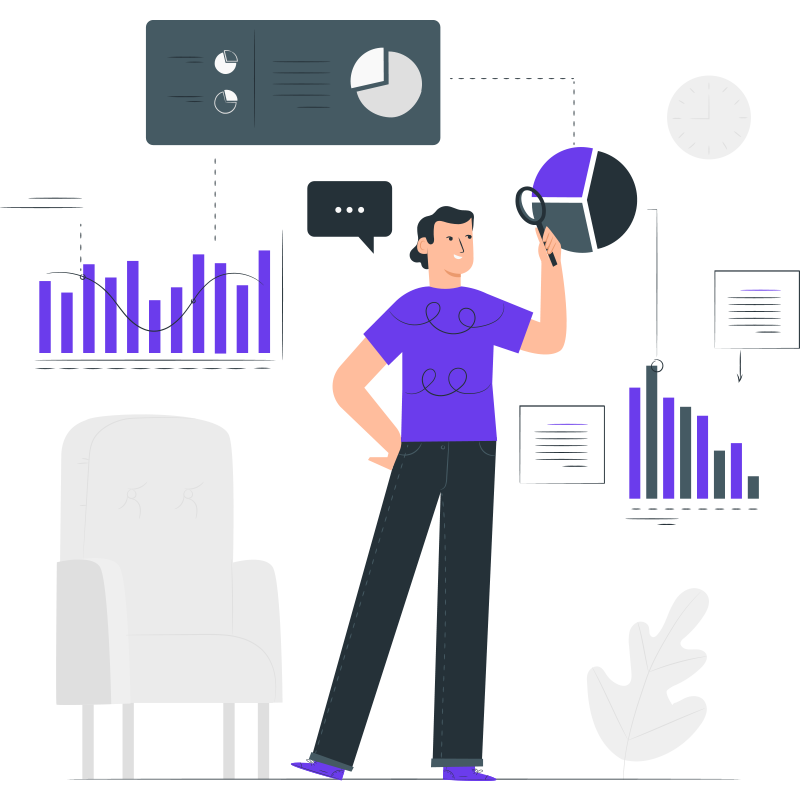 Get long-term ROI.
We help you grow through expertise, strategy, and the best content on the web.
What is Content Marketing in Recruiting?
Recruiters aren't the only ones performing research in today's recruiting environment.
With 52% of Americans using the internet to look for employment information, the best prospects are searching for companies the same way they shop for products, making employer branding critical.
Companies use content marketing to educate and create relationships with potential employees. For example, when job applicants research to determine whether they are a good fit for a firm, content provides them with the information they require to learn more about position responsibilities, the employee rewards and recognitions provided, corporate culture, etc.
In addition to attracting prospects, informative and entertaining content helps the recruiting site rank higher on Google and establishes the agency as a thought leader and industry expert in your sector.
A recruitment agency's content marketing consists of several processes and many sorts of material.
3 Benefits of Content Marketing for Recruiters
It is essential for all the recruiters to first know the benefits of content marketing before diving in. Here are the benefits of content writing:
Builds Trust: Positioning the recruiting firm as a trustworthy employer is an important part of a successful content marketing strategy for recruiting. Candidates will realize you're a great and trustworthy recruiter if you share your accomplishments, employee testimonials, and correct industry information.
Candidate Magnet: Thousands of jobs are posted online, and most of them utilize the same generic language. Use infographics and staff testimonials to make your job descriptions stand out.
Spend Less: Having a website and a social media profile that produces fantastic information on a regular basis will engage readers and keep them coming back for more until they become candidates.
3 Types of Content Marketing for Recruiters
Your material should resonate with the candidate personas you're aiming to attract when it comes to content marketing for recruiters.
Everything you create and share should be geared at assisting your team in connecting with and developing connections with the possible employees you're looking to recruit.
Here are some specific instances of high-performing recruitment marketing content.
1. Start a Blog
A blog on your website is an excellent approach to attract job seekers and turn them into candidates for your organization. Candidates prefer to work with recruiters who are dependable and authoritative, so write about subjects that indicate your credibility.
Always remember to be genuine and honest and to exhibit your human side. Candidates want to meet the people who work for your company. Use real images of your staff and your office in your blog entries to show off your corporate culture.
2. Create a Social Media Profile
Potential prospects can be attracted to your recruiting company using social media. When it comes to content marketing on recruiting, it could be the most effective strategy.
According to Glassdoor research, 79% of job applicants utilize social media during their job search, and 70% of hiring managers claim to have successfully used social media management tools to maintain their presence online.
3. Prepare White Papers
White papers are lengthy publications containing useful information that businesses utilize for a variety of purposes.
When it comes to content marketing on recruiting, writing white papers that address current concerns and complex topics related to recruiting and employment is the ideal way.
5 Steps to Building a Content Marketing Strategy for Recruiters to Become Thought Leaders
Job applicants expect to read content that educates them about a recruitment agency before they send in their resumes. First, they're looking to see if an organization is a good fit for them.
If content does its job correctly, the right candidates will find the recruitment agency instead of the other way around.
Here's how recruiters can execute an effective content marketing strategy:
1. Describe a Perfect Candidate
It is critical to understand key details about the target audience in order to attract the best candidate.
Consider this: What kind of candidates does an agency hope to attract? In a professional setting, how would they describe them? Make a list that includes :
Demographic information: Candidate's age, income bracket, location, and current job title
Background: academic and professional background
Qualifications: necessary talents, desirable skills, and certifications
Career objectives: Where do they see themselves in five years? What kind of profession do they intend to pursue?
Objections: What characteristics of a company's brand, culture, or recruitment procedure might make them lose interest?
Just like search firms tend to be analytical while choosing a recruiting software for their firm, they also need to change this list of data points to fit their recruitment agency's goals and needs for content marketing.
Additionally, the information gathered by the recruitment program will aid in determining a candidate's persona. This is especially useful for recruitment firms when it comes to content marketing.
2. Make a Candidate Journey Map
A candidate trip map depicts a candidate's journey in visual form.
In a word, it encompasses all of a candidate's interactions with a company and serves as a roadmap for a successful online recruiting marketing plan.
More importantly, it assists recruiters in determining the appropriate type of material for each stage of the applicant journey, as well as how to represent your client's brand across various media. You can depend on various tools such as AI recruitment software. This can be a helpful tool for creating and managing candidate journey maps. It can collect data on candidate interactions, identify trends, and generate insights that you can use to improve the candidate experience. Also, It can track which pages candidates visit on your website, how long they spend on each page, and which links they click. This data can be used to find out which pages are most effective at attracting and engaging candidates.
3. Develop Content Concepts
The aims of the agency and the roles they are recruiting for influence content ideas. Investing time and effort early in the process to create a master list of potential content ideas, on the other hand, is well worth it.
Consider what would be appealing to the ideal prospect when coming up with content marketing ideas for recruiting.
Active and passive job seekers alike enjoy industry news, corporate events, employee testimonials, how-to guides, and general suggestions.
Find out what is best for your target audience.
4. Build Your Content Calendar
Your content calendar is a digital or printed schedule of when you want to create and share your content with your audience.
When you provide material on a regular basis, your readers are more likely to believe in your brand's authenticity. They will come to trust your website as a source for industry news over time.
Consistent material also gives the sense that your recruiting firm is a long-term investment.
It's a good idea to plan and organize your content marketing for recruiting around major dates and events for your firm, regular organizational activities, and professional or general holidays.
A content calendar will help recruiters keep track of the material in the same way that enterprise recruitment software optimizes the hiring process.
5. Content Creation and Distribution
You can begin generating content and sharing it with the world after completing the above steps.
If you wish to add diversity to your material, start with your current personnel. Your staff members may be keen to contribute to your company's blog, particularly if it covers internal happenings.
You might have incredible materials stashed away that could help you execute a successful content marketing plan for recruiting.
Encourage continuing interaction by engaging directly with your fans via debates, hashtags, Q&A sessions, live streams, and other means.
You can publicize the positions you're looking to fill on your company's Facebook, Twitter, and LinkedIn profiles, attracting both active and passive job hunters.
In Final Words
In a competitive market where firms compete for talent, your content might be the true differentiator that allows you to stand out.
Short-form articles and social media postings to great, thorough white papers are all possibilities for your content.
What important is that you speak their language and that your material resonates with the correct people.
Candidates will always be drawn to an organization with which they can connect while building out their professional path, especially when rivalry is fierce in the industry.