There are a lot of myths about content marketing.
The most common myth is that content marketing doesn't work for all companies.
Which couldn't be further from the truth.
Even so-called boring brands can benefit from content marketing — if they have the right team.
If your content marketing efforts are falling flat, the issue isn't that content marketing doesn't work.
It might be that you need to revamp your approach.
Relying on developers, executives, or even your marketing team to create content is a recipe for disaster.
Some companies put their Social Media Manager in charge of managing blog releases and organizing webinars. Or, they'll have their Communications Manager, whose plate is already full, trying to drum up contributors and edit blog posts.
If you want content marketing to be successful, you need to invest in the process.
So what's the next step?
For many brands, it's hiring a content marketing manager to own the content process. But, is that the right move for your company?
It might be.
But first, let's talk about what a content marketing manager is — and what it isn't.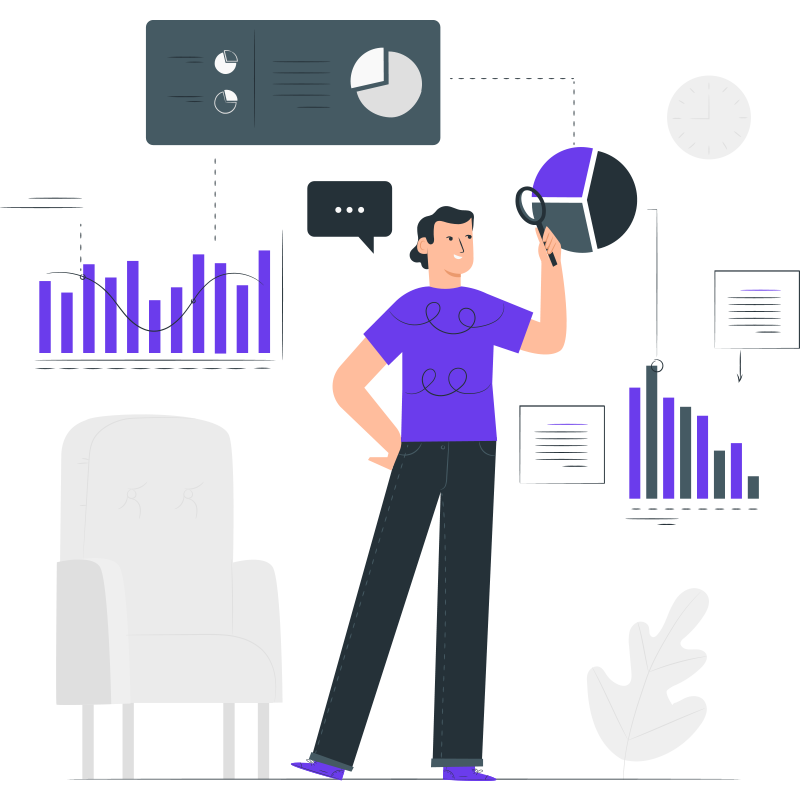 Get long-term ROI.
We help you grow through expertise, strategy, and the best content on the web.
What Does a Content Marketing Manager Do?
A content marketing manager is a person responsible for planning, creating, and carrying out your overall content marketing strategy.
Depending on the company, they may create the content themselves or manage a team of writers and designers.
Unlike marketing manager jobs, where the employee is likely to oversee all marketing related activity, a content marketing manager focuses on content specifically.
Depending on the overall marketing goals of your company, their efforts may drive web traffic, increase brand awareness, and generate sales.
They often create the overall content strategy and work with other marketing departments, sales, and executives to understand the company's overall goals.
What are the general content marketing manager job duties?
Now that we've got the super boring definition out of the way, let's look at what content managers might actually do on a day-to-day basis.
The actual job duties of a content marketing manager can vary a lot.
For example, at a small company, the content marketing manager might be in charge of social media in addition to writing ebooks and blog posts. They might even create email marketing campaigns.
That isn't a bad thing — as long as their main focus is content.
Here are two examples of content marketing manager job listings. The first is from a data company in Palo Alto, California.
As you can see, a lot of the job is about project management and content strategy, not creating the actual content.
Here's another listing from a homegoods website in Texas: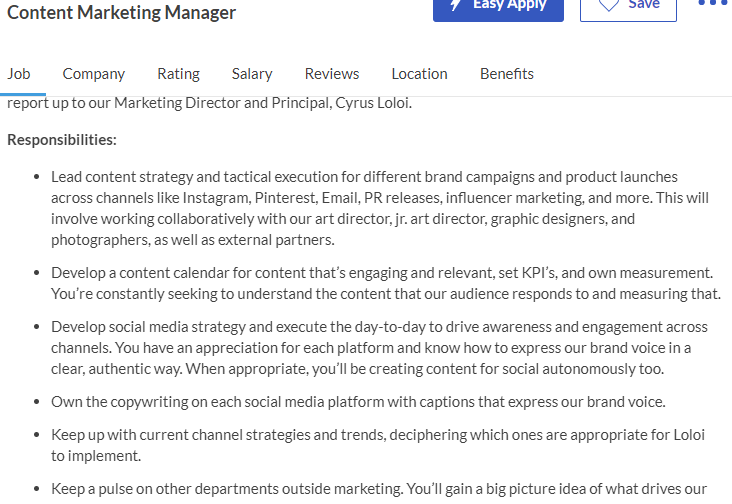 This content marketing manager will also handle social media, strategy, and pay attention to the overall marketing goals of the company. In this stage, it will be beneficial to calculate the eNPS of your content marketing team and then make improved decisions to increase employee engagement and loyalty.
Both listings require collaborating with other teams, like marketing and sales.
But the day to day tasks vary.
Depending on the size of the company and the number of other marketing team members, a content marketing manager might take on other content or digital marketing-related tasks like copywriting and social media. Additional abilities, such knowledge of open source software like React CMS, can be necessary depending on the company's size as well.
At a large company, the content marketing manager might be under the digital marketing director and manage a content team of writers and designers.
Here's a more detailed list of tasks a content marketing manager may handle.
In general, content marketing managers don't handle copywriting, email marketing, PPC, or technical SEO like a more general marketing manager might do. But on small teams or at a start-up company with few other employees, they may fill some of these roles.
A Day In the Life of a Content Marketing Manager
The actual tasks a content manager might take on can vary a lot depending on the size of the company and the industry.
While this isn't a bad thing (you've got to make the most of your resources, after all!), it can lead to content getting pushed to the back burner.
Try to avoid pushing too many tasks on your content marketing manager so they can focus on what they do best — developing content that builds relationships.
Here's a quick look at what an ideal content marketing manager's day might look like.
Content marketing management mostly revolves around creating and publishing content, but they also focus on strategy and making sure all marketing words together.
As a result, content marketing managers work hand-in-hand with other teams including lead generation, sales, IT, and marketing.
What Type of Education Should a Content Marketing Manager Have?
Content marketing is a relatively new field, so you're unlikely to find someone with a Masters in Content Marketing.
Instead of looking for a fancy degree or high GPA, look for someone who has experience in content marketing, gets your audience, and — most importantly — is willing to learn.
Content marketing (and digital marketing in general) changes fast, so finding someone who stays on top of digital marketing trends is critical to the long-term success of your content marketing strategy.
Here are a few requirements a hiring manager might have for a content marketing manager:
What makes a good content manager?
A great content manager is a great writer, but also a skilled marketer.
They should be an empathetic person who's a great communicator as they'll be working with many other teams and possibly external contractors.
They should have experience working with the tools you use for social media management, content creation, and analytics.
For example, if you use Salesforce to manage customer relationships, they should have at least a cursory understanding of how the platform works.
Above all, a great content manager should be willing to learn.
You're unlikely to find the perfect candidate who already understands your audience and how to use all your tools.
However, they should be able and willing to dive in and figure it out. The right candidate should be excited to figure out what content will create a relationship with your audience — not just make sales, while you as a hiring manager should make sure the candidate is getting a high-quality digital employee experience.
A good content marketing manager should also have a deep understanding of digital marketing as a whole.
Social media, SEO, email marketing, and paid search can all impact the success of content, so a great content marketer should understand when to leverage them.
6 Interview Questions for a Content Marketing Manager
Content marketing manager candidates should be able to speak eloquently about digital marketing, communicate well with your hiring team, and express an understanding of your audience.
Poor candidates may be defensive, unable to communicate well, and may get flustered when asked for their thoughts on basic marketing principles.
When conducting remote interviews, it's also important to assess the candidate's ability to effectively communicate their ideas and understanding of marketing principles through a virtual platform. Know more by reading this article (on conducting remote interviews) by Hireflix.
Here are six questions that will help your hiring manager find the right person for the job.
How do you stay informed about the content marketing industry?
Self-education is critical to long term success in the content marketing field. Candidates should be able to share a list of marketing blogs, email lists, and writers that they read regularly to stay on top of changes in the digital marketing world.
How do you decide what tone or style to use for content?
The content tone will change based on the brand, the platform the content will be shared on, the goal of the content, and the audience. The candidate should be able to provide a list of criteria they use to pin down what tone is most appropriate for a specific piece of content.
How do you use data in your day to day job?
Data is fundamental to the work of a content marketing manager — which is why this position can be difficult to hire for. Candidates should be creative, but also understand how to gather and analyze data. The right candidate should express that data is the fundamental driver behind all of their decisions and be able to share ways they've used data to guide their strategy in the past.
What metrics do you use to measure the success of a content marketing campaign?
This is a specific question, but the answer can vary. Candidates will likely list significant metrics such as pageviews, time on page, downloads, and conversions. However, the metrics will vary from campaign to campaign, so candidates should express an understanding of how the metrics will vary based on the goal of a piece. They should also be able to share how specific metrics might impact their strategy.
What has been your greatest success as a Content Marketing Manager?
This gives the candidate a chance to show off what they're capable of. Look for stories involving changing a strategy based on data or how testing helped them reach a specific goal. Pay attention to what the candidate views as success — sometimes finding out what doesn't work can be more valuable than figuring out what does work.
What has been your greatest surprise as a Content Marketing Manager?
Content marketing, like most marketing, isn't a cut and dry process. Testing can help content managers better understand what types of content an audience will relate to — and it can produce a lot of surprises. Listen for responses that show reliance on data, testing, and gaining a deeper understanding of the audience.
Where to Find Reliable Content Marketing Managers
According to Glassdoor's 2020 polling data, 76% of job seekers and employees report that a diverse workforce is an important factor when evaluating companies and job offers.
Content marketing is a fast-growing, fast-changing field. You'll first have to figure out if it's better to find someone who's familiar with your industry or an expert in content marketing — or if there's a chance you can find both — learn about different marketing entry-level jobs.
Here are a few places to look for your next content marketing manager:
In addition to outside sources, don't forget to tap your own network and audience. The right person for your brand might be an avid user or someone you already know.
Final Thoughts
A content marketing manager might be exactly what your brand needs to take your content marketing to the next level.
But hiring a full-time employee isn't your only option.
If a full-time content marketing manager isn't in the cards, consider outsourcing part or all of the content management process to a freelancer or content marketing company.
This can give you access to a powerful content marketing team — minus the cost and the hassle of managing the hiring process yourself.