Did you know that 70% of marketers are actively investing in content marketing? And it is common for marketers today to create content for multiple audience segments.
When it comes to content marketing, the key to success lies in understanding exactly who you're trying to reach and engage using your content. That's where content marketing personas come into the picture.
While you might have a basic idea about your target audience already, creating well-documented personas can help you get a complete picture of your targeted audience groups.
Before I tell you how to create personas, let's discuss what they are and why you need them.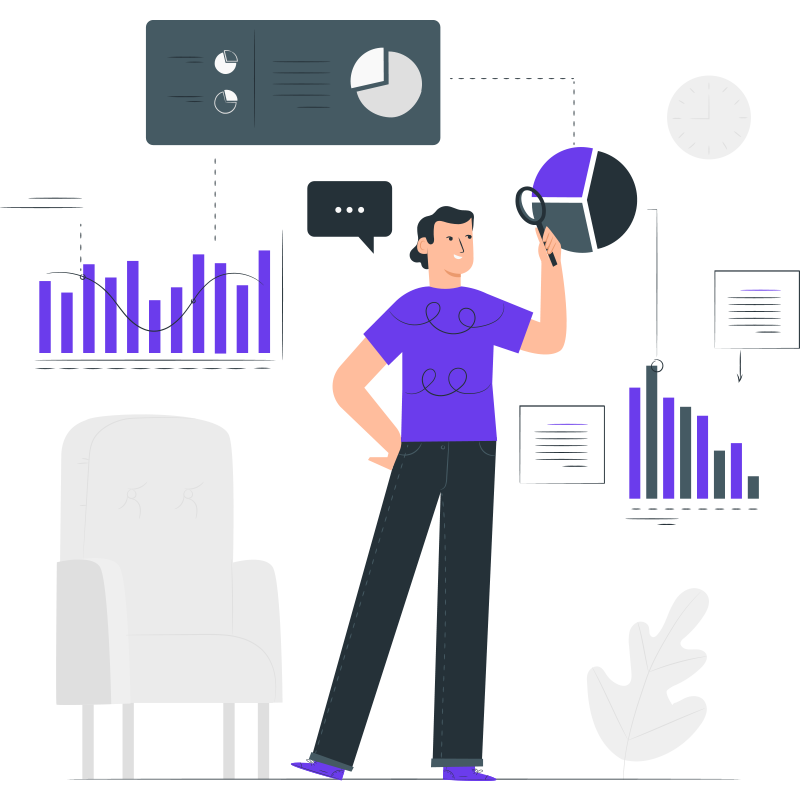 Get long-term ROI.
We help you grow through expertise, strategy, and the best content on the web.
What are personas?
A buyer persona is a profile of a single person who represents your ideal customers, created based on the data of existing customers and market research.
You'll probably need to create a few different personas to cover all of your target market groups. When creating content, you'll only be catering to one specific persona for each piece of content.
Your personas should include:
Bio: name, age, gender
Professional background: industry, job role, day-to-day tasks, responsibilities
Pain points: problems they face in day-to-day life or at the workspace
Ideal solutions: things, features, and the value they are looking for to solve their problems
Points of resistance: reasons why they might be hesitant to buy your product or service
Effective messaging: which content style, tone of voice, phrases, and power words will best appeal to them and make them engage with your content
Situational information: their current buying position, conditions in which they will be the readiest to buy
Stage of buying journey: which stage they are at, be it awareness, consideration, decision, or loyalty
Why do you need to create personas?
Creating personas will help you understand your audience better – their needs, preferences, interests, problems, ambitions, and what appeals to them the most.
You will also be able to identify their greatest motivation to buy a product/service, which will help you shape your content to better engage and convert your ideal customers.
Creating content marketing personas will help you:
Create content that your ideal buyers can relate to and are likely to engage with.
Identify the right channels to reach them.
Connect with your target audience at the right time, through the right messaging, and using the right medium.
Prioritize leads and create relevant content to help different prospects move down the sales funnel.
Stand out from your competitors by creating content that your prospects want to view.
How to build content marketing personas effectively
When we talk about content marketing basics, it starts with creating personas and aligning your content to appeal to them. You need to draw the interest of your prospects to drive more traffic, views, engagement, and conversions.
To help you get there, here's the step-by-step process to create content marketing personas:
Step 1: Identify your ideal buyers
Before you start researching your target market, you should identify your ideal buyers.
Start by identifying people who are likely to buy your products or services. These people can vary from website visitors to people who've added products to their wishlists, or bought a few products.
Consider the type of people who show interest in your product or service.
For example, if you have opened a coffee shop, some of the possible target personas will include:
Persona #1: A regular, early morning customer who visits your cafe and orders similar items every day or, at least, a few times per week
Persona #2: A regular customer who visits during evening snacks time during working days
Persona #3: An occasional customer who has visited the cafe a few times in the past few months with friends
Persona #4: A custom who visits on days you run an offer (say, Fridays)
Persona #5: A random, passer-by who happened to stop by your cafe once and might not visit again
The number and type of personas you need to create will depend on your industry and the nature of your business.
Step 2: Gather valuable customer data
You can start with a rough idea of who your customers are but you need to back your generic customer profiles with real data.
How to do that:
Use analytics tools such as Google Analytics, social media analytics, etc. to track website visitors and social followings.
Extract data from the social profiles of your existing customers and prospects.
Leverage a CRM (customer relationship management) solution to get insights into your customer profiles.
Collect data from your sales teams through cold calling.
Create focus groups and community forums to connect with your ideal buyers.
Conduct one-on-one customer interviews to get to know them better.
Conduct audience surveys to get more meaningful insights about your ideal customers, such as their age, education, income, and interests.
Step 3: Create and design your personas in a suitable format
Once you've collected all of the data, it's time to create buyer personas that are easy to understand and consume information,
You should define the following characteristics of each persona:
Age
Gender
Location
Education level
Industry
Job titles
Seniority level
Income
Pain points
Interests
Day-to-day tasks
Preferred channels to access information
The key is to get as many details as needed to make the personas useful. However, you should not get too specific, which might lead you to exclude some important prospects.
Make sure that your customer profiles are interpreted in a fun, easy-to-understand, and actionable format. You can ask your designer to create and design your personas in a visual format.
After all, it shouldn't be challenging to use personas to deliver great experiences, else your team might ignore the personas you've created.
Here's an example of a visually-attractive persona template that conveys all of the important information at a glance:
Step 4: Train your content marketing team to use personas
Just creating buyer personas isn't enough. You need to train your content marketing team to use your buyer persona profiles effectively.
Everyone from your content strategists, writers, editors, and marketers should understand the most prominent personas and learn how to use them to create compelling content.
Your major personas can also help you come up with topic ideas. Create content that:
Answers your audience's most common questions
Educates them about your industry
Showcases your unique value proposition to them
Tells them how to use your product or service effectively
Every time you create a new piece of content, you should decide which of your personas you are writing for. Keep their characteristics, interests, and pain points in mind to make the content engaging for them.
If you want to launch a drip-email campaign to retarget shoppers who abandoned their carts, make sure that the email copy is written with their profile in mind. Your content team should be aware of the exact wants, needs, and preferences of the targeted list of consumers.
Similarly, if you are creating a video to generate brand awareness, you should keep the age, interests, preferred content styles, and channels of the targeted audience groups in mind.
Make sure that the graphics, color palette, fonts, and after-effects of your video appeals to your target audience. If you are using pre-designed video templates, make sure you customize them to match the palette and style that appeals to the targeted persona.
Creating content with a specific person in mind is much more effective than writing for a generic audience. You should personify your target audience and create content on topics and in a tone of voice that will resonate with them.
Step 5: Review and improve your buyer personas
By now, you must have created multiple buyer personas for content marketing but your work isn't over yet.
You should create a plan to review and update your buyer personas over regular intervals of time. That's because your personas are likely to change as your business grows and evolves.
Based on the change in personas, you should also optimize your content marketing strategy for better reach and engagement. By aligning your content with your customers' needs, you'll be able to drive more conversions.
What's next?
Today, creating content for the sake of publishing and distributing content is no longer acceptable. Everyone, including people, search engines, and social media algorithms, prefer quality and relevance over quantity.
If you want to leverage content marketing to reach out to people who are likely to actually buy your products or services, you should create content marketing personas. Make sure that your content style, tone, format, and distribution channel are aligned to meet the needs and preferences of your target consumers.
That's the only way to succeed at driving quality traffic, backlinks, website visits, leads, conversions, and revenue.