Creating and publishing fresh and engaging content consistently is an uphill task.
As if that's not enough, siloed content marketing processes get in the way of your operations, leading to chaos and confusion for everyone involved.
Sure you might have invested in tools to address this, but it doesn't seem to make anything easier. A ton of different tools leads to more business costs, technical distractions, and frustration since everyone isn't reading from the same script.
Fortunately, there's a solution to this: content marketing platforms.
These platforms streamline your processes from start to finish, effectively eliminating your biggest headaches and pain points while boosting productivity.
And in this post, we'll provide you with a comprehensive list of 11 of the best content marketing platforms out there.
Ready? Let's get rolling.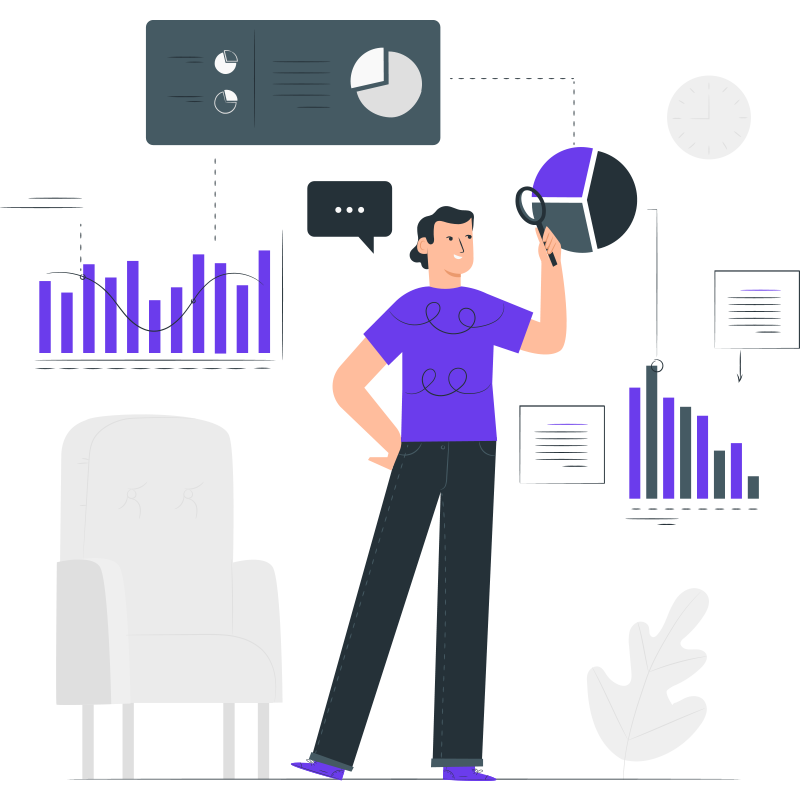 Get long-term ROI.
We help you grow through expertise, strategy, and the best content on the web.
#1: SEMrush
On the surface, SEMrush comes across as the ideal SEO tool that often stands out among other tools, thanks to its SEO toolkit.
However, it goes over and above that to provide you with five more toolkits to help you run all your content marketing operations in one place:
Advertising Toolkit
Content Marketing Toolkit
Competitive Research Toolkit
Social Media Marketing Toolkit
Reporting and Management Toolkit
How's that for a bird's eye view of everything you're doing to create and promote your content while still measuring its effectiveness?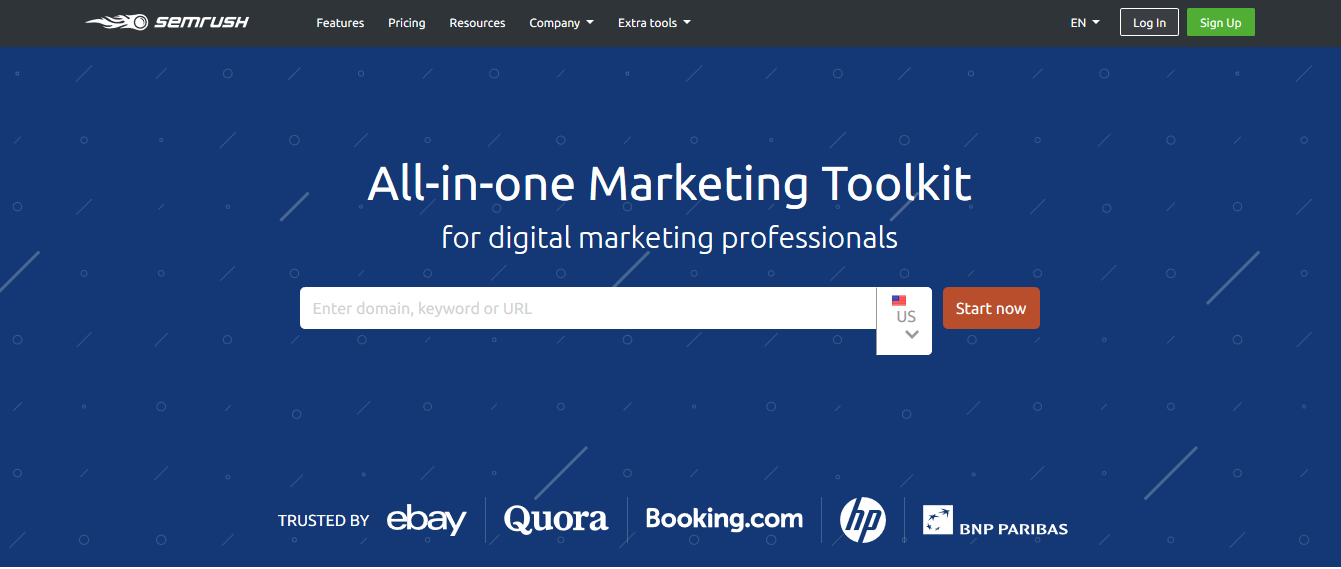 And as with any other content marketing platform, this means you'll have a learning curve, but that shouldn't discourage you.
The more you learn how to use the tool, the better the results you get and, consequently, value for your money.
Features:
Provides you with incredible insights about your site, like how specific webpages are performing so you know exactly what to do to improve their performance.
It has an SEO writing assistant that integrates with Google Docs to help you create high quality and optimized content.
It comes with a market explorer tool that enables you to evaluate new markets and their trends, plus how to identify ways to acquire traffic in these markets.
User rating from G2 reviews: 4.5/5
Pricing: SEMrush has three pricing tiers:
Pro: $99.95
Guru: $199.95
Business: $399.95
#2: HubSpot
As opposed to having a ton of features, HubSpot excels in simplicity and usability, allowing users to customize the tool to meet their marketing campaign needs. In other words, use what you want and forget about everything else.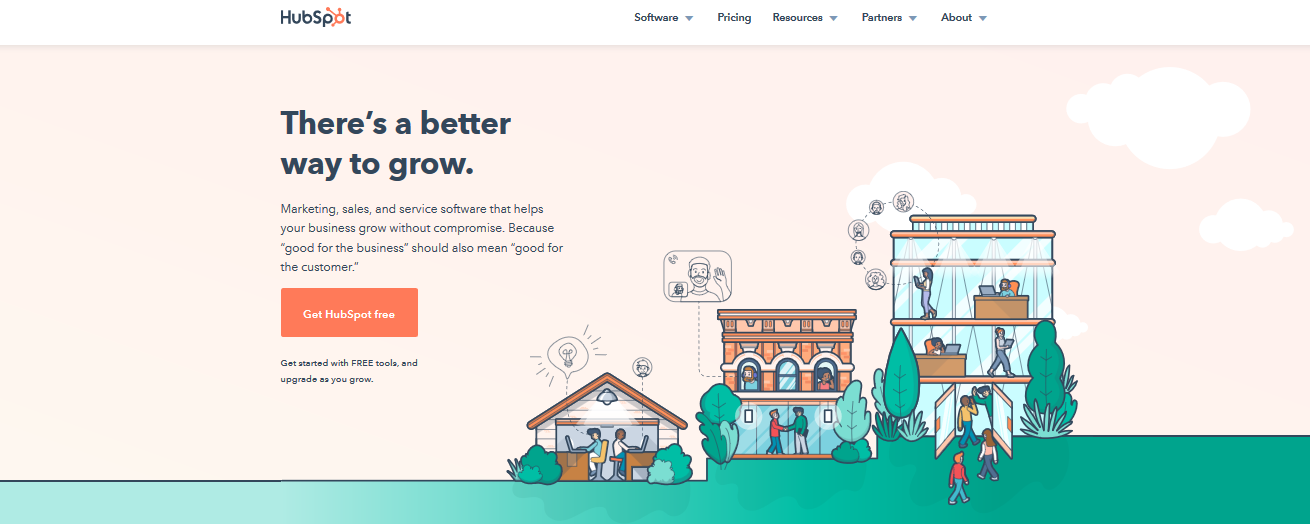 Want to use a CRM feature to nurture your leads using email marketing? They've got you covered.
What about tracking your advertising efforts, managing your social media campaigns, content planning, and managing your blog? Go for it.
Features
The platform is easy to set up and use backed by an excellent customer support team.
Allows you to add your team members to manage different marketing assets such as landing pages, blog content and email templates to improve collaboration.
Comes with a dashboard that you can customize to monitor how your marketing campaigns are performing.
User rating from G2 reviews: 4.3/5
Pricing:It comes in three bundles:
Starter growth suite: $50/mo
Professional bundle: $1,275/mo
Enterprise bundle: $4,200/mo
You also have the option to create a customized bundle depending on the features you'll use.
#3: Percolate
If you don't have reviews, offer a poor user experience, or are unavailable when your customers need you, you'll probably find it difficult to get people excited about your product.
As a result, they shift their attention and start looking at your competitors. And that's a problem Percolate eliminates through improved collaboration to help you fill the gaps in your buyer's journey.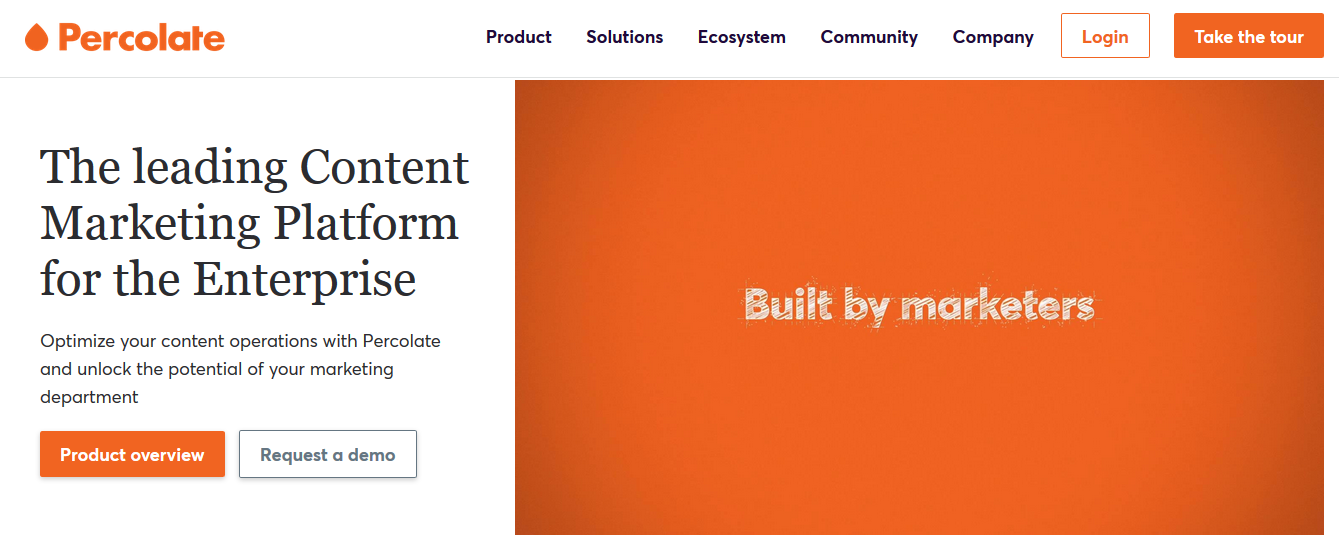 This tool allows you to communicate effectively on how to fill them in, then collect data and analyze it to assess the effectiveness of your marketing campaigns.
Features
Provides you with a centralized dashboard, helping you know how each marketing campaign is performing.
It comes with a mobile app to help you stay on top of things even while you're on the move.
Provides you with an analytics dashboard to help you see how specific content marketing efforts contribute to conversions.
User rating from G2 reviews: 3.5/5
Pricing: Reach out to the sales team to determine a custom plan
#4: StoryChief
As your content operations grow, you'll need to scale your content creation efforts so you produce more content in less time and publish it faster.
55% of bloggers see better results with posts longer than 2,000 words (hello, skyscrapers), and it will take you six hours (or more) to create a blog post. But creating content isn't all there is to do when running a business, right?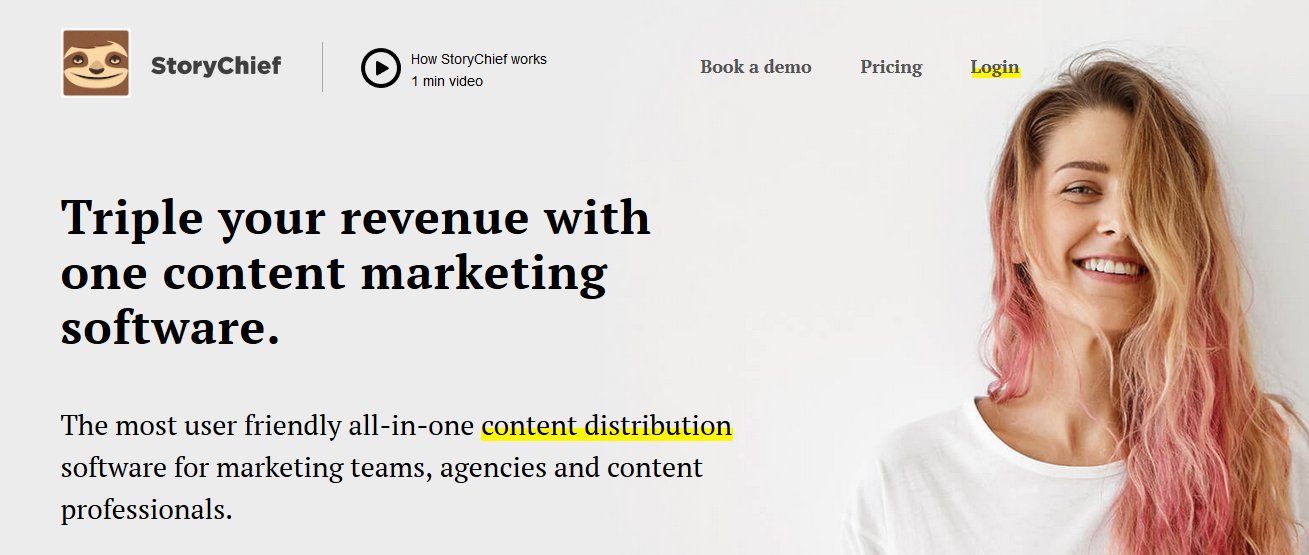 Well, if you're looking to scale your content production efforts then you need a marketing platform that helps you reduce the time it takes to create content.
Enter StoryChief.
Features
Comes with an SEO assistant that provides you with suggestions on how to optimize your content as you write.
Allows you to collaborate with your team during the content production process by helping you manage all your drafts in one place and while still allowing your team members to access them.
Provides you with stats of how your content is performing on Facebook, Twitter, LinkedIn, and any other social media platform where you promote content.
User rating from G2 reviews: 4.5/5
Pricing: StoryChief has four pricing plans:
Free
Essential $12/mo
Pro $24/mo
Custom $65/mo
#5: DivvyHQ
When you're flying solo, staying organized is easy. Add two, four, or eight people, and everything changes. You might have processes in place, but they might be working against you by slowing you down, even with the right people.
Assets are all over the placeand finding them is a pain. You also have to keep asking for status updates from the marketing team to know whether they're on schedule.
In other words, admin tasks are taking a huge chunk of your day, which isn't exactly what inspires you to show up.
With DivvyHQ, however, you're going to eliminate delays in your production process by improving collaboration and communication, saving time, and tracking the effectiveness of your marketing efforts, all in one place.

Features
Provides you with an editorial calendar to help you (and your team) stay on track with your content creation schedule.
Comes with an idea bank to make it easy to brainstorm marketing and lead generation ideas.
Their marketing platform is easy to set up and use, meaning that you won't get stuck trying to learn how to use it. If you get stuck, reach out to their responsive customer service team to help you out.
User rating from G2 reviews: 3.8/5
Pricing: DivvyHQ has three pricing plans:
Starter: $19
Pro: $49
Enterprise: Reach out to the sales team to determine a custom plan.
#6: Uberflip
As a B2B content marketer, you may never wish away the friction between sales and marketing teams.
But you can do something about it to help them become more aligned — by using a content marketing tool such as Uberflip to deliver personalized content to different target audience segments.

This will go a long way in aligning the two teams by shortening sales cycles, converting more leads, and reducing the cost of customer acquisition.
No more blame games where marketing teams believe that sales teams don't do enough to convert the leads they get while sales teams push back with claims that marketing teams don't provide high-quality leads.
Features
Has an AI engine that identifies your best performing content to help you know what content to repurpose.
Has a responsive customer service team and a comprehensive knowledge base, making it easy to set up and start getting value from the platform.
Allows you to integrate the platform with other tools you're already using.
User rating from G2 reviews: 4.2 / 5.0
Pricing: Reach out to the sales team to determine a custom plan.
#7: Kapost
The more your team collaborates and communicates effectively, the easier it is to maintain a consistent brand voice, making it easier for potential customers to connect with and trust you.
What's more?
80% of your potential customers expect you to have a consistent brand experience when interacting with different departments, from marketing to customer support.
That means that you'll need a platform to unify your content production process. And Kapost is another content marketing platform that comes in to help you do that with ease.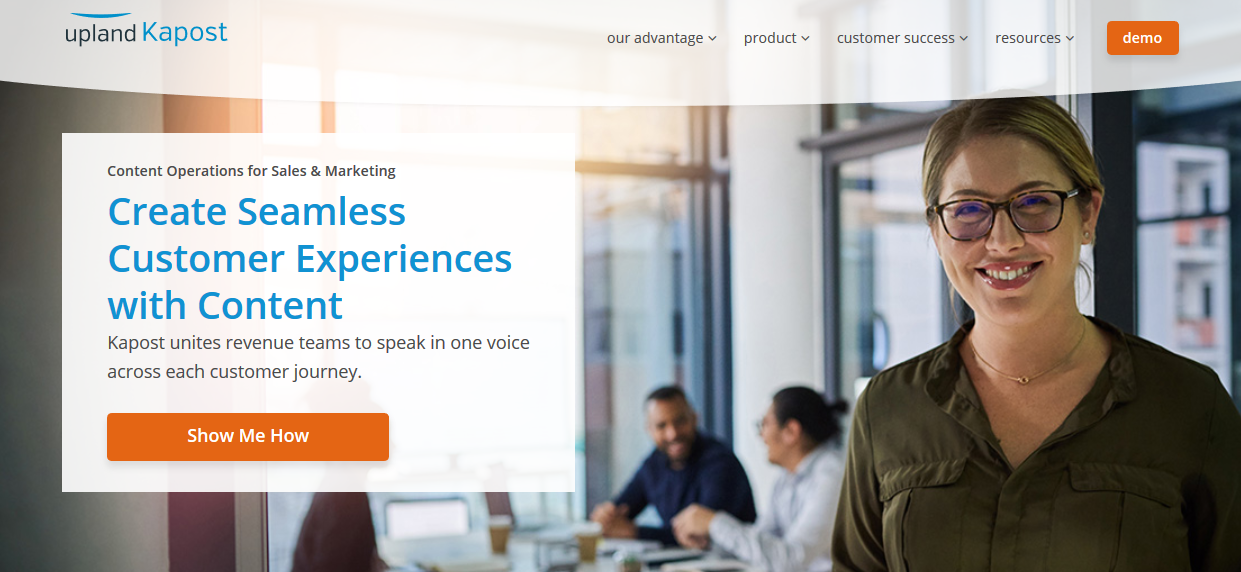 Features
Has automated workflows that allow you to track your projects to make sure you stay on track with your content marketing strategy.
Integrates with other tools you're already using, e.g. marketing automation platforms and social media management tools.
Makes it easy to collaborate and communicate with your team through different access levels, automatic notifications, and tagging.
User rating from G2 reviews: 4.0/5
Pricing: Reach out to the sales team to determine a custom plan.
#8: Ceros
There's too much content going live today. While marketers will keep checking their stats to see if anyone shows up to read it or not, customers aren't looking for content alone.
They also want you to entertain them. The better you get at doing both, the easier it becomes for you to get them to share your content and still come back for more. And that's just the beginning.
Over time, you'll earn their trust, convert them into loyal customers, and get brand advocates, simply because you've committed to delivering memorable experiences through interactive content.
Your favorite content platform for this? Ceros.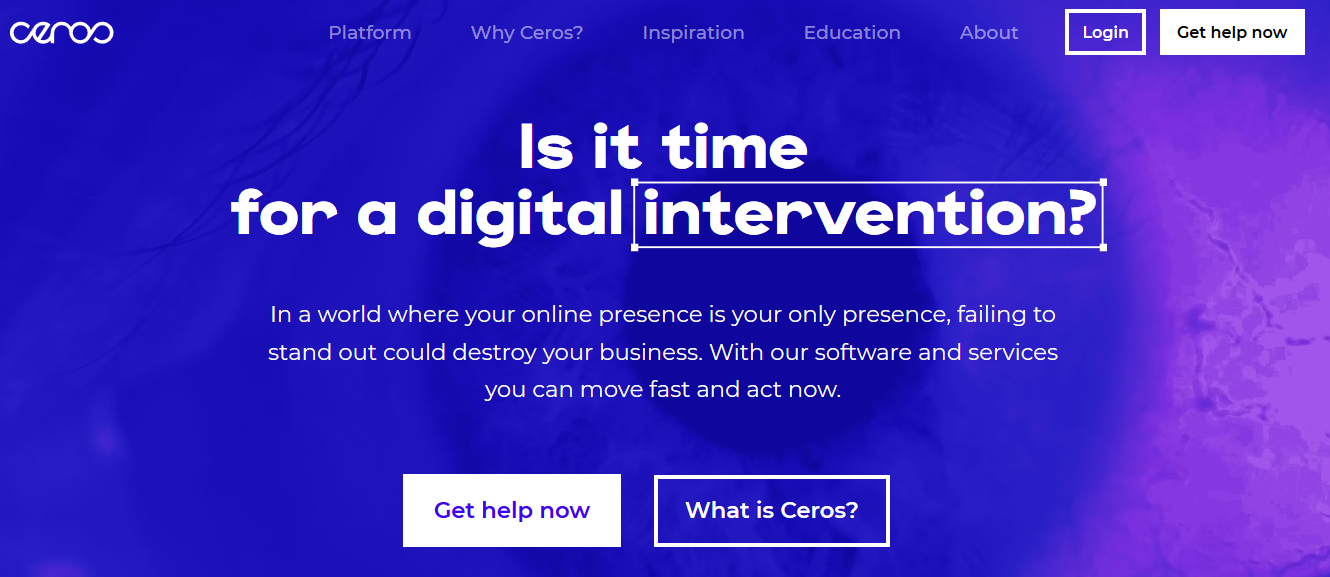 Features
It has an intuitive user interface that makes it easy to set up and use. You don't need previous experience as a designer or developer to create engaging designs.
Has a responsive customer support team.
Integrates with other tools you're using to make it easier for you to publish your content.
User rating from G2 reviews: 4.0/ 5.0
Pricing:Reach out to the sales team to determine a custom plan
#9: ClearVoice
Finding good writers isn't easy. Add that to having to manage and deliver on your content marketing KPIs, and everything becomes harder than you ever imagined.
But with ClearVoice you get to have your cake and eat it too. It's a content marketing platform that also connects you with writers.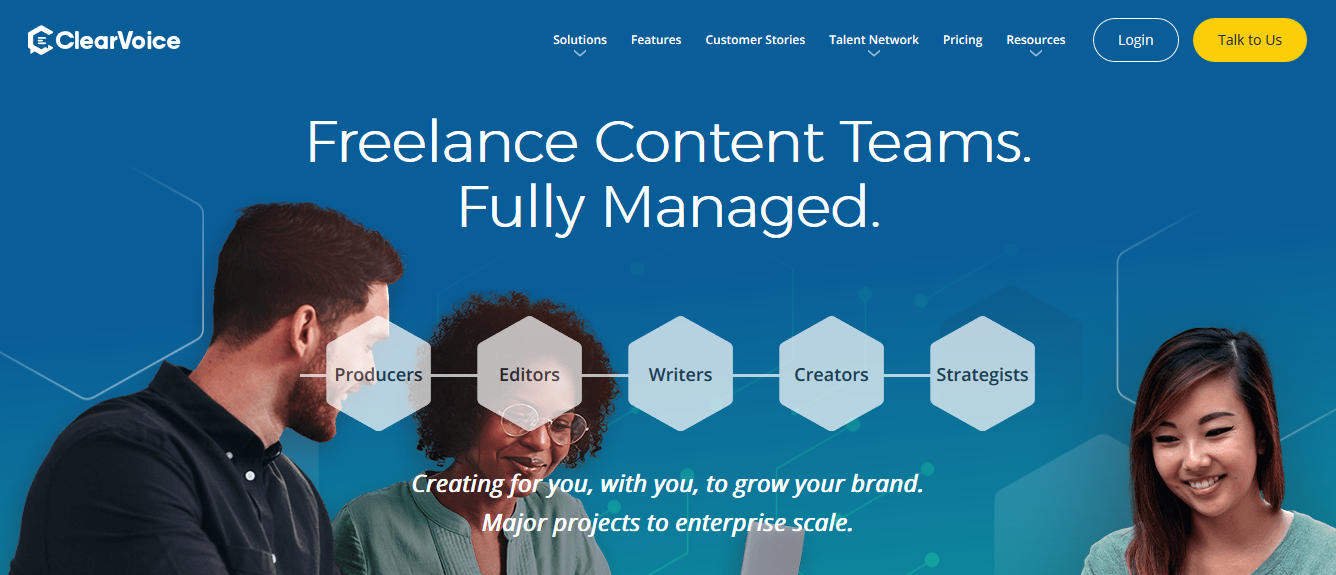 Features
Connects you with writers in your niche which will help you create great content.
Enables you to manage content creation and paying writers in one place.
Has a dashboard that allows you to monitor your content workflows.
User rating from G2 reviews: 4.4/5.0
Pricing: Reach out to the sales team to determine a custom plan
#10: Rock Content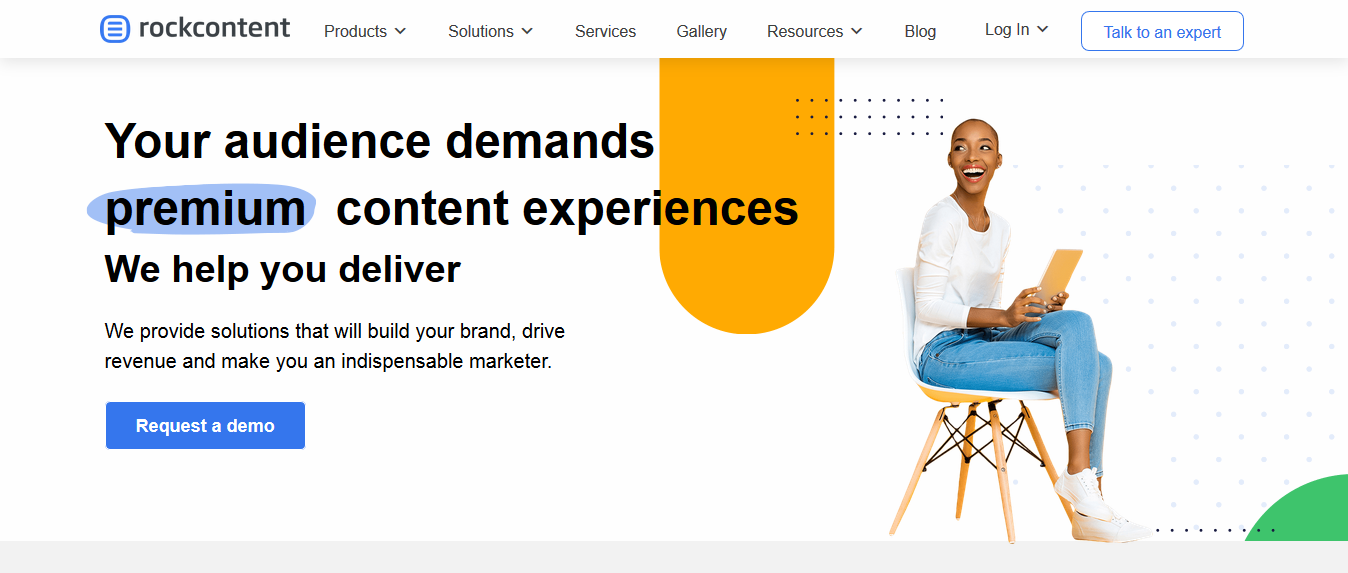 Producing great content at scale beats even the most prolific writers and B2B marketers.
And without a reliable content platform that helps you find good writers and identify the right content to keep your audience engaged, it's just a matter of time before your competitors outrank you.
But there's something you can do about it: Use a platform like Rock Content to manage your content production process so you can focus on publishing high-quality content.
Features
Has AI tools help you find the right interactive and visual content to help you deliver a personalized experience to your audience.
Provides you with useful insights on how your audience is interacting with content, helping you know what's working and what isn't working.
Provides you with a dashboard to help you track the progress of your projects, identify key milestones and potential issues that may lead to unnecessary delays.
User rating fromGartner reviews: 3.9/5.0
Pricing: Reach out to the sales team to determine a custom plan.
#11: CoSchedule
Having a single source of truth where everyone on the team knows what's going on and who is doing what when running your marketing campaigns is critical. It helps keep everyone on the same page and address any bottlenecks that get in the way of implementing your content strategy.

CoSchedule comes with a full marketing suite to streamline your marketing operations and help you track progress and measure the impact of content marketing on sales. If you are looking for better options, you can check buffer alternatives for more better options.
Features
Has an intuitive user interface making it easy to set up and use.
Integrates with different social channels, allowing you to post your content ahead of time and keep track of other marketing projects you have.
Has a calendar view that will enable you to see and know the status of each marketing project you have.
User rating from G2 reviews: 4.4 / 5.0
Pricing: They have three pricing plans:
Blog calendar: $13
Marketing calendar: $24
Marketing Suite: Reach out to the sales team to determine a custom plan
Conclusion
So, which of these marketing platforms would you like to check out? If there's none right now, no need to worry. A list of 11 content marketing platforms might be a lot to take in at once.
So, here's what I'd suggest you do:
Read through the list again, pay attention to the features, and check out user reviews. Once you've done that, come up with a list of 3-5 platforms that will help you implement your content marketing campaigns without losing your sanity.
And If you have any questions about a specific platform, don't hesitate to reach out to us.
We'll do our best to help you.