Content marketing was growing strongly in 2020, and all signs point to very similar growth in the years to come. There's one problem, though – successful content marketing development is leading to a saturation of the market with content. Content creators will have to do more now to stand out and capture the attention of their audiences.
Hence two more questions: what will you do to make your content meet your goals? What kind of content marketing will work best for your target audience?
Let's take a look at content trends and ideas that worked great last year and are likely to be even more popular in the coming years.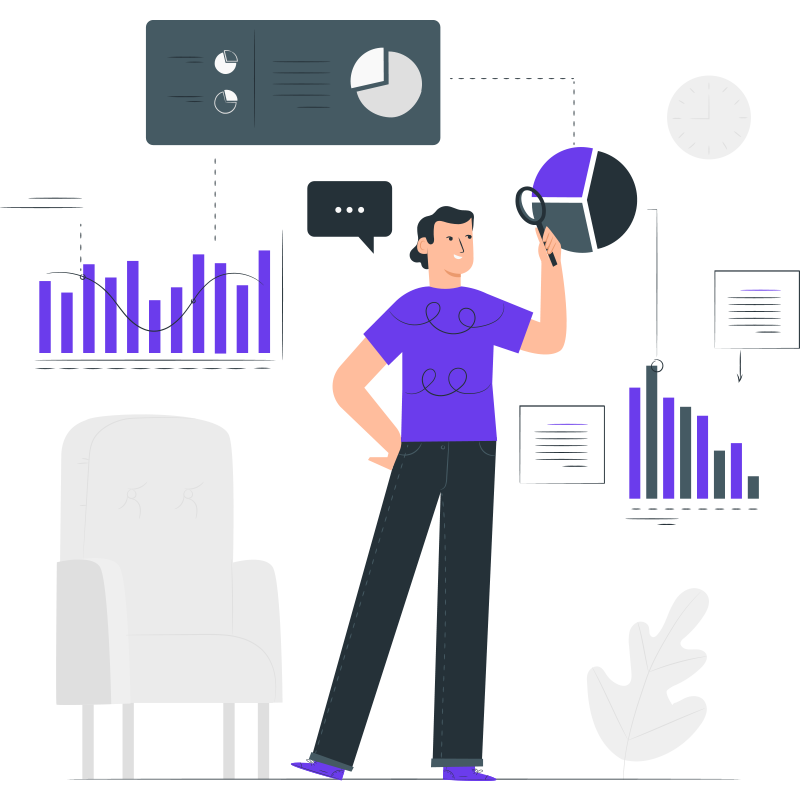 Get long-term ROI.
We help you grow through expertise, strategy, and the best content on the web.
Top Trends & Ideas for Content Marketing:
Video
Broadcasts, short videos, user-generated content (UGC), etc. Watching videos is a favorite pastime for many online users – watching videos reportedly takes up about a third of the time spent on the Web and taking advantage of this is a very important business tip. In 2021, video is still the most effective form of content thanks to the growth of streaming platforms and, of course, the pandemic.
People expect companies to create useful content – they want a clear answer to "How to make a soup?" without watching a half-hour video with some "soup origins." The same goes for reading articles or listening to podcasts. By the way, we're already seeing a trend toward switching between different formats for the same content: from text to video, to audio, and back again.
YouTube has 33.8 million daily users.
TikTok has 6.3 million daily users, according to Mediascope.
Videos, especially live streams, help "humanize" the online presence. This is something that's sorely lacking for those who, due to various reasons, spend most of their time online.
Consumers love with their eyes, however, due to information overload, users increasingly value short content. Short video clips have become popular thanks to TikTok, while YouTube is also experimenting with them, and Instagram has launched their Reels feature in response. Snapchat unveiled a new feature for short video creators, called Spotlight, and Google is testing its new feature that will display short clips from Instagram and TikTok directly into search results.
All of this offers the opportunity to reach a wider audience, even without much investment in promotion.
More and more brands will start attracting audiences through challenges and videos in a UGC format. Go to TikTok with fun and entertaining content, betting on originality. It can be reviews or recommendations on how to use your product, adjusting to UGC content. We'll talk about that in more detail below.
These days there's a high level of personalization of advertising and an increase in demand for different channels. Brands are looking for something else to try other than the classic bundle of search and social networks.
The pandemic caused huge damage to cinemas, and users became even more accustomed to watching movies and streams online. Services like Zoom have become major tools for communication, and Netflix has entered new markets.
People are used to pandemic streaming, so platforms will invest in their development. We can safely expect the integration of product advertising into live streams. For example, in China, the live-streaming eCommerce market is growing rapidly these days.
Augmented Reality
This is another trend in video content that increases audience loyalty. Here is where you can get creative with gamification. Everyone already knows those masks you can try on, right? Well, of course, it does not stop there – you can try on clothes and project characters in the offline world with a special app and a camera, e.g. you can animate your "corporate hero" in this way.
Creating content with AR elements will require additional investment, however, the result will make the brand stand out from its competitors. Augmented Reality Development has been trending in the last two years, but can it maintain its heat in 2022?
EdTech
In 2021, the EdTech market will become more than active. This applies to short educational materials in particular, which will become part of content marketing. Bloggers will not just entertain, but teach.
In 2021, you can afford weakness, vulnerability, and sincerity.
There will be more content about psychological health, supporting yourself and your loved ones. We have to show our care and attention by providing long-term information that's requested by our customers. This information can be delivered in the following ways:
How-to guides – to show your experience to your target audience;
Case studies – to provide in-depth insights into a certain case/activity of your brand and prove expertise to your TA;
Lists – to deliver all available options and choices for your readers on a particular subject;
Tips and recommendations – to provide useful advice and help your customers make an informed decision;
Charts, tables, diagrams – to deliver analytical content in the most understandable, compact, and engaging form;
Tutorials – to help your target audience cope with their every-day problems in a more interactive and detailed way (when compared to how-to guides).
The content becomes more democratic, getting shorter, more accessible, and easier to consume. No longreads, but a series of notes or – better yet – comic strips. The shift to shorter text formats, memes, video content, podcasts, and IG Stories is more of a long-term trend, however, it's unclear how far it will develop.
You can also interview your consumers, partners, and micro-influencers in your community, or anyone else that you think will bring value to your audience.
Social Media
Popular platforms have turned into educational hubs, interest clubs, online stores, and gaming platforms. The main thing is to "catch the trend wave and surf it until it's about to crash on the old rocks. Therefore, it's vital to monitor not only new websites gaining popularity but also those that have long been established in the market.
If your budget is tight, and you can't afford bloggers or expensive ads, you can use a mix of marketing tactics. For example, some brands increase engagement after creating social media-focused profiles andusingfree social media management tools.
In addition, geotags, custom QR codes, direct messages, and stories on platforms open the door to interactive marketing. This will allow news to be shared with active audiences and reduce the distance between your brand and customers.
Check out this guide from Systeme.io to learn more about social media and digital marketing.
Interactive Content
We all know that interactive content increases user engagement. Social media is full of polls, some of which get amazing engagement. However, many websites and blogs barely use this form of content. If you are one of them, try adding a few elements of interactive content to your site to get your audience's attention, like challenges, polls, contests, Q&As, online tests, flipbooks, etc.
Moreover, you can also stimulate your existing TA to take part in creating content and offer some bonuses in return. That's another chance to be featured on several platforms and gain more attention for your brand. There are plenty of web design tools that you can use in order to customize and add interactive content on your website too.
Micro-Influencers
Brands are less and less likely to partner with celebrity endorsers because influencers are better at attracting active audiences on social media these days. They can be a huge help when promoting content, however, the problem is that influencer marketing is becoming too popular. The downside of immense popularity is saturation.
One way around this problem in 2021 is to use micro-influencers more widely. People with smaller audiences have one important advantage over macro-influencers – their followers are likely to be more loyal and engaged with the content.
To capitalize on this trend, you need to research the market in detail, as a random influencer will not bring the expected results in promoting your brand. You have to find someone who is already prominent in the target community. Partnering with such a person will help you penetrate a niche audience and build your customer base. Once you've found a few influencers, you can then audit them to understand if they're genuine. For this, you can leverage an influencer audit tool. Such a tool will help you identify influencers who have fake followers.
That said, it's important to keep a few key rules in mind:
No copywriter can tell you about your product, service, or company better than yourself. Therefore, provide a detailed introduction. Even better, if the person doing the content is inside the company and well-versed in all its processes;
There's a big difference between an advertising text and a blatant lie. Don't lie to your audience – lies are bound to be exposed, and after that, it will be virtually impossible to retain deceived people;
Do not copy materials from other sites. Apart from being charged with plagiarism by Google or any other search engine, you will also get a fat dislike in your karma. Remember that reputation takes years to build and can be ruined in a day.
Super Apps
In 2020, we were able to order cabs and burgers in one app. How are super apps useful for big business? The user doesn't have to switch between apps – everything can be ordered in a single app. This means that you can retain your audience with less effort.
In 2021, there will definitely be an increase in mobile content consumption. New super apps will appear, and existing ones will evolve. Super apps easily become a platform for other brands. For example, on WeChat, users consult doctors, order food, and apply for loans.
Human Content
Not all brands have realized that it's not always worth selling directly, and continue to "pursue" their clients with "unique" offers, discounts, and a flow of boring information, e.g. company news.
Collaborations with bloggers are also changing. The experiences of Instagram, TikTok, and YouTube show the importance of sincere and honest content. Brands shouldn't be afraid to show products the way they are. Millennials and zoomers are more likely to trust brands that align with their values and create tolerant and sincere content.
The trend toward "humanity" has become the core of content in 2020. Many brands have abandoned their head-on selling strategies and integrated their ads into the context of the pandemic. For example, McDonald's originally recalled the need for washing your hands. Such communication shows the brand's involvement in people's lives. Thus, we should focus more on emphasizing values close to our TA.
Think about events your brand is part of. These can be any conferences, meetings, holidays, and other happenings that are related to your brand and your audience.
Backstage content. Let people see how transparent you are – show them your company culture. There may be so much going on in your organization's every-day life – this means you can share something with your audience to get closer to it. A sneak peek of what's "cooking" will surely increase your credibility with the audience. The more they know – the more they trust!
Feedback and testimonials. Collect stories of success from your real customers – search for comments and quotes that mention your brand and keep an eye on direct messages.
Short Stories
Yes, we have already mentioned the necessity of being short in 2021, we thought this trend deserves a separate place on our list.
A good story is captivating from the first lines – it inspires and motivates. If your story impresses readers/listeners, they may retell it to others. In fact, they will make it their own – this means you've succeeded in reaching your audience.
In addition, true-life stories related to the product/company are always well received. The main thing is not to overdo it. Don't make it up – your stories must be real – fake ones lead to serious reputational losses. You can tell about your brand in the most interesting way and increase your credibility. Don't be stubborn with advertising: the message should be read between the lines – add emotional colors to your story and encourage users to share their own experiences.
This kind of marketing technique is often used by large companies. For example, companies involved in clothing and tourist equipment production often make thematic documentaries. Naturally, the characters there use products of the originating company. Social media storytelling plays an important role here.
Apart from that, you can also share your ideas and interesting suggestions to inspire your customers. Provide life hacks to tell them how they can implement your wonderful ideas into their everyday life. Consider things that matter a lot to your TA.
There are also experiments that will set your audience up for a surprise. You can share theories and intrigue your TA with uncertain outcomes to keep them interested. This will allow you to gain insights and grow with your audience.
Casual Style
Narrative style plays a major role in informing users by directly influencing their perception. We've noticed that large companies tend to gradually replace the tone of voice and change the types of content from official-business to more user-friendly and simple. The reason for that can be that people are simply fed up with "dry" business talk. The main thing is (again) to go easy on it.
Conclusion
Users have learned how to identify good content, so the main trend in 2021 is to keep creating it.
2021 could be a tough year for content marketing because so many companies and marketers have recognized the effectiveness of this method of marketing. There will be more competitors and they will be more inventive. However, that doesn't mean you can't succeed and achieve amazing results from your strategy – you'll just need to do a little more planning + more varied and higher quality content.
They say that nothing will be the same when it's over. It makes sense, however, the pandemic and coronavirus itself is just context. It affects content and its presentation but it doesn't affect content marketing as a tool. Despite all the changes, nothing is new for content marketing. On the other hand, the pandemic has shown what a global crisis could be, and the whole world is thinking about the coming possible climate crisis.
"Green" economy is the trend of 2021. Companies and brands that work with environmentally friendly technologies will be valued more.
People during and after the pandemic (the new target audience) have also become more focused on household issues, the environment, and personal data protection. This means that content on these topics will be a priori more popular. The pandemic, in terms of needs, is the great equalizer. We all fear for our health, we want to be less sad, we're not sure about tomorrow, and it's getting harder and harder to plan things. Nothing has united us like this before.
Pinterest has already analyzed audience interests and noted trends toward mindfulness, caring for the planet, and learning new skills.
Support your audience's values through content and help them start something new in a changing world, e.g. invest money, learn new skills, deal with setbacks, and take care of the planet. Because every setback is an opportunity to better yourself.