There are hundreds of SEO tools on the market.
The problem?
They either cost too much or are outdated and hard to navigate — or both.
Chances are you want an SEO tool that doesn't break the bank and gives you the kind of detailed information you need to make strategic SEO decisions.
Which is what cognitiveSEO claims to deliver — in fact, they market themselves as "the only SEO tool you'll ever need."
Let's see if this holds true.
This cognitiveSEO review will take a deep look at what the tool is, its SEO features, pros and cons, and, most importantly, whether it is the right SEO tool for you.
Our Verdict
If you are looking for a one-stop shop for all your SEO needs, cognitiveSEO is a great option. If you are a large brand or SEO agency, this is an SEO tool worth paying attention to. However, keep in mind that the tool hasn't had any major updates and may not be as relevant in 2023 as it was in 2016.
TABLE OF CONTENTS
Publish Google Docs to your blog in 1-click
✅ Export in seconds (not hours) 
✅ Less VAs, interns, employees
✅ Save 6-100+ hours/week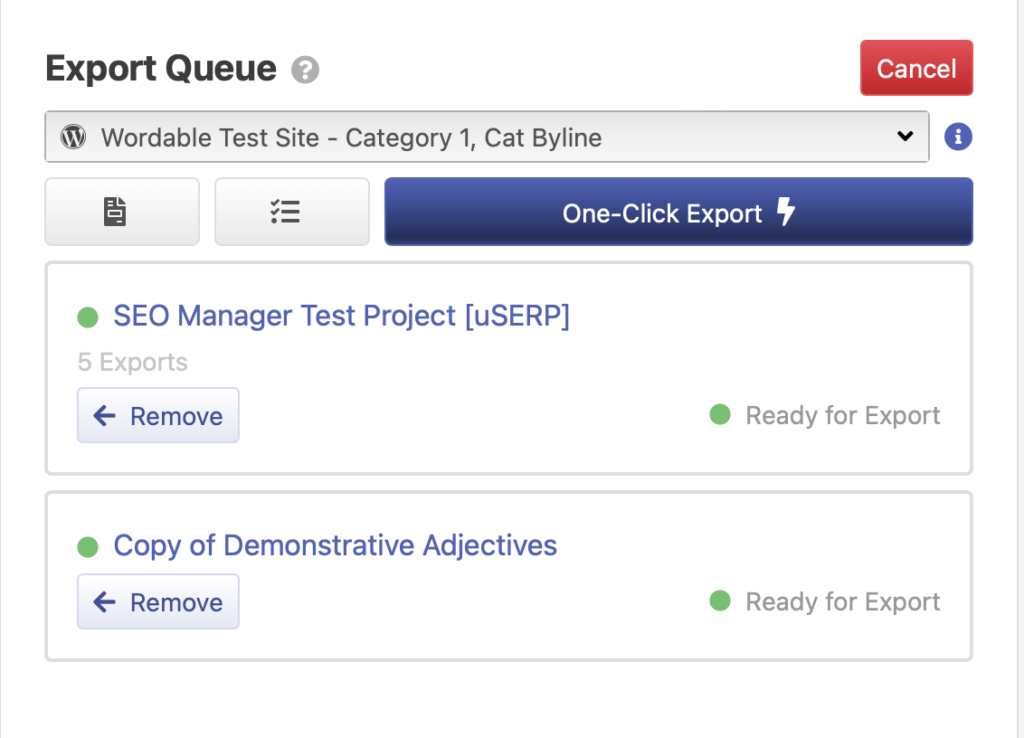 What's cognitiveSEO, Anyway?
cognitiveSEO is a full-featured SEO tool created by SEO and affiliate marketer Razvan Gavrilas in 2010. Gavrilas saw a need in the market for a powerful SEO tool that was both affordable and easy to use.
Smart dude.
With that goal in mind, he and his team set out to create the best SEO tool possible.
Today, the platform offers a range of features that allow site owners to perform a site audit, check on backlinks, look at local SEO, research penalties, better understand how their content performs, and see how their site ranks against the competition.
Basically, if you want to figure out how to rank better, cognitiveSEO gives you all the information you could want.
Gavrilas spent a year and a half creating the core concept, algorithms, and UI behind cognitiveSEO. Here's a peek at what the dashboard looks like today: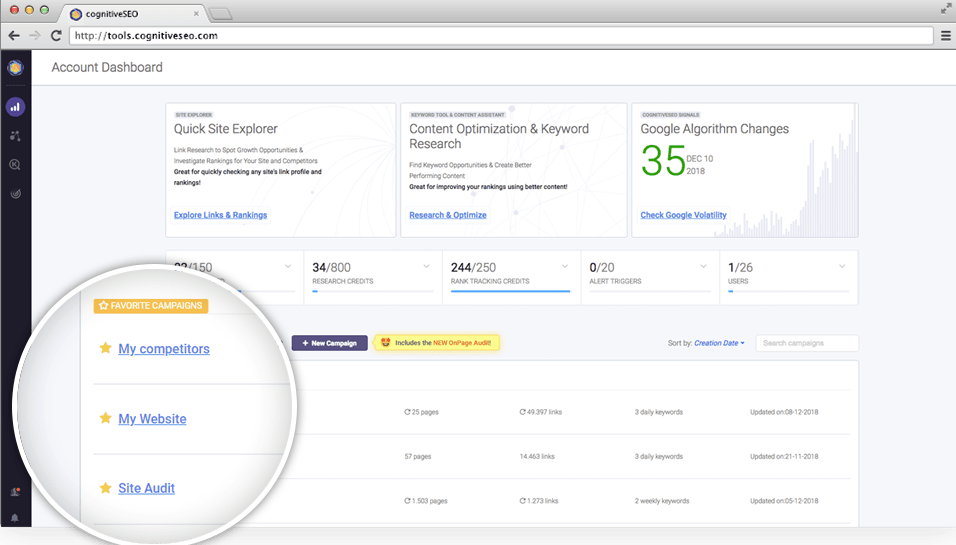 cognitiveSEO takes pride in its dashboard because of how simple and intuitive it is to use, especially if you're used to bulky tools like Majestic SEO or SEO PowerSuite.
A dashboard this straightforward can make your pitching and reporting more impactful, which is a significant advantage. It helps you effortlessly track over 35 metrics in real time and share that valuable data with your team members and clients. You can get a comprehensive overview of your SEO performance right after logging in — with no extra clicks required.
But what about the features?
Let's take a deeper look.
cognitiveSEO Features and Benefits  
A lot of SEO tools focus on just one or two features. They either gloss over the rest or make you pay extra to access other parts of the tool.
No one wants that. We suspect you also prefer to have all the information in front of you.
So, let's look at what cognitiveSEO brings to the table.
Content Optimization Tool
cognitiveSEO uses natural language processing (NLP) and AI to help you create optimized content that will quickly make it to the top of Google positions. The Content Optimization Tool also generates actionable recommendations for you to follow.
The beauty of this tool is that it analyzes the rankings for any keyword in any language. How about that? According to the cognitiveSEO team, it is the only tool on the market capable of doing this.
The Content Optimization Tool comes with the Keyword Tool, which shows you the exact topics and keywords your content is missing.
It also lets you know how readable your content is and even suggests other keywords to include. The tool generates a "content performance score," which gives an overall idea of how well your content will do.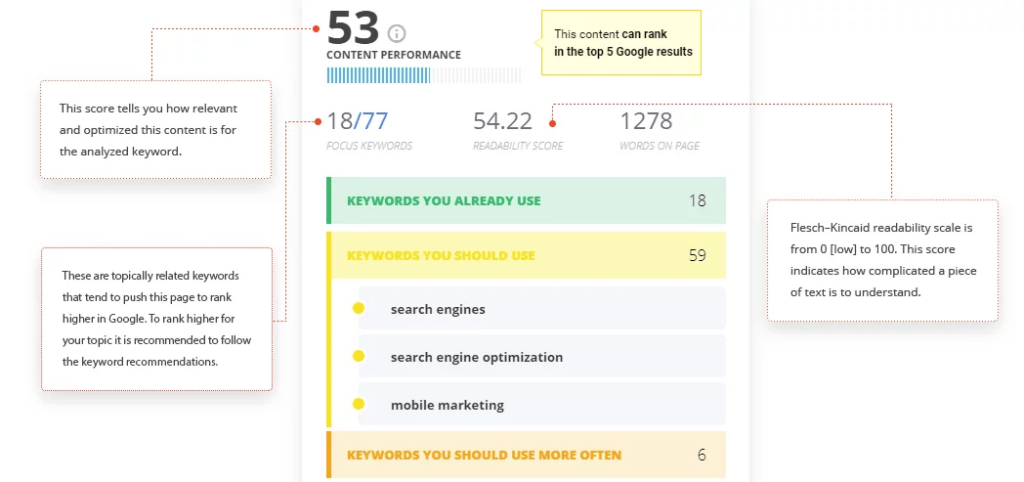 Sure, this content optimization tool isn't quite as sophisticated as, say, Frase or Clearscope, which help you run a detailed competitor analysis and build outlines and briefs in minutes. However, it's still a solid addition to this SEO toolkit.
SEO Site Audit Tool
This tool is the main jewel in the cognitiveSEO crown. Whether you are working with clients or want an idea of how your own site is doing, a technical site audit should be a regular item on your to-do list, and this all-inclusive tool is perfect for that.
The SEO Site Audit Tool detects on- and off-page issues that are hindering your website's SEO performance. With this tool, you can correct and maintain your website's architecture to ensure it's both SEO- and user-friendly.
During an audit, cognitiveSEO looks at the following:
Broken links
Duplicate content
Sluggish response time
Incorrect canonical tags
Architecture issues
International SEO issues
Bulky or broken images
Malware threats
Unsecured content
Sitemap problems
Mobile-friendliness
Anchor text issues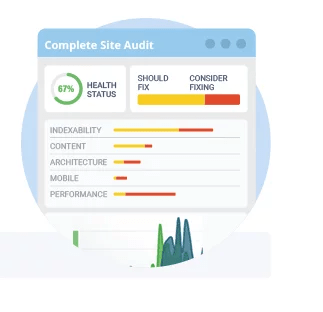 Once it runs, cognitiveSEO will give you an overall health status of your site and tell you what things you have to fix now if you want to rank — and what those mistakes are impacting. Pretty sweet, right? But that's not all.
Backlink Analysis Tool
Backlinks are one of Google's strongest ranking factors, according to Andrey Lipattsev, a search quality senior strategist at Google. That's why cognitiveSEO puts a lot of effort into backlink profile analysis.
cognitiveSEO's backlink checker starts by gathering information about all the links to your website. Then, it crawls and analyzes each link to give more context.
Finally, it generates an easy-to-navigate (but detailed) report listing new and lost links, nofollow/dofollow link information, unnatural links, and more.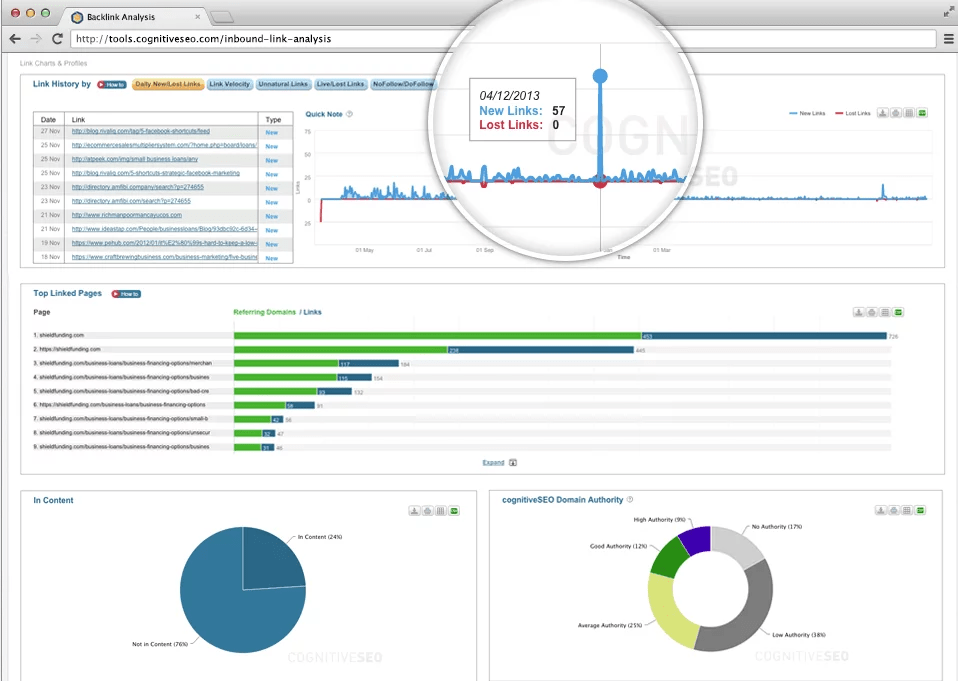 Here are a few more things their backlink analysis will tell you:
Backlink profile status
Daily links lost and gained
Top linked pages, including the number of links and value.
SEO visibility
Unnatural links list
Detailed information about why links are suspect
Competitor analysis of linking
Find link opportunities
This tool alone does a ton of work and can put many other SEO tools on the market to rest. With the information in the backlink report, you can craft a detailed link-building strategy.
Penalty Recovery Tool
If you've been hit by a penalty, either from a Google core update or a manual penalty, cognitiveSEO will help you recover from it by showing you which links are problematic and helping you disavow them.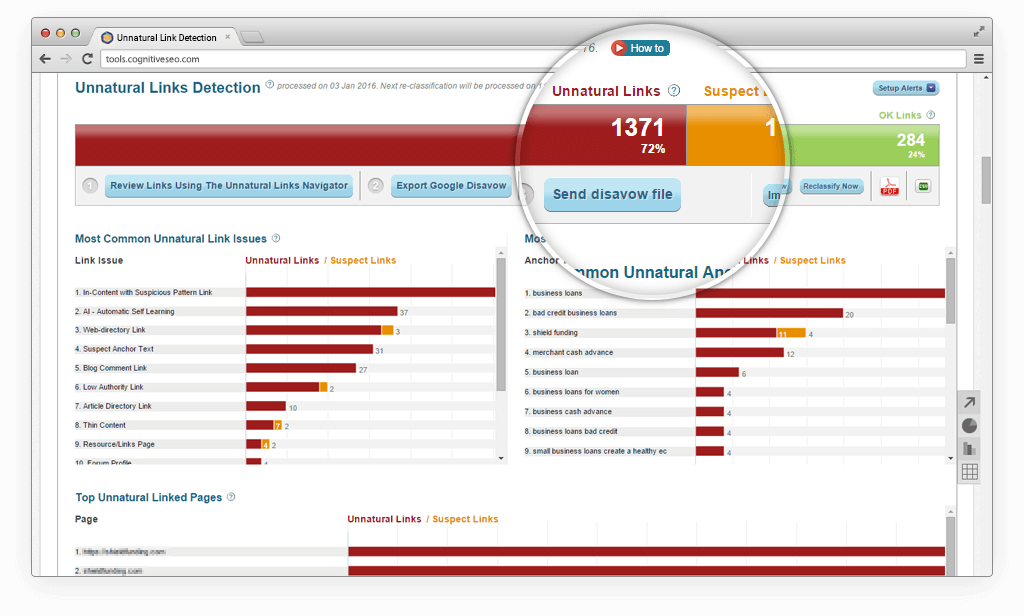 Basically, this is an unnatural link-detection tool that can give you an instant answer to the question, "Why are some of my pages performing poorly all of a sudden?" It enables you to review and disavow thousands of links in minutes, helping you keep your link profile immaculate.
cognitiveSEO reports
The data cognitiveSEO gives access to is pretty detailed, but it's the reports that matter the most. How do all those metrics come together? How do your efforts affect the overall dynamic? Can you trace any sustainable gains in your rankings? Reports should give you a definitive answer.
Luckily, cognitiveSEO provides a pretty robust reporting tool. Their reports combine all the info from Cognitive with all the data from Google Analytics, which makes them so much more insightful and transparent.
The reports can also be totally customized, allowing you to focus on the data that matters the most to you or your clients.
For example, if you want to see how ranking has changed and how many new backlinks the site has acquired, you can pull that all into one report and automatically send it to your email on the first of the month. (Or whenever you schedule it.)
In the higher plan, these reports can be white-labeled, allowing you to send customized client reports with your branding.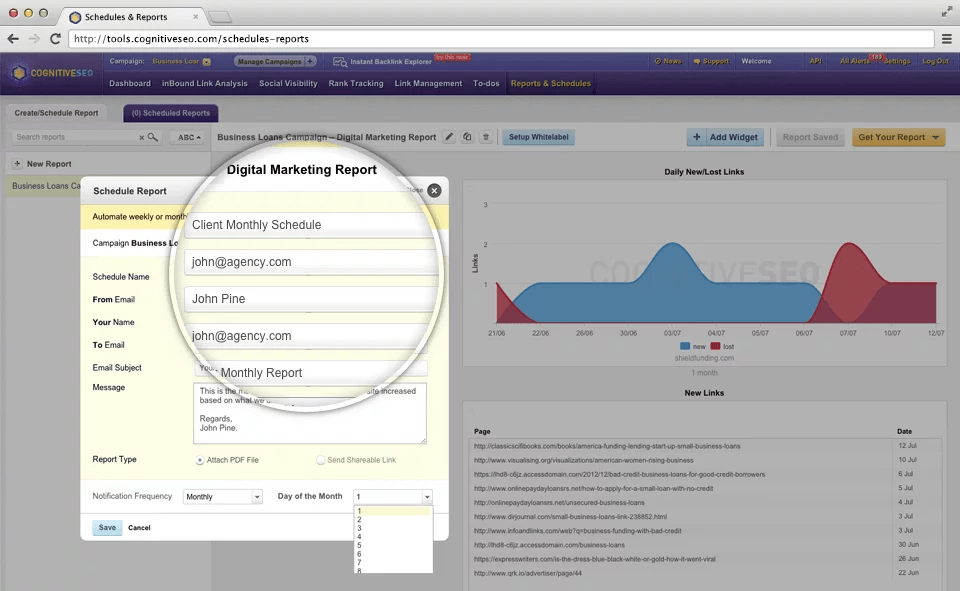 Here are a few other features of note in cognitiveSEO's reporting tool:
Real-time ranking reports
Fully customizable reports
Automatic report generation
Access control
Integrates with Google Analytics
White-label reports for clients
Overall, powerful cognitiveSEO reports are totally customizable and great for both internal and external consumption.
So whether you are tracking your own site or client sites, you'll have all the information you need to create a strong SEO, social media, and content marketing strategy.
Rank tracker
Google ranking is the bread and butter of local SEO. Does your plumbing company rank well for "plumbing <your city>"? If not, you've got a ton of work to do.
Unfortunately, it can be a challenge to evaluate and analyze your ranking without external tools. That's where cognitiveSEO's rank tracker comes in.
It gives you detailed information about where your site stands for a wide range of keywords, which is especially useful for local SEO efforts or seeing how your mobile site ranks. Moreover, you get to see how your rankings have been changing.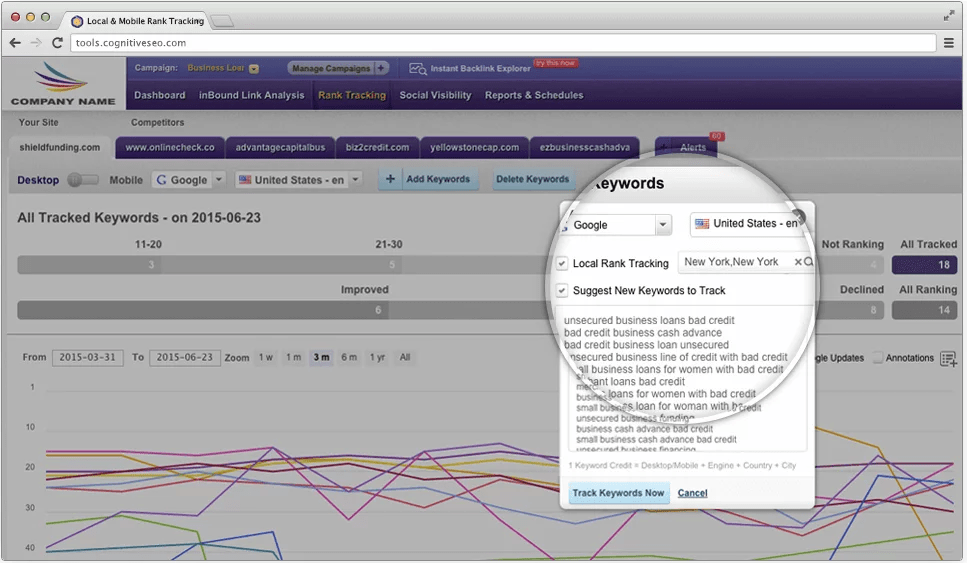 The tracker offers precision tracking for both mobile and desktop searches and can filter for both local SEO and universal ranking.
cognitiveSEO support
One of the main factors we consider when looking at SEO tools is support. The best tool in the world isn't going to be very useful if you can't get a hold of someone when things get hairy.
cognitiveSEO offers support through email or Twitter and gives a solid knowledge base of frequently asked questions.
They don't list support hours or promise a response in any specific time frame, but most of the reviews indicate the support is solid.
As a bonus, if you choose the higher-tiered "Business plan," you gain access to a dedicated "Customer Success Manager" (aka Account Manager) who will give proactive assistance and help with onboarding.
We'll get into more differences between the two plans a bit further down.
cognitiveSEO Pricing Plans
cognitiveSEO offers three pricing plans — Starter, Premium, and Elite.

The Starter Package costs $129.99 per month and is designed for freelancers, startups, and in-house teams with limited budgets. There are some limits on reports, rank tracking, and inbound link analysis. You also won't have access to the API.

The Premium package costs $199 a month and is an optimal solution for agencies as well as small and medium-sized businesses. With it, you get 10 campaigns, white-label reports, 5 user seats, and a personal Customer Success Manager.
The Elite Package is an enterprise plan. The pricing will vary based on your individual needs, and you'll need to discuss the details with the cognitiveSEO sales team.
It is designed for agencies managing several sites, large publishers, and small or medium-sized businesses. Several benefits of the higher-tier plan include one-on-one onboarding, a dedicated Account Manager, access to the API, private training, and white labeling reports.
The $129.99 pricing for the smaller plan is pretty in line with other powerful SEO tools. In fact, some tools cost the same and offer much, much less.
One more thing: cognitiveSEO offers a free 7-day trial, but it asks for your card details during the sign-up process. You need to be careful to avoid being charged if you aren't planning on using the tool. However, the free trial is still a great opportunity to test it out before buying.
What are the pros and cons of cognitiveSEO?
We've already talked a ton about the different features cognitiveSEO offers — but what you really want to know is whether it is the right choice for you. We've processed our impressions of the tool, and here's what we ended up with:
The pros of cognitiveSEO:
This is a comprehensive, all-in-one SEO tool with generous features. It even comes with a bundle of free tools, including Site Explorer, the Keyword Tool, and Google Volatility Tracker.
cognitiveSEO is great for detecting subtle SEO changes because every bit of data is at your fingertips. You don't need to do complex calculations — the tool does most of the work in the background.
It discovers on-site and off-site SEO problems equally well, and it gives you a 360°-view of what's happening with your site.
cognitiveSEO empowers you to analyze what your competitors are doing and outsmart them in terms of content optimization.
It provides you with comprehensive, professional-looking, and customizable reports you can then demonstrate to your colleagues or clients.
The dashboard itself can be adjusted according to your needs and goals, and you can share it with one click.
The cons of cognitiveSEO:
Intuitive as it is, the tool still has a steep learning curve, especially if you can't afford one-on-one training.
The interface is slightly dated, and there's no way around this. According to the cognitiveSEO website, the last major update was done in 2016.
Be prepared for a long load time when running a competitor analysis.
The cheapest plan can still be too expensive for freelancers and small agencies while also being quite limited.
cognitiveSEO frequently asked questions
You've read most of our cognitiveSEO review, but you might still have a few questions. Here is a quick rundown of the most asked questions about cognitiveSEO.
Is cognitiveSEO free?
No, but they offer a 7-day free trial for their lower-tier plan. You will have to provide your credit card data before gaining access, but you can cancel at any time.
Can cognitiveSEO help with competitive analysis?
Yes, the tool can compare links, content, and ranking with your competition's. This can help improve your overall ranking by providing insight into what works in your niche.
Does cognitiveSEO offer white-label reports?
Yes, but only if you purchase the Elite or Premium plan.
Is cognitiveSEO for small businesses or enterprises?
cognitiveSEO can be used by freelancers, startups, agencies, and enterprises alike. The tool comes with three pricing plans, so you can pick the one that best fits your needs and budget.
Does cognitiveSEO give API access?
Yes, the higher-tiered business plan gives access to the API so you can customize the tool to better fit your needs.
cognitiveSEO review summary
cognitiveSEO is a powerful SEO and link analysis tool. Unlike other professional SEO tools, it offers a relatively hands-off approach.
If you are looking for a one-stop shop for all your SEO needs, this is a great option. If you are a large brand or SEO agency, this is a fantastic SEO tool.
However, smaller brands or those without much technical experience may find cognitiveSEO overwhelming and difficult to navigate. There are a few free SEO tools you can use to get by in that case. Once you get the hang of the dashboard, however, this SEO software tool has a ton to offer.
Our only concern is that cognitiveSEO isn't very up-to-date. Now that voice and conversational search have entered the search engine arena, you may have to combine traditional SEO techniques with brand-new tools and methods, and cognitiveSEO alone won't be enough.
If you are looking for ways to make your job even easier, we recommend checking out Wordable. It will not only clean and properly format your HTML but also compress images, open links in a new tab, automatically set featured images, create a table of contents, and lots more within a single click from Google Docs.