There are hundreds of SEO tools on the market.
The problem?
Most of them suck.
They either cost too much or you need a doctorate in applied mathematics to navigate.
(Sometimes both.)
I don't know about you, but I need an SEO tool that doesn't break the bank and gives me the kind of detailed information I need to make strategic SEO decisions.
Which is what CognitiveSEO claims to deliver — in fact, they market themselves as "the only SEO tool you'll ever need."
Bold.
But is it true?
That's what we're here to find out.
This CognitiveSEO review will take a deep look at what the tool is, it's SEO features, pros and cons, and (most importantly) whether it is the right SEO tool for you.
Ready? Let's go.
Our Verdict
If you are looking for a one-stop-shop for all your SEO needs, CognitiveSEO is a great option. If you are a large brand or SEO agency, this is a fantastic SEO tool.
TABLE OF CONTENTS
Publish Google Docs to your blog in 1-click
✅ Export in seconds (not hours) 
✅ Less VAs, interns, employees
✅ Save 6-100+ hours/week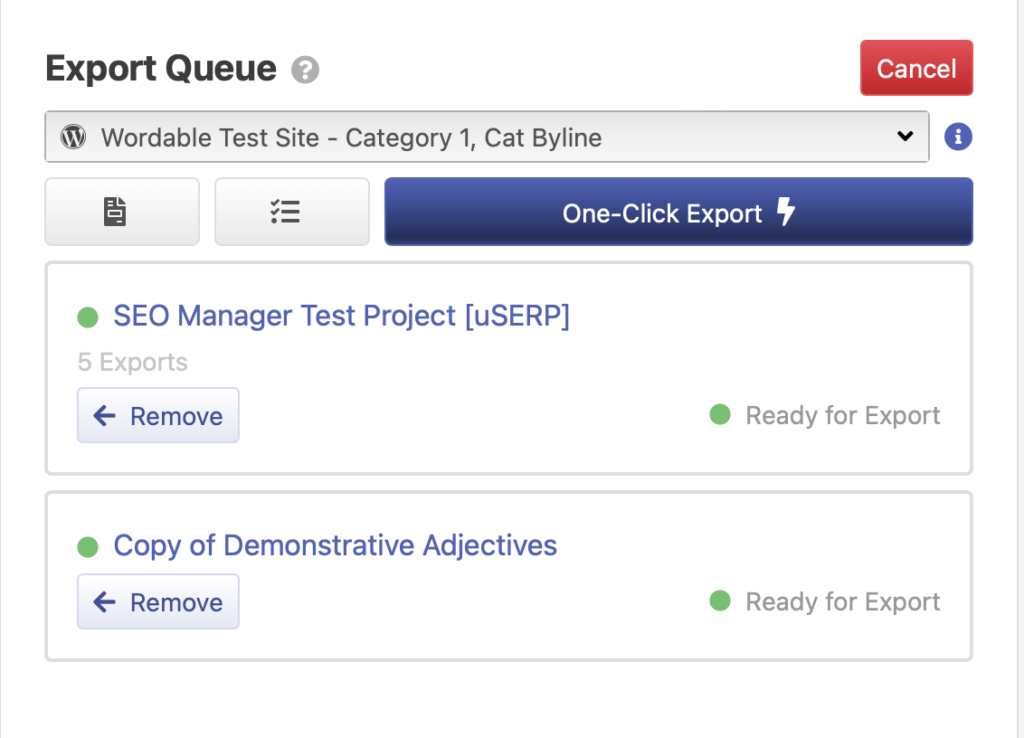 What's CognitiveSEO, Anyway?
CognitiveSEO is a full-featured SEO tool created by SEO and affiliate marketer Razvan Gavrilas in 2010. Gavrilas saw a need in the market for a powerful SEO tool that was both affordable and easy to use.
Smart dude.
With that goal in mind, he and his team set out to create the best SEO tool possible.
Today, the platform offers a range of features that allow site owners to perform a site audit, check on backlinks, look at local SEO, research penalties, better understand how their content performs, and see how their site ranks against the competition.
Basically, if you want to figure out how to rank better, CognitiveSEO gives you all the information you could want.
Gavrilas spent a year and a half creating the core concept, algorithms, and UI behind CognativeSEO. Here's a peek at what the dashboard looks like today:
At first glance, the dashboard is pretty simple and looks intuitive to use. Maybe even a bit too sparse, especially if you're using tools like Majestic SEO or SEO PowerSuite.
But what about the features?
Let's take a deeper look.
CognitiveSEO Features and Benefits
A lot of SEO tools focus on just one or two features. They either gloss over the rest or make you pay extra to access other parts of the tool.
Which I hate.
I need all the information.
So, let's look at what CognitiveSEO brings to the table.
SEO Site Audit Tool
Foremost, CognitiveSEO offers a site audit feature. Whether you are working with clients or want an idea of how your own site is doing, a site audit should be a regular item on your to-do list.
The Google algorithm changes every 2.5 seconds, which means if you aren't staying on top of stuff, your site is going to get burned.
That content you wrote three months ago? It's outdated.
That link you got last year? Yeah, that's a spam site now.
That awesome graphic you put on your homepage — well, that pretty thing tanks your load time.
Here's the question — do you have the time to spend researching and watching every little thing that could go wrong with your site? If the answer is no (and it should be), then you want an SEO audit tool.
Luckily, CognitiveSEO offers a pretty thorough one. Their site audit looks at:
Broken links
Sluggish response time
Incorrect canonical tags
Architecture issues
International SEO issues
Problems with image attributes
Malware threats
Unsecured content
Sitemap problems
Anchor text issues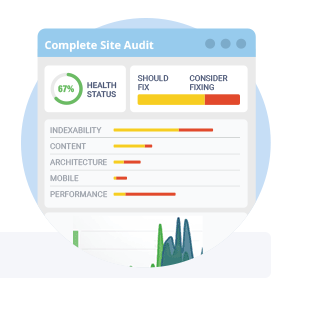 Once it runs, CognativeSEO will give you an overall health status of your site and tell you what things you have to fix now if you want to rank — and what those mistakes are impacting.
Backlink analysis tool
Backlinks function like votes for your site. Unlike votes for, say, a gubernatorial election, not all votes carry the same weight.
A backlink for a trusted site with a ton of traffic tells Google, "Hey, this site is useful; you should send people here."
While a link from a spammy payday loan site tells Google, "This site is suspect; don't send folks here."
In fact, backlinks are one of the top ranking factors.
CognitiveSEO's backlink checker starts by gathering information about all the links to your website. Then, it crawls and analyzes each link to give more context.
Finally, it generates an easy to navigate (but detailed) report listing new and lost links, nofollow/dofollow link information, unnatural links, and more.
Here are a few more things their backlink analysis will tell you:
Backlink profile
Daily links lost and gained
Top linked pages, including the number of links and value.
Nofollow/DoFollow links
SEO visibility
Unnatural links list
Detailed information about why links are suspect
Competitor analysis of linking
Find link opportunities
This tool does a ton of work. In fact, these features are often broken up into separate tools. With the information in the backlink report, you can craft a detailed link building strategy.
If you've been hit by a penalty, either from a Google core update or a manual penalty, CognitiveSEO will also help you recover from the penalty by showing you which links are suspect and helping you disavow them.
CognitiveSEO reporting tools
The data Cognitive SEO gives access to is pretty detailed. But, if you want to get how all the data interacts — or help clients get how their site is performing — you'll need a solid reporting tool.
You could build these reports manually, of course. But that's incredibly time-consuming and might not give you the full picture.
Luckily, CognitiveSEO provides a pretty robust reporting tool. Those reports combine all the info from Cognitive with all the data from Google Analytics, which makes it pretty powerful.
The reports can also be totally customized, allowing you to focus on the data that matters the most to you or your clients.
For example, if you want to see how ranking has changed and how many new backlinks the site has acquired, you can pull that all into one report and automatically send it to your email on the first of the month. (Or whenever you schedule it.)
In the higher plan, these reports can be white-labeled, allowing you to send customized client reports with your branding.
Here are a few other features of note in CognitiveSEO's reporting tool:
Real-time ranking reports
Fully customizable reports
Automatic report generation
Access control
Integrates with Google Analytics
White label reports for clients
How does CognitiveSEO's reporting tool stack up against competitors?
It's quite powerful, totally customizable, and great for both internal and external consumption.
So whether you are tracking your own site or client sites, you'll have all the information you need to create a strong SEO, social media, and content marketing strategy.
Rank tracker
Google ranking is the bread and butter of local SEO. Does your plumbing company rank well for "plumbing <your city>"? If not, you've got a ton of work to do.
Unfortunately, it can be a challenge to tell your ranking without external tools. That's where CognitiveSEO's rank tracker comes in.
It gives detailed information about where a site stands for a wide range of keywords. Which is especially useful for local SEO efforts or seeing how your mobile site ranks.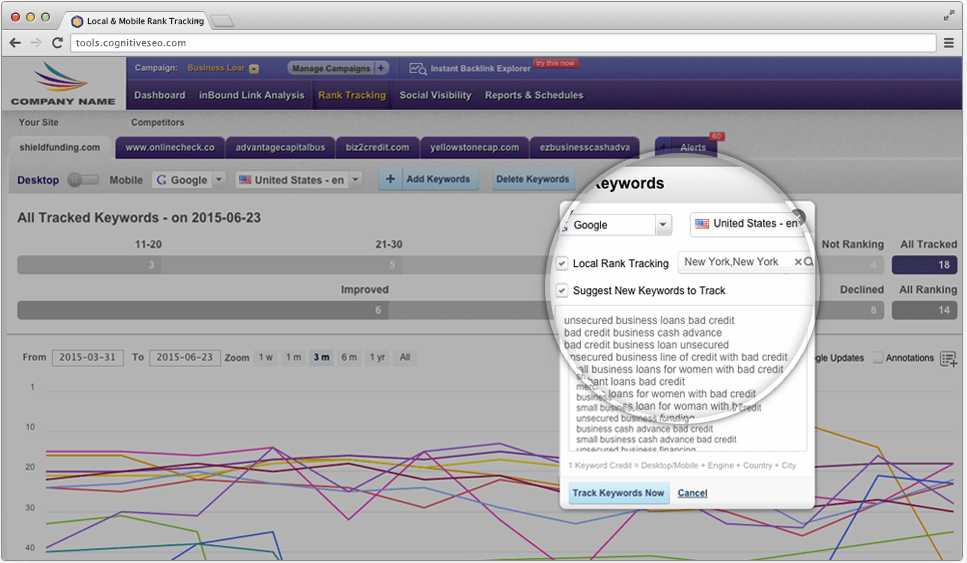 Their rank tracker offers precision tracking for both mobile and desktop searches, and can filter for both local SEO and universal ranking.
The keyword tool also has another useful feature — a content optimizer and keyword research tool. These tools can cost hundreds of dollars a month on their own, so the inclusion of keyword suggestions to track is pretty nice.
The content optimization tool gives detailed insight into what keywords you should include, a readability scale, and even suggests other keywords to include. It also gives a "content performance score," which gives an overall idea of how well your content will do.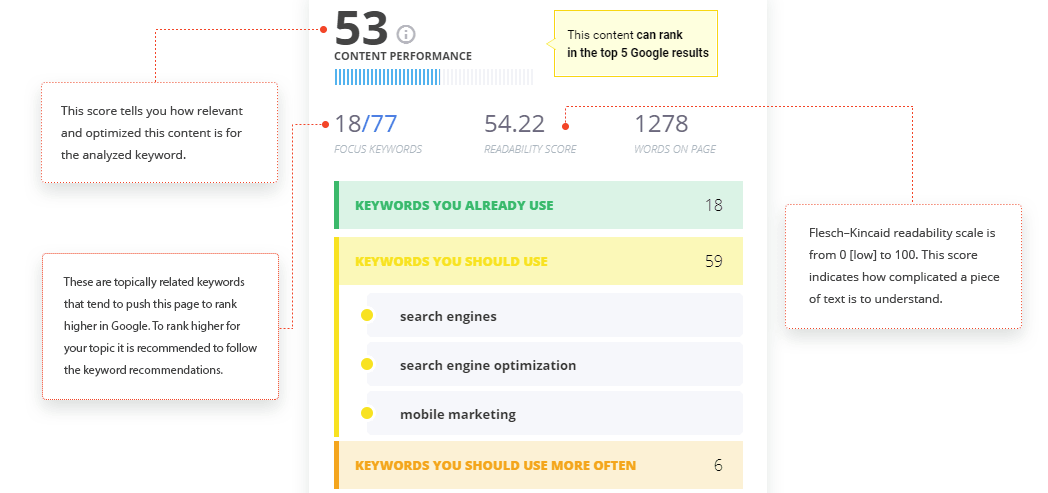 It isn't quite as robust as other content optimization tools, such as Frase, which gives features like competitive analysis and even content outlines, but it is a solid addition to this SEO tool.
CognitiveSEO support
One of the main factors I consider when looking at SEO tools is the support. The best tool in the world isn't going to be very useful if you can't get a hold of someone when things get hairy.
CognitiveSEO offers support through email or Twitter and gives a solid knowledge base of frequently asked questions.
They don't list support hours or promise a response in any specific time frame, but most of the reviews indicate the support is solid.
As a bonus, if you choose the higher-tiered "Business plan," you gain access to a dedicated "Customer Success Manager" (aka Account Manager) who will give proactive assistance and help with onboarding.
(We'll get into more differences between the two plans a bit further down.)
What are the Pros and Cons of CognitiveSEO?
We've already talked a ton about the different features CognitiveSEO offers — but what you really want to know is whether it is the right choice for you.
Really, it depends on your needs and your budget. Like any tool, there are pros and cons to CognitiveSEO.
For a single site, the lower plan might work just fine, but if you work with clients or need tools like white labeling, it could be cost-prohibitive. The tool has a lot to offer, but that can also make it overwhelming for some users.
Here are a few other pros and cons to consider when deciding if CognitiveSEO is the right SEO ranking tool for you.
Pros of CognitiveSEO
Comprehensive, all-in-one SEO tool
Great for detecting negative SEO attacks
Discovers on-site SEO problems
Great for competitive search engine and content analysis
One-on-one training sessions
Comprehensive reports
Customizable dashboard
Cons of CognitiveSEO
Steep learning curve
UI is a bit dated.
A long load time when adding competitors
Competitor analysis is limited in the lower plan
No dedicated Customer Success Manager for lower plan
CognitiveSEO Pricing Plans
CognitiveSEO offers two pricing plans — the Starter and the Business.
The Starter Package costs $129.99 per month and designed for freelancers, startups, and those with limited budgets. You can save 30% by paying yearly, but there are some limits on reports, rank tracking, and inbound link analysis. You also won't have access to the API.
The Business Package pricing will vary based on your individual needs, and you'll need to call in to talk about pricing.
It is designed for agencies managing several sites, large publishers, and small or medium-sized businesses. Several benefits of the higher-tier plan include one-on-one onboarding, a dedicated Account Manager, access to the API, private training, and white labeling reports.
The $129.99 pricing for the smaller plan is pretty inline with other powerful SEO tools. In fact, some tools cost the same and offer much, much less.
CognitiveSEO Frequently Asked Questions
You've read most of our CognitiveSEO review, but you might still have a few questions. Here is a quick rundown of the most asked questions about CognitiveSEO.
Does CognativeSEO offer a free plan?
Yes, they offer a 7-day free trial for their lower-tier plan. You will have to provide a payment source before gaining access, but you can cancel at any time.
Can CognativeSEO help with competitive analysis?
Yes, the tool can compare links, content, and ranking with your competitions. This can help improve your overall ranking by providing insight into what works in your niche.
Does CognativeSEO offer white label reports?
Yes, but only in the higher "Business plan."
Is CognativeSEO for smaller businesses or enterprises?
The two tiers make it a great option for both small and larger businesses.
Does CognitiveSEO give API access?
Yes, the higher-tiered business plan gives access to the API so you can customize the tool to better fit your needs.
CognitiveSEO Review Summary
CognitiveSEO is a powerful SEO and link analysis tool. If you are looking for a one-stop-shop for all your SEO needs, this is a great option. If you are a large brand or SEO agency, this is a fantastic SEO tool.
If you are looking for ways to make your job even easier, we recommend checking out Wordable. It will not only clean and properly format your HTML, but also compress images, open links in a new tab, automatically set featured images, or create a table of contents, and lots more within a single click from Google Docs.
However, smaller brands or those without much technical experience may find CognitiveSEO overwhelming and difficult to navigate. There are a few free SEO tools you can use to get by in that case.
Once you get the hang of the dashboard, however, this SEO software tool has a ton to offer.