➀ How Constant Content Works
Constant Content offers 100% unique content that is hand edited by 100,000 expert writers. Currently, they serve over 50,000 businesses.
You can either order custom content from professional a freelance writer or buy ready-made content, for example, a blog post on The Best Baseball Gear, etc.

Today when you want to want to beef up for your content marketing, you have options. You can go to a freelance writer through sites like Upwork, use content mills or a content marketplace, or even source a writer through a job board.

How does Constant Content stack up against other options?

In this article, we do a full Constant Content Review, look at the pros and cons, and how they stack up in the content marketplace.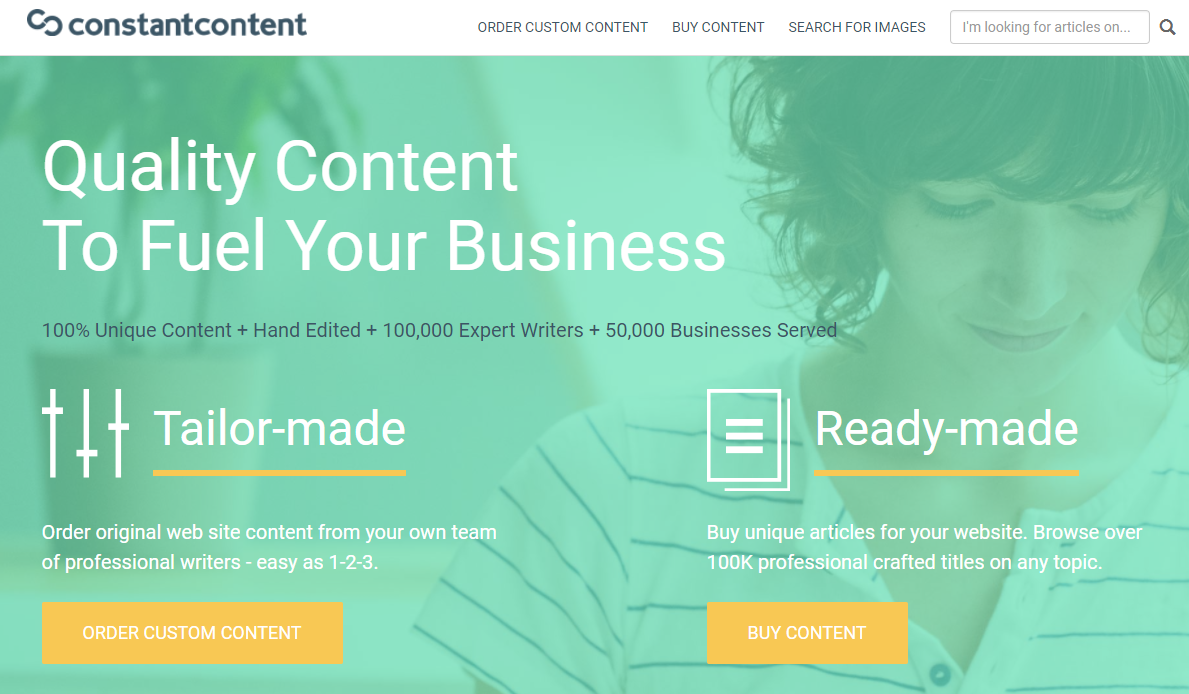 The two main content services they offer are category/product pages and blog post style content writing:

If you want more customized and specific content types, you can choose between a list of their custom content services and categories: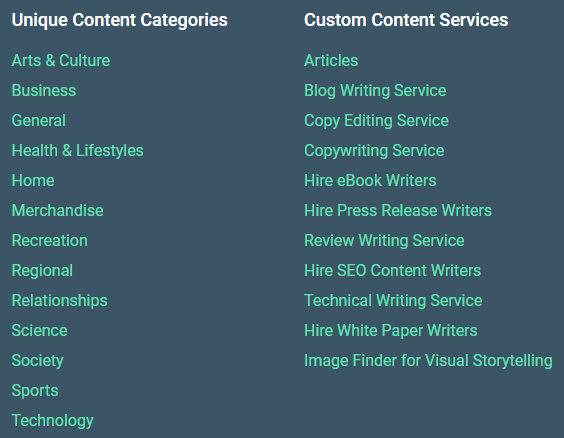 They also have a huge image library if you are looking to add images to content. But unfortunately, most of these photos are stock photos.
And as we discussed in the objective grading scale section, studies show that stock photos hinder performance.
They claim to have one of the easiest setup processes to get started ordering your content:
Going through the process ourselves, the setup of an account is extremely easy. But, the actual process of buying content was a nightmare. It was the worst out of all five services we tested (by far).
We'll go into more detail on that in a minute here.
So, why choose them over the others? Here's what they promise with their services:

The one annoying thing about Constant Content was the lack of pricing transparency for article writing. We couldn't see a simple pricing page to get started looking at content writing options, so we decided to create an account: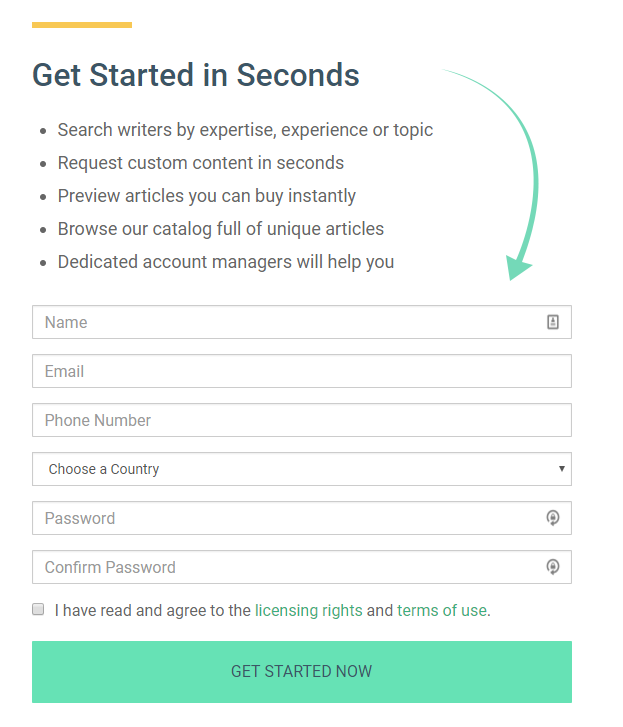 Once you fill in the information, you choose between the following:

We decided to do the "Order Content" request type, rather than buying pre-made content.
In general, the pricing varies from $20 to $200 dollars per 1,000-word article. That can either be very cheap or expensive compared to the other four platforms offering written content we tested.
After creating our job listing, we were prompted to buy credits. We bought $125 worth of credits as their system said that was what we needed for the quality and length requested: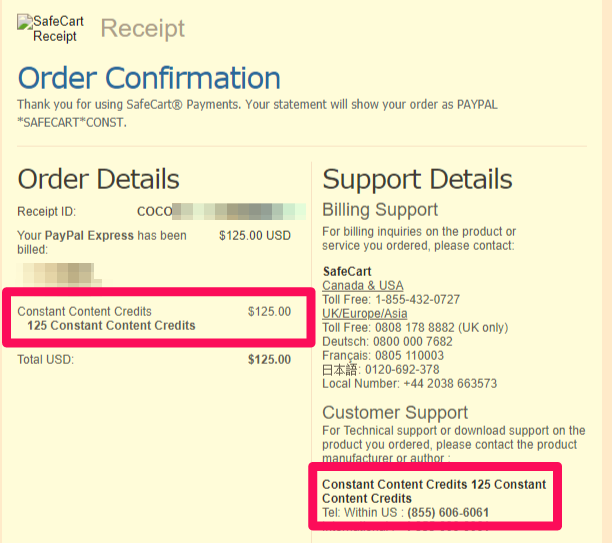 But when we checked back on our account, we saw the following message:

It says, "Your credits are now available to use," but right above this it says that you have to forward your receipt to their support email to confirm.
While this added bonus of extra account security is nice, we waited four days for them to confirm the credits. We checked back daily, and nothing happened.
So, we were forced to take matters into our own hands and use their live-chat service to get them to finally confirm it so we can order custom content.
Yes. We needed help to give them money.
The account setup process was a breeze. But that's a no-brainer. No account setup process in 2018 should be hard.
But ordering written content was another story. We couldn't even use our credits that we already paid for.
After they approved our credits for usage, we began the order process by using their "Expert Request" feature to match up to marketing writers:

After inputting our article title and topic, our request was pending approval, waiting for a writer to claim:

After a writer claimed our article, we received our content four days later. Upon receiving the notice, we found out that our content costs were $150, not $125 like their calculator told us:
As noted earlier in the account setup process, pricing is very unclear on their site.
Even if you select the highest quality article writer, your content could vary between 20-200 dollars.
And there isn't a single point in the buying process where you know what separates a $20 article from a $200 article.
This process is slightly annoying and feels uneasy to use.
You should always know exactly what you're getting when paying money for content.
Regardless, we added the extra $25 in credits to our account to complete the purchase:

And here's the content that we received:
Constant Content was the most expensive content farm that we tried.
Comparing content from the highest price point on each site with the top ratings, here are the stats on content received from CC:
1,260 words (260 more than requested)
Cost = $150
Turnaround time – highly customizable, ours took five days.
So, was the price worth it?
➁ Internal and External Links
At first look, the piece we received from Constant Content had no links.
Despite offering statistics and information from other sources in the piece, they did not directly tag links as anchor text for anything.
Scrolling to the bottom, you should notice a list of "Sources" containing links to referenced posts.
While this isn't ideal, it's better than having zero references or links.
At least it's something.
But again, this forces us, the buyer, to go back into the content and find where the source was for each point.
That's potentially an hours worth of work on our end for something that takes minimal effort from the writer to do during the construction of the article.
This signals to us a lack of effort. For a $150 post compared to the rest of the services, you'd expect to have the linking done for you.
Reading the entire post, you can see a few spots where links should be. But that means we have to go back and Google phrases to figure out their origins. And when paying for content, that shouldn't happen.
In terms of internal links, we found zero.
A simple, quick visit to our own blog would highlight some great content to include as a link.
It's a simple way of showing the client that you made that piece directly for them, rather than being generic and easily distributed to any other blog online.
➂ Article Structure/Readability
The structure of this post covered a few of the basics that we expect to see in a blog post:
An introduction
A headline
Subheads
But, this post lacked a formal conclusion to summarize the post.
Plus, headers were merely bolded rather than utilizing H1s and H2s.
Generally speaking, the format was lazy:

There were no spaces between introducing bullet points and even between the bullet points themselves.
This led to a cluttered post that was extremely hard to read or follow.
Like others, they simply dumped stats into bullet points rather than describing them.
This seriously hinders readability and dwell time.
When scanned with Grammarly, it generated a 49 readability score, the lowest of all content farms we tested: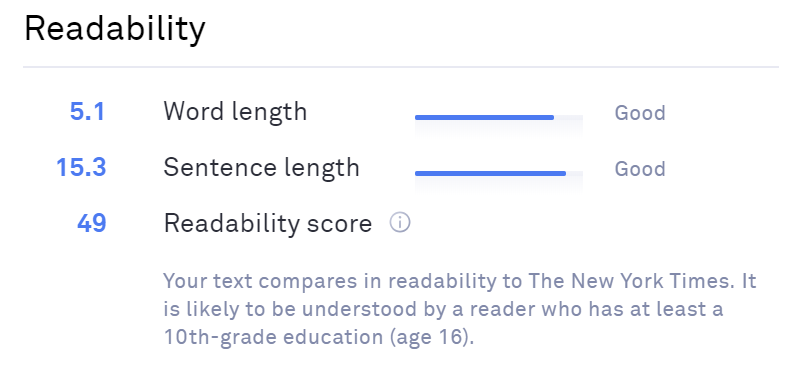 For being the most expensive (even double other prices), that's bad. Really bad.
Overall, the structure of the article was just not good. The lack of simple spacing or breaking down points and over-relying on bullet points made it tough to digest.
➃ Plagiarism
Scanning the article with Grammarly's plagiarism premium feature, the article used 3% from matching sources: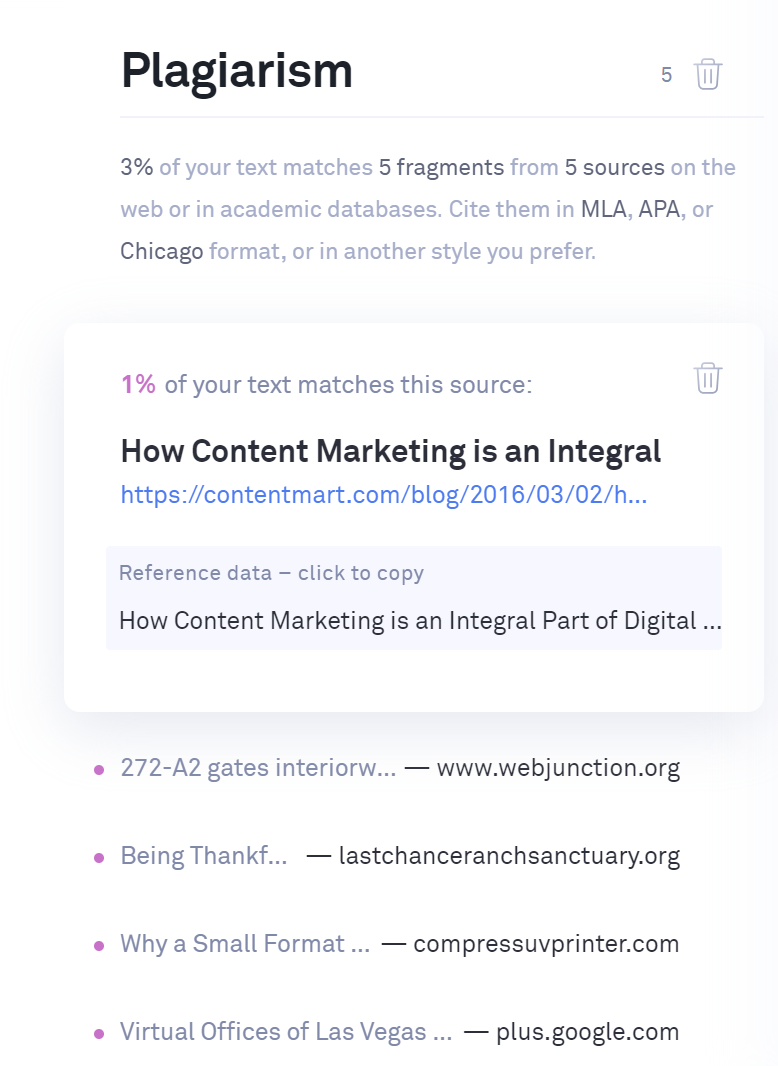 That's pretty solid.
But beyond text-based comparisons, there were some red flags.
Tons of the content simply wasn't original, but re-written and regurgitated from existing posts.
For instance, the section of the post that talks about the benefits of content marketing. It directly referenced a post from the Content Marketing Institute:

While referencing is great, the entire section was merely rewritten based on CMIs post. Compare the bullet points above to each numbered point on CMIs post: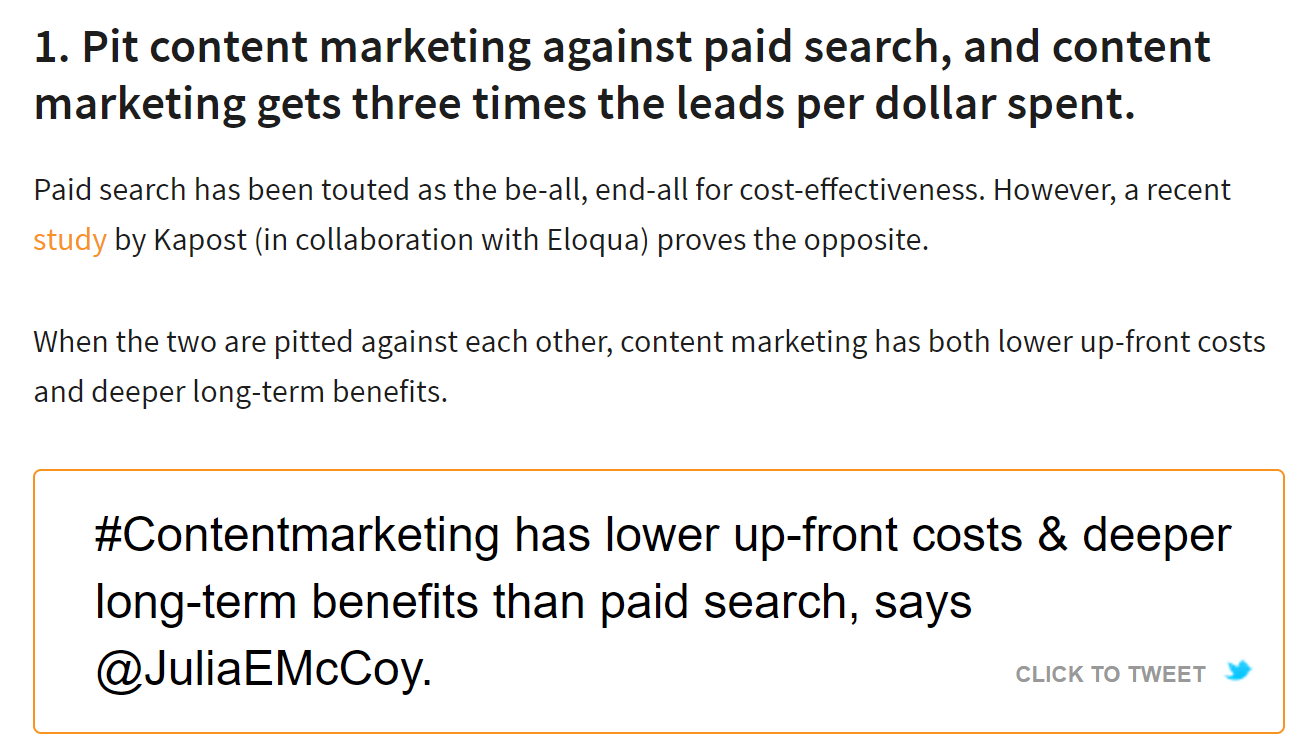 That's zero originality. References are amazing for content, but merely referencing and pasting isn't.
References should enhance your point, pulling a point or stat from the post, not the entire post in your own words.
This occurred in a few other sections where the writer seemingly reworded content.
➄ Content Accuracy
In terms of statement accuracy in the article, there were no inaccuracies.
The information cited was great and from high quality, high domain authority links. This is a hallmark of high quality content.
This is all a big bonus.
You can't afford to have and pay for outdated content.
➅ Expert Opinions: Anna Crowe and Zach Bulygo
Anna Crowe, Senior Editor at Codeless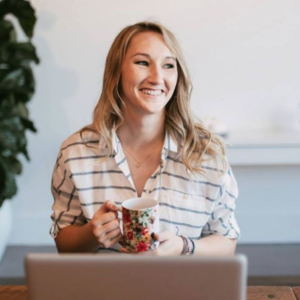 1. Who are you?
"Anna Crowe, the Senior Editor at Codeless, has spent 8+ years building marketing campaigns like a race-walking athlete prepares for the Olympics; with tenacious energy, mindful preparation and a relentless pursuit of greatness. I've worked for global brands like Marriott, IHG, McDonald's, and Mailboat Records to name a few."
2. Ignoring word count alone – Would you publish this piece on your site (yes or no)?
"No"
3. Why or why not?
"There's no sugar-coating it: This isn't the sexiest piece of content. No one wants to publish written content that's the equivalent to the launch of Eminem's Revival album, forgettable.
The fallbacks: boring intro, hard to read sentences, and the use of a passive voice. These things don't exactly spell out the best piece of content, do they? This article needs more TLC before I would hit publish."
Zach Bulygo, former blog editor Kissmetrics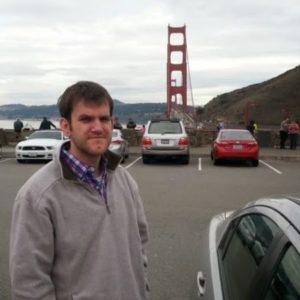 1. Who are you?
"Zach Bulygo, former blog manager and editor for the Kissmetrics blog, and freelance blog editor."
2. Would you publish this piece on your site?
"No"
3. Why or why not?
"I first notice its poor readability. Bullet points help with readability, but having bullet points consume the majority of each section is just lazy writing. It's a shortcut for skipping detail.
Also, one of those bullet points isn't aligned correctly. It's like double spaces or misspelled word. It's a sign of laziness and work that values speed over thoroughness.
Images can also enhance the readability of a post, but this one doesn't have any. Few people today are willing to read a wall of text, especially when it's a topic as well written about as content marketing. (The quantity of articles on this topic means that they can easily find a better article). They'll simply click the back button and read a different article from the SERP. And that pogo-sticking will decrease rankings even further.
There are lots of places to add images, even in this post. How about an image of The Furrow or The Michelin Guide? Or some images of good white papers, infographics, ebooks, original research, etc. Show readers, don't just tell.
The 3-5 spaces in between each paragraph is ugly and doesn't help the reader in any way. It's an easy fix for the person editing the post, but to me it makes it look like the writer was never properly taught how to write in a Word doc/Google Doc.
I can tell that whoever wrote this article (and maybe it was a small team that put it together) has no experience or familiarity with content marketing. They Googled information on content marketing for 10-20 minutes, and then wrote what they found and put it into this doc. If I'm going to be publishing something on content marketing, it needs to come from someone who has been in the game and knows what they're talking about. Someone who doesn't need to Google. It should have personal anecdotes, stories, lessons learned, non-generic advice. Something unique that they couldn't find anywhere else.
The intro is arguably the most important piece of a blog post. The only thing possibly more important is the title. The intro (and title) need to hook readers in and inform them of what they'll be learning about in the blog post. I like intros that are short and hook people with something unique or surprising. It could be something like, "Hey, everyone has an opinion on x. Here's why I think they're wrong (and the data I have to prove it)."
The intro in this post starts off with a long sentence, whereas I'd prefer a few short sentences with my intros. And then they don't explain what will be in this post or what's unique about it. If I was just searching for this general, broad overview I'd click the back button and read the Wikipedia page.
I like conclusions that wrap up the post, summarize what's been discussed, and in some cases lead to a CTA. This post doesn't do any of that – it doesn't even mark where the conclusion is. (One of my biggest pet peeves). It just appears after the 5-6 sentence paragraph near the end.
The final reason why I wouldn't publish this post, is because it has zero chance of ranking for any keyword. If you Google content marketing and check out some of those articles, you'll notice that this one is 10x worse than what's currently on the first page of Google's SERP. And today, the only chance you have for ranking is 10x content, with backlinks. This post isn't 10x content, and won't get any quality backlinks (because no high DA site will link to crap content). Similarly, no "influencer" or "thought leader" would share bad content through Twitter or Facebook because it would make them look bad. So you're paying for content that won't get any eyeballs.
And, just a minor point, no one dumps all their sources into a list at the end of a post. This isn't Wikipedia. It's a blog post. You put your sources as anchor text in the blog post.
I don't publish low quality content because it reflects poorly on the company and brand. Because if someone came to this article and saw how poorly it was put together, they'd think the same thing of the product we're selling. If they let this shoddy work pass through, they'll let any shoddy work pass through. Low quality standards resonate throughout the entire company.
So, this is a hard pass for me because it's bad content. It lacks readability, depth, and proper formatting. It isn't unique and doesn't hook the reader in. It won't rank for any keyword because no authoritative source will link to it. And it won't be shared on social media by anyone with a following."