➀ How Writer Access Works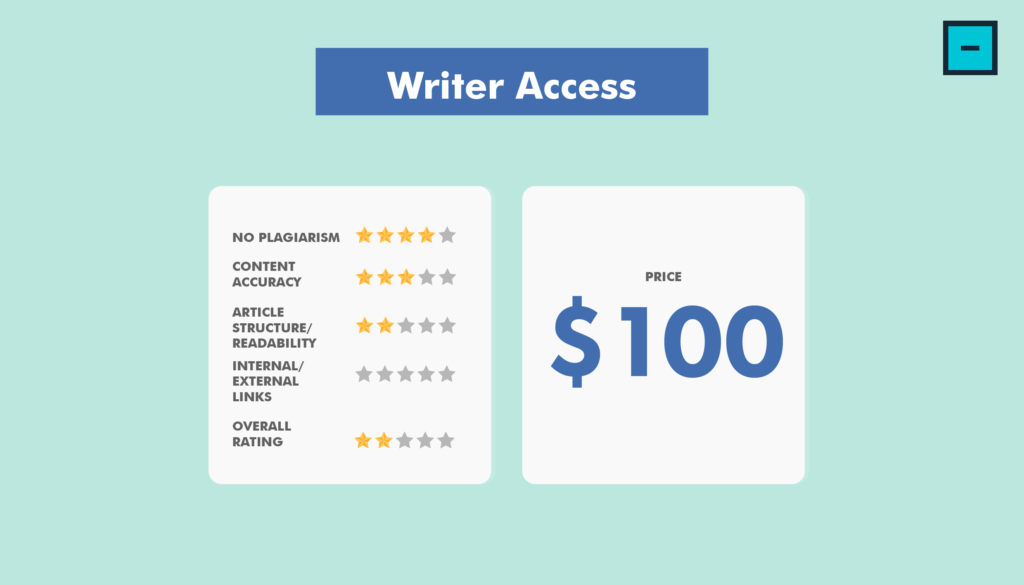 Writer Access' motto is that they offer over 15,000 freelance writers with award-winning content creation and their one of a kind platform and that they can cover all industries and businesses with great content.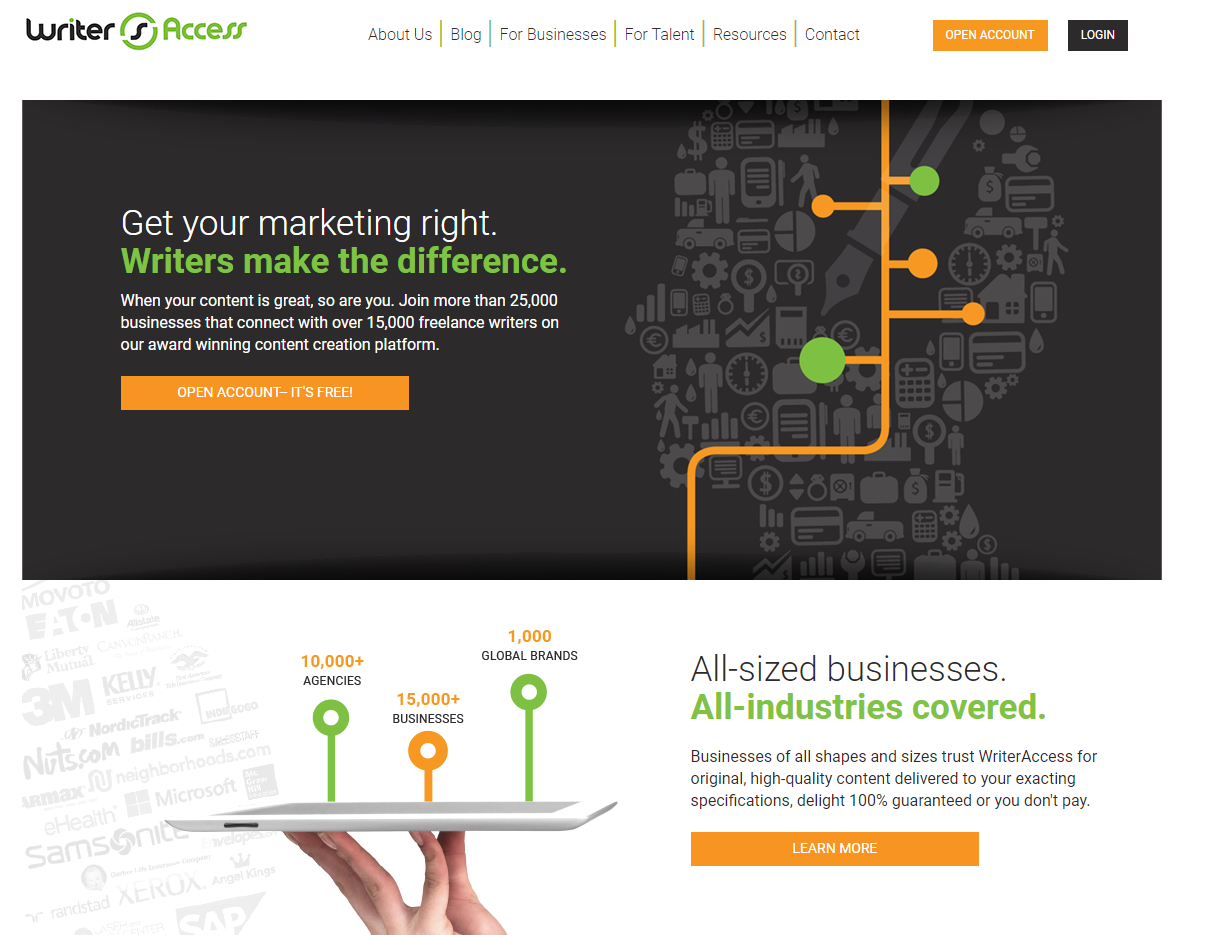 Currently serving as a virtual content marketing agency for businesses, and global brands, Writer Access has some great social proof and credentials.
You can search for a freelance writer on their site by industry expertise, project category, or star rating:
They charge by the word, and you can get any content type from articles, blog posts, case studies, web copy, editing, and white papers, from 2 cents to 2 dollars per word.
That's cheap and diverse. Off to a great start.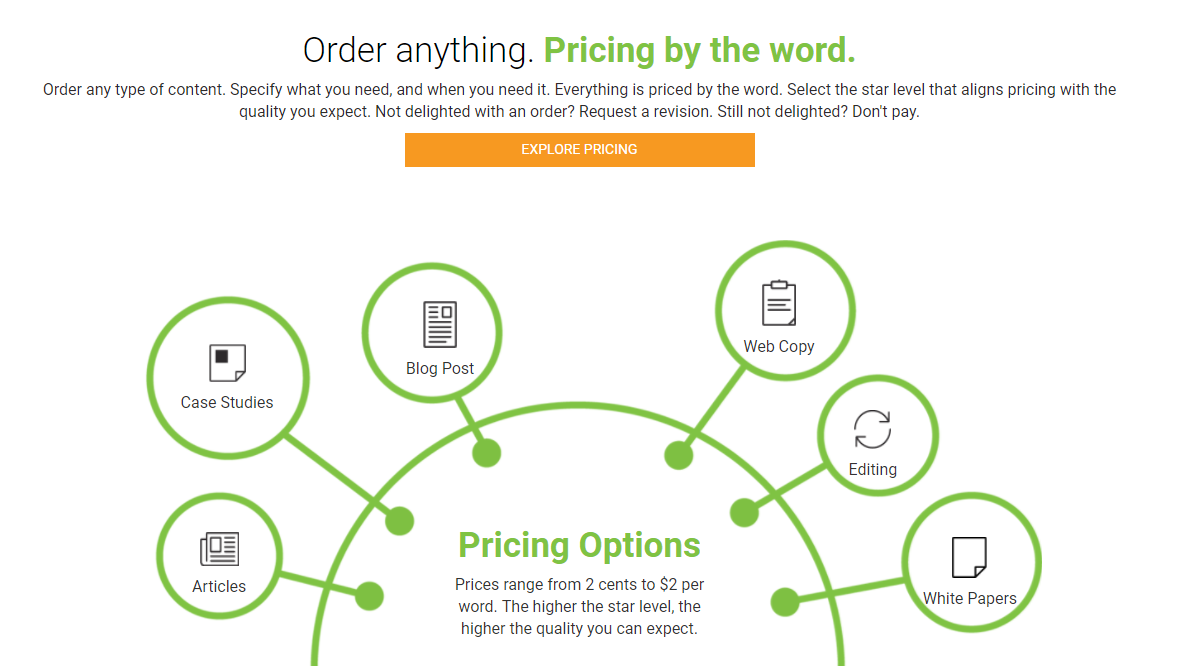 They also offer multiple types of services such as self-service where you can select editors, writers, etc. as you go to fulfill your needs for projects. Then the plans upgrade in cost up to $10,000 depending on the package.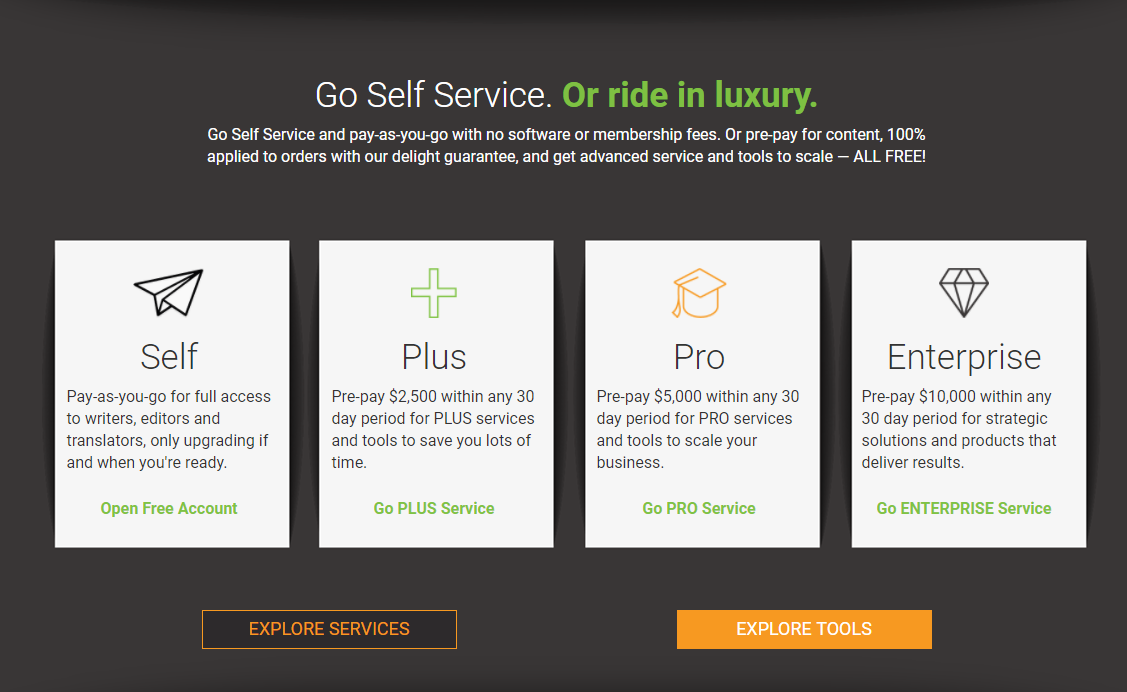 In this Writer Access review, we decided to check out the pricing page for single articles, rather than contracted, long-term commitments that can be difficult to get out of: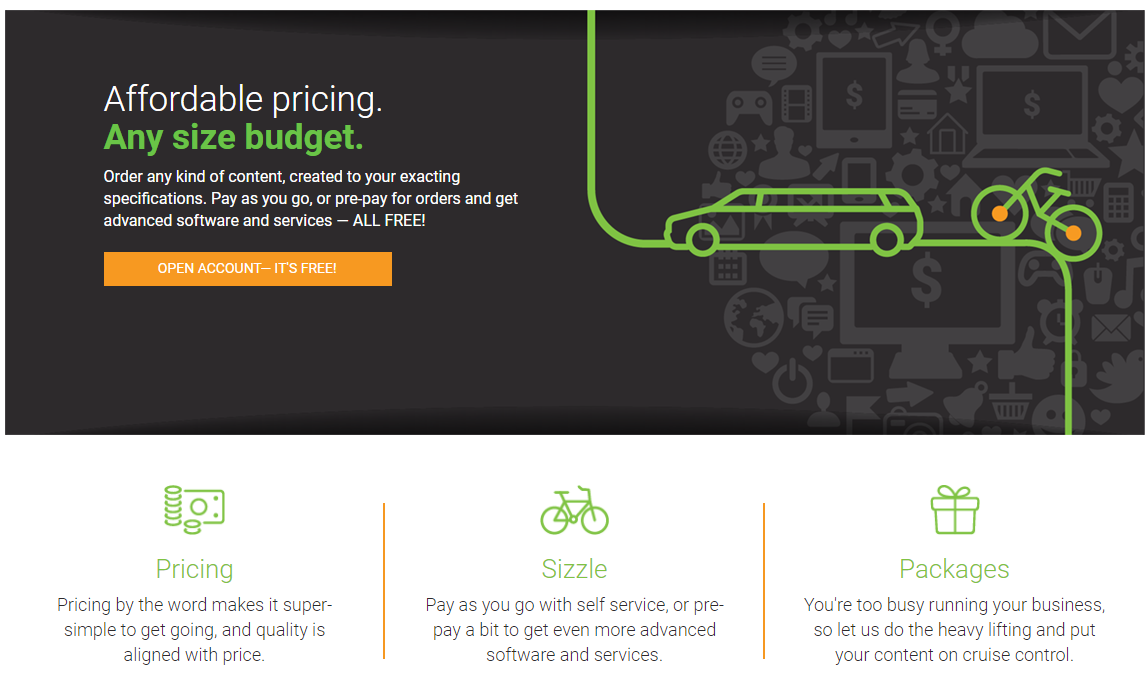 First, we receive a few things to explain how their pricing works, how their packages work, and how their pre-pay plans work.

Currently, Writer Access has two different marketplaces:
Writer Marketplace
Expanded Marketplace
The Writer Marketplace is where we chose to start, as it lines up with the previous four content farm services in terms of star quality and pricing.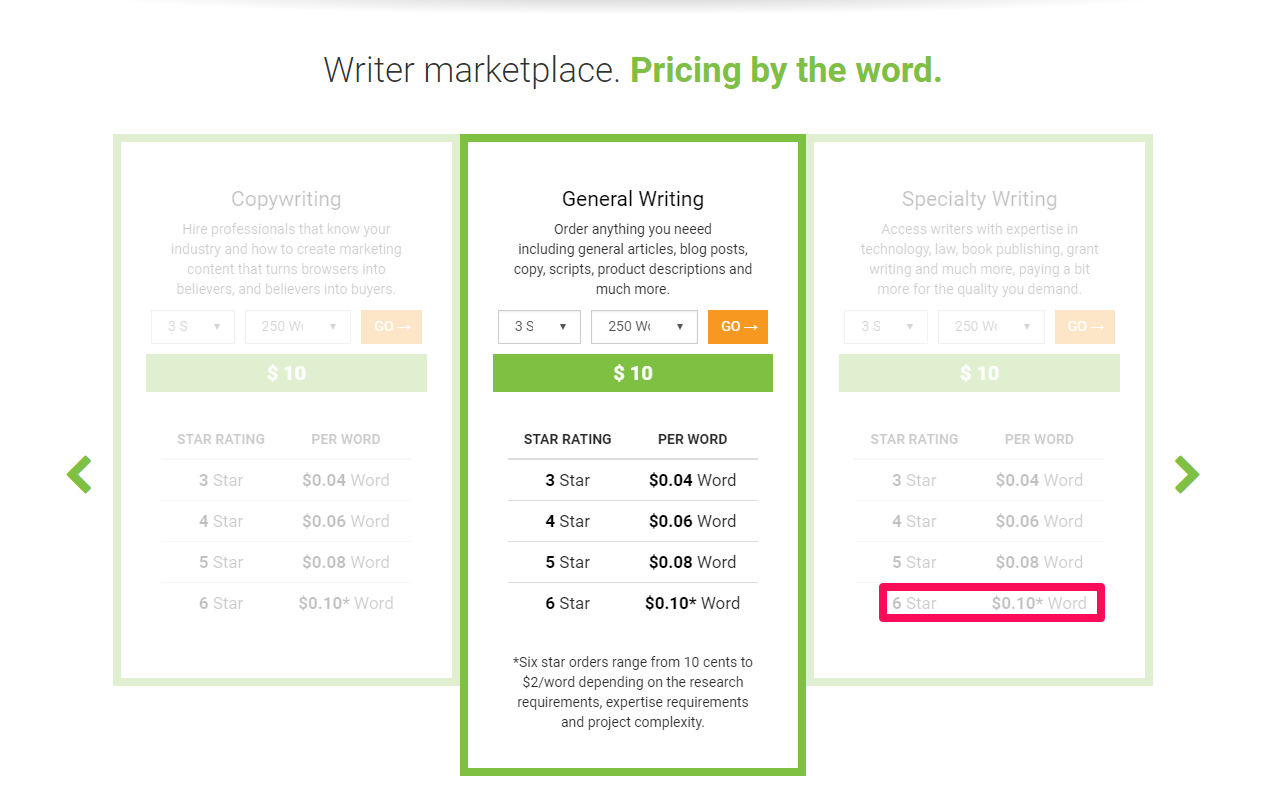 We chose the highest quality selection: 6 stars for 10 cents/word (totaling to $100) under the "Specialty Writing" level: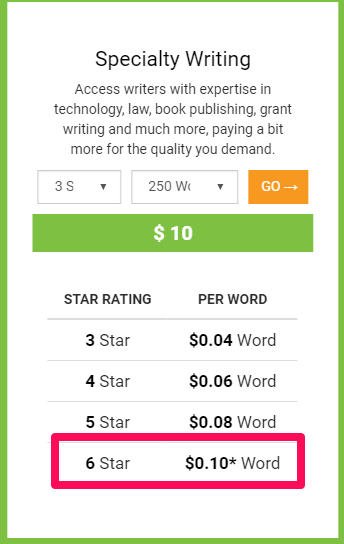 Next, we decided to open an account and get started: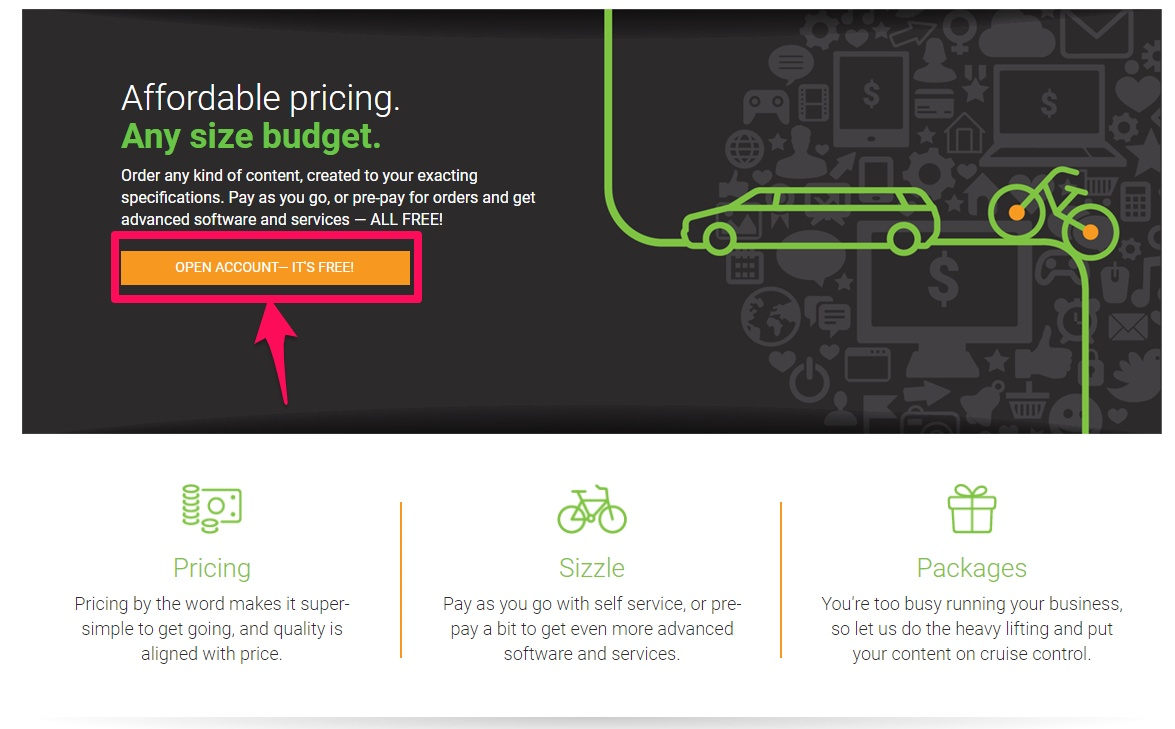 Again, when we signup, there is an insanely confusing toggle: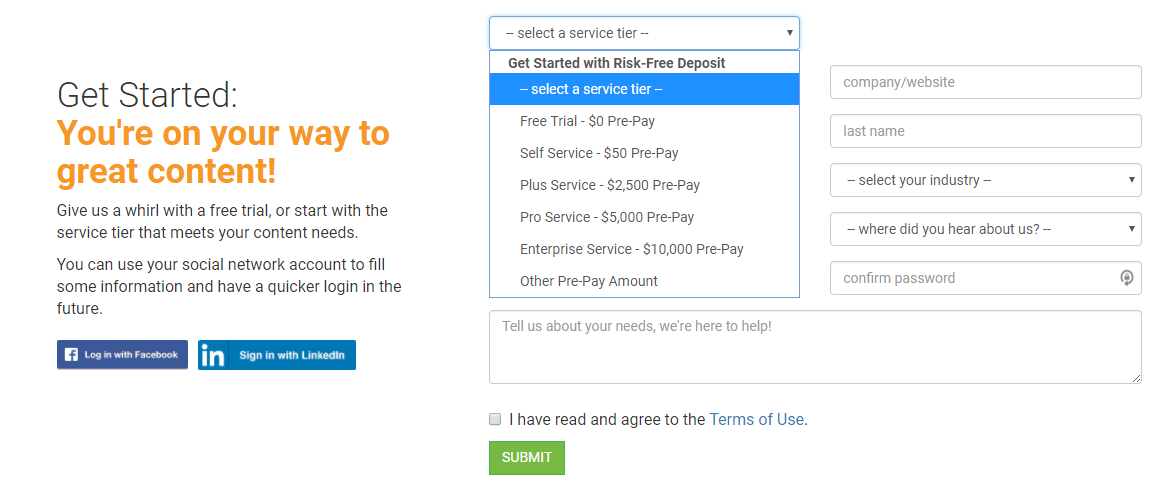 You have to prepay to open an account for most of these? Confusing and risky if you are just looking to test the waters with a specific service.
We opted for the free trial before deciding which article service we wanted.
After filling out a lot of information, we finally get the account up: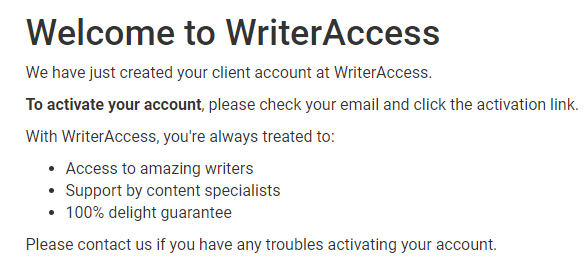 After we confirmed our account, we got directed to the WriterAccess dashboard: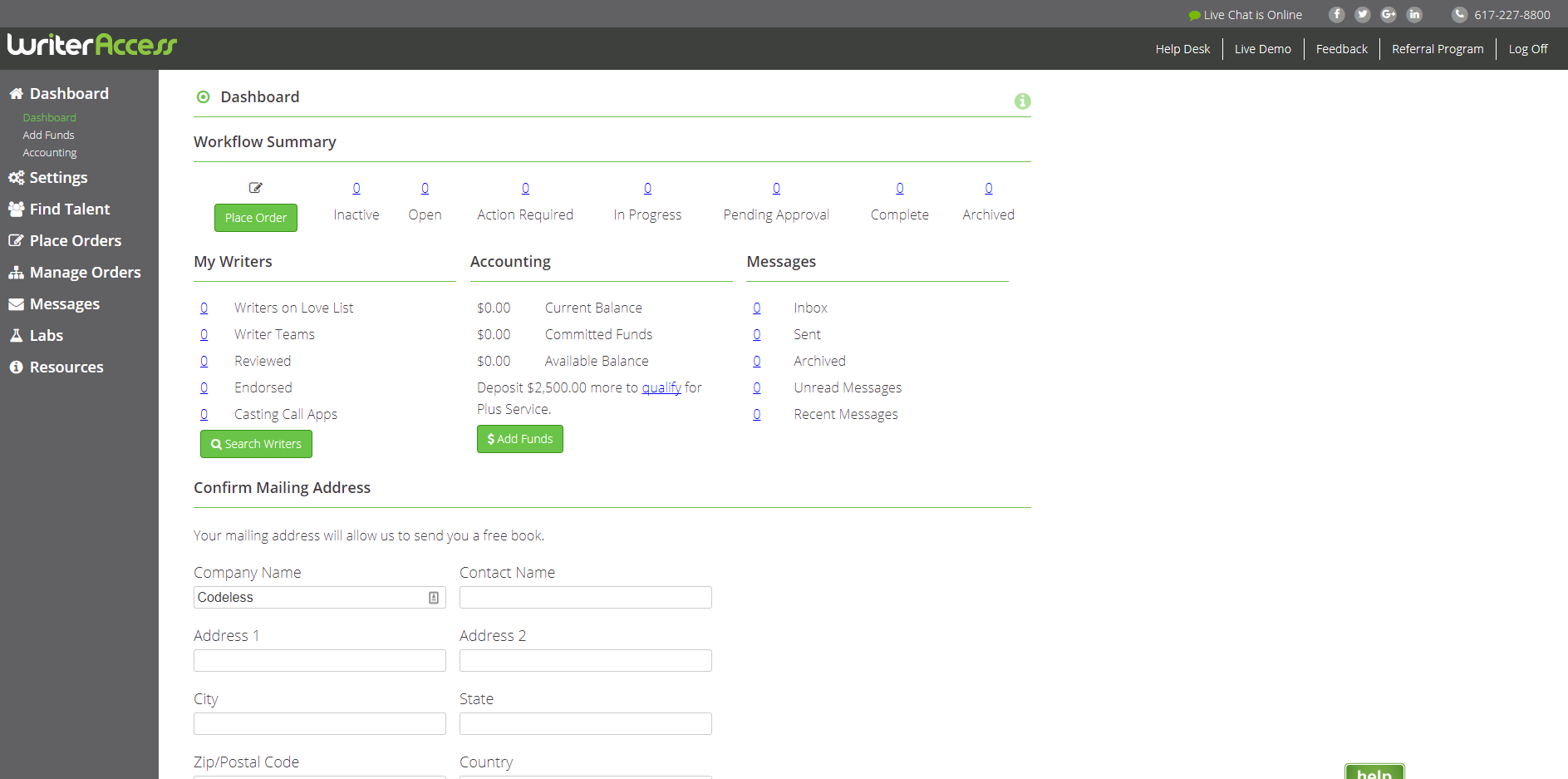 Immediately we were confronted by a strange opt-in offer that we couldn't get rid of:

Any book? I prefer pastry cookbooks if you're asking. But on a serious note, that's weird. And makes it an annoying part of the application process.
Anyways, we decided to proceed with an order and get started: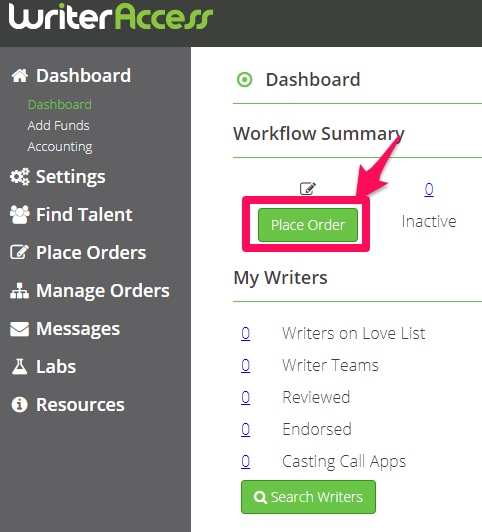 When start ordering content, you are prompted to fill out a detailed form just like any other content farm service:
After inputting our order preferences, we were asked to pay $103.20, just about exactly what their pricing model said:

Once paid, our order was confirmed, allowing us to visit the order management page:

Here we could see the status of our order and which content writer was going to accept the position:

After selecting the standard 10 day delivery time, we finally got our writing job delivered. Here's what we received:
Before we break down the Writer Access blog post, here is a quick recap of the basic facts of this service:
990 words (10 less than requested)
Cost = $103
Turnaround time – up to 5 days
➁ Internal and External Links
If you took a moment to read the full article above, you likely gathered that there are zero internal and zero external links.
Yikes.
This seems to be a common trend with content mills and any writing service, which is strange considering we purchased the most expensive, top content writing packages at each of these content services.
You would think that top quality any freelance content writer on their sites is taking a few minutes to do proper research on good sources to cite and internal links to boost traffic. This is a hallmark of quality content.
Most of the content that we see from any writing service that lacks links is a prime example of content that you could replicate for any business without any tweaks.
This content should be personalized, referencing specific posts on our own site, and citing relevant sources to our business.
➂ Article Structure/Readability
At first glance, the article structure is ok. It's nothing special, and it's clearly not optimized, but it's also not bad.
It doesn't contain weird numeric numbers to list off each element, and at least there is a semblance of bolding to distinguish sections.
Despite that, there are no uses of H1, H2, or H3 headers.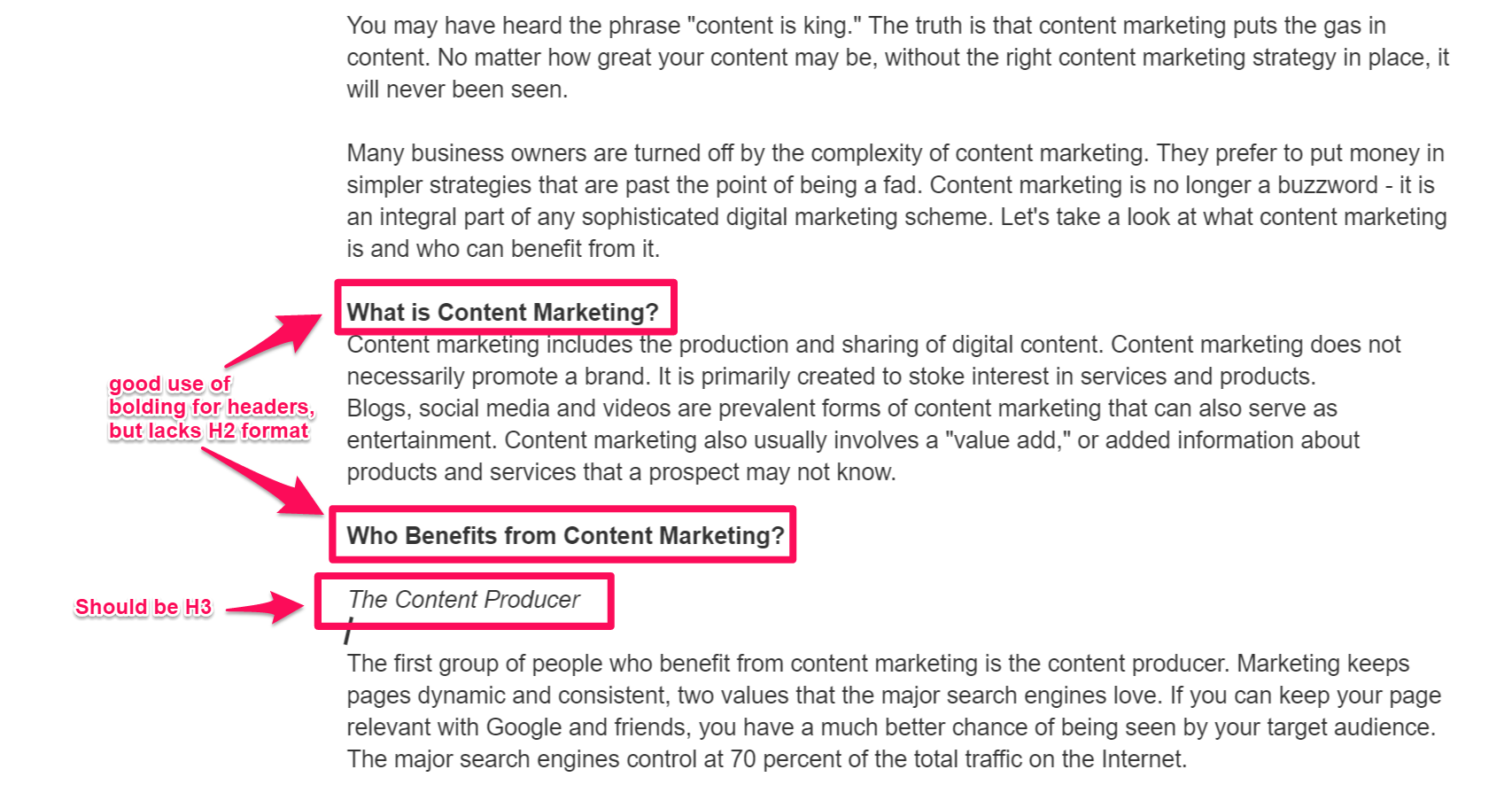 On top of that, the text is very dense and hard to skim or read fast.
Each section could have significantly benefited from broken up paragraphs and smaller sentences.
This post contains a formal introduction (albeit the title is missing) yet lacks any conclusion whatsoever.
This is essential for any blog post, as it otherwise makes an awkward ending for the article. It simply stops rather than summarizing the dense information just covered.
That's not good.
Overall, the structure of the blog post is good but not great.
In terms of readability, the Writer Access post scored a 57, lower than we'd like to see for a basic article: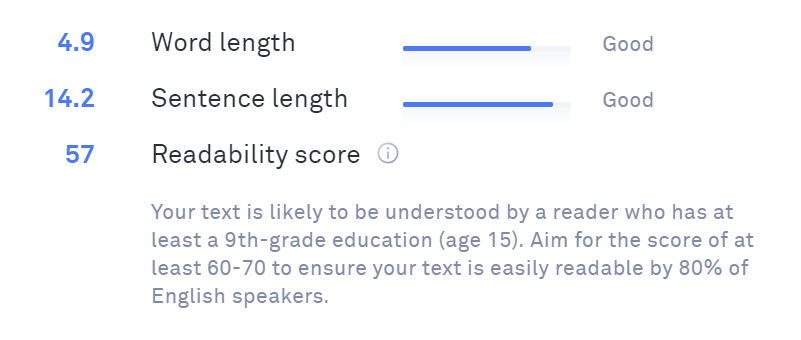 While word and sentence length scored high, the big chunks of blocky text that can be hard to get through likely impacted the readability.
➃ Plagiarism
When scanned with Grammarly, Writer Access returned a 5% match to other online sources: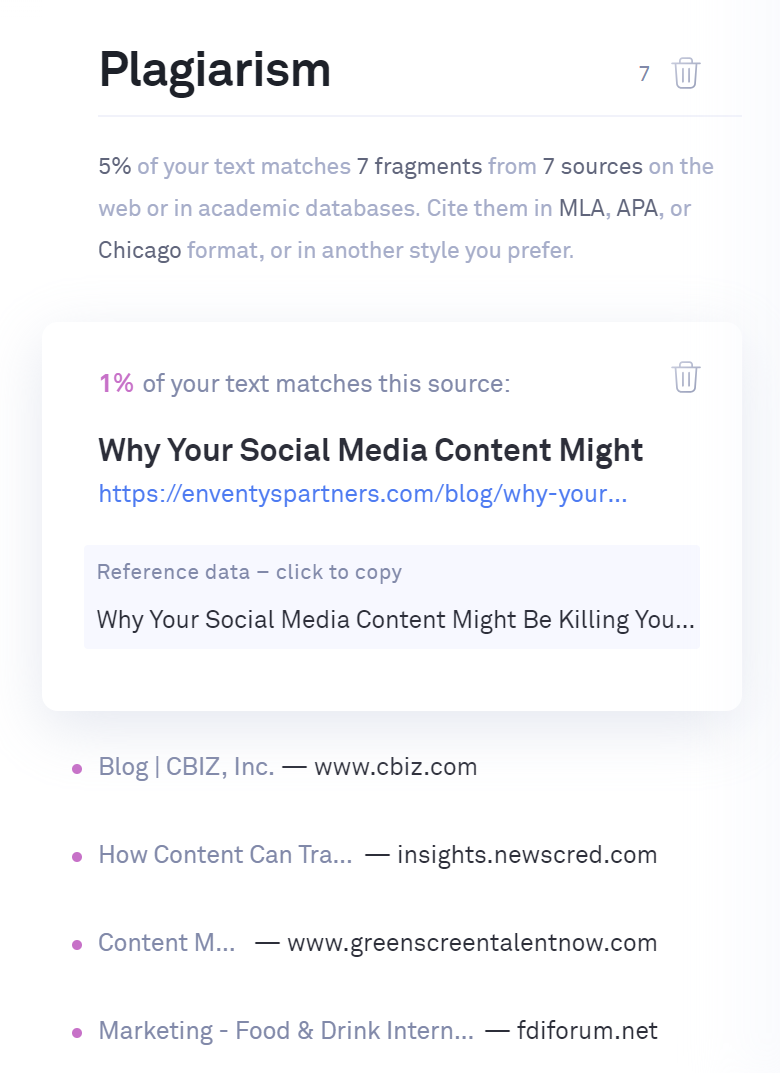 While not bad, it's definitely higher than we'd like to see for such a short article.
For reference, all of our content is 3% or below for 2,500-word posts.
In terms of related structure, we saw nothing out of the ordinary beyond basic references, giving us a good idea that the writer naturally crafted this article structure. Great!
➄ Content Accuracy
The content written by Writer Access was excellent in terms of accuracy.
The statements were almost all relevant and up to date, except one:
"In general, higher visibility is associated with a higher conversion rate."
This isn't really true:
The more impressions you get doesn't mean getting higher conversion rates.
In fact, in content marketing, getting more impressions usually means targeting head terms which convert worse than long-tail terms.
Why? Because head terms are more basic and bring in more traffic. While you could end up with more conversions (in total) from a head term, the conversion rate is likely to be worse.
Overall, the content (aside from this) was accurate.
➅ Expert Opinions: Brian Jackson & Lianna Patch
Brian Jackson, CMO at Kinsta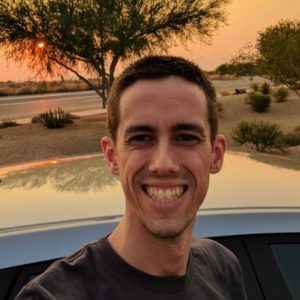 1. Who are you?
"Hey, Brian Jackson here. I'm currently the Chief Marketing Officer over at Kinsta, where we offer premium and high-performance managed WordPress hosting. I've been blogging, freelance writing, and working in various marketing fields for over a decade. It's my passion, and I've loved every second of it.
My primary daily tasks involve a lot of SEO and strategic content creation. Putting together the puzzle pieces of what it takes to translate words on a page into first-page Google rankings is exciting as it changes almost on a weekly basis. With a little hard work and some exceptional content, we were able to increase organic traffic to our website by 571% in just 13 months. Check out our SEO checklist."
2. Ignoring word count alone – Would you publish this piece on your site (yes or no)?
"I can easily say I would not publish this piece on our site. I was cringing the entire time I was reading it and honestly didn't want to finish."
3. Why or why not?
"The primary reason I wouldn't publish this piece on our site is that everything in the article is entirely generic. This isn't what people want and you're not going to get any shares or backlinks with this type of crappy content. You're just wasting your time.
You need to share applicable tips and tricks for readers to latch on to your content. Everyone at this point knows that content marketing can help them, what they want to know is what they need to do to translate this into their own marketing plans.
Also, you need stats in an article to back up what you're saying. I wouldn't believe you after reading this that content marketing works (even though in this case we know it does). Include references, sources, and graphs. These always do well as people can more easily relate with "proof."
Also, sorry, but word count has to be brought up as I still see so many businesses publishing short content like this, and in most cases, it's not going to produce the results you're looking for. Also, it's hard to demonstrate or show proof of anything with anything under 1,000 words.
If you do a little keyword research with a tool like Ahrefs or SEMrush you can easily see that the competition is going to crush you if you're trying to rank for anything closely related to "content marketing" or "what is content marketing." Search is rapidly changing as voice and longer-tail queries continue to grow. According to research from Jumpshot, 84% of desktop search queries now contain between 1 to 5 words.
My suggestion for this article would be to add a couple thousand more words (yes, I said a couple thousand more) and rewrite it to focus on a particular niche within content marketing, something that is less competitive. And don't obsess so much on one keyword, but more on a phrase or topic (after looking up competition and search volume of course). If you continue to repeat this process and do research before writing every post, you'll soon start to see a big difference in results. You'll also figure out what does and doesn't work.
In summary, always tell people how to do something, not just that it's incredible and that they should be doing it. After that, show them it works with proof (stats, graphs, charts, references, case studies, etc.). Writer smarter not harder by researching before you start to write. And last but not least, always think about whether you would actually want to read and share the post yourself. If the answer is no, delete the draft and start over."
Lianna Patch, conversion copywriter for ecommerce and SaaS companies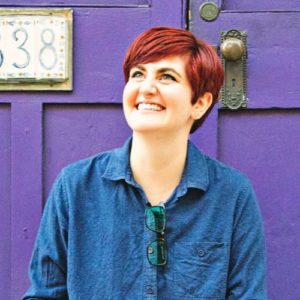 1. Who are you?
"I'm Lianna Patch! I write copy, do customer research, and come up with conversion improvement ideas for ecommerce stores and SaaS companies at Punchline Copywriting and SNAP copy. I also speak at marketing and industry events worldwide.
BUT, before I started focusing on this niche, I was an editor for 7 years. I worked with print and online publications, both writing content and editing other writers' work. I've also been an inbound marketing director, responsible for commissioning content from freelancers. Later on, I wrote long-form content on retainer for multiple SaaS businesses, bringing in up to 3k per piece.
TL;DR I'm a big ol' word nerd and I know what I'm doing."
2. Ignoring word count alone – Would you publish this piece on your site (yes or no)?
"No."
3. Why or why not?
"This piece is too general. There are a million articles about "content marketing" out there (and I bet you at least 75% of them start with some variation on "Content is king").
Even putting that aside, there's no "so what" in this article. There are no stakes! Why should I CARE? Presumably, it's because of the results great content can bring me – but that section is buried all the way down at the bottom of the piece.
The final nail in the coffin is that on a line level, the writing just isn't polished. It's better than what you'd get from an article spinner on a true content mill (i.e. this piece has no egregious typos and mostly makes sense)… but sentences like "In order to view the content itself, the viewer must be properly enticed with information that he does not know" are sooooo awkward and boring and make me want to die."