Today, most marketers aspire to create engaging video content.
Why so?
Because videos have a direct (and positive) impact on conversion rates, claim 80% of marketers surveyed by Wyzowl. It seems videos are driving sales much better than any other marketing tool out there.
But not just any videos.
They should be engaging, among other things. If your videos can't keep viewers engaged, how will they drive them to action?
Get the point?
Good. Then, let's learn how to create engaging video content.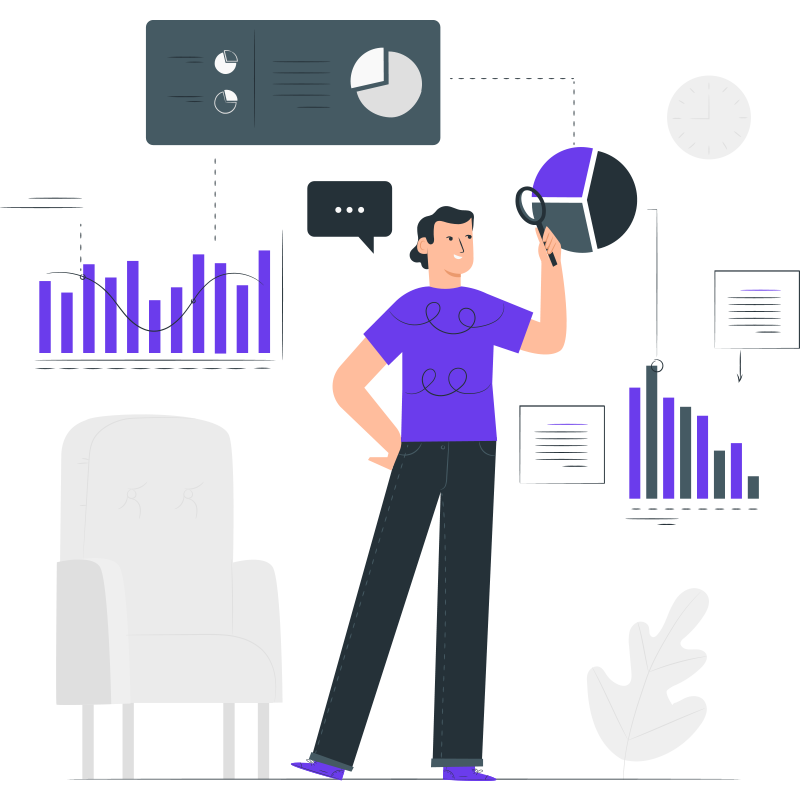 Get long-term ROI.
We help you grow through expertise, strategy, and the best content on the web.
3 Simple Ways to Create Engaging Video Content
To rise above the mediocre video content floating about, you need time-tested tips and tactics. Below, I've outlined three hacks that have always worked for me. Check them out.
1. Understand user intent
To create videos that scream for attention, put yourself in your audience's shoes. Start thinking like them and understand their intent. Do they want to be sold to? Or, are they looking for useful information from branded videos?
Once the intent is clear, fulfill it with riveting video content. Since you're serving content that's meaningful for your audience, you are sure to earn their engagement.
To determine the intent of each user, track their buyer journey with your brand. Are they in the awareness, consideration, or decision stage?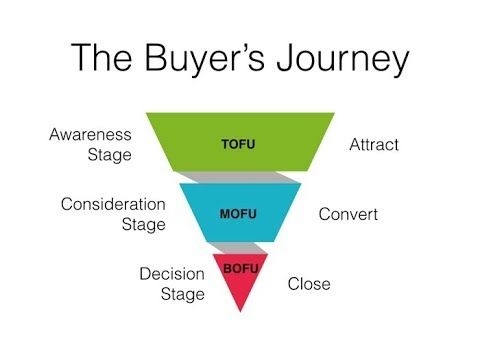 Awareness stage users typically look for informative videos so you should avoid being too salesy in videos meant for them. Instead, pack their videos with useful, unique content that isn't freely available. Explainer videos are your best bet to engage this user group.
Consideration stage users will most likely appreciate detailed product videos since they are conjuring their purchase options. While you can promote your products in these videos, keep the tone subtle and offhand. You don't want to turn off users on the brink of conversion by being too pushy.
Decision stage users are the hardest to please. They have already gathered a lot of information from different brands so you need a powerful hook to win them over.
The good news is that you go the whole hog on the promotion bit. Use actionable CTAs, deals, and discounts liberally in your videos. Customer testimonials, video ads, and unboxing videos are engaging options for this user category.
If you use intent-focussed video content, you can hope for good engagement as well as conversions.
2. Tell a story
Narrative-based videos engage audiences big time. Working on the principle of "show, don't tell," these videos are found to be compelling and persuasive. Naturally, they drive sales more efficiently than plain fact-based videos.
If you plan to use storytelling videos, understand a few rules of the game.
Such as?
Keep up the interest factor by weaving a tight narrative. Present scenarios that your target audience would find relatable.
For this point, you can take inspiration from Cvent. In their video "Don't Be a Meetings Dinosaur," industry-specific terms were explained through everyday scenarios in the life of an event manager (the brand's target audience).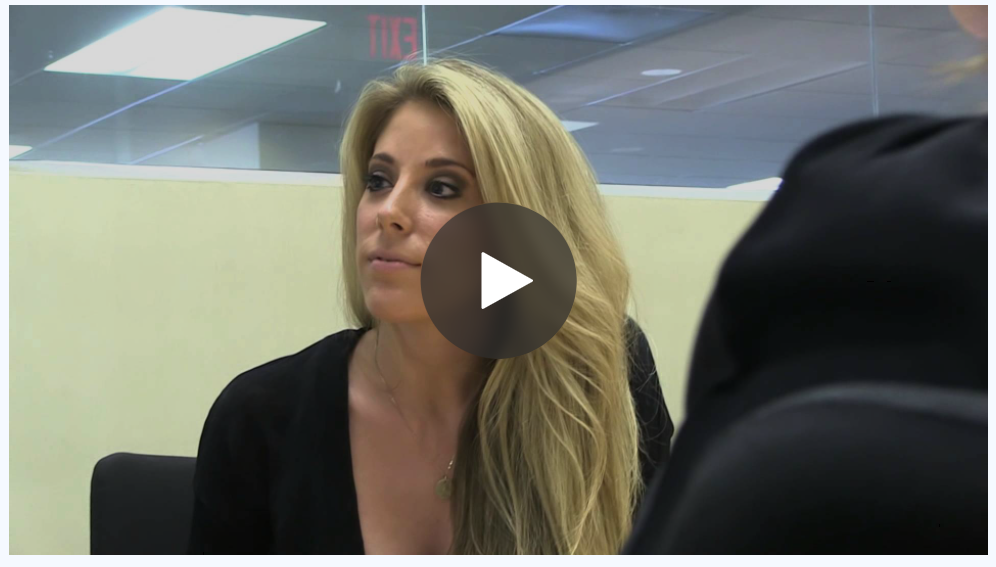 By striking a balance between jargon and real-life, Cvent humanized their story. They were able to strike a chord with the diverse audience at the Corporate Meetings Summit 2013, where the video was presented.
Anything else?
It's important to keep your videos entertaining, but the focus should always be on your brand. Don't get carried away with storytelling and lose sight of your video's main objectives – conversion and engagement.
3. Sell an emotion
Focus on the big picture. Instead of selling your brand's features and services, sell an emotion. Gradually, people will start associating your brand with the sentiments that your videos evoke.
Think about Red Bull. What's the first thing that comes to your mind when I mention the energy drink brand? Extreme sports, competition, adrenaline rush. That's the kind of emotion the brand wants their audiences to feel after consuming their drinks.
Red Bull is so committed to selling their avatar that they host action events like "Red Bull Creepers" every year. During the events, they capture action-packed sequences to promote on their YouTube channel, which by the way, has 10M+ energetic subscribers.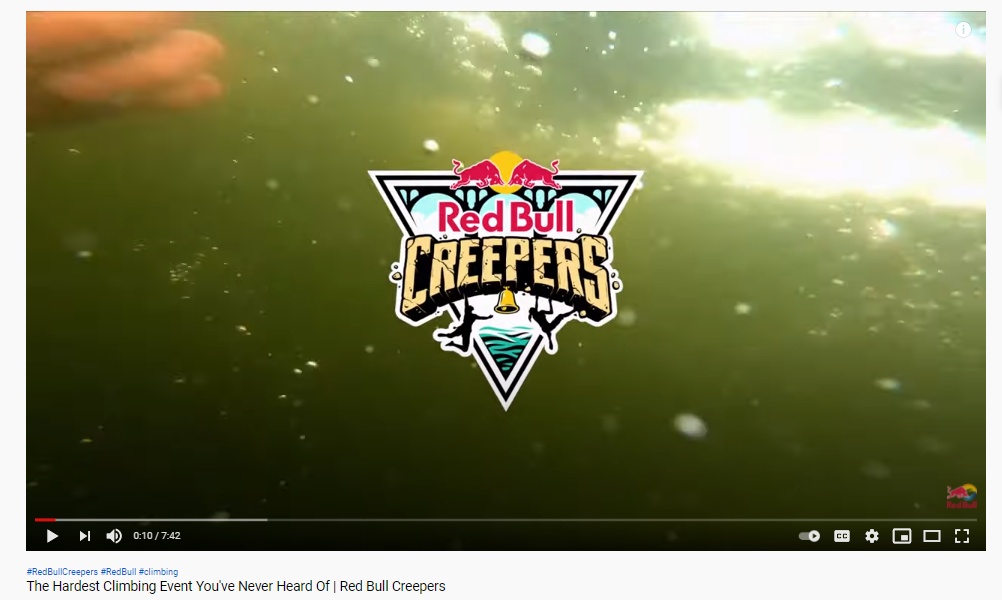 If you want to employ this video-making tactic, dig into your mission statement. Identify the values your brand stands for and anchor your storytelling videos around them.
3 Types of Videos to Create for Driving Conversions
So, what kind of videos engage modern consumers and encourage them to convert?
Let's explore this question below.
1. Installation demos
Installation videos help in smooth customer onboarding, which indirectly attracts potential customers.
When customers have a painless onboarding experience with your business, they are more than likely to return to you again. They may even bring new leads from their friends and families. Or, rave about you on social media platforms and other forums.
All of this helps build the confidence of new or skeptical customers in your brand, which has a cascade effect on your sales.
Using installation videos, you can inform customers about the correct usage of your products. Turns out, this simple step can build customer satisfaction and loyalty for the long term. Moreover, a dynamic video is more engaging than a boring installation guide or multi-step infographic.
DC Home Buzz realized the power of how-to videos when they had to convey their unique business model to prospective customers. Instead of opting for a traditional demo, they used a whiteboard video.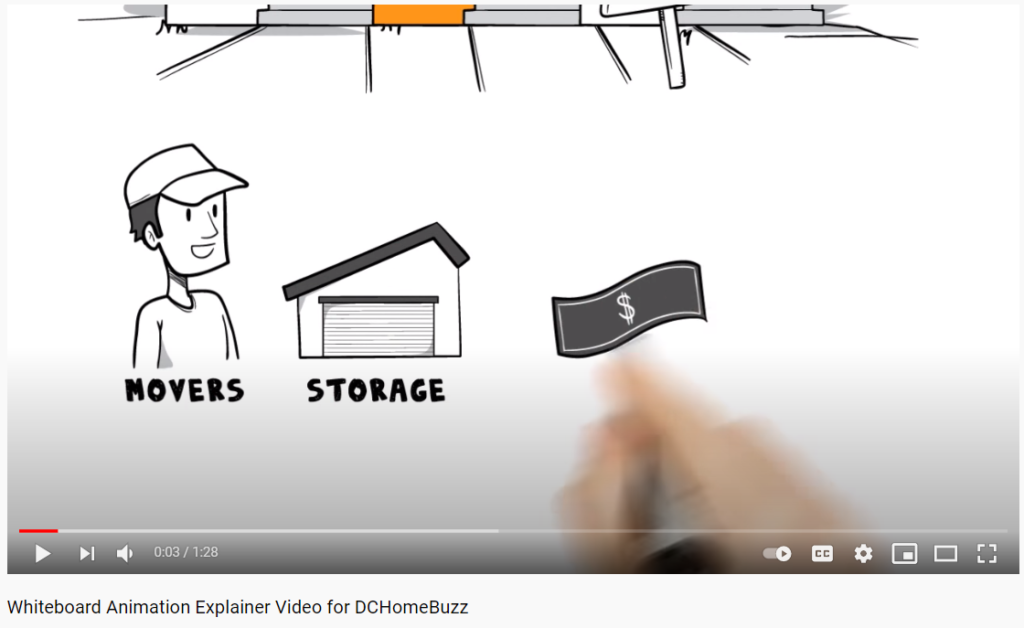 A human hand with a marker did a live drawing to show how the scattered elements of their business models came together to give homebuyers a good deal. Supported by a crisp audio script, the video is absolutely riveting to watch.
If you too have a disruptive yet complicated product, hire experienced animators to create informative how-to videos. This way, you can explain your product's correct usage and build traction for it in the market.
2. Product videos
According to the Wyzowl survey cited earlier, 66% of consumers prefer to learn about new brands/products through videos. Paying heed to the trend, marketers have started creating more and more product videos.
And, their efforts have borne fruit.
Videos have led to a better product understanding, according to 94% of marketers. The number was 80% in 2015.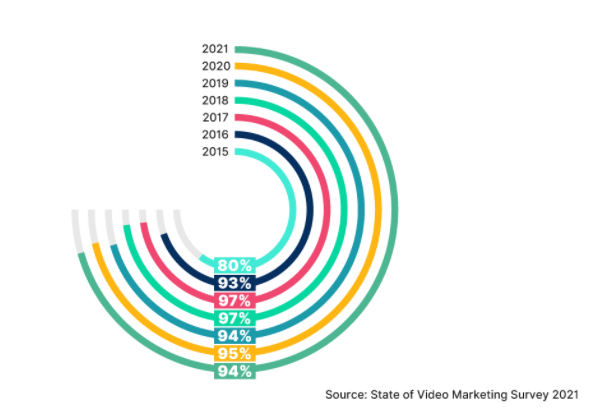 But what's the rationale behind this trend?
It's quite simple really.
Videos offer a lot of scope to educate people about your products. In a single video, you can pack in loads of audio, visual, textual content to show your products in the best light.
You can zoom in and out to focus on your best features/services. Or, use sophisticated editing tools to add call-outs, highlights, and emojis in your videos.
Furthermore, you can add interactive elements to your videos (like Q&A or polls) to address concerns of potential customers. Instant redressal of problems breeds an atmosphere of trust, which can eventually lead to some sort of conversion.
When users understand how your product actually works, they are more likely to buy or recommend it. It not only helps boost sales but also reduces post-sale customer complaints.
Now that you know the benefits of creating product videos, let's learn about maximizing their conversion potential.
Zappos does hotspots really well. See the orange plus call-out pointing at the model's coat?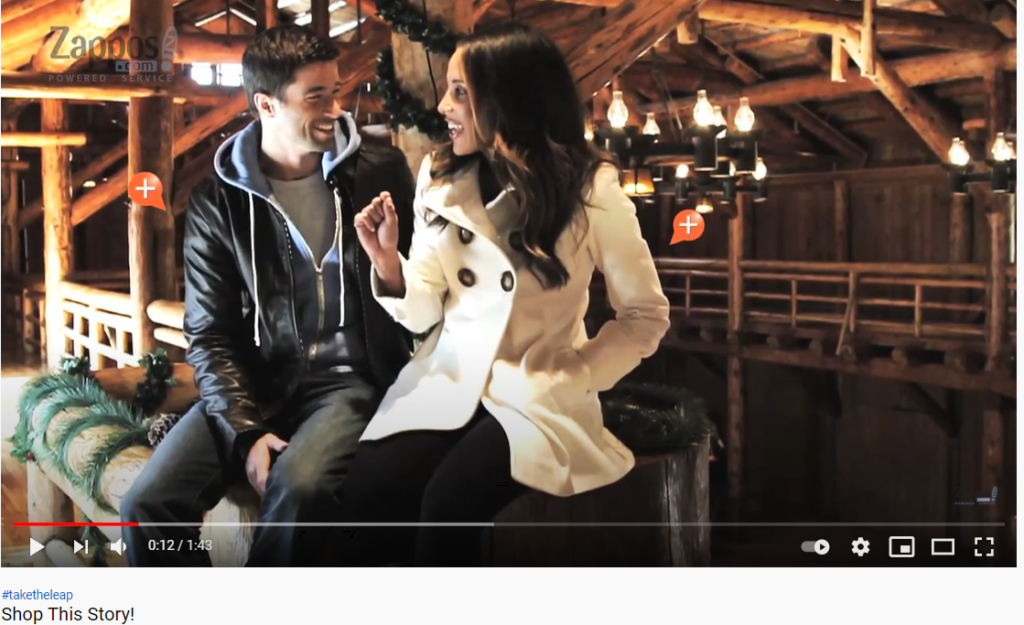 That's a hotspot. Click on it and you'll land on the coat's product page. No browsing required!
By enabling a painless shopping experience, Zappos converts its product video into a powerful sales platform.
3. Video ads
If a high conversion rate is your top business goal, there's nothing better than video ads to achieve it. Personalized and targeted, video ads are a veritable sales machine for all brands. Plus, video ad performance can be tracked, which means it's easier to justify your ad spend to your management.
With that out of the way, let's talk about creating engaging video ads.
There are many ways to go about it.
Like what?
One, capture viewer attention in the first 10% – 20% of your video. Deliver your most promising content in the first ten seconds itself.
Two, add a lead capture form in your ad. Platforms like Wistia offer this feature ("Turnstile"). Turns out, they received the highest conversion rate (nearly 40%!) when they placed turnstiles mid-roll in their ads.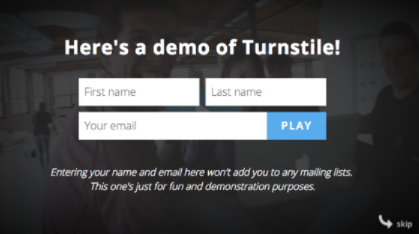 After mesmerizing viewers with a power-packed ten seconds of video content, they gated the rest of their video behind the form. By creating exclusivity, they piqued user curiosity, which increased their video's average viewing time, not to mention their lead database.
Three, optimize your ads for their host platforms. If you plan to target social media users, understand ad specs (dimensions, file size, etc.) for each target platform. Ads that are distorted, chopped off, or sluggish are neither engaging nor converting.
Last, don't convert your ads into a documentary. Be creative. Use humor or satire to get your point across, however serious it may be. For inspiration on creating beautiful marketing videos, consider using video templates for professional footage in ready-made templates.
Take a cue from Colgate. When they wanted to portray the connection between diabetes and oral hygiene, they didn't use the done-and-dusted technique of having a doctor explain the concept. Instead, they used actor and boyband member, Joey Fatone, to do the job.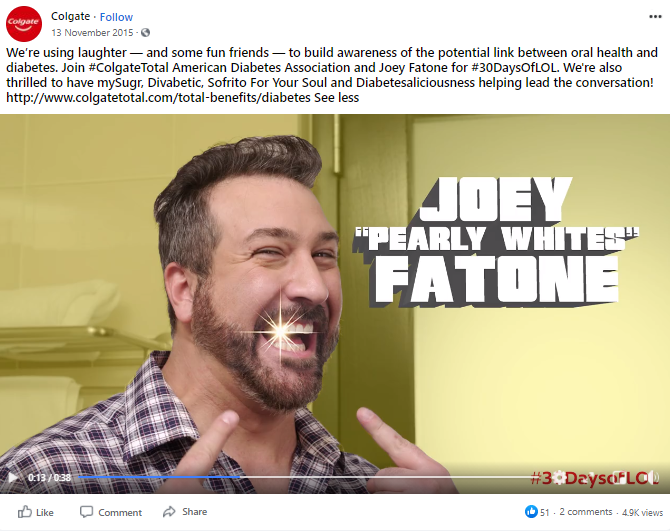 Young audiences love Joey's slapstick brand of comedy and, of course, his pearly whites. Colgate leveraged both these facts to improve their ad's engagement quotient.
Ready to create engaging video content?
Creating engaging video content is not rocket science. All you need are some basic knowledge of human psychology, a robust video editing tool, and a creative mindset. You can start with the four video types I've explained above.
However, ensure to supercharge your video marketing strategy by utilizing the most cost effective marketing video sites.