Custom web development is all about an app that will meet your business needs perfectly while using all the available trends and resources to the maximum. The feature and design set is fully formed by your scope of work, brand identity, and desires of stakeholders and end-users.
The size of the custom software development market has reached an astonishing number of $388.98 billion in 2020.
Many companies associate custom web development with a huge money investment, a lot of research, and time spent. It does seem like too much trouble but is it worth it? Why is the market so big, despite it being so resource-demanding? Is it not easier to just buy a ready-made solution?
The answer lies in business growth. It is not a big secret that you have to invest more in your business for it to constantly grow and have a competitive edge. Here are 5 benefits of custom web development that help you to scale your business.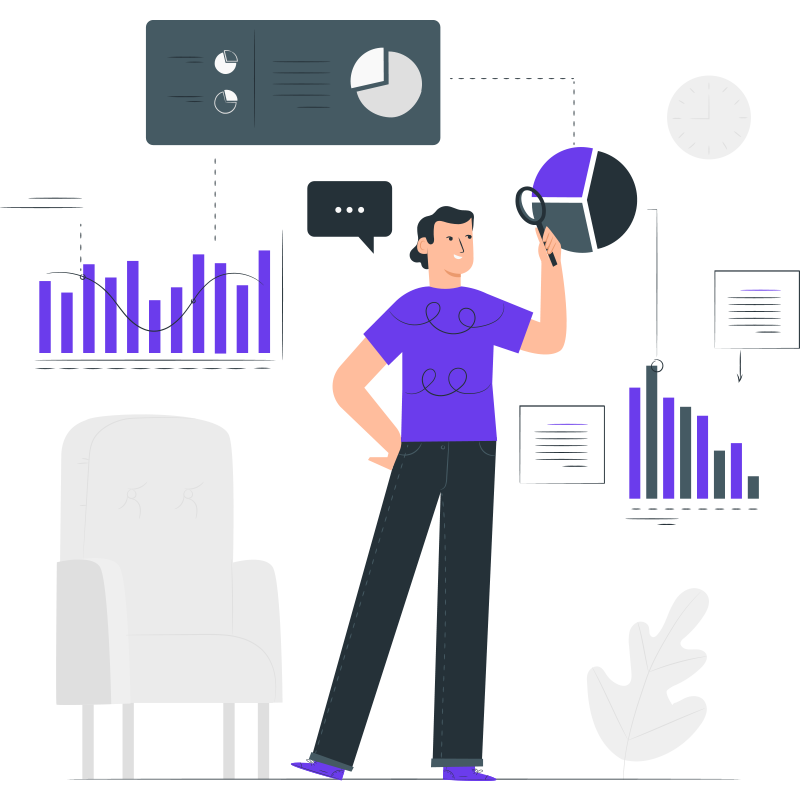 Get long-term ROI.
We help you grow through expertise, strategy, and the best content on the web.
Benefits of custom web development that help you scale your business
Efficiency
A custom web application allows you to automate routine processes, avoid human error, and create the fastest and the most high-quality service for the customers.
It depends on your business what kind of automation you will need. The most popular kinds of automation are in order processing, inventory management, expense management, communication and collaboration, reporting, and connecting different systems. Considering the global trends, web development services USA have been at the forefront of innovation, providing tailored solutions that cater to diverse business needs. As a result, you can avoid tedious routines, serve more customers in less time, and focus on more essential tasks which boosts your efficiency.
Another result of automation is avoiding human error. It is normal to make mistakes due to lack of sleep, tiredness, stress, hunger, or whatever. No one can work like a robot except for the robot. Therefore, you spend a lot of time checking information and fixing issues. Automation is a robot that is never affected by external factors and is unlikely to cause any critical issues. As a result, you will be able to decrease time spent on checks and fixes which, once again, contributes to a higher level of efficiency.
You get to get more work done in less time and can spend your newly free time on business expansions, new exciting projects, or working on improvements.
In addition to being efficient and user-friendly, custom web applications should also be accessible to everyone. This means that they should be designed and developed in a way that allows people with disabilities to use them without difficulty. There are a number of tools available to help developers ensure the accessibility of their web applications, such as accessibility checkers. An accessibility checker can identify potential accessibility issues in a web application and provide recommendations for how to fix them. By using an accessibility checker, developers can help to ensure that their custom web applications are accessible to everyone.
Better adoption results
When you buy ready-made software, you may face the ugly truth: it slows down your business rather than facilitating efficiency. The reason behind that is simple, it is not a perfect fit. It may have a confusing design but a good feature set or vice versa. Out of the large scope of work that you want to automate, you can only work with a couple of fields and have to buy additional software to tackle all of the problems. You might end up needing custom software development to tackle all of the problems. A low-quality design or features and a diversity of platforms lead to a steep learning curve, chaos in the workplace, and significant delays in work. After playing around with imperfect software, users might as well start avoiding it and doing everything how they used to. Basically, you end up paying for numerous software subscriptions that no one even uses.
Custom software, on the contrary, is tailored to your business needs specifically. It includes designs that you are comfortable with and all the features that you need to enhance the working process. You can make sure that all you want will be packed in one platform. Such a solution will be adopted among the end-users faster and will be actually used. You might even consider going one step further and investing in web3 development services.
Cost efficiency
It is true that building custom software requires a big upfront investment. The project may cost you around $3000-$12000, based on how large the enterprise and solution are.
However, you should always estimate the costs in the long run. Firstly, an out-of-the-shelf solution will need some adjustments to match with your workflow so you will have to pay additionally. Secondly, if you have numerous subscriptions, it turns into a large sum at the end of each month (consider that for many providers you will have to pay web app development costs annually rather than monthly). Thirdly, if you outgrow the solution or the owner of the app simply stops maintenance, you will have to move to a new one, incurring additional website development cost as well as investing time in the relocation of resources.
Lastly, it is about the quality. You will make sure that your custom web app is up-to-date and has all appropriate levels of security. You can also add new features if there is a new business need or technology progresses further to new exciting opportunities. With a ready-made app, you can not control maintenance and security or embed new features as soon as you need them. You will have to either wait for the web app owner to develop the solution or buy an entirely new solution again.
So in the long run, a custom app is a more sustainable and cost-efficient solution that will serve you years and years to come. As an alternative, cost-efficient solution, you might consider creating a custom app using no-code technologies, for example, Xano or Bubble development services.
Security
Data protection is one of the main concerns in the software market right now. With 20,000 attacks on web apps in 2020, numerous data privacy regulations opposed, and 78% of users being concerned about their privacy, you should worry about the security too! If any breaches happen, you will acquire a bad reputation and are likely to lose customers, and will have to pay a huge fine (goes up to $10 million). You are also likely to leak confidential information about your business which may be cruelly misused by your competitors or hackers in search of money.
It is necessary for a software company to think about code security and code integrity while developing an application. A code signing certificate is the best answer for software and app security. It assures that the code is not modified and that the software/app is safe to download for end-users. To gain the confidence of users and establish the identity of an app publisher or developer, a code signing certificate is essential.
With a ready-made solution, you rarely have control over your security. All security patches are coming with updates and come out way too rarely, considering all the new threats that appear on a daily basis. A custom web app allows you to choose the security plan and make sure that everything is protected. Consequently, you can establish yourself as a reliable company that cares about its customers and their data privacy.
Employee satisfaction
The job is less tedious if you know that you will not be doing the same beginner-level tasks every day. Custom software lets you focus on more exciting tasks rather than emailing back and forth the entire day or fight for your life in spreadsheets.
As a result, employees will be less stressed, do more with less effort, and be more excited about going to work. They are also more likely to provide better service which will definitely help your business grow.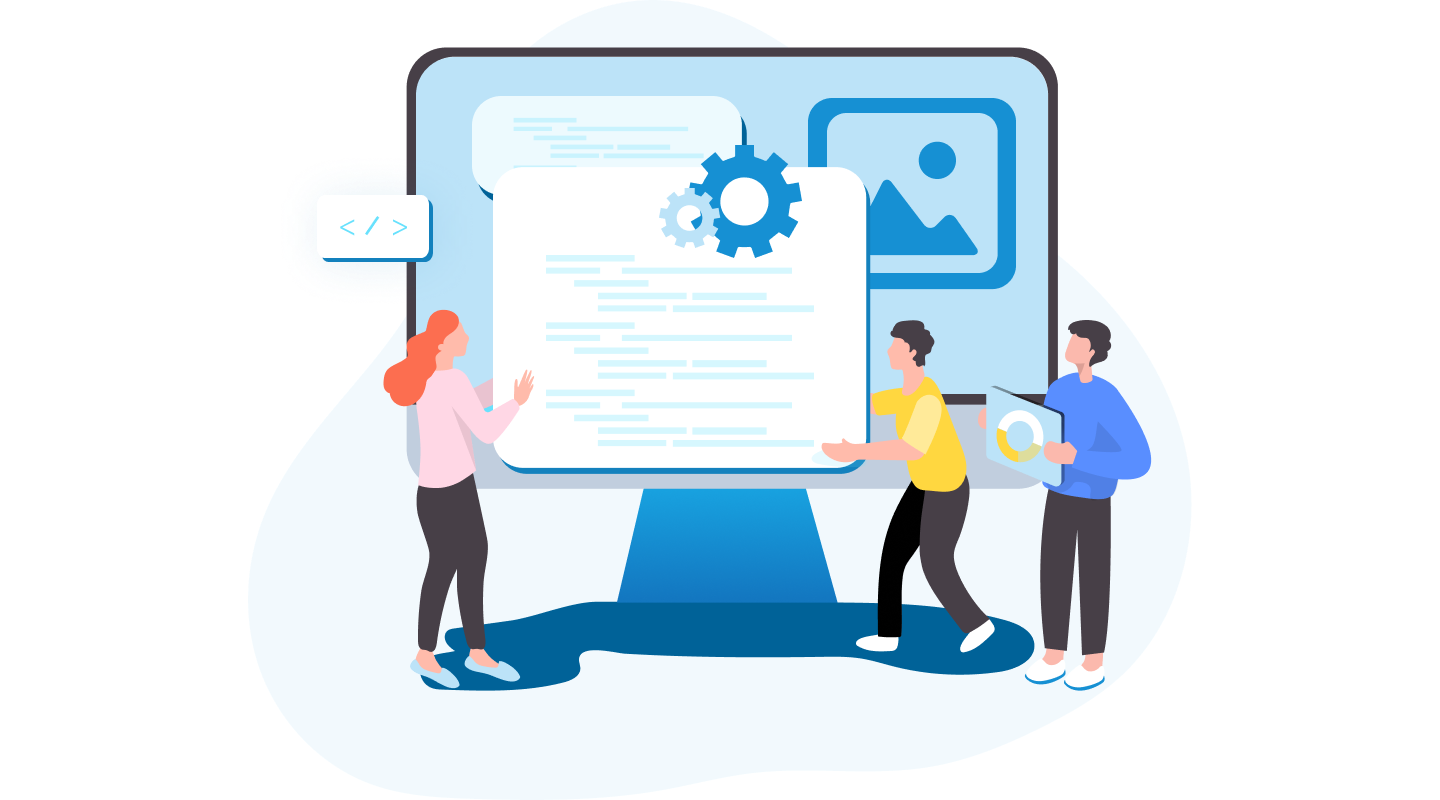 Steps of custom web development
The benefits of custom web development are valuable beyond any expectations. If you are excited to start your development project, here is a hint of how the process looks like.
Research
The most important part of a custom web development or any web development project is research. You should analyze existing solutions on the market to explore all kinds of useful features, define your business needs, as well as ask employees about their needs and expectations. All these research areas combined will give you a solution that is actually efficient and useful. If you try to skip this stage, you might as well just buy a ready-made web solution.
Planning
A plan will help you to control the execution, deadlines, and budget of your web application development project. Usually, a plan includes a set of features and design ideas, tasks, deadlines and executives, budget, technology stack, and the expertise required to build the application. Depending on your requirements, you may need to hire Ruby on Rails developers, Laravel, Golang, or any other tech stack developers to help you build your web application. It's also important to create a mock-up of the future web application to make sure that it looks exactly like you would want it to.
Coding
This step will take you the longest, around 6-15 weeks. During this stage, it is important to make sure that everyone is following the timeline and to check up on the results to make sure that you are getting what you want. Usually, companies just hire a project manager to watch over the stage. They will make sure that the team is on time and motivated to deliver the best results. PMs will also report about the current progress and be a mediator between you and the developers. This step can be significantly shortened by using no-code web apps and tools to assist your developers.
Testing
The testing stage is designed to avoid buggy, barely working applications. In the stage, it is essential to conduct comprehensive mobile testing as well. Testers will check the interface, usability, security, functionality, performance, compatibility, and other important factors of any web app. It is your way to make sure that you receive the best quality and not fall into the trap of fraudy developers with lazy coding.
If everything is fine, the app will be launched and you can start using it and incorporating it into your system.
Maintenance
This part obviously does not need such a great workforce and involvement as previous steps, but it is a never-ending process. You have to update the application, add new security patches, fix bugs that were not noticed before, etc. It can be done by just one tech person and does not need your attention every day. However, it is of utmost importance that you continue working on the quality of the web app after it is launched. Otherwise, it will become obsolete and not effective very soon.
Conclusion
Custom web development is a bumpy road but it is totally worth it. You will be able to manage everything on one platform, automate many routines, and do more in less time and with less effort. In perspective, it is even more cost-effective than buying a ready-made solution.
Just make sure that you follow all steps of custom web development and you will be able to get the most out of your custom web app.