Email Marketing generates a whopping 4200% ROI — which smokes all other marketing channels in terms of yield and efficiency. If you are a brand looking to generate B2B leads, email marketing is your best bet and pays you back in more ways than one.
Apart from being one of the best converting channels, Email Marketing also offers a greater level of control and ownership. Traffic and reach on other channels like search, social networks, Ad networks, etc., can only be controlled up to a certain extent — since the audience is technically owned by the platform. On the other hand — your email lists are completely yours and offer you the freedom to reach your audience when and how you please.
Getting Email Marketing right could enable you to build a core audience that's retained for longer, has a higher average ticket value, and costs less to acquire.
Sounds great, doesn't it? Throughout this article, we'll cover the strategies and tips to help you generate more email leads, so you can leverage email marketing and grow your sales sustainably. Let's start with the basics first.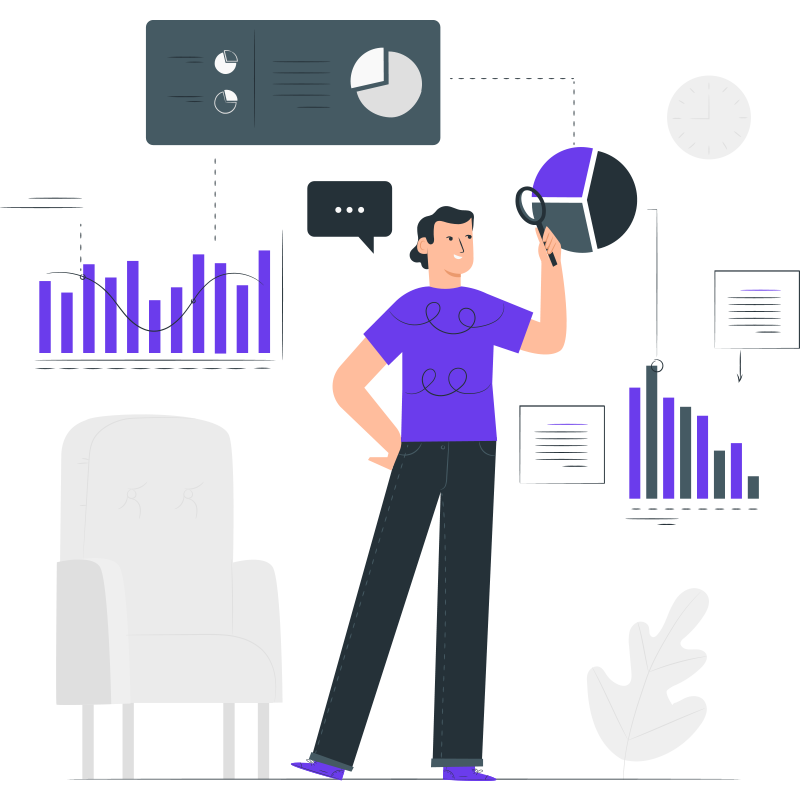 Get long-term ROI.
We help you grow through expertise, strategy, and the best content on the web.
What is Email Lead Generation?
Email lead generation is a method of collecting leads with the help of an email opt-in form. The main objective is to gather information about these leads so that they can be moved through the sales funnel into becoming a paying customer.
Let us look at how you can generate email leads for your B2B business with the help of email marketing.
Steps to Leverage Email Marketing to Generate B2B leads
1. Use Gated Content to Build a List
Gated content isn't necessarily something that requires the audience to pay for access. Mostly, the business is looking to collect information about the audience like their names and email addresses. Some of the most popular gated content strategies are content upgrades, white papers, ebooks, webinars, process documents, swipe files, and more.
When you put your content behind a gate, the perception of users about the value that it brings will be high.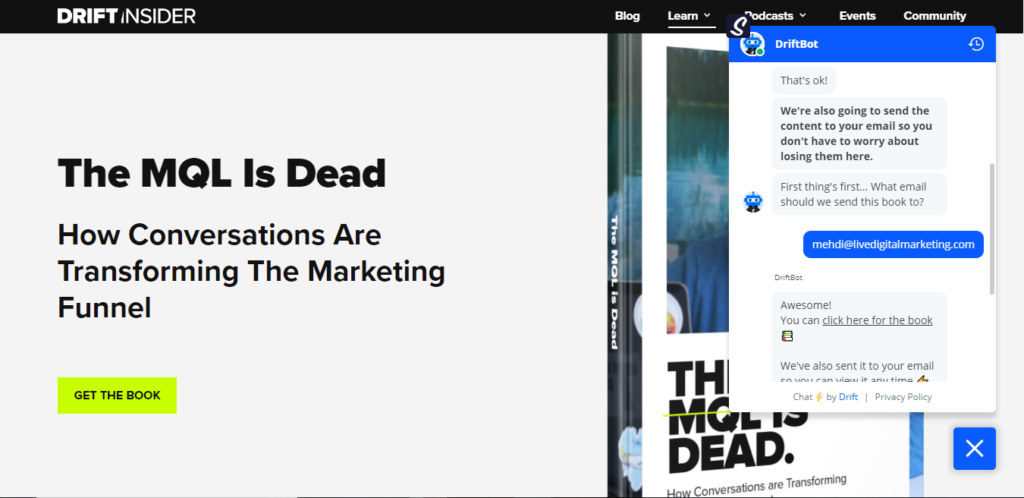 Here Drift collects your email address to send you the ebook on your email. But it's not a traditional opt-in form, rather a conversational bot asking you to provide an email address.
If your content is genuinely valuable, then the users will be more than happy to exchange their information for it. You can include an opt-in form at different locations, but you have to ensure that the audience has already got enough value from you before asking for their email IDs or any other information.
While leads can be wary about submitting their emails, you can use the following strategies to ensure them of your content's value and their information being safe:
Reveal detailed information regarding the gated content
Include statistics & highlights from the report
Assure them you will keep the information secure and won't spam them
2. Launch an Automated Drip Email Campaign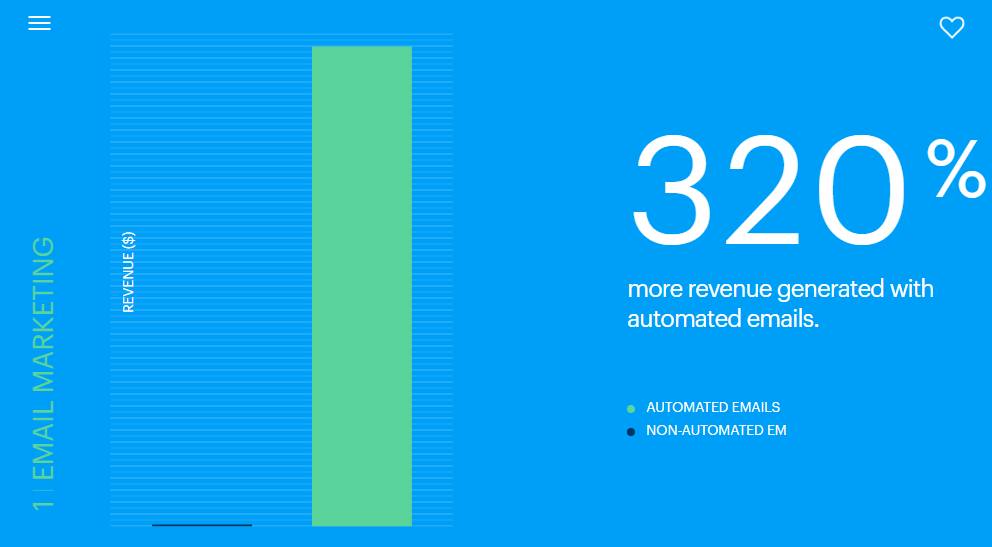 As per the Campaign Monitor report, automated emails generate 320% more revenue than non-automated emails. More often than not, automated emails have a clear email automation strategy in place with defined objectives, thus increasing conversions.
Drip emails are a sequence of automated emails that can be triggered to go out as per your leads' engagement and behavior. Drip campaign emails are a sequence of automated emails that can be triggered to go out as per your leads' engagement and behavior. This means by setting up a few templates and follow-ups as a campaign, you can nurture and engage your leads over a period of time, at certain events where they might benefit from your content. Make sure to check out some templates for email sequences and choose the one that best fits your email campaign.
And over time as you run more of these campaigns, you'll be able to measure the engagement and segment your best performing (read: engaging) leads. These leads can then be converted with offers personalized for them or enrolled in sales sequences that are geared towards getting them on a sales call.
3. Nurture your Email List with Content
So you've found yourself a way to funnel your website or social traffic to your email lists — what next?
You don't want to keep your subscribers hanging — so you need to keep them engaged in order to convert them eventually. That's why you need to enroll your subscribers in nurturing drip sequences, so they can keep up with your updates and have you in the back of their minds at all times.
How to do that?
Use content that's most likely to resonate with your email audience, and personalize it accordingly. Segment your audience based on their profiles, interests, and their traffic sources, so you can send targeted and personalized content straight to their inbox.
Here are a few tips to keep in mind while setting up your nurturing drip sequences:
Welcome your subscribers as soon as they opt-in
Use triggers for sending emails
Be mindful of the frequency with which you send emails
Repurpose your old content
Also, track, test, iterate and analyze the success of your nurturing campaigns. It'll enable you to improve audience engagement, and consequently — conversions.
4. Lead Scoring
Lead scoring is a popular strategy to determine the likelihood of a lead to buy. A score anywhere from 1 to 100 is assigned to the leads. The higher the score, the more likely they are to buy. Every time the lead takes an action like opening your marketing email or visiting a few pages on your website, they earn points. The score is determined by a variety of attributes such as website visits, purchase authority, job title, industry, email click rates, etc.
The objective of lead scoring is to spend time on leads that are most likely to work.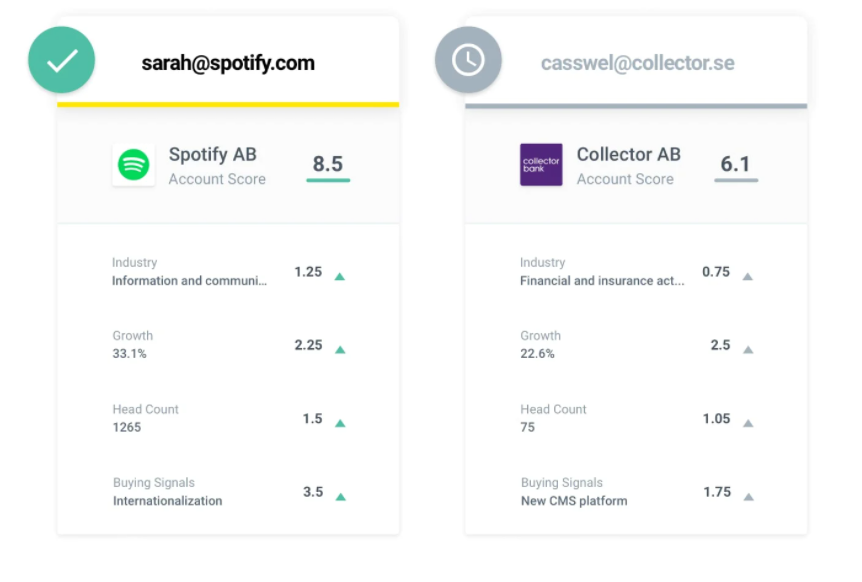 For example — out of the two leads in the above image, sarah@spotify.com should be qualified and prioritized higher. As the lead that is part of a growing organization(as per the scoring metrics) — they're valued higher. They're more likely to become a customer because of their high lead score.
Lead scoring does the following:
Reduces your marketing and customer acquisition costs
Results in higher conversion rates
Eventually higher revenue
To build a lead scoring model, you need to commit to the following:
Invest in cleaning up your existing lead data
Map out your customer's journey
Update your buyer personas
Talk to every customer-facing employee, especially sales
5. A/B Test your Emails
When you try new techniques or strategies in your email marketing, you cannot have just one type of format ready for the campaigns. You need to run A/B tests to improve your conversion rates.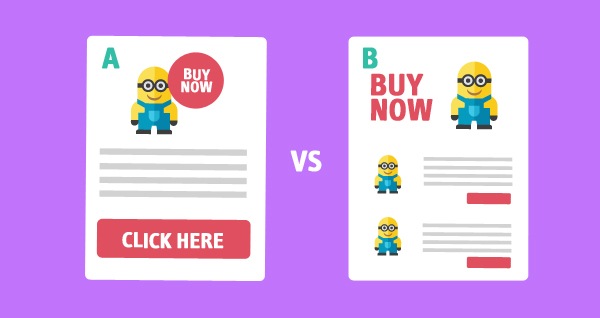 If you look at the above A/B testing example, you can clearly see that they have created two different campaigns with a few variations. The 'BUY NOW' button has been displayed in different sizes, not to mention the fact that in campaign A, the button is inside a red circle and is white in color. Campaign A has a 'CLICK HERE' button, which is one more CTA, the same as the 'BUY NOW' button. The next step is to send the split test campaigns randomly to your audience or for different personas. Based on the results that have the highest conversion, you can choose the one with better results and send them to the ones in your email list.
You can consider testing the following:
Subject line
The layout of the message
Level of personalization
CTA buttons — color & copy
Email send in varied times & frequencies
Send different offers to each segment
Each of the above factors has a lot to do with lead generation and its subsequent conversion. There can be different objectives for why you do A/B testing. It could be to find the effectiveness of your copy among a particular segment of the audience or you want more people to open the email.
Neal Taparia, a serial entrepreneur and founder of ForeeCell Challenge, explains how A/B tests can surprise you. "We changed our FreeCell game of the day email from being image-heavy to a simple text-based one, and found that click-through rates improved by 17%, something we did not expect."
Track the effectiveness of the A/B testing campaigns and choose the one that works well for most of your subscribers.
6. Include Strong Actionable CTAs
The objective of every email marketing message is to make the subscriber take an action. A strong CTA is responsible for a lot of conversions. The content that you send over email should be so attractive to your audience that they are primed to click on the CTA button.
Some of the most common CTAs that almost each one of us would have encountered are: Click here, Read more, Subscribe, Download, Sign up, and Shop Now.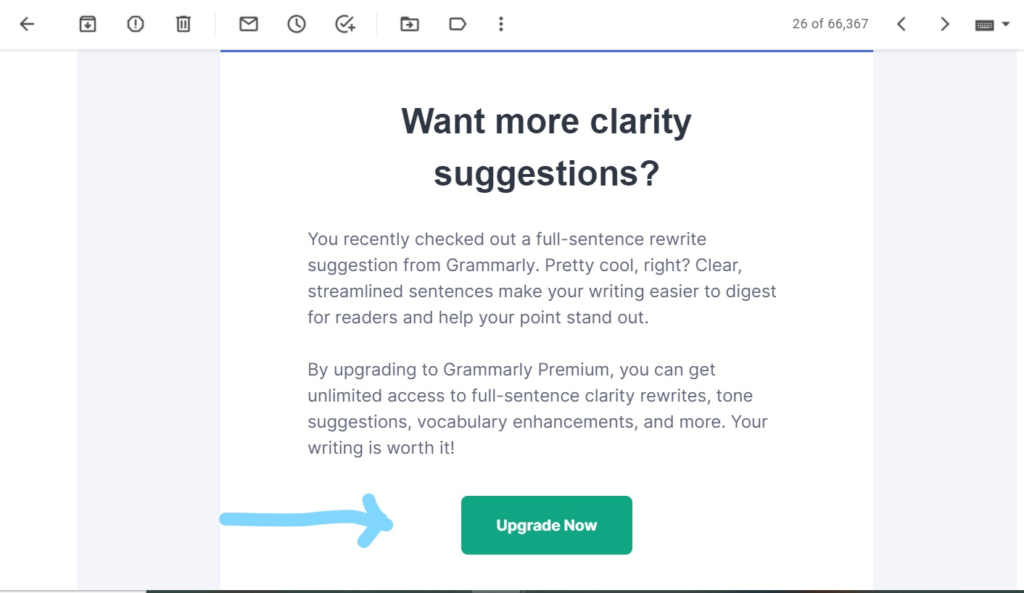 In the email from Grammarly, they want me to upgrade to a premium account by clicking on 'Upgrade Now.' The CTA is presented in green color, which is in line with Grammarly's brand identity. It has also been placed at the end of the email's body so that the user will know what to do next after going through the email.
Here are a few tips on nailing your CTAs
Use action-oriented words
Speak directly to the customer
Keep it short
Make the button large and easy to read
7. Offer Incentives for Referrals from Subscribers
A subscriber referral program is a great way to reward your existing customers for referring new subscribers your way. When customers enjoy using your services or love your email content, they are more inclined to refer their friends. In fact, recommendations are considered the most trustworthy way to get new customers.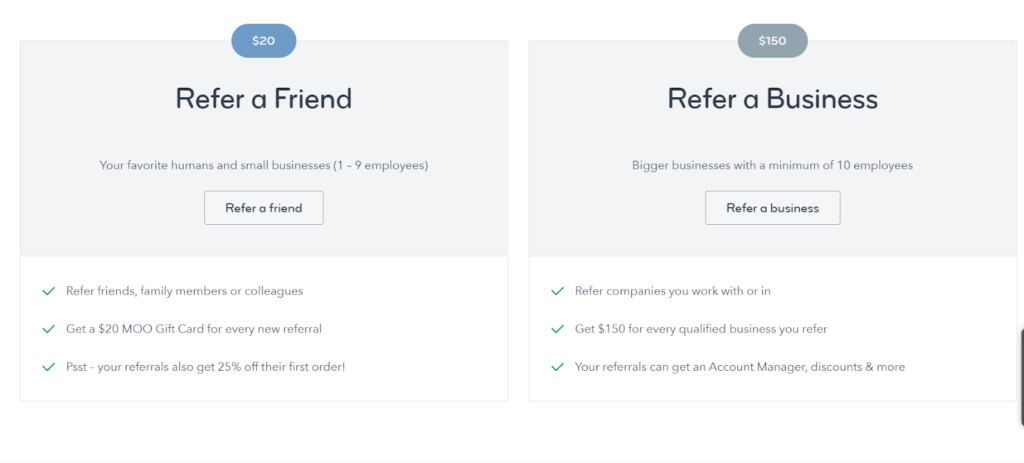 The above example of incentives for referrals is from Moo, a brand that makes designs and print materials for businesses.
Here is how its referral incentive works.
If you refer a friend or a business that has 1-9 employees, you will get a $20 gift card, and the ones who get referred get 25% off their first order.
If you refer to big businesses, you can get $150. The referrals get an account manager, discount, or anything else that is appropriate for them.
Before you start an incentive program for referrals, make sure that you have a satisfied set of subscribers and have a deep understanding of their wants, preferences, interests, etc. You should also have an understanding of the type of subscribers that you want to attract as a part of your referral program.
8. Leverage FOMO for Offers
To ensure that you inject the feeling of missing out on the subscriber, you need to explicitly show someone what they are missing out on and how they can avail the offer by taking immediate action.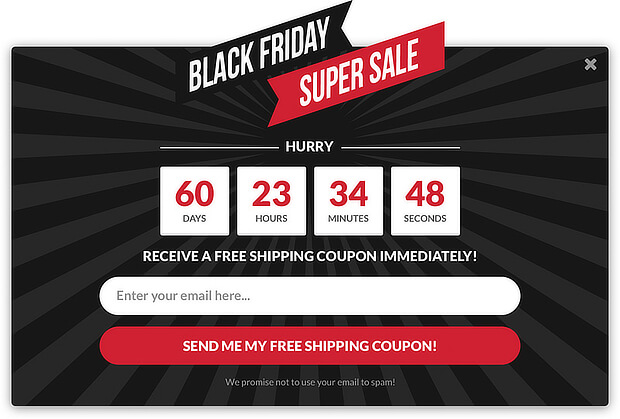 Here are some ways to use FOMO in emails:
Seasonal sales
Set deadlines
Offer free shipping for a limited time
Use the right copy
Offer a limited-time promotion
Make exclusive offers
Use waiting lists
Limit the number of quantities
Have specific criteria for someone to qualify as a buyer
Clever marketers take advantage of the fear of missing out by persuading customers to act before they lose the opportunity forever.
9. Use Social Media to Grow your Email List
Social media platforms today make for the most visited websites, and it's quite likely your leads might be spending time there. Which makes these platforms a great alternative to diversify and add to your list of lead-generating channels. Social media platforms not only help you engage your existing audience but also increase your reach by making your content visible to users who might benefit from your content.
From time to time, you can leverage your social media presence to distribute gated content, thereby helping you convert your social audience into email subscriptions. Apart from this, you can also distribute existing content and assets, and generate referral traffic that adds more visitors and leads to your funnel.
Twitter, Facebook, Instagram, and Linkedin can also be used to run advertising campaigns with the goal to collect emails from targeted audiences. In Facebook, for example, you can show ads to your target demographic with embedded forms to input email fields, making it a direct source for generating email leads.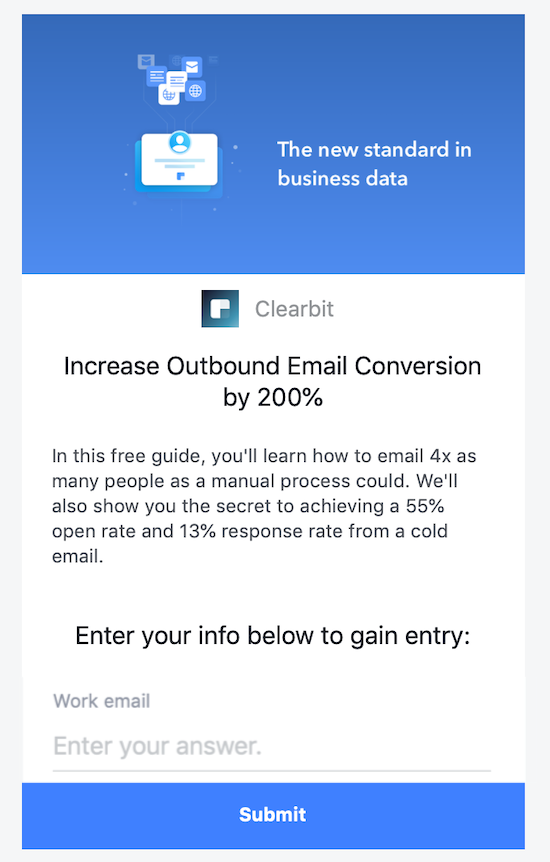 10. Set up Email Marketing KPIs
After you launch your email marketing, while you can sit and bask in the success, there is one thing you shouldn't forget — MEASURING it. Only by measuring the effectiveness of your email marketing campaigns would you be able to benchmark your results for the future.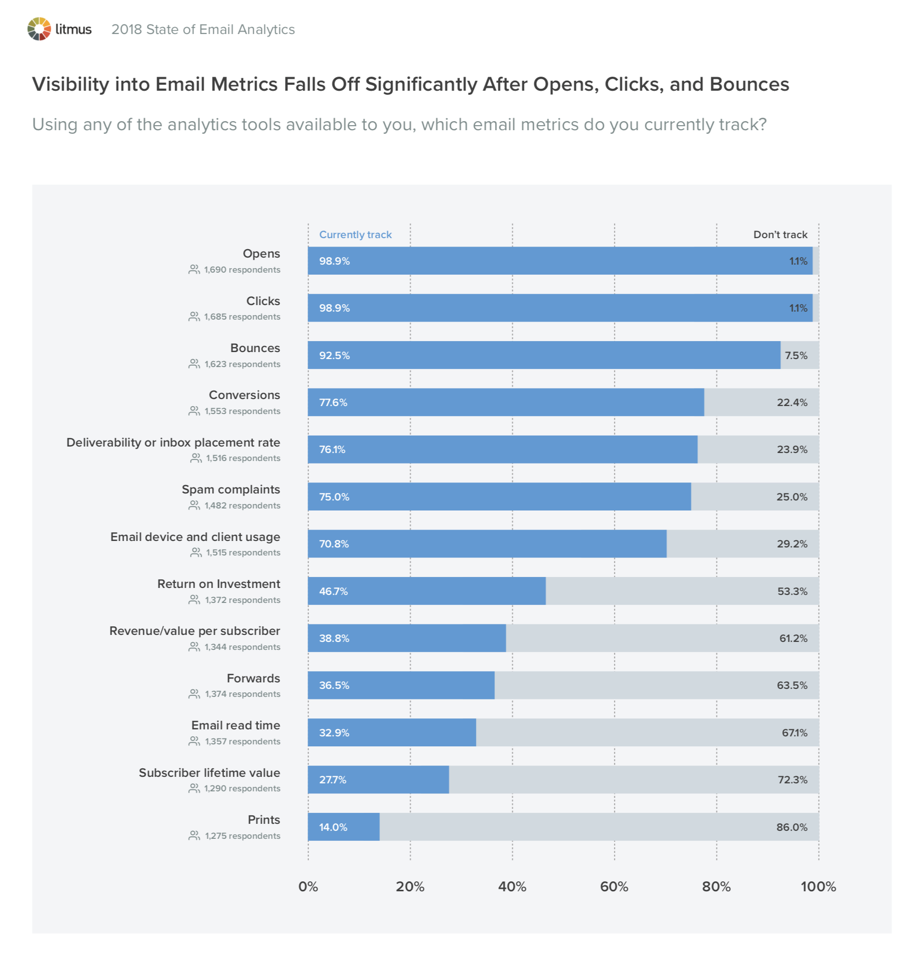 In the above report, you can clearly see the performance of email campaigns falls off after opens, clicks, and bounces. It's evident that 98.9% of the companies track opens while only 27.7% of them track subscriber lifetime value. But the report also adds that more companies are planning to start tracking it in the coming months, including value per subscriber and ROI.
Below are some of the KPIs for email marketing campaigns that you should choose
Number of emails opened
Click-through rate
Click-to-open rate
Bounce rate
Conversions
Mobile open rate
Revenue per subscriber
Not every email marketing campaign is going to be about generating sales, you should also have other goals like generating brand awareness, growing email subscriber list, creating engagement, and so on. It's imperative that you track the performance of your campaigns with the help of KPIs.
Conclusion
Email marketing is one of the most powerful ways to get leads if you follow the right strategies. In fact, just by following the above ten steps, you will be able to attract a lot of B2B leads. These time-tested strategies, complemented by Email Append Services by DM Data Source, have consistently proven to be effective for B2B businesses.
Let us know which are your most preferred email marketing strategies for generating B2B leads, in the comments section.