Grammarly is one of the most popular online grammar tools out there for students, freelancers, and business users alike. For many years it was a downloaded program that you used.
Now you don't have to open the dashboard or go to the web browser to use it. You can download browser extensions for it so your mistakes will always be corrected without having to go onto the Grammarly desktop version every time.
Disclosure: These reviews are reader-supported. We might earn a small commission if you purchase something through our site. Learn more
Grammarly
Best All-Around
$11.66
/mo – before discount
PROS
86% out of 86% accuracy
16+ billion database
150k+ word limit
5 devlice limit
Includes plagiarism
1-hour response
CONS
Only supports English
Expensive without our link
Grammarly Premium Walkthrough Video
TABLE OF CONTENTS
How to Install a Grammarly Extension on Opera
Installing Grammarly for Opera is very simple and doesn't take long to get started. In fact, it's as easy as installing your favorite adblocker like uBlock Origin or a VPN. There are a few ways you can begin to do this. You can first install the Grammarly desktop app and make an account through there. The other alternative is to follow the instructions on adding the extension to the Opera browser.
Steps
The first step to installing Grammarly on Opera is visiting your Opera extensions tab.
Next, you'll want to install the "Install Chrome Extensions" addon.
Once it installs you'll go to https://chrome.google.com/webstore/category/extensions and type 'Grammarly' in the search box.
Select the 'Add to Opera' button on the right side and a window will display.
Install the extension, go to the extensions manager page, and make sure it's turned on.
How to Correct Your Grammar Using Grammarly App on Opera
Once you have the browser extension installed, you'll need to create a Grammarly account to access all of its features. However, if you just need something to correct your grammatical mistakes and spelling errors then it will work without making a user account. Though, it's recommended you sign up.
The Grammarly icon will appear at the top right and look like a green circular arrow. Click this icon and a window will appear.
This will instantly take you to the 'create an account' option.
From there you are able to use your Gmail account, email account, or sign up with Facebook. Select your option and it will take you to the Grammarly web dashboard. This dashboard is the main hub of Grammarly and is identical to the desktop app version (which you can also download). It will allow you to copy and paste your work, upload documents from ms office, and type your text right there.
While the free version is limited in what it offers, it does the basics such as act as a spell checker, offer a sentence rephraser when necessary, and correct your grammar punctuation. If you are looking for more in-depth corrections, then you'll need to upgrade to Grammarly Premium.
Grammarly Premium offers more features. It will check for your use of passive voice, grammatical check, examine your sentence structure, fix run-on sentences, and provide suggestions for better vocabulary choices. It will even give you the option of checking your writing style and tone.

Just like MasterClass is on the more expensive side of the spectrum, but the quality and value you get for that money is well worth it. Our content marketing agency produces over 300+ articles/month, so we use Grammarly Premium on a daily basis.
In addition to the Grammarly browser extension and windows app, various devices and apps are compatible. It works as a keyboard for your Android and IOS device, Microsoft Office, Google Docs, and other apps like OpenOffice.
How it corrects your mistakes is simple. It will highlight mistakes in red or yellow. Red being the mistakes you need to change and yellow being suggestions for better options or possible errors like a name as an example. The red ones are more spelling mistakes, punctuation issues, or grammar rules.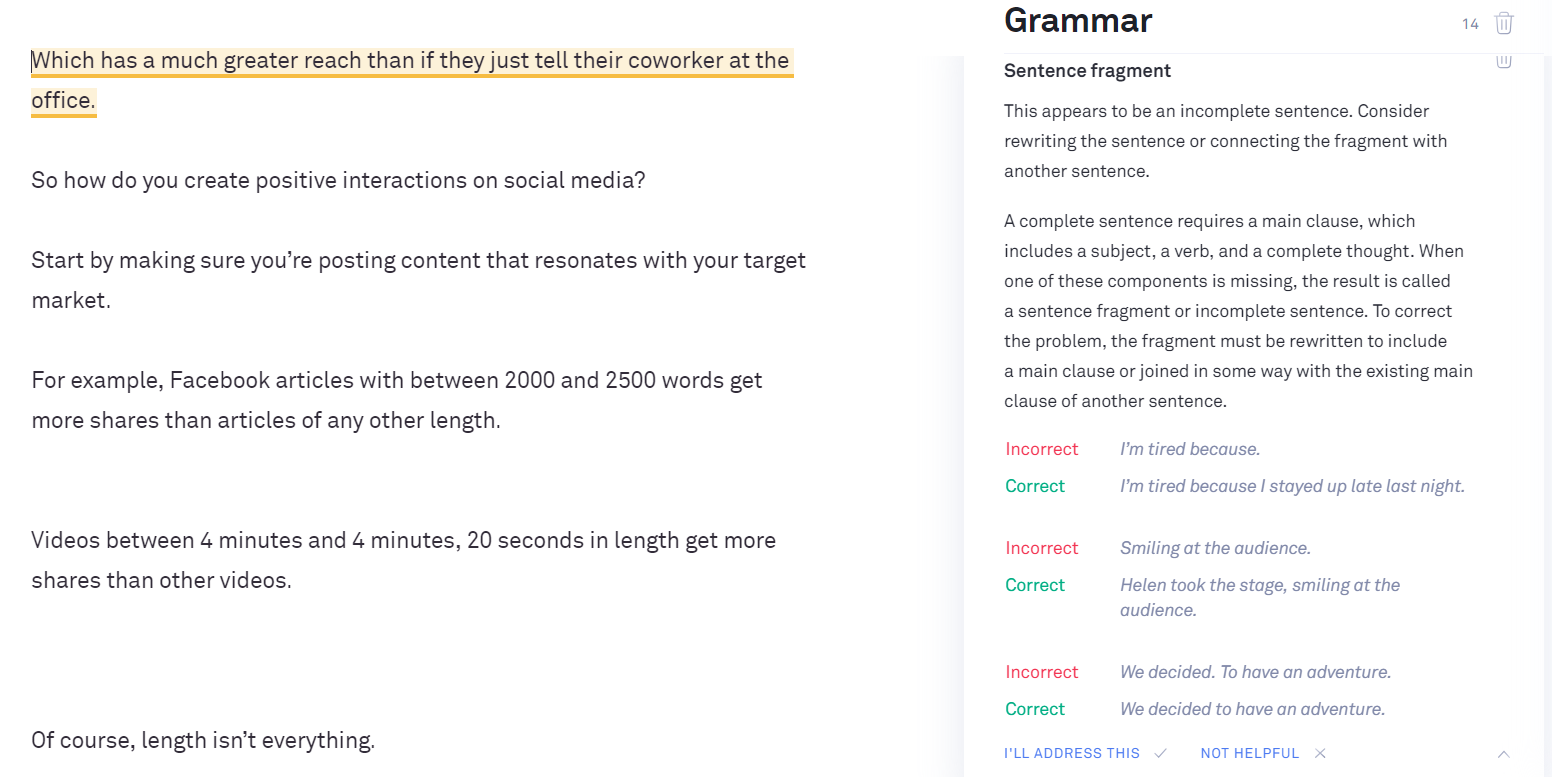 You don't need to fix the yellow ones, but it's highly recommended you do as it can affect your readability score and generally has to do with your style or wordage. This will depend on your preference and audience though. For example, if you are working on a blog post and want to be more personable with a reader then using words such as "actually" or "really" aren't warranted a change. If you were working on an academic paper, you'd want to remove any instances of fillers or clichés.
How to Check Reports on Opera
Grammarly offers two kinds of reports. The first is a brief overview for those who are on the free version and it will show your clarity, engagement, delivery, and correctness. If you want the more detailed reporting that will allow you to make corrections on your choice of words, the type of voice you use, readability, sentence issues, plagiarism instances, and more. These reports are available on the right side of the work you upload to Grammarly.
How to Use the Grammarly Plagiarism Checker on Opera
Grammarly has a plagiarism check that's available with the premium version. It scans over 16 billion websites to check if you intentionally or unintentionally plagiarized your work. Once it finds any instances, it will highlight them and point it out to you so you can correct your work with citations, quotations or by rewriting your sentences completely.
Grammarly also offers a proofreading feature. This doesn't come with the free or premium version, however. The feature is something that you can use for a fee. The cost depends on how many words you need to be checked and how quickly you'll need it returned to you. Your work will be checked by human proofreaders that will catch any nuances that artificial intelligence may miss.
How to Uninstall Grammarly on Opera
Uninstalling Grammarly on Opera is much simpler than the install. All you have to do is go to your extension management and find Grammarly. Then, all you do is click the 'x' on the top right of the addon and it will ask you if you wish to uninstall and you select 'yes'.
Grammarly is a great addition for anyone looking to improve their writing. It's not just a grammar and style checker but can detect plagiarism across devices and apps.
It has compatibility with different browsers too like Firefox Safari and Internet Explorer. Installation is a breeze and if you decide you no longer have use for it, the uninstall is just as simple. But you don't have to take our word for it, just check out any Grammarly review and they will tell you the same.