We've looked at a lot of grammar and plagiarism checking tools. It's kind of our thing. Of all the programs, websites, apps, and add-ons we've explored, our favorite has always been Grammarly.
The tagline on their main page reads, "Your writing, at its best." That's a strong statement, but one that we've found to be accurate. Grammarly provides an enriching experience through editing and education, helping writers and non-writers alike communicate more effectively.
Grammarly offers two services, a limited free plan and their paid option, Grammarly Premium. Paying to subscribe to their premium plan gets you a number of additional features, but they come at a higher price point than most other alternatives.
That's where a lot of the chatter about worth comes into play. "Is Grammarly worth the price?" or "Can't I just use the free version?" are common questions I hear associated with this product.
While I personally feel that Grammarly Premium is worth it, there are a number of different pros and cons that one should examine before deciding if this service is worth it for them. Everyone has differing needs when it comes to writing, and there are a number of competing services out there that give Grammarly a run for its money.
Why do I believe Grammarly is worth it over services? What are the pros and cons of the service? What do you get from Grammarly that you can't find anywhere else?
Disclosure: These reviews are reader-supported. We might earn a small commission if you purchase something through our site. Learn more
Our Verdict
It's easy: Yes, Grammarly is definitely worth it. Its best-in-class grammar, spelling, and plagiarism checking can't be beat by any competitors. (Trust us, we've tested them all.)
Grammarly
Best All-Around
$11.66
/mo – before discount
PROS
86% out of 86% accuracy
16+ billion database
150k+ word limit
5 devlice limit
Includes plagiarism
1-hour response
CONS
Only supports English
Expensive without our link
Grammarly Premium Walkthrough Video
TABLE OF CONTENTS
Free vs. Premium
When talking about Grammarly, you're really referring to two very different, distinct products.
One is their free grammar, spelling, and punctuation checker, which completes the basic functions one would expect from such a service.
Then there's Grammarly Premium, which comes with a slew of additional features. How many, you ask? See for yourself.
As you can see, Grammarly Premium employs advanced checking for punctuation, context, grammar, and overall sentence structure, on top of the grammar and spelling checks included in the free version.
It also helps to spice up your content with vocabulary enhancements, changing overused terms into more varied verbiage. Another fantastic feature is the ability to set goals for your writing, letting Grammarly know what you're hoping to accomplish with the piece. This allows the system to tailor its suggestions to your writing style, creating a more personalized experience.
But perhaps the best thing Grammarly Premium has going for it is one of the finest plagiarism checkers we've seen, comparing your work to more than 16 billion different Web sources.
PRO: Plagiarism Detection
This is where Grammarly separates itself from your other options out there, like Ginger.
Plagiarism is a huge problem in both the academic and professional worlds. From students failing out of classes as a result of copied content to companies being slapped with hefty copyright infringement lawsuits, plagiarism represents a creative epidemic sweeping through a broad demographic.
The real kicker is that a lot of plagiarism is not intentional. Sometimes while writing a blog post, people don't realize that they're copying content, or they don't know how to properly cite a source. That's where plagiarism detectors like Grammarly come in handy.
Grammarly not only points out what you've plagiarized, they teach you how to properly cite the information, so as to keep you safe from any ramifications.
What I loved about Grammarly's plagiarism checker was its accuracy. We tested a number of different plagiarism detection programs, and Grammarly was the most accurate and complete.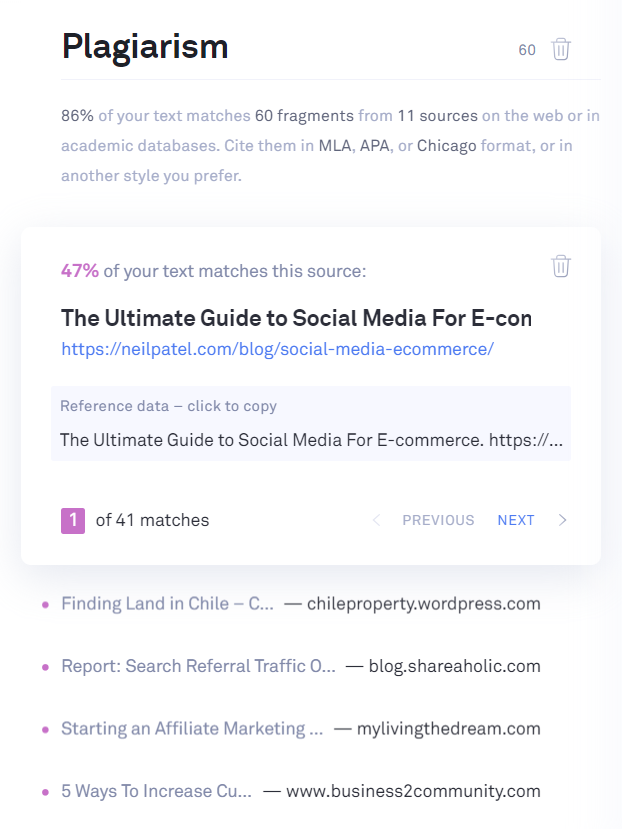 We had created a piece of content that was intentionally loaded with plagiarism and used that to gauge the effectiveness of each tool.
The results you see in the image above were Grammarly's assessment of that copy. It flagged 86% of the content as plagiarised from 11 different sources on the Web. Most of the other services we tested marked it somewhere in the 60-65% range.
A lot of these programs claimed to use databases far larger than Grammarly's. Plagly, for instance, claims to pull from 20 billion sources, but Grammarly still found over 20% more issues, calling into question the effectiveness of Plagly's system.
PaperRater claims that it scours trillions of different websites, but when we uploaded our plagiarised copy it found nothing at all.
When you compare Grammarly's plagiarism checker to those of their competitors, you quickly see where the true value of this service lies. It's the old adage about how it's not the size of the dog in the fight but the size of the fight in the dog. Bigger doesn't always mean better when it comes to plagiarism databases.
CON: Aggressive Premium Marketing
An area where Grammarly could use a chill pill is their overly aggressive marketing.
As I've said, the premium service of Grammarly is a great program, but it's also not for everyone. Free users are constantly bombarded with advertisements touting the benefits of Grammarly Premium. While there's nothing wrong with a little shameless self-promotion, one of the main complaints I see on the Web is ad fatigue from Grammarly's free users.
The company also has a very strong re-marketing campaign. Re-marketing is when ads are tailored to your activity. So if you've checked out Grammarly or used it for free, you're likely to see display and video ads touting the service. Again, this isn't some cardinal sin, but its the aggressiveness and frequency of the ads that turn some people off. I've seen Grammarly described as "desperate" in their marketing efforts, and that's not the kind of reputation you want.
PRO: Goal Setting
I touched on this earlier, but Grammarly's ability to set goals and cater specifically to your content is a great feature that sets it apart from the built-in spelling and grammar checkers in most word processors like Microsoft Word and Google Docs.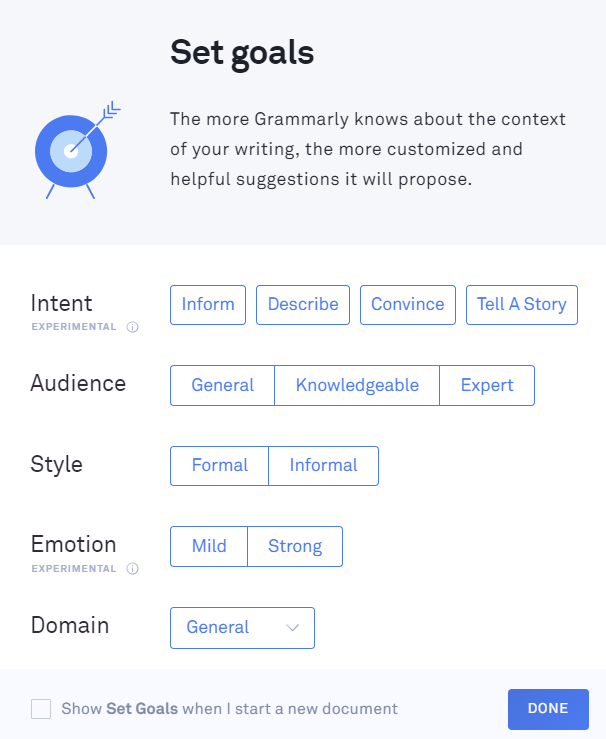 This makes total sense, improving the overall effectiveness of Grammarly. An official report in a professional environment has to be edited in a different manner than a piece of fiction or a sales pitch.
Grammarly sets its goals in five different categories. They are:
Intent
Audience
Style
Emotion
Domain
Let's take these one at a time and determine their level of importance.
Intent
What are you hoping to accomplish with this article? Is it instructional, and meant to inform? Are you attempting to describe something, like a book report or review? Are you trying to convince someone of something, as one might do in a sales pitch or opinion piece? Or are you trying to tell a story, whether it be biographical or a work of fiction?
That's so important to determine right up front. If Grammarly has a solid take on your intentions, it can more accurately make suggestions. If you're trying to convince someone of something, it can recommend more compelling and convincing verbiage. If you're telling a story, it can change up your sentence structure, creating a stronger narrative flow.
Audience
The question you have to ask yourself before any business related project is, "who am I trying to reach?"
Identifying an audience is the first step in creating content. You aren't going to use overly technical language for an audience that is unfamiliar with your product or service. And, conversely, you don't want to bore an audience of experts with useless background knowledge that they already know.
That's why Grammarly asks you who this content is for. Are you speaking to an audience that is more general? Are they knowledgeable about your topic? Or are they experts? That's essential for creating a proper tone.
Style
You need to know whether your writing project is formal or informal.
If you want a more conversational tone, that's awesome. But if you're keeping things more formal and professional, Grammarly can identify some wording that might be too casual, offering up suggestions on how to help that content sound more "grown up."
Emotion
Consistency in emotion is another important factor in any writing project.
If you're going for a more mild approach, Grammarly can examine your prose and tell you where you need to tone it down. Alternatively, if you want strong emotion throughout the piece, it can let you know where you're falling off.
Domain
Is this a casual article, or is it more technical? Is it meant for academic purposes? Could it be business related? Is this a creative venture?
Choosing the proper domain helps Grammarly get a more accurate idea of what you're looking to accomplish. Obviously, a technical article is going to be judged far differently than a creative story. An academic project differs vastly from a business proposal. Identifying what it is you're writing gives Grammarly an added advantage in making its suggestions.
CON: Limited Language Support
You would think that Grammarly would want to expand its business worldwide, but that's not easy to do when you cater solely to the English language.
Most grammar checkers have the ability to support multiple languages and dialects. There are some that can even check foreign alphabets, like Arabic, or Japanese kanji. By focusing on English alone, Grammarly greatly narrows its audience.
There's a great big world out there, filled with writers creating content in every conceivable language. It seems so short-sighted to alienate such a large percentage of the audience. Out of 7.5 billion people on the planet, only 1.2 billion speak English. That's only 20% of the world's population. This leaves a whopping 80% of the non-English speaking public with no use for Grammarly's services.
When you consider how widespread Spanish has become, it makes sense to start expanding language offerings there. After that, move onto Chinese, French, German, and more.
PRO: Educates Users
A lot of writing assistant programs want to correct all of your mistakes and move on. Grammarly takes a more in-depth approach, seeking to educate its users and create stronger writers through thorough explanations.
It's one thing to just say, "hey, that's wrong and here's how to fix it." It's something else altogether to say, "hey, this is wrong, here's why it's wrong, here's how to fix it, and here are some examples of how to do it correctly."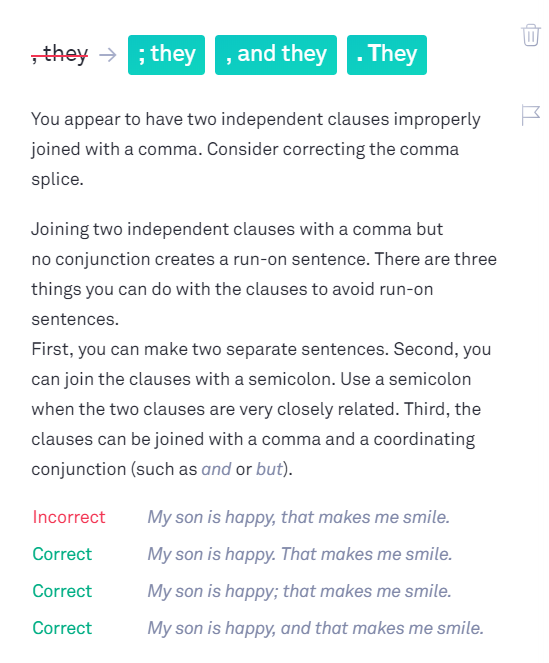 This is an incredibly detailed explanation of what occurs when you have two independent clauses improperly joined by a comma. Grammarly goes on to not only correct the issue but explain in detail why it was wrong.
Its features like this that add to Grammarly's worth. It's not the parent who helps with your homework by filling in the answers for you. It's the parent that sits by your side, explains what you did wrong, and shows you how to fix it for next time.
I've always been very impressed with Grammarly's attempts at educating its users and turning them into better writers. It's why I like to say that Grammarly is more than a grammar checker, it's a virtual English teacher.
CON: No WordPress Add-On
WordPress is one of the most popular website development tools on the planet. It stands to reason that Grammarly, one of the most popular grammar checkers on the planet, would have some kind of add-on or plugin to go along with it.
Sadly they don't, but it's not as big of a deal as one might think. While Grammarly can't integrate into WordPress the way some other systems can, its browser extension can be used while working on content within the WordPress platform. So, while the two programs don't meld together conveniently, you can still bring the power of Grammarly to your WordPress content with this loophole.
PRO: Multiple Applications
One of Grammarly's greatest strengths is its accessibility. There are multiple different ways that users can access Grammarly's features.
While many grammar checkers force you to upload files onto their website, or into a desktop application, Grammarly comes at you with a number of apps and plugins to enrich your writing wherever you may need it.
Grammarly can be used:
On their official website. Just copy and paste your content into the dashboard, or upload a whole document for review.
As a browser extension. Grammarly has over 10 million users on Google Chrome alone, and also supports Chrome, Firefox, and even Microsoft Edge (for the five people using that).
Via a Microsoft Word Add-On. You can plug your Grammarly Premium service right into Microsoft Word, using it in place of Microsoft's built-in spelling and grammar checking system.
With Google Docs. This service is currently in Beta testing, but it allows you to send your Google Doc article over to the Grammarly website, where it gives you the full range of Grammarly Premium features.
As a desktop application. Grammarly can be installed onto your desktop, serving the same functions as the website without ever having to open a browser.
On your mobile device. Grammarly keyboard is a mobile application for Android and iOS platforms. It corrects all of your mobile content, from social media activity to emails and text messages.
When is Grammarly's Free Version Useful?
The free version of Grammarly is extremely useful for catching grammatical errors and serving as a spell checker.
If you're a student or just a causal writer looking to make sure the content you're posting on social media is free of spelling, punctuation, and grammar mistakes, this is a safe and affordable option.
Grammarly's browser extension works with the free plan and provides an added level of safety when you're writing out important correspondence. If you're a working professional communicating extensively with clients via email, you can get some mileage out of this service.
Before switching to Premium, I used the free plan for months. I was always very happy with how it performed, bringing Grammarly's services to my fingertips no matter what website I was using.
While Grammarly Premium is a more complete service, users who don't have to do a lot of professional writing or worry about plagiarised content can get away with using the free plan.
When is Grammarly Premium Worth It?
If you're a professional writer or editor, Grammarly's premium plan is a perfect fit for your work life. The main benefits that we've described in this article work together to make a writer's life easier. I would also recommend Grammarly Premium for content driven businesses, such as law firms and marketing/SEO companies.
Educators can also get a lot from Grammarly Premium. While it doesn't replace the need to sift through your students' work, the plagiarism checker is a fantastic way to ensure that your young minds are adhering to academic integrity.
Independent authors are another group that would find this service appealing. When writing long manuscripts, it become easy to rely on tried and true phrasing that might bore the reader. Grammarly Premium's vocabulary feature identifies overused terminology and offers insightful recommendations on how to vary your prose.
It should be noted that a service like Grammarly does not replace the need for a human editor. It is software, and no software is perfect. However, Grammarly also offers a human proofreader, where for an additional cost, writers can upload their work to a real live human editor, with an impressive turnaround time.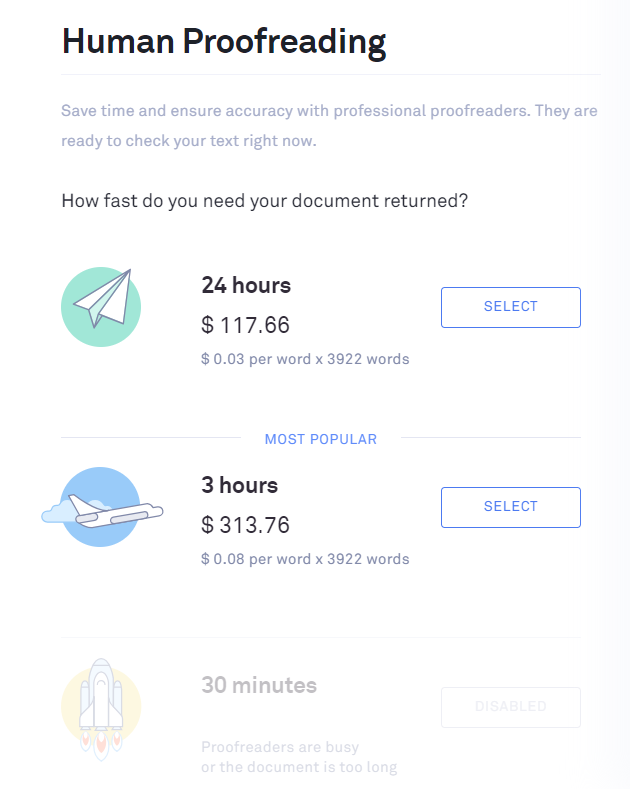 Something else to consider is that writing professionals can write off the cost of Grammarly Premium in their taxes at the end of the year. It is a business expense and should be documented as such.
In Conclusion
A wealth of impressive features and a high level of performance make Grammarly a safe bet for writers of all skill levels.
Whether you're a student, a professional writer, a CEO, or just someone who wants their emails and text messages to be free of embarrassing typos, Grammarly has a service that you can take advantage of.
Although I've talked about the Grammarly review extensively in this article, it might be a good idea to mention a Grammarly alternative – Writer.
The goal of Writer is similar to the Grammarly goal – to correct users grammatical errors while also educating them to prevent similar mistakes in the future.
The app doesn't just proofread the text and detect grammar errors. It uses advanced techniques to help correct mistakes and also provide a detailed explanation of why it made the correction.
Suppose you've used a passive voice (which Writer will correct). In addition to offering a better alternative, Writer will help you learn more about how to avoid using the passive voice in the future.
This handy feature can help you brush up on grammar rules, thus improving your overall writing skills.
Furthermore, Writer provides writing suggestions that can improve the tone and style of your text, similar to Grammarly plugin. It can suggest a different word choice that's more suitable for the audience you're trying to reach.
Or it can make your text more formal by offering vocabulary suggestions that would spice up the content and polish it.
Finally, both Writer plans come with multiple add-ons and plug-ins just like Grammarly app. Writers can use this tool as a browser extension, with Word and Google Docs. With that feature, the app allows them to improve their writing wherever they use it.