There aren't a ton of Mac-specific grammar and plagiarism checkers on the market. And while Grammarly does have a dedicated Mac app, most of the other top plagiarism and grammar checkers out there will be web-based.
Here is a list of the best alternatives.
Disclosure: These reviews are reader-supported. We might earn a small commission if you purchase something through our site. Learn more
Our Verdict
We've tested over a dozen different grammar and plagiarism checkers, and Grammarly still comes out on top. Otherwise, ProWritingAid is your best budget Mac alternative.
Grammarly
Best All-Around
$11.66
/mo – before discount
PROS
86% out of 86% accuracy
16+ billion database
150k+ word limit
5 devlice limit
Includes plagiarism
1-hour response
CONS
Only supports English
Expensive without our link
Grammarly Premium Walkthrough Video
TABLE OF CONTENTS
The Best All-Around Grammarly Alternative
ProWritingAid.
Like Grammarly, ProWritingAid has both a Firefox and Chrome extension. But ProWritingAid is also available for Safari users. There are writing apps for users on both Mac and Windows as well. Those people who rely heavily on Google Docs can integrate ProWritingAid directly, and the same goes for Microsoft Office users.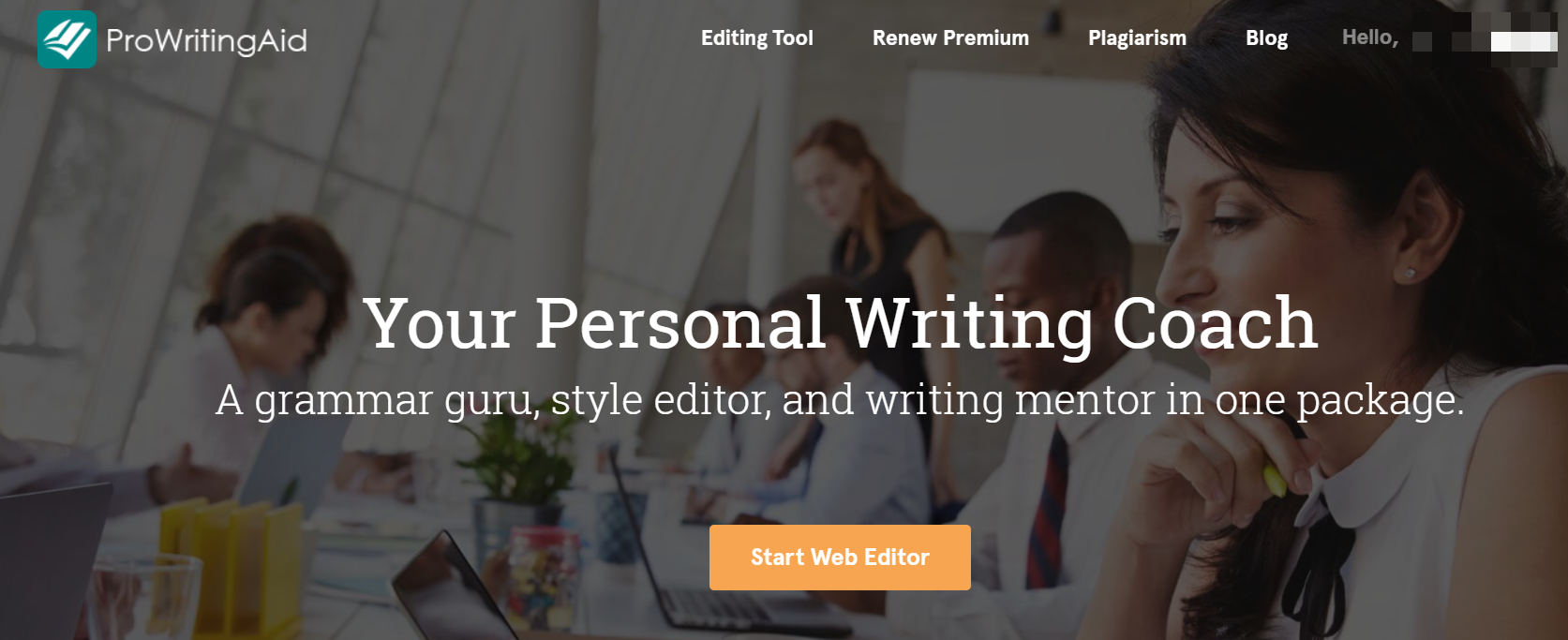 Making the switch from Grammarly to ProWritingAid is pretty seamless. The basic spelling and grammar suggestions work quite similarly. The free version of ProWritingAid goes beyond that of Grammarly, which notifies users that they will have access to advanced grammar suggestions if they sign up for the premium plan. ProWritingAid offers advice on readability and sentence structure all for free.
ProWritingAid tracks user writing habits over time to produce detailed reports that not only help you fix mistakes in the present but become a stronger writer. While writers can similarly strengthen their skills with Grammarly, ProWritingAid is a sentence rephraser in addition to pointing out spelling mistakes.
It might seem a no-brainer to use ProWritingAid, but there are limits if you want a free option. First, ProWritingAid only checks 500 words at a time, and Mac (and Windows) users must subscribe to use the desktop app or integrations with Google Docs and Office. However, a point in ProWritingAid's defense is that it costs $70 annually, which is half of Grammarly's price.
Similar to our MasterClass review, the value you get from using ProWritingAid is well worth the cost.
Nevertheless, there is one instance in which Grammarly is clearly better: it includes plagiarism checks with the premium version. Pro Writing Aid users will have to upgrade to premium and purchase a plagiarism addon, which is based on how many checks you perform. You can still save if you need to check fewer than 500 pieces for plagiarism per year, but Grammarly makes more sense if you frequently check articles for originality.
The Best All-Around Grammarly Alternative for Businesses
If you need an alternative tool to Grammarly with similar options, then Writer could be your choice.
It is one of the 10 best Grammarly alternatives because it detects basic grammatical mistakes but also helps you to improve the tone and style of your writing.
Our content marketing agency produces over 300+ articles/month, so we use these tools on a daily basis.
After running the article through Writer, you can be sure your work will be clearer and more suitable for a broad audience.
Pros
1. User-friendly interface
What good is the best grammar checker tool if its interface isn't clean and user-friendly? Whether you're using the app to scan text for work or personal purposes, managing it should be easy.
All that is to say, using Writer is relatively simple and rather intuitive. Virtually anyone can figure out how it operates. And since its interface is somewhat similar to Grammarly, if you're familiar with that, using Writer shouldn't be an issue.
2. Comprehensive error detection
Writer has a great error-detection system. It recognizes some basic grammatical mistakes, such as the wrong tense or wrong use of the subject-verb agreement, making it a useful grammar checking tool. Furthermore, it detects the passive voice.
Generally speaking, passive voice reduces the text readability as readers need more time to focus and determine the subject and intent. On top of that, not all writers can use the passive voice correctly.
In a nutshell, Writer is your virtual writing assistant, ensuring your text is error-free.
3. Improves the tone and style of the article
Considering your audience when crafting an article is important. If the tone or style doesn't suit the readers, they'll soon lose interest.
Although you could research the target audience before writing, your tone still might not be suitable for them.
That's where Writer comes in handy. It uses artificial intelligence to detect the wrong tone and improve your writing. It suggests synonyms that would be better for your article and more suited your audience. Long-term, this can improve your writing style.
Cons
1. Not great with spelling
Unfortunately, Writer can't always detect a spelling error. For instance, it doesn't differentiate between American, British, or Australian spelling, which can be an issue if one of your writing strategies is geo-targeting.
2. Limited free trial
Like most other similar apps, Writer offers a 14-day trial period. After that, you need to pay the fee if you want to enjoy its functions.
3. No inclusivity in the starter plan
If you've accidentally used an insensitive phrase in your text, Wrier won't detect it unless you're on an Advanced Plan.
Pricing
Writer has two packages: Starter and Enterprise. The Starter Plan costs $11 per month and has grammar, spelling, plagiarism checks, as well as Chrome, Word, and Google Docs plugins. In addition, it can manage 200 custom terms.
The Enterprise Plan offers all that, plus inclusivity language, different dictionaries and style guides, and much more. However, the Enterprise Plan doesn't have a fixed price.
Therefore, if you're considering this plan, contact the Writer support. They'll discuss the pricing based on your needs.
PROS
Straightforward user interface
Chrome, Word and Google Docs extensions
Free plagiarism check with Enterprise plan
Custom writing guidelines
CONS
No free plans
No full-screen available
Do I Recommend Writer?
Yes. This writing tool matches the functions Grammarly Premium offers.
It detects the wrong tense, improves the overall tone of the text, and has an interface that users can easily manage.
It's a great editing tool that boosts English writing and works as your personal writing assistant.
The Best Grammarly Alternative for Devs
LanguageTool goes beyond the typical add-ons and apps (Chrome, Windows, Google Docs) as several checker tools on this list thanks to its open-source design, which means that developers can use the API to create their own addons. Among LanguageTool's comparatively-dizzying list addons are Android, Checkmate, OpenOffice, Thunderbird, and TinyMCE. It's also compatible with mobile browsers. This includes an interface for NSSpellServer that implements LanguageTool systemwide in MacOSX, but it's experimental.
Even if you're not a developer, you'll find it to be a helpful free version proofreading tool. It checks for grammar errors in English, French, and German for free. While some proofreading programs have limits based on word count, LanguageTool has a character limit. Users can check 20,000 characters for free or twice that if they upgrade. Although character counts do not directly translate to word counts, you can check at least a couple thousand words for punctuation mark issues and other errors for free.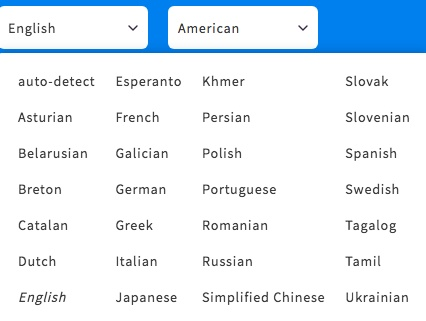 Subscribing to LanguageTool can improve your writing's clarity, not just its accuracy. LanguageTool is the most affordable app on this list, costing only $60 annually. Although, developers can subscribe for $39 monthly to access the API.
This is the appeal of LanguageTool, which is not the strongest checker on this list and can miss common errors such as passive voice and subject-verb agreement if you do not subscribe.
The Best Grammarly Alternative for Bloggers
Hemingway isn't just proofreading software; it also functions as a text editor, allowing you to format your text at the same time as grammar checking it. You can copy the HTML formatting for use on the Web, and writers who publish on WordPress and Medium can conveniently publish a blog post directly from Hemingway. The writing aid also supports exportation to MS Word.
Hemingway doesn't mess around with a free version of the spell checker. Instead, you can spend just $20 for a Windows or Mac app to make your writing "bold and clear" by correcting grammar and punctuation. The app means you can write from anywhere without a connection, but you'll lack browser and Google Docs integration.
If you collaborate or edit with other writers, the ability to share text with Hemingway notes intact in PDF form is quite useful.
The Best Alternative to Grammarly Plagiarism Checker
WhiteSmoke is a comprehensive grammar checker and plagiarism detector in one, making it useful for writers as well as teachers who may be checking others' work for authenticity. WhiteSmoke is also compatible with an impressive 55 different languages, which puts it in another league from most of the alternatives on this list.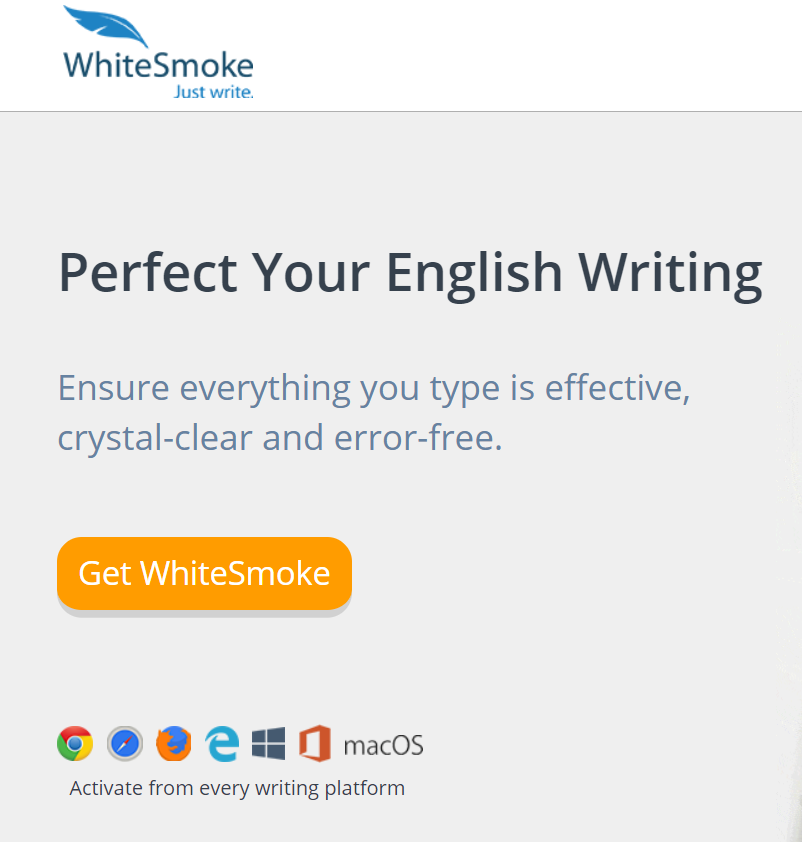 Mac users can try either the desktop app or Safari extension — or both, depending on their spell check needs. Like Grammarly, there's also an online grammar version that's compatible with nearly any device.
WhiteSmoke uses artificial intelligence to learn how humans type and improve its help. The checker offers advice for writing style on top of grammar and spelling. Plus, writers have access to tutorials that teach them how they can improve a sentence.
There are a few limitations, including a 10,000-character limit when using the desktop software. However, it's easy enough to get around that with the browser extension.
Finally, WhiteSmoke offers no free version; although, it costs less than Grammarly. The price scheme can be a bit confusing. Currently, you pay different prices for the Web version, which includes grammar and plagiarism checker along with translator for $10. WhiteSmoke Premium provides access to one computer with support for Gmail and word processors in just one click for $13.33. For $22.99, you can purchase WhiteSmoke for three computers, and it comes with customer support over the phone and an extended warranty. Currently, all of these plans are 50% off. That's a small price when you consider all the pros of this Grammarly alternative for Mac.