If you still think LinkedIn is a glorified resume-posting platform, you are missing out on a ton of opportunities. LinkedIn can do much more than help you find a new job or post an open position at your company.
Of course, LinkedIn is an excellent platform for job searches and professional networking. But why not leverage its full potential?
This post will explore how the right LinkedIn content strategy can help build your business and grow your brand. Then, we'll explain how to develop a content strategy for your business or brand on LinkedIn.
Ready? Let's dive in.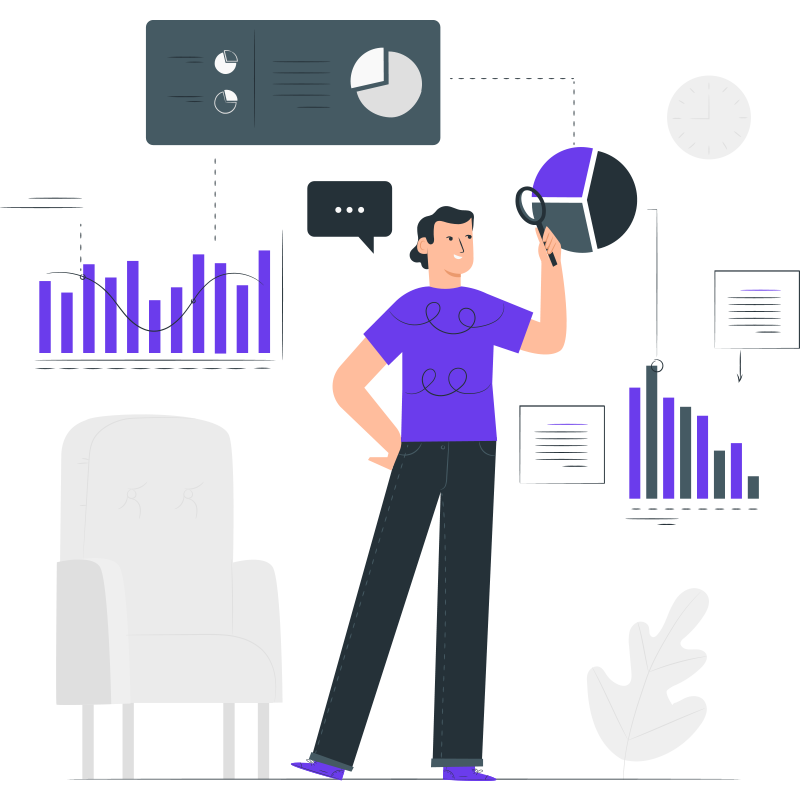 Get long-term ROI.
We help you grow through expertise, strategy, and the best content on the web.
Why use LinkedIn as a marketing platform?
LinkedIn has 134.5 million active daily users in the U.S., with 950 million members globally. Not only is that a lot of people, but LinkedIn is also the most effective platform for B2B marketing.
Why? Because it's a social media platform specifically designed for professionals.
LinkedIn members tend to fall into the target audience for most B2B businesses, and they have significant buying power. With that kind of influence, companies can't afford to ignore LinkedIn as a marketing channel.
Consider your target market. If your buyer personas look like many of the profiles you find on LinkedIn, you've found your gold mine. Join the 82% of B2B marketers who successfully market to LinkedIn members.
Now we know why LinkedIn is such a good bet for marketers. Let's take a closer look at the benefits of a solid content marketing strategy tailored to this professional platform.
Benefits of content marketing on LinkedIn
You'll enjoy four main benefits when you begin marketing on LinkedIn. We'll explore each in detail.
1. Reach more potential leads
Using LinkedIn allows you to reach a wider audience. As we mentioned, the LinkedIn user base is substantial, with nearly one billion members globally.
Exploiting this extensive reach offers a valuable chance to expand beyond your typical organic traffic drivers, like search engines and your website. It allows you to connect with individuals actively seeking your offerings or who are a good fit for your product or service but live or work in a different region.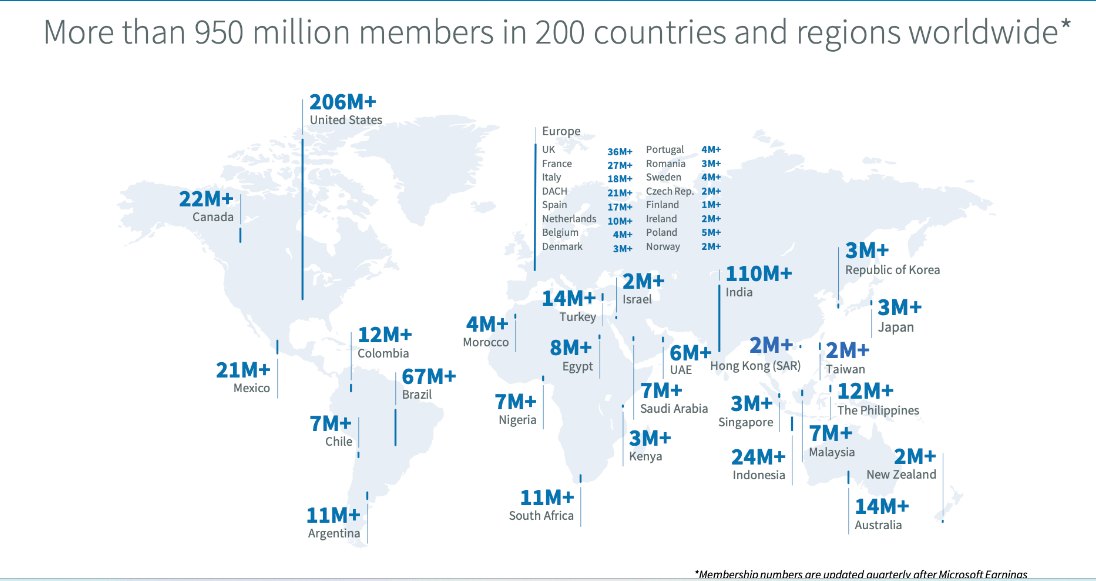 2. Expand your network
In addition to its extensive user community, LinkedIn serves as the central hub for professionals within your field.
Over 65 million decision-makers are active here – that's four out of every five members. These are the people who drive businesses in meaningful directions.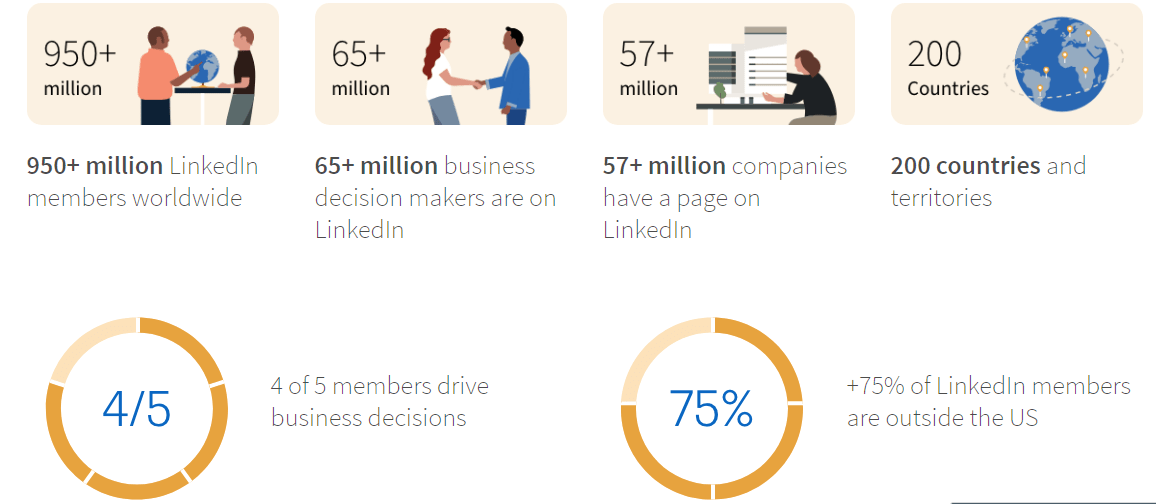 So, sharing consistently great content won't only grow your audience. It could also attract users seeking networking opportunities like guest posts, interviews, and more. These connections can lead to beneficial long-term partnerships if your audiences align.
3. Direct traffic to your website
Like other social media, LinkedIn is a prime platform for distributing your content and driving traffic to your website.
Maintaining a valuable presence on this platform consistently nurtures your audience and solidifies their trust. This trust translates into improved engagement, more interaction with your content, and, ultimately, increased conversions.
4. Stay ahead of the competition
Statistically speaking, chances are excellent that your competitors are already taking advantage of LinkedIn as a marketing channel. Don't be left behind.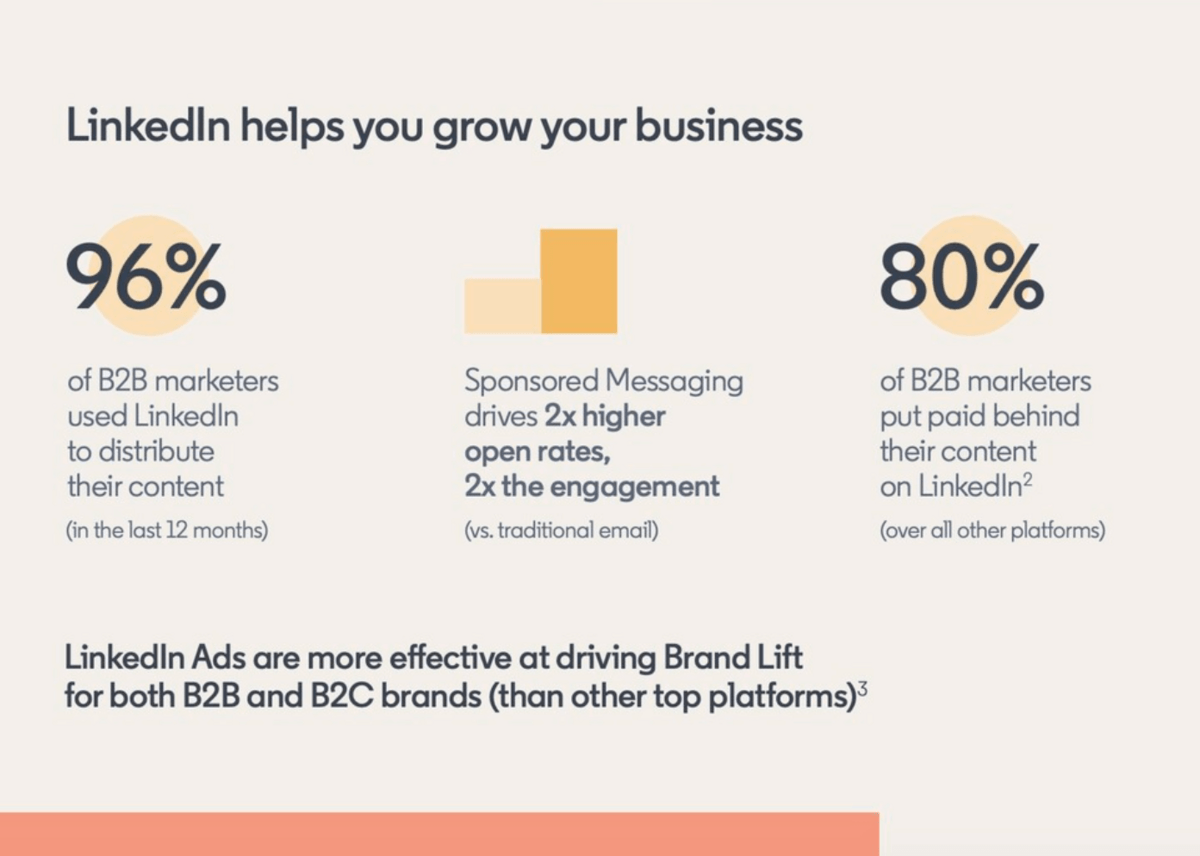 If you haven't established a presence on LinkedIn, you're missing out on reaching a significant part of your audience. Until you take action, your audience will keep tuning into your competitors' content.
Flip the script and launch your own content marketing campaign for LinkedIn to win your audience over.
How to build a content strategy for LinkedIn?
LinkedIn success goes beyond a simple presence. A well-structured content strategy aligned with your website and other marketing channels is key for optimal results.
Let's dig into how to build a content strategy for LinkedIn:
1. Set goals
Content marketing aims to share helpful, relevant content to earn your target audience's attention, trust, and loyalty.
The main goals of content marketing will vary from increasing brand awareness to gaining new email subscribers to increasing conversions or sales. Successful content marketing means accomplishing these goals, whatever they may be.
Begin your content marketing strategy by defining clear goals. Your goals should:
Be purposeful: Goals give direction to your marketing. Instead of wandering aimlessly, you'll be working towards specific achievements.
Hold you accountable: Check in with your goals and be honest when you're falling short. Review progress regularly and learn from what works and what doesn't.
Improve strategically: When your strategy falls short of your goals, it's time to change your approach. Making strategic adjustments allows you to minimize losses and optimize results.
Different goals require different measurements. For example, you'd track new followers and post engagement metrics (likes, comments, reposts) to improve brand awareness.
However, if your goal is to grow your email subscriber list, you'd track the number of new subscribers and unsubscribes. You'd want to be sure unsubscribes didn't negate the number of new subscribers.
Monitoring the right metrics according to your goals is crucial to maintain an accurate idea of your progress.
2. Define your target audience
Your target audience consists of people who'll benefit most from your product or service. They're your ideal customers. To define them, you must consider them at an individual level.
Create a buyer persona of your ideal customer. It should look somewhat like a resume. It'll include their age (or range of ages), gender(s), occupation, income level, marital status, goals and challenges, where they hang out online, and more.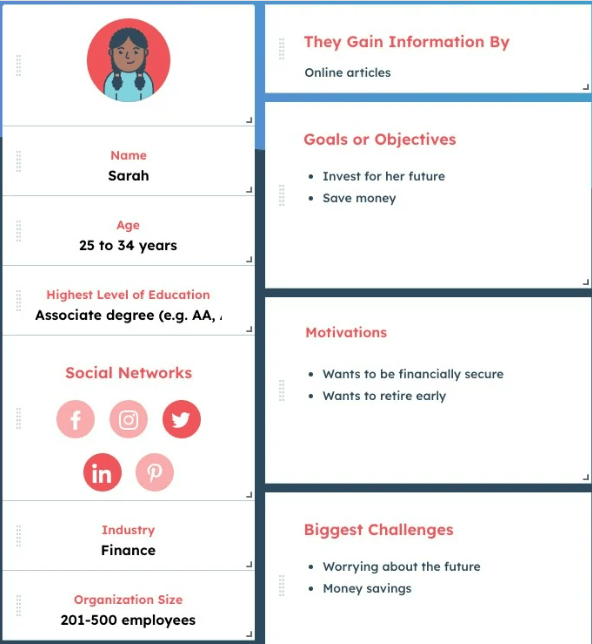 If your ideal customers spend time on LinkedIn, it's definitely time to market there. Next, we'll dive into how to create great content that speaks to your audience.
3. Create various types of content
LinkedIn offers an array of content formats that give you ample choices for content strategy. You can post short or long-form articles, images, carousels, videos, and polls.
You can also share clickable links in the comments. This is an advantage compared to other social media platforms like Instagram, where links aren't clickable. Those links send organic traffic directly to your website, YouTube channel, or other media.
Let's check out some content types you can share on LinkedIn:
Text posts
Like Facebook, LinkedIn allows you to share text without images. You can share short texts or mini-blogs of 3,000 characters, links, and hashtags.
Some popular ideas for posts are:
Inspirational experiences
Tips and ideas
Top X tools for Y
Thought-provoking solutions for specific challenges
Company updates
Here's an example of a text post on LinkedIn: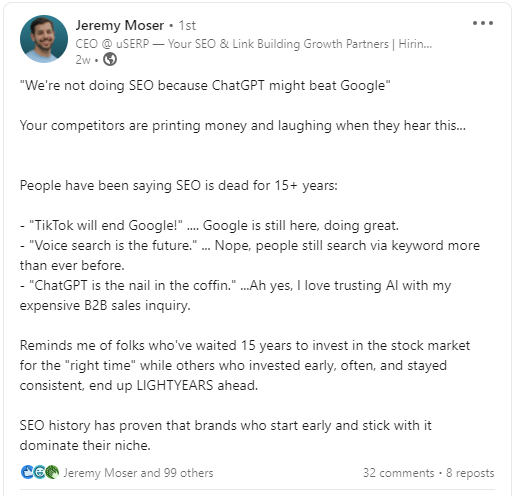 Articles
Unlike other popular social media platforms, LinkedIn also allows sharing long-form articles.
So, let's say that you have a press release and you want to share it on social media in addition to your website. The best platform you can share it on is LinkedIn.
The character limit for the body text of long-form articles on LinkedIn is 110,000 characters.
So, you can also repurpose blog posts or newsletters on LinkedIn to keep inspiring and educating your target audience. Just remember to keep your posts relevant and within the platform's guidelines.
Here you can see how BenQ Europe shared a press release on a new certification for its interactive displays: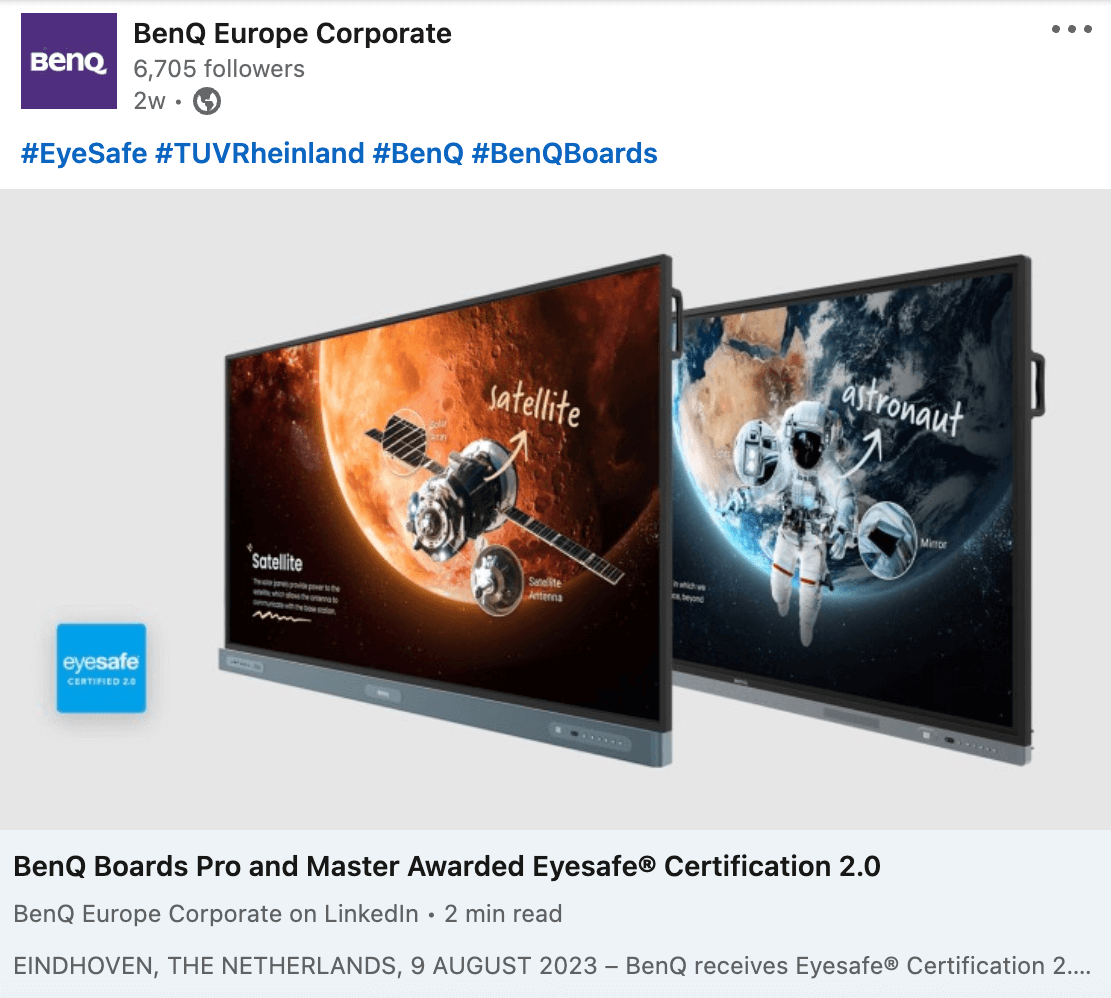 Pro Tip: Be sure your LinkedIn posts (especially long-form articles) are search engine optimized. Google indexes them and will display them in search results. Don't miss out on this golden opportunity!
Image posts
Of course, LinkedIn allows its users to share images, much like Instagram, with captions, links, and hashtags.
In the past, the LinkedIn algorithm didn't reward visual content much. But today, incorporating occasional image posts can boost your reach and enhance engagement by 2x.
Here's how Ahrefs shares image posts on LinkedIn: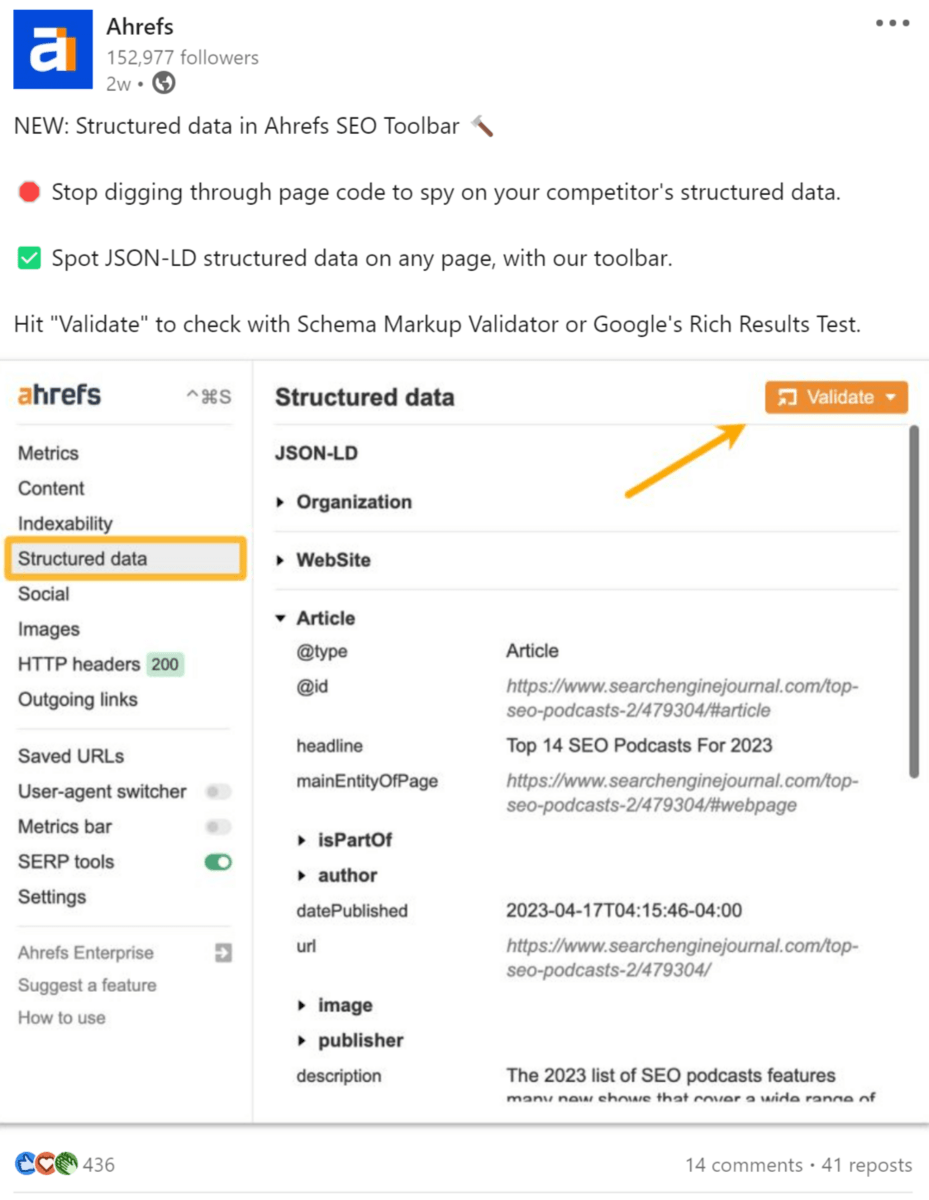 Carousels
Carousels have taken LinkedIn by storm. Now one of the most popular (and highest ranking) post types on the platform, carousels are a must-have in your content strategy.
Carousels are slide shows of multiple pages of images. Each image page can contain text, an image, or both. The most successful businesses brand their carousels, and each one is recognizable as belonging to that brand or company.
Take Sam Browne, for example. He's known as a carousel king on LinkedIn.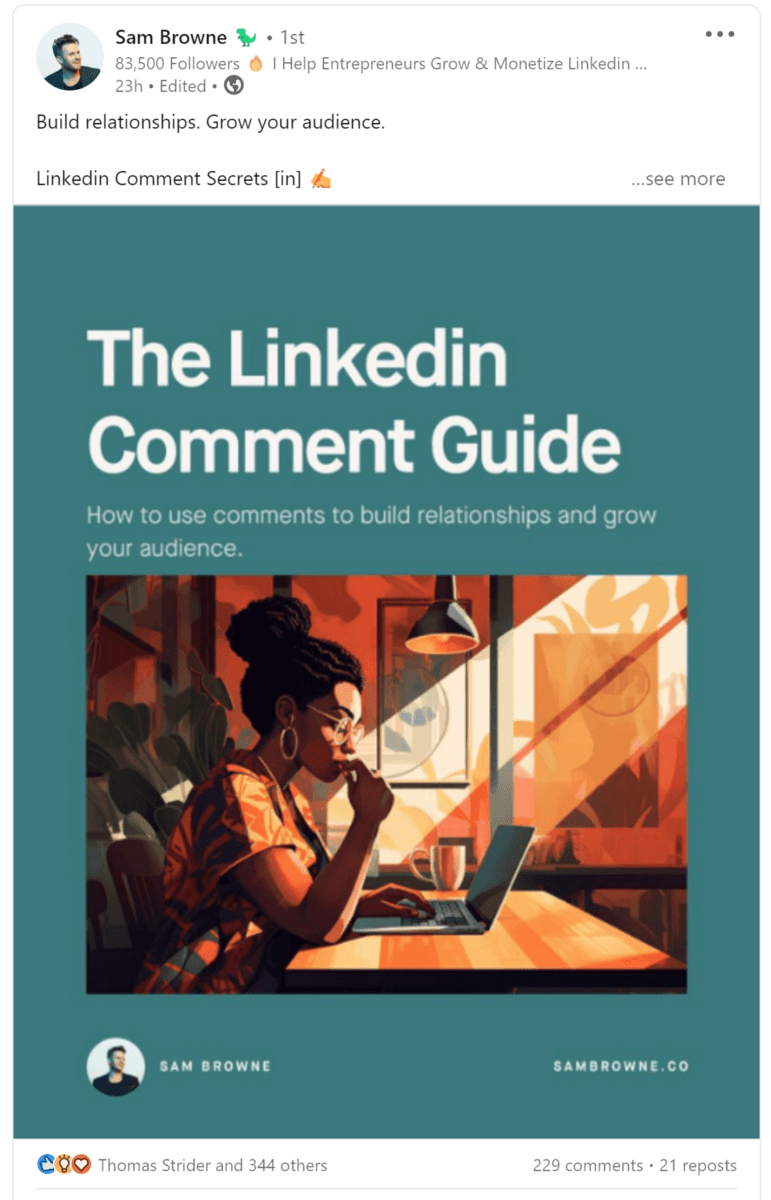 Videos
Videos can be a valuable piece of your content strategy on LinkedIn. There are a few ways you can post videos on the platform.
You can post a link to a video from your YouTube channel, but this should be done infrequently since the LinkedIn algorithm doesn't appreciate users clicking away from its platform.
In the example from HubSpot below, they show a short clip from their YouTube video in the post and share a link to the full video in the comments. This tactic can help mitigate penalties from the algorithm since you remain on LinkedIn when you click on the video.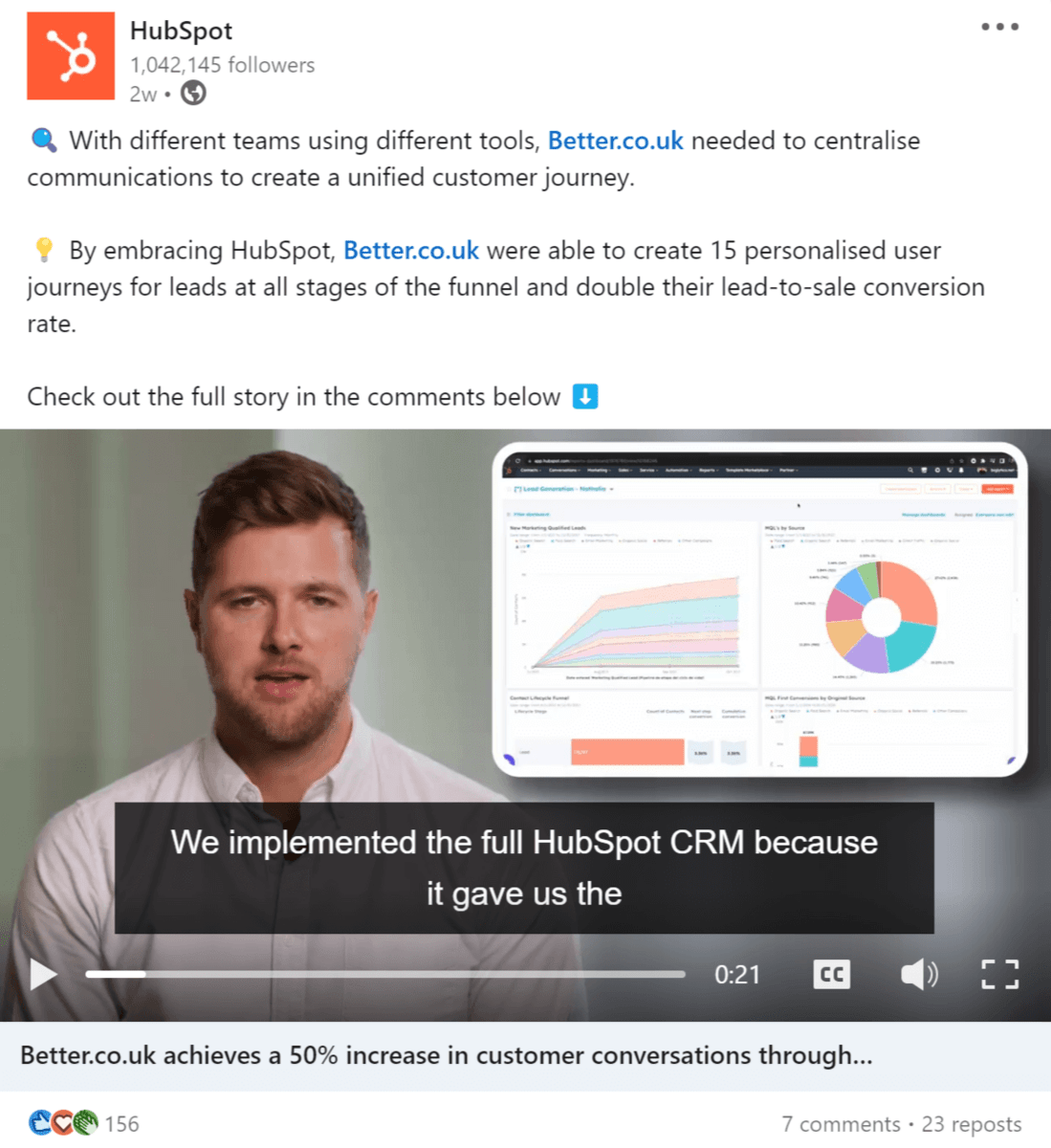 You can also Live stream videos – and that's the sweet spot. According to Demand Sage, live-stream videos generate seven times the reactions and 24 times the comments as regular videos.
If your goals include audience engagement, live-streaming videos on a relevant topic should be on your to-do list.
Documents
A distinctive feature on LinkedIn, document posts enable you to share files such as PDFs, PowerPoint presentations, Word or Google documents, and more. With this, you can present comprehensive content like ebooks, whitepapers, case studies, slideshows, and more.
Pro Tip: Carousels are technically document posts (carousels are almost exclusively created in Canva, saved as PDFs, and uploaded to LinkedIn as documents). Check out Sam Browne's profile to learn how to create and post exceptional carousels.
To create a lasting impact with document posts, ensure they boast an attention-grabbing design, like the example below from Moz: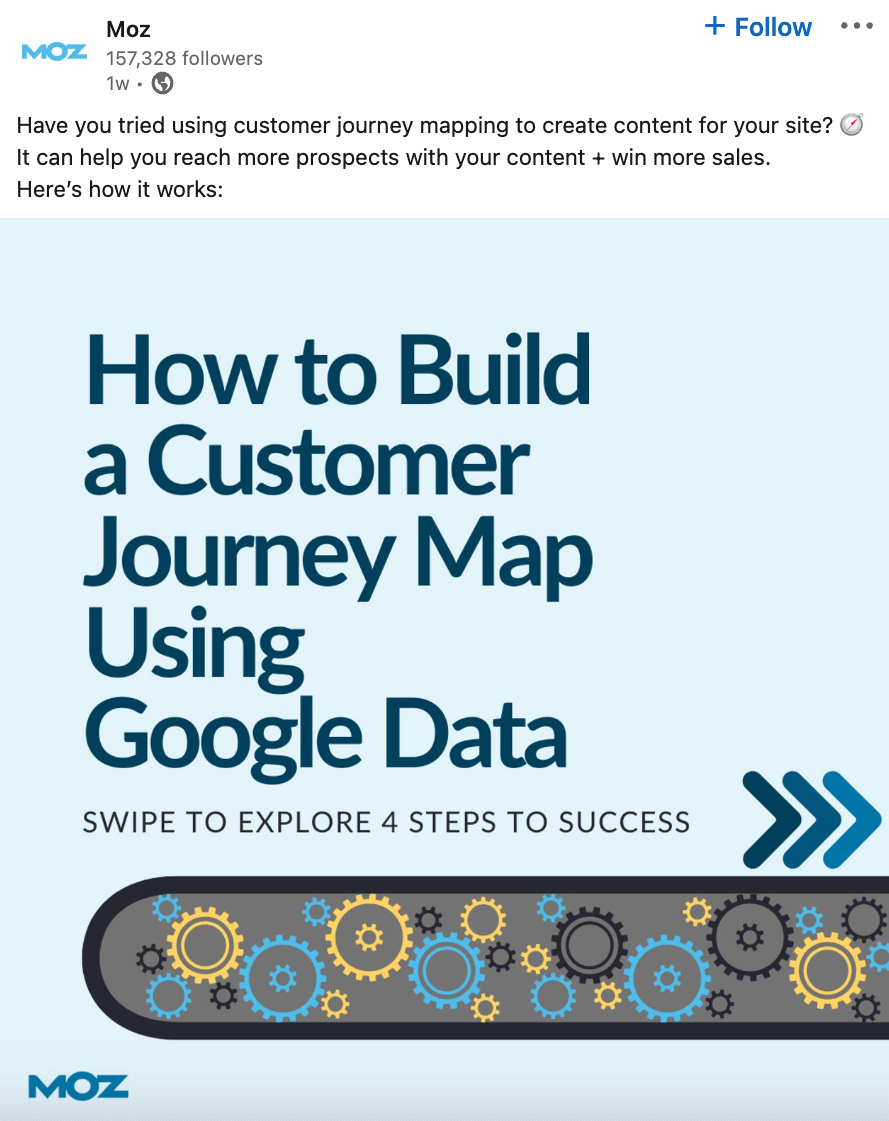 Polls
Polls have been used on social media since its inception. LinkedIn is no different.
The trick here is to ask relevant questions, offer a reasonable time for answers, and share results with your audience. Whether the poll is for research purposes or just for fun, they're built for engagement.
Here is an example from HubSpot: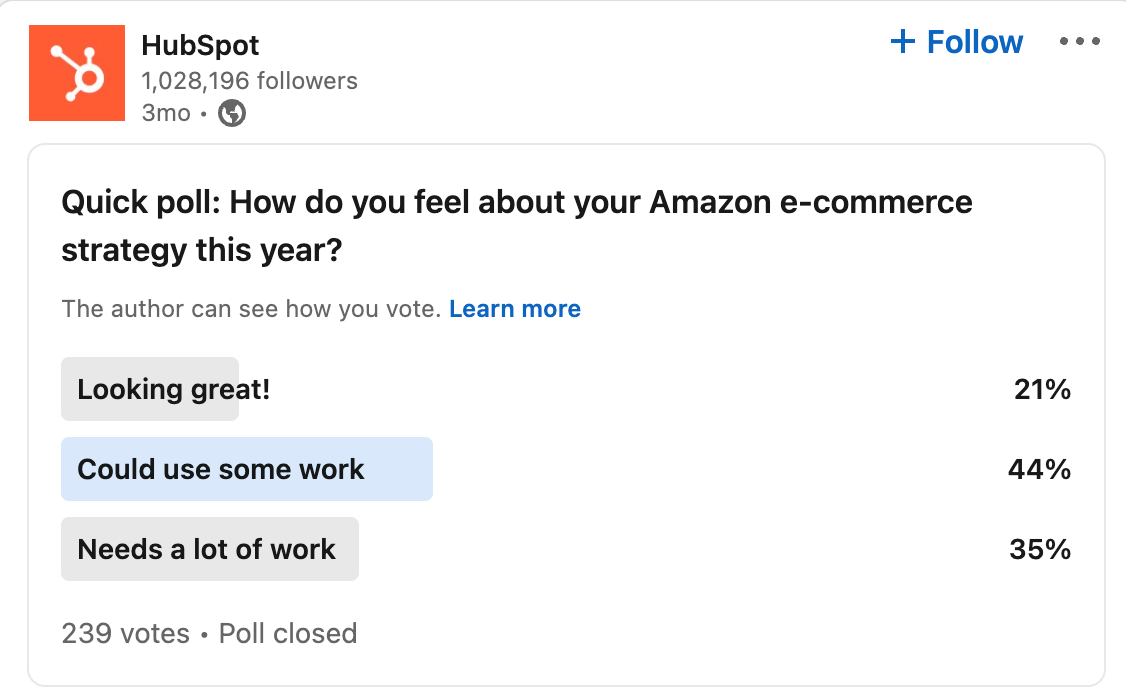 Here's an example of a LinkedIn poll that earned just as much engagement just for fun: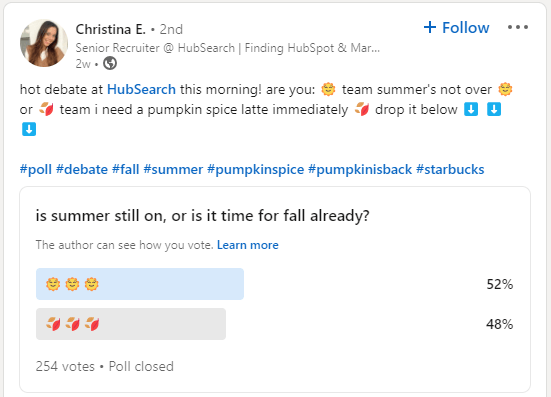 4. Optimize your content for LinkedIn
Remember, LinkedIn is unique in purpose and audience. Your LinkedIn audience expects content tailored to the platform. While you can still have fun, LinkedIn's audience leans professional and expects a certain level of professionalism.
Avoid the pitfall of copying content across all your social networks. What works on TikTok probably won't work on LinkedIn.
Use social listening tools like Social Sprout and Hootsuite to analyze and experiment with content. If something bombs, eliminate it. Double down on and repurpose the content that your audience loves.
Hashtags are useful everywhere on social media, including LinkedIn. However, each platform has its own guidelines regarding the use of hashtags. Ideally, you should use three hashtags per post. Be sure they're relevant and never spammy.
5. Create a content calendar
A robust content strategy needs a structured posting calendar. A content calendar guides you and your team, prevents mistakes and missed opportunities, and keeps things under control.
If you've already crafted a content calendar for your blog or other social media platforms, extend it to your LinkedIn posts.
The simplest of all content planning tools is a spreadsheet. Many more advanced options exist, including tools for content batching, scheduling, and automatic posting. Some examples of these are Hootsuite, Buffer, and Taplio (LinkedIn only)
When creating a content calendar for LinkedIn, consider the following:
How often to post
What content types to share
What time(s) and day(s) to post
To manage your entire content marketing strategy, use an agile project management tool. With that, every team member stays informed on what content they must deliver and when. It also allows you to oversee the workflow throughout every stage, check in with team members, and ensure timely completion.
6. Connect and engage
LinkedIn is a highly engaged and collaborative platform. One of the best aspects for many creators is how positive the feedback is on the platform. Where many interactions on social media can spiral into negativity, LinkedIn engagement is well-known for being exceptionally positive and encouraging. It really feels like "we're in this together."
As a result, you must engage with your audience to reap the rewards of this support. Reply to comments, comment on other relevant posts from peers in your industry, and repost when something special catches your eye.
You don't need to (and shouldn't) spend hours a day on LinkedIn. But, to adequately implement a content marketing strategy, you should spend at least 15–20 minutes a day engaging with reactions to your content and other relevant content.
7. Measure your results
If you put time, money, energy, and effort into your LinkedIn strategy, you must also measure your results to see if the strategy is working.
You can find some analytics for your LinkedIn profile on your dashboard, including post impressions, followers, profile viewers, and search appearances. If you want more in-depth analytics, check out Shield.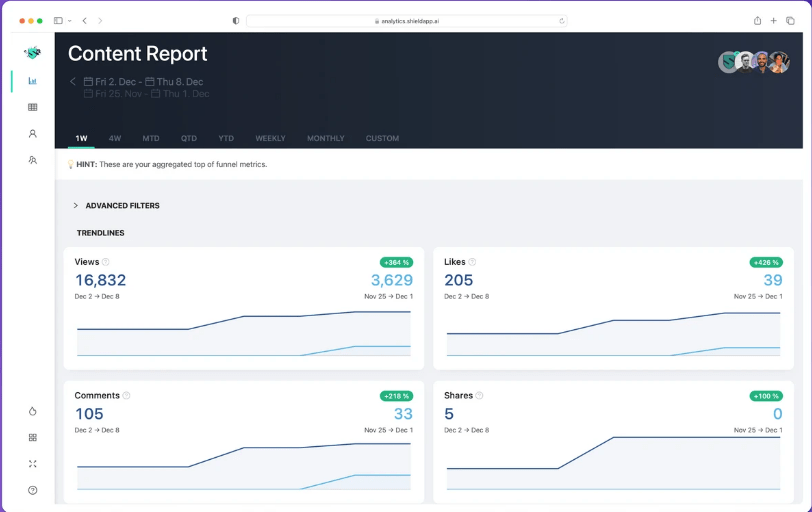 With Shield, you can create reports for any time period (weekly, monthly, quarterly, or annually) and for any metric it measures. You can also see which posts have had the most engagement historically and when your posts are most successful. It's truly an invaluable tool for your LinkedIn strategy.
Final thoughts
Using LinkedIn to grow your business, especially if you are B2B, is a no-brainer. With the tips above, you can create a winning content strategy for LinkedIn, expand your reach, increase your leads, and grow your revenue.
Here's to leveling up your LinkedIn!