Social media proved long ago that it's not some fad that'll fade away. Businesses were right to invest time and energy into establishing themselves on these channels. As a result, social media has cemented itself as a regular part of modern life.
Every industry exists on social platforms. When running your own business as a real estate agent, your social media presence can make or break you.
Real estate is an industry that gives back what you put into it. You can burn bright or burn out.
The difference between the two is a willingness to adapt. Embrace trends that shape your industry.
Social media is an excellent barometer for such trends. That's why so many real estate agents flock to these platforms. It's one of the most direct platforms for making connections and closing more deals.
To succeed, you need solid social media strategies.
That's why we created this article. First, we'll explain why social media is such a force in the real estate industry. Then we'll walk you through several real estate social media best practices to help you get the most out of every social media channel.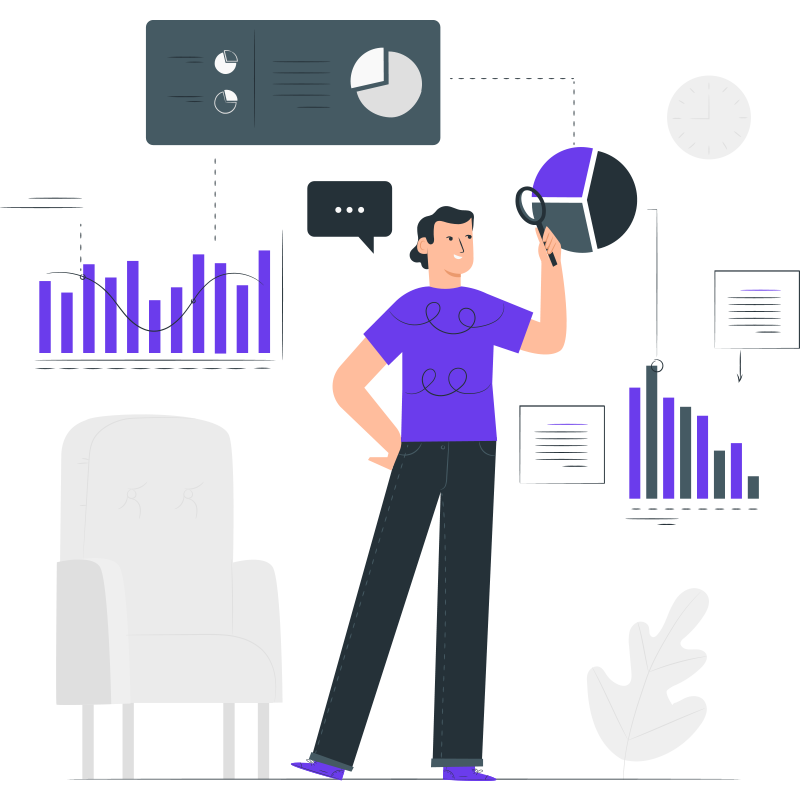 Get long-term ROI.
We help you grow through expertise, strategy, and the best content on the web.
Why is social media so effective for real estate marketing?
Before we get into the what of social media for real estate marketing, we should first touch on why social media is essential for businesses.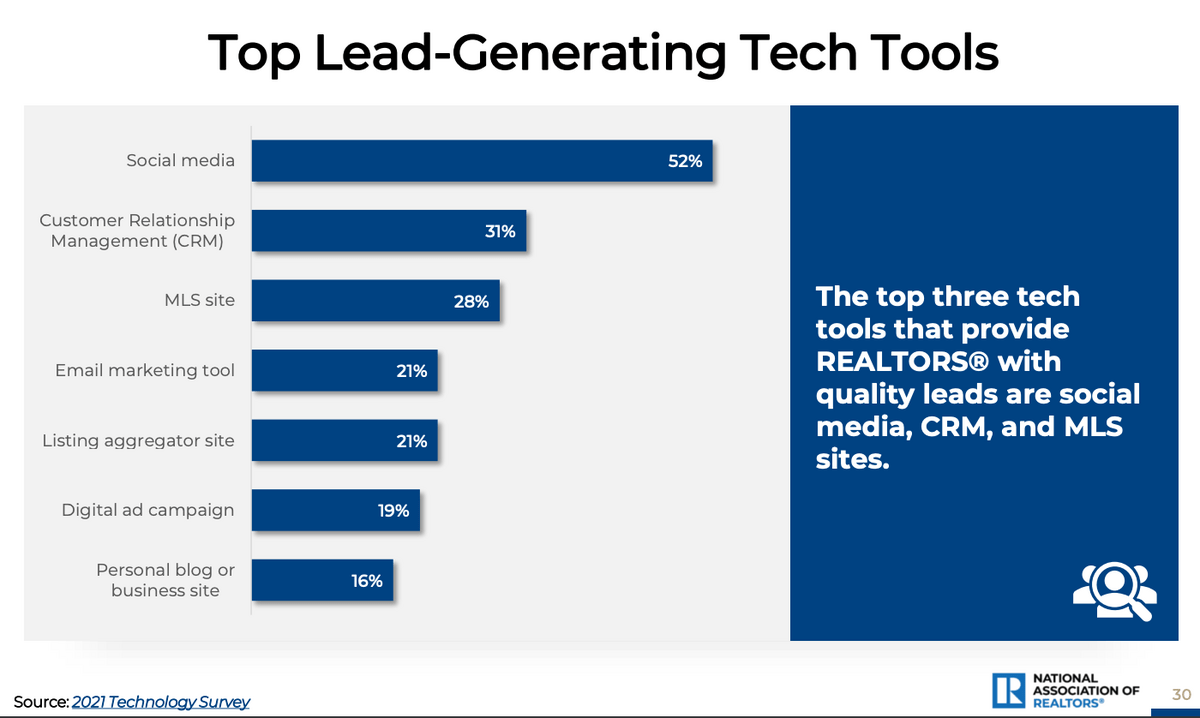 The National Association of Realtors (NAR) said that social media is a real estate agent's number one lead-generating tech tool. That's above CRM platforms, email marketing, MLS sites, and many other popular and well-known alternatives.
A lot of that has to do with the potential reach of social media. When posting your listings on social media, you're placing them in an environment that already has the attention of your target audience. So it's a great place to generate interest in your properties and improve awareness.
4.89 billion people on the planet use social media. By 2027, that number will grow by almost another billion. According to the NAR, Facebook is the most used platform, at 90%. Its closest competitors are Instagram, at a distant 52%, and LinkedIn, at 48%.
What does that tell us?
Most real estate business success (on social media) is focused on Facebook.
More than half of the realtors surveyed by NAR stated that they have a social media presence because it's expected of them. Many others provided reasons for using these platforms, including relationship-building with clients, listing promotion, and prospecting.
Social media channels provide a platform to showcase what you're offering and allow you to engage with potential buyers and clients directly. That can be through direct messages (DMs) or comments on photos and posts. You can show potential clients who you are on social media. You should also demonstrate how you do business and what kind of personality you bring to the table.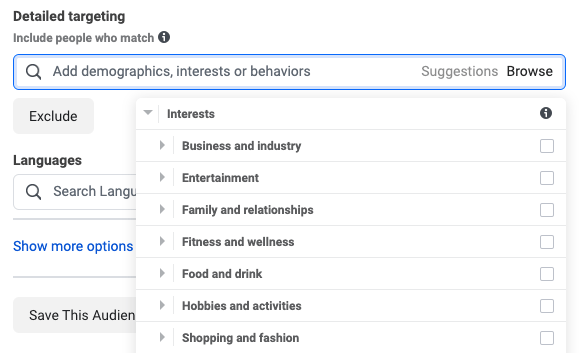 Then, of course, there's targeting. Social media advertising allows you to place targeted ads in front of a particular audience. You can target potential customers based on their:
Geographic location
Age
Marital status
Gender
Hobbies
Search history
And more
Finally, it's cost-effective for real estate professionals to create and run ads on social media using a real estate marketing platform. When you run a bus-stop ad or a newspaper spot for your agency, you're throwing yourself out there for everyone and hoping that the right people see your listings.
With social media, your targeted ads only cost you when specific criteria occur. For instance, you can pay-per-click, per conversion, or every thousand impressions. That means you only spend money when generating results. Talk about a win-win.
How can you use social media to sell real estate?
Now let's dive into what you can do to maximize your real estate social media potential with these real estate social media best practices.
Establish your brand's voice
The first thing you need to figure out is the voice of your realtor brand. If you're a solo act, then that's a lot easier. You typically post your social media content so you know how you want to present yourself.
However, if you're an agency, it could be any number of people posting to social media accounts. That's where a well-defined brand voice comes into play. So ask yourself a few questions before writing your first post on social media.
For starters, are you formal with a very professional, no-nonsense tone? Or are you more relaxed, injecting humor and personality into your copy while still showcasing your authority?
It all comes down to how you want clients to perceive your real estate brand. You're facilitating one of the most important financial transactions in a person's life. They want to make sure you know what you're talking about.
But a little personality also goes a long way.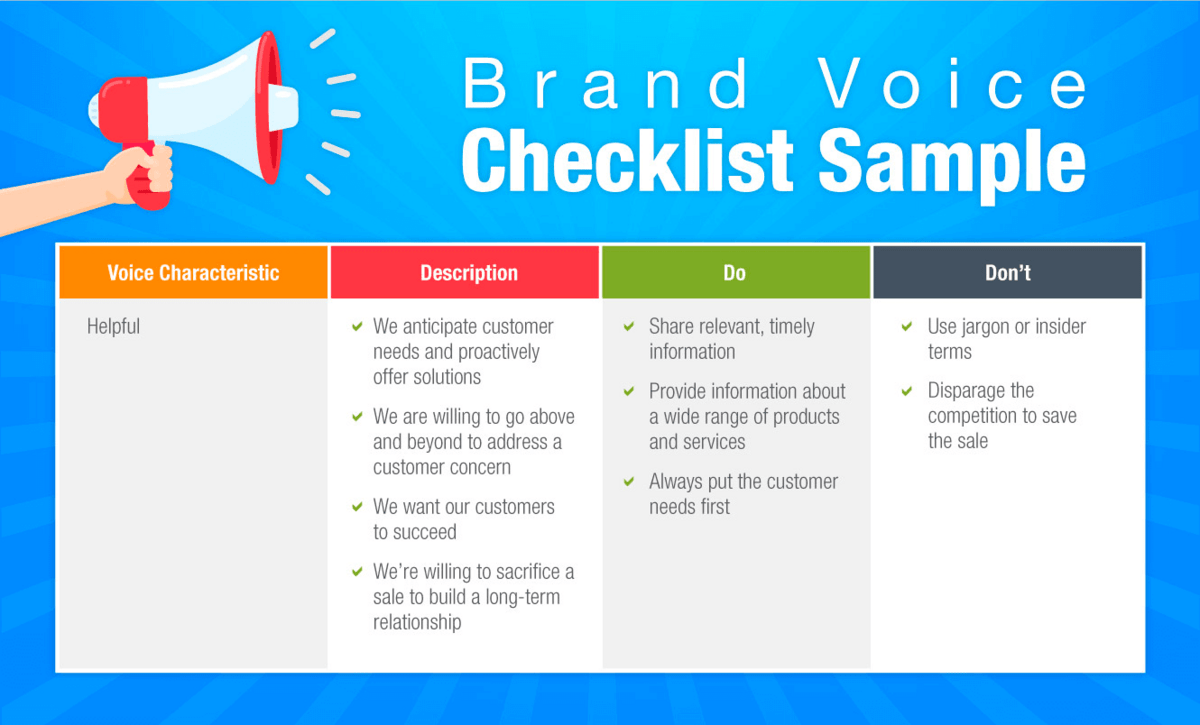 Your brand voice should also describe your outlook and mission regarding facilitating sales. Outline the do's and don'ts of your messaging and the overall purpose behind every post.
Whatever you decide, one thing is paramount.
Consistency.
You need to be consistent in your branding. That means every social media post, every blog post, and every page of your realtor website must sound as though it came from the same person.
Wild post inconsistencies can be enough to turn a prospective client or customer away. Since you're dealing with such a huge financial transaction, your buyers and sellers want to know who they're working with.
Identify your target audience
One of the keys to posting effectively on social media is understanding the audience you're trying to reach. You must understand them on a fundamental level. That means research.
Where do they live? How much money do they make? Are they single? Married? What age range do they fall into? What's their home-buying timeframe?
Since you likely have more than one target audience, create multiple buyer personas. Each buyer persona can have its own targeted campaign rather than trying to market to everyone at once.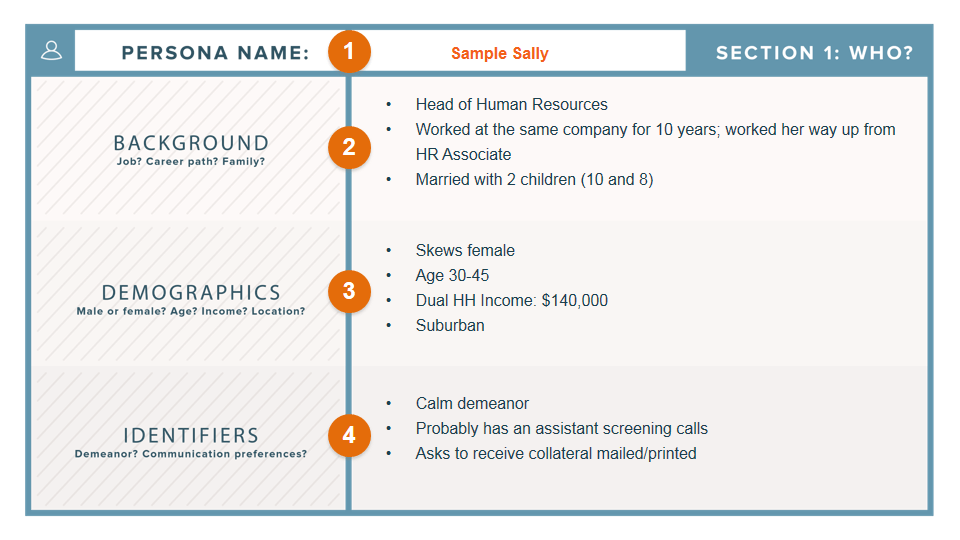 When you have answers to these critical questions, start crafting posts geared to that audience's preferences and pain points.
Your real estate CRM tool can gather a lot of this information.
You should also be keeping up with industry trends. There's a ton of data in both your closed and lost opportunities. Examining past successes and failures can give insight into what factors make up a solid real estate marketing message for your audience.
Focus on the surrounding area
When crafting social posts, don't just inundate your audience with listings. Instead, focus on the neighborhood and surrounding areas, as buyers care about these huge selling points.
According to NAR, 46% of home buyers want to hear about their search area. That includes schools, hospitals, sports teams, community events, crime rates, etc.
Consider creating some human interest-type posts that showcase these search areas. For example, take some photos if there's a local event like a farmer's market. If the local football team plays a huge game for a big championship, get some footage and post it online.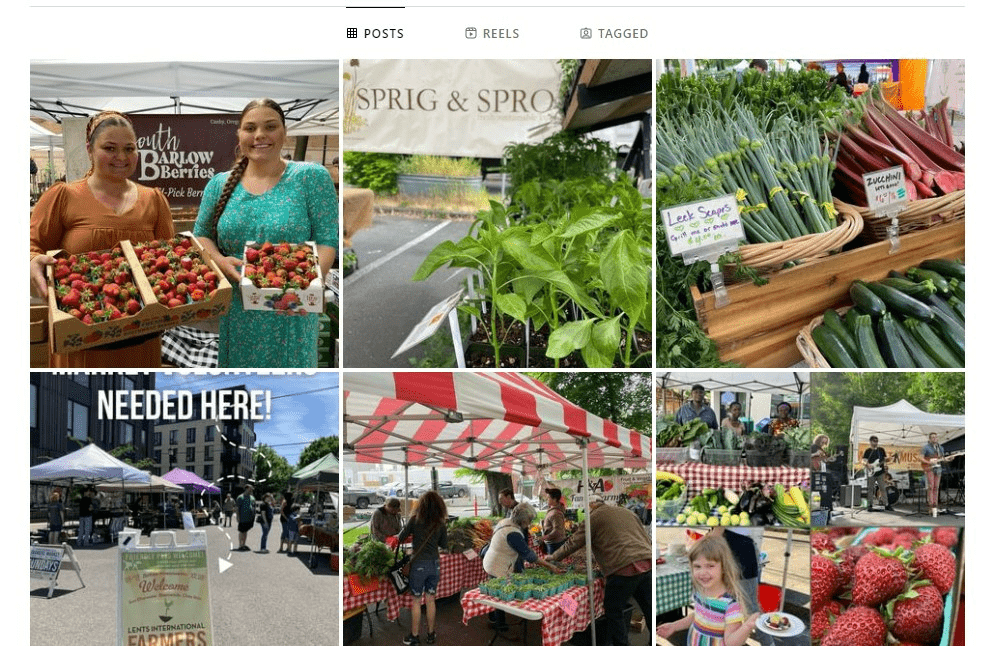 Social media is an opportunity to showcase one of the most critical factors in a buyer's journey. That's something you don't find in standard real estate listings. Focusing on the surrounding area paints a complete picture and builds value around your social media posts.
Lean into images
Social media is a perfect opportunity to showcase stunning imagery. Nothing stops a scroll like a striking image. If someone is searching for a new home, chances are they'll stop if they see an affordable beautiful home from their search area staring them in the face.
Typically, when reaching customers via social media, you catch them in their downtime. They're likely not actively searching for real estate information. They're probably scrolling through photos and memes, shopping, or chatting with friends and family. Oh, and watching cat videos, of course.
A powerful image can stop their scroll and draw them in. You're reminding them of their home-buying goals and allowing them to easily share the post with someone like their spouse.
That means putting some work into your photos. Thankfully, most prominent social media platforms make this easy. They provide filters and background music to posts like Instagram Stories that can set the mood.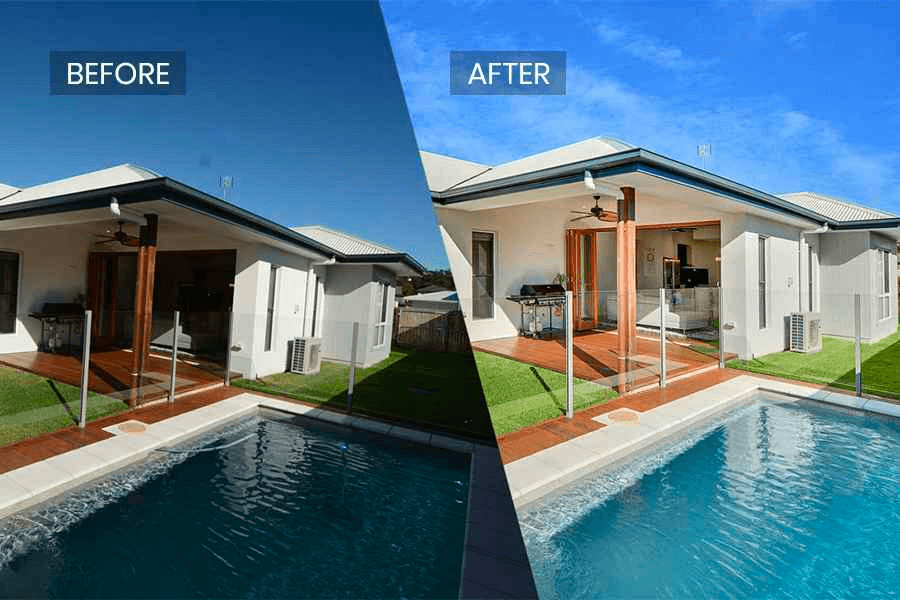 Still, real estate photo editing software can help give you that extra edge when trying to pull someone out of a doom scroll.
Use social media tools
Speaking of software, some social media tools can help make your real estate social media marketing journey easier.
Scheduling software like Hootsuite can be a huge lifesaver. It'll save you from having to remember to log into each social account daily and post at the proper time. Instead, you can knock all your posts for the week out in one afternoon. That includes scheduling posts among different platforms, all from a central dashboard.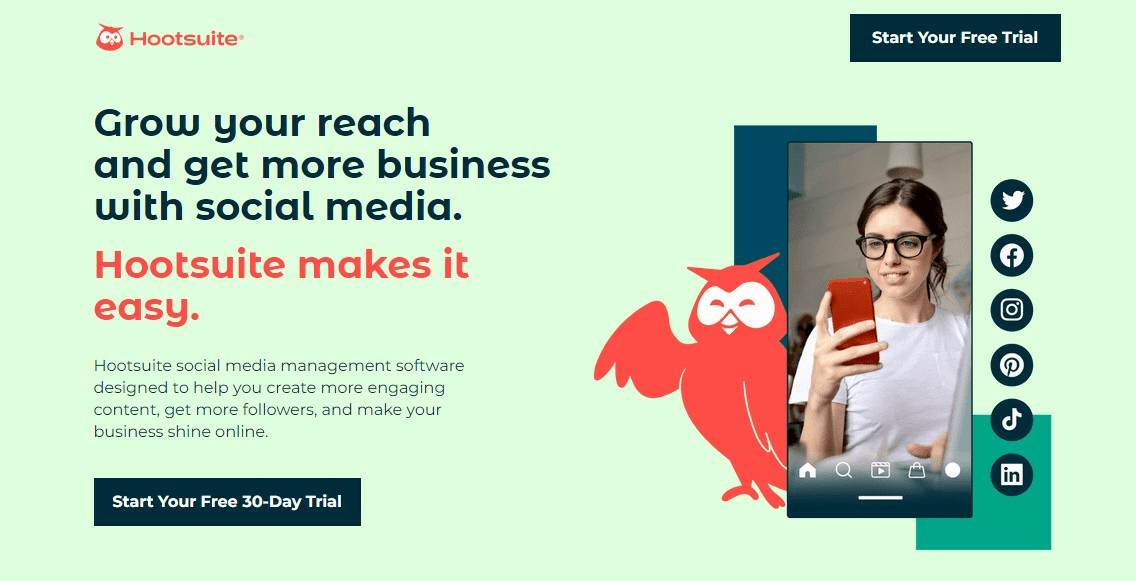 These tools typically provide you with analytics as well, letting you know at a glance how your posts are doing and where you can improve.
Some other uses for real estate social media tools could include:
Stock image and video search
Writing automation
Content filtering
Video content creation
Post idea generation
Include an AI chatbot
You must respond quickly when someone reaches out to you via a direct message. They may also contact competing agents if they're reaching out to you, so if your response is slow, you might lose the lead.
But you might be touring a property with another prospect, or maybe it's just your day off (Remember: work/life balance!).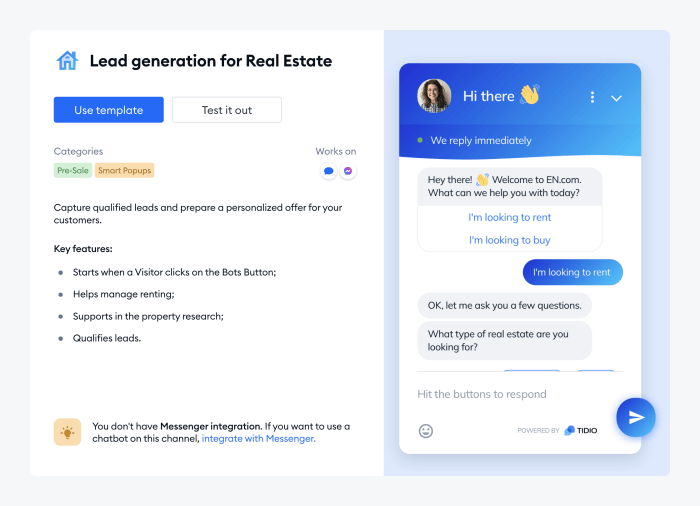 A real estate chatbot can get back to the prospect right away. It'll provide them with any information they might need until you can get back to them personally.
Artificial intelligence has become far more advanced in recent years. Through machine learning, it can read intent and emotion from prospect messages and respond accordingly. The potential client often has no idea they're even speaking to a bot.
Of course, an AI chatbot isn't going to replace legitimate customer service. You can also use one of the tools mentioned in the last section to manage your messages from one location and respond to them quickly.
Post consistently
Finally, you must be consistent as a real estate agent on social media. These platforms are content factories. More real estate content is constantly published and threatens to bury what you just created. That means sticking to a regular posting schedule and working social media monitoring and engagement into your daily routine.
After you show a house, check your mentions and messages on your phone and reply before heading to your next appointment.
Consistency isn't limited to how often you post. You need to be consistent in your approach. As a real estate agent, remember, you're dealing with many people who know nothing about home buying. That's why it's your job to educate them through your social posts and inspire them to take the steps needed to start the process (preferably with you).
Final Thoughts
Real estate and social media are a match made in heaven. With the power of social media, you can engage your audience and get them excited for this huge life step. Use social media to educate them on how it all works through a platform they're comfortable with and access regularly.
Just remember that it's not enough to be on social media. You must work hard to build and maintain your online presence. By mastering real estate social media, you'll take your agency to new heights and become a lead generation machine.