Every business needs strong search engine optimization to draw visitors to their websites, but understanding the latest search trends and how to target them to get more website traffic is difficult.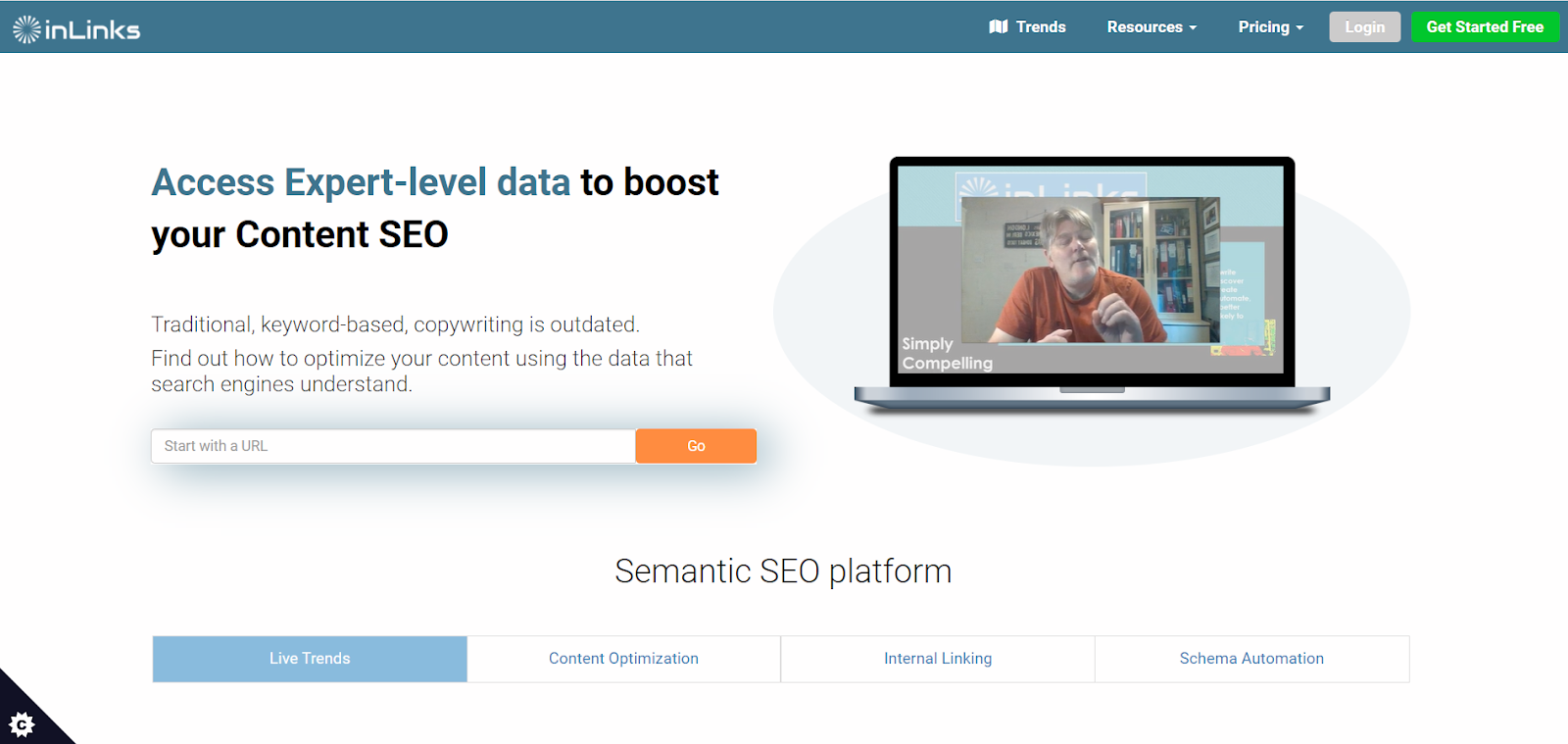 Inlinks.net is a data-based search engine optimization company. The company's tools help you drive more visitors to your website by making your web pages easy for search engines to understand.
The company also offers real-time data on how to optimize internal linking on your site to increase engagement and trend analysis to see how people are interacting with your brand.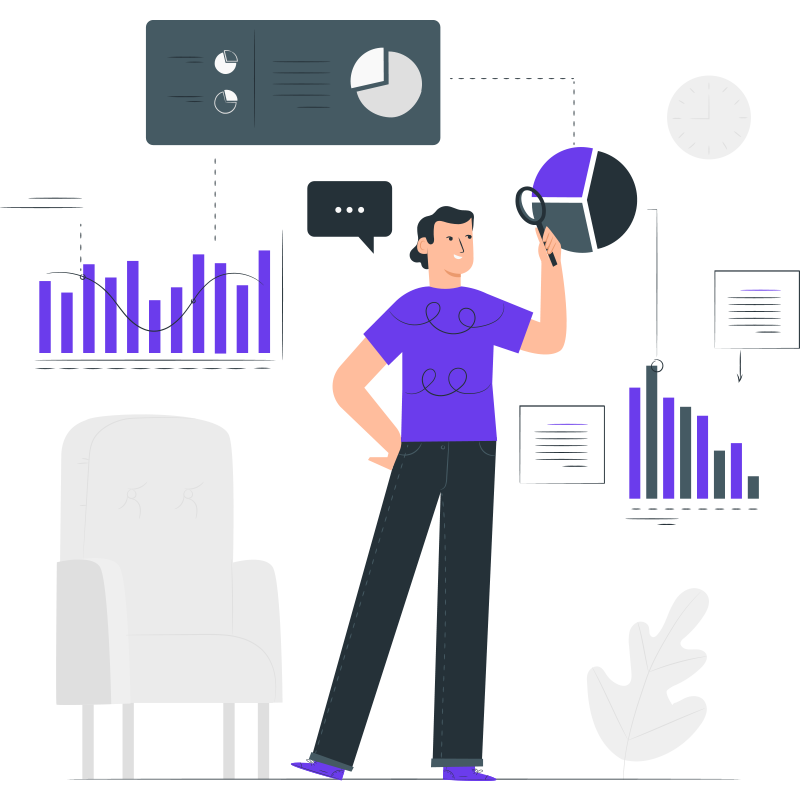 Get long-term ROI.
We help you grow through expertise, strategy, and the best content on the web.
What are Inlinks.net Main Features?
Inlinks.net uses multiple different tools to help you boost your website's search engine optimization.
Internal linking automation
Internal links on your webpages are important for a few reasons.
The obvious one is that they make it easier for your site's visitors to navigate around the different pages on your site and to find the information that they're looking for. The more easily they can find information on your website, the less likely they are to leave your site for another source of information, never to return.
Internal linking is also important for search engine optimization. Search engines, like Google, use internal links like signposts to find the important pages on your website, which helps push those pages higher on their search results.
Internal links are also important for search engines because they help the engine understand the topics that your webpages are discussing. The better the search engine understands the topics on your site, the more it can recommend your site to people searching the internet.
Inlinks' software automatically crawls your website and finds internal linking opportunities for you. It can then automatically implement those internal links, adding them to your site.
This helps to build out your website's link graph and make your webpages more appealing to search engines. If you prefer to do things manually, you can also use Inlinks to generate a report about lining opportunities and implement them yourself.
Search semantics and schema
Modern search engines use semantic search when providing results to people searching the internet. Semantic search tries to determine the meaning of a person's search and the content on a website rather than looking only for matches in the words used.
For example, a lexical search (which only matches the words used) containing the term "glasses" would return results for both the glasses you wear on your face and the glasses you fill with drinks. A semantic search containing the same term would try to discern what type of glasses the searcher is looking for and the types of glasses each website discusses.
This makes it essential for your website to communicate the semantics of the content on your webpages to search engines. The more clearly that search engines understand the content on your website, the more accurately, and frequently, it can recommend your site to people who use the search engine.
The way that Inlinks helps search engines understand your website is through schema.
Schema helps explain to programs, like search engines, the topics that appear on your webpages. It can call out specific topics as the main topics of the page and note the topics that are related to or mentioned on each webpage. Often, it does this by relating your content to content the search engines already understand.
By relating your content to content the search engines already know and understand, Inlinks improves the semantic understanding of your content, making it easier to find with search engines.
Market trend analysis
Inlinks helps customers follow market trends, making it easier to understand what customers are searching for and helping them understand why they're making those searches.
One way that Inlinks does this is through its 360° Market Overview. This tells you what topics people are engaging with on your website and which are losing popularity over time.
Inlinks also makes it easy for you to build your own trends dashboard which lets you track traffic for different topics over longer periods. For example, you can view weekly or monthly changes in traffic to certain pages or certain topics.
Understanding what your customers are searching for, and the topics that are gaining or losing popularity can help you adapt to changing customer tastes and trends, helping you remain relevant over a longer period.
How to Use Inlinks.net
When you create an Inlinks account you'll be brought to your account portal. On the left side of the page you'll see search trends for different topics. The right side of the page will let you create your first content brief or project.
Content brief
You can create a content brief to analyze a single page on your website or use a project to analyze multiple pages on your website together. Whichever you use, it will be the primary way that you use Inlinks.net to help optimize your website.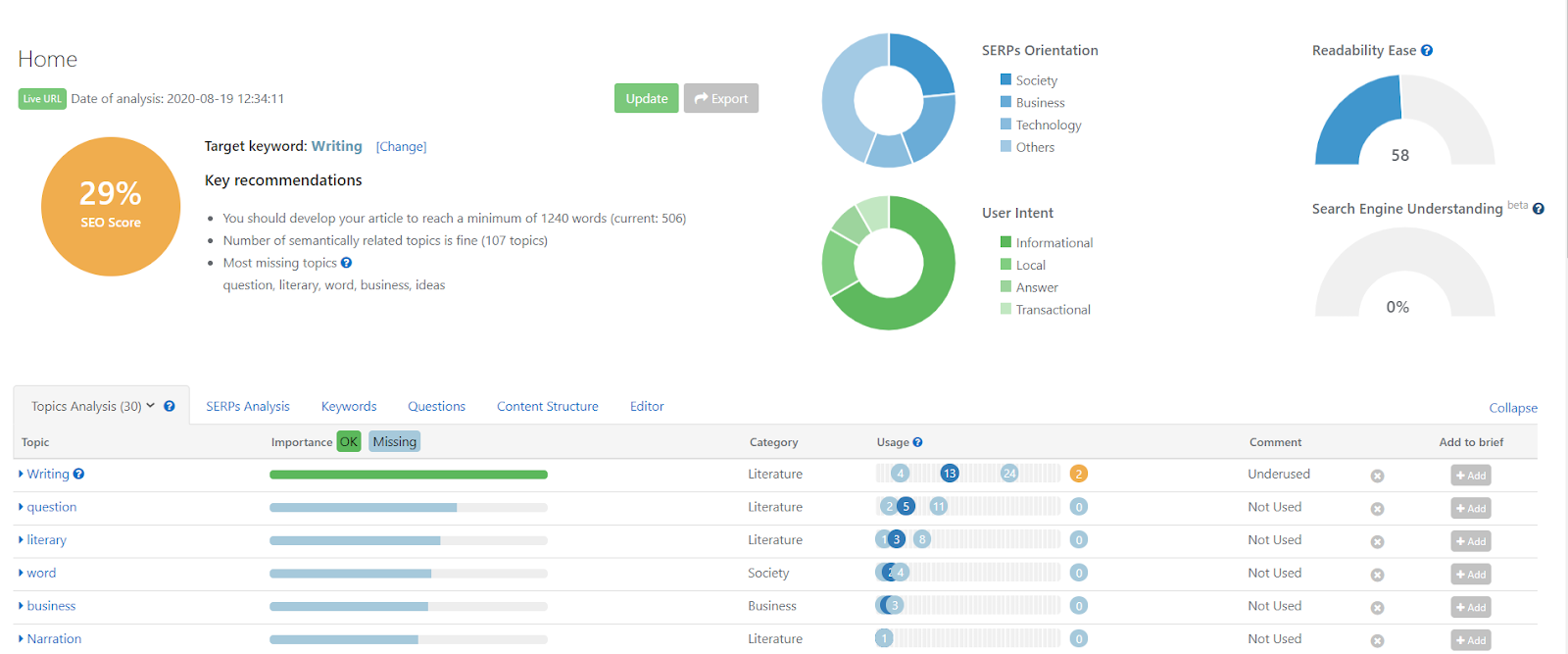 When you ask Inlinks to build a content brief, you provide the webpage's address and the topic that you want to optimize it for. The program will automatically build out a brief, giving you some basic information about how well that page is optimized for the chosen keyword.
From the content brief, you can see how well your page relates to different topics related to your keyword of choice. For example, if you want to rank well for the keyword "writing," the analysis shows how your page relates to keywords like literary, script, or content. You'll also get an SEO score and readability rating. The higher these scores are, the better.
Once you've read through the brief, Inlinks has a content editor that you can use to test different changes to the webpage. Inlinks automatically updates its analysis to tell you if your changes have improved your SEO.
Projects
When you create a new project, you give Inlinks the top-level address of your website. You can add other pages manually or have Inlinks automatically crawl your site to find its webpages.

From the project dashboard, you can associate each page with the topic that you want it to rank for. Clicking the audit button will give you a content brief for that webpage, letting you view the briefs for each page on your website easily.
The project dashboard also gives you a line of code that it asks you to add to the footer of your website. This line of code is what enables Inlinks to do its automation, such as automatically generating internal links on your site. It offers clear instructions on how to add the code to your site, even if you're using a content management system like WordPress, making it easy for anyone to set up.
Inlinks.net Pros
These are some of the benefits of using Inlinks.net
Live search trends
The best search engine optimization on the internet won't do much to help you if you aren't trying to rank for the topics that people are searching for. Inlinks offers live trend information so that you can see what topics people are interested in and which topics people are searching for less frequently.
Following these trends can help you tailor the content on your site to people's interests, which can increase the number of people finding your site through search engines.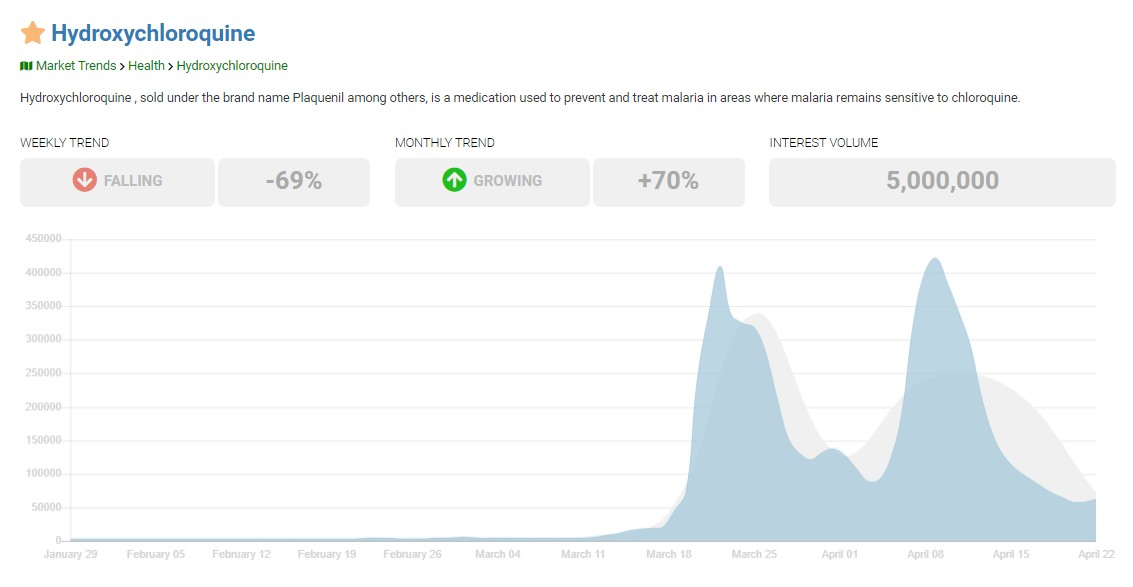 Engagement overview
Search interest is one thing, but engagement is just as important. Directing people to your website only for them to immediately leave it for another site doesn't help much.
Inlinks offers an engagement overview so you can see the topics that people are engaging with most heavily, letting you further target your content to those topics.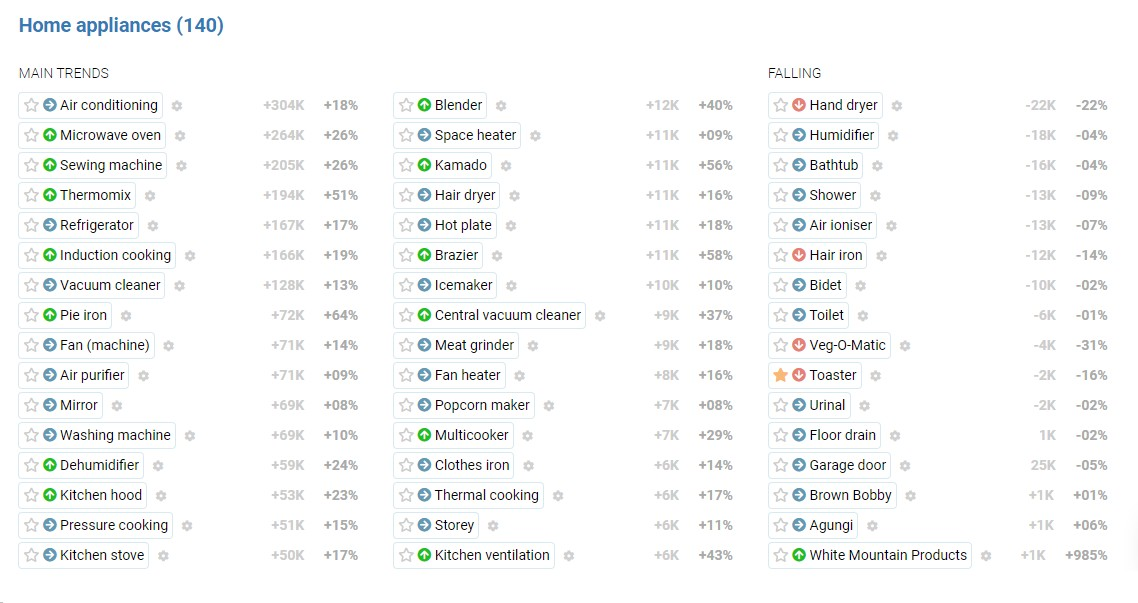 Multiple forms of search engine optimization
Search engine optimization is complicated. It takes more than a single change or analysis to build a website that is easy for search engines to find and recommend to users.
Inlink combines multiple types of search engine optimization in a single tool, helping you optimize your site in multiple ways. It uses web schema to relate the topics on your website to pages that search engines know, making your site easy to understand with semantic search. It also provides basic SEO tools that you can use to understand things like your webpages' readability.


Free trial and customizable pricing
Inlinks has a limited free trial that you can use to see how the tools work and optimize a few pages on your website, giving you a chance to see if the tool is right for you.
If you do want to upgrade to a paid subscription, Inlinks doesn't make everyone pay the same price. Instead, you pay based on the number of pages you want optimized, making the pricing fair for both small and large sites.
Inlinks.net Cons
Inlinks isn't perfect, and it's important to understand some of its drawbacks.
High costs
One of the greatest drawbacks of Inlinks is its cost. While the plans are customizable based on the number of webpages you want optimized, the price climbs quickly.
The cheapest plan, which includes 100 webpages, costs $39 per month. The price scales upward, with 205 pages costing $78, 315 pages costing $117, and so on.
Corporate plans, which include unlimited webpages, cost $2,000 or $24,000 per year. While the tools Inlinks provides are powerful it's hard to determine if they're worth the cost.
It takes time to learn the tools
Search engine optimization is incredibly complicated, especially when you include things like webpage schema and trying to make webpages understandable for semantic search engines.
While the automation tools that Inlinks offers are relatively easy to use (they're automatic after initial set up), the other tools Inlinks provides are complex. All the trend analysis and webpage SEO scoring in the world won't help much if you can't understand how to implement the advice Inlinks is giving you to help boost your website's SEO.
Only works for English-language sites
The internet is huge and contains websites in almost every language under the sun. Search engine optimization is equally important whether your website is in English, Spanish, or Greek, but Inlinks only works for English-language sites.
How Much Does Inlinks.net Cost?
Inlinks.net has three tiers of pricing to choose from.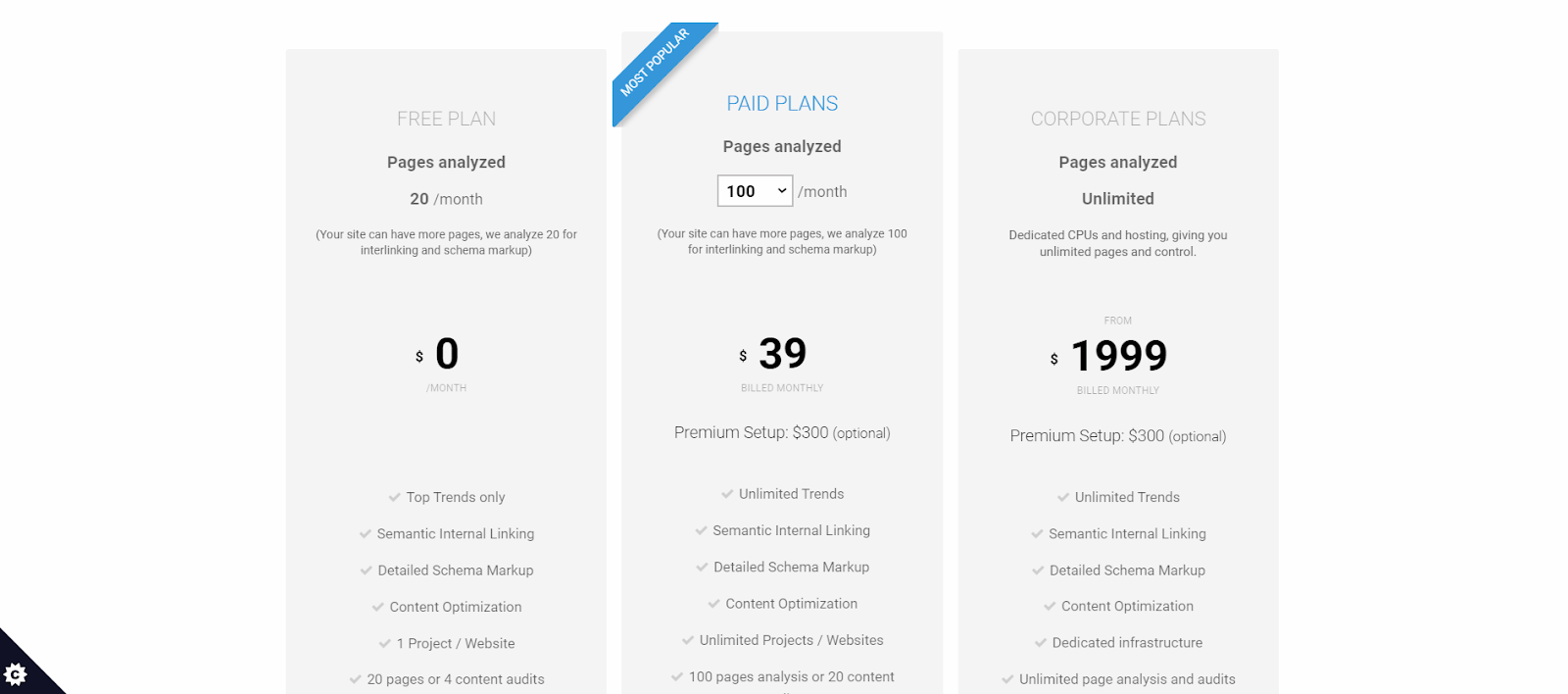 Free
The free plan is more like a trial so you can see how Inlinks works and whether it's right for you.
With the free version of Inlinks, you can view some search trends and get content briefs and automatic internal linking for up to 20 webpages on a single website. This level of service may be sufficient for a very small site but is most useful for people who want to get a feel for the service.
Paid plan
Inlinks' paid plan starts at $39 per month with costs scaling up as you add more webpages to your monthly analysis limit.
All paid plans come with a customizable trends dashboard that you can use to track search trends for almost any term. It also includes automated internal linking, schema markup, and content optimization.
At the $39 level, you can analyze up to 100 pages per month on an unlimited number of websites. You can add additional pages for an additional cost each month.
Enterprise plan
The Enterprise plan is Inlinks' most expensive plan, costing $2,000 per month. It comes with all of the features of the paid plan, but with no limit on the number of webpages that you can analyze each month.
The Enterprise plan also gives you access to dedicated infrastructure on Inlinks' site, meaning you don't have to wait for other customers' analysis requests to complete before your requested analyses start.
Is Inlinks.net Right For Your Business?
Inlinks' primary strength is in its automation of internal linking and schema to help with semantic search.
If you have a large website with a lot of opportunities for internal linking, Inlinks can help you leverage that to improve your website's SEO. If you have a smaller website or one that isn't well-suited for a lot of internal linking, the schema can be helpful, but you won't be getting the full value of the tool.
Final Thoughts
For many people, Inlinks is well worth the cost. Automating some of the tedious parts of search engine optimization and increasing the number of internal links on your website is highly valuable. In truth, there's little reason not to try the tool because of its free trial. That will give you the chance to decide for yourself whether Inlinks is worth purchasing for your website.