Keyword research can make a fundamental difference to your content marketing strategy. It plays a crucial role in your Google ranking, improving your engagement and traffic to the site. It's a significant pillar in your Search Engine Optimisation (SEO) and growth marketing plan. For many content marketers, the process is intimidating, and keyword research is touched on but not harnessed as a skill. Successful content marketing SEO isn't a quick-fix solution. It's a long-term process, with your keyword research at the center. That's why we've put together ten keyword research best practices to take your content strategy to the next level.
[Read More: How to Use Growth Marketing: A Step-by-Step Walkthrough]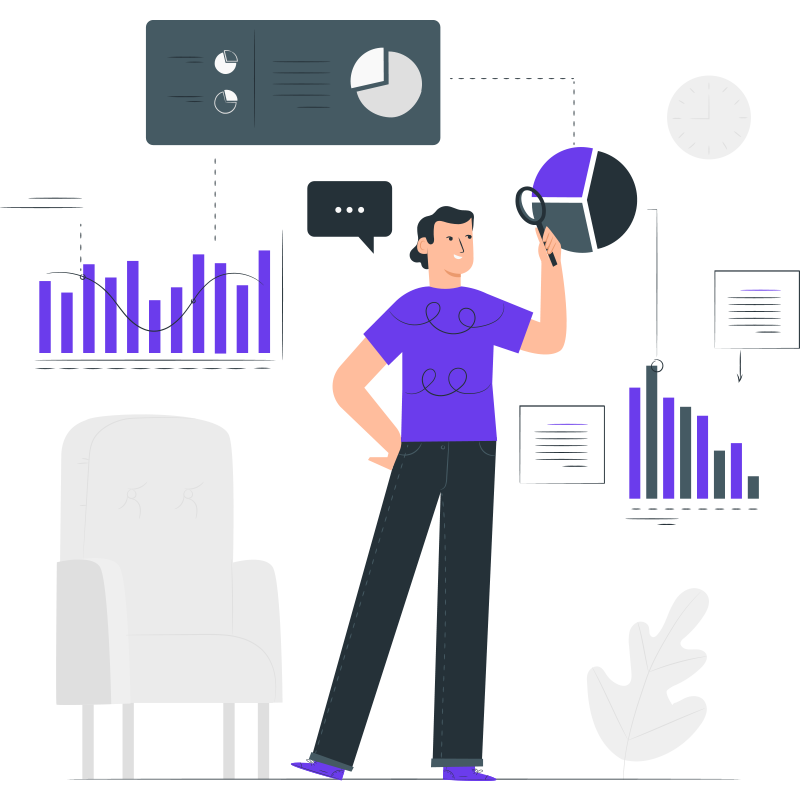 Get long-term ROI.
We help you grow through expertise, strategy, and the best content on the web.
How do SEO and content marketing work together?
SEO is the technical process of increasing the quality of traffic to your website. Content marketing focuses on adding value to your consumer's experience, delivering relevant and topical information that goes above and beyond your product offering. You strategize SEO around your content marketing and vice versa. Without content, you don't have the words you need to improve your SEO, and without SEO, your content is falling on deaf ears. They're beautifully intertwined, and you'll see your biggest successes when you embrace both wholeheartedly.
What is keyword research?
The simple goal of keyword research is to find out what your audience is looking for online. It will help you understand what you need to do to appear at the top of Google's Search Engine Response Page (SERP) for those phrases. Without understanding what keywords you should be targeting, it's impossible to optimize your content, let alone identify terms for link building. Understanding your customers' intent is crucial. Effective keyword research will help you create the right content, generating more website visits, and improving your conversions.
Why is keyword research so important for SEO?
Keywords are a fundamental element of SEO, but without the "research" element, you're shooting in the dark. If you don't know the actual search phrase people are looking for and where you're ranking for it, you're producing content without a purpose. Keyword research is all about understanding what's appropriate for you and your objectives. It's a logical process, tapping into the analysis around volume and competition. If a keyword has a high search volume, that's great for you. It means that's what users are looking for online. However, if the competition is high, it's unlikely you'll see much success. It's about finding the balance between the two and feeding this into your overarching strategy.
10 keyword research best practices
1. Establish where you sit
The first step in the process will be finding out as much information as possible about your niche. Start by going to Google and searching as many terms as possible related to your product and audience. Visit all the pages that come up and take note of the following:
How often they update their content
The type of content they publish most
How their content and website is structured
What their social media presence is like, what they're posting and how often
Sign up for their newsletters so you can receive mailer content, understanding their content strategy
It may seem like a time-consuming task, but it's one of the best ways to understand where you sit. Get to grips with your competitors in this space, uncovering what your audience is interested in online.
Once you have jotted down some key search terms, use a tool like SEMRUSH or WordStream to find their domain authority. The main idea behind this exercise is to identify your competitors, prompting new topic ideas. There are some keywords (ex. IT support London) where you'd like to rank, but they're simply out of reach for the time being. Identifying this will be one of your biggest strengths, focusing your efforts on realistic targets. Remember, this is a long-term play.
Try grouping your keywords based on your buyer's journey. For example, consider whether they're Top of the Funnel, Middle of the Funnel, or Bottom of the Funnel. Generally speaking, your top-of-funnel keywords have the most traffic potential, but those customers are probably the least interested in buying. By focusing on the middle and bottom-funnel phrases, you'll be speaking to customers with the right intent.
2. Ask your audience
Yes, doing your own research is essential, but most marketers forget to ask their audience. Sites like Seed Keywords help you understand what queries customers' are using to find the products, goods, or services you have on offer. The three-step process offers valuable insights:
Create a scenario for a search query.
Give the unique URL provided to your desired list of contacts via email or social media.
Watch your seed keyword list grow, giving you golden nuggets of information any marketer dreams of acquiring.
3. Create content topic buckets
Many content marketers make the mistake of identifying keywords and jumping straight into the next phase. Instead, taking the time to generate multiple topic ideas will serve you better down the line.
Write down anything that comes to mind related to your product or category, incorporating the keyword terms you've identified. Then, plot it into a document, keeping track of all your ideas. Once it's all in one place, start grouping your suggestions into buckets. Each topic bucket should include related content, giving you a pillar to focus on in your strategy.
4. Choose quality over quantity
It's important to flesh out all your options in the early stages, understanding your competitors and content opportunities. It's equally important to dial back, focusing your efforts on the quality of your keywords. Instead of producing 100 pages of content, build ten highly optimized pages that focus on fewer keywords. Monitor your performance and adjust your strategy where necessary.
5. Write for humans
It's easy to get caught up in the keyword placement when you're putting together your content, but if you sound like an auto-generated robot, it's not going to do you any favors. The way you include keywords into your copy needs to be natural and authentic. If today's content is all about search intent, that means it needs to have context, meaning that your piece needs to be relevant and genuine.
By writing content that puts the reader experience at the forefront, you're positioning yourself to make the most of semantic search.
6. Target long tail keyword phrases
Don't focus all your efforts on one word. Longtail phrases may give you the upper hand. For example, the term "training" could refer to sports training or dog training, not exactly speaking to the same audience. To optimize your content even further, incorporate more specific phrases. They may have a lower search volume, but in this case, that's a good thing, allowing you to reach an audience that's searching for your service.
A good example of this is Split My Fare, A UK-based train service. They targeted the long-tail keyword "train ticket splitter" to help drive their organic traffic from 0 to 40k organic visitors per month.
7. Incorporate different variations
Use keyword research tools like Ubersuggest to help you select effective keywords. Type in your generic keyword, and it'll return a list of potential phrase variations. It's a great way to add some variety to your content pieces, targeting additional phrases that will expand your portfolio.
8. Look for opportunities
Content marketers need to keep their fingers on the pulse, constantly looking for unique opportunities to drive strategy. Incorporating tools like the Google Adwords Keyword Tool allows you to analyze search volumes, identifying that sweet spot you are looking for between volume and ranking. Traditionally used for pay-per-click advertising, the platform identifies phrases used by your competitors, giving you insights to aid your organic content creation.
9. Leverage analytics
Like Google Adwords can inform your organic strategy, Google Analytics can assist with the keyword selection process. First, spend some time analyzing traffic trends, identifying which keywords drive the most traffic to your website. Then, take this data into your content strategy, allowing it to inform your topic buckets in the future.
10. Find different ways to say the same thing
Ultimately, you'll discover that a relatively small pool of keywords governs your content strategy. Find a way to talk about the same thing in a slightly different way, opening the door for continued content creation.
For example, if you're writing a piece focusing on the cost of dog training, why not create a piece about the dog training prices. Essentially, you're saying the same thing, just phrasing it slightly differently. "How much does it cost" and "the price of" are inherently the same thing, but it's a different keyword phrase you could be targeting. Incorporating this into your strategy allows you to double up on keywords, improve your ranking, and create more opportunities for traffic to your site.
Take your content marketing strategy up a notch
Keyword research feeds into SEO, a fundamental element of your content marketing strategy and growth opportunities. Whether it's understanding how to group your content, what to focus on first, or where to find your insights, these best practices will help you get the basics right from the get-go. Of course, you'll constantly be grooming your strategy, optimizing as you develop, but if your foundations are solid, you'll be able to take it to the next level with ease.