There are thousands (if not more) of games that are launched on different gaming platforms in a year. And, most serious gamers are usually committed to one or two games of their choice and don't really move to new games.
This makes it extremely difficult for a new game to grab everyone's attention and get them to try it. Even more difficult is to get professional gamers to try it and start playing it regularly.
So, what can you do to get your game to be a success?
Well, you need to have a successful game launch and make a good first impression. Your game launch can be the deciding factor in whether your game would be a success or not.
In fact, if you fail at that, then the chances of your game picking up the pace on its own are very low. Therefore, you need to have a solid game launch plan backed by a brilliant marketing plan.
In this post, we will discuss 6 content marketing strategies to make sure that your game launch is a success. These are tried-and-tested tactics used by expert marketers.
Ready to learn what these are?
Keep reading.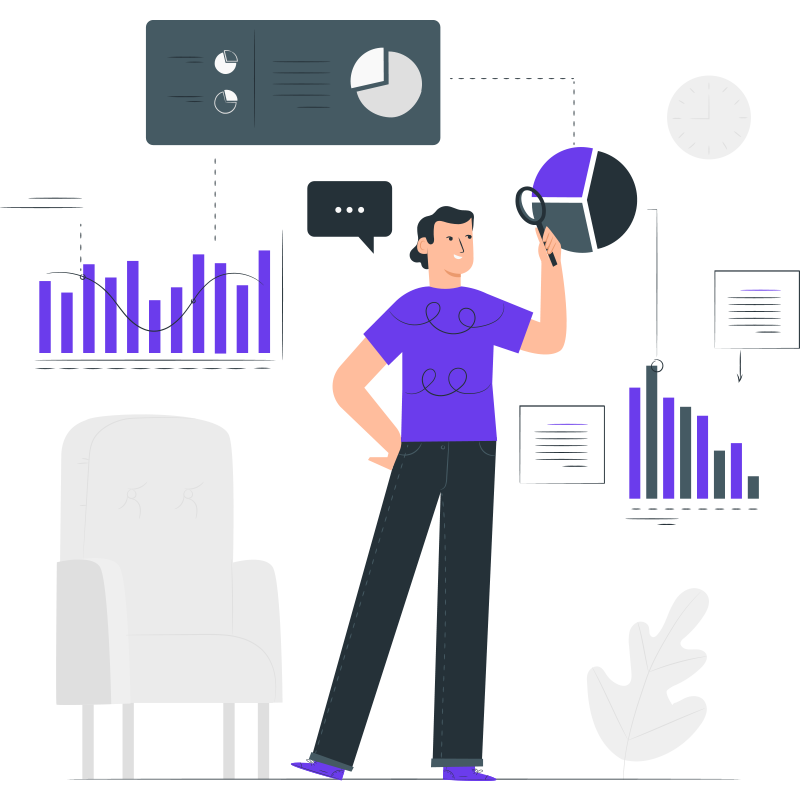 Get long-term ROI.
We help you grow through expertise, strategy, and the best content on the web.
1. Start posting in online gaming communities
When you plan to launch a new game, you don't really know who your target audience will be. It would definitely be gamers who are active and play different games, but you can't really drill down any further.
So, the best thing to do is to target all online gamers before your game launch. And, the best place to do that is to start posting in online gaming communities where they are already active.
Search for platforms and online communities where gamers are active and create content around your new game to share there. You should also join discussions, answer questions, and comment on other content to make people notice you.
Such forums could be Facebook groups, platforms like Quora or Reddit, gaming platforms like Twitch, etc.
When you're in the final phase of your launch, you can announce it on such platforms. Then, share content that gives details about your game and generates curiosity and excitement. Basically, draw gamers' attention before the launch so that they actually wait for the launch rather than promoting your game after the launch.
If you are launching a sequel to an already popular game, then you would already have a presence in such gaming communities. In that case, all you need to do is leverage your existing brand image and use it to promote your next project.
You can focus on informing people about how this game will be an improvement over the previous one. Tell them about the new features and what makes this game different.
2. Use social media content to create a buzz around your game launch
Social media is one of the best platforms to announce your game launch and promote it. Create different types of social media content to let people know about your upcoming game and what it will feature.
There are many ways you can promote your game and the launch event on social media using targeted and relevant content. Here are just a few of those ways to get you started.
Use stories to generate curiosity
Social media stories are a great way to give sneak-peeks about your game launch and create a buzz around it. And, if you also use the right hashtags then you can increase the reach of your stories.
You can, for example, announce your game launch date and share daily updates on your stories. Also, use popular gaming-related hashtags that gamers follow on social media to make sure your stories are seen by the right people.
Stories are also great for starting a pre-launch countdown and generate excitement around your game launch. It is also a good tactic to promote the launch event.
Share daily or weekly feature-reveal posts
One of the most important types of content that gamers want before a game launch is to learn more about the game and its features. You can use social media posts to reveal these details regularly.
You can also share some screenshots from the game to reveal the user interface and what the game would look like. This is a good way to grab gamers' attention and make them wait for more.
Use hyper-personalization for your images by adding your logo or a QR code (know how to make a QR code) to download the app or register for it.
Host a live Q&A session
You can also host a live-streaming session to answer audience questions about your game and what it would feature. This will give you a real-time experience of talking to your potential customers directly and promote your game even before it is launched.
You can also do this on the day of the game launch if you don't want to reveal too much before the launch. In that case, you can have an in-depth talk about your new game and reveal all information about it to potential users.
Have a virtual launch party
Many businesses are now moving away from offline launch parties to virtual events and you can do the same. Host a virtual game launch party where you allow gamers from all over the world to join you as you finally reveal your game.
You can also invite a few gamers to try the game during that live event and share their experience in real-time. This will help you attract a lot of gamers to your event and encourage them to at least try your game once.
3. Ask influencers to create sponsored content
Content marketing is not always limited to branded content. You can also hire influencers to create sponsored content for you and promote it on their respective platforms.
In case of your game launch, you can collaborate with a few gamers and give them early access to your game. They can try the game and give their first impression over a video or any type of social media content.
You can also ask gaming influencers to share videos of their gameplay with their audience and promote your game. If you plan to offer any pre-launch sign-up deal, then you can ask influencers to promote that too and get registrations before the launch.
To drive deeper engagement, make sure that your registration forms are simple and do not have too many fields. The easier you make it for people the register, the more registrations you will get.
For example, check out this registration form by the gaming website Solitaired. They have limited the form to 2 basic fields and made the registration process extremely simple.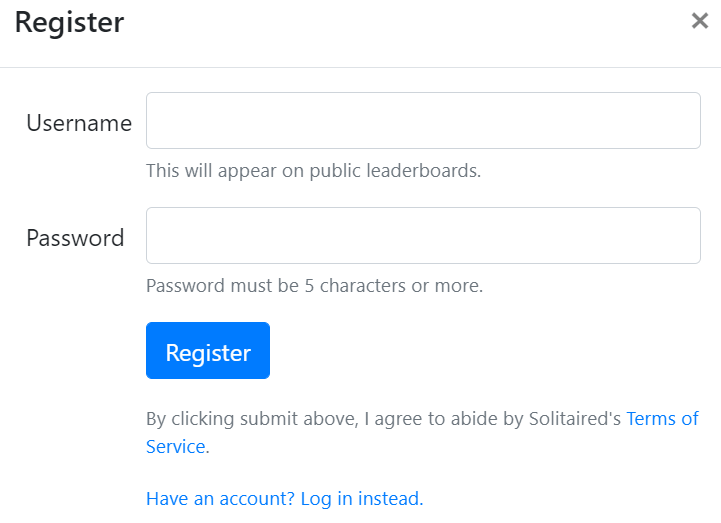 4. Design and launch optimized landing pages
One of the most important ways to use the content for your game launch is to create optimized landing pages for your game. These pages are where your prospective users will come to check out the game and even register for it.
So, your landing pages should be optimized for conversions and should be able to get as many registrations as possible. They should also be informative and should be able to provide all important information about your game to all interested parties.  Using board game templates that showcase the gameplay, design, and unique features can captivate visitors and enhance their understanding of your game's appeal. With well-crafted landing pages, you can effectively engage potential players and build anticipation for your board game launch.
Here are a few things that you should have on your game landing pages:
Videos, demos, and screenshots of the game
Enough information to generate interest without revealing everything
Clearly visible CTAs with a compelling copy
CTAs should ideally be for pre-registration or to join a beta waitlist
Here's an example of a brilliantly-designed landing page for the game God of War: Ragnarok. They took their marketing a notch higher by providing an interactive experience to users to make them familiar with the game interface and characters.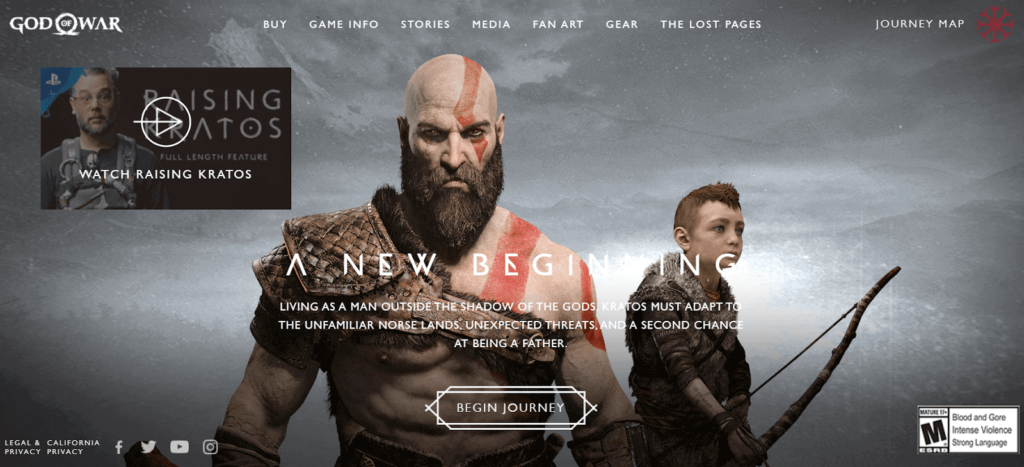 Apart from this, you could also create landing pages to run giveaways and contests before your game launch. This will further aid your efforts to generate interest in your new game.
Also, make sure that you do your research and use the right keywords to get more traffic on your game landing pages. The more people you are able to attract, the better your chances of getting conversions.
5. Don't forget press releases and media content
One aspect of content marketing that people often forget, but shouldn't, is to prepare a media kit and get media coverage. This is where press releases come in handy.
You should give regular updates to the media by using press releases. These should have important updates about the game development and any new features that you plan to add. Also, don't forget to include a good graphic or visual in your press release.
Here's an example of a well-designed press release by Perfect World Entertainment Inc. for their game Elysium.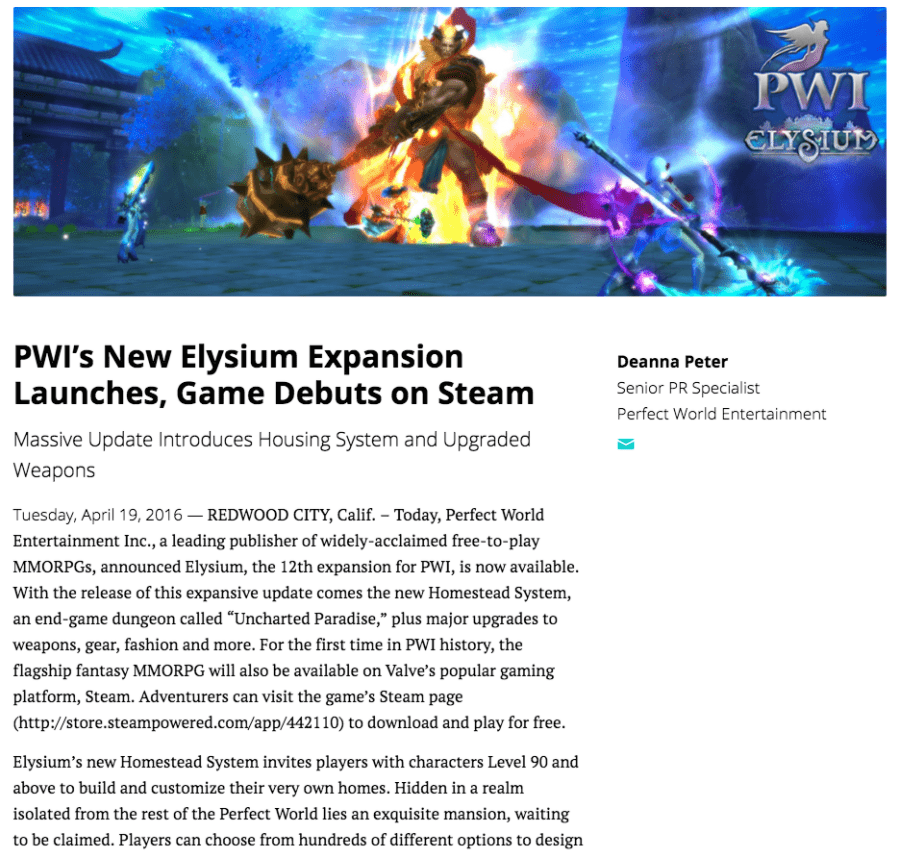 Media coverage will help you get more visibility and reach a lot more people than you could have on your own.
Also, prepare a media kit for your upcoming game. This should have all important information about your game like the price, platforms on which it can be played, release date, etc.
You should also include game screenshots, company logo, and other visual content to make it interesting. And, if you could tell the story of how the game came to be, then it will further enhance the reading experience for your audience.
It is not just news websites that you want to feature on. You should also consider reaching out to popular websites and bloggers in your niche and ask them to post about your upcoming game. Your media kit will be of help here as well.
Ready for your game launch?
If you were worried about your game launch, hopefully, this post would have alleviated some of your concerns and prepared you for it. Use some or all of these content marketing strategies to successfully launch your game and get gamers to try it.
Also, to get the best results make sure that you have mastered the content creation process or hire professional writers for your campaign.
So, what are you waiting for?
Get started on your game launch content marketing plan right now.