In marketing circles, it's commonly said that content is king. Despite its popularity, business owners often shy away from using content to get new leads for their business – primarily because of the myth that content marketing is expensive.
But that's not necessary! If channeled in the right direction, content can be one of the simplest and most effective forms of marketing.
If you are one of those people who wants to make the best of content marketing on a low budget, you've come to the right place!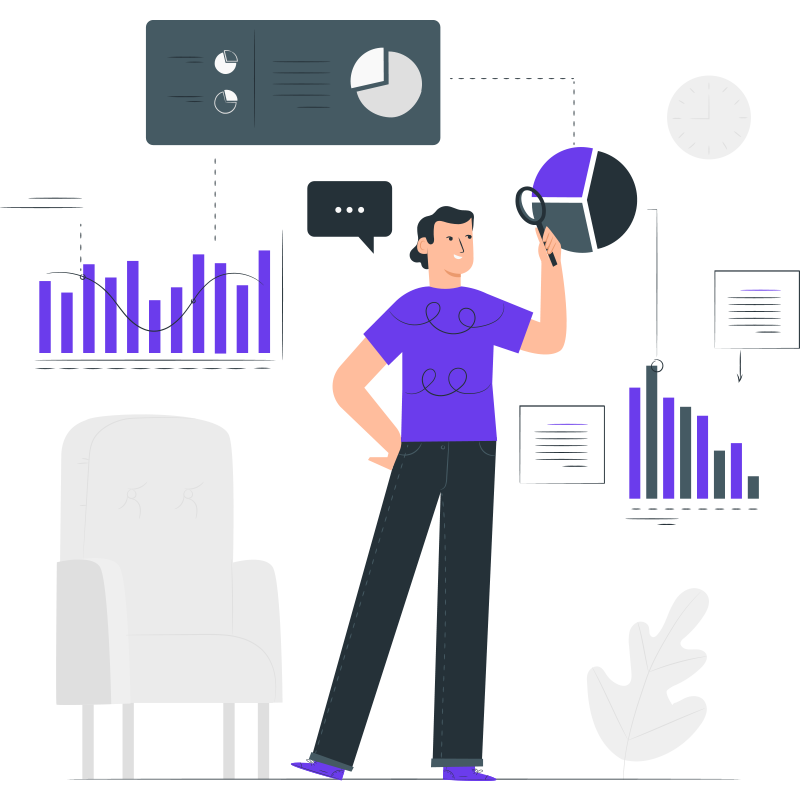 Get long-term ROI.
We help you grow through expertise, strategy, and the best content on the web.
1. Start blogging
Blogging is where content marketing originated before it expanded into videos, podcasts, and even memes. But it stands strong as an effective, low-budget content marketing strategy even today.
The only essential investment in this will be time. If you have a proper promotion channel and strategy for writing, one blog alone can help you create a consistent flow of leads.
Additionally, for any business, expertise, and building a reputation in the field is extremely important, and a solid blog can bring out your thoughts and opinions in the best form and can help you become a figure of authority in your business domain.
There are several platforms like WordPress and WordPress Alternatives like Weebly, Squarespace, etc, that help you create engaging blogs which are also super easy to integrate into your website.
Make the best use of such platforms to write creative blogs that'll facilitate better reach.
Here are few pro tips to get the best out of your blogs:
Know your audience well and write accordingly.
Write both short and long blogs.
Don't just write blogs on your product. Gauge trends, and write on a variety of topics. Your objective should be to educate your audience rather than sell hard.
Try to add important and relevant keywords in your blog and gradually transcend into learning more about Search Engine Optimization that'll make your blog rank on Google's search page.
Add internal backlinks- add links to your previous blogs or product pages strategically.
Make sure your blog is accessible and easy to find on your website and other platforms.
After writing it, promote it on different social media platforms and keep track of which blog performs well where.
Blogging is more of a journey than a one-stop solution. You get better over time with experience. Read a lot of articles on blogging but the key is just to go for it and learn more on the way.
2. Churn user-generated content
It's true that the key to succeeding in content marketing is consistency, but that doesn't mean you have to constantly come up with new ideas.
Leveraging user-generated content is one way you could lay back and let your customers create content for you. This is not only cost-effective but also adds credibility to your business by providing your audience with actual customer insight.
So what are the ways you could do so?
Let's take a deeper look.
a. Organize online contests
" I don't like e-contests. They are so boring" – said no mother ever.
This is one thing that is straight-up true. People LOVE contests. They want to be given the option to showcase their talents and creativity and in the process maybe earn a prize for themselves.
The content created from a single contest can be enormous.
You could have contests like:
Post a selfie with the product and whoever has the most likes wins $100. Or,
The most fun caption for a picture wins a gift hamper etc.
These contests not only create content for your website and social media pages but also are a great way to pump up your brand's awareness. People will be going out of their way to share and ask their friends to like/ comment on their contest submissions so that they can win.
b. Do live interviews
Facebook/ Instagram live interviews are a great and cheap way to build trust with your audience.
Reach out to one of your loyal customers and ask them if they can join in for a quick live interview. Ask them about your products and their experiences with them. Record snippets of the interview after taking permission and post them on your social media handles.
c. Post customer testimonials
Collect customer feedback and reviews manually or with the help of your scheduling software, and post them on your websites and social media. This adds credibility to your platform and people tend to believe customer testimonials about your products rather than you saying it yourself.
3. Hop on to the latest trends
Hopping on to the latest trends has become an important way to attract millennial and Gen Z, customers.
Look out for the latest trends and try to align your product launches, posts, etc with them.
For example:
Identify 10-15 high-volume and trending hashtags and use them.
Create your own hashtag and synchronize it with your contests.
Make reels or memes on the latest trends and post them.
Repurpose content across channels.
You can get to know about trends from different sources. Join industry-specific social media groups and communities, be active on those platforms, and post content on them.
This will really help you introspect your business, know where you are standing, and judge what trends are in the market.
4. Build an email list and make the most of it
Customer data is one of the most important assets you as a business owner have in your hand. Maintain a database of user details such as name, phone number, email address, etc, and create a mailing list on your business email account. (Make sure it is GDPR compliant, though!
You can segment different types of users, based on demography or area of location, and have different email marketing strategies for each.
Using your customer mailing list to the best of your ability requires a lot of patience and skill which will get refined over time.
Send out posters, blogs, both promotional and non-promotional. Keep your customers closely connected with your business and make them feel like valued customers at every step.
Send out seasonal greetings and information about your product launches, referral programs, etc.
For your long-term customers, curate personalized mails and seasonal greetings.
But make sure to never spam with irrelevant content as that can lead to a counterproductive situation and eventually you losing out on loyal customers.
Also, ensure that you incorporate the right email marketing software/apps to manage your list and send out emails. This will help you automate the process and will be more beneficial in the long run.
5. Make your social media page engaging
Social media is beginning to rule the world of marketing, especially for small businesses where it is becoming the key catalyst for brand growth.
There can be different strategies you can use to make your social media account engaging.
Here are few pointers:
Post often: Make sure to keep your social media active by posting product pictures, business insights, and seasonal posts like Christmas wishes, etc. Whatever business you're in, it is possible to create visually appealing content for your Instagram business.
Create polls: Polls on Instagram/ Facebook stories are a fantastic way to know your audience. It is easy to create as well as easy for your followers to participate. You could post polls on some current conversational topics or cult classics.
Facebook/ Instagram live: Go live on Facebook/ Instagram and show your followers how your small business works. You can take up questions and also promote your product. Regular live sessions will also help you to grow your follower's number.
Giveaways: Giveaways are great for social media engagement and can help you gain new followers. You could do pop quizzes on trivia or any ongoing series. Or simply do a lucky draw. This can draw traffic to your page and in turn increase your brand awareness.
Call-to-action buttons: Encourage your users to take relevant action after they feel engaged with your content. This will help you convert more of your profile visitors to convert into paying customers. For example, if you are a service-based business, you can add a Book Now button on Instagram to convert your profile visitors into paying customers.
Put yourself out there: For social media engagement, it is very important to tell your true story and put yourself out there. It is essential for your customers to be able to relate to you and your business. You can literally post anything that's fun and shows personality, like your experience baking a chocolate cake on a Sunday afternoon.
Social media is how your content reach expands creating a direct line of communication between you and your target audience.
Conclusion
Getting your content out there for the audience is probably the easiest part. The hustle really comes in when you maintain consistency and keep doing what's working for you the best.
Keep learning. Keep growing. And good luck for trying out these low-cost content marketing ideas!