It seems like today everyone has an online course that they want to sell. Thanks to platforms like StuDocu Udemy, Skillshare, and Lynda it has become more commonplace to learn from experts and review educational materials online.
If you are wanting to create an online course or membership site, there are a ton of options for how to do it. One of the frontrunners that have emerged in the past few years is Kajabi.
Kajabi is a feature-rich online course platform that offers you the tools to create, market and sell online courses or build a membership site.
It solves the technical issues of compiling or building the tech systems needed to make money online from teaching.
With Kajabi everything you need is available under one roof. Email campaigns, landing pages, sales pages, shopping cart, website builder, blog creator, marketing funnels, online course templates, and more.
Kenny Rueter and Travis Rosser are the Co-Founders of Kajabi, which launched in 2010, the company's vision is to "enable people to make a living from their hobby or passion."
Over the past ten years, Kajabi has grown to over 19,000 subscribers as of late 2019, and has generated over $1 Billion in revenue for their clients.
In this article, we will look at some of the pros and cons of the Kajabi software tools, and how they can benefit someone who wants to create and sell online courses.
Kajabi Overview
Kajabi is a web-based, all-in-one software suite that gives you the ability to create and sell your digital products all within one place.
It takes away the need for multiple subscriptions and helps even the most non-tech-savvy users to set up everything they need. Kajabi is an all or nothing subscription tool, so there is no way to use one tool and or pay separately for each module. With Kajabi, you are either all-in, or you're out.
The good news is that being 'all-in' gives you monthly access to a suite of useful tools, which includes:
Website building tools
Marketing tools
Blogging features
Membership site/online course software
Built-in video streaming
Private community social area
Payment processing right on the site
Email marketing tools
Automated marketing funnels for list building
Landing page tools
A suite of features for affiliate marketing
However, if all you need is an app to sell online courses or digital products, and you don't need software to create your main website or handle your email marketing, you may not need a tool like Kajabi.
Even if you already have a website for your marketing, a blog, email list building tools, and content marketing efforts, and if you want to sell online courses in a separate space from your main website, Kajabi can definitely be used for this, but you are still paying for everything regardless.
Pros:
Great Onboarding
Easy Website Builder
Simple Product Setup
Multiple Product Pricing Options
Seamless Stripe and PayPal Integration
Robust Email Marketing Tools
24/7 Customer Support and Training
Cons:
No Unbundling or Individual Products
Limited Customization
Basic Blogging Tools
Basic Reporting Tools
Kajabi Pros
For anyone wanting to sell their online courses, Kajabi makes the setup, hosting, and promoting easy. There are many benefits of Kajabi for anyone who needs a one-stop solution for selling their digital products. Let's look at some of the pros of using Kajabi as your online training software.
Great Onboarding Support: Less than 1 Month to Making Sales
Kajabi might be one of the most user-friendly tools we've ever used. A lot of Saas products today have some sort of onboarding training.
They offer a 28-day challenge to get set up and help you to sell your first $1000 worth of online training. The videos feature the actual team members in the Kajabi office, so you get a feeling like they are holding your hand through everything.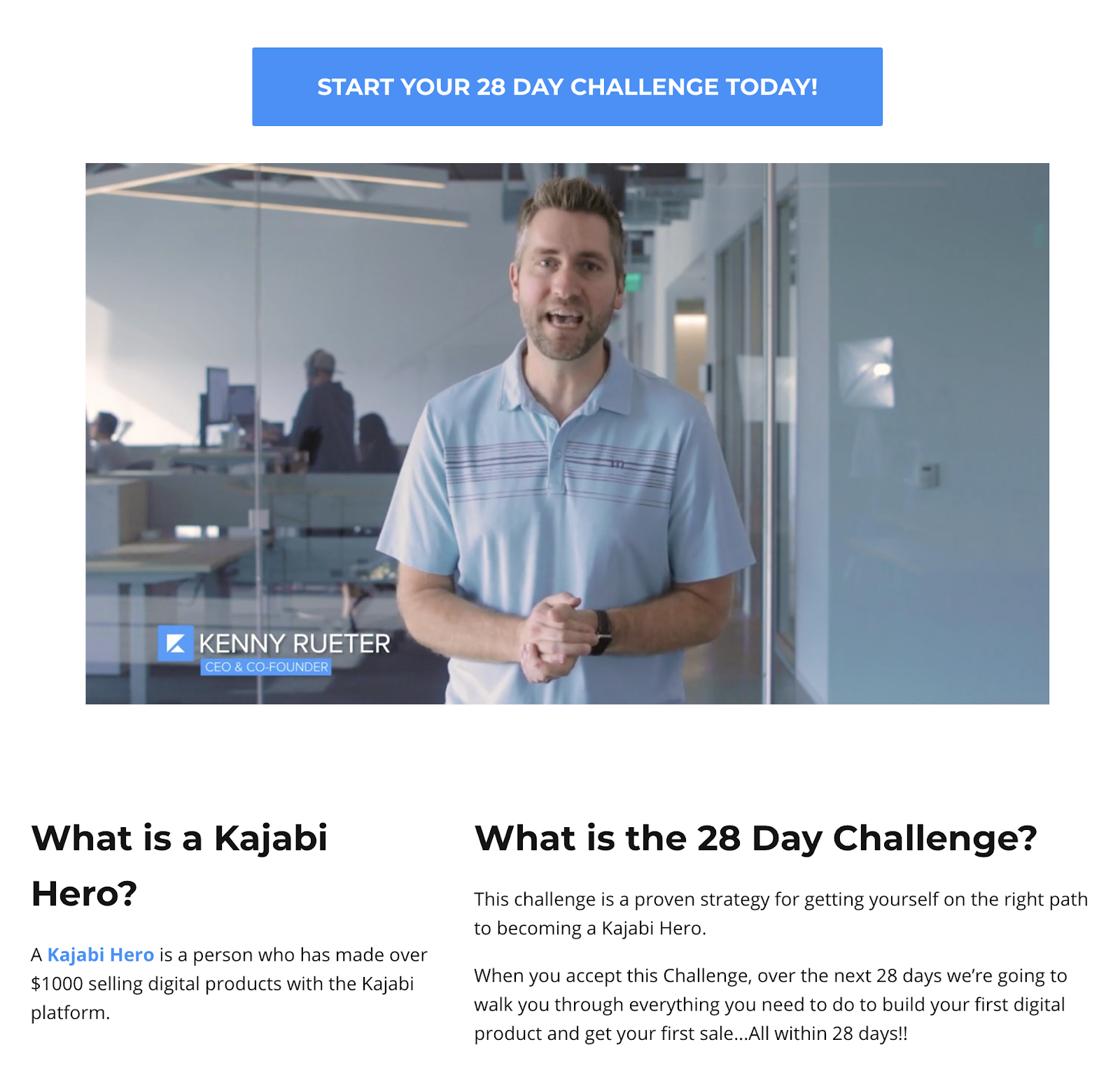 The entire software tool is broken up into four key areas:
Website
Products
Marketing
People
These all act as pipelines to help you go from building your website or landing page builder, to customer opt-in, to engagement tools, to sale and delivery of the courses.
Easy Website Builder: A Website in A Box
If you don't have web design experience, then setting up a website can feel intimidating, to say the least. A lot of platforms today offer the ability to build a website from a theme. Kajabi also does this inside of the main subscription platform.
Kajabi offers a hosted website solution. This means that you don't need to buy a separate hosting package or even upgrade your hosting plan when your site traffic increases. All the complicated hosting details are taken care of by Kajabi in the background.
When it comes to choosing a site name and web address (domain), you can use your own custom domain (e.g. yourwebsite.com) or simply host it inside the Kajabi website subdomain (e.g. yourwebsite.mykajabi.com).
Kajabi will also setup a free SSL certificate for your website by default. This is essential for purchases online, as well as ranking on search.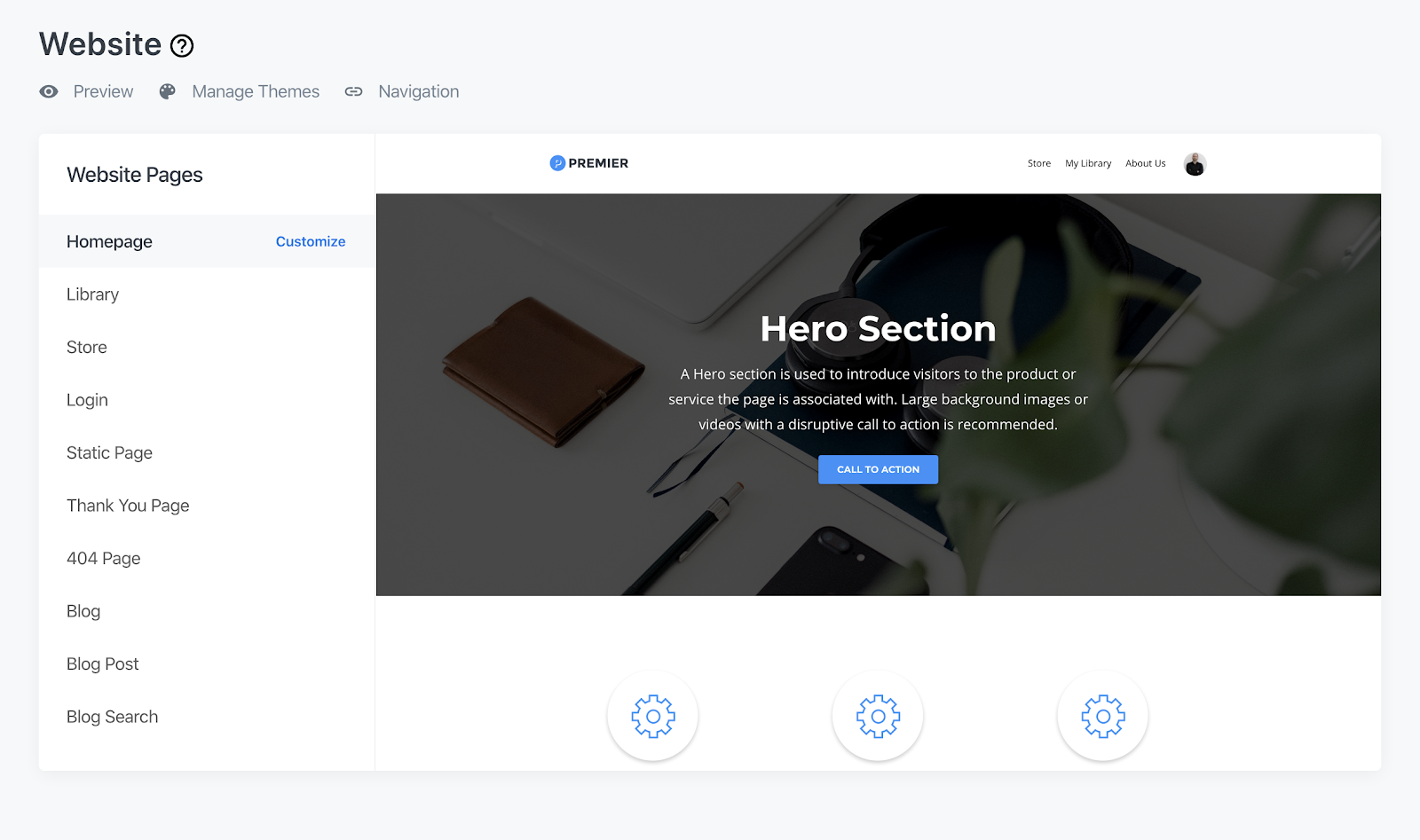 Kajabi gets you started with choosing a theme that you feel is a match for your brand. There are six main 'presets' available in the library which are all built on a single 'Premier Framework'. If you don't want to use the main layout, you can choose from another 11 legacy themes that Kajabi has available. The themes are all pretty generic to begin with, but that means it's easier to customize and make them your own.
The customizing of your website pages is done through drag and drop, and click and edit tools. These are very similar to other sites like Clickfunnels, where everything is in place already and you just add or delete sections as you like.
You can add new sections to your page by choosing from the 40+ pre-built sections available on the website page builder.
Once your website is built, you can also start adding content via blog posts. In Kajabi you can ensure SEO is accurate, you can group blog content into different categories, add even add an opt-in form to capture the emails of new site visitors.
You can also connect your new Kajabi website to Google Analytics and add a Facebook Ad pixel. Integrations like these are incredibly useful in creating marketing campaigns and funnels to monitor success and to optimize your ad campaigns.
Overall, Kajabi's website page builder is super flexible and provides a lot of editing options while being easy to use at the same time.
Simple Product Setup
Perhaps the biggest unique appeal of Kajabi is the ability to quickly build information products and have them look very professional.
It has something called Product Blueprints which are pre-built product layouts for various kinds of digital products. Course options include: mini-course, online course, evergreen course, membership,  community and coaching programs.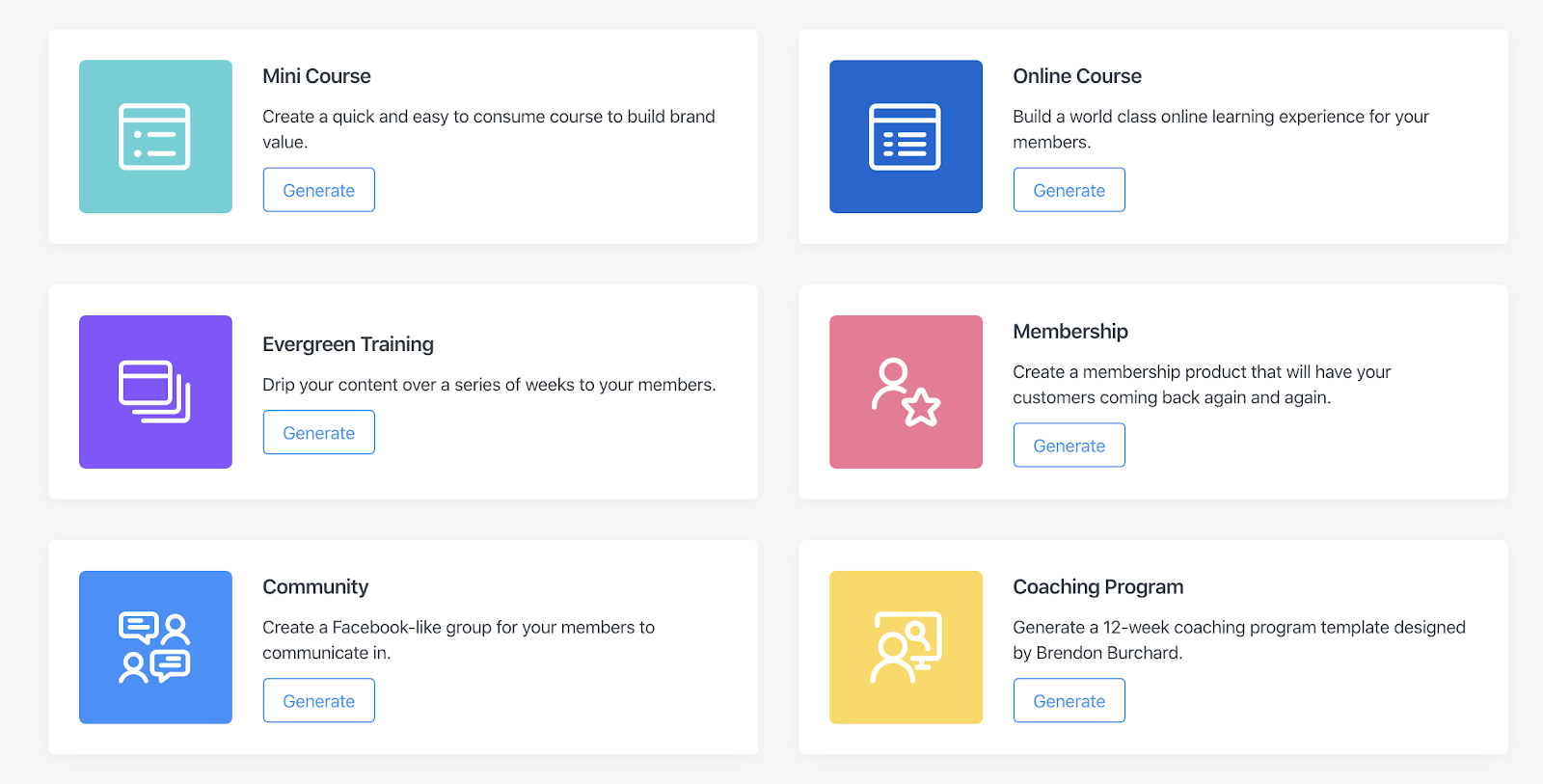 You start by choosing and naming your new information product, and from there are taken directly into the layout to customize each lesson.
To add content to a lesson, you just click on the lesson title and it will open the lesson editor. From here, you can add a variety of content types, including video training, online assessments, text documents, PDF downloads, etc. Uploading content is super easy. You can upload content either from your computer or source it from Dropbox or Google Drive.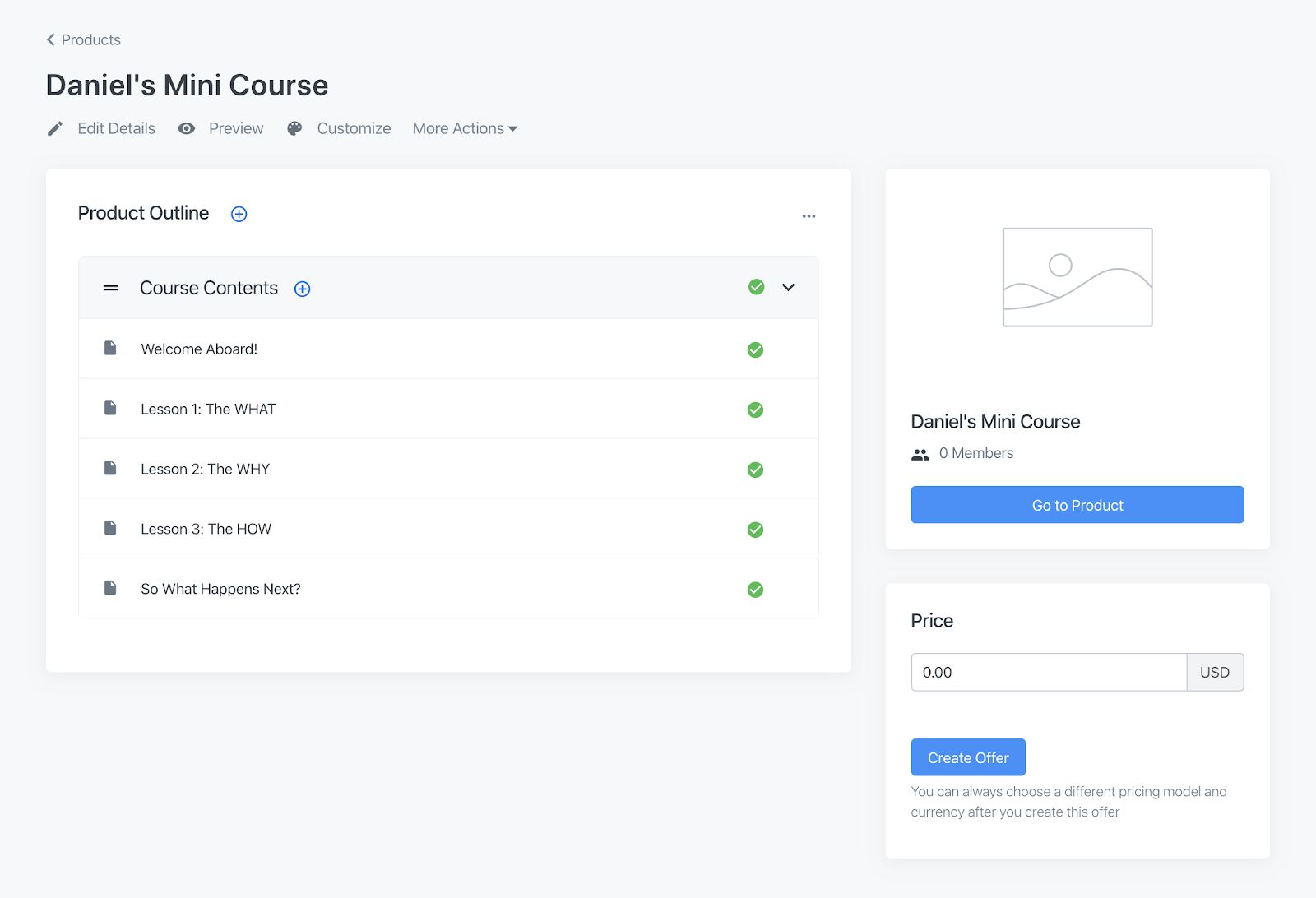 For video training, Kajabi offers unlimited Wistia hosting as part of all their plans. This is a nice feature, as you can the video content anywhere you want including your blog or on your landing pages.
If you want to reorder any sections, you simply by drag and drop at your preferred location. You can also add another level, called subcategories, which makes the online course structure in Kajabi pretty flexible.
Multiple Product Pricing Options
In order to sell your online courses, you first need to decide on a pricing model.
Kajabi offers a variety of online course pricing options, which it calls an Offer.
In Kajabi, offers are easy to create and give you flexibility for pricing your online training products.
You can choose from different pricing models including:
One-time payments
Subscription memberships
Weekly or monthly payment plan
Annual payment plans
Initial set up fees
Free trial periods for subscriptions
Kajabi gives you a lot of flexibility for pricing in major currencies,  including USD, GBP, CAD, AUD, etc. This means your products are not limited to one location and can have a wider reach.
Another cool feature for pricing that Kajabi offers is the ability to create coupons. This can be great for upselling, or for seasonal specials you want to offer.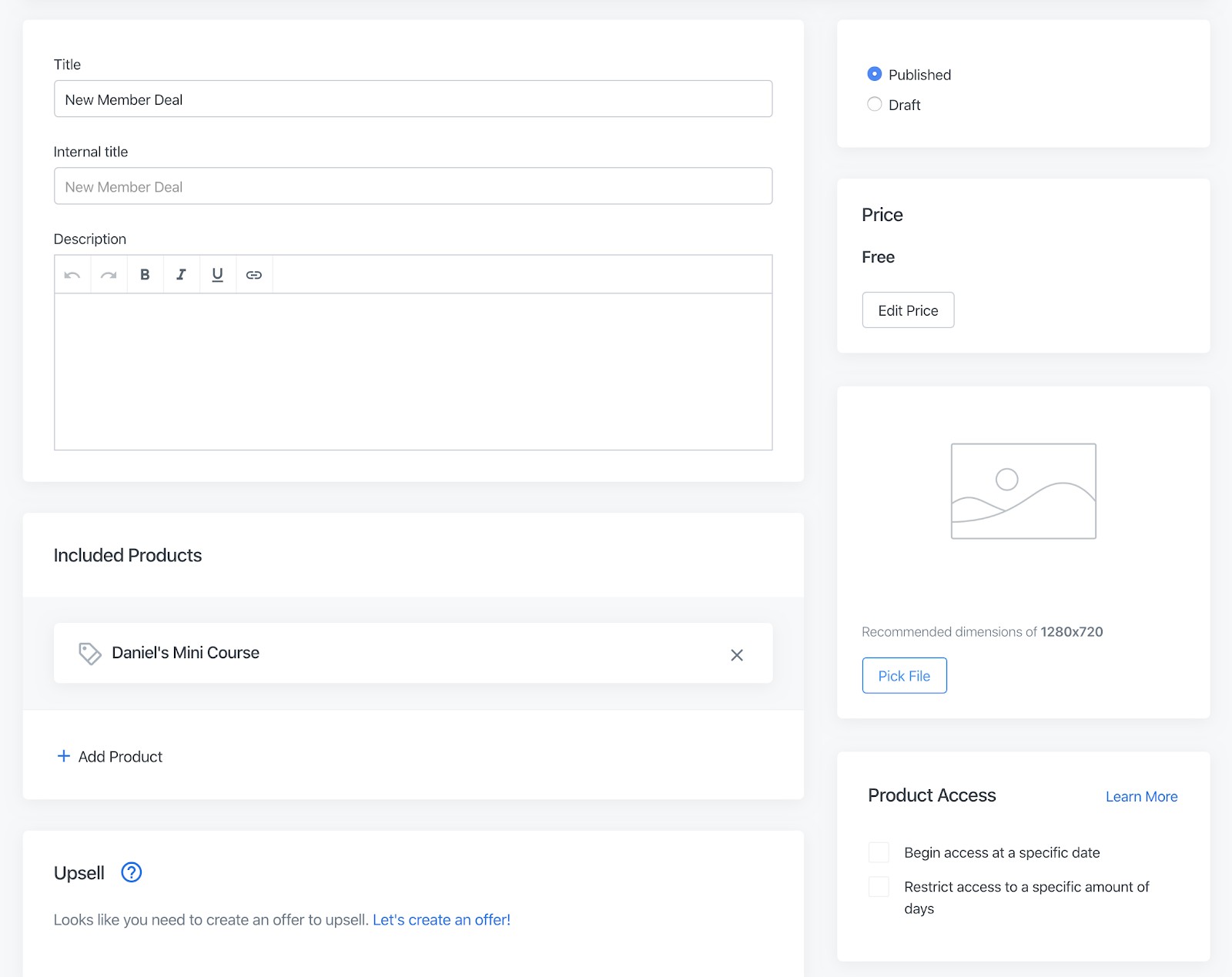 There are also automated tools for upselling for customers who are in the purchase process, as well as cart abandonment emails to entice those people who change their minds.
Seamless integration with Stripe and PayPal
When it comes to payment processing for your customers, Kajabi allows you to easily integrate with Stripe or a PayPal Business account.
​Unlike many other online course platforms, PayPal is available as a payment option for the subscriptions and payment plans.

It's also good to know that Kajabi doesn't charge any transaction fees for using these platforms (although Stripe and PayPal do). All payments through the Kajabi payment portals are immediately sent to your accounts.
Setting up Stripe means you can offer credit card sales incredibly easily, so it's the more attractive option. For some users who prefer PayPal, it does take a little more setup and integration, but it's fairly seamless once completed.
Robust Email Marketing Tools
If you are interested in email marketing campaigns, Kajabi allows you to create automated email sequences, based on user actions.
For new subscribers, you can set up automated drip email campaigns. You can also set them up to send to new customers for your courses to keep them on track.
With the marketing automation tools, you are able to add as many emails to a sequence as you want and can customize the specific amount of days after which you want each email to be sent.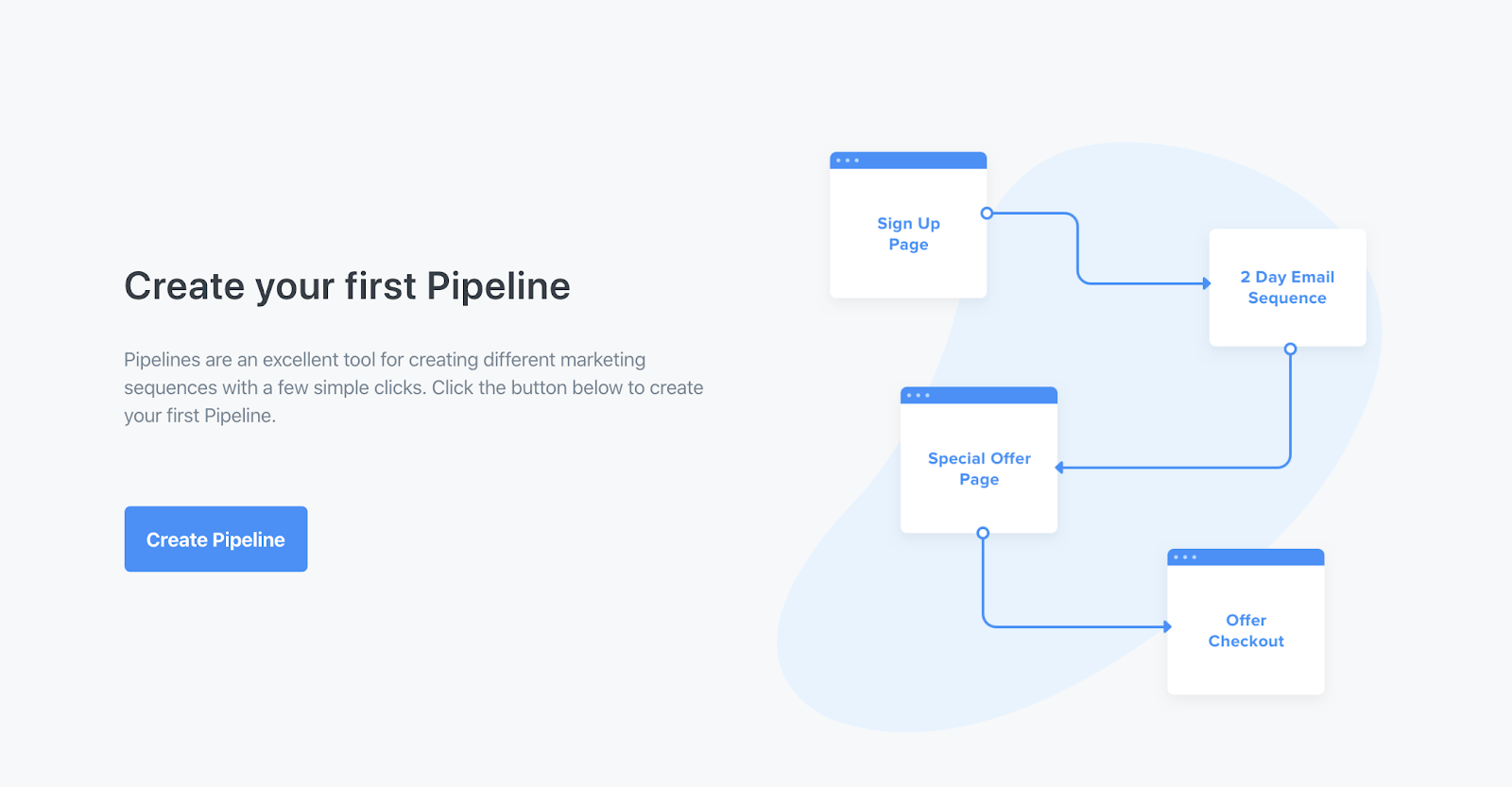 While not as advanced as tools such as Active Campaign or Mailchimp, as an included item in the Kajabi membership, it's a great starting point.
If you want to integrate Kajabi with other popular email marketing solutions,  you can easily connect it with Aweber, MailChimp, Drip, ConvertKit, and Active Campaign.
24/7 Customer Support and Training
Of all the online course platforms available, Kajabi stands out among it's peers in terms of support and training.
First off, the help center is always available at the top of every page, and will offer immediate suggestions for solutions. Most sections also have a small question mark icon next to them in case something doesn't make sense.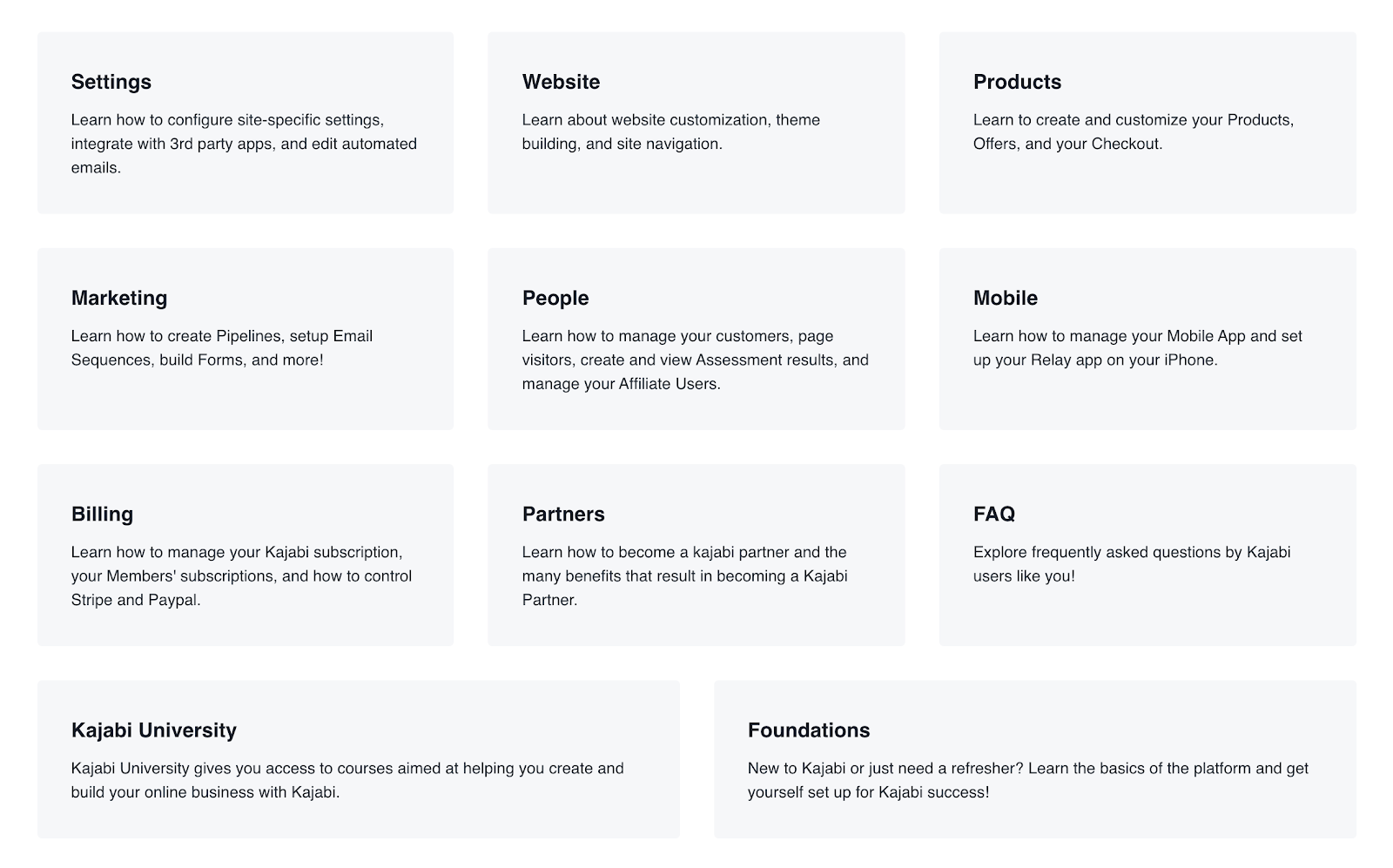 The Kajabi Help Center is powered by Zen Desk, as has a massive library of how-to and troubleshooting guides available for any question you might have.
When it comes to live customer support, Kajabi is consistently excellent. They are one of the few online course platforms to offer 24/7 Live Chat Support.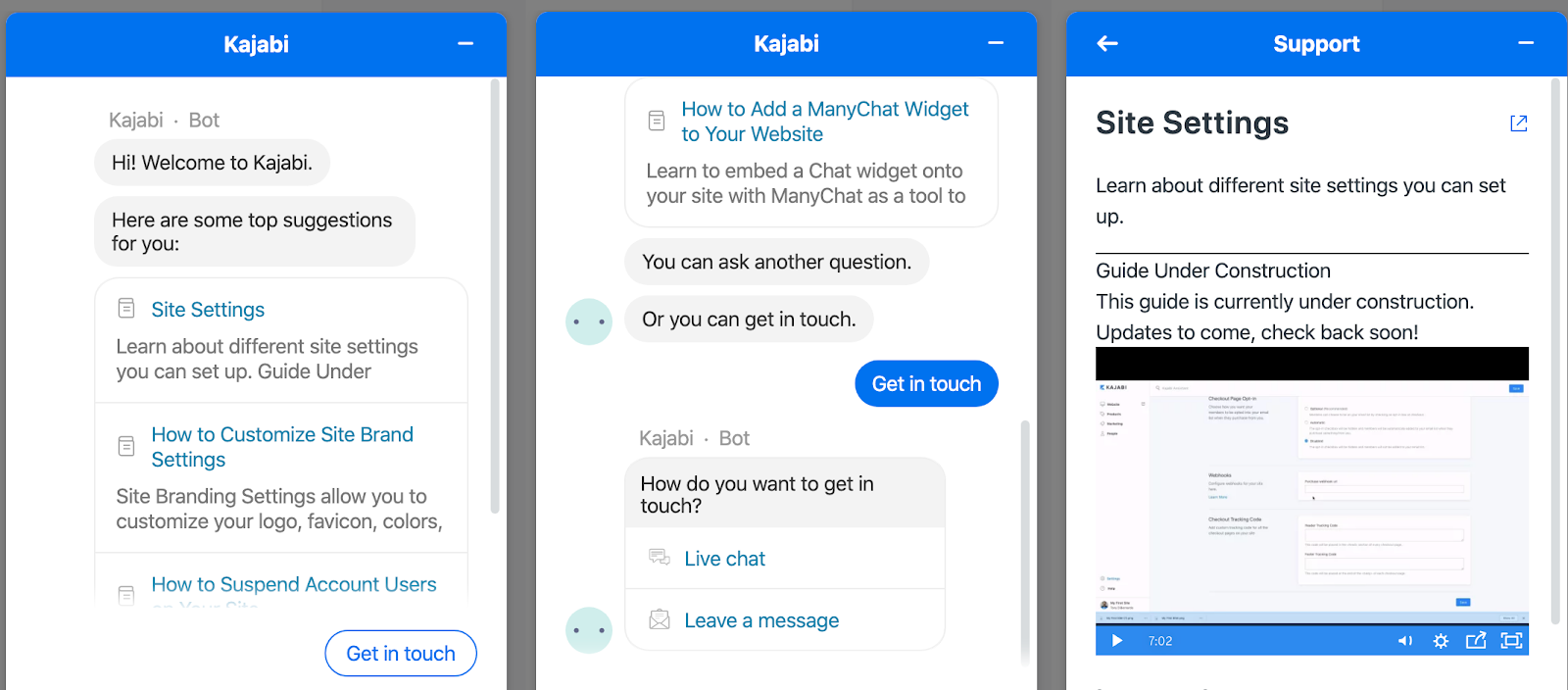 So, if you get stuck with any aspect of your Kajabi site, you can simply reach out to their support via chat or email and they will help you.
The Kajabi University tool is another complete set of training tools for digital marketing entrepreneurs. It covers how to create courses, website building, marketing campaigns, e-mail marketing, and lots more.
Another cool unique incentive that Kajabi offers is a rewards program called Kajabi Hero. The program rewards online course creators who reach certain sales goals with different swag and exclusive perks. While these might seem arbitrary, they definitely help to maintain motivation them along the online course creation journey.
If you are looking for support outside the Kajabi platform, you can also join r the official Kajabi User Facebook Group. The group now has over 17000 members to ask questions and get help from. It can also be a great networking tool for online course creators to see what others are offering.
Kajabi Cons
Every online course platform has its strengths and weaknesses. The biggest strength of Kajabi is the ability to offer an all-in-one tool for selling online courses and hosting your website. However, it also has limitations. Here are the cons of using the Kajabi platform.
No Unbundling of Individual Products
Kajabi markets itself as a one-size-fits-all online business toolkit. This means you get everything for one monthly membership price.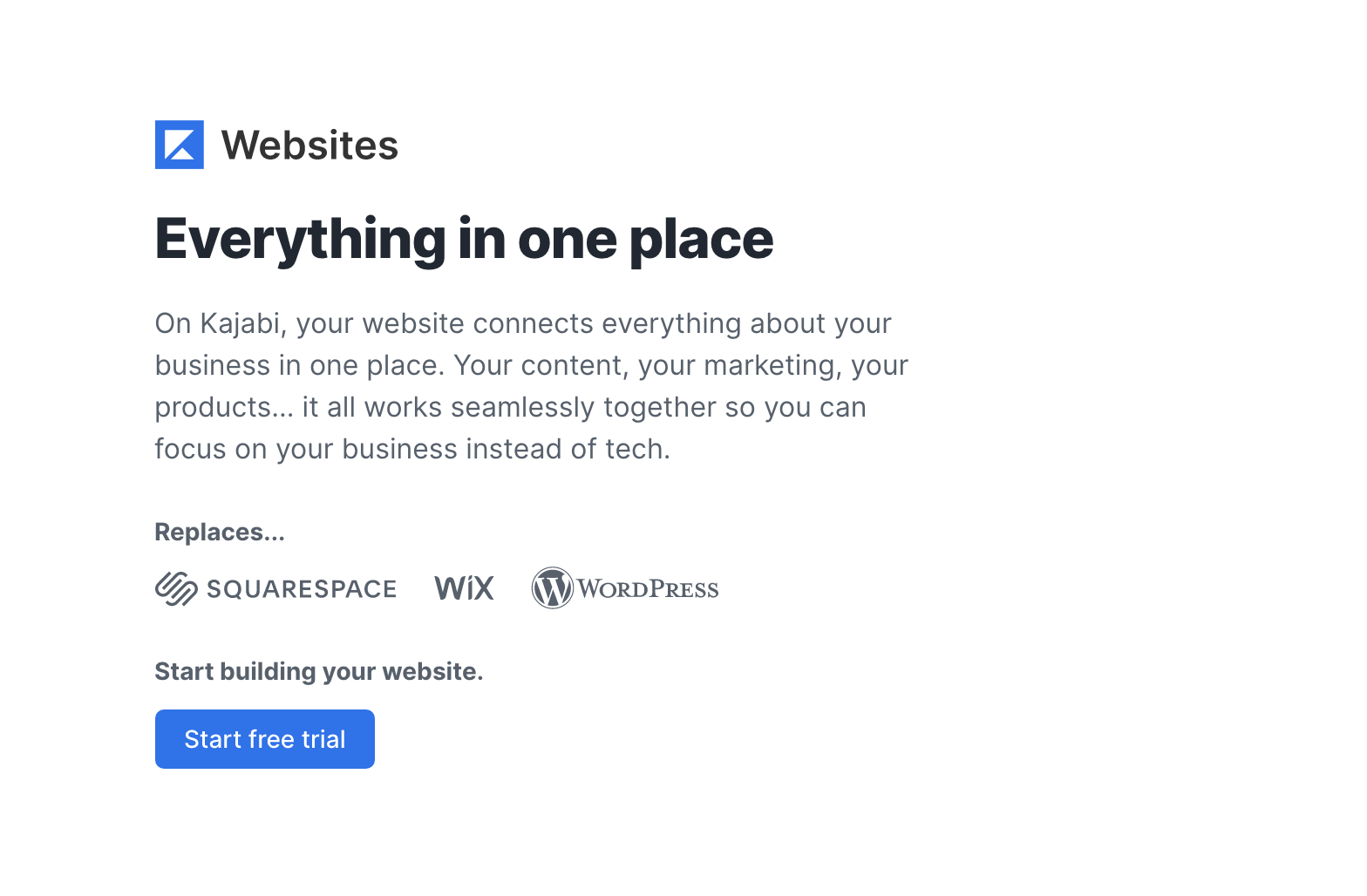 If you need every tool Kajabi offers this is great. However, if you already use tools (i.e. Wordpress for your website, Mailchimp for email marketing campaigns) then you might not need everything they offer.
Even if you don't want or need certain tools inside Kajabi, you still have to pay for them as part of the subscription service. This can be a big deterrent for those that only need one or two items inside the toolkit.
If you only need the online course platform tools, then Kajabi alternatives like Thinkific, Udemy, or Skillshare might be all you need.
Limited Customization
Unfortunately, because Kajabi is an out-of-the-box solution, it limits the ability to customize.
For example, all the individual website templates don't allow you to add sections. You can customize the content in each section, but in some instances cannot add or delete sections as you can on other landing pages and website tools like Clickfunnels or Wordpress.
For the beginner to website building and online marketing this may not be a huge factor, but as you grow the ability to customize can become limiting.
Basic Blogging Tools
Anybody who is serious about growing their online reach through content will need to have a blog for sharing useful information.
While Kajabi does offer a bare-bones blogging tool, but the limitations are very evident.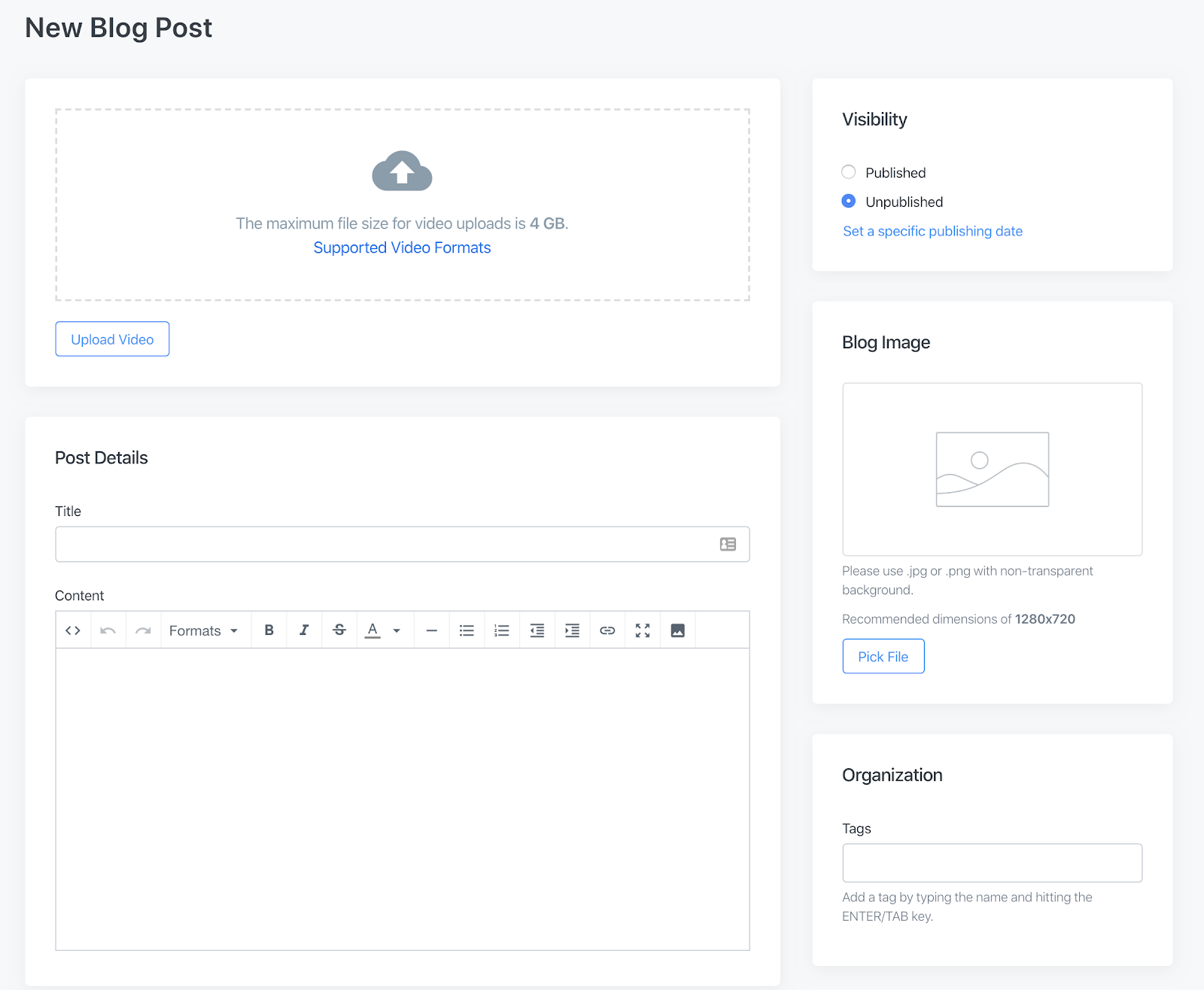 Kajabi is not as powerful as a dedicated blogging system like WordPress, and doesn't have the same SEO plugin tool options like Yoast. You can organize your posts by tags, but there doesn't seem to be categories like on other blogging platforms.
It is also limited in terms of design options, and content editing. For example, there is no dedicated area to store all uploaded pictures. So if you want to use pictures from your previous posts, they must be uploaded again. Simple usage flaws like this can turn content creation into quite a nuisance for regular bloggers.
Rudimentary Reporting Tools
Kajabi does offer analytics for website visitors, campaign opt-ins, and sales. However these reports are limited in scope.
The overall dashboard gives you some sense of how many people have viewed, signed up or bought something, but clicking into the individual reports proves to have little extra data.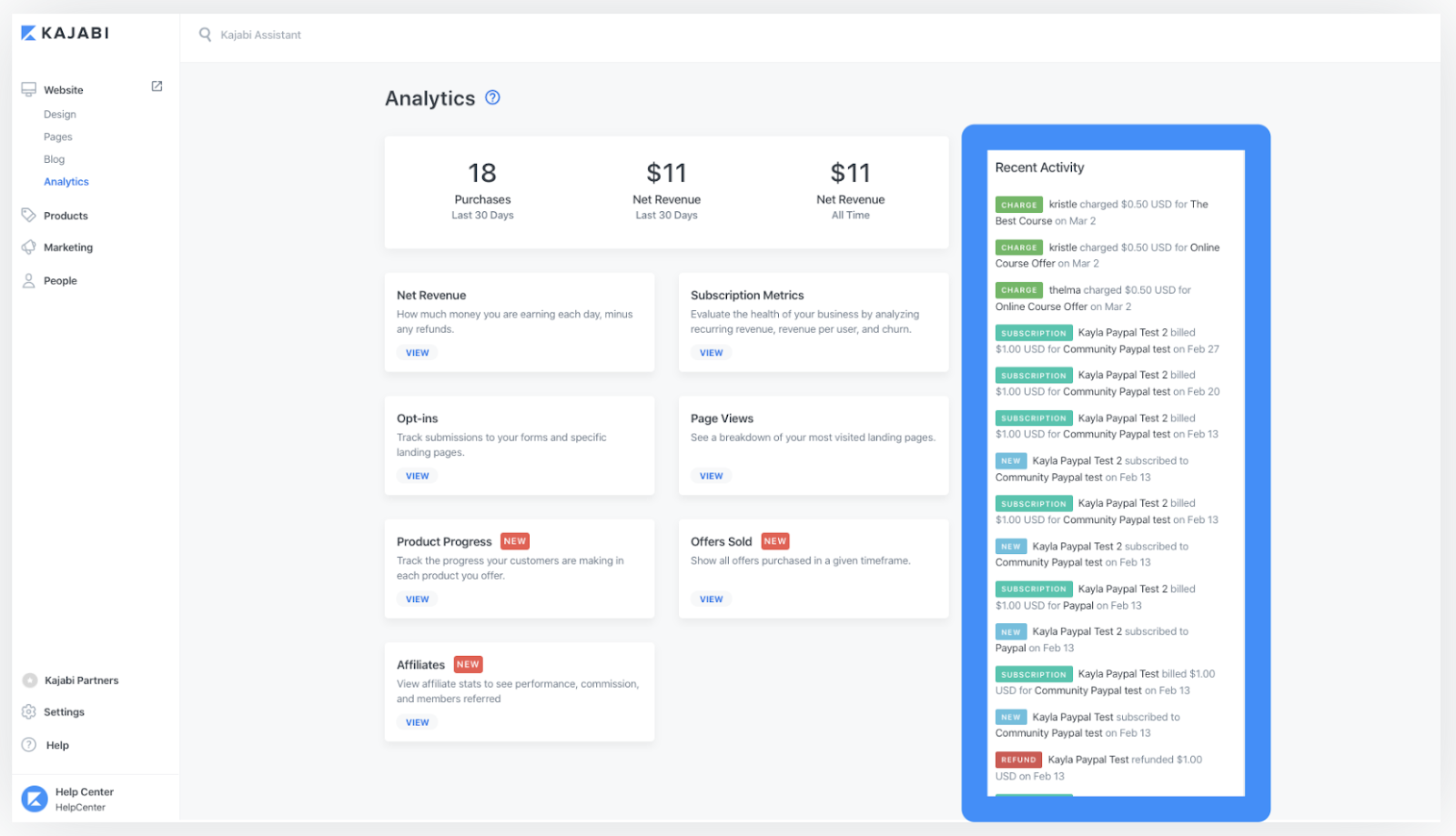 For website analytics, you will need to integrative a tool like Google Analytics to better understand exit pages, dwell time, or page views.
While the main focus of Kajabi reporting is sales of online courses and information products, it would be helpful to be able to drill down into the data and see what is really happening.
Plans & Pricing
Pricing is probably the most confusing part of the Kajabi platform. You must make a choice to make the platform your entire business marketing automation tool, or pay a lot of money only to use a few features.
Kajabi doesn't offer a free plan. However, it does offer a free trial on all plans so that you can try the software. While this might seem appealing, the idea of setting up your entire website, marketing campaigns, opt-in landing pages, sales funnels, and online courses inside of a 14-day trial is not realistic.
If you decide to stay with Kajabi, the monthly starting price is steep. So, if you're just considering Kajabi at this stage, it's hard to test the waters if you're on a tight budget.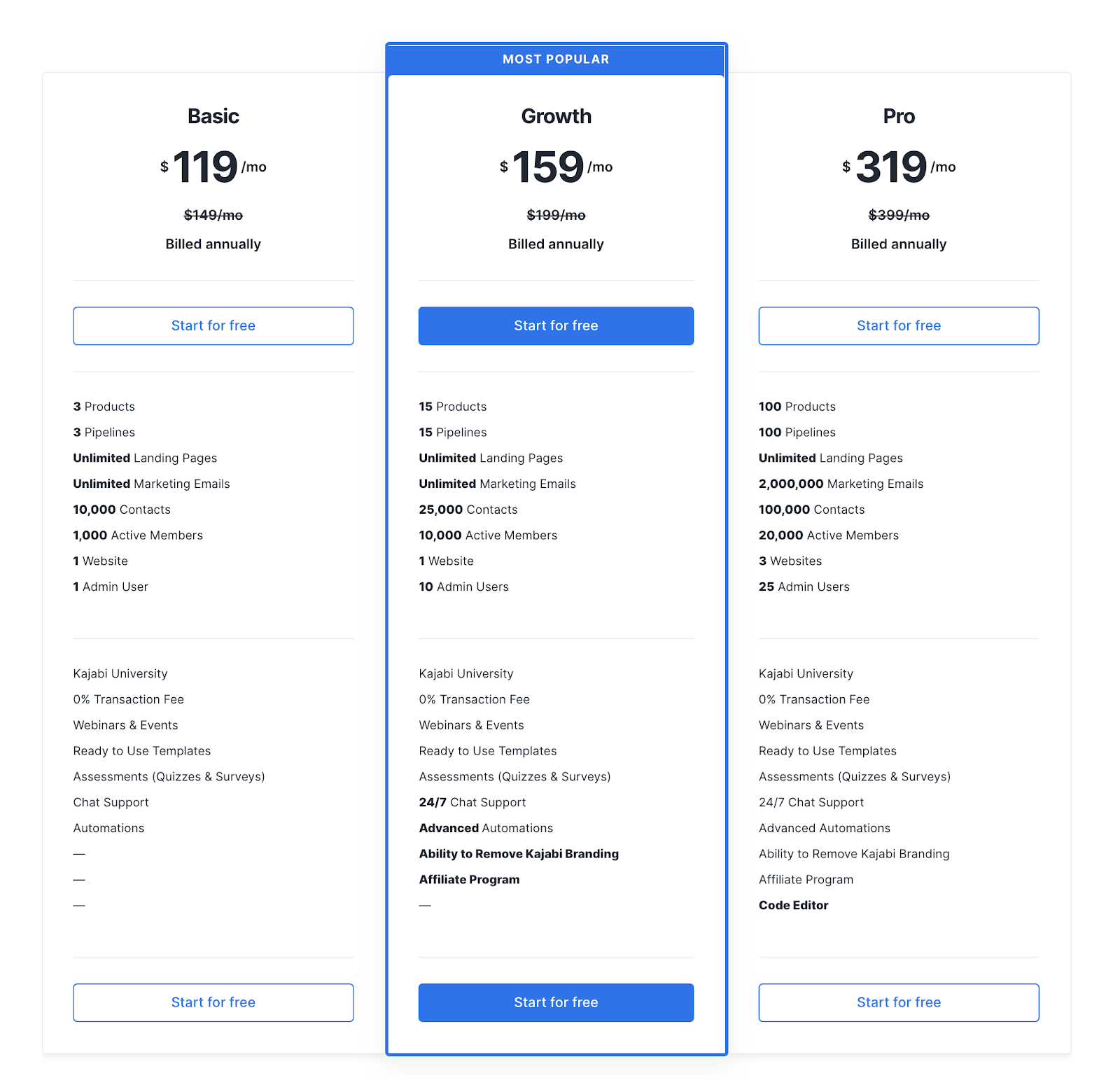 When you are ready to invest, Kakabi offers three different price levels.
Basic: $119/month (when paid annually, or $149/month).
The basic subscription will give you one website for up to 1,000 active members, one admin user account, and three different products to sell. It also allows unlimited landing pages and unlimited marketing emails for up to 10,000 contacts each month.
Growth: $159/month (when paid annually, or $199/month).
The growth subscription allows you to scale your online courses up to 15 products and pipelines, 25,000 contacts, and 10,000 active members. With this membership, you can also run your own affiliate programs and remove the 'powered by Kajabi' branding from the footer of your web pages. You also have access for up to 10 admin users.
Pro: $319/month (when paid annually, or $399/month).
The pro subscription is designed for large online course providers with big teams and multiple courses. The Pro membership plan gives you up to three individual websites where you can have 20,000 active members, 100,000 contacts, 100 products, and up to 25 admin users.
As you can see the decision to go with Kajabi is a big one. Not only in terms of price but also the fact that once you are set up on the platform, your entire business is dependent on the tools. To leave Kajabi once you've set up everything can be difficult, so it's wise to choose whether or not you want to get started.
Do We Recommend Kajabi?
Kajabi is probably most appealing as an online course builder. However, it offers a lot more tools to help create a website, run a blog, build marketing funnels, and automate email marketing.
If you only need a basic website and simple marketing tools, you can run your entire online course business on the platform itself.
The Kajabi platform has some cool features, including unlimited video hosting via Wistia, well-designed course themes, iOS and Android mobile apps, community forums, drip email campaigns,  and much more.
Of course, if you only need the online course builder, then the other tools are not useful, even though you still pay for them. The steep price for beginner course creators can be a big hurdle, and even the 14-day trial is a little bit useless to truly test the potential of the platform.
Overall, Kajabi is a great all-in-one tool for anybody wanting to get into the online education world and offers some great tools and support to help you succeed.