Are you struggling to consolidate your marketing efforts? Would you like to be able to create a personalized experience for each prospect without it taking too much time?. Are you frustrated that, if you focus on making a unique customer journey for each customer, you won't' have time to do anything else?
You're not alone.
Many marketers face the same issue. They spend too much time completing marketing operations that make great personalized campaigns but take too much time.
Luckily, digital marketing has advanced a lot in the last two decades. Automation is a regular part of almost anyone's marketing strategy. It allows for better lead management and personalized emails for your potential customers in a much simpler way.
If you haven't chosen a suitable marketing automation software yet, we suggest taking a look at Marketo. It's one of the leading platforms for setting up marketing automation and personalization of campaigns.
This article will give you a detailed walkthrough of how you can use Marketo, a simple marketing automation tool, to boost your sales and generate more revenue.
TABLE OF CONTENTS
What Is Marketo?
Marketo is a powerful marketing automation platform that allows you to manage your campaigns, personalized emails, customer relationships, and more – all in one place.
It allows your marketing and sales teams to work together on optimizing the sales pipeline and customer experience. That way, your revenue increases, and customer retention grows. You will also generate and convert new leads more efficiently.
Thanks to the account-based marketing strategy and intelligent targeting, you will be able to scale up your business and provide a unique, seamless experience for your customers across all channels, including social media.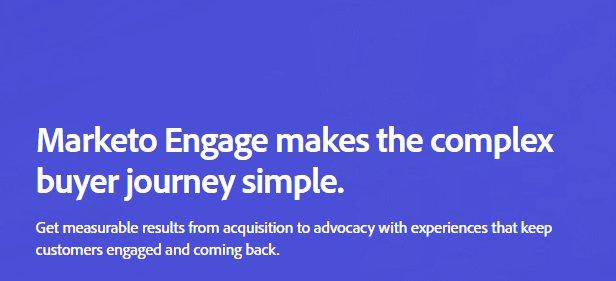 Why Use Marketo?
Many users will testify that Marketo "speaks" the marketers' language. It was designed by marketers who understand what modern marketing strategies need to become more optimized. The platform uses data-driven engagement to improve customer experience, which means all the efforts are focused on the client. That enables you to easily track the customers' evolving needs so you can adjust your marketing tactics accordingly.
Moreover, artificial intelligence and automated processes allow you to save time and boost your efficiency faster. Marketo isn't only focused on new leads, but on selling to old customers, too. The platform uses customer data to offer precisely what they need and improve their customer experience with your brand while keeping the data secure.
How to Use Marketo: A Step-by-Step Walkthrough
Are you still unsure if Marketo is the right choice for your business? We'll provide a complete walkthrough of how you can use this platform to enhance your marketing efforts. Once you learn how it works, you can decide if you're going to give it a shot.
Step 1
To set up Marketo, you need to log in to the platform using the credentials you created while registering.
Step 2
Click on the Marketing Activities section, and on the new screen, click on New. From the drop-down menu, choose New Campaign Folder. Type in Learning as the folder name, and you will see it in the sidebar menu on the left.

Step 3
On the main page, click on Database and select New Person from the New drop-down menu on the next screen. To add yourself as a person, enter your name, email address, and company name.
Step 4
From the sidebar menu, select the System Smart Lists folder and then click on All People. You will see your name listed in this section when you click on the People tab on the right.
Step 5
You may repeat this step multiple times until you add the whole marketing team. You may want to think about adding people from your sales team as well since there's an option to alert the sales rep when someone fills out a specific form on your website.
After that, you can proceed to create an email, a landing page, check out the analytics, and explore other options Marketo offers.
Analyze the engagement that potential customers and the existing ones have with your business. That will help you adjust personalized emails, nurture the prospects, and plan future marketing operations for even better lead generation and customer journey.
Marketo FAQs
Want to learn more about Marketo? Here are a few more questions that people frequently ask.
Is Marketo easy to use?
Compared to some other marketing automation tools available, Marketo is more straightforward in setup and more user-friendly. They have a complex palette of features and products, but despite this fact, the platform is pretty intuitive, and you can quickly learn how to use it.
Is Marketo a CRM tool?
Unfortunately, Marketo doesn't offer a native CRM tool that lets you manage customer relationships despite other features that can improve it. However, it does provide great integration options since it was built based on Salesforce, which is one of the best CRM softwares out there.
How much does Marketo cost per month?
There are three available plans, and there's quite a difference between the prices of these plans. Some users consider it the only downside to Marketo – it may not be very affordable for every business. The cheapest package is the Spark plan, at a price of $895 per month. The Standard plan costs $1,795 a month, while you'd need to pay $3,195 a month for the Select package.
Is Marketo cloud-based?
Yes, Marketo is a cloud-based platform for email marketing and customer relationship management. That means all your data is stored online, on remote servers.
What companies use Marketo?
Several famous companies use Marketo as their go-to marketing automation platform. Some of them are Upwork, Tesla Motors, Zendesk, Heroku, Docker, Panasonic, GrubHub, and others. They report achieving a lot with Marketo – for example, Panasonic went from 60 to 700 attendees for their online events thanks to Marketo.
A Friendly Tool for Every Marketer
We hope this article has provided you with useful information about Marketo and how it can help you increase revenue thanks to marketing automation. The sales insight and customer engagement information you can enjoy using this tool can help you improve your strategy and change the way you approach your leads.
A Marketo campaign can bring a lot to your company and the benefits you will experience if you opt for this platform will undoubtedly outweigh the expenses.