Most people love to buy but dislike having to sell to other people.
Most of all, we hate to be sold to. Getting 'sold' to is an uncomfortable feeling that makes you want to say no. Worst of all, it's hard to say no to people.
That's why so much of the world today is moving to automated customer software that takes away the awkward sales process and lets us enjoy being friendly and helpful to each other.
We'll gladly say no to an email, chatbot, or text message. And that's why companies are adopting them as part of their marketing and sales efforts.
Ontraport is one of the better-known marketing automation tools available on the market today.
It offers a full-featured email marketing platform along with extensive marketing automation capabilities and a built-in CRM.
Ontraport started in 2006, originally launching a small business marketing automation platform from a backyard yurt. Today they have a thriving user base and revenues of over $10 Million annually.
Alongside Hubspot, ActiveCampaign, and others, it gives you a lot of options to connect with, sell to, and keep your customers engaged.
The Ontraport software provides extensive functionality for building signup forms, landing pages, and multiple forms of marketing communications (including email, SMS, and even sending Postcards).
Of course, all these features come at a price, and the monthly fees can feel like a hike for a small business.
In this Ontraport review, we will break down the pros and cons of the Ontraport software and how it can organize and automate your customer interactions, as well as increase your revenue.
Pros:
Visual Marketing Automation
Powerful CRM
Email Marketing
Form Capture
Integrated Calendar Scheduling
Friendly Helpdesk & Extensive Knowledgebase
Cons:
Basic Reporting
Steep Learning Curve
Higher Costs
Pros

Masterful Marketing Automation
Ontraport takes care of a ton of tasks that lead your customers from the initial visit all the way to purchase and recurring sales.
Ontraport's Campaign Builder is its core feature. You can work through a visual process of how customers will flow through your funnels.
You can create campaigns for any aspect of your customer lifecycle.
This includes:
Attracting and following up with new leads
Delivering your product
Upselling existing customers
Generating Referrals
Marketing automation in Ontraport takes place in campaign maps. These are essentially flowcharts of your customer's journey. To create this flowchart, you simply answer the question 'what happens next' at each step.
This process helps you consider the optimal experience you'd like your prospects and customers to have, and then the Ontraport software puts it all together.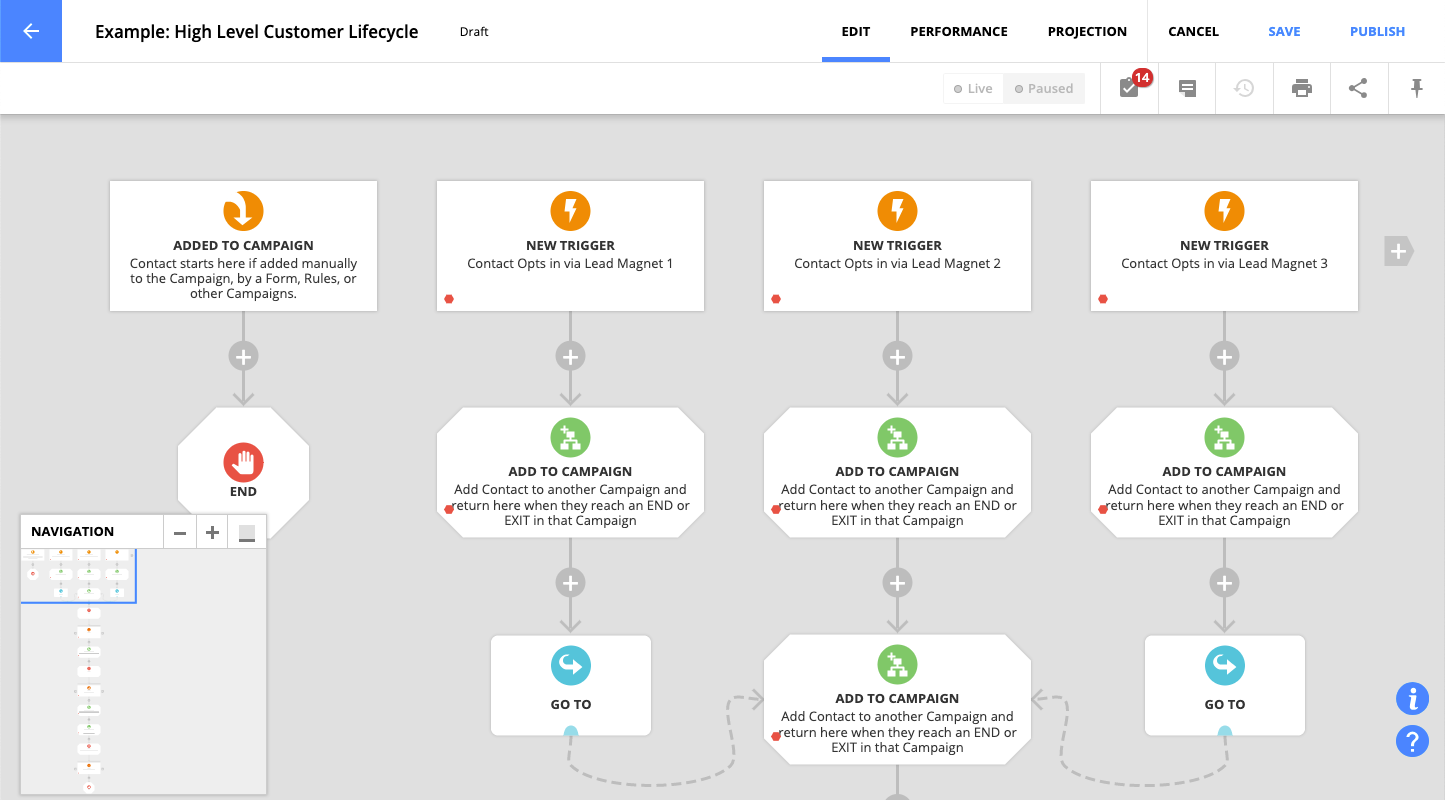 You don't even have to reinvent the wheel, as you can use any of the prebuilt templates from the Ontraport Marketplace, and then tailor it to your needs.
After you have launched a campaign, you can view your results with performance mode. The statistics update in real-time, so you can spot any areas that need your attention.
Connected Customer Relationship Management (CRM) Tools
Once you have a bunch of customers, it gets tricky trying to remember all their details. Especially when you are managing orders, and trying to plan out deliveries, you need a system that can keep it all together.
Ontraport's CRM (Customer Relationship Management) tools offer you a way to keep your contacts information all together in an organized way.
Each contact in your database on Ontraport has a contact card and allows you to add information such as:
Name, Email, Address, Purchase History. It also stores behavioral data such as clicks on your emails, or visits to your landing pages. You can also see if sales calls have been answered.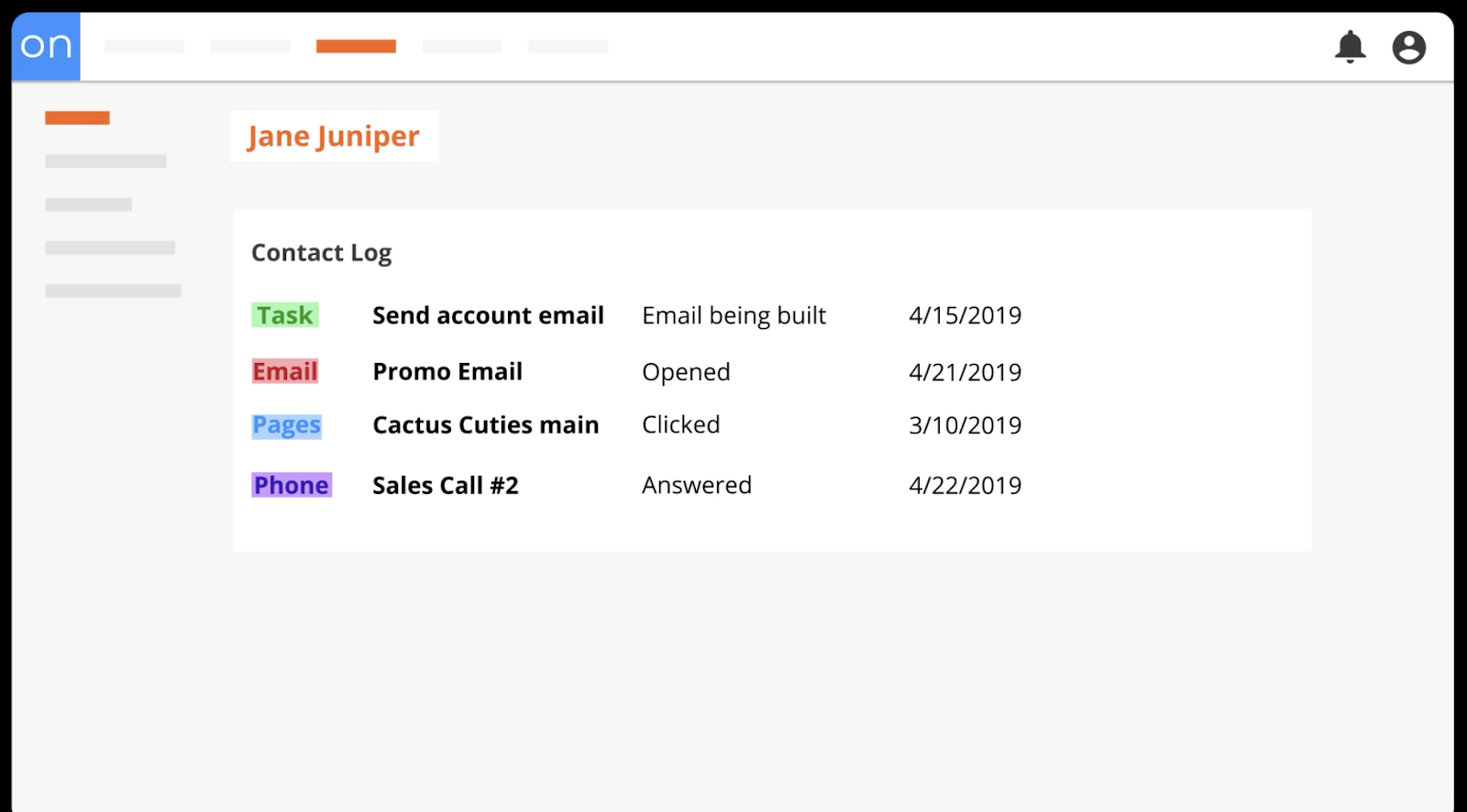 This data allows you to segment your customers based on behaviors. It helps to create personalized yet automated interactions with them.
Another nice touch is the ability to display contacts in a visual card view format. Organize your contacts into cards and columns allows you to easily see and manage stages of any process or funnel. You can also adjust permission levels so account users can view and edit just what they need to.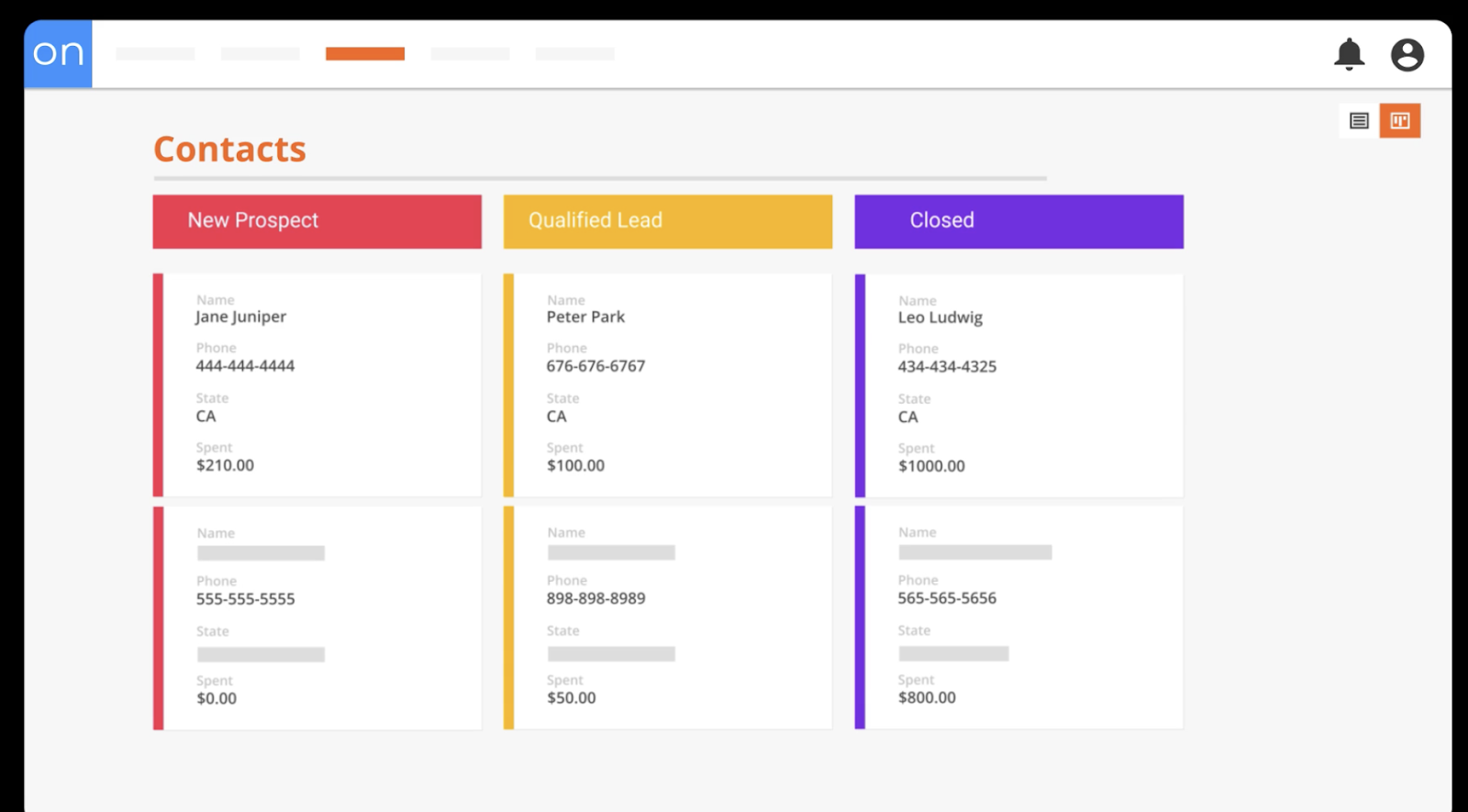 Depending upon the size of your user database, the Ontraport CRM tool will usually be an ideal companion to your marketing campaign and email marketing.
The plans offer up 20,000 contacts to be uploaded, and they offer custom pricing for accounts with over 20,000 contacts. (You must contact Ontraport to get a quote).
Effective Email Marketing
Many people write off email as an outdated marketing campaign tool. But if you're sending offers that people are interested in, emails can still be a valuable and useful tool for lead generation and to grow your sales.
Through Ontraport, you can easily send leads and emails to your customers. You have the choice to manually send emails, send them at a scheduled time, setup and autoresponder for when a person interacts with each email.
If you don't have a predesigned template for your emails, you can use the Ontraport library of templates to find something that matches your brand. You can even build a template of your own from scratch with the email builder tool. The tool allows you to select from a wide range of fonts, color schemes, and styles to create what you like.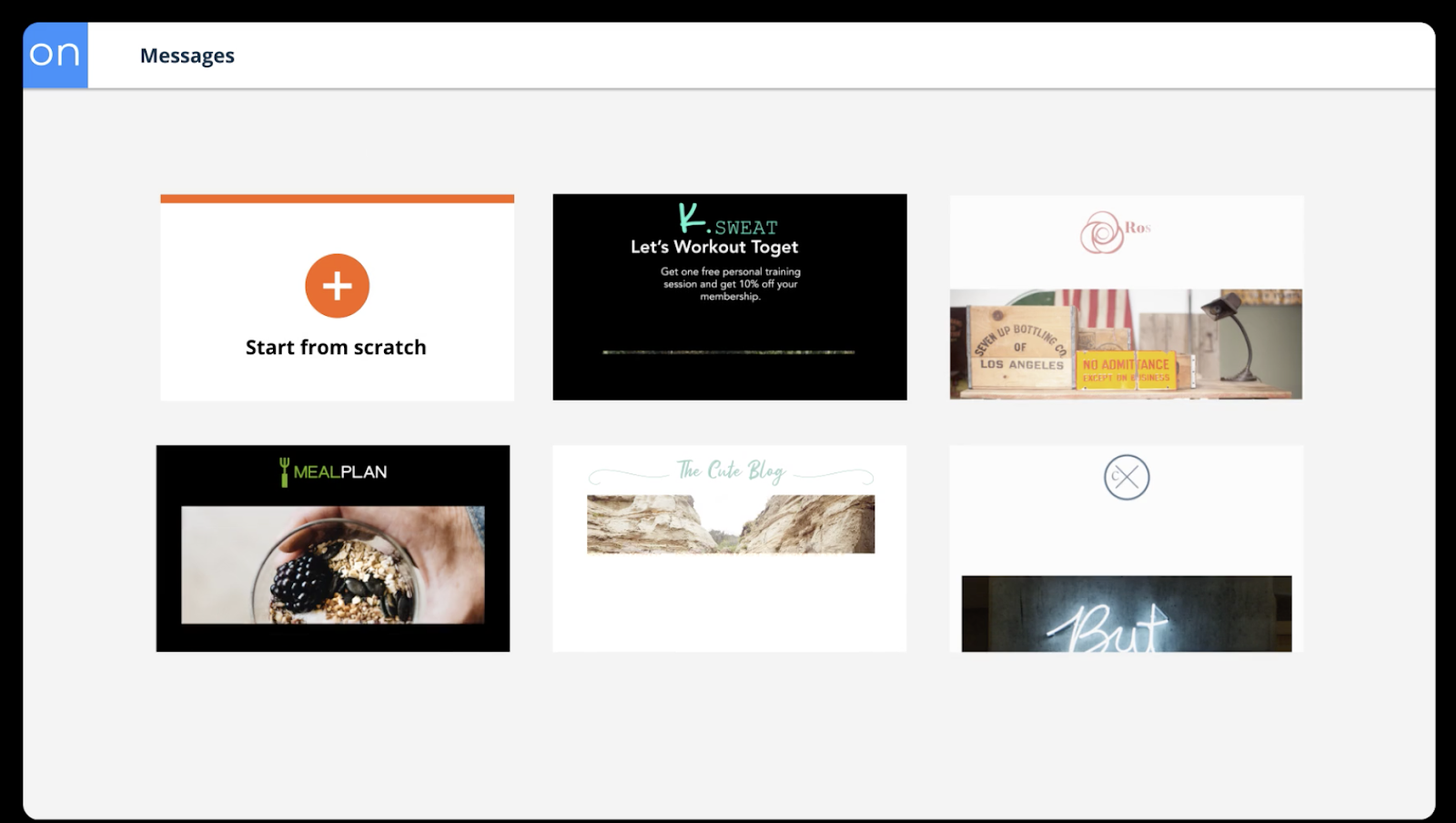 If you're unsure which of your campaigns will be more effective, you can use Ontraport's A/B split testing tools and for accurate insights, and to see which one generates the most opens or clicks to your offers. And all data is trackable by contact back in the CRM card listings.
Sending emails is unique in Ontraport. There's no specific page for sending out broadcast emails like in other email software tools. In Ontraport, you send emails directly from the Contacts page by selecting the specific contacts you want to mail to.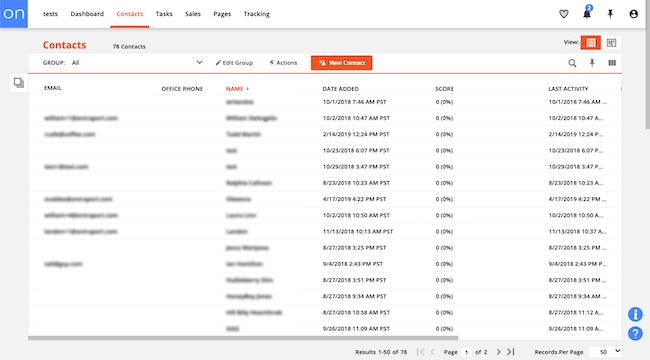 Creating groups in Ontraport is essential, as it makes it much easier to send emails to the specific segment you want.
As well as sending emails, Ontraport also allows you to send text (SMS) messages and even physical postcards to your contacts, which is a nice feature.
Connected Calendar Scheduling
If you have a business that requires booking appointments with clients, then Ontraport can integrate with your online calendar. This functionality offers a convenient way to seamlessly manage your daily workflow and take advantage of the data that Ontraport collects. Ontraport features integrations with Acuity Scheduling, Calendly, Google Calendar, Time Trade, and ScheduleOnce (via Zapier).
Best of all, you can transfer the appointment data from your scheduling tool back to Ontraport. This function allows you to add and update contact records with tags and fields, and create automated follow-up emails in Ontraport around the data and user.
Customizable Landing Pages
Similar to tools like Clickfunnels, Ontraport offers the ability to build custom landing pages for specific offers. You can choose from their range of templates or create your own landing pages from scratch. The ability to drag and drop different sections of the page makes setting up the pages simple and requires no technical or web development experience.
Opt-in forms can be added to capture information or make sales, and all the info will integrate into your CRM database. You can also customize pop-up features to trigger at certain times (e.g., when a person is exiting your page).
All templates are designed as mobile responsive, so there is no work to edit or adjust them for mobile devices. The tool also offers the ability to make edits to the page on a mobile version, that only affect the mobile version.

Built-In Membership Sites
Another unique feature of Ontraport is that it allows you to create membership sites for your customers. Everything is templated, so very little technical expertise is needed. Simply choose the look you like best, customize, brand, and your membership site is ready to go.
Your members can subscribe, log in, and retrieve passwords automatically. You can also limit members based on the information they provide.
Simplified SEO Plugins
It's great if your site looks good, but if it can't be found in search engines, then you're stuck with always running ads. This tactic can be effective in the short-term but needs to be addressed. Ontraport has SEO tools that allow your site to rank well.
Ontraport also integrates with keyword tools such as Google Keyword Planner, KW Finder, SpyFu, and SEMrush. This ability allows you to better plan out the content for your landing pages, and add traction to your marketing.
Friendly HelpDesk & Extensive Knowledgebase
Ontraport has extensive tools and capabilities, but that means it also has a relatively steep learning curve. There will likely be features and tools that you miss. For this reason, having access to a help desk is a big, well, help.
You can use the customer support chat tool and aim to get any simple issues handled there. The team is super friendly, and the speed is quite impressive. It took only 5 minutes for a real live support person to ask me how they could help.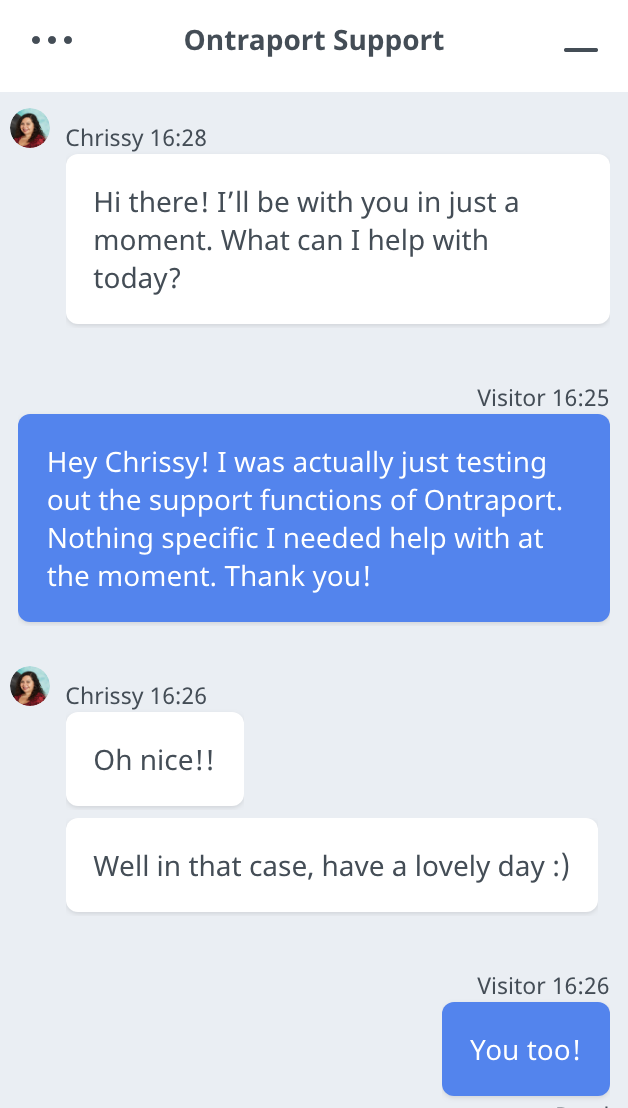 Or you can even schedule a 15-minute screen share with one of their dedicated support team to go over an issue in detail.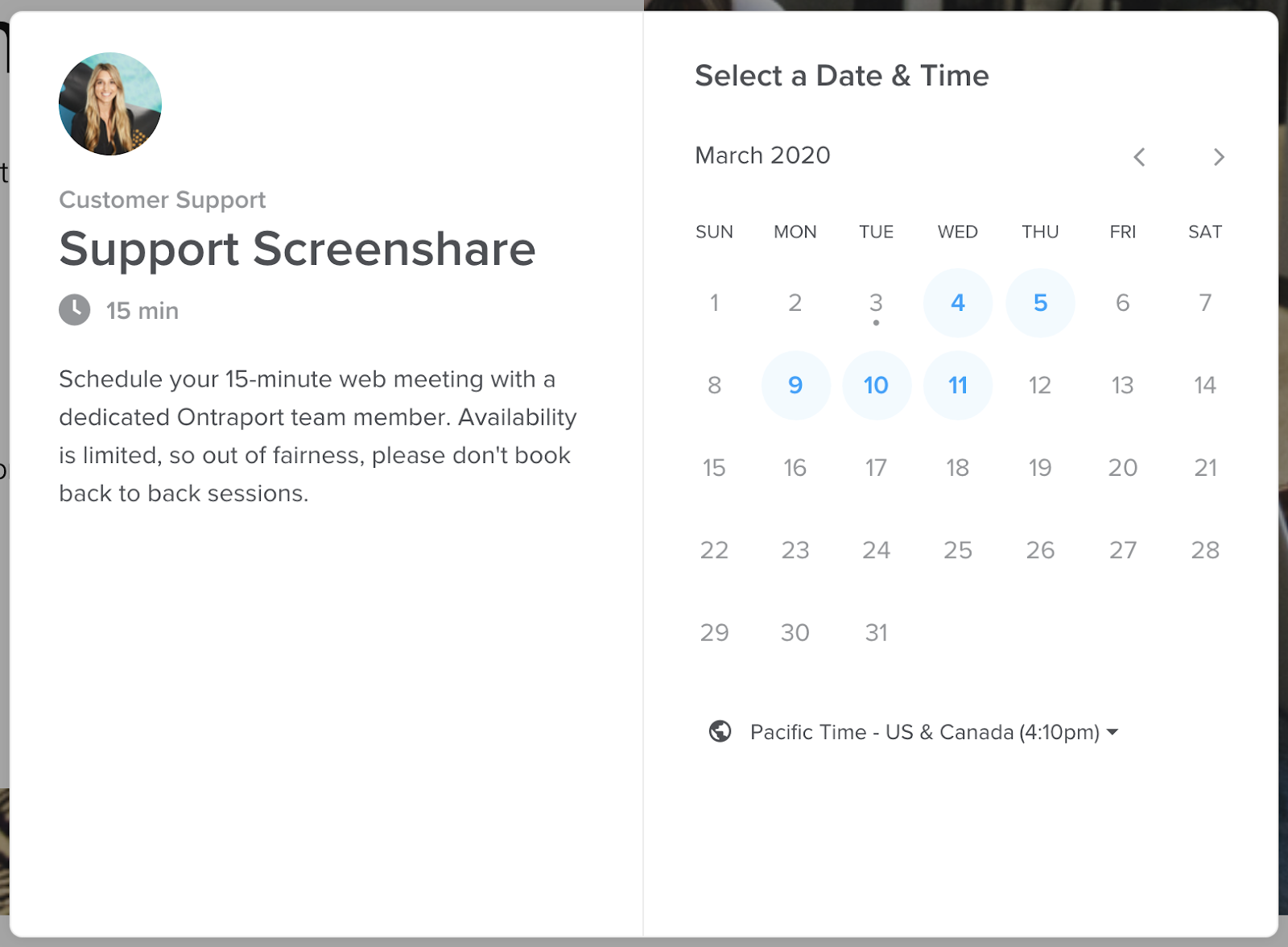 The knowledgebase the offer is extensive, with written guides on basically every tool available. They have a comprehensive getting started guide, as well as a support center.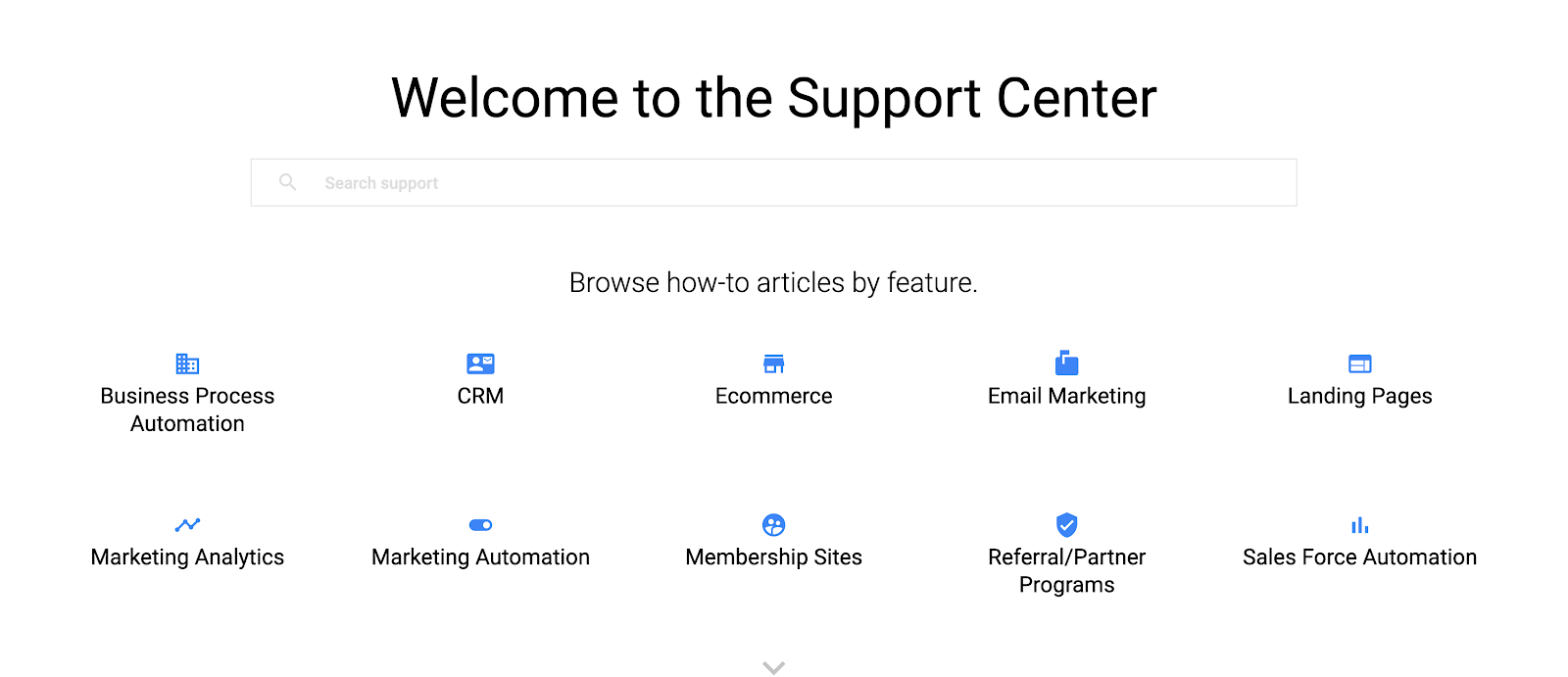 Finally, they offer a robust Facebook support group boasting over 7000 members. Their support hours are quite extensive:
Monday – Thursday, 6am – 12am
Friday, 6am – 9pm
Saturday & Sunday, 9am – 9pm
Ontraport Cons
A platform as extensive as Ontraport offers a lot of amazing tools and hidden benefits. But there are also a few areas where it can be limiting or restrictive.
Uninsightful Reporting
With such an effective visual campaign builder, it feels like an opportunity has been missed to provide something equally inspiring when it comes to reporting. While the dashboard is neatly organized, and it comes with a minimalistic design, it feels bland and uninviting.
The reporting dashboard will give you the number of opens, clicks, opt-outs, and complaints is there, but only in a text-based table that you have to scroll horizontally to access. There are no graphs or charts to give you a feel for trends or changes in conversion rates.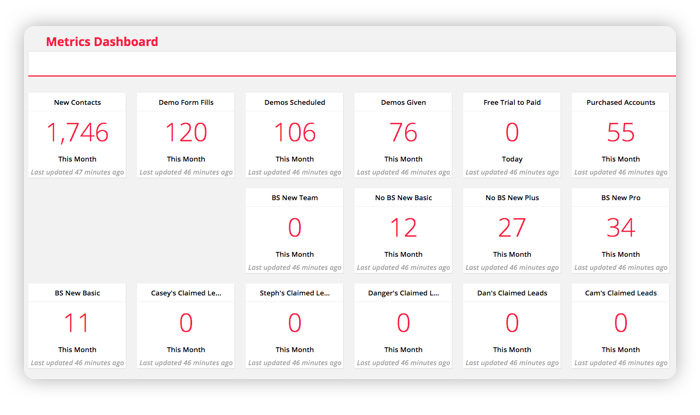 Each Ontraport user has access to Performance Mode, which is a module showing reports from all the campaigns in real-time. However, to see reports about ROI and UTM tracking requires upgrading to hold a Pro account.
Steep Learning Curve
Because of its unique approach, plus the fact that it bundles multiple advanced tools into one platform, it might take you quite some time to learn everything about Ontraport.
For small businesses looking for simple tools or one-off features, Ontraport can feel intimidating and overwhelming. Plus, the 14-day trial doesn't give a ton of time to see if it's worth upgrading.
Of course, the training tools are extensive, and the support from the Ontraport team and even direct input from the Ontraport CEO on the Facebook group make it less painful.
Overall, the impact that Ontraport can have on growing a business that makes use of all the tools is worth the effort.
Plans & Pricing
Perhaps the most significant sticking point of using the Ontraport software is the $79/month starting price. Ontraport does offer one of the best CRM, email campaign, landing page builder software tools available, but it asks a lot to test them out.
The short 14-day trial is a helpful starting point, but realistically, not many companies will thoroughly test out the features in that short window of time.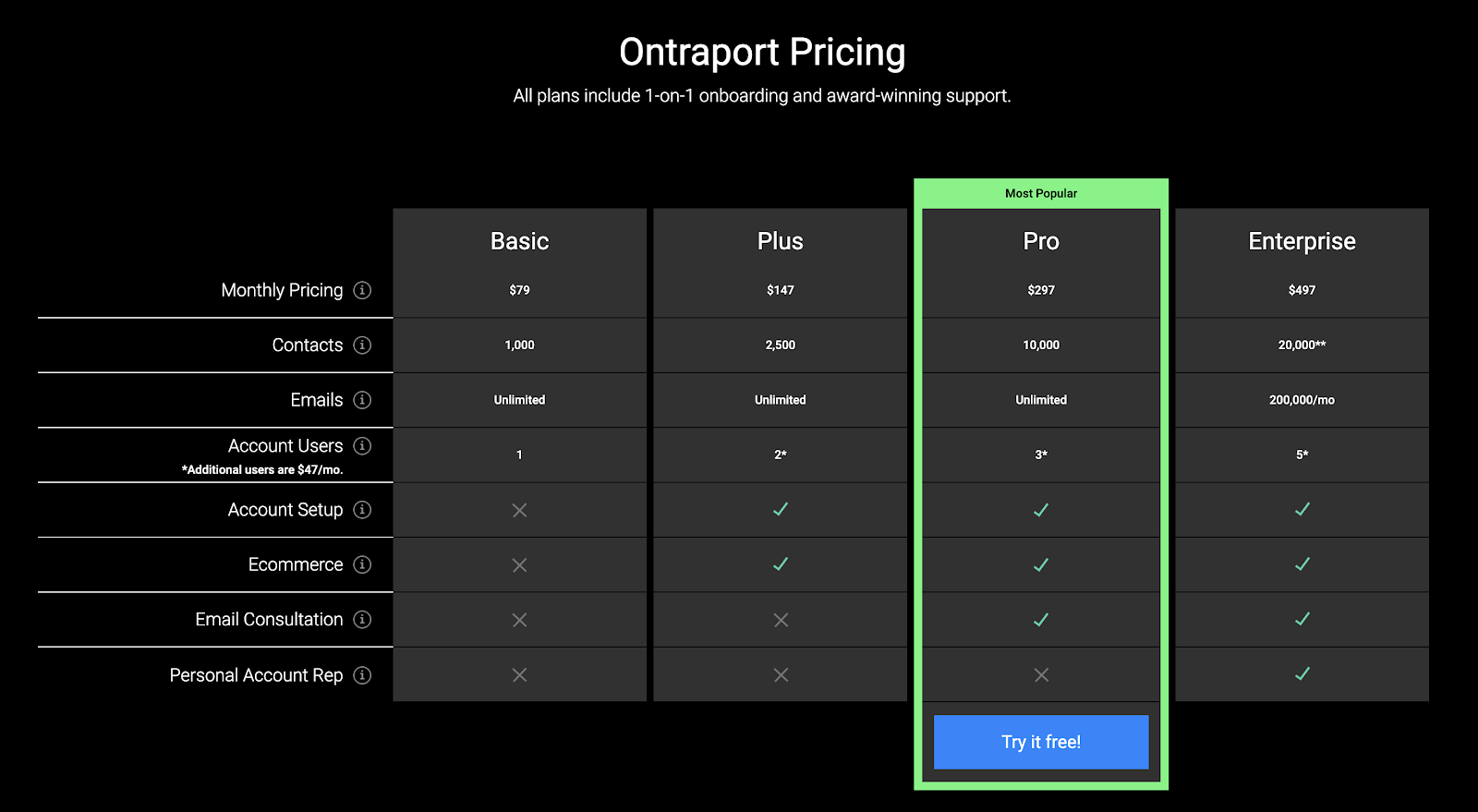 For bloggers, entrepreneurs, and small business owners, the lack of scaling of its pricing could be a big drawback. At the low end, the Basic plan supports up to 1,000 contacts for $79 a month.
If you go past 1000 contacts, then the next level up is the Plus plan, which is double the price ($147/month) for up to 2,500 contacts.
Any number pas the 2500 contacts limit requires the Pro plan that supports 10,000 contacts for $297 a month.
Do we Recommend Ontraport?
The Ontraport suite of tools is flexible enough to accommodate almost all types of business. However, it's especially useful for education-based organizations and membership-based sites.
If you sell information products, or run a membership site, or do any kind of online training or education, Ontraport could be a great marketing automation tool for your business. If you run an affiliate reseller program, Onraport is an excellent tool for managing it.
Ontraport's software offers a robust CRM, and the integration with email and text message open rates is a great advantage over having separate tools.
In terms of support, Ontraport is impressive. The onboarding for new members is extensive, as well as the ongoing support and training tools. There is also a strong community around the company, and it's clear that Ontraport listens to their users and want to improve.
Ontraport is continually enhancing its product, and it's clear that there is value in this all-in-one tool for managing, engaging, and upselling your customer. Once you decide to invest and overcome the learning curve, it's well worth it.