B2B Marketing Expo
Website: https://www.b2bmarketingexpo.co.uk/
Date: November 10 to 11, 2020
Location: London, UK
What You'll Get at B2B Marketing Expo
The B2B Marketing Expo has been held annually for the past few years at the ExCeL international convention center in London.
Organized by Roar B2B, the two-day event is dedicated to educating guests on techniques to develop marketing strategies in accordance with current trends.
The theme for B2B Marketing Expo 2020 is marketing technology, specifically, all digital marketing disciplines. That includes data analytics, mobile apps, influencer marketing, and 2020 trends—to name a few topics. B2B marketing experts will speak on pivotal issues, participate in panel sessions, and demo the latest technology.
Other options to explore include interactive masterclasses, an invite-only VIP lounge, and a Networking area to meet thousands of like-minded individuals. Over 350 prominent European suppliers will attend to offer free consultation and product demonstrations.
B2B Marketing Expo Guest Speakers
You'll have the opportunity to listen to cutting-edge business leaders, and consultants share their expertise, strategies, and advice. Build your knowledge with top-tier keynote speakers like…
Smart Insights Co-Founder and Director Dave Chaffey, discussing the latest digital marketing trends, tools, and techniques
Beacon CEO Nigel Bridges, discussing the need for honesty and transparency in the world of advertising
Cognism Co-Founder and CEO James Isilay, discussing turning your ideal customer profile into repeated revenue for your business
How Much Does B2B Marketing Expo Cost?
B2B Marketing Expo offers free registration, much like ad:tech London. Once you register via the website, you'll receive a digital show guide and access to both days.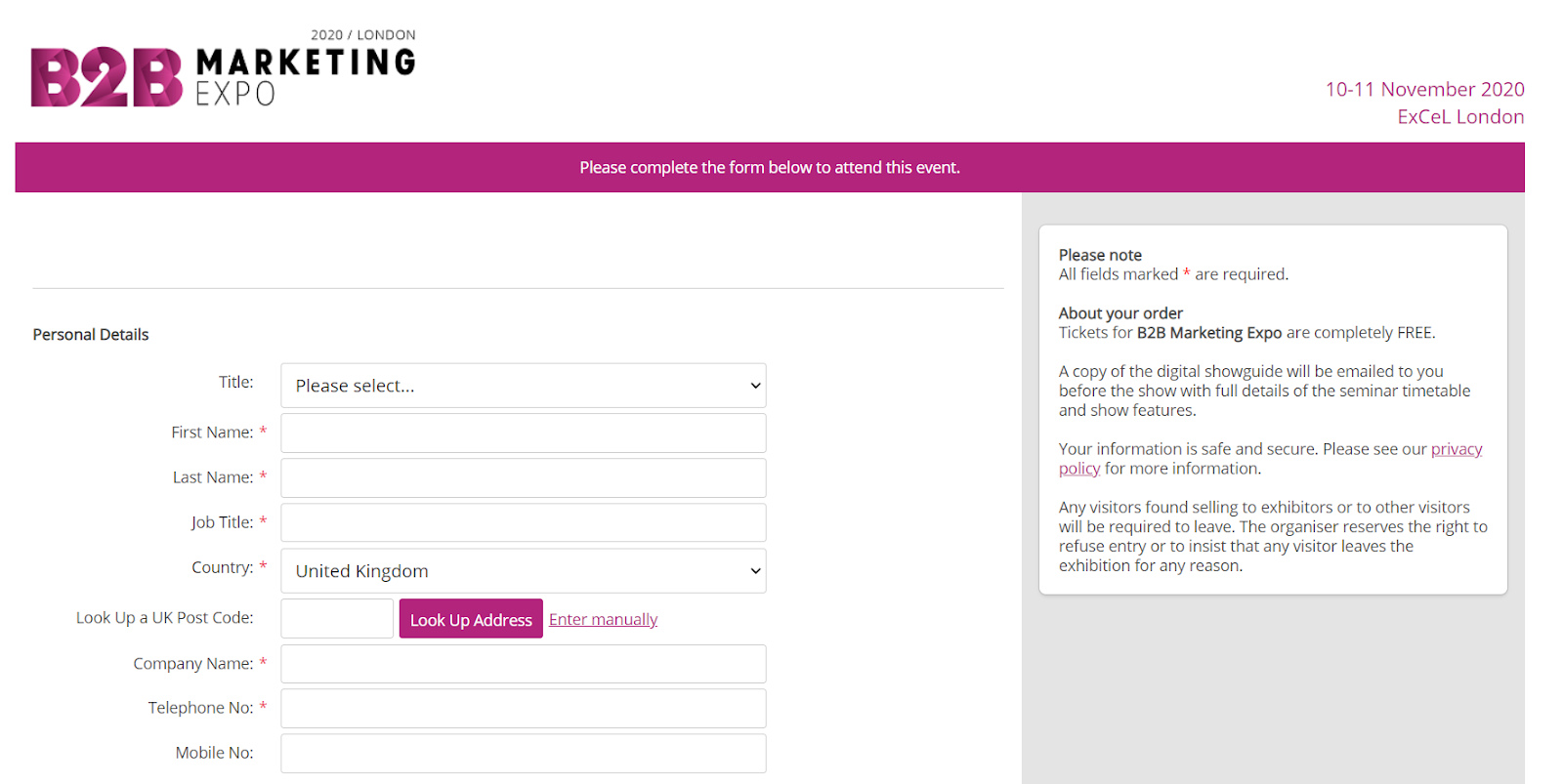 What do People Say About B2B Marketing Expo?
"Welcome to Europe's leading marketing event, connecting the most proactive marketing professionals with the tools, techniques and innovations they need to be at the forefront of the ever-evolving world of marketing."
B2B Marketing Expo, official website
Related Conferences
If you're interested in other B2B marketing conferences like B2B Marketing Expo, be sure to check out our in-depth reviews of these similar conferences:
B2B Online Connect
Brand Manage Camp 2020
Brand Marketing Summit
Brand Safety Summit
Collision