B2B Online Connect
Website: https://b2bconnecteu.wbresearch.com/#
Date: July 2021
Location: Virtual, United Kingdom
What You'll Get at B2B Online Connect
B2B Online Connect has been held on an annual basis since 2019. Both the 2020 and upcoming edition of this conference is virtual rather than in-person.
This event is dedicated to providing digital, eCommerce, and digital marketing executives a chance to network with their peers and carefully vetted solutions providers.
B2B Online Connect delivers each guest with customized content tailored to your individual needs. That includes benchmarking opportunities, consultative private business meetings, and small peer-to-peer workshops. Guests can also customize their agendas.
B2B Online Connect Guest Speakers
Aside from the opportunity to network with high-ranking industry professionals, B2B Online Connect invites experts from globally-renowned companies to speak.
The list of speakers for 2021 have yet to be released, but you can anticipate an impressive selection. For instance, Microsoft, World Pay, and Google all had representatives present at the last conference.
B2B Online Connect also works with noteworthy partners, like…
Lingo24, a company offering a range of international marketing services
Bloomreach, a leading eCommerce technology provider
How Much Does B2B Online Connect Cost?
Attendance to B2B Online Connect is strictly invitation-only, similar to eTail Connect Autumn, and entry fees aren't on the website. A maximum of 60 of the UK's most prominent manufacturers can attend.
To apply, you need to contact a Connect representative to determine if you qualify, after which you can make payment. Accommodation and refreshments are included in the price.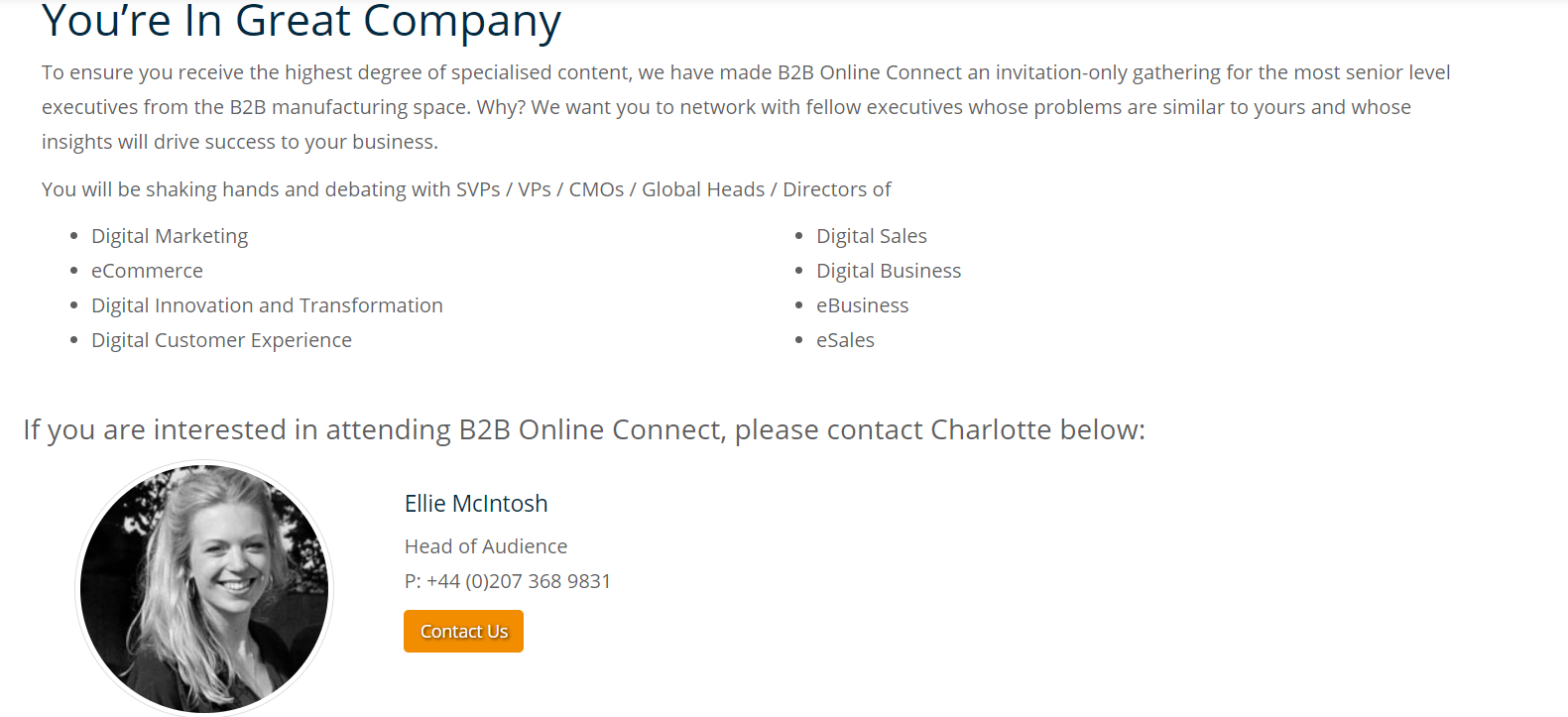 What do People Say About B2B Online Connect?
"B2B Online Connect is a meeting where senior digital, eCommerce and digital marketing executives from the leading UK manufacturers come together to have detailed discussions with their peers, source solutions and services from leading providers, benchmark and grow their bottom line faster."
B2B Online Connect, official website
Related Conferences
If you're interested in other digital marketing and eCommerce conferences like B2B Online Connect, make sure to take a look at our in-depth reviews of these similar conferences.
eTail Connect Autumn
eTail Connect West
B2B Marketing Expo
eCom360
Digital Marketing Leaders Summit Jakarta