Brand Safety Summit
Website: http://trustyourmedia.com/#
Date: November 2, 2020
Location: New York, USA
What You'll Get at Brand Safety Summit
The Brand Safety Summit has been held in major cities throughout the globe for several years. June 2020 heralded the first virtual Brand Safety Summit session in New York.
The Brand Safety Summit Series brings passionate media, technology, and marketing experts together to make digital marketing and advertising safe and trusted. The implications of brand safety and current trends are discussed concerning local markets—in this case, New York.
The agenda of each Brand Safety Summit gets built by the experience, insights, and influence of large media buyers. Issues to be discussed this year include consumer data protection, contextual advertising, advertising fraud, measurements, and more.
Brand Safety Summit Guest Speakers
The list of speakers has not yet been released. However, you can anticipate an impressive collection of individuals—last year's attendees included corporate giants such as Bank of America, CNN, and Dell.
Brand Safety Summit also boasts impressive partners, like…
ChannelFactory, a technology and data platform to connect businesses with consumers
Pixability, an eminent YouTube Optimization and Brand Suitability Platform
Media.Net, a programmatic and contextual advertising platform
How Much Does Brand Safety Summit Cost?
The upcoming Brand Safety Summit is quite affordable, similar to The MarTech Summit Hong Kong. Tickets cost $99 per person.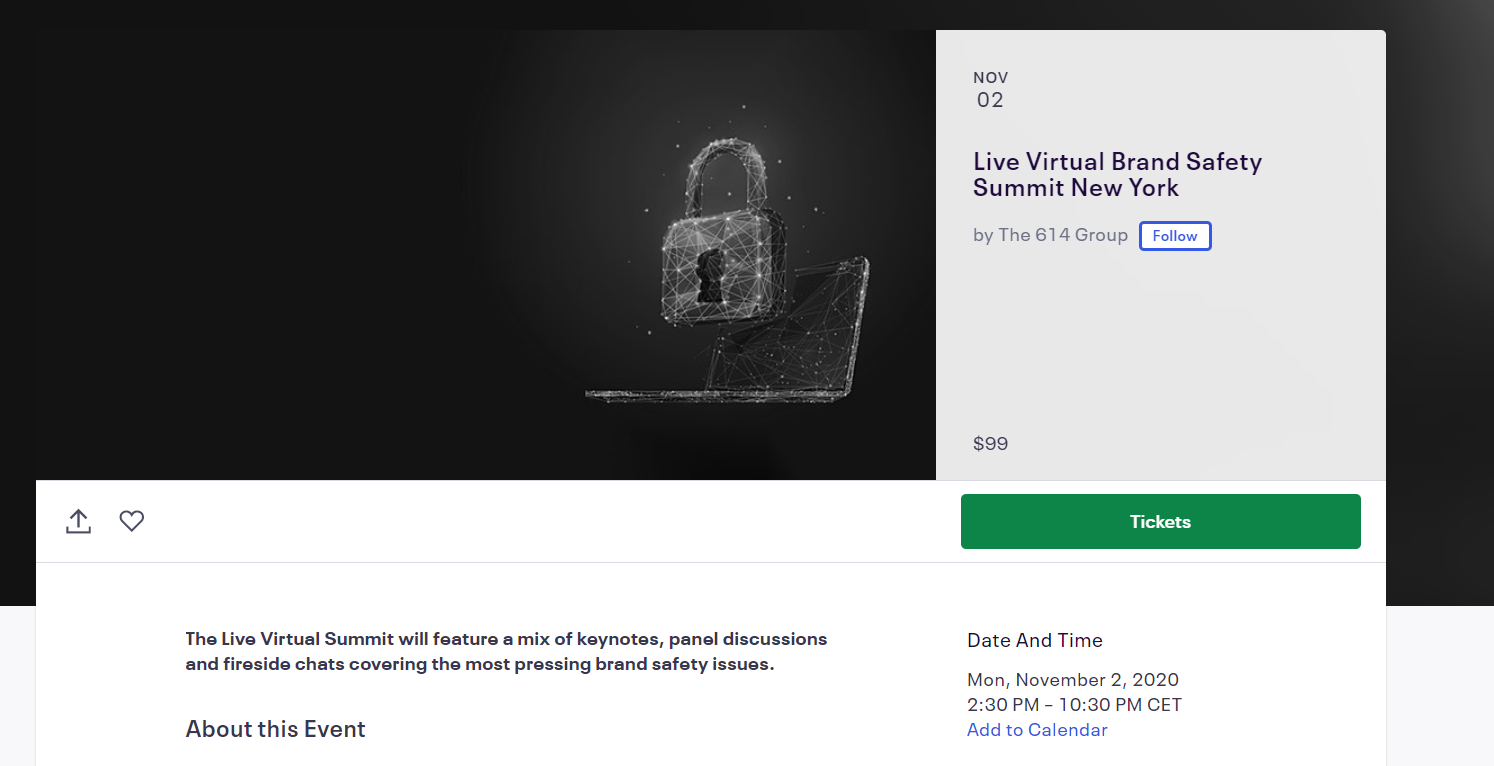 What do People Say About Brand Safety Summit?
"Businesses are rethinking ways to connect with customers and prospects, and we at The 614 Group have reimagined how we can continue to bring our audience of brand safety leaders together. That's why we've launched a series of Live Virtual Brand Safety Summits for 2020. The virtual version of each Summit will be collaborative and interactive, just like our in-person events."
Brand Safety Summit, official website
Related Conferences
If you're interested in other brand safety and brand management conferences like Brand Safety Summit, be sure to check out our in-depth reviews of these similar conferences:
Brand ManageCamp 2020
Brand Marketing Summit Europe
Brand Marketing Leaders Summit Singapore
The Brand Safety Summit
Shoptalk 2020