Digiday Programmatic Marketing Summit
Website: https://digiday.com/event/digiday-programmatic-marketing-summit-november-2020-dpmsnovember2020/
Date: November 16 to November 18, 2020
Location: Virtual
What You'll Get at Digiday Programmatic Marketing Summit
Digiday Programmatic Marketing Summit has been run annually for the past several years. In 2020, it was hosted virtually for the first time.
During the three days, guests can learn from and network with hundreds of high-ranking industry leaders. General topics of discussion include which platforms and tools are worth investing in, as well as strategies and techniques.
The agenda for 2020 is still under construction.
Digiday Programmatic Marketing Summit Guest Speakers
The list of speakers for the Digiday Programmatic Marketing Summit has yet to be released. Past attendees include corporate behemoths such as Bayer, Ogilvy, and Moroch. Digiday works with esteemed partners in the programmatic marketing field, like…
Adelphic, an omnichannel programmatic marketing platform allowing brands to connect with their audiences
GumGum, an artificial intelligence company with a keen focus on computer vision
Salesforce, a cloud software organization offering integrated CRM solutions
How Much Does Digiday Programmatic Marketing Summit Cost?
Digiday Programmatic Marketing Summit offers several types of passes, much like Brand ManageCamp 2020. Prices vary depending on when you buy and what sort of access you want, these Early Rate fees apply until October 19th:
Insights Pass ($199): Access to live sessions, interactive workshops, and key conference materials.
Upgraded Pass ($299): The same access afforded by the Insights Pass with a three-month Digiday+ membership.
Connect Pass ($999): Everything you get with the Upgraded Pass and two solo meetings with the programmatic marketing executives of your choice.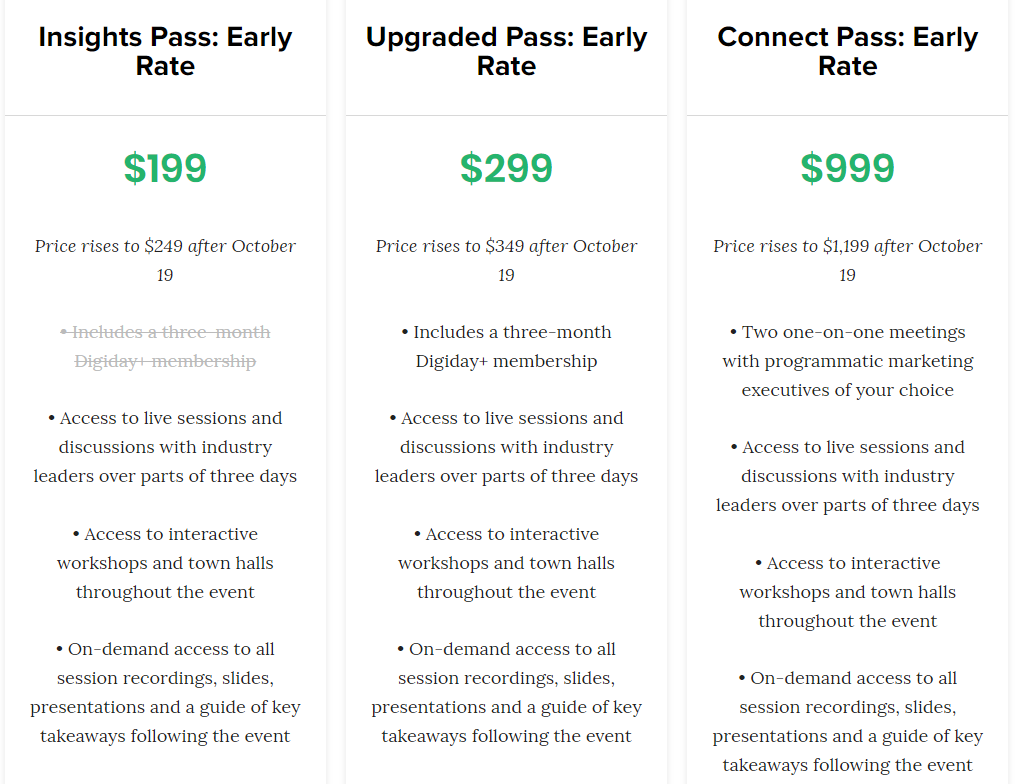 What do People Say About Digiday Programmatic Marketing Summit?
"We thought the summit was really successful! We managed to have 10 meetings with programmatic buyers. We thought that the virtual aspect actually made it more personal vs when we meet for speed dating at the previous conference."
Strategic Partner Manager, Facebook
Related Conferences
If you're interested in other programmatic marketing conferences like Digiday Programmatic Marketing Summit, be sure to check out our in-depth reviews of these similar conferences:
Programmatic I/O
Programmatic Pioneers Summit
Programtactic I/O
MediaPost's Data & Programmatic Insider Summit
Digital City Festival