E-Commerce Summit
Website: https://e-commercesummit.com
Date: Sept. 28-29, 2020
Location: Barcelona, Spain
What You'll Get at E-Commerce Summit
E-Commerce Summit has been run on an annual basis since 2008 and was created to connect and inform online retailers, entrepreneurs, and digital commerce experts across Europe.
The two-day, one-night conference will be hosted at the five-star Pullman Barcelona Hotel and features high-level keynote speeches on the European fashion, lifestyle, home, living, food, and care e-commerce market and other trending topics.
You'll also have a one-on-one networking experience where you'll meet with an industry expert to discuss how you can grow your business.
E-Commerce Summit Guest Speakers
At this event, you'll have a chance to meet with the world's most innovative minds in the conversion optimization and digital marketing space. Hear and learn from industry-leading professionals like…
How Much Does E-Commerce Summit Cost?
E-Commerce Summit is an invitation-only event, and you must apply online and be accepted to attend the two-day event. The criteria for acceptance are listed below:
Must be employed by a brand or retailer active in the European B-C market with an online revenue of more than 25 million euros(replace with symbol)
Operating in fashion and lifestyle; home and living; or food and care
Must be responsible for e-commerce or a senior-level manager
In addition, you must be available at the specified dates and times, attend all of the meetings, and provide factual information about your company and position.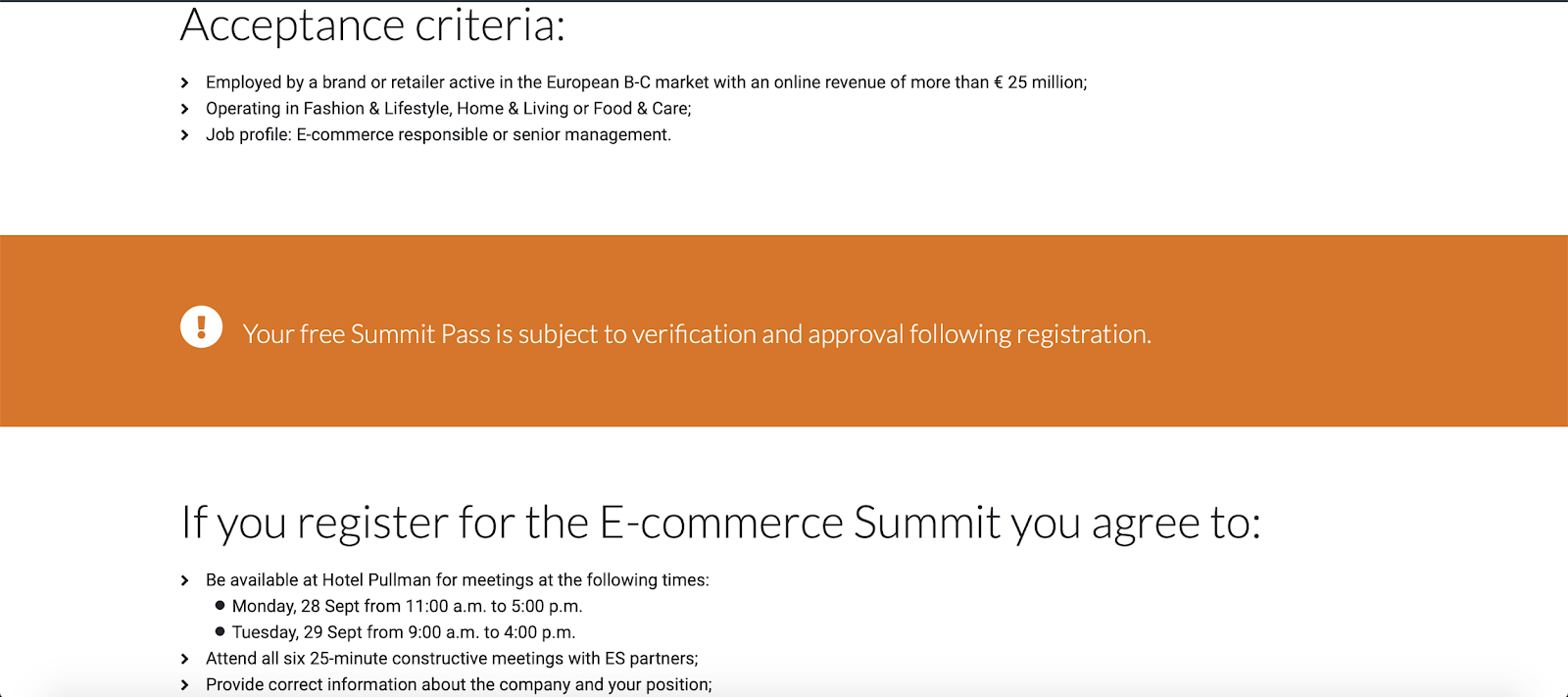 What do People Say About E-Commerce Summit?
"In the relaxed ambience of the five-star Pullman Barcelona Hotel, retailers and brands will be sharing their knowledge and network with peers. Our unique business model enables retailers and brands to join for free and ensures a completely independent conference program. Focusing on the European market and the following three verticals—Fashion & Lifestyle, Home & Living, and Food & Care—the top trending topics on eCommerce will be widely addressed."
E-Commerce Summit website
Related Conferences
If you're interested in other eCommerce conferences like E-Commerce Summit, be sure to check out our in-depth reviews of these similar conferences:
eCOM360
eCommerce Expo
eTail Connect Autumn
Savant eCommerce Barcelona
Dx3 Canada