eCOM360
Website: https://ecom360.io
Date: April 2, 2021
Location: Riga, Latvia
What You'll Get at eCOM360
eCOM 360 has been run on an annual basis since 2019. This one-day event begins early in the morning and ends late with a fun-filled afterparty.
eCOM360 is dedicated to providing guests with a "buzzword-free" experience focused on successful innovation in the digital sphere for e-commerce businesses worldwide. This conference is an excellent opportunity for those who want to expand their professional network in a constructive, unpretentious environment.
Over the course of the one-day event, guests will have the opportunity to attend keynotes, workshops, and networking events revolving around the e-commerce world and its intersection with business, marketing, design, and tech.
eCOM360 Guest Speakers
At this event, you'll have a chance to meet with the world's most innovative minds in the conversion optimization and digital marketing space. Hear and learn from industry-leading professionals like…
The Lego Group Head of Interactive Play Melisa Jane Pickering, discussing how to adopt a digital strategy without reinventing your product.
Carrefour Head of Digital & E-Commerce Projects Jean-Philippe Blerot, discussing how the retail corporation is reinventing its e-commerce.
Wish Country Manager Havard Stjernen, discussing how to take e-commerce offline to a brick-and-mortar store.
How Much Does eCOM360 Cost?
eCOM360 is a relatively affordable conference, somewhere between [related expensive conference] and [related cheap conference]. This conference also offers tiered pricing depending on how early you buy.
Smart Bird Discount: €199 (already ended)
Early Bird Discount (buy before Oct. 5, 2020): €299
General Admission: €399
Last Call Tickets: €499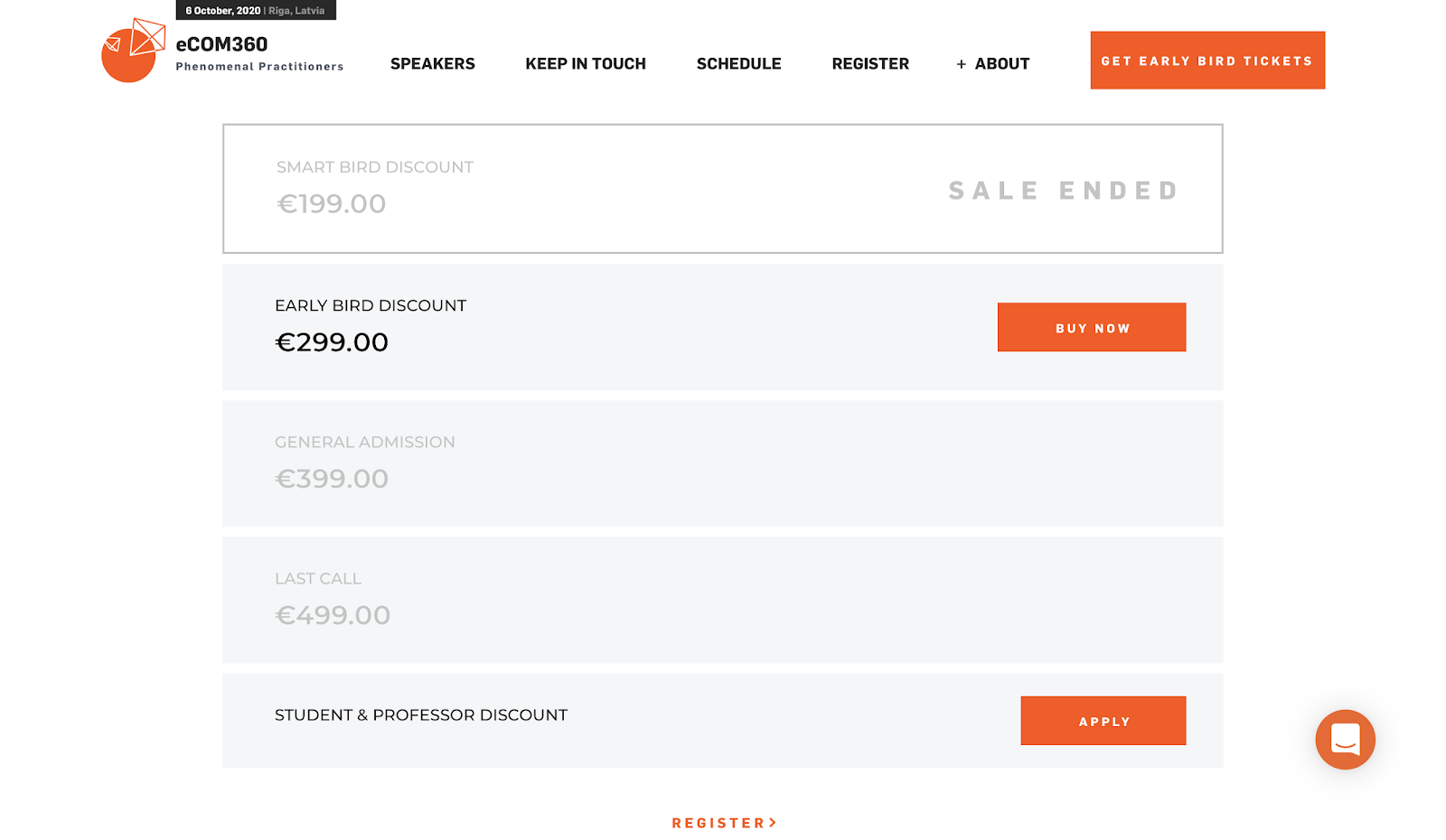 What do People Say About eCOM360?
"eCOM360 is a must for everyone that want to get inspired by industry leaders and meet like-minded people. Among similar conferences, eCOM360 stands out with great organization, impressive attendee list, and an inspiring atmosphere to bring ideas to life. Definitely recommend!"
Evita Mežezera, Head of Marketing for Digital Journey
Related Conferences
If you're interested in other e-commerce-focused conferences like eCOM360, be sure to check out our in-depth reviews of these similar conferences:
eCommerce Expo
eTail Commerce Connect Autumn
eTail Nordic
eCommerce Expo Ireland
Savant eCommerce Paris